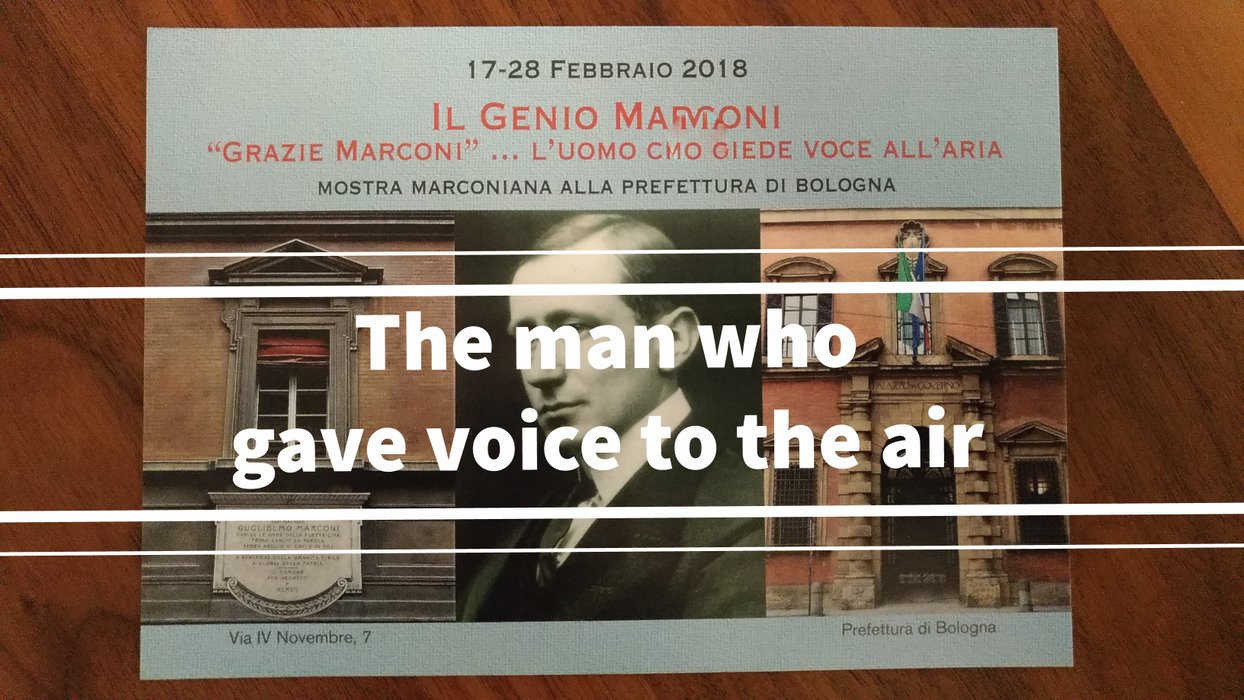 Anyone who works in telecommunications will know of
Marconi
. And for those who don't know who he is, you have him to thank for the modern day communications we enjoy today. As I was researching for this post, I found that I had quite a few connections to Marconi, albeit very very very very loose and remote. It seemed that his great invention had bought the world closer together than he had ever imagined.
從事電訊工作的朋友,應該聽過馬可尼的名字。 沒有聽過的朋友,你今天用的各類通訊設備如 wifi和無線電話,都是源自他研發的成果。 寫這篇文章做資料搜習時,發覺原來我跟馬可尼也可以很牽強地拉上一點點關係。 就讓我來沾一下光吧。
---
CONNECTIONS TO MARCONI 1 - BOLOGNA ITALY
Guglielmo Giovanni Maria Marconi was born in 1874 in Bologna, Italy. He is the first man to use wireless radio signals to communicate. In 1909, he jointly won the Nobel Prize in Physics for his contribution to the development of wireless telegraphy. When I went to his home town Bologna for a short break in February 2018, I was not aware of this. After all, you don't go round checking out what famous people was born in a city when you decide to go on a holiday. Or, do you?
馬可尼於1847年出生於意大利博洛尼亞。 他是第一位用無線電波發出訊號的人,亦因此於1909年跟另一位德國科學家同時獲得諾貝爾物理獎。 我在2018年初到博洛尼亞旅遊時,並不知道原來他出生於這個城市。

---
CONNECTIONS TO MARCONI 2 - JAMESON WHISKEY
Marconi was born into a noble family. His father was an aristocrat and his mother was the grand-daughter of the founder of Jameson Whiskey. Jameson Whiskey is the world's best-selling Irish Whiskey. They have about 70% of the global Irish whiskey market and sells over 31 million bottles each year. Our US cousins across the pond are the biggest fans.
During my previous trip to Dublin in Ireland a few years ago, I went to the Jameson Whiskey Distillery. My other half likes his whiskey so of course had to do the whiskey tasting. He was very impressed with what he sampled.
馬可尼出生於富有家族。爸爸是貴族,媽媽是愛爾蘭著名威士忌 Jameson Irish Whiskey 創辦人的孫女。 幾年前我到愛爾蘭都柏林旅遊,也有去參觀他們的威士忌釀酒廠。 另一半是威士忌愛好者,他當然也有品嚐Jameson的產品。

---
CONNECTIONS TO MARCONI 3 - BT CENTER
Since his early age, Marconi had been experimenting with wireless telegraphy. He believed that distance was not a factor, and sought funding from the Italian Ministry of Post and Telegraphs to develop his work. Sadly they were not interested and ignored him. At the age of 21, Marconi travelled to England with his equipment. Here he found the support of William Preece, the Chief Electrical Engineer of the British Post Office (this later become BT).
Not long after Marconi arrived in the UK, he demonstrated his wireless telegraphy system by sending a message between two post office buildings in London. One of them is the BT Center, the headquarters of BT. I worked in this building for many years. However, I have to admit I never noticed the plaque (right hand side of the photo) by the main entrance to commemorate this great inventor.
從小馬可尼已對電學很有興趣,一直在研發無線電波。可惜意大利政府對他的研究沒興趣,而並沒有資助他。結果他 21歲時遠道英國, 並得到英方的賞識。 他在倫敦兩座大樓示範用無線電波發訊息。 其中一座大樓就是今天英國電訊公司的總部。 我在這裏進進出出多年,一直都沒有留意公司大門為馬可尼而豎立的紀念牌。

---
CONNECTIONS TO MARCONI 4 -FLAT HOLM
In July 1897, Marconi set up his wireless telegraphy equipment at Flat Holm in the Bristol Channels. Flat Holm is a small limestone island about 620m in diameter. Marconi made the first ever wireless transmission across open sea from Flat Holm to the nearest land 6km away
Flat Holm is visible from my seaside hometown in England and is the small island on the right in the photo. I see this all the time when I am back home, but never realised something so significant happened here over 120 years ago.
1897年7月,馬可尼成為第一位在海面上成功發射無線電波訊息的人。 這個創舉是離英國西南部岸約六公里的一個小島上創造。 小島就在我英國老家附近, 但我從來都不知道120年前小島上發生這件事, 原來對我們今天的生活有那麼大的影響。

---
MARCONI EXHIBITION
I stumbled across an exhibition called The Genius Marcon "Thank you Marconi".... the man who gave voice to the air when I was in Bologna earlier this year. It was held at the Bologna Prefecture, a stones throw away from the central square of Bologna, the Piazza Maggiore.
二月份到博洛尼亞旅遊時,在街上無意中見到一個紀念馬可尼的展覽。 以前從工作上已聞說這位大師,既然來到他家鄉,又碰上剛好有他的展覽,這一定不能錯過噢!
This is a local government building, a low-key typical European looking building from the outside. The inside was another story. I walked up a grand staircase and into a series of lavishly decorated rooms. Grand chandeliers hung from the ceiling and there were many paintings on the wall.


All these rooms could have been from an aristocratic mansion. And maybe this building used to be one? I don't know. Regardless, I think a room of this style and grandeur is a very fitting venue to pay respects to Bologna's son. An inventor who has done so much to bring us the technology we take for granted today and a man who gave voice to the air.





---
Posted from my blog with SteemPress : http://livinguktaiwan.com/connections-to-marconi/
---
Check out all my travel posts here on Steemit Worldmap, and also my latest project @LadiesOfAsia where we share fun and cultural diversity across Asia Pacific.