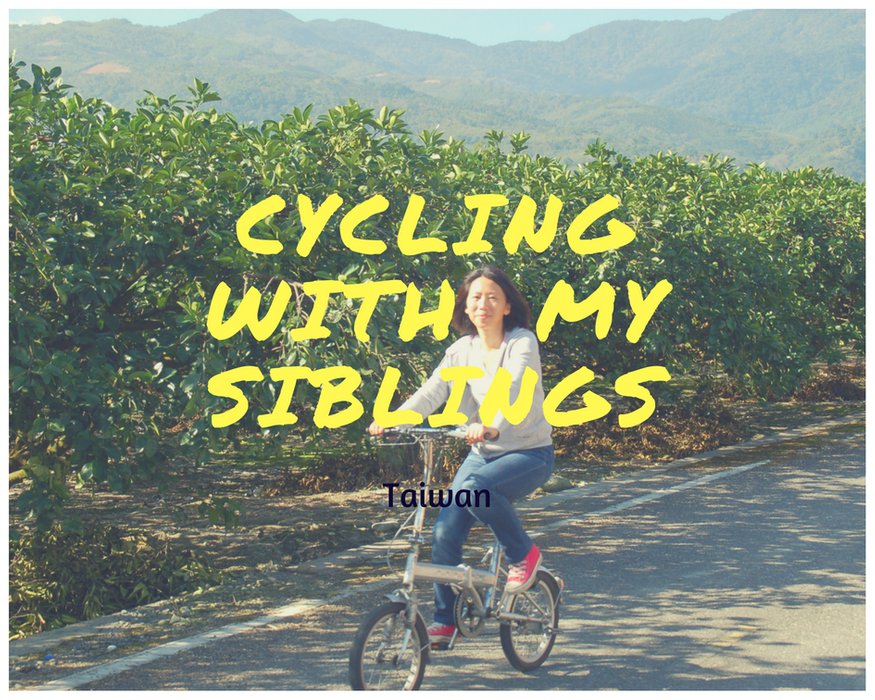 Here's a quick post to to kick off the weekend. I don't go cycling often, in fact the last time I went was in this photo, Christmas before last. For me cycling is something I did, not very often, when I was a kid. After I passed my teenage years, I can probably count the number times I got onto a bike with just one hand.

This particular occassion was quite memorable for me. It was the Christmas of 2016, the first year I had moved to Taiwan from UK. Three of my siblings and their partner come over to visit, and together the 9 of us (one kid tagged along) embarked on a round the island trip in Taiwan. Facing the pacific ocean, the east coast is the most beautiful part of Taiwan and one of the places we visited was Sanxiantai in Taitung. This is one of the most popular tourist location in Taiwan, famous for the pebble beach and the eight arch bridge.

The bridge and the pacific ocean is a great backdrop for photos (this isn't a great one but I couldn't find a better one), but you can sort of get an idea of the type of spectacular photos you can take here.

Anyway, back to the cycling. On this evening we continued our road trip up north, moving to the next county Hualien, another beautiful part of Taiwan and stayed at a local hotel which came complete with a private spa in our room. Spas are very popular in this part of the country. Refreshed and recharged the next morning, we still had about half an hour before we were due to leave. The hotel had some bikes for guests, so my sister, brother, sister in law and I went for a morning ride. This is the country side and there's hardly any traffic around. None of us had cycled for years, and we had a great time zooming along the road, not caring about any cars that came along, not that any did anyway. I can't actually remember ever cycling like this with my siblings, and having such a great time. And I'm so glad that we still managed to do this at our age. Great memories!

All photos are my own apart from the group photo, credit to my sister in law
---
Posted from my blog with SteemPress : http://livinguktaiwan.com/cycling-with-siblings/
---
Check out all my travel posts here on Steemit Worldmap, and also my latest project @LadiesOfAsia where we share fun and cultural diversity across Asia Pacific.