The other day I started my foodie journey in Bologna at the local market and a toastie shop. Today we will continue with drinks and dinner.
上次博洛尼亞美食之旅去了當地一家市集及烤麵包店,現在我們繼續尋找美食吧!
DRINKS 飲料
On my last afternoon in Bologna it started to drizzle. I was nearly 3 weeks into my trip back to UK/Italy, was getting a little bit tired and just wanted to chill out for a while. I found this charming bar called Le Stanze, luckily they were open throughout the day so I stopped by for a drink and snack. Le Stanze is housed in a former chapel which used to belong to a well respected local family (I imagine they must have been rich as well). There was hardly any else there at 3pm and it provided a very cool and serene ambience to chill out. By the time I left for dinner at 6pm, people were already starting to pile in for aperitivo. I could imagine it would get very lively in the evenings, sadly I had to move on to my next stop for dinner.
在博洛尼亞最後一天下午一直下著微微雨。加上我回英國和意大利快閃旅程將近三個星期,開始有點累,不想在雨中逛。 幸好找到 La Stenza酒吧在下午時段繼續經營,我走進去悠閒地待了一陣子。 酒吧的前身是當地一家名門望族(我相信也很富有)的私人教堂。下午三點沒有什麼客人,靜靜坐在那裏喝杯當地啤酒,品嚐小吃,很舒服。 我六點離開時人流開始進來, 可能是下班來輕鬆一下,又或者是遊客先來喝點東西才去晚餐。我相信晚上這家很酷的前教堂氣氛一定很熱鬧,可惜我肚子實在餓了,要去晚飯不能留下來。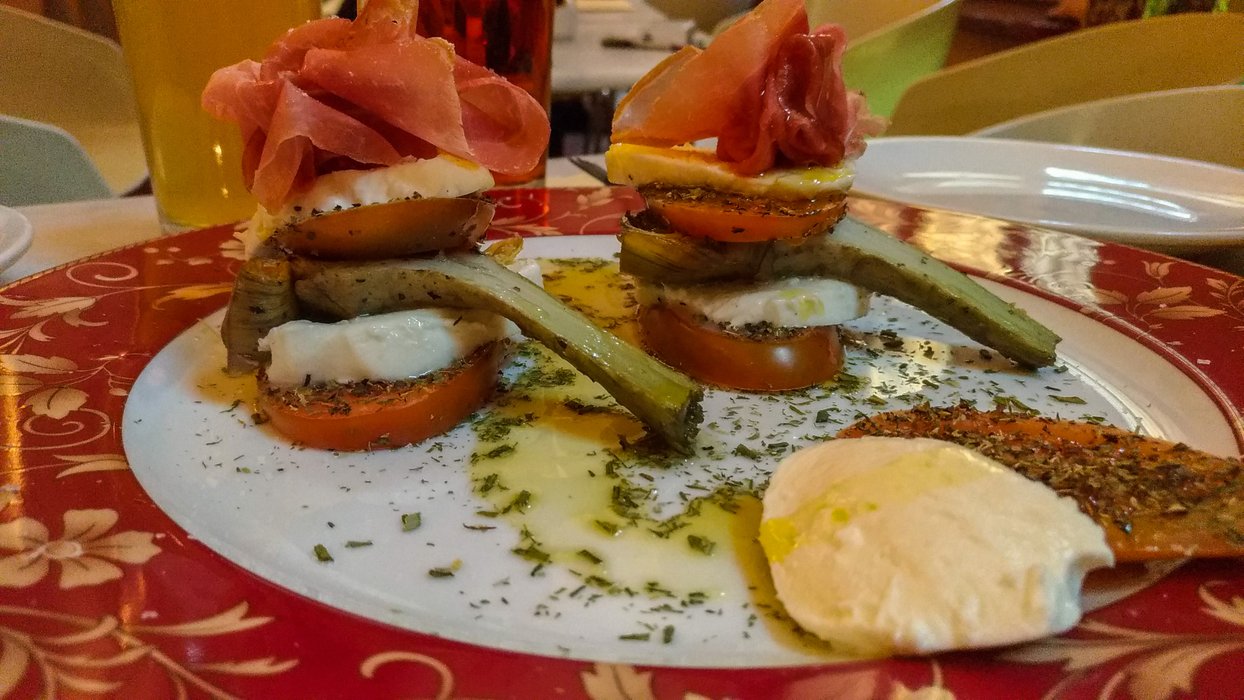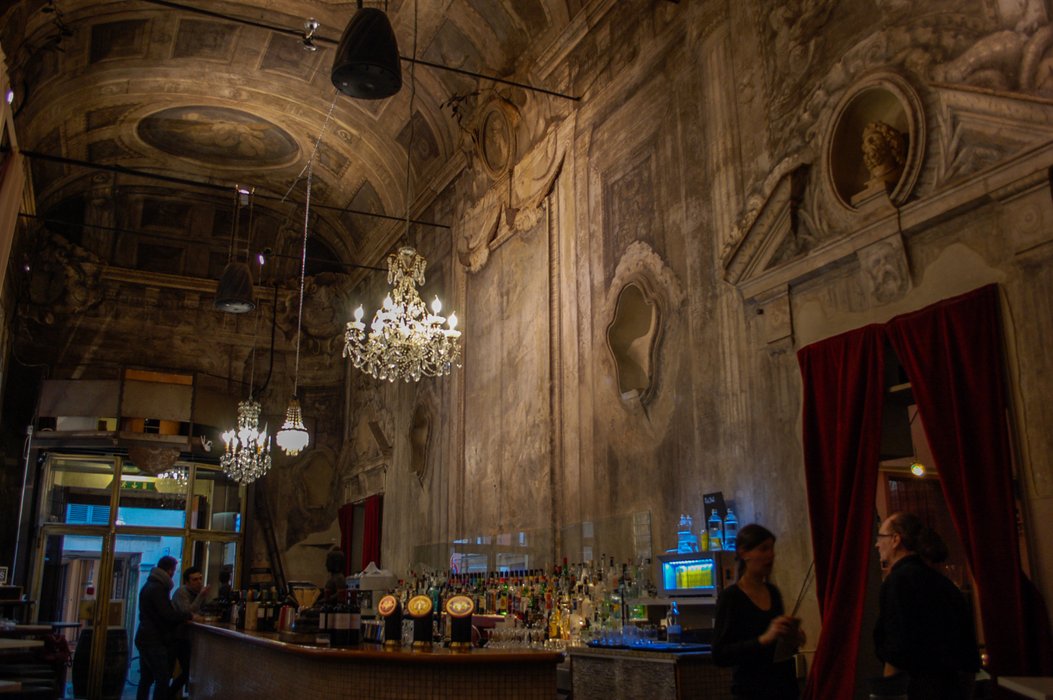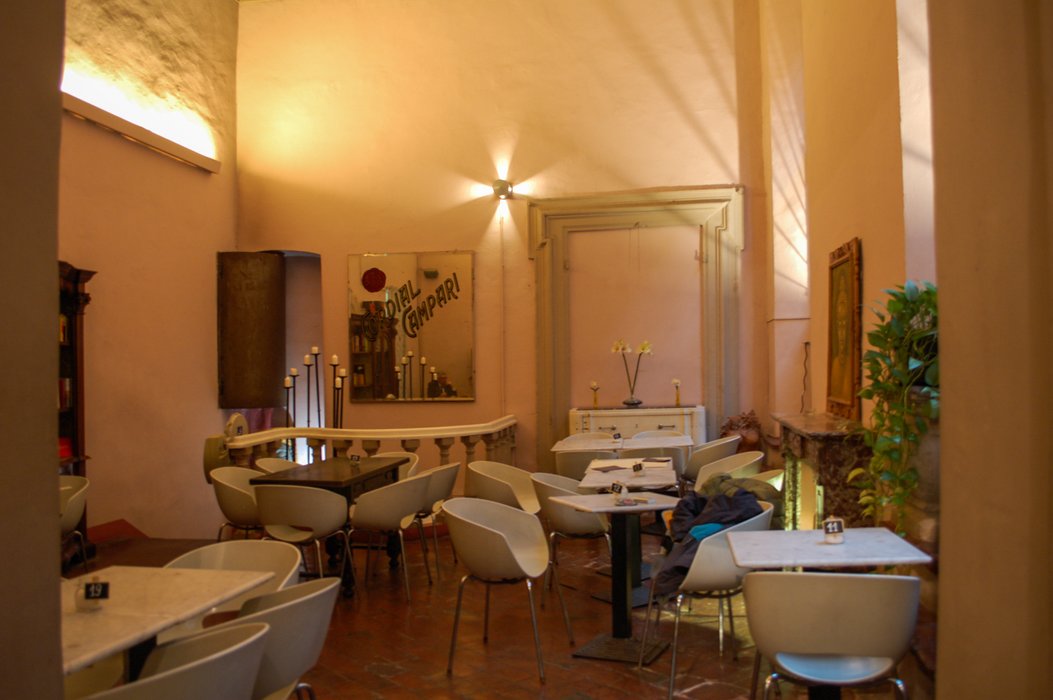 DINNER 晚餐
Dinner on one evening was at La Montanara. This is a small restaurant with about 30 covers only, luckily I got there quite early and grabbed one of the last two available tables. The decor is rustic countryside farmhouse, ladders were laid across the ceiling with many interesting household objects dangling down.
其中一天晚餐就在這家很小的餐廳 La Montanara,大概只有三十個座位。我到達時大部份位子已被人家預訂了,只剩下兩張二人桌,真幸運。 餐廳裝潢是走農村風格, 天花板擺放兩把梯子, 吊著不小家裡日常用品,很別緻。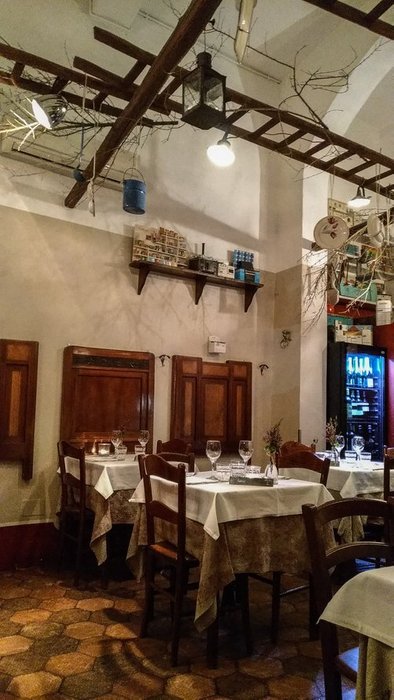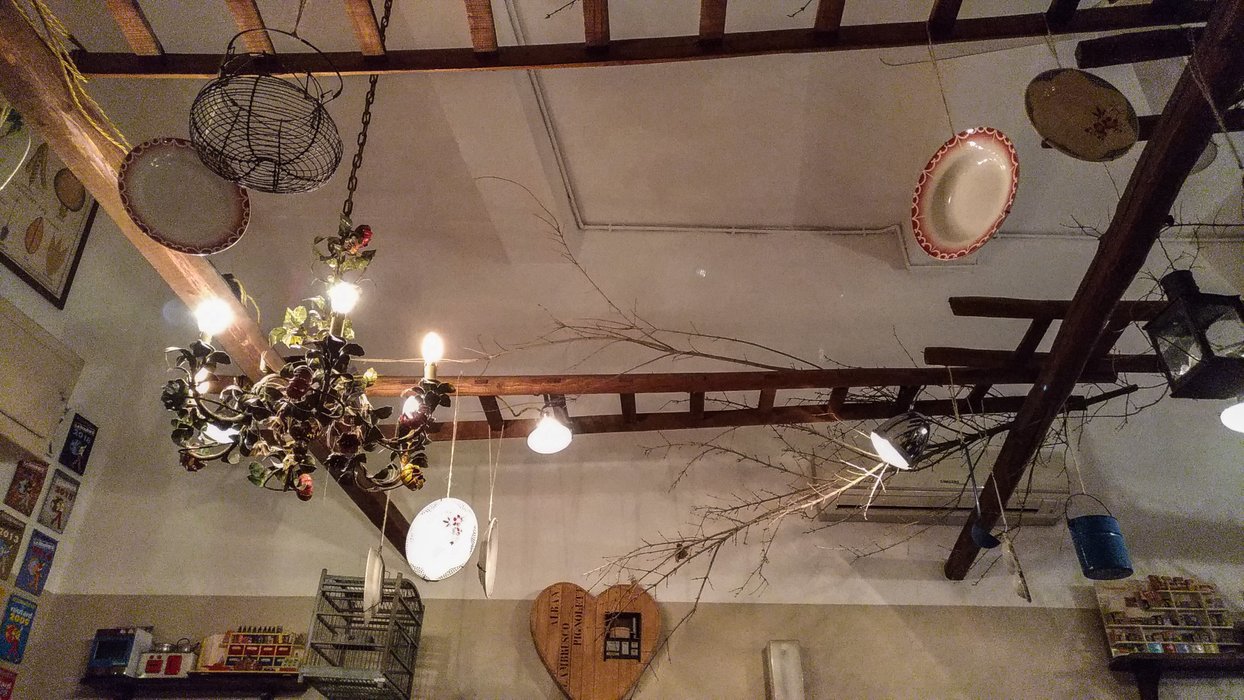 As usual, my favourite course was the dessert. I ordered the "Tenerina" chocolate cake. This looked pretty dry when I first saw it, especially with the dusting of icing sugar on top, so I had low expectations of it. Boy, it proved me so wrong! The top had a slight crunch, the inside was soft and moist and it had a lovely chocolaty flavour. Needless to say, I had no problem polishing it off the plate. I reckon like cows, I have more than one stomachs and one of them is just for puds.
整頓晚餐我最喜愛當然是甜點,我點了這個 Tenerina巧克力蛋糕。 第一眼看到覺得有點乾,加上表面灑了糖霜,我馬上對這個蛋糕完全沒有任何期望。 天噢!我錯啦! 蛋糕表層有點脆脆,咬下去暖暖的很柔軟,而且絕不是乾巴巴。巧克力味道很香而不會太濃。 雖然吃完主菜肚子已經有點飽,但要吃完這個甜點對我來說,絕對不是難事。我覺得我可能跟牛一樣不只一個胃,其中一個是甜點專用的。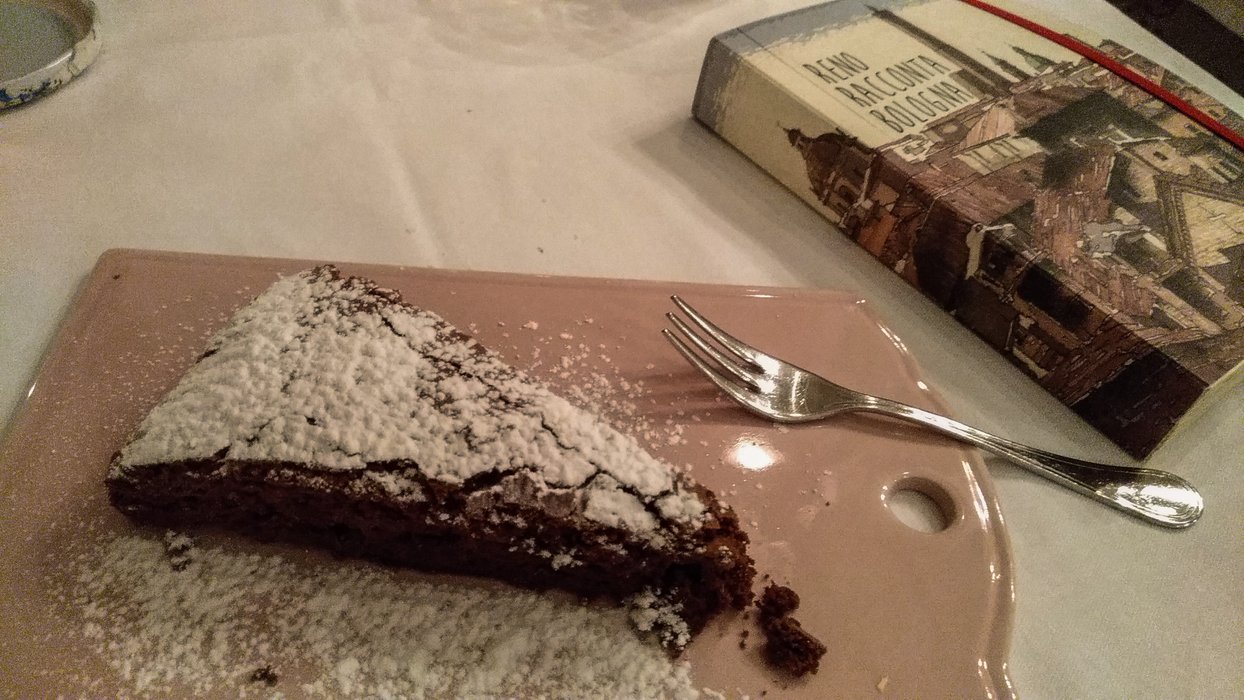 Another evening I had dinner at Baita La Vecchia Malga this was recommended by my accommodation host. He said all we needed to order was a bottle of Sangiovese, a plate of cold cut, and some tigelle. Tigelle is a type of bread like round diskettes and were traditionally baked between tiles. You just slit then open and stuff the meat inside. They were served in these cloth bread basket so were kept quite warm, but I found them a bit too dry.
另一頓晚餐是房東介紹的
Baita La Vecchia Malga
,他推薦我們點一瓶 Sangviovese 紅酒,一碟火腿拼盤,加些 Tigelle 燒餅。 這些烤餅傳統是夾在兩塊磁磚裏烤,食法是把肉夾着一起吃。烤餅放在布做的麵包袋子裡保暖,不過我覺得這個烤餅有點乾巴巴,還是單吃火腿比較好。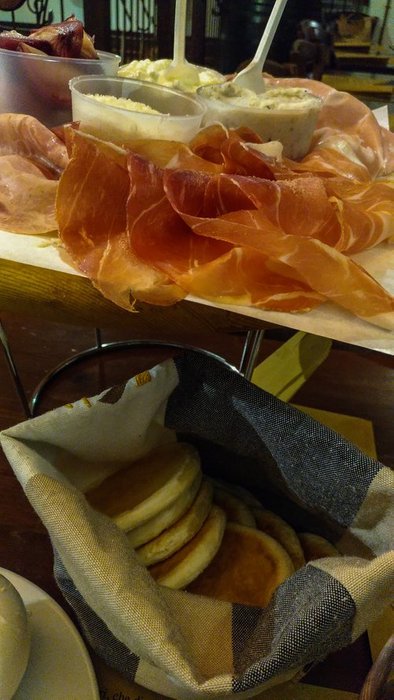 The thing that I did like was cunza which is the little pot on the right. Originally I could't figure out what is was but it goes very well with the tigelle. Its texture is heavier and lumpier than cream cheese, and had a light garlic and rosemary fragrance. When you spread it on the tigelle off softens and you get the lovely garlic and rosemary aroma. Later on I found out it is was lard! Too late! It was really nice though!!
火腿拼盤含配菜,其中右邊一小碟 cunza 我不知是什麼,但搭配烤餅很不錯。它的口感比奶油乳酪重,帶點蒜頭及迷迭香的味道。搽在暖暖的燒餅裡會變得軟軟,連蒜頭及迷迭香的香味也帶出來。後來我才知道原來這是豬油喔! 可惜太遲了,因為的確非常美味,已吃了很多,好罪惡啊!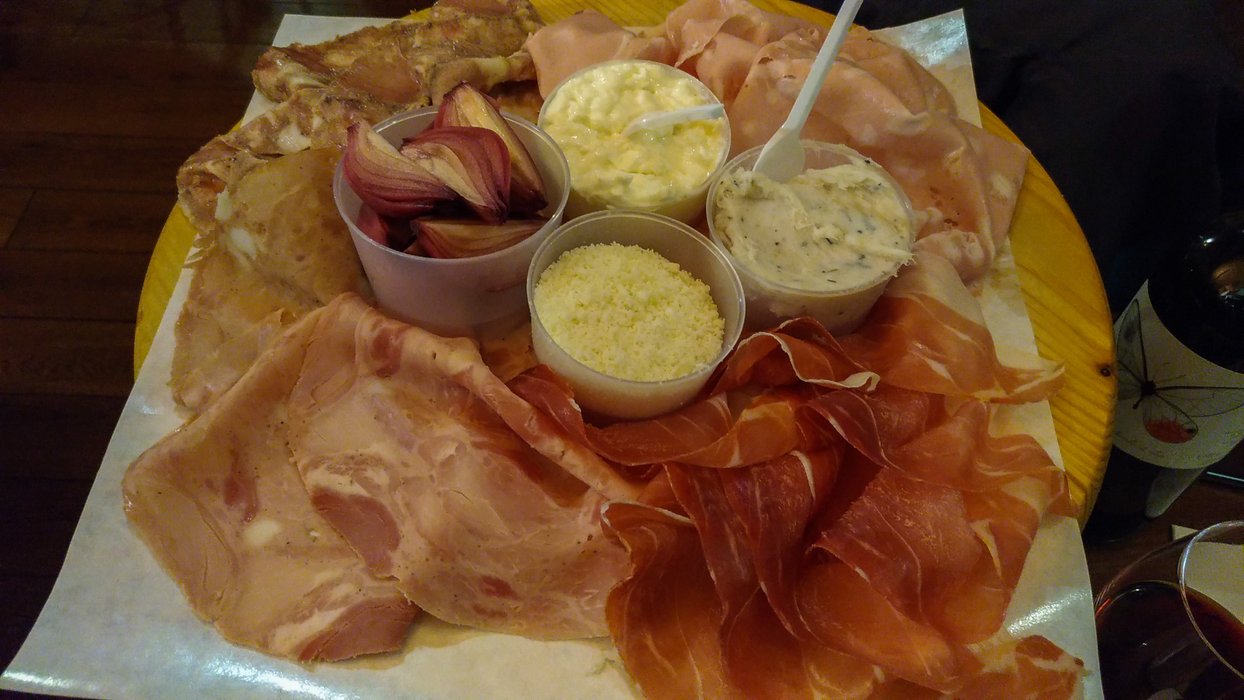 The restaurant area is located on the upper floor of a deli. Its not really a restaurant as all it serves is cold cut from the shop downstairs and lots and lots of wine.
嚴格來說這不是一間餐廳,而是一間賣義大利火腿的店。店的閣樓擺放了幾張桌,為客人提供店裡賣的火腿,當然還有美酒哩。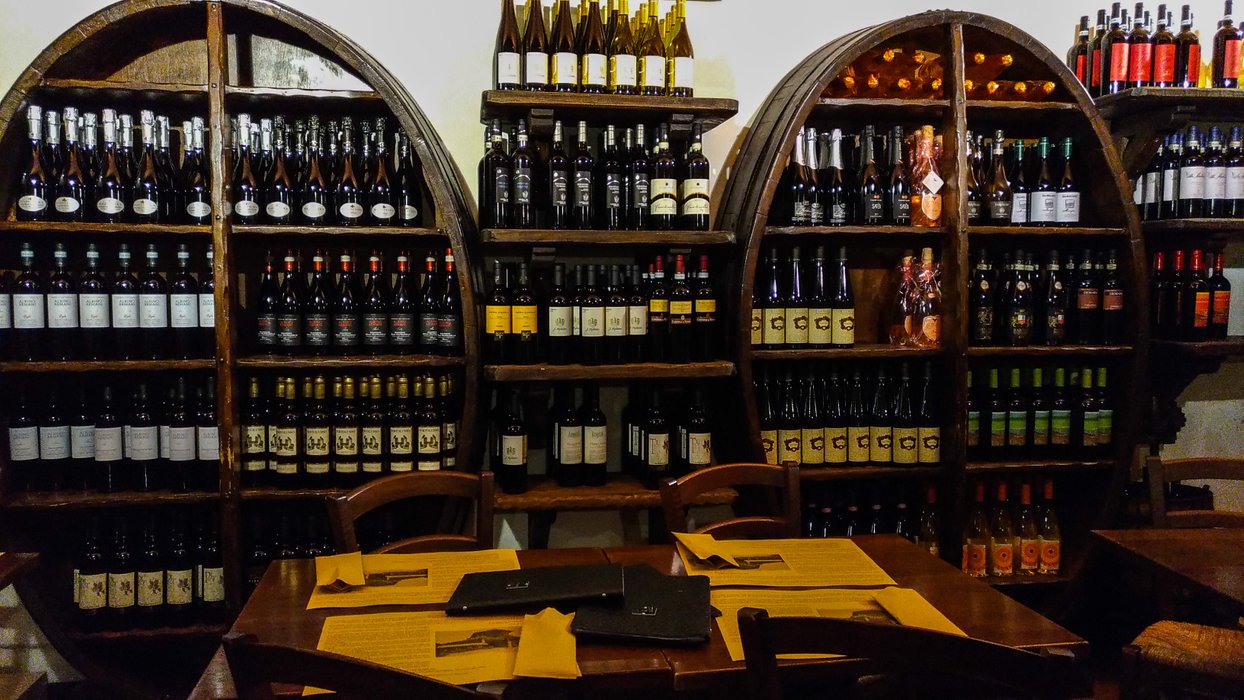 Here's the shop downstairs. I can still smell the aroma of all the cold cut if I close my eyes......
這是樓下店面,掛滿各式各樣的火腿及香腸。只要閉上眼睛那一陣陣香味又回到腦海中….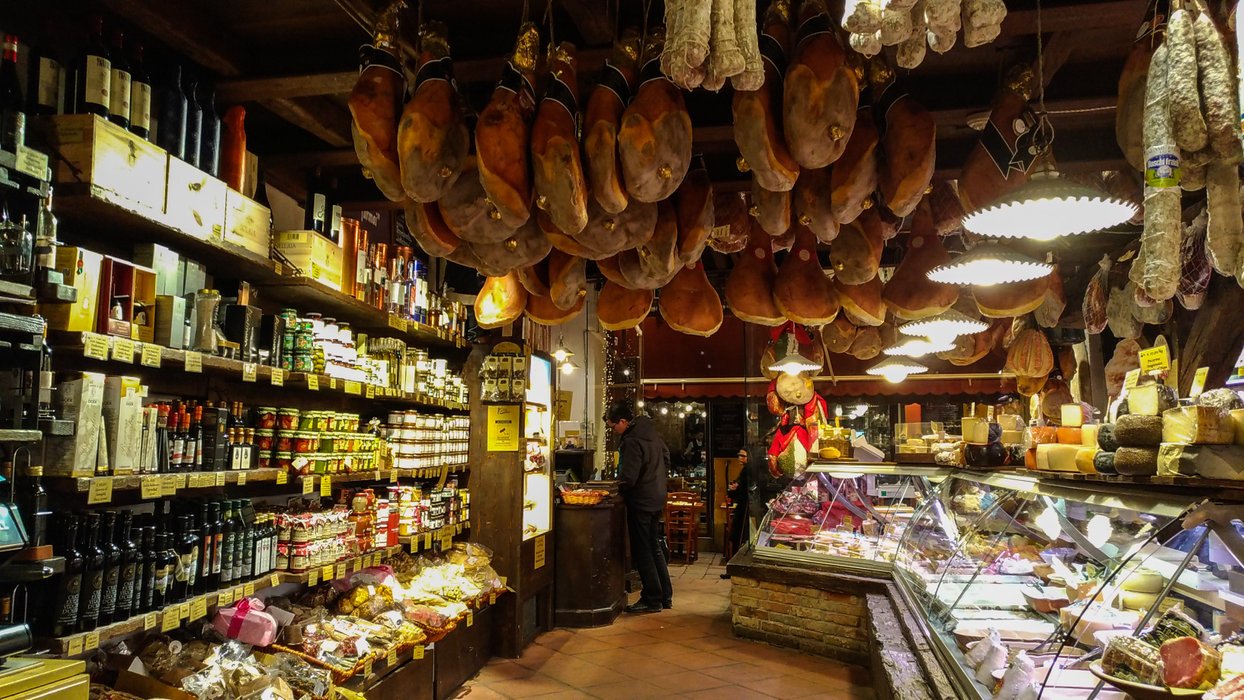 Check out all my travel posts here or visit Steemit Worldmap