The Japan Shinkansen or the Bullet Train first started operation in 1964. At that time, it was the world's first high speed train system in the world. Now, it's one of the main "to do" things for tourists visiting Japan, especially if you're travelling between cities. I took the Shinkansen for the first time last November when I travelled from Tokyo to Nagoya.
日本新幹線在1964年啟用時,是全世界第一個高速鐵路系統。 現今它是很多到日本旅遊,其中一個必試的體驗。尤其需要穿州過省時,乘坐新幹線就非常方便。 去年我到日本旅行,從東京到名古屋,第一次體驗這項世界著名的交通系統。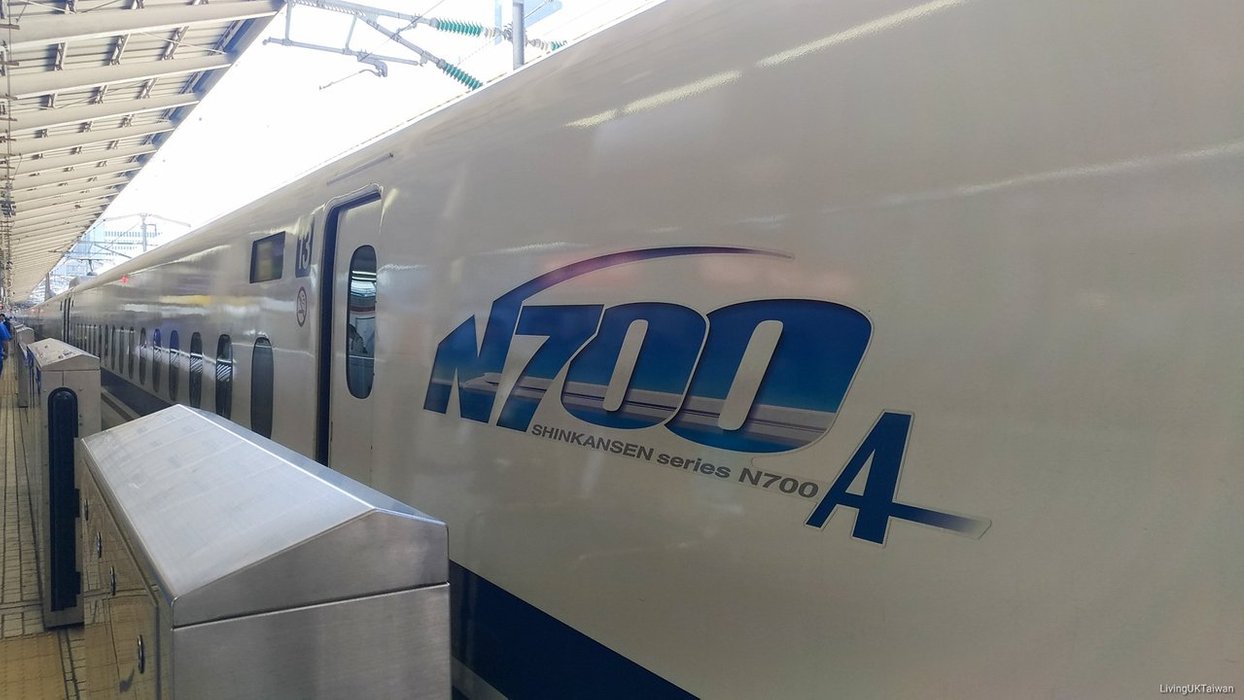 Apart from being the world's first high speed rail, the Shinkansen is famous for a few other things which are very important for commuters. Punctuality and safety. In most, or probably all countries around the world, train delays times are measured in minutes. The Shinkeansen is measured in seconds. The average delay time for the Shinkasen in a year is 30 seconds!! In terms of saftey, during the 55 years the Shinkansen has been in operation, there has not been one single death due to a train accident. It is one of the, if not the, safest rail network in the world.
除了快,新幹線還有兩個特色,對於乘客是非常重要 - 準時及安全。 世界各地的交通系統,通常都以分鐘為延誤紀錄,但新幹線卻以秒數計。 它的班次延誤平均只有30秒! 至於安全方面。至1964年啟用以來,新幹線沒有 因為班車意外,而引致任何死亡事件。
---
TOKYO STATION
My journey started from Tokyo Station. Tokyo Station opened in 1914 and is Japan's busiest station in terms of numbers of trains. 3000 trains go through the station each day to on its 28 platforms. Tokyo Station is massive, 182,000 square meters to be precise. Once you're inside the station, it's like a maze and it's not difficult to get lost. I nearly did! This stunning red brick building is the Marunouchi Exit on the west side. I came here the day before catching the Shinkasen, but I can't remember why? Probably to checkout where the Shinkansen platform was so I wouldn't be late catching the train on the day
新幹線旅程從東京車站出發。東京車站建於1914年, 總面積有18萬2千平方米,裏面大到像個迷宮,很容易會迷路。 車站裏有28個月台,每天有3000班次經過。是全日本最繁忙的車站。我從地鐵站出來,在裏面兜兜轉轉出入多個閘口,終於到達新幹線大堂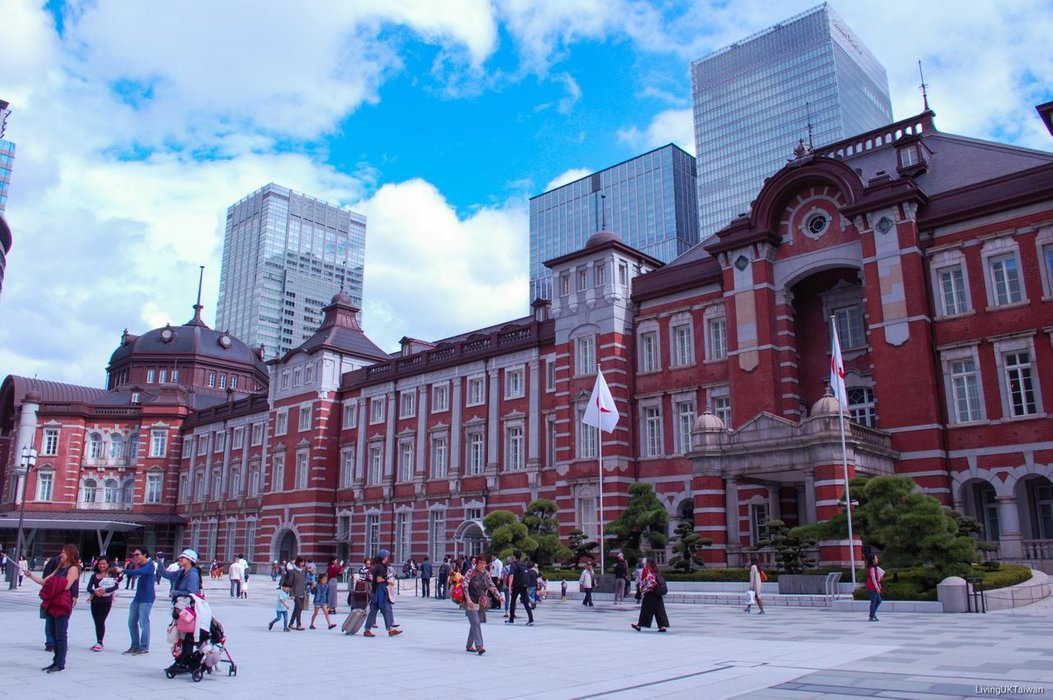 I recall when I was walking around inside Tokyo station, I had to use my ticket to go through the gates quite a few times. I had no idea what the demarcation was for. Perhaps from the underground trains, to local trains, to the public area, to the Shinkansen trains. Eventually I arrived inside the concourse for the Shinkansen.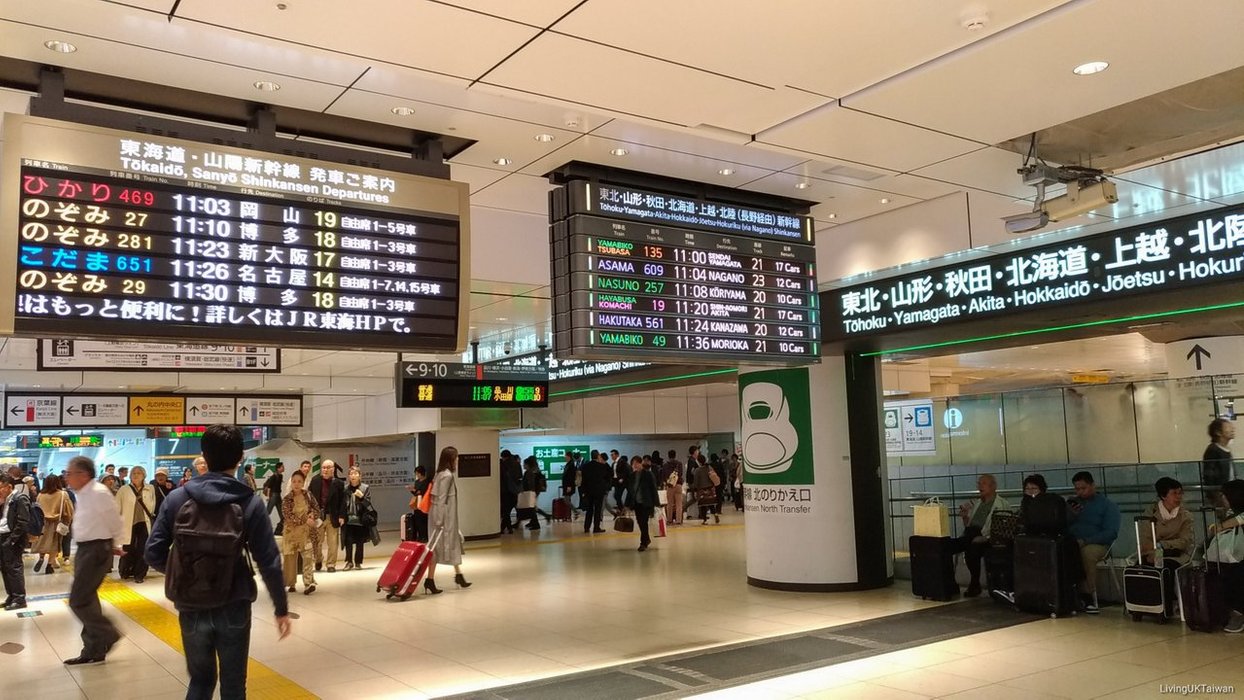 ---
BENTO BOXES
My train was scheduled to leave at 11.30 in the morning. Just before lunch time. That gave me the perfect opportunity to experience another famous feature of the Japanese rail system. Bento boxes. In plain English, these are rice boxes for lunch. If you've ever had Japanese food, you will know how much attention to detail is placed on the food. I wrote about this previously.
Bento boxes are no different. Although the food isn't quite as intricate as my previous Kaiseki dinner, they beat the sandwich by a mile. Starting from the outer wrapping, they look a lot more pretty than the sandwich packaging.
我班車在11時30分出發。上車前買了兩個著名的日本鐵路便當午餐。鐵路便當有近140年的歷史,充滿日本文化 。無論乘搭新幹線或普通的火車都是必試。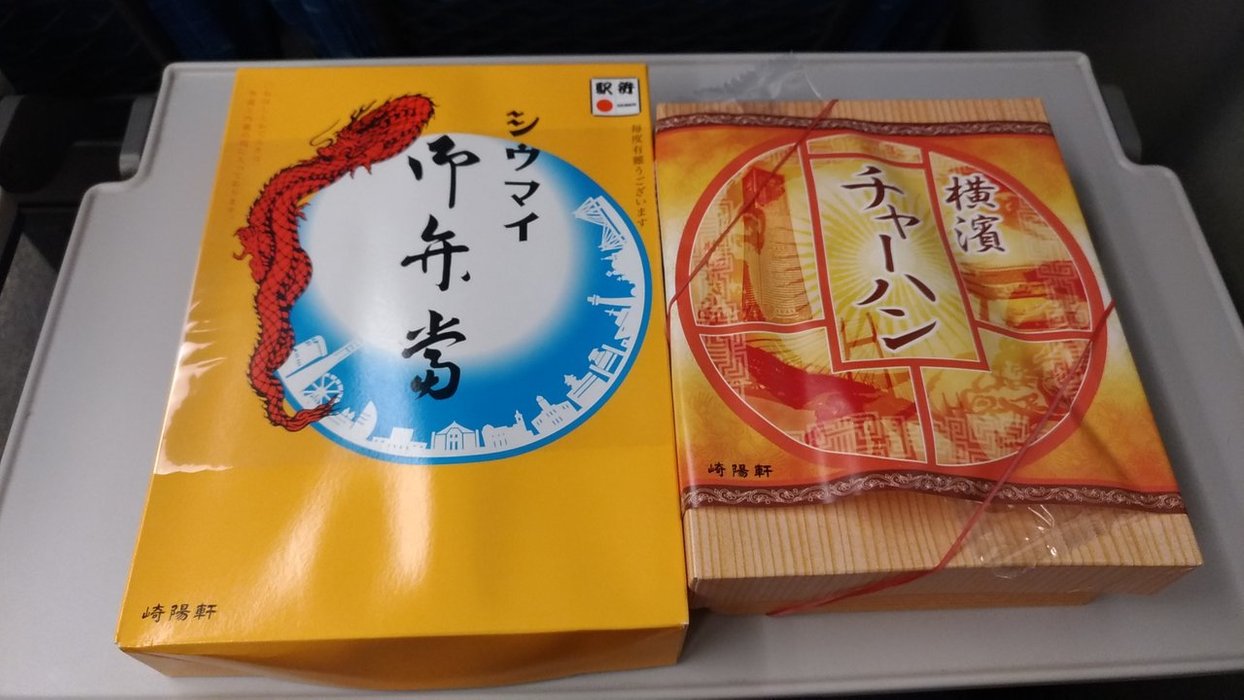 And to the bento box and contents itself. The bento box is made of thin ply wood which is much more enviromentally friendly than a plastic container. The rice is on one side so it doesn't get mushy, and the other food are placed carefully on the other side. What I love about all this, is the small details to make the whole bento less boring. For example, the black sesame on the top of the plain boiled rice and the pickle in the center.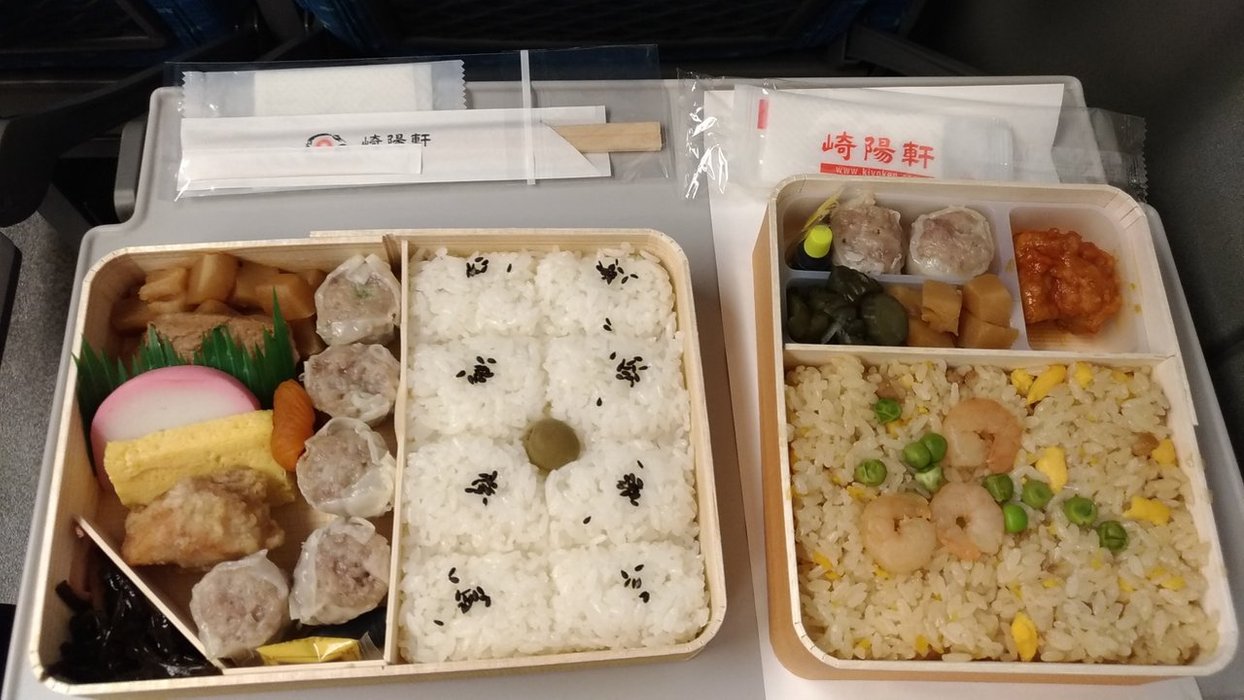 The bento box wasn't quite gourmet standard, but it certainly beats the plain old sandwich!
---
HIGHLIGHT
After lunch, I was ready for the highlight of the Shinkansen journey - passing by the famous Mount Fuji. Visiting Mount Fuji wasn't part of my itinerary as I didn't have enough time. And I figured it looks more beautiful from far afield than actually being at Mount Fuji. Actually, when I bought my Shinkansen tickets, I specifically requested seats on the right hand side of the train to get a better view of Mount Fuji. The guy at the ticket station was very accommodating and didn't have a problem with that at all.
During my journey, I kept track of my location by checking Google Map. As the train approachs Mount Fuji, the track actually goes round a big bend instead of shooting past quickly. I don't know if the track was built this way deliberately so the Japanese could show off their national treasure, or if there were practical reasons for doing this. Either way, this meant I had a good view of Japan's most famous view for quite a while. And that's another tick off my list.
吃過午飯,就是等待旅程的亮點 - 日本富士山。 我買票時,跟票員說要車廂右邊的座位,能夠清楚眺望富士山。 小哥兒也非常樂意幫我完成心願,完全沒有覺得不耐煩。
當新幹線經過富士山時,鐵路繞了一個大彎位。不知道是因為地勢上有這個需要,還是 日本當局為了展示日本第一美景,而特以這樣建造路線,讓遊客可以多看富士山幾眼。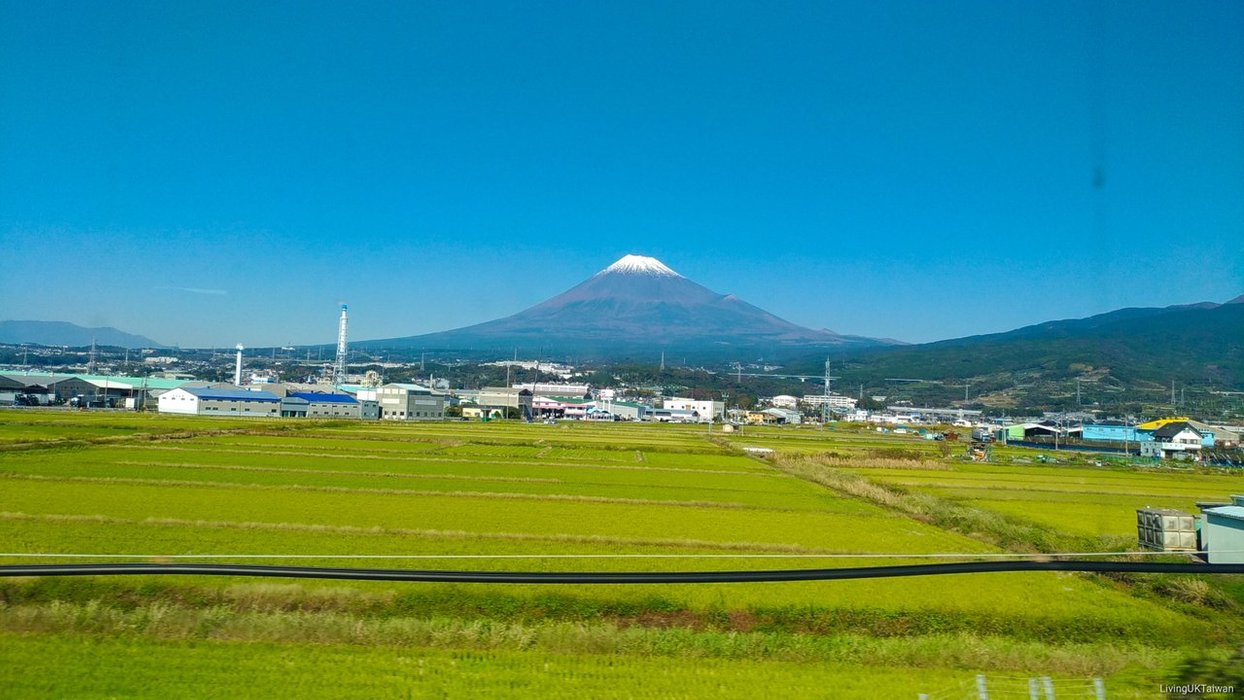 ---
ARRIVING AT NAGOYA BY SHINKANSEN
Very soon, I arrived at Japan's fourth largest city, Nagoya. As I left the Shinkansen and the station, I looked back up to Nagoya station. There was another Shinkansen passing through, on time of course.
一個多小時後,我終於抵達名古屋車站 。離開車站時, 往上看,又見到另一班新幹線在車站裏。當然是準時遞抵達的!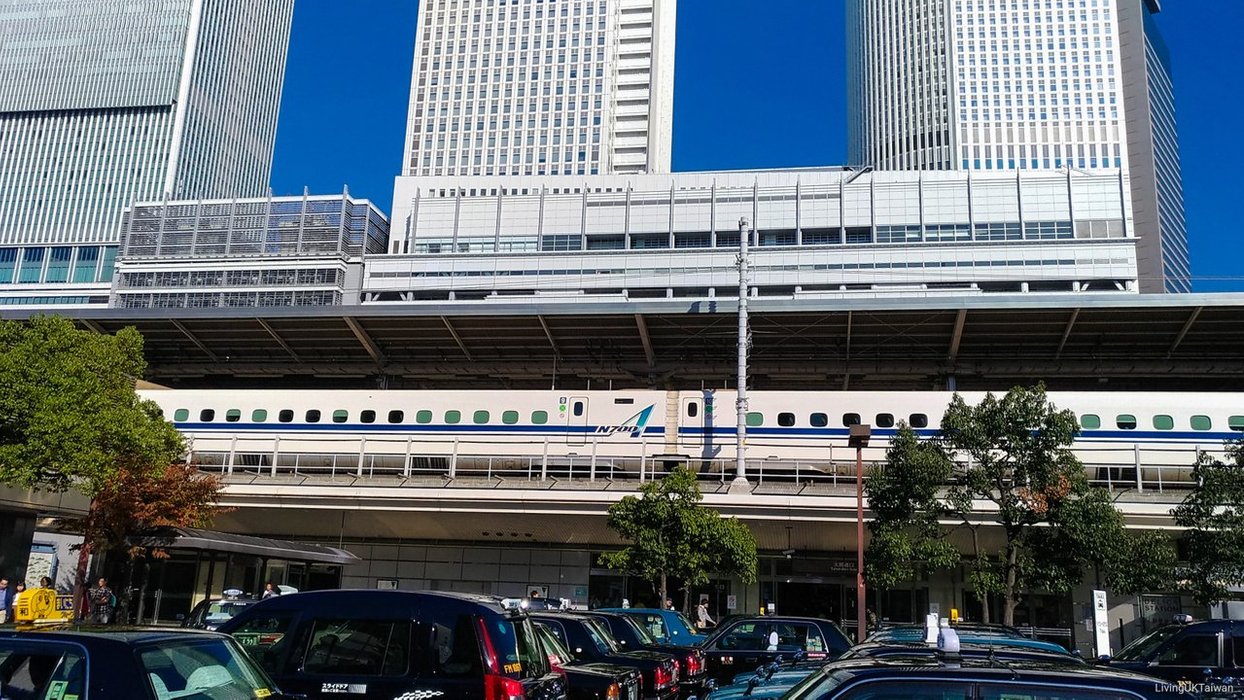 ---
TIME AND COST
My Shinksansen journey from Tokyo to Nagoya took about 1 hour and 40 minutes, and costs 11090 Yen, that's around £82 or USD102. For comparison purposes, the local trains takes about 6 hours and 3 transfers, and you would save about half the fare.
11090 Yen might sound expensive for such a short journey, but if you consider the distance is 351km between the two cities and you get there just over one and a half hour, I think that is not a bad deal. When you factor in the punctuality and safety factors, this has got to be a bargain.
從東京乘搭新幹線到名古屋車票是11090¥,相當於£85或102美金,聽來好像不便宜。如果乘坐本地火車,只需要大約一半價錢,但要轉三次車,和需要六小時喔! 東京和名古屋兩個城市相距351公里, 能夠在1小時40分到達,又加上準時和安全的因素,我覺得新幹線的票價絕對是物有所值。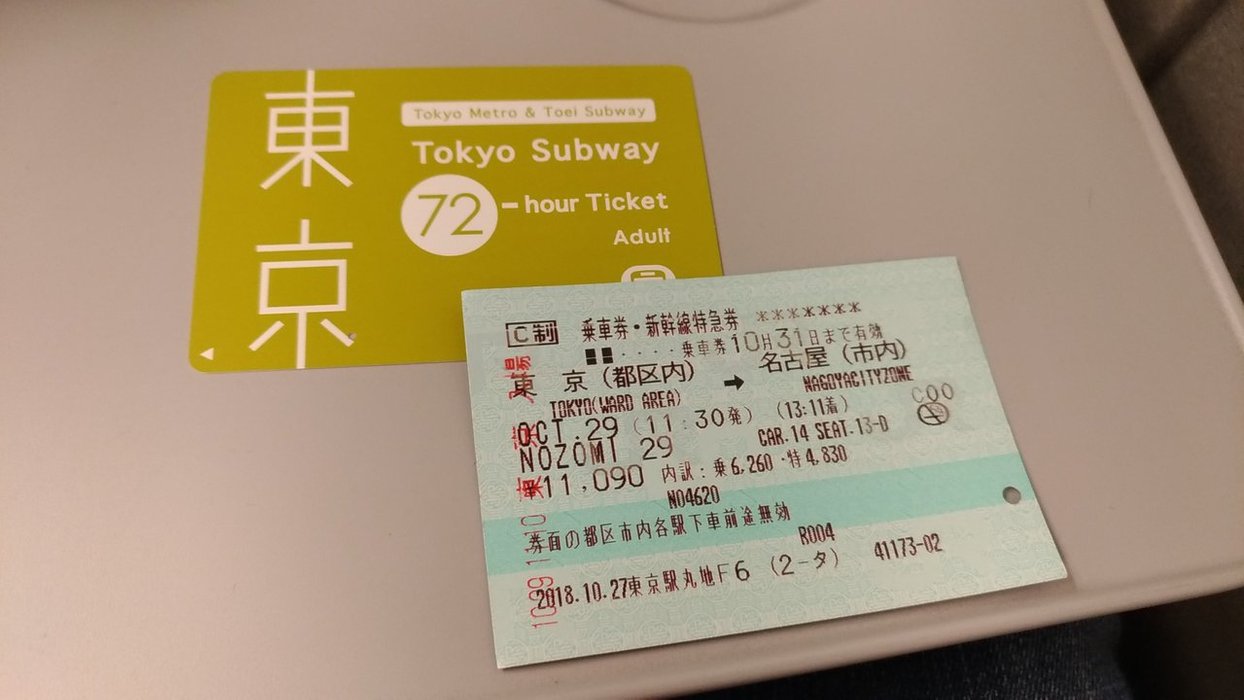 ---
Posted from my blog with SteemPress : http://livinguktaiwan.com/riding-the-shinkansen-in-japan/
---
Check out all my travel posts here on Steemit Worldmap, and also my latest project @LadiesOfAsia where we share fun and cultural diversity across Asia Pacific.