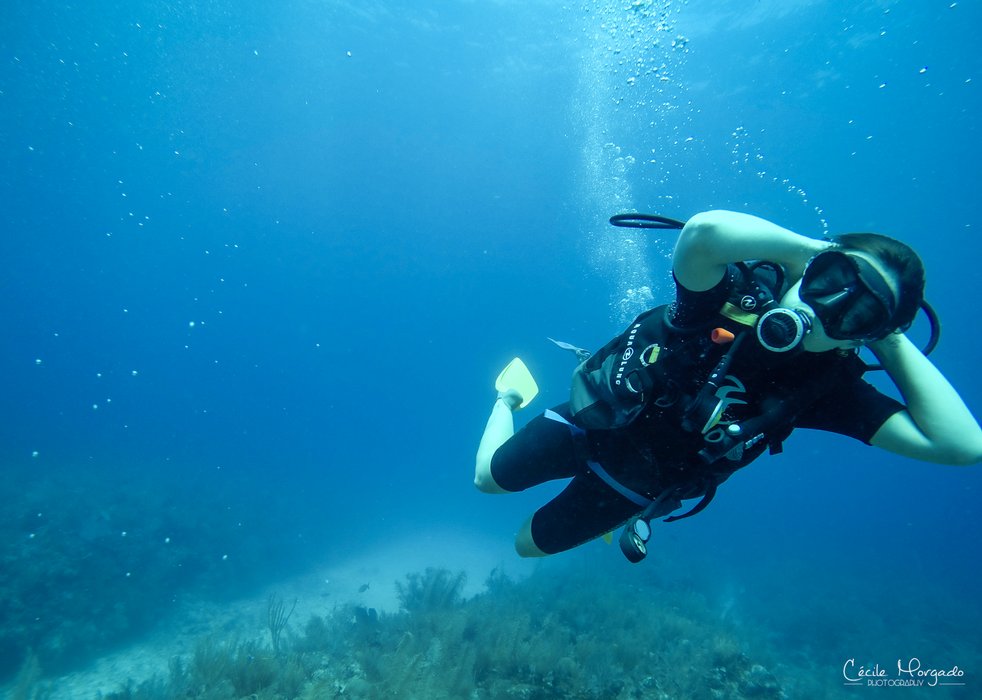 After trying out my first free dives at Hol Chan Reef successfully I decided to finally do my PADI open water certificate while still being in Caye Caulker, Belize!
I had only 3 days left and should learn all the theoretical stuff, do the practical exam, 4 dives and pass the theoretical test with a score of 75% or higher.
The "Open Water Diver" certification name is used by the Professional Association of Diving Instructors (PADI), Scuba Schools International (SSI), the National Academy of Scuba Educators (NASE) Worldwide and the Sub-Aqua Association (SAA),which is recognised by the Confédération Mondiale des Activités Subaquatiques (CMAS) as a CMAS 1-star certification.
It is the world's most popular and widely recognized scuba course. To do that course you must be at least 10 years old, you need adequate swimming skills and have to be in good physical health. No prior experience with scuba diving is required.
If you know my story you probably think now: "why didn't she already do that course while living in the Caribbean for 3 years??"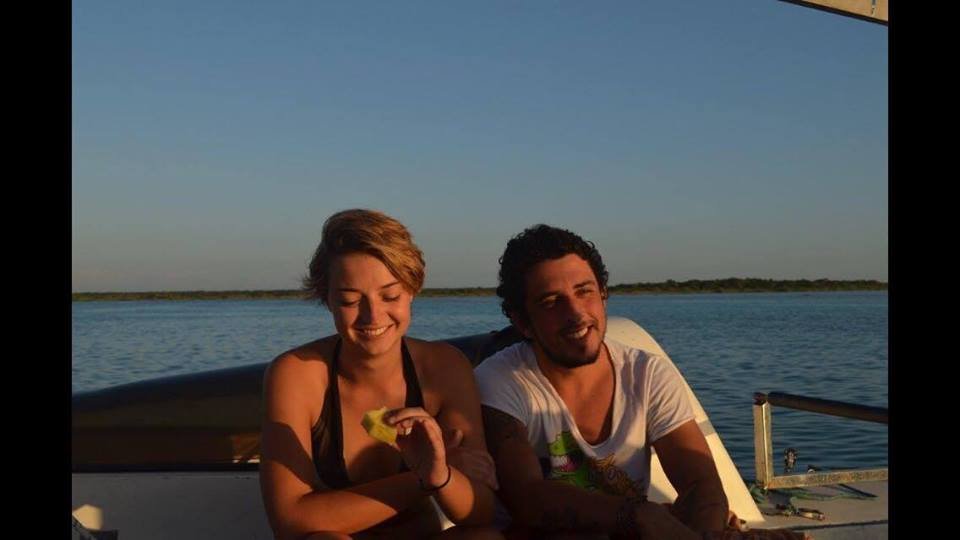 Well, fist of all I am really afraid of big fish.. and a bit claustrophobic, so I always had too much respect of diving to ever try.. I simply was to afraid.
Second of all it was really expensive in Playa del Carmen, Mexico to do that course, because it is a really touristy place, and
third of all I didn't have much free time to study or actually proceed with the dives.. so I never really got the chance to do it.
So here I was in Caye Caulker Belize, with my friend Cecile, that already knew how to dive and that encouraged me giving me the necessary kick in my ass to at least try it out.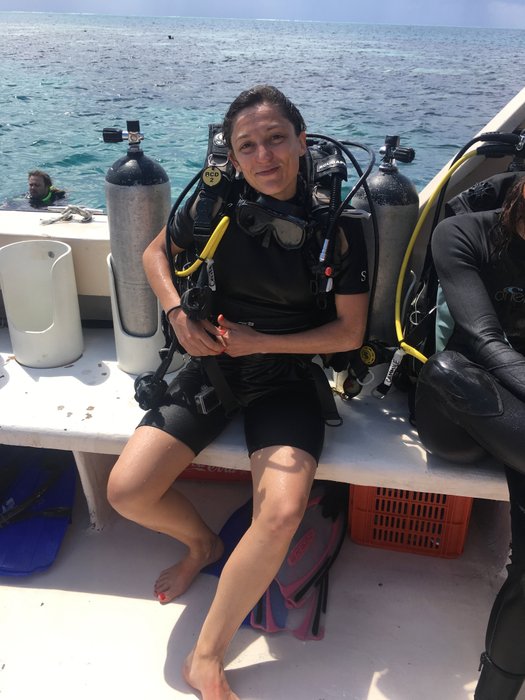 The PADI Open Water Diver course consists of three main phases:
Knowledge Development to understand basic principles of scuba diving:
In my case I got an old book with about 300 pages to study in 2 days for the exam. It was that or a few hours watching a movie with all the chapters and Information in it. As I was still on vacation and wanted to be at the beach I took the book.

Confined Water Dives to learn basic scuba skills
In my case it meant that we went straight into the ocean.

Open Water Dives to use your skills and explore!
Here the official video from PADI to check it out:
The day after I tried out free diving at Hol Chan Reef and was able to equalize the pressure under water, I went really early in the morning to the dive shop to meet my diving Instructor and see how to proceed.
I was really lucky and now I would say without those conditions I would probably never have done my PADI open water. The weather was perfect, the water is always perfect in Belize (warm, clear, beautiful), and I was the only student, so I had full attention and all the time I wanted and needed with my instructor.
He was a really funny, calm guy that from the first moment on gave me a lot of confidence. He decided to do the first part with all the practical basics and exam in the morning at our first stop, of course already in the ocean! - It is a giant pool anyways in the Caribbean, so why not do it Belizean style ;) After that we would pick up Cecile and do my first two dives at San Pedro Channel and Tackle Box.
We went to a part that wasn't too deep. On the boat my instructor already explained to me the diving gear, including a mask, snorkel, fins, regulator, buoyancy control device and a tank, first rules (f.e. never stop breathing, Pre-dive safety check (BWRAF), how to assemble and put on the scuba gar.), different signs to comunicate and what we were about to do.
Of course I was a bit scared at the beginning. It was my first time using diving equipment and I was already out in the ocean surrounded by little fish and a few nurse sharks stopping by, while my diving Instructor showed me what to do and then asked me to repeat after him.
First he made sure I was fine breathing under water. He showed me how to inflate and deflate with the BCD and let me find my balance to get used to being under water breathing regulary. He showed me how to decend (SORTED) and equalize. At about 8 meters we started the exercises.
I was fine comunicating under water with my Instructor. He showed me what I had to do and then I had to repeat. I had all the time I needed and he even would repeat again if needed.
So the first steps were kind of easy. I had to show how to clear water from my regulator, recover it from behind my shoulder, breathe from a free-flowing regulator for 30 seconds (air blasts out of the regulator forcing you to 'sip' air from it), take off scuba gear and put it back on at surface and at depth, tighten a loose cylinder band, disconnect and reconnect the low pressure inflator at surface and at depth, remove and replace weights at surface and at depth, do out of air exercises: using alternate air source and providing alternate air source.
Only when it came to the mask I started to get nervous... really nervous! At first I just had to partly flood it and clear it again, which was ok. Just so you know, I am one of thooose people that can't open their eyes under water because it burns like hell.. so when they get wet it is really not easy to open them again and feel confortable about it.
So when the mask got flooded, for me it started to be unconfortable. Second step: flood it fully and clear again... no way!! now I really got scared. For that it was clear that I had to close my eyes! 8 meters under water with big fish around, water in my nose and eyes and not allowed to go right up to the surface!!
I let my Instructor repeat like 3 times and had it half flooded, cleared again and was close to cancelling.. He calmed me down and told me to take my time. I literally could feel my heart beat. Luckily I am also a Yoga teacher, so I tried to control my breathing and told myself I could do it. I flooded it fully and cleared it again.
When I opened my eyes I saw my instructor in front of me, smiling almost proud and signing like saying: see, no problem, why all this drama!
I was super relieved for like 20 seconds haha until he showed me what was next: Remove mask and breathe for one minute while stationary, replace and clear mask!
IMPOSSIBLE I thought and instantly panicked again!! He calmed me down and showed me again. I tried and instantly panicked when the mask was gone, swam up to the surface and opened my eyes. - He followed me and asked me what the problem was.
I told him about my fears, about water getting into my eyes and nose etc. He told me: "Ok, now calm down, you can do all the steps seperately, you showed me! Now I will help you with your nose, but you promise me you stay down when you are finished. You are so close to finishing!- Take all the time you need, you can do that."
And I really did! It took me like 10 minutes to calm down and fight an inner battle with myself about if I would do that now or chicken out again cancelling everything. After that I managed my breathing and did everything really slowly. I let my instructor know that I am ready, I let him repeat again and then removed my mask. He was holding my shoulders so I knew he was there. With one hand I was holding my regulator and with the other the mask and my nose.
Little problem, how would I be able to put on the mask now? - I could feel the hand of my instructor holding my nose, so I could put on the mask with that hand. I did slowly, I cleared it and opened my eyes. They were burning a lot, but I did it!!! I was so proud and relieved. And I pray to whatever is out there, that I will never have to do that again haha!
So after that he rewarded me with a little swim through the reef. We saw a lot of beautiful fish and it was so nice to just float around, train to equalize while going up and down along the corals and watch the underwater life.
After that I only had to practise a controlled emergency swimming ascent (CESA) and on the boat he showed me the proper post-dive care of scuba gear. Practical Exam - Done!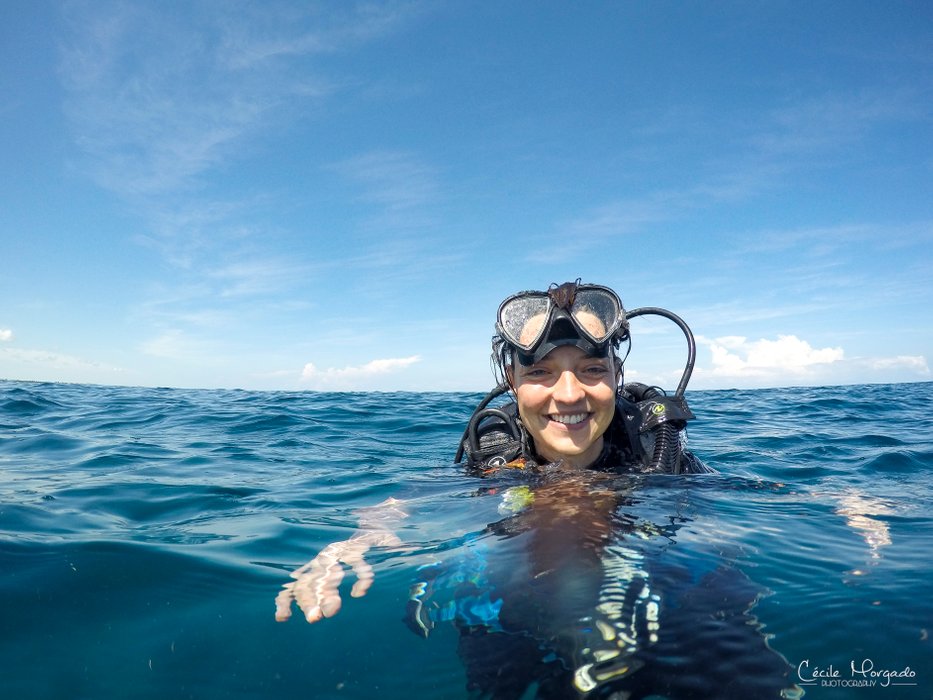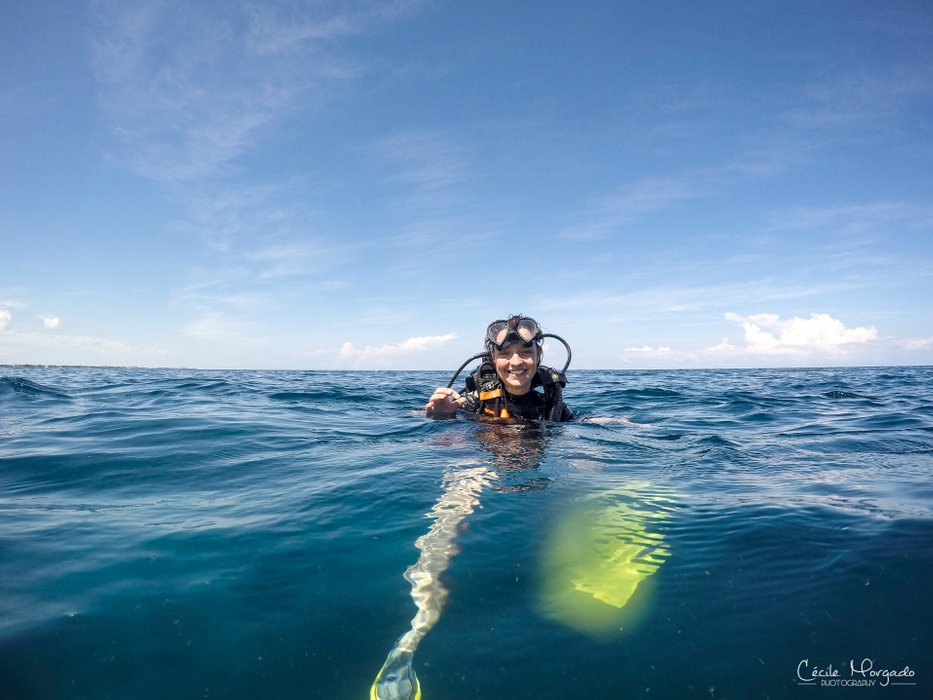 After that we went to pick up Cecile and went to San Pedro Channel and Tackle Box. The next morning we went another whole day diving at Esmeralda Cayon and Caye Caulker Channel. I will just put all the pics together because if not the post will get too long describing every dive one by one. Also two times we forgot the go pro hehe..ups.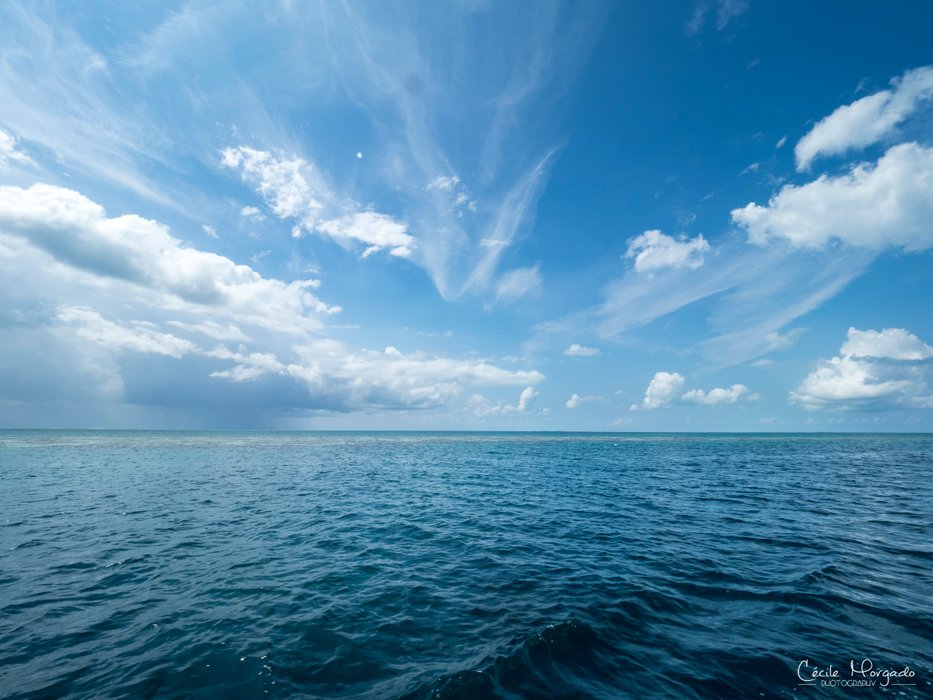 Cecile and I went in and of course she took pictures and videos again, while I was still a bit struggeling but also enjoying a lot! We saw all kind of fish! a lot of nurse sharks but also reef sharks (like a lot .. I panicked there for a while haha), turtles, colored sponges and corals, fish and even a couple of Dolphins!! my absolute high light!!
Ambergris is the largest and most popular of the offshore cayes, with 25 miles of Belize's spectacular barrier reef sitting less than a mile offshore. The calm waters are full of dense coral and lush reef growth with visibility up to 150 ft.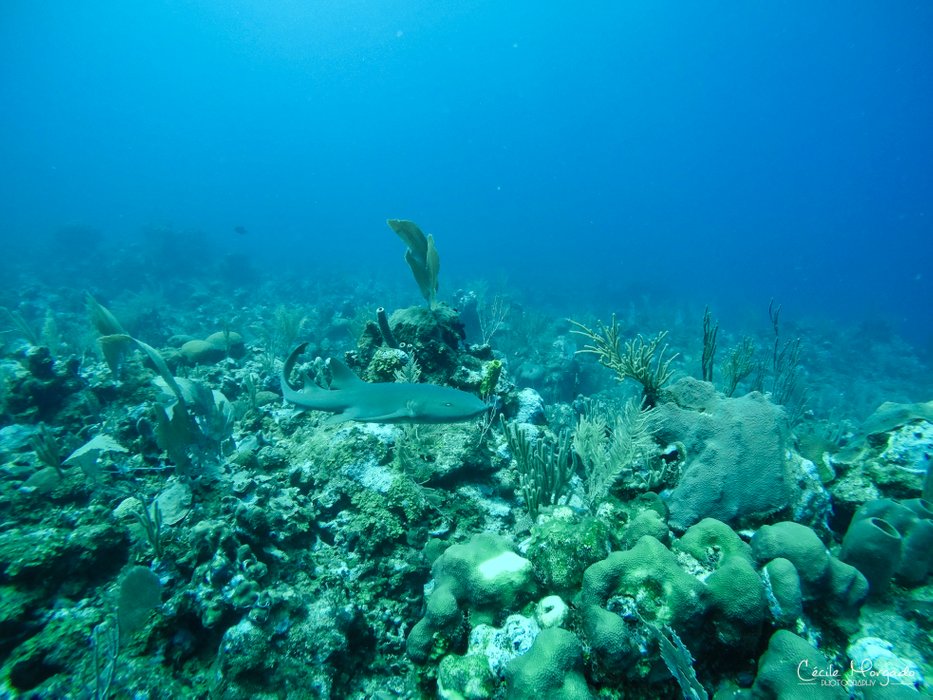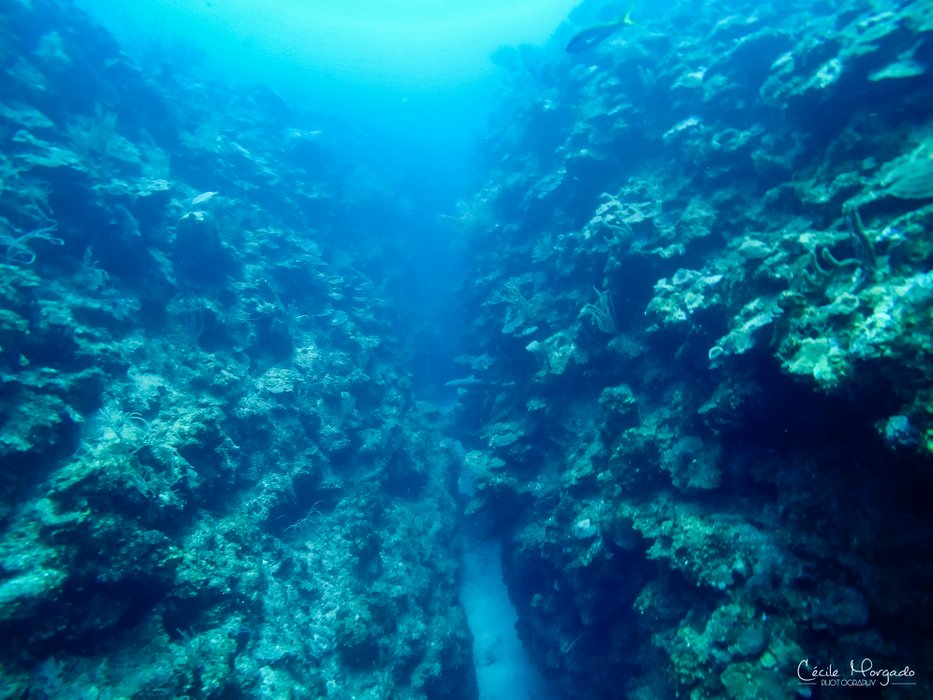 Vase sponges, tube sponges and coral pinnacles are home for countless miniscule creatures awaiting discovery. Shrimps, brittle stars, nudlibranchs, tube worms and tunicates of every imaginable color. Twenty five miles of solid barrier reef, one-third mile from shore with several channels passing through. Mostly deep diving outside the reef in spur and groove coral formations.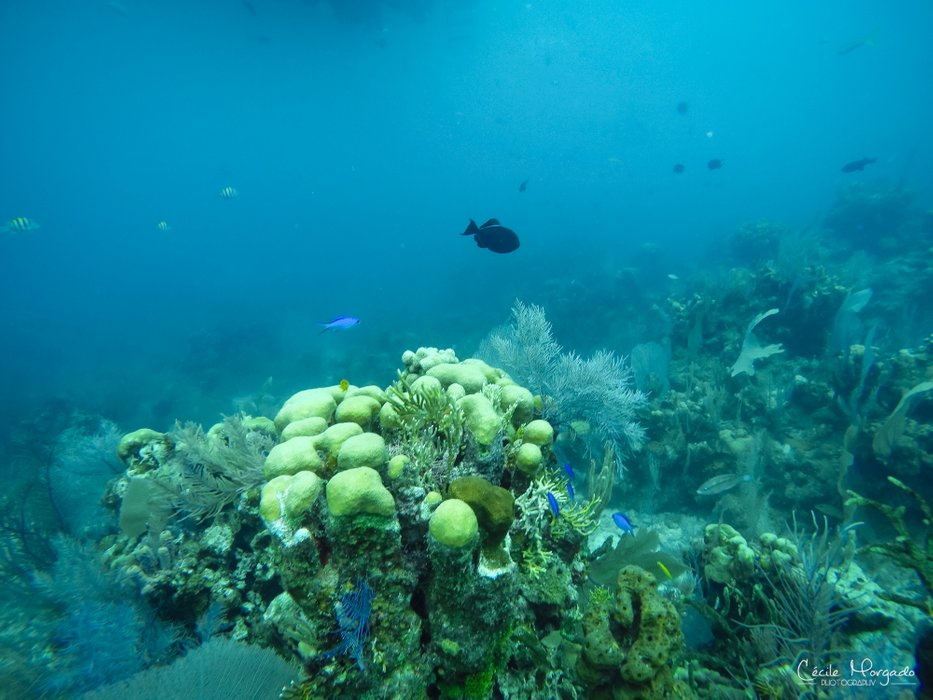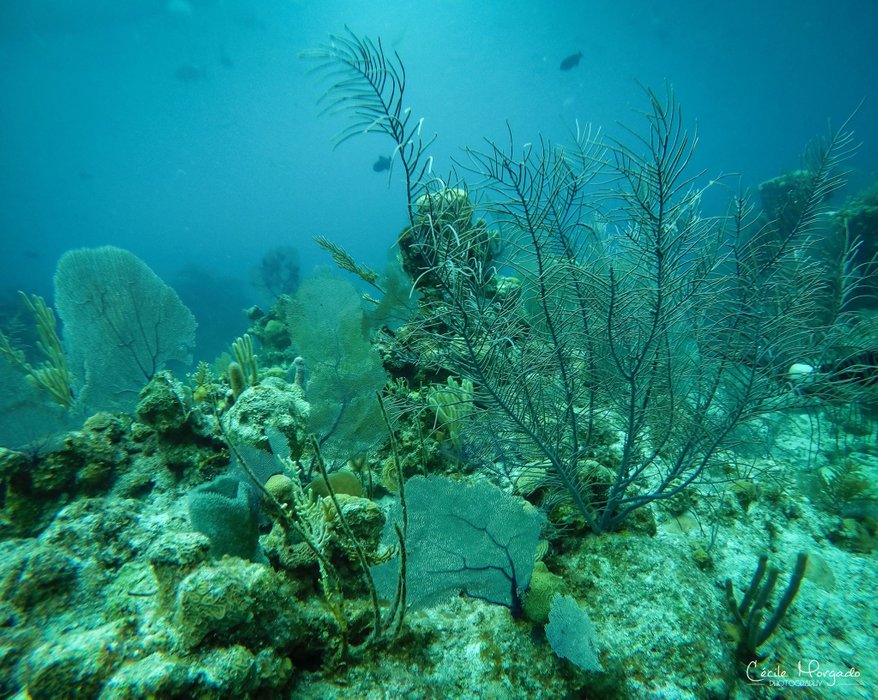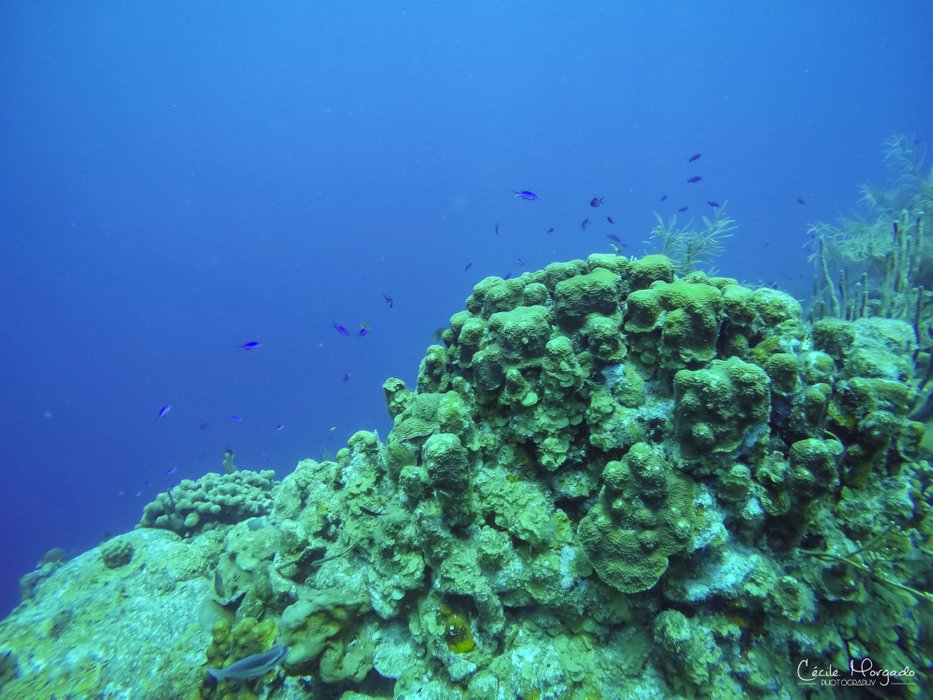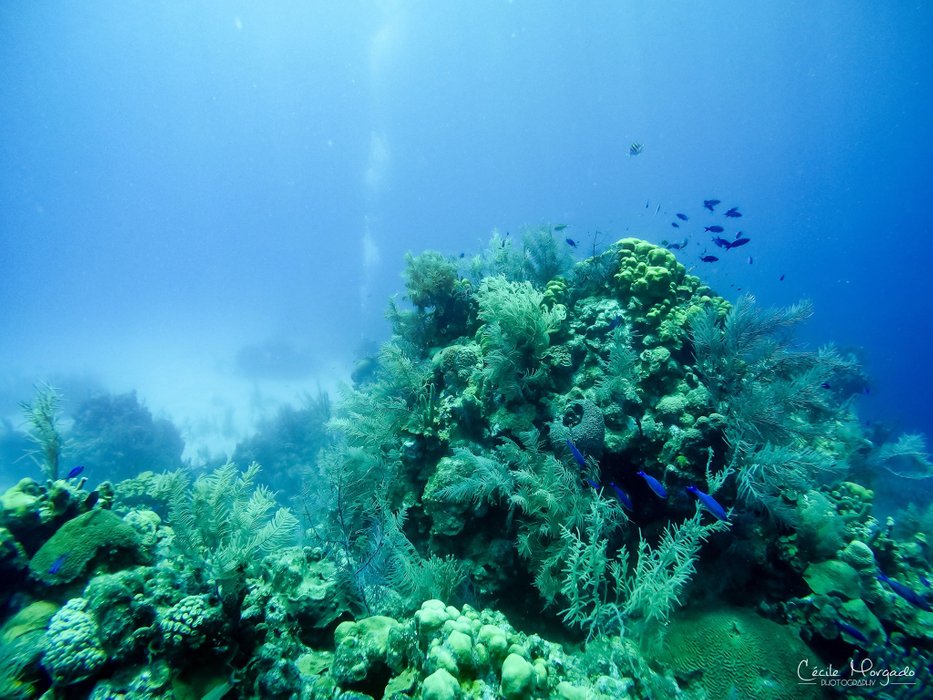 Ambergris Caye is part of a chain of islands that all have one thing in common. Barely one mile in front of them to their east one can find the most astounding scuba diving and snorkeling on the second largest barrier reef of the world.
If one is lucky and dives to the right time this barrier reef is known for sightings of all kinds of large creatures as well. The Reef shark and Nurse Shark are occasional visitors as well as the Whale Shark and the Loggerhead Turtle. Also Manta Rays and larger species of sharks are known to visit these waters.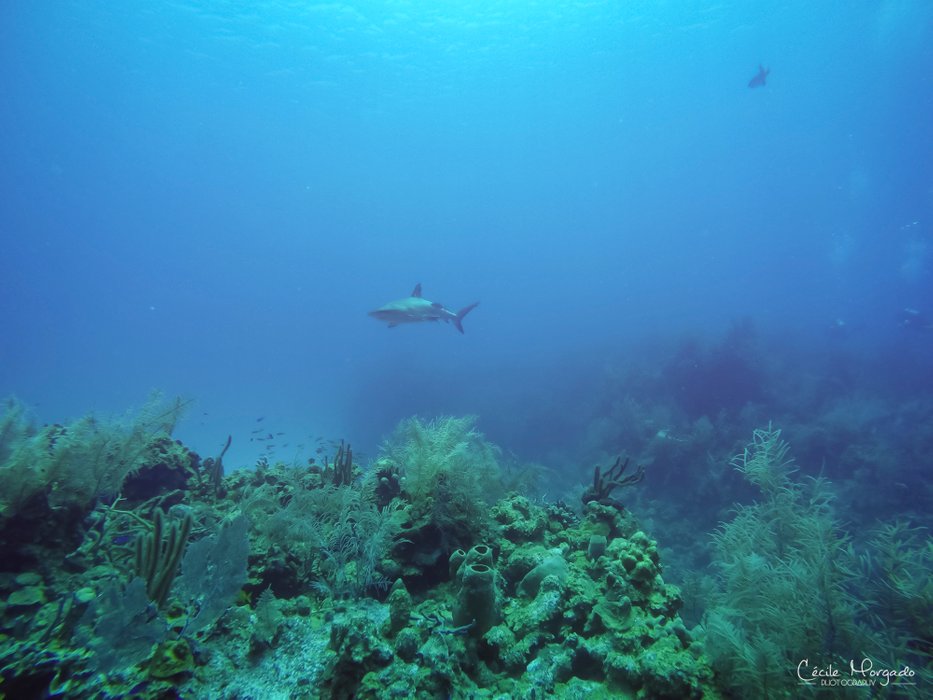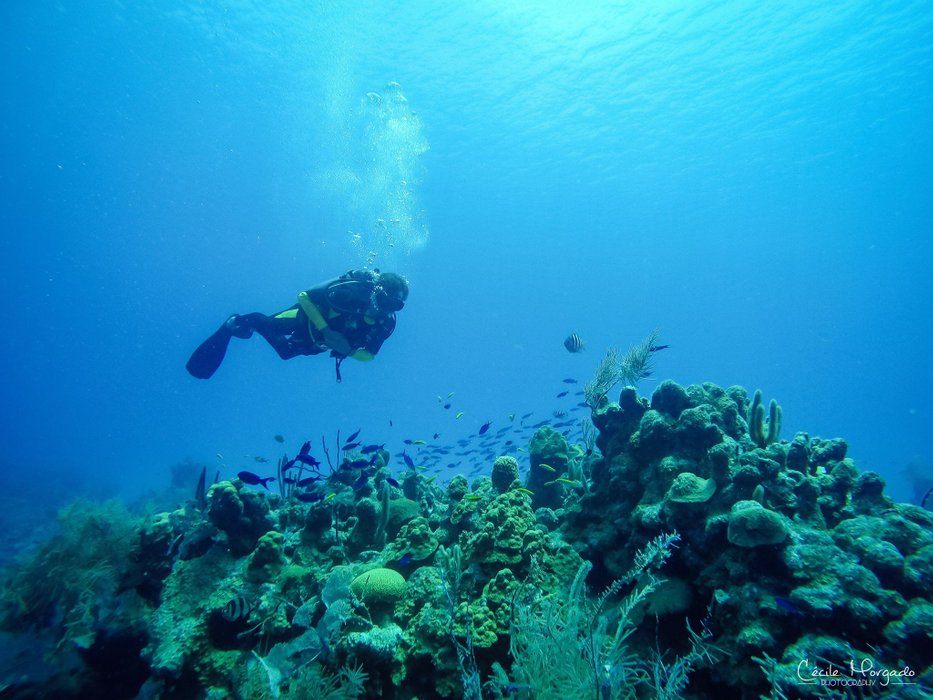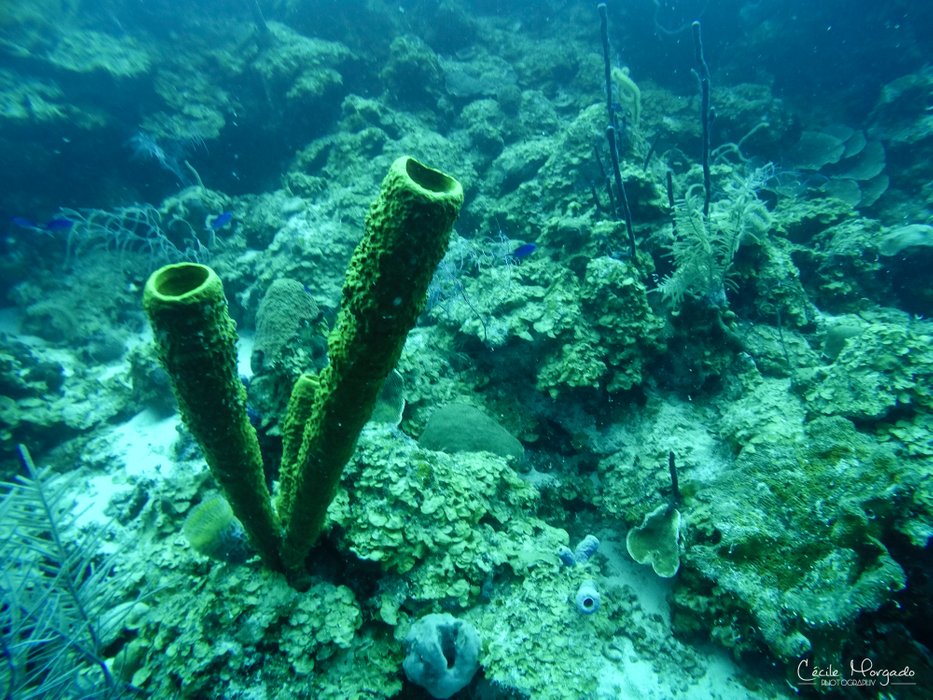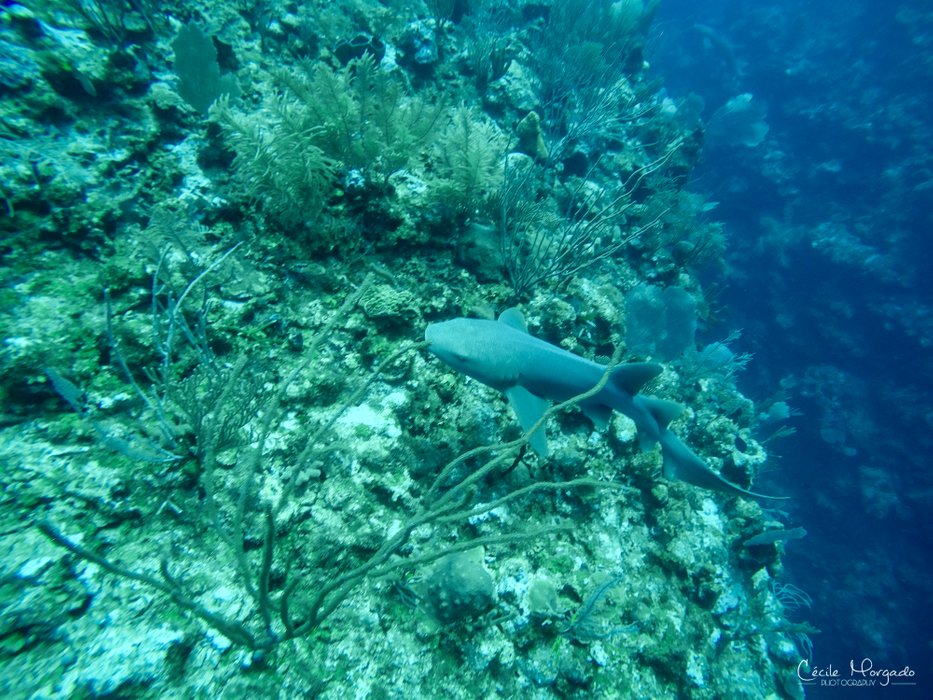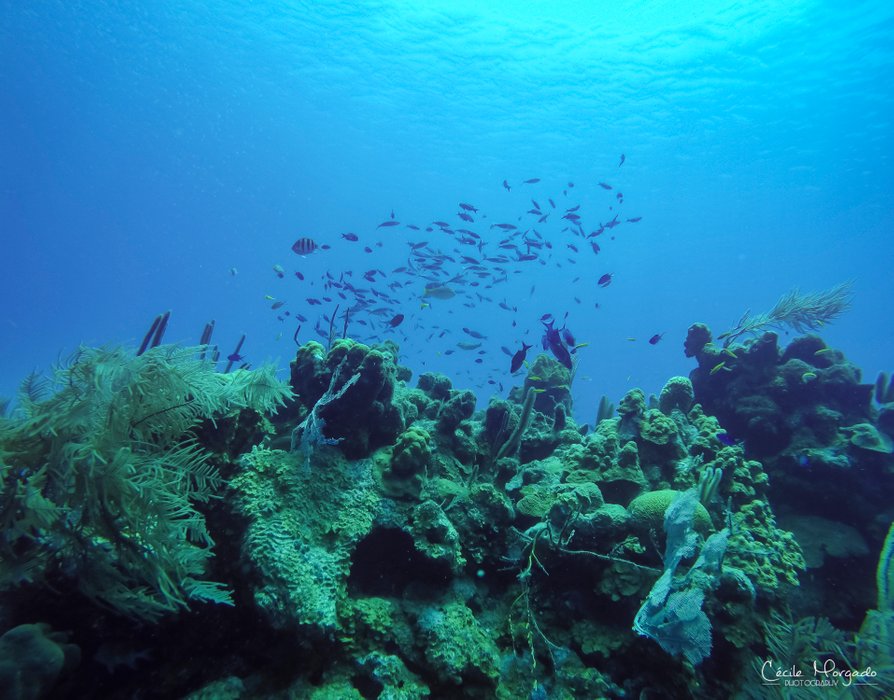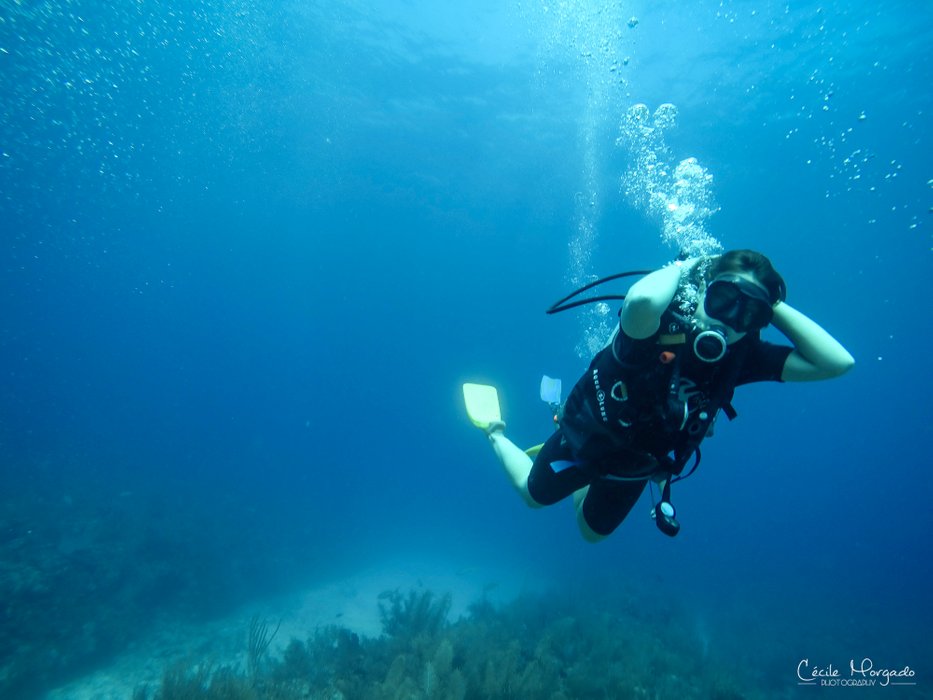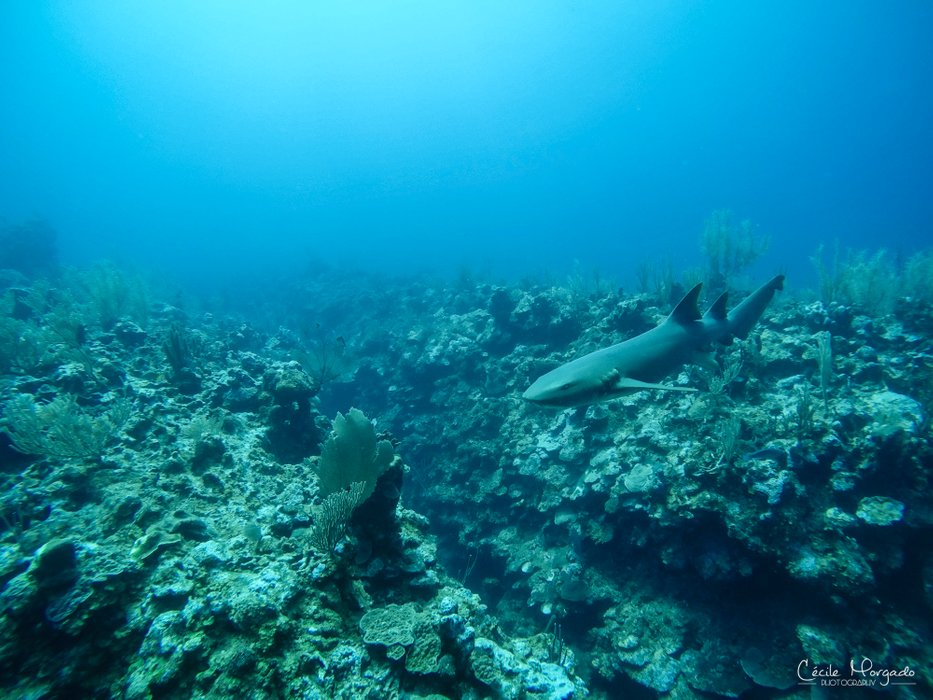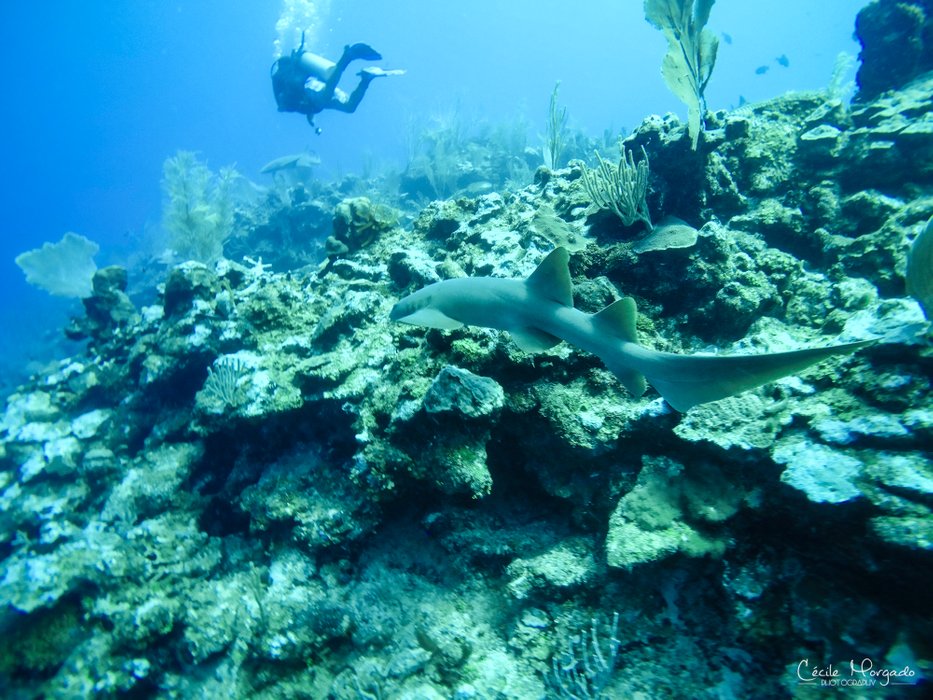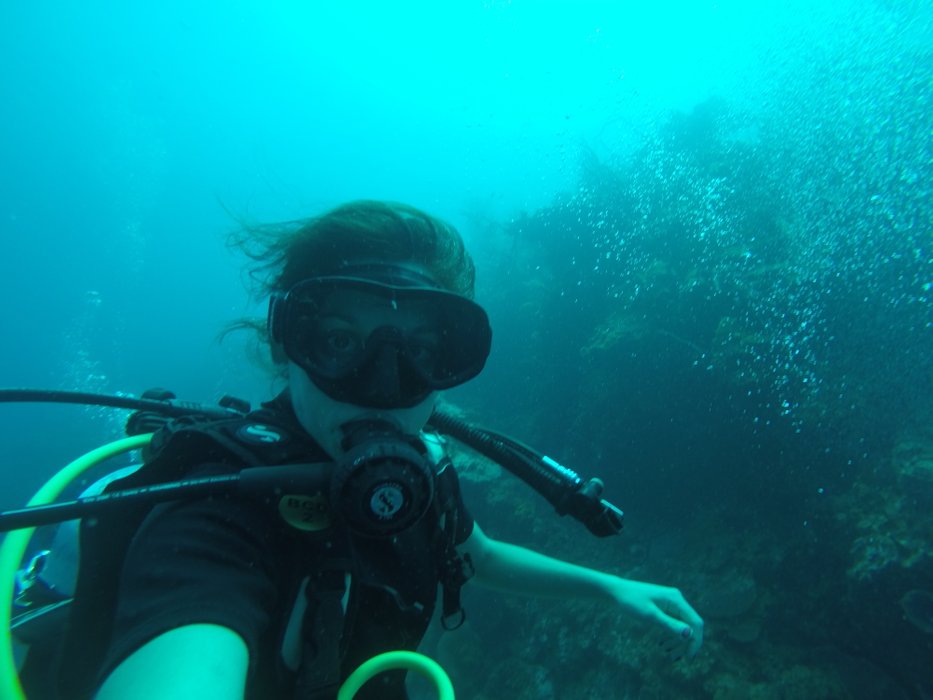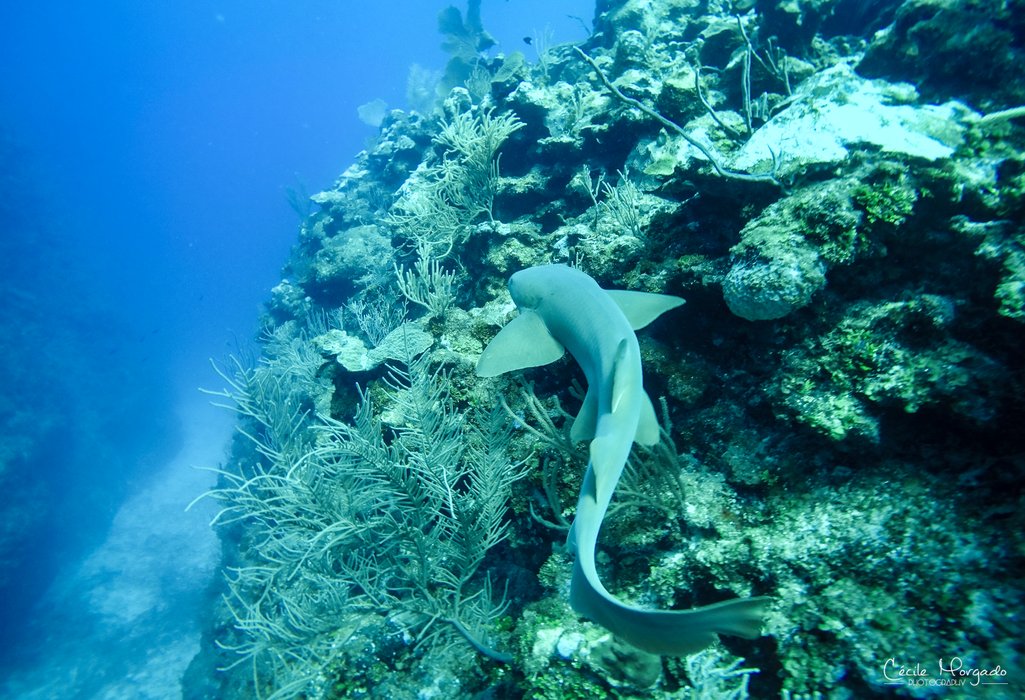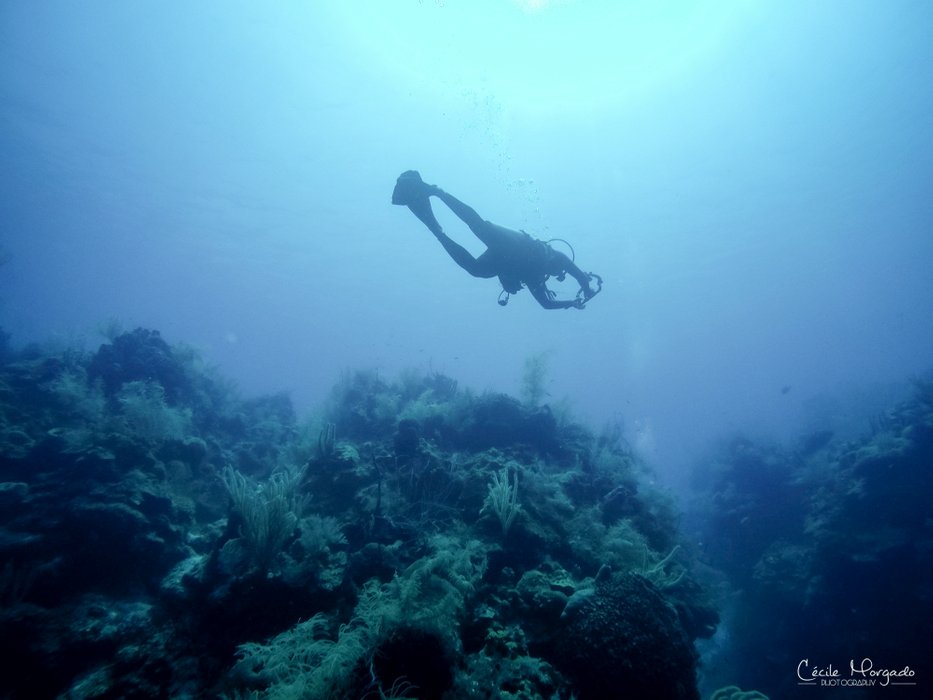 I was so scared and happy at the same time!! It is just great and you see so much more than snorkeling!! I love it but still have a lot of respect! - I am still sure, if Cecile wouldn't have been there next to me I probably wouldn't have stayed that long down there, watching all those sharks, fish, eals, baracudas etc. - Also the Instructor was just epic!! I would have never done that in a group or with someone just a bit less patient!! I had just the perfect conditions and I am thankful for that!
What a fucking great experience!! Next time I go diving I will still be afraid, but at least I know what is coming, so I will also be excited!
I am so proud that I finally got my certificate! - If I can do it belize me, you can do it as well ;)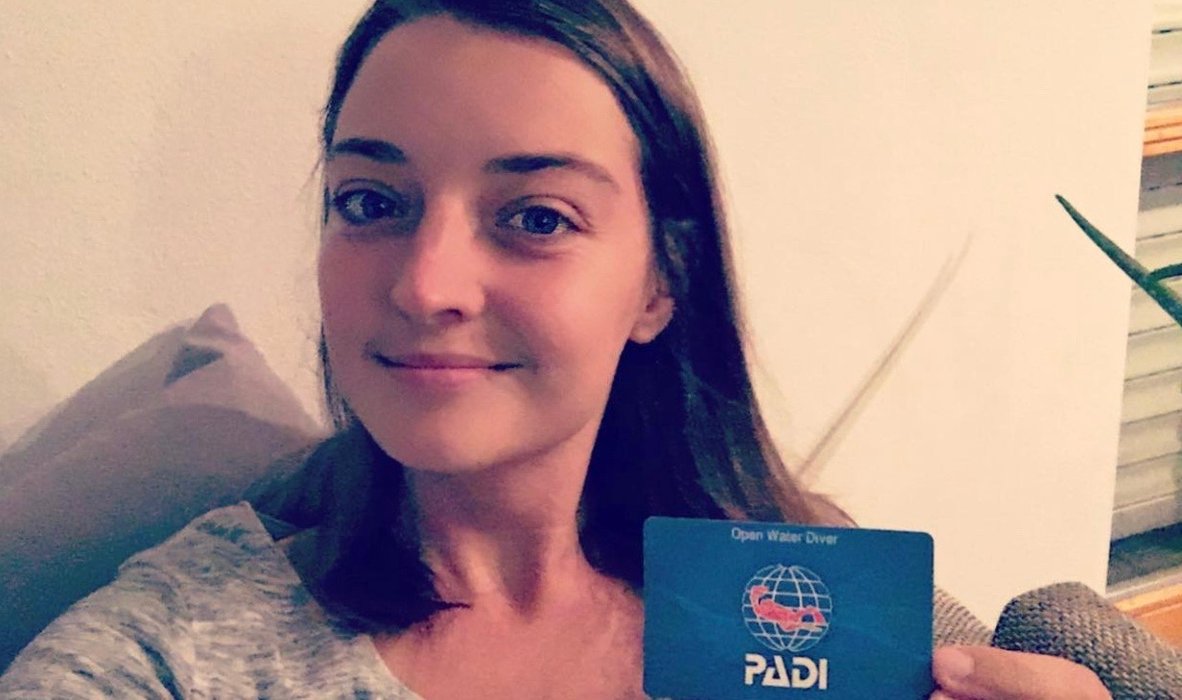 As every other afternoon on that beautiful Island we finished the day by watching the sunset from Split with a cocktail and celebrated our adventure!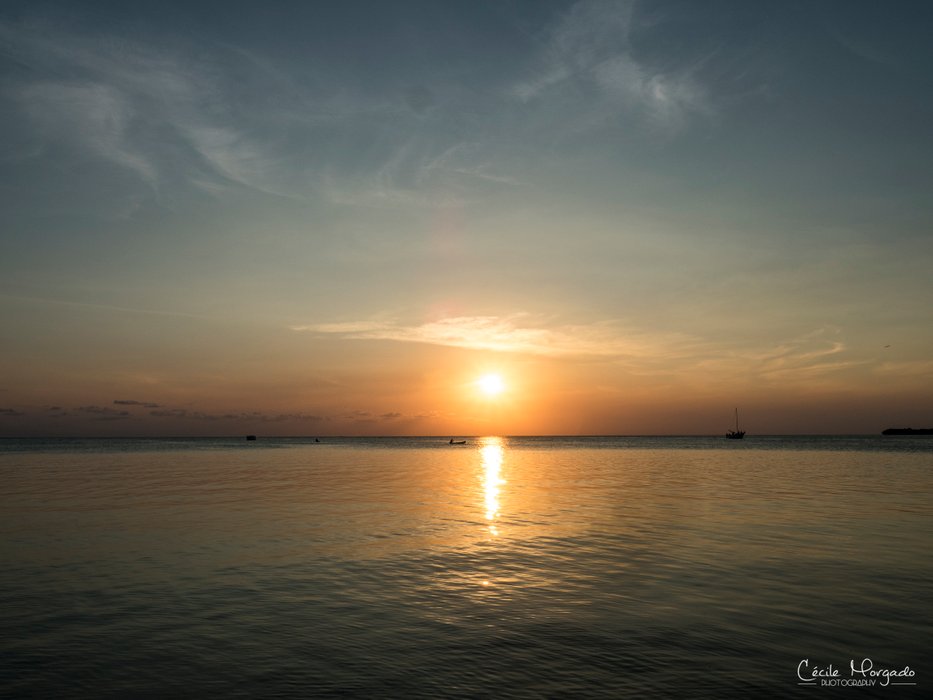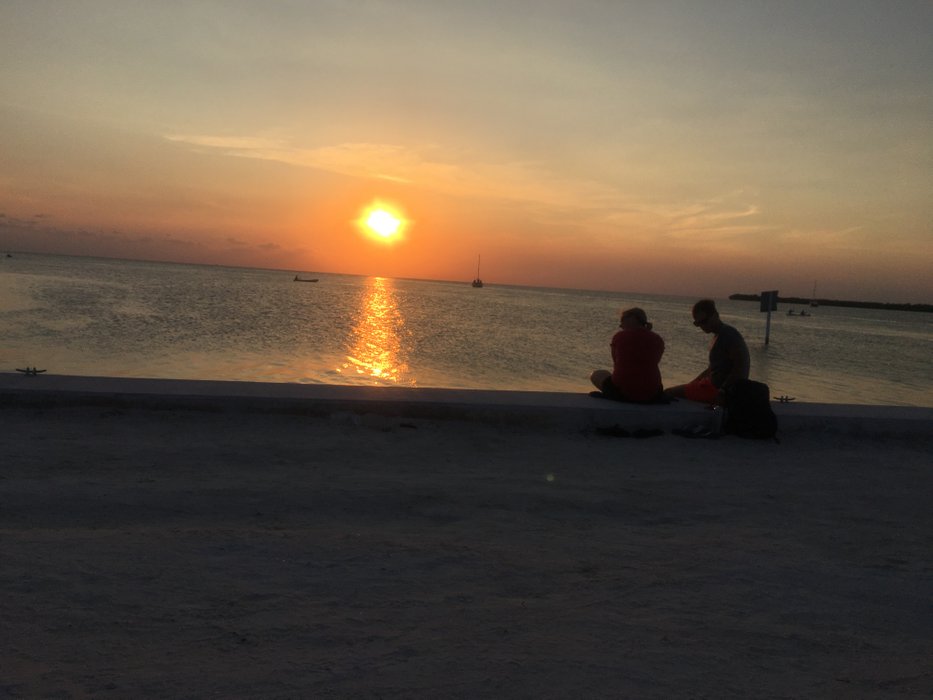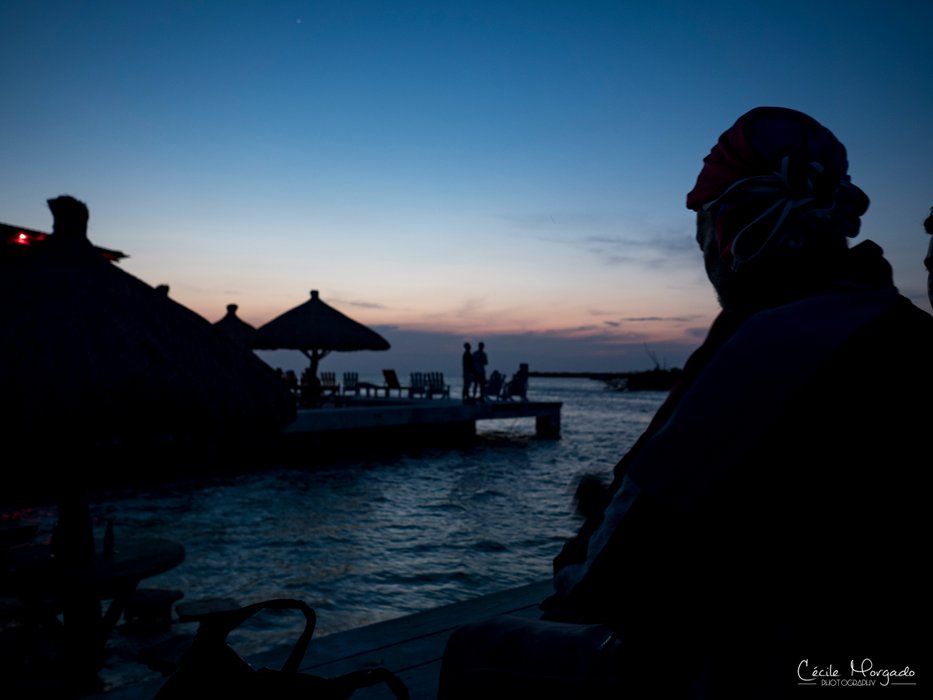 Cheers,
Liz