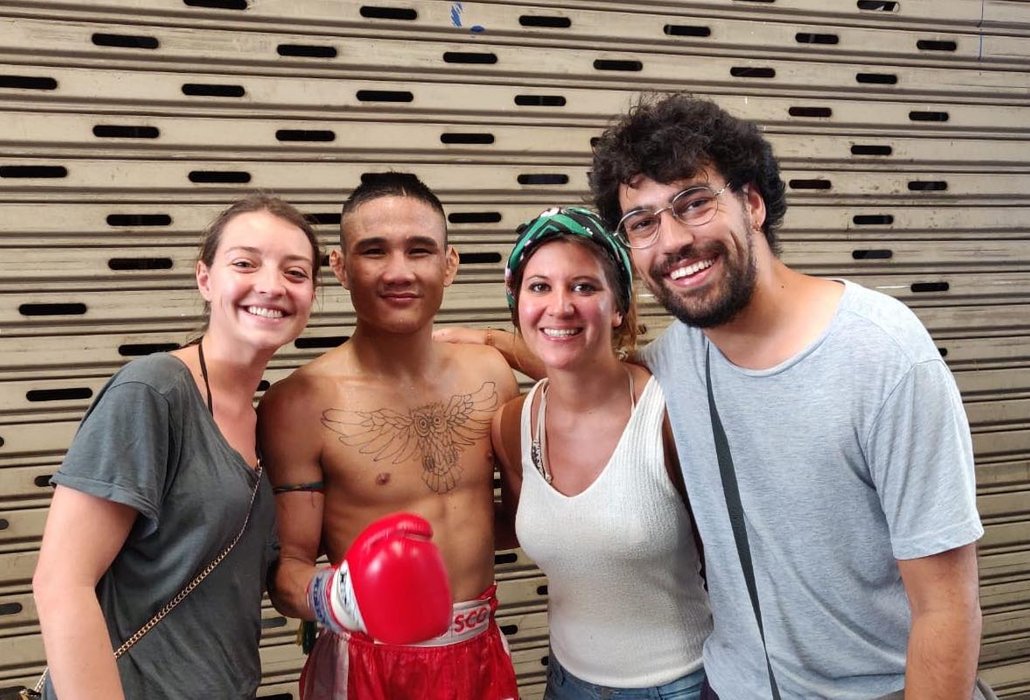 So as you know the past month after Steemfest I have been in Munich, Germany to safe some money for my next travels, spend Christmas with my family and join some of the meet ups.
But as it happens in Germany in December it got colder and colder and I just felt that I had to leave and get some sun soon. Some of the steemians were already joking about doing a meet up on New Years in Thailand, so I figured why not?! - And I booked a ticket.
Now I heard a lot about Thailand before, because it's one of the most popular destinations for Backpackers, especially young ones, doing their first Backpacker life steps. I mean Thailand's most important source of income is tourism. In 2015, 19 million tourists visited the country. Its capital, Bangkok, was the most visited city in the world in 2016.
It is really touristy here and there for not really what I am usually looking for. But still I also heard that it is easy to get around, pretty chilled, because people here are in fact pretty used to having tourism in their country and they have wonderful beaches... so how could I skip it?? - Sounded like something that I could need right now.
The officially Kingdom of Thailand borders Myanmar, Laos, Cambodia, Malaysia, the Andaman Sea (part of the Indian Ocean) and the Gulf of Thailand.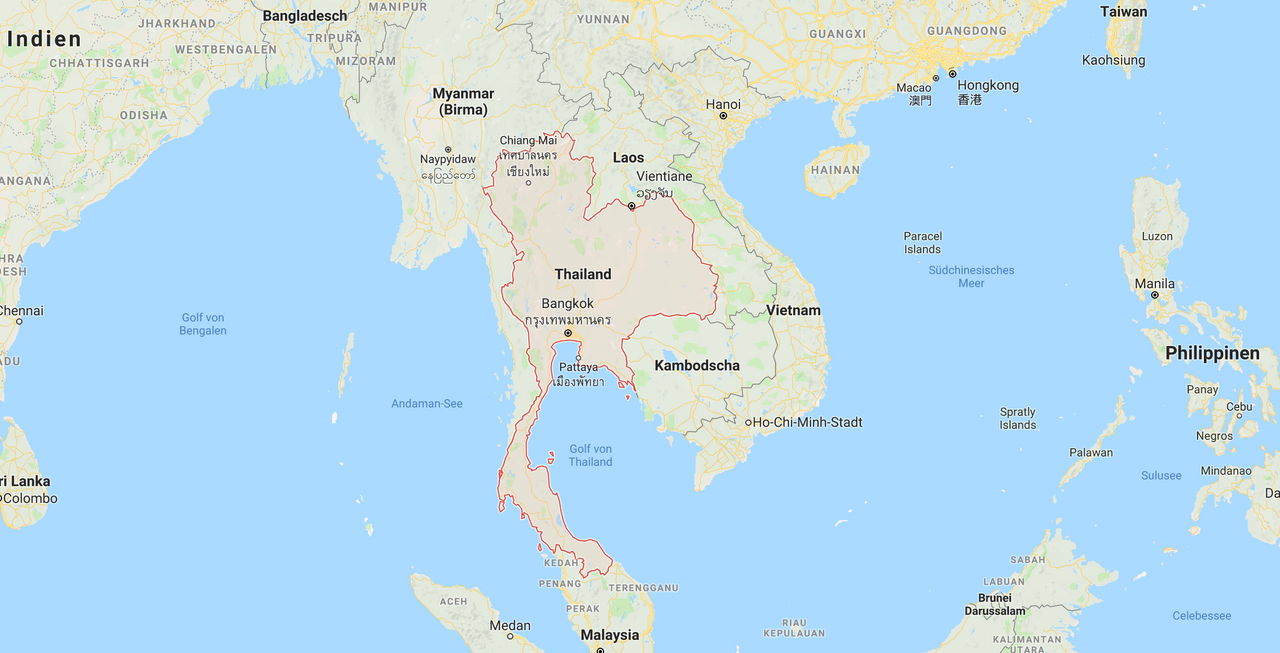 The capital of Thailand and by far the largest city in the country is Bangkok. The country is de jure a constitutional monarchy. King Bhumibol Adulyadej was head of state from 1946 until his death in 2016. Since December 1, 2016 his son Maha Vajiralongkorn is Thai king. You can see his picture all over the country and people here love him.
Since the coup of 22 May 2014, the military has been governing with dictatorial powers. Buddhism is the dominant religion of the country, almost 94 percent of the Thai people are committed to it, it is particularly promoted by the state, but is not an official state religion; 5.1% are Muslims.
So just after Christmas I took the plane in Munich heading to Abu Dhabi, where I would stay for 3 hours before taking the next plane to Bangkok. I was feeling pretty sick because of a bad cold, lot of work and stress at home. So the air conditioning in the plane and later in Abu Dhabi was killing me. I tried to stay as warm as possible covering myself up.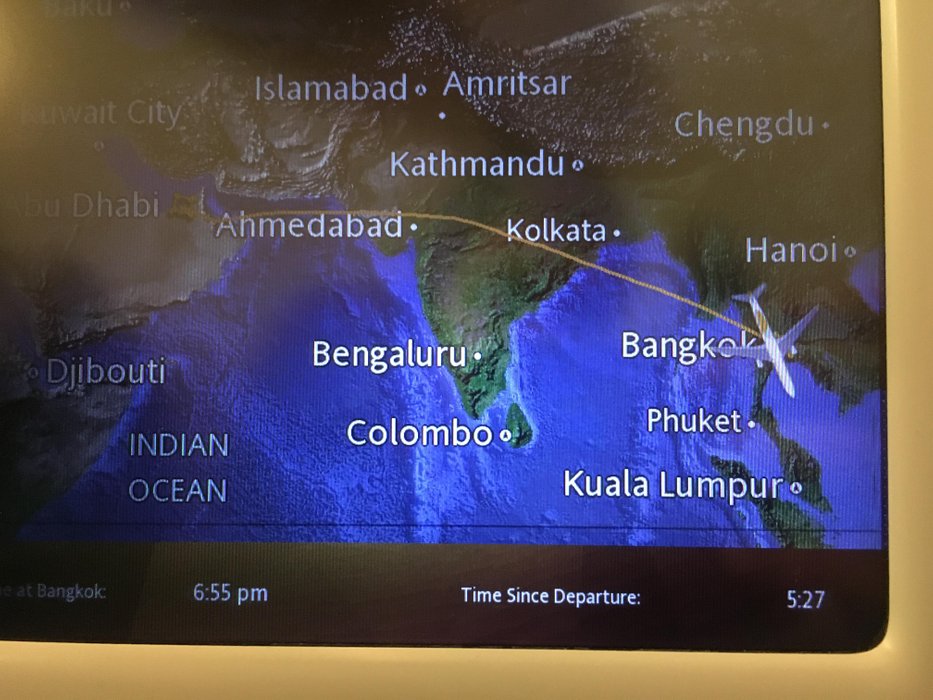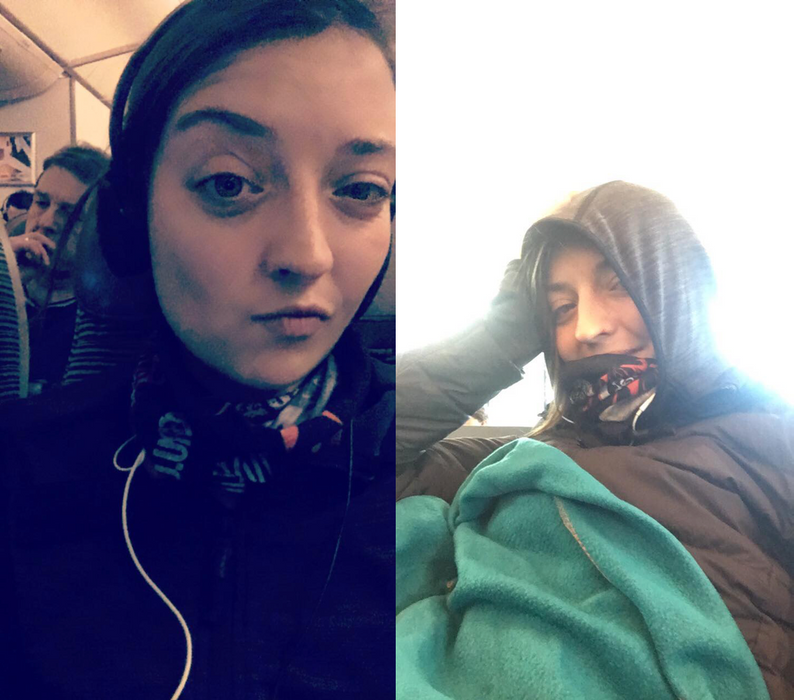 @Martibis and my friend Fie (you know her from previous posts in Copenhagen and Island) where already in Bangkok waiting for me and @martibis even went to the airport to pick me up and get me to the airport, as he knew I was sick.
Unfortunately we couldn't land right away, because it had been raining a lot and the city was kind of flooded for a while. - So we landed in Pattaya instead and headed to Bangkok 1 hour late...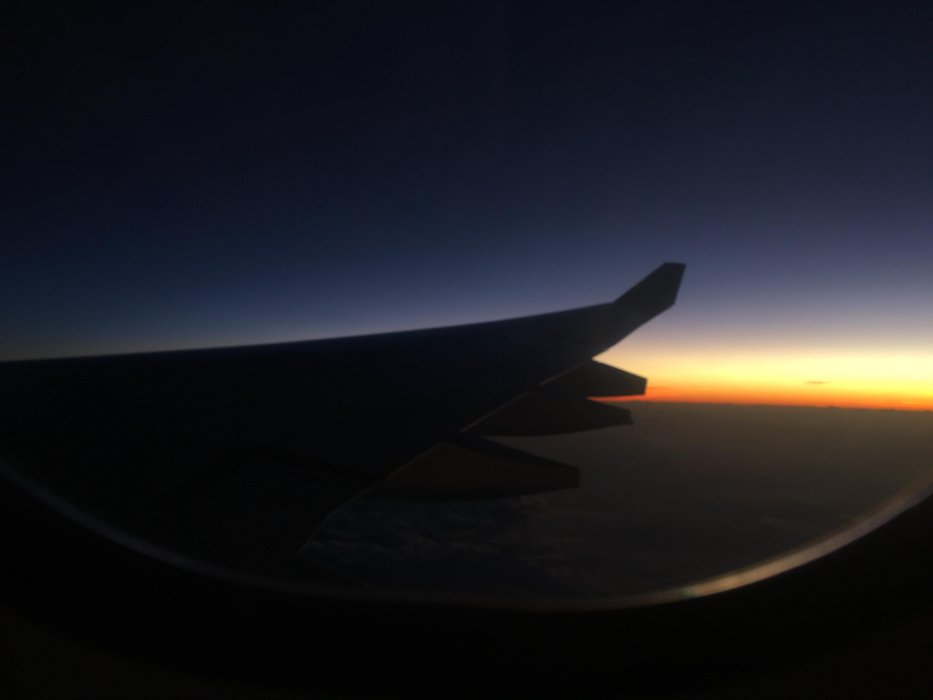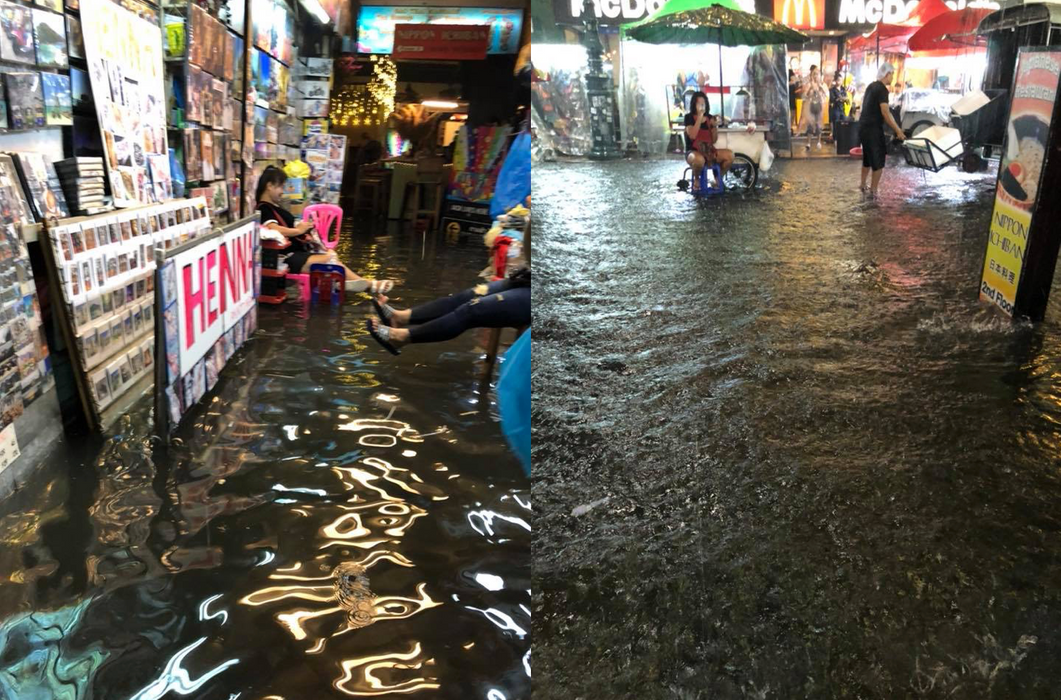 So when I finally got there I looked like shit, feeling super sick hahaa.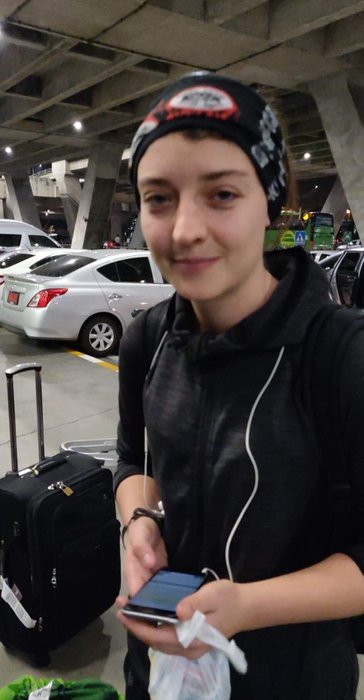 @martibis got me in a taxi and we went straight to Khaosan Road, where our hotel was located. The moment I got out of that taxi I could feel how my mood changed instantly. This was exactly what I needed, back to crazy!!
Khao San translated means "road of polished rice". This street is about 400 meters long and was built by the king. In the past, rice was mainly sold here. It has become known since the mid-1980s by its popularity by backpackers. The street is lined with several hotels, pubs, restaurants, antique shops, tailors, street vendors, tattoo shops and travel agencies.
During the day it seems rather inconspicuous, but at night the street is closed for cars and you can find the pure chaos! You have the feeling that there is nothing that does not exist. From massage, scorpions, pad thai, beer, buckets, clothes, jewelery over ping pong shows, hair extensions, manicures, tattoo or henna up to laugh gas, electric shocks and dance floors everything is covered. - I love it!!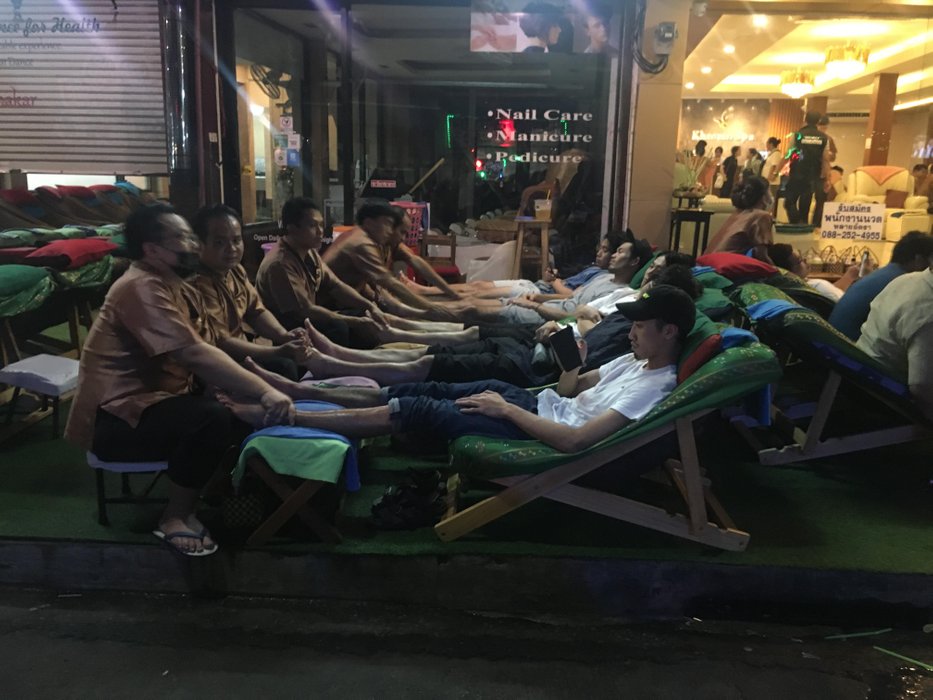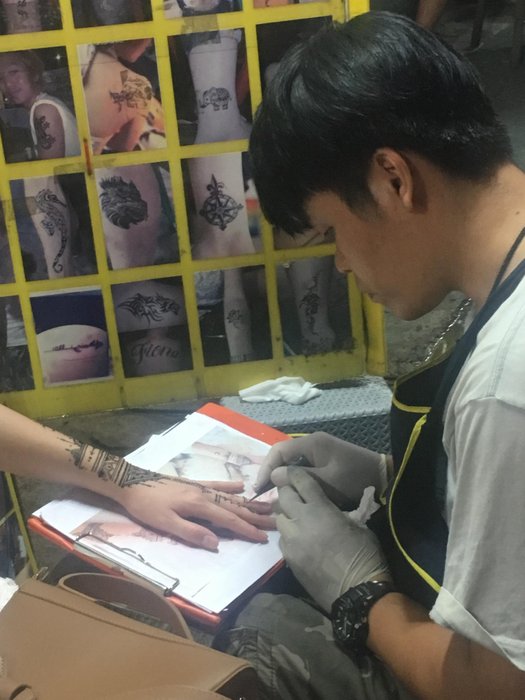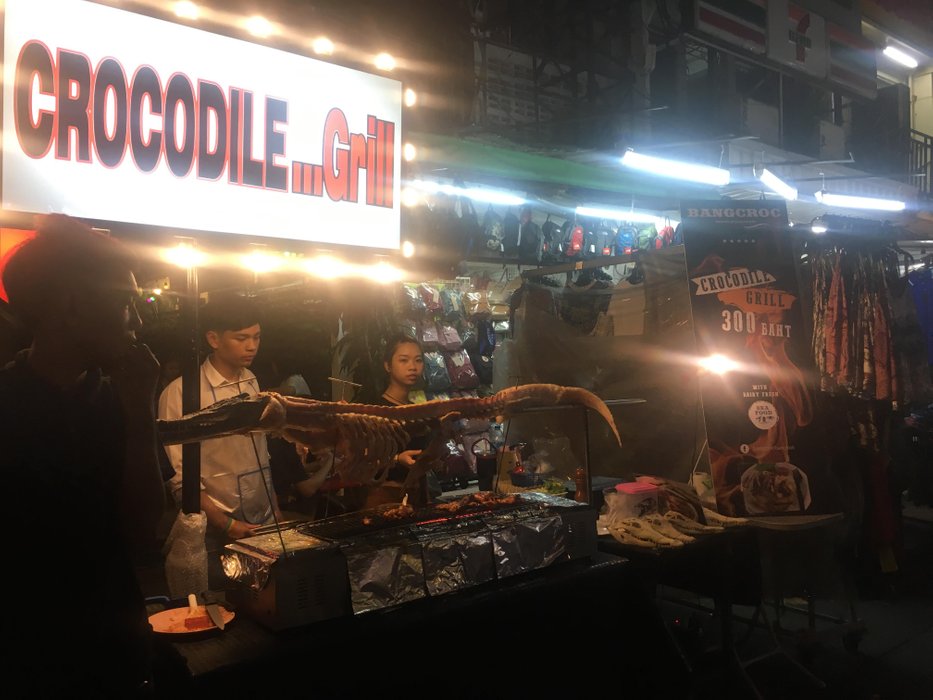 We just met up with my friend Fie and got some awesome Pad Thai with egg and chicken and a cold beer, as I was starving and super tired. It was already 2am! - Just after 2 hours in Thailand I felt already like new born and super happy!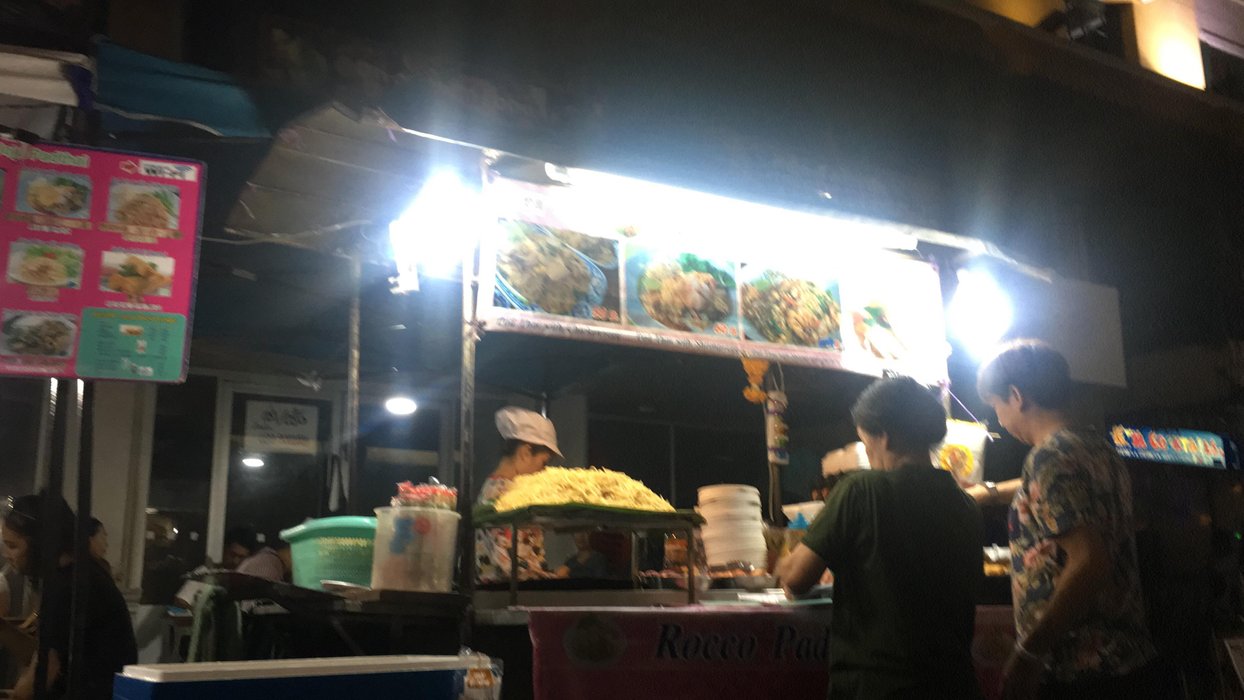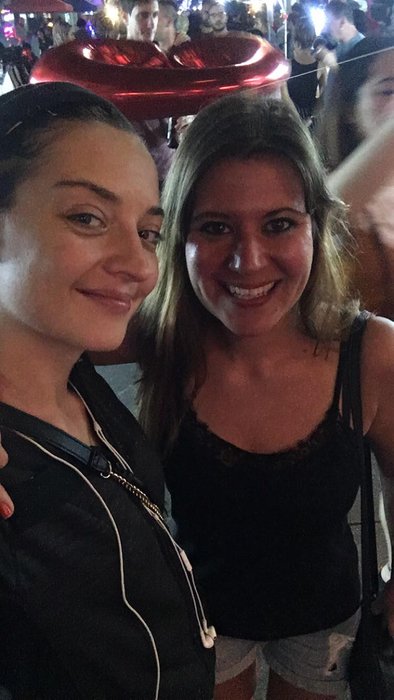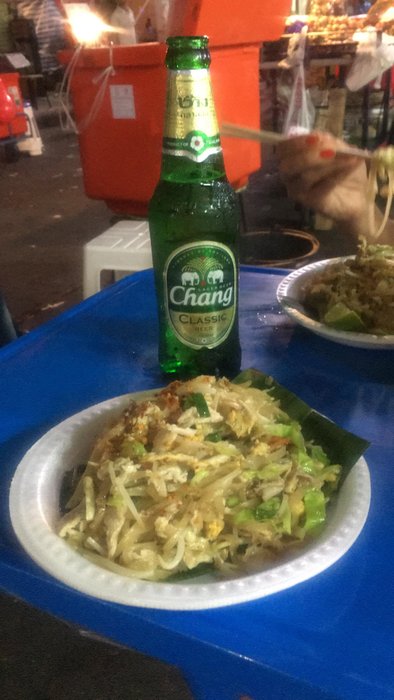 The next morning my friend Fie and me decided to chill a bit at our awesome rooftop pool at the hotel in the morning and enjoy the sun and the view for a bit with great breakfast.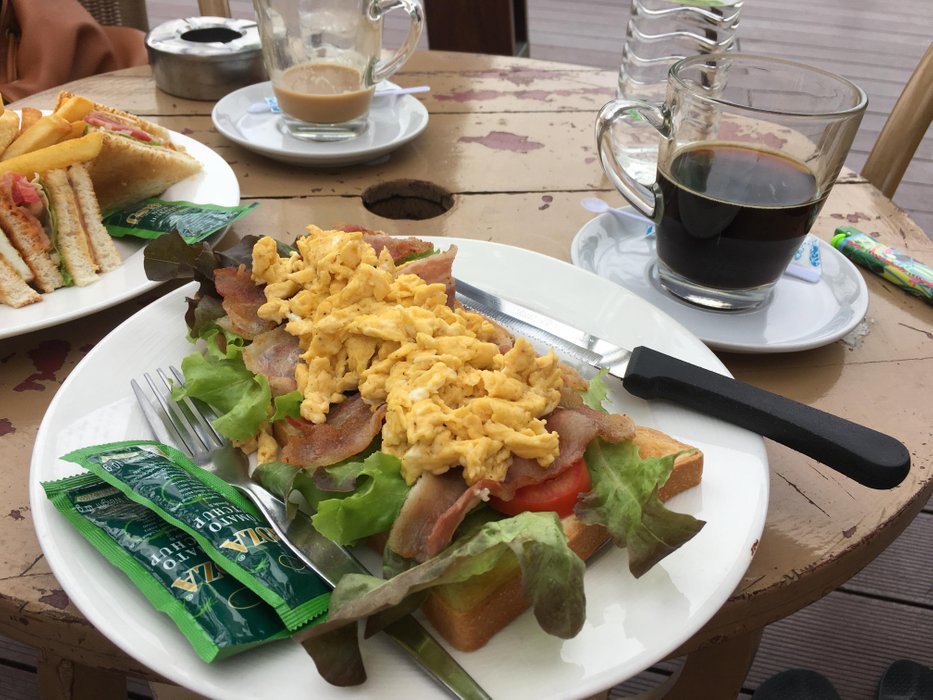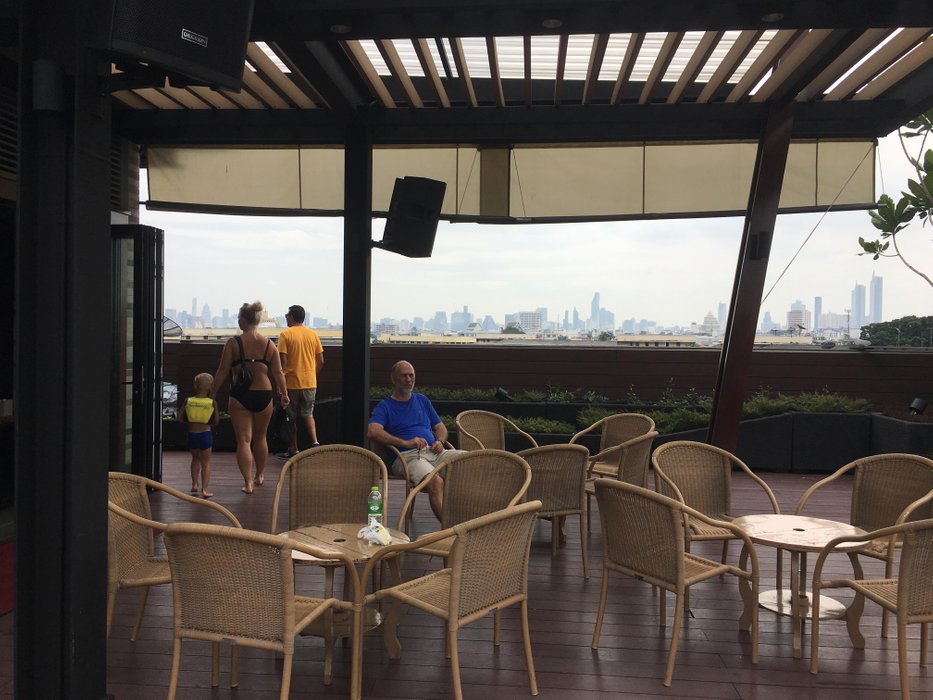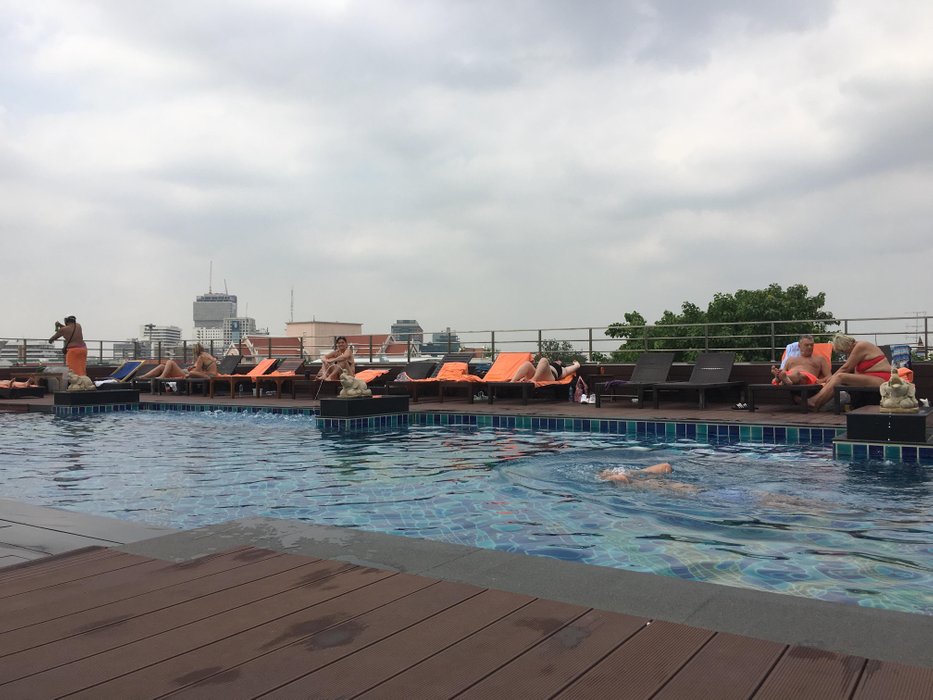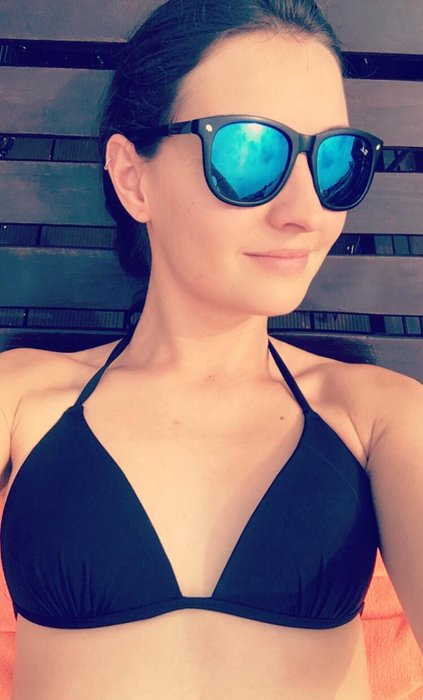 In the afternoon @martibis came by to pick us up.
From there we took a tuk tuk to explore the city a bit. For me it was still so weird, that everybody here drives at the left side of the street haha. But the ride was a lot of fun! We put music on and tried not to fall off the tuk tuk.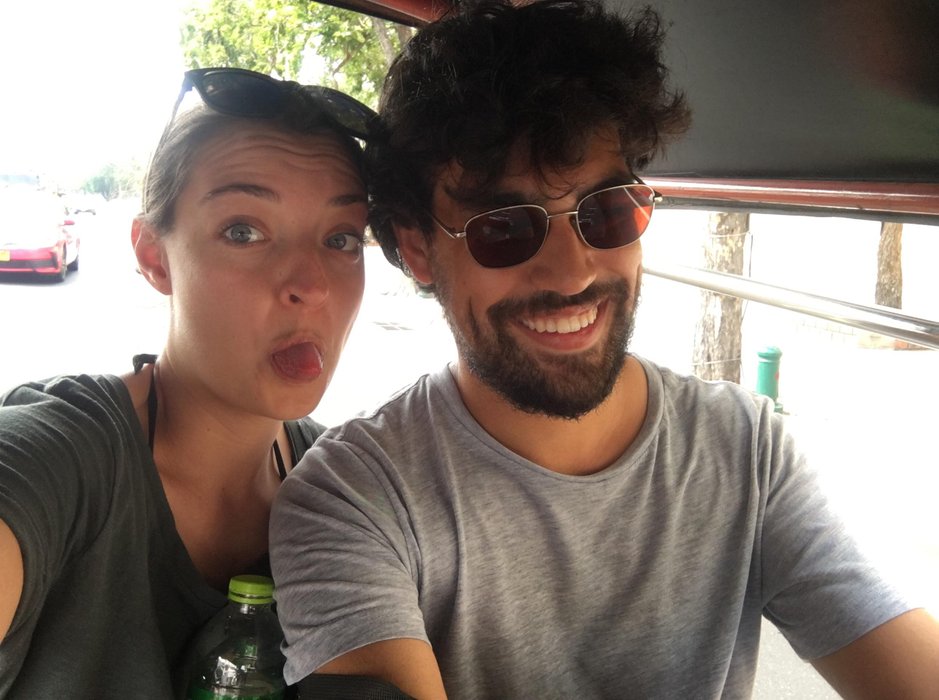 Our first stop was the Thai boxing fight at Channel 7 stadium.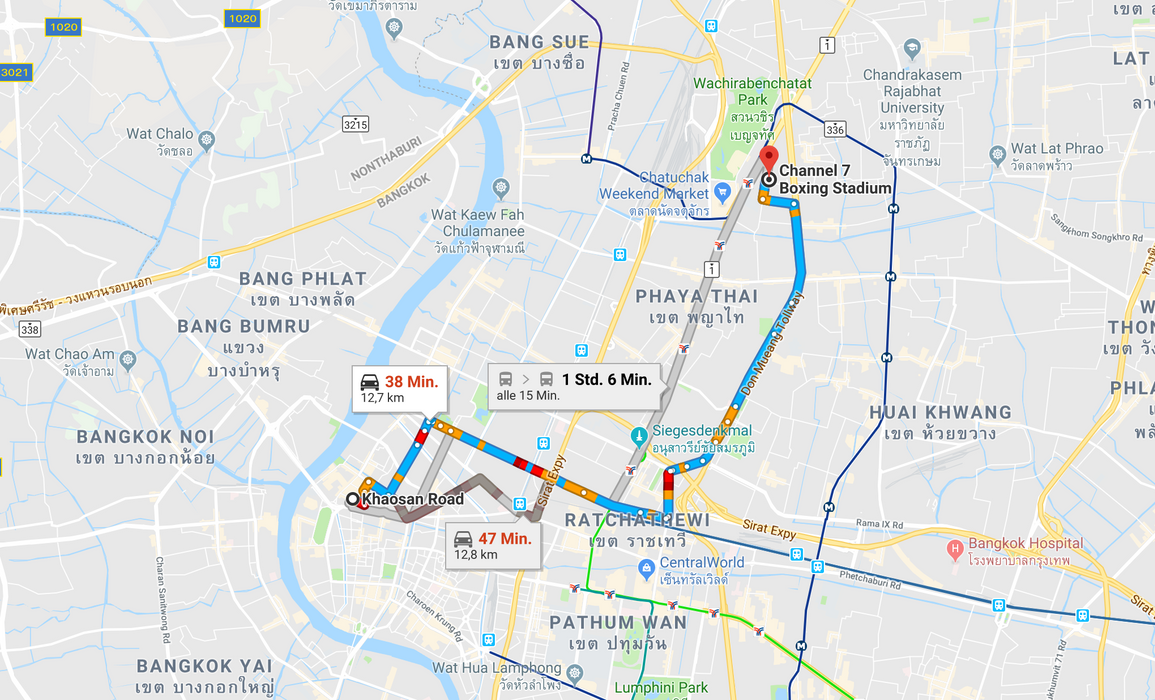 You can go there for free every Sunday from 14:30pm on and see how the Thai boxers fight each other while the locals shout at them and bet on them. It is super crowded and hard to get through at first, but after a while you find a good place to stand and watch.
Money just goes from one side to the other .. the locals are betting on punshes, kicks etc.. I tried hard following their hand signs and the money exchange to understand the system, but I couldn't find any logic in it. Pretty impressive to see it though. After the first few rounds it also got really tough for the fighters and they even were bleeding a bit..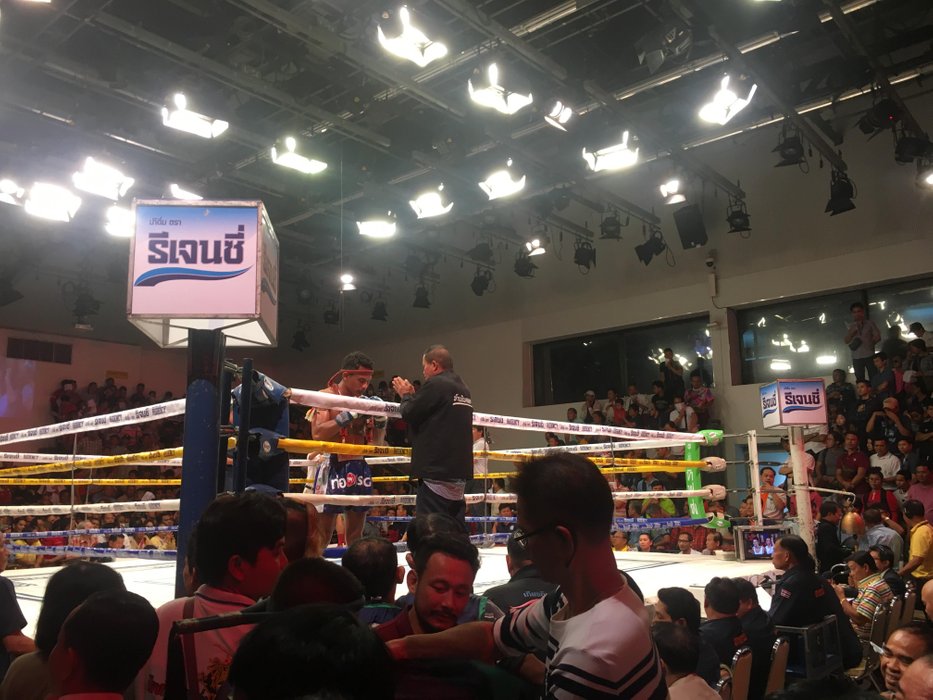 Once the fight was over we had seen enough and went out to get to our next stop. The winner was standing outside giving an interview and we used the chance to get a pic with him. He was actually pretty nice and felt happy with 2 girls in his arms ;)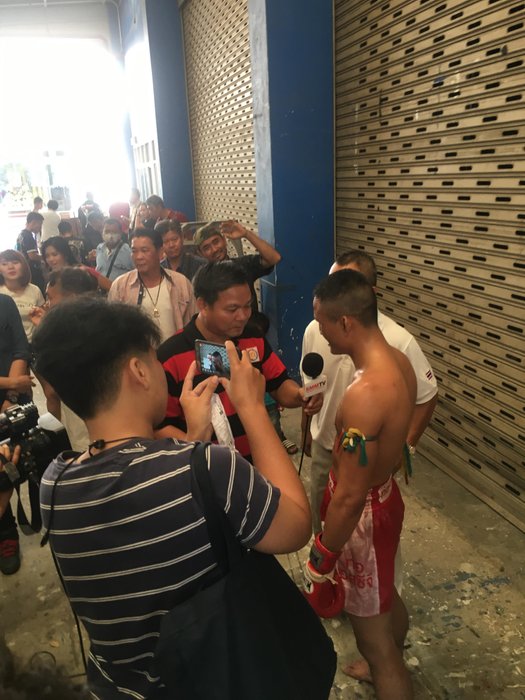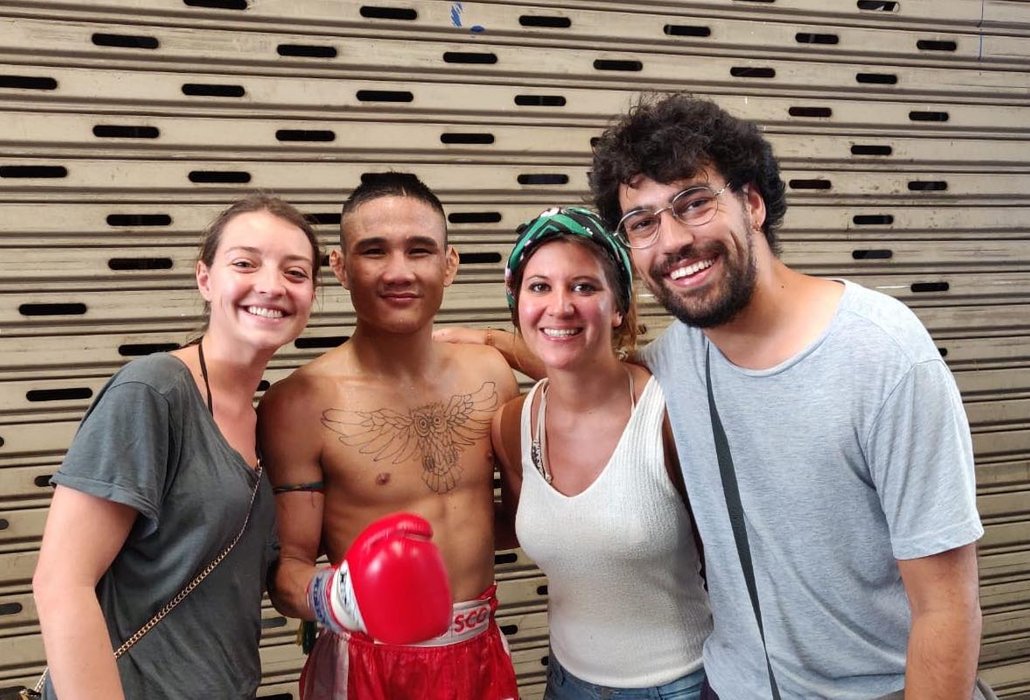 From there it was pretty close to the big chatuchak market.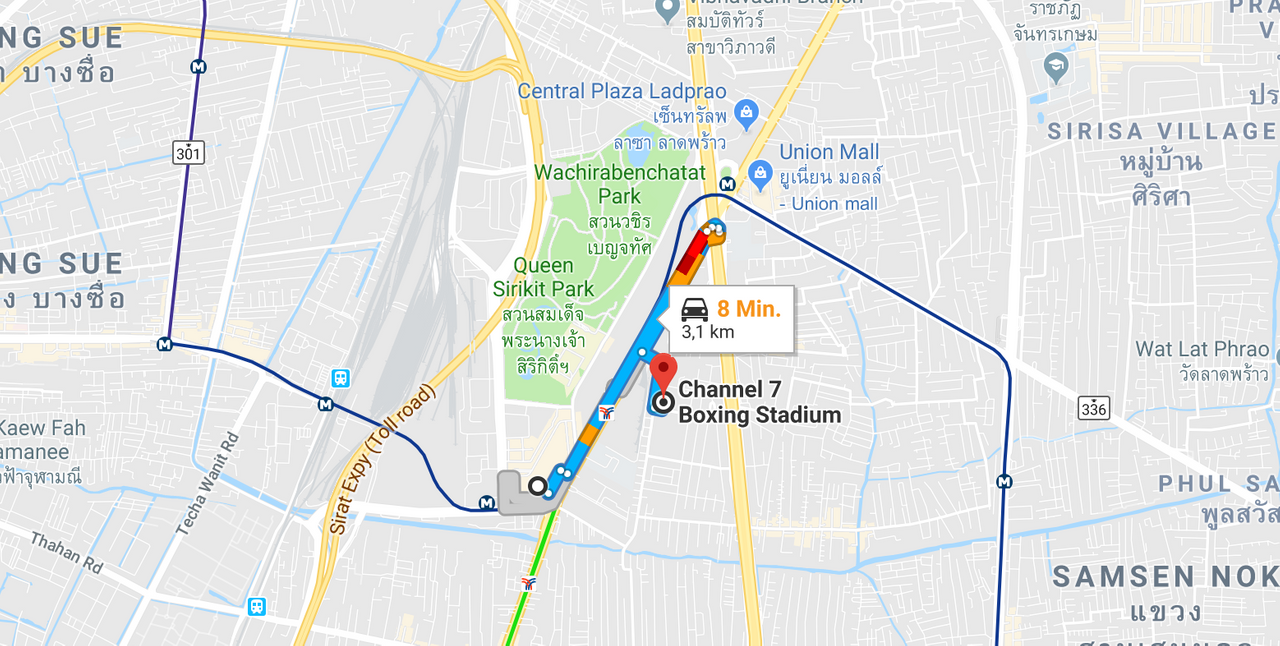 It is considered a paradise for shoppers who like to haggle and is considered the largest market in Thailand.
The Chatuchak market covers an area of ​​1.13 square kilometers, which is used by more than 10,000 stalls and small shops. Also a park, the Chatuchak Park, is nearby and invites you to take a break. Between 200,000 and 300,000 visitors are coming by daily, with most stands and shops open on Saturdays and Sundays only.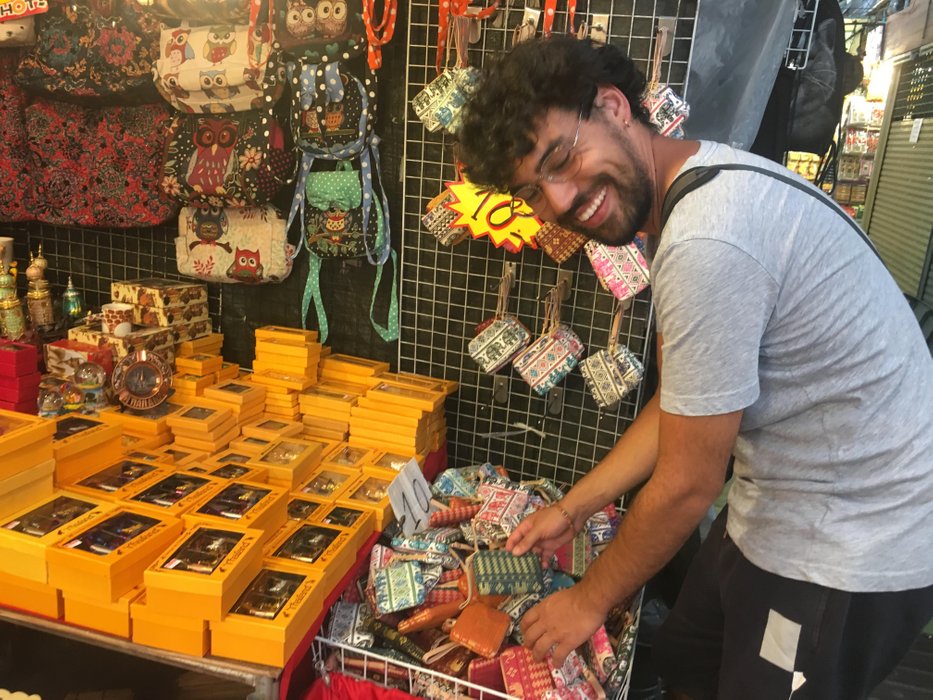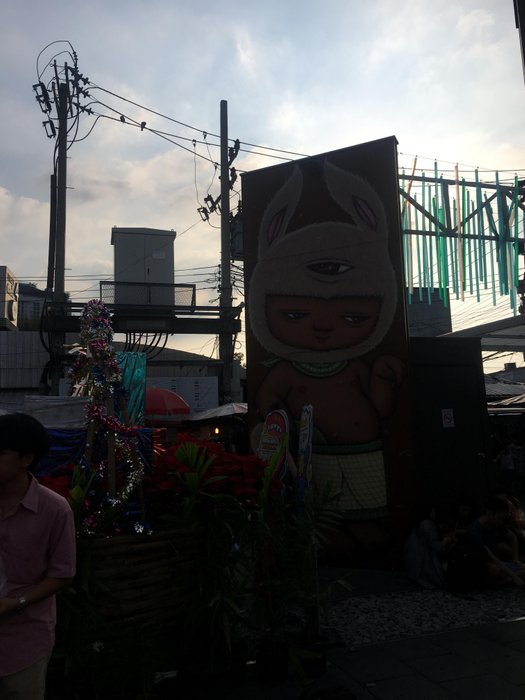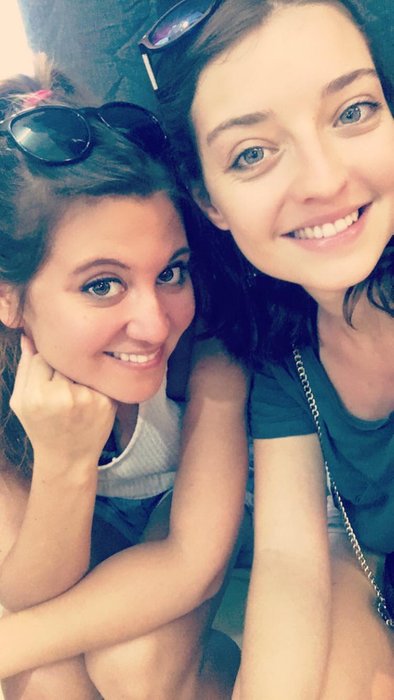 The offer ranges from clothing, food, household items and furniture, antiques and antique books and magazines, Thai handcrafts to devotional and live animals.
so after that we just went back to the city center, got some food, went back to the hostel and picked up our stuff to get ready for our flight to Phuket, where we would meet @daveonarrival and spend New Years with him. But more about that soon so stay tuned.
As always I hope you enjoyed reading my post and I am grateful for every Upvote, Resteem and Comment, as you are supporting my travels with it!!