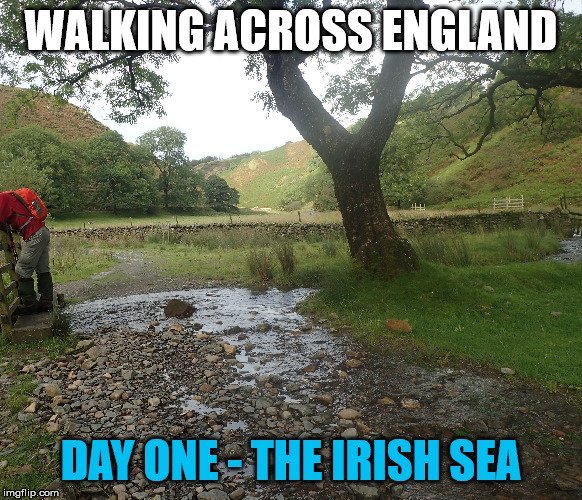 - It's time for another Lord Nigel's Adventure -
...and this one is about the time I decided to walk across the whole of England.
It was a very long walk of approx 300km taking 16 days of hiking. My chosen route took me through 3 national parks, i.e. Lake District National Park, the Yorkshire Dales National Park, and the North York Moors National Park. 
The walk  is unofficial, but I mostly followed the path laid out by Alfred Wainwright (famous walker)
The walk across Northern England is considered considerably more difficult then the famous Camino in Spain, however it takes allot less time. 
Many moons ago I did a Steemit post about this walk (2 years back or so - gee I've been on Steemit awhile now) , It can be found here:
https://steemit.com/photography/@lordnigel/walking-across-the-whole-of-england
As you can see it wasn't all that popular drawing a massive 3 votes  - gosh!!
Maybe things have changed,  lets see if I can beat 3 votes if I post in more depth about the adventure and as I'm soon to do the Camino I will be able to post about that and compare the two in more detail.
Anyways on with Day One of a walk across England :)
Day One - St Bees to Ennerdale Bridge - 25Km
This part of the trek is very tough, there is no slowly easing into it with the Coast-to-Coast it's hard work every day. Navigation is difficult and its even very dangerous with several people a year attempting and not surviving the trial - approx 30 people a year die completing the Coast-to-Coast.
For me there was allot of mud having rained for several days non stop before I started (such is the way in England) -  pretty hard to take for an Aussie out of his element :)
The first thing to do is to approach the ocean (the Irish Sea) and dip your toes - remember these are the same boots your going to put in the North sea in a couple of weeks time having completed the full walk across England.
Even though I felt pretty wet, I found I didn't actually feel like walking into the ocean but it just had to be done!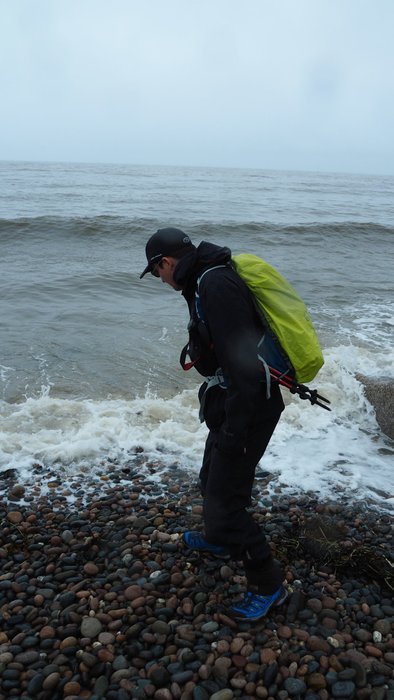 Yep, it's customary to grab a pebble or two to carry with you and throw into the ocean on the other side of the country. I recommend grabbing small and light weight ones hehe.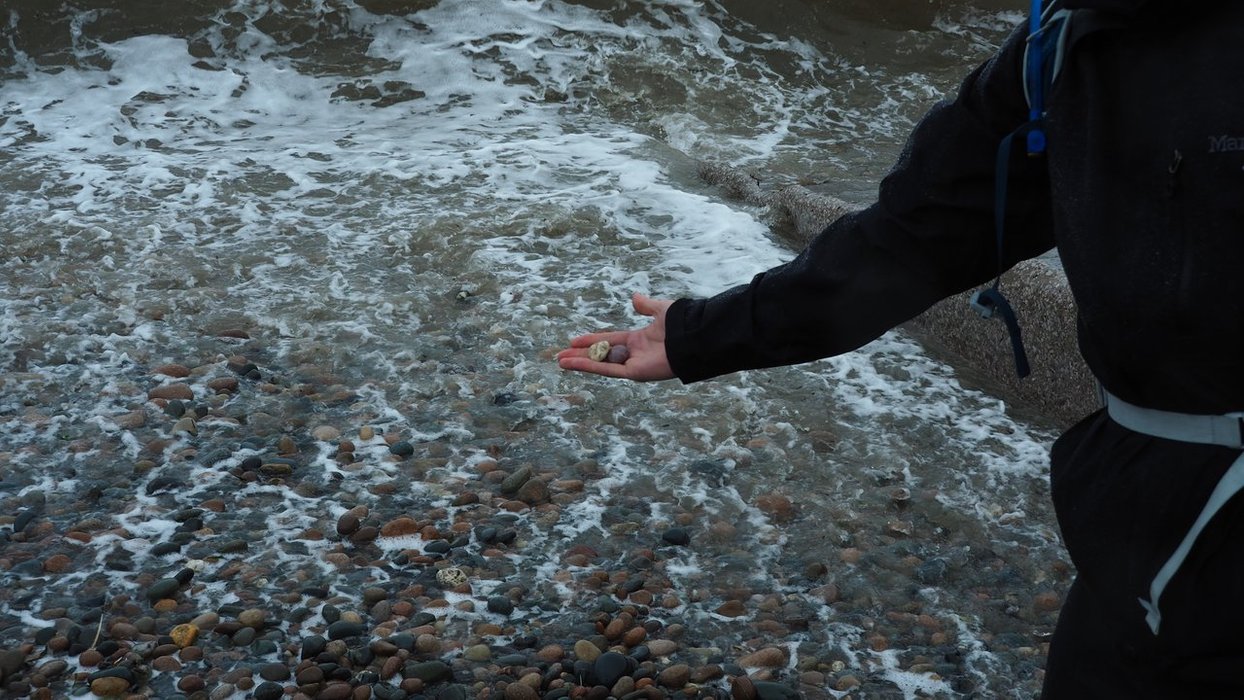 Like any great epic walk there is a sign showing the massive task your about to undertake.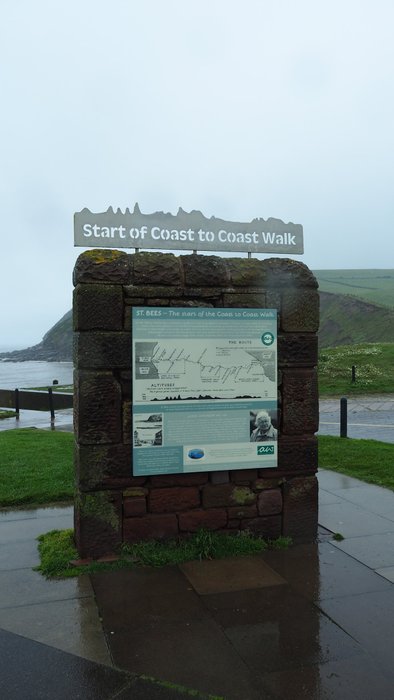 This is what I had programmed for Day One's walk..Ouch!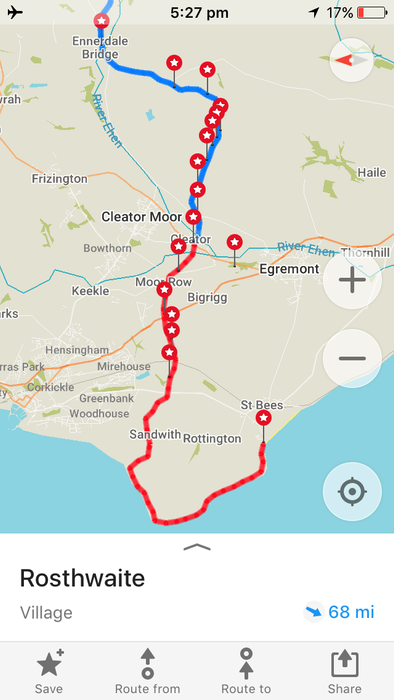 St Bee's is a nice little sea side town and there really isn't much going on there at the start of the walk. There were no shops in sight and hardly anyone was about - but it was raining fairly hard. I had to hitch a lift with some friends to even get there as the train wasn't running. Be sure if your going to walk the Coast-to-Coast you have all your supplies before heading to the starting point.
It didn't seem like the rain was going to give in, but that's life! so I loaded up ready to start the hike.
After a little bit of rain at the start I was blessed with some sun shine as the day went on. 
It's a lovely walk along the side of a cliff for the first hour or so looking over the ocean, but soon you move inland...where I hit my first hurdle.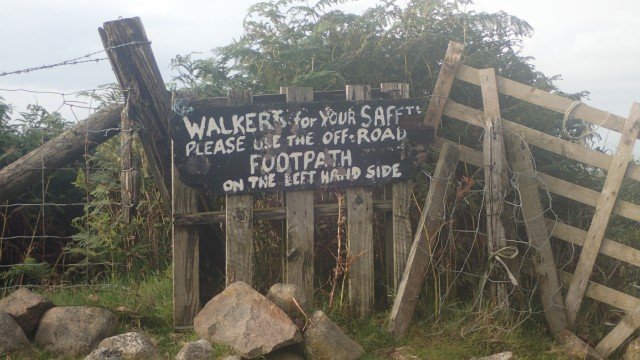 ..basically the place was so rained out parts of the regular path were so soaked they had turned into streams, this made the hike much harder and didn't help my morale at all.
Still, there were some well placed planks in key places and crossing through some private property I made my way through this difficult and swampy area.
Of course not everything is hiking in farm land and wilderness, as soon as I could I headed for a road and more solid ground.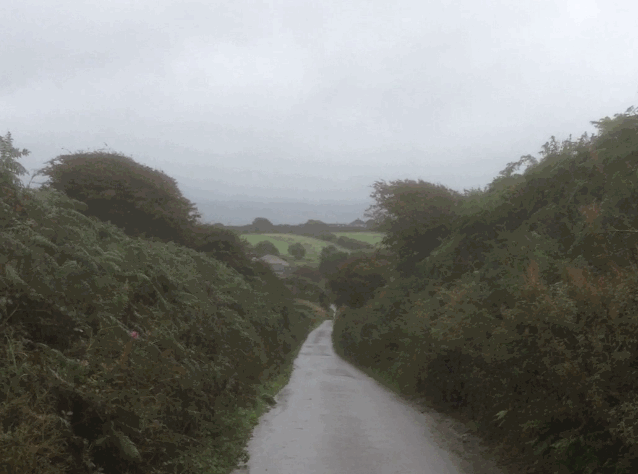 It is a little dangerous walking on these narrow country English roads, but if the other paths are washed out, outside of swimming you must take the risk and hope there are no cars roaring around the corners.
...Before I knew it the signs of civilization behind me,  I was making altitude.  Below is a picture of the Irish Sea I had left earlier that morning.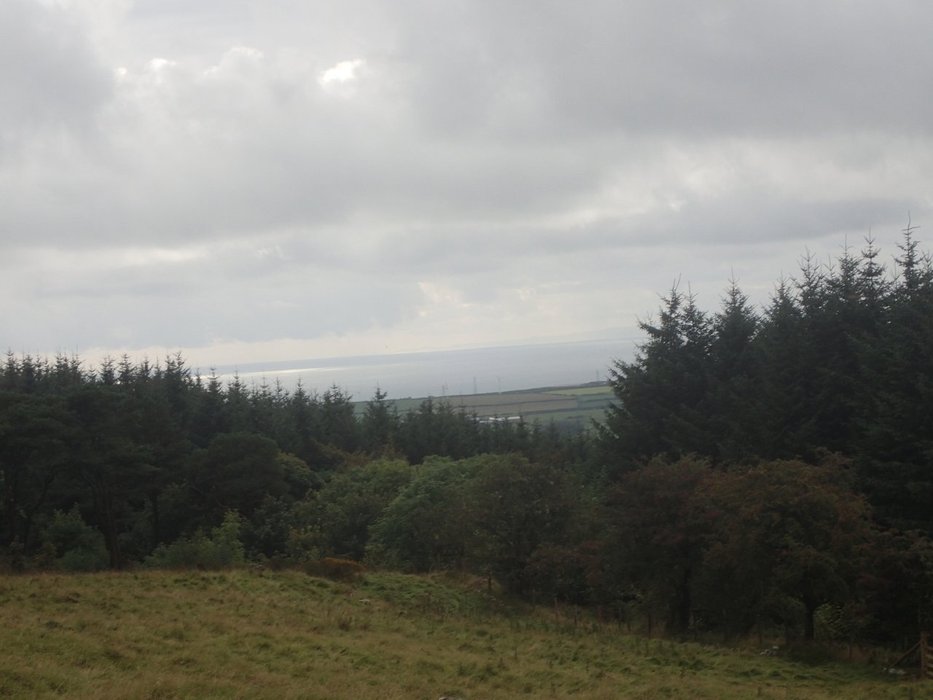 From here the first climb continued and I must admit I was pretty taxed by the time I reached the highest point for Day One. When you get to the top you see a cluster of rocks piled up (you see many of these markers on the walk) and get a good view of the surrounding area.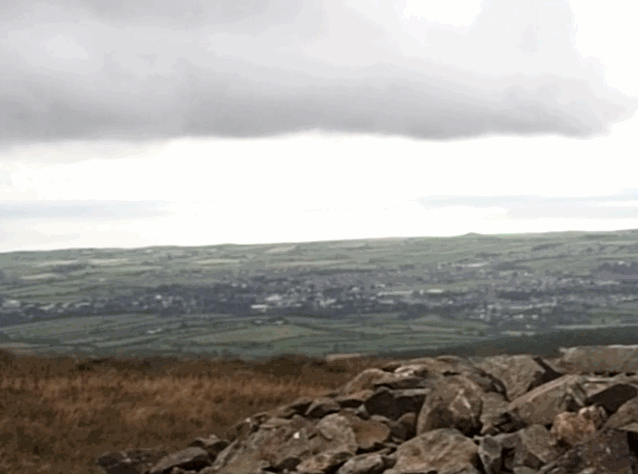 There are plenty of sheep and a few other walkers from time to time, but mostly its a solitude walk and in places very challenging, especially slippery coming down the other side.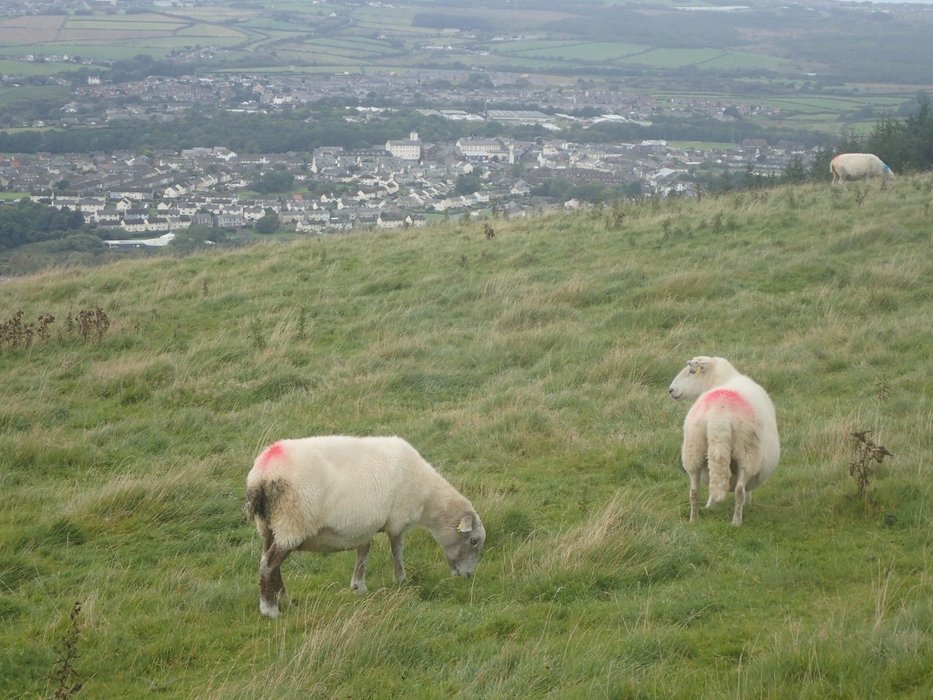 There are also a number of fences that need to be climbed over when you get to the bottom, fortunately the vast majority have been setup with easy to step over systems like below:
Day One finished at the Fox and Hound - a lonely yet pumping little English pub on the side of the road. A pint and pie in the belly I collapsed into bed wondering what exactly the hell I was doing and why?
Well that's it for this Lord Nigel's Travels - if there is enough interest I'll post about my Day Two experiences in the next edition.
Cheers and Steemon!