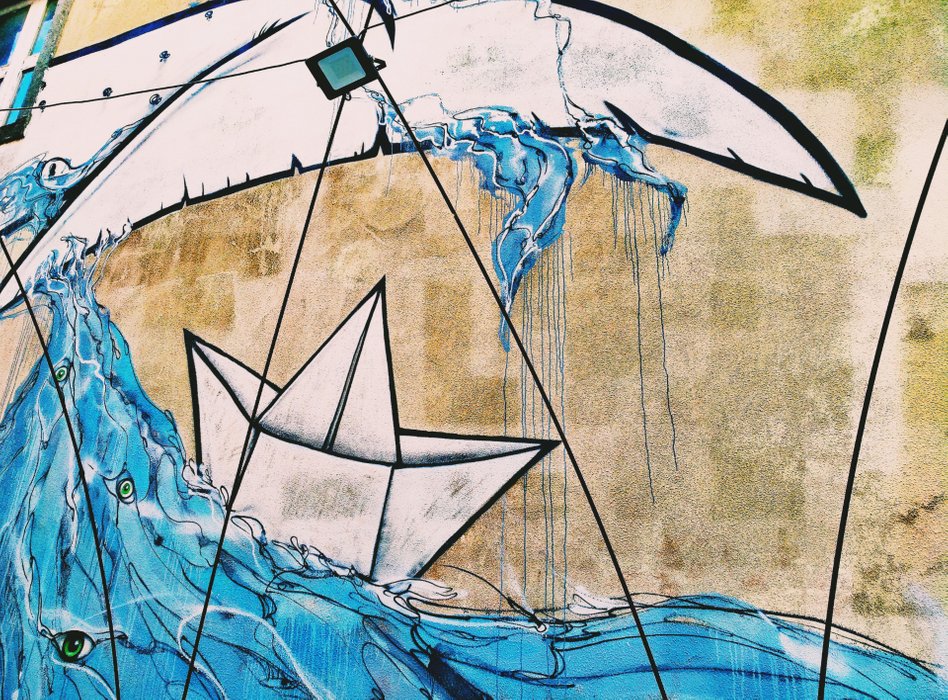 Graffiti Art
Hey guys, dear Steemit Community and lovely followers,
Some weeks are gone now and I totalo forgot to show a few graffiti artworks from Ponta Delgada, the capital of Sao Miguel/ Azores.
I looked through my cellphone gallery and just found them.
Take a look by yourself.
Inspiring and crazy streetart ... island art ...? What would you call it?
JUST ART
For me, art is always a reflection of an artist about the society.
I saw some places from this beautiful world, mother earth, and I saw a lot different graffitis or streetart. Styles of dark or political or spiritual or blooming colorful paintings or drawings.
Like the Art of Ponta Delgadas streets?
Personally, I was thrilled.
What I noticed was that the streetart of Sao Miguel (maybe because it is an island) was focused powerful of the ocean or sealife, water or specially all about this element. The artists were very accurate and in love with details, what I prefer. They were creative and inspired and played with colours in a grandiose way.
A pleasure for the eyes.
Do you have a favourite masterpiece?
I can't make up my mind, but the whale fin sticking out of the wave would be my number one. On second place is the blue mandala whale and on third place is this crazy looking animal with the rider. Does anybody know what kind of being this is?
And that was certainly not even all graffitis. I was only there for a short time.
But it inspires me for the next visit of this beautiful island to walk more through the streets and alleys and to keep my eyes open. I hope that I will find time in the new year.
Leave me your feedback.
Your @LotusFleur
Text and pics made by myself.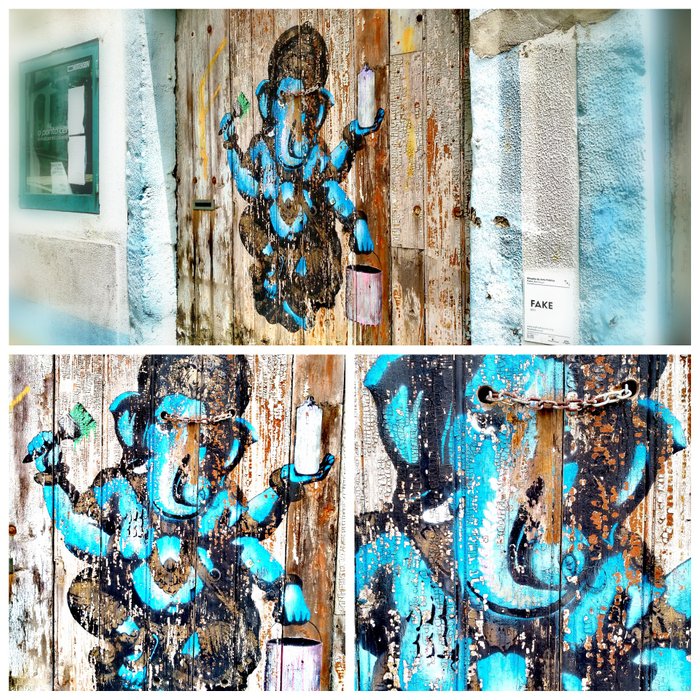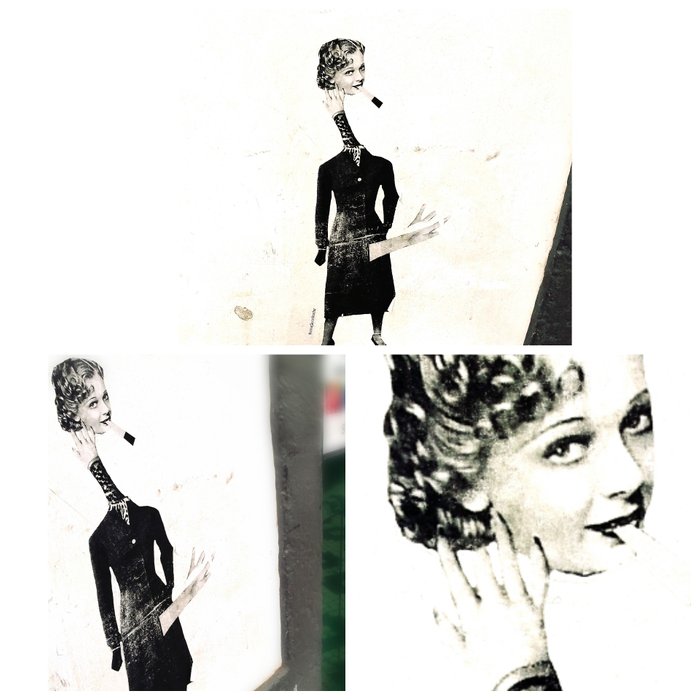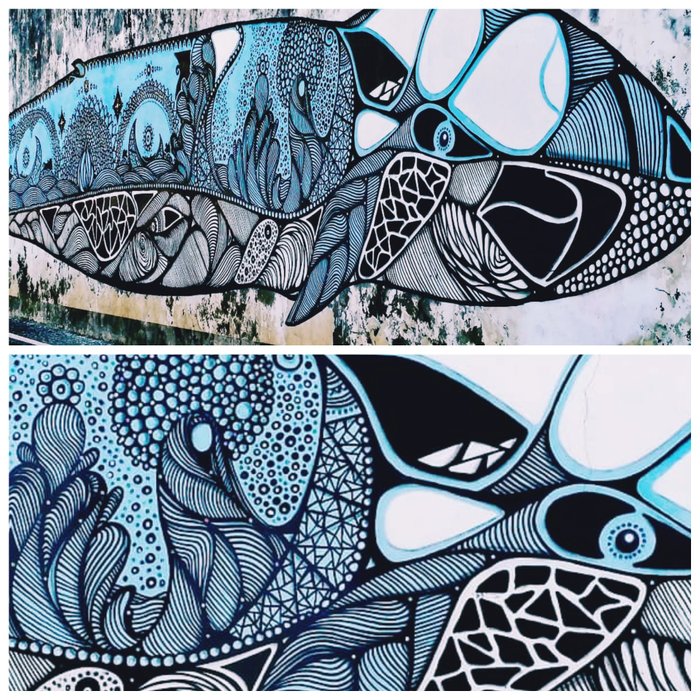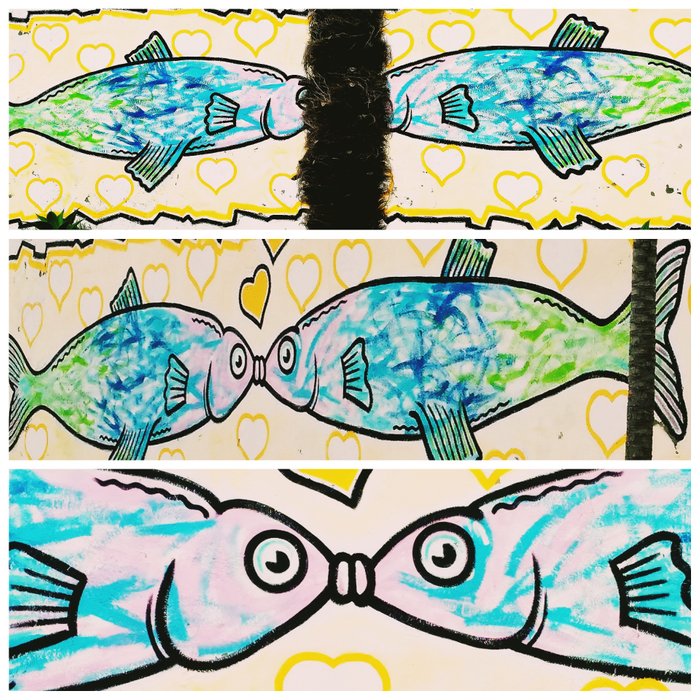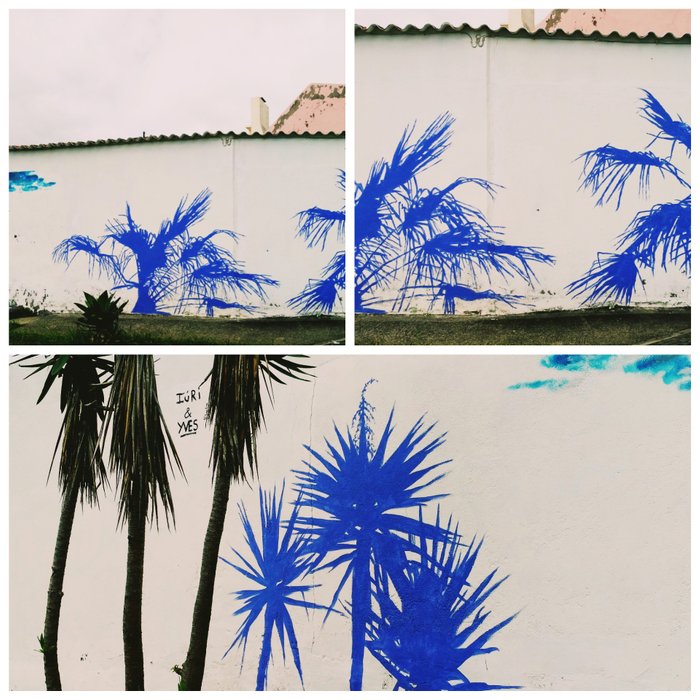 Arte do Graffiti
Pessoal, querida Comunidade Steemit e adoráveis seguidores,
Algumas semanas se passaram e eu totalo esqueci de mostrar algumas obras de arte de Ponta Delgada, a capital de São Miguel/ Açores.
Olhei através da minha galeria de telemóveis e encontrei-os.
Dê uma olhada por si mesmo.
Um streetart inspirador e louco... arte da ilha...? Como lhe chamaria?
APENAS ARTE
Para mim, a arte é sempre um reflexo de um artista sobre a sociedade.
Vi alguns lugares deste mundo lindo, a mãe terra, e vi graffitis ou streetart muito diferentes. Estilos de escuro ou político ou espiritual ou florescendo pinturas coloridas ou desenhos.
Como a Arte das ruas de Ponta Delgadas?
Deixe-me sua opinião.
Pessoalmente, fiquei encantado.
O que eu notei foi que o streetart de São Miguel (talvez porque é uma ilha) estava focado poderoso do oceano ou vida marinha, água ou especialmente tudo sobre esse elemento. Os artistas eram muito precisos e apaixonados por detalhes, o que eu prefiro. Foram criativos e inspirados e brincaram com as cores de uma forma grandiosa.
Um prazer para os olhos.
Tem uma obra-prima favorita?
Não me consigo decidir, mas a barbatana de baleia que sairia da onda seria a minha número um. Em segundo lugar está a baleia mandala azul e em terceiro lugar este animal de aspecto louco com o cavaleiro. Alguém sabe que tipo de ser é esse?
E isso certamente não foi nem tudo graffitis. Eu só estive lá por pouco tempo.
Mas isso me inspira para a próxima visita desta linda ilha para andar mais pelas ruas e becos e manter meus olhos abertos. Espero encontrar tempo no ano novo.
Seu @LotusFleur
Texto feitas por mim mesmo.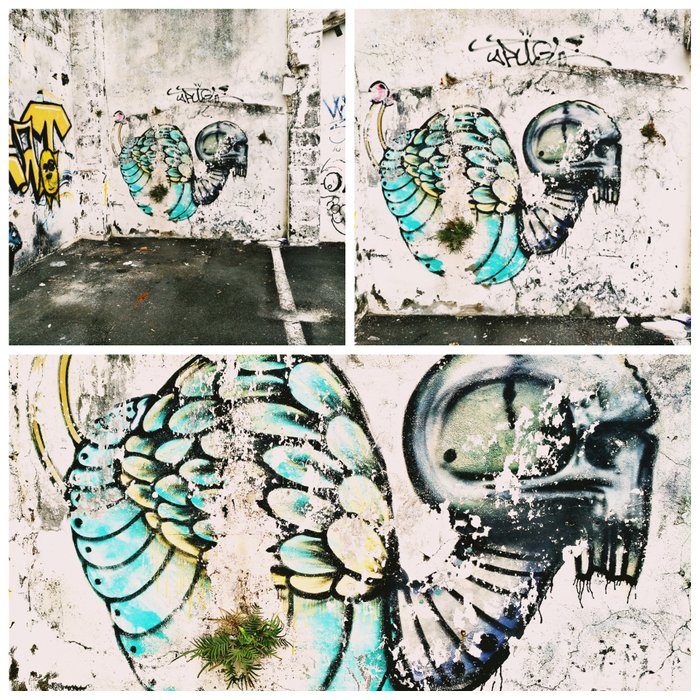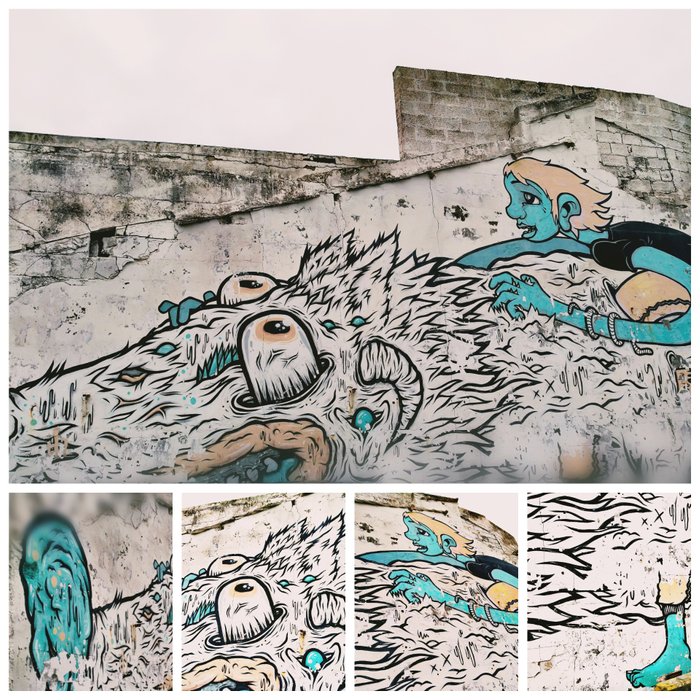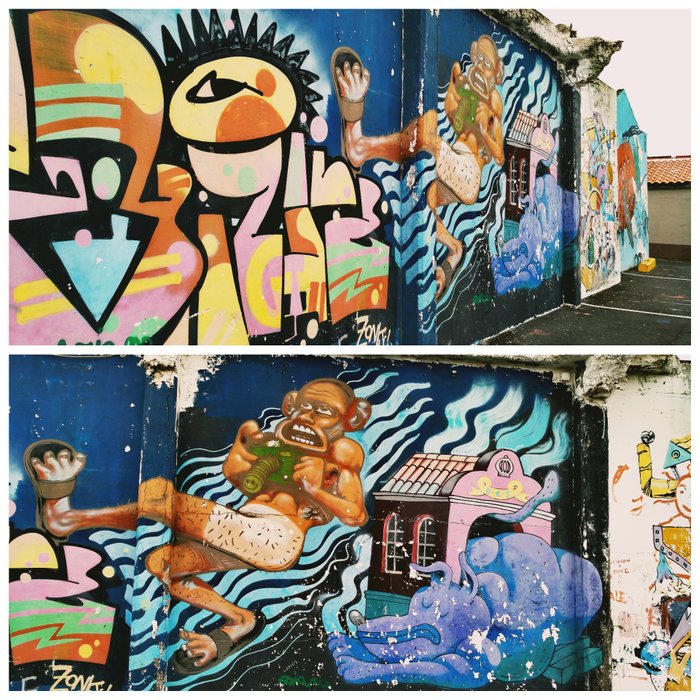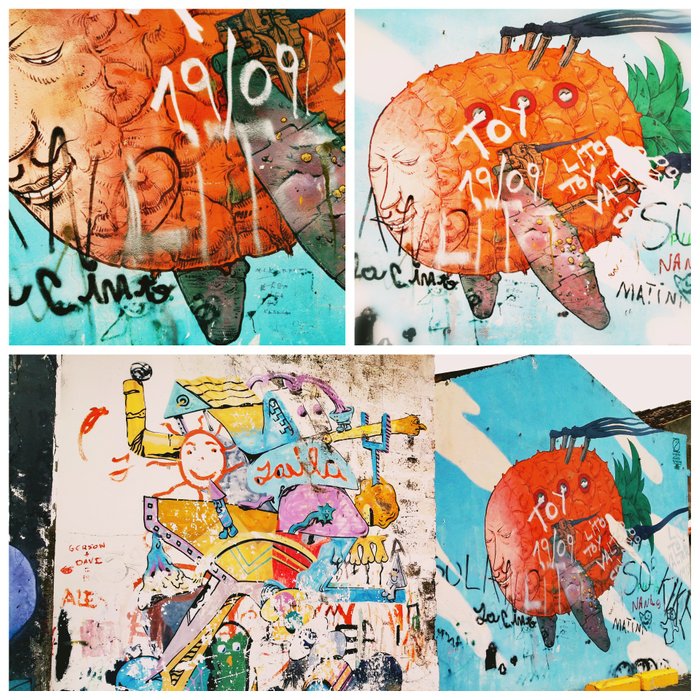 Graffiti-Kunst
Hey Leute, liebe Steemit Community und liebe Follower,
Einige Wochen sind nun ins Land gegangen und ich habe total vergessen, ein paar Graffiti-Kunstwerke aus Ponta Delgada, der Hauptstadt von Sao Miguel/ Azoren, zu zeigen.
Ich habe meine Handy-Galerie durchgesehen und sie grad einfach gefunden.
Doch seht selbst.
Inspirierende und verrückte Streetart... Inselkunst...? Wie würdest du es nennen?
EINFACH KUNST
Für mich ist Kunst immer ein Spiegel eines Künstlers über die Gesellschaft.
Ich sah einige Orte auf dieser schönen Welt, Mutter Erde, und ich sah eine Menge unterschiedliche Graffitis oder Strassenkunst. Stile von dunklen oder politischen oder spirituellen oder blühenden bunten Gemälden und Zeichnungen.
Wie die Kunst aus den Strassen von Ponta Delgadas.
Wie findet Ihr diese?
Ich persönlich war begeistert.
Was ich festgestellt habe ist, wahrscheinlich dadurch das Sao Miguel eine Insel ist, die Kunst sich stark auf den Ozean bezog oder Meereslebewesen. Die Künstler waren sehr akkurat und Detail verliebt. Es wurde auf grandiose Art und Weise mit den Farben gespielt.
Eine wohltat für das Auge.
Habt ihr einen Favoriten?
Ich kann mich persönlich gar nicht entscheiden, doch die Walflosse, welche aus der Welle ragt wäre meine Nummer eins. Auf Platz zwei ist dann der blaue Mandala Wal und den dritten Platz hat bei mir dieses verrückt blickende Tier mit dem Reiter. Weiss einer was das für ein Wesen darstellen soll?
Und das waren sicherlich nicht mal alle Graffitis. Ich war ja nur kurz da.
Doch es inspiriert mich beim nächsten Besuch dieser wunderschönen Insel mal mehr durch die Strassen und Gassen zu spazieren und die Augen offen zu halten. Ich hoffe das ich im neuen Jahr Zeit dazu finden werde.
Hinterlasst mir euer Feedback.
Eure @LotusFleur
Text und Bilder von mir gemacht

#blog #portugal #traveling #life #lifestyle #streetart #graffiti #art #artwork #inspiration #island #azores #saomiguel #pontadelgada #steemitportugal