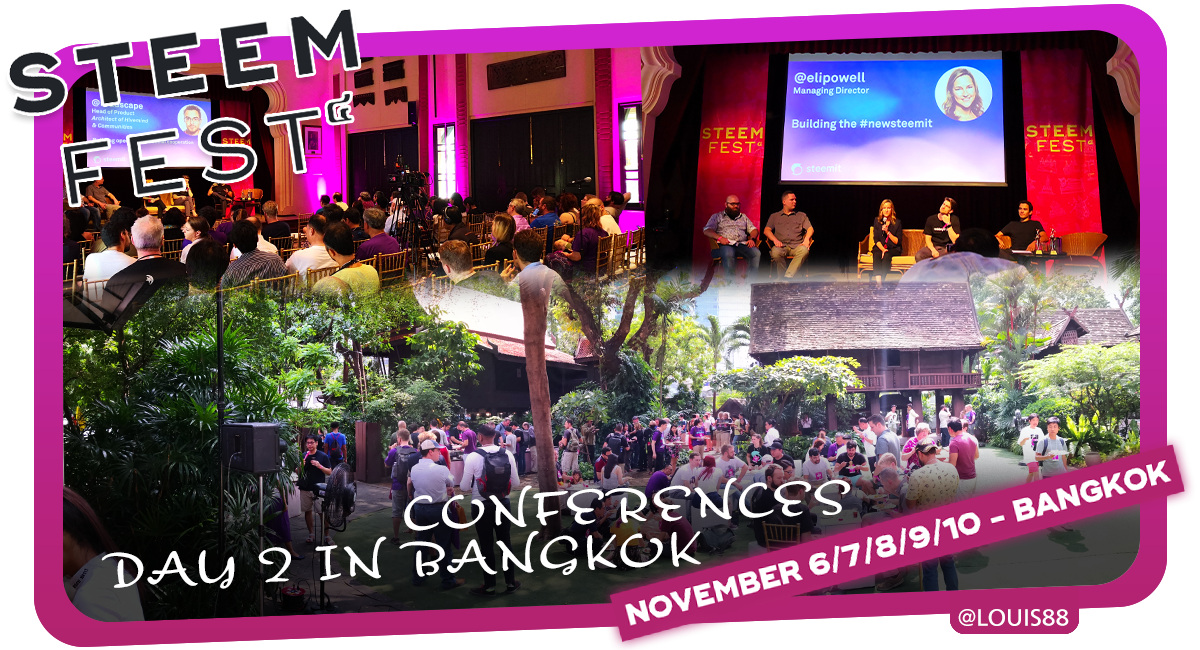 After we got to know each other during the soft-opening on the first day, we started with the conferences in Bangkok on day 2 in the morning. Next to the Prince Palace Hotel there was a boat stop. Many of the Steemians who stayed at the hotel took the opportunity and took the water taxi to the location. I also ventured on these fast boats. The trip with the boats is really cool in Bangkok. It is also cheap. Before we went on the boats, Simon and I first made ourselves a coffee. We hadn't booked breakfast at the hotel. After we found a coffee, on the other side of the hotel - we went to the pier and made ourselves comfortable on the boat.

Nachdem wir uns am ersten Tag schonmal während des Soft-Openings kennengelernt haben ging es am Tag 2 in Bangkok morgens mit den Konferenzen los. Neben dem Prince Palace Hotel war direkt eine Boots-Haltestelle. Viele der Steemians, die in dem Hotel untergebracht waren, haben die Möglichkeit genutzt und haben das Wassertaxi zur Location genommen. Ich habe mich ebenfalls auf diese schnellen Boote gewagt. Die Reise mit den Booten ist in Bangkok richtig cool. Günstig ist es auch. Bevor es auf die Boote ging, haben Simon und Ich uns erstmal auf der Suche nach einem Kaffee gemacht. Frühstück im Hotel hatten wir nicht gebucht. Nachdem wir nen Kaffee gefunden hatten, auf der anderen Seite des Hotels - sind wir zum Steg und haben es uns auf dem Boot gemütlich gemacht.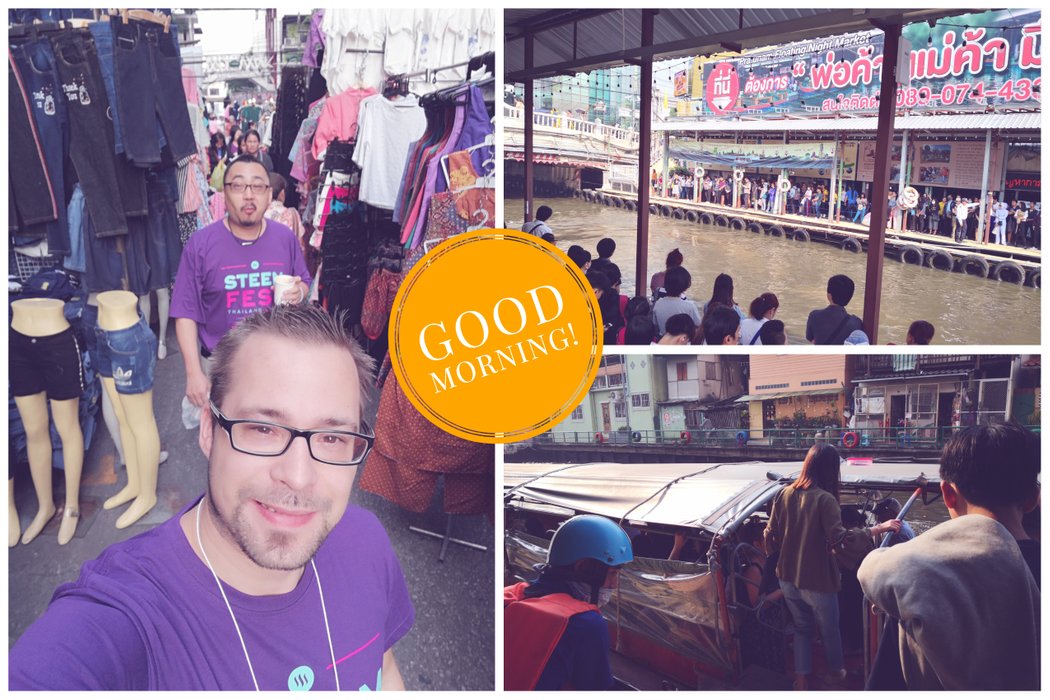 A crazy Boat trip
The boat trip was a bit rough. It makes you feel quite queasy when the boat driver crosses this narrow river at a good speed. I think the whole trip to the final stop took about 20 minutes. In the early morning traffic with the car one has been surely at least one hour on the way.
After a short walk (about 5 minutes) we arrived at the location. While we walked there, I realized once again how extreme the electricity in Bangkok is. It looks already hard, how they supply themselves with electricity there. :-D
Eine verrückte Bootsfahrt
Die Bootsfahrt war schon etwas ruppig. Da wird einem zwischendurch schon recht mulmig, wenn der Bootsfahrer mit ordentlich Speed über diesen schmalen Fluss fährt. Ich glaube die ganze Fahrt bis zur finalen Haltestelle hat ungefähr 20 Minuten gedauert. Im Früh-Verkehr mit dem Auto ist man sicherlich mind. eine Stunde unterwegs gewesen.
Nach einem kurzen Spaziergang (ca. 5 Minuten) sind wir dann auch an der Location angekommen. Während wir so dort hin gelaufen sind, hab ich einmal mehr realisiert, wie krass das in Bangkok mit der Elektrizität ist. Sieht schon heftig aus, wie die sich dort mit Strom versorgen. :-D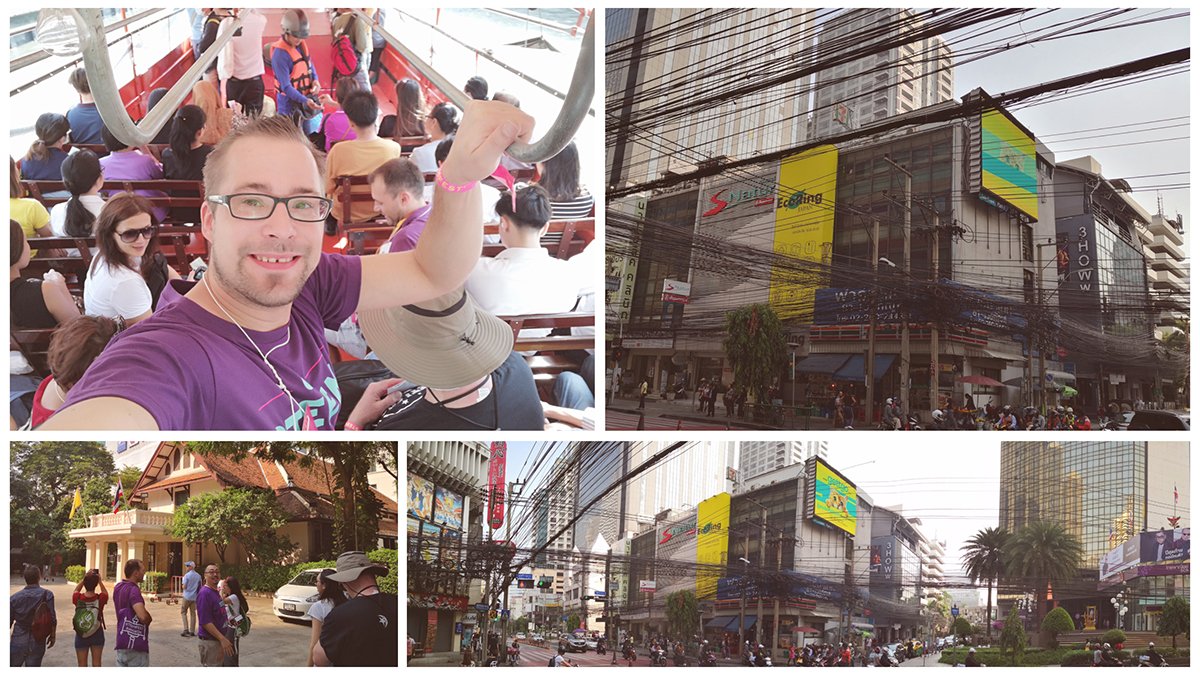 Let the Show begin
The location for the conferences on day 1 was the Siam Society. The Siam Society is a society in Thailand that aims to promote the preservation of Thai heritage, culture and art as well as the nature, flora and fauna of Thailand through study trips, lectures, exhibitions and publications. After we were all (almost) complete, we started with an opening speech from @roelandp. Then @arcange followed with the new idea of the Challenge for this year. The Proof of Hug #PoH :-) I found it very funny. The team of Steemit then told something about #newsteemit. Afterwards it was @aggroed's turn and they told the news about Splinterlands. Very interesting presentations. Finally before the lunch break it was @dmitrydao's turn to talk about the Steem Proposal System.
Lasst die Show beginnen
Die Location für die Konferenzen an Tag 1 war die Siam Society. Die Siam Society ist eine Gesellschaft in Thailand, die sich zum Ziel gesetzt hat, die Bewahrung des thailändischen Erbes, der Kultur und der Kunst sowie der Natur, der Flora und Fauna Thailands durch Studienreisen, Vorträge, Ausstellungen und Veröffentlichungen fördern. Nachdem wir alle (fast) vollzählig waren, ging es los mit einer Eröffnungsrede von @roelandp. Danach folgte dann @arcange mit der neuen Idee der Challenge für dieses Jahr. Der Proof of Hug #PoH :-) Fand ich sehr lustig. Das Team von Steemit hat darauf etwas zu #newsteemit erzählt. Danach war dann @aggroed dran und hat die Neuigkeiten zu Splinterlands erzählt. Sehr interessante Vorträge. Zuletzt vor der Mittagspause folgte dann noch @dmitrydao der etwas zum Steem Proposal System erzählt hat.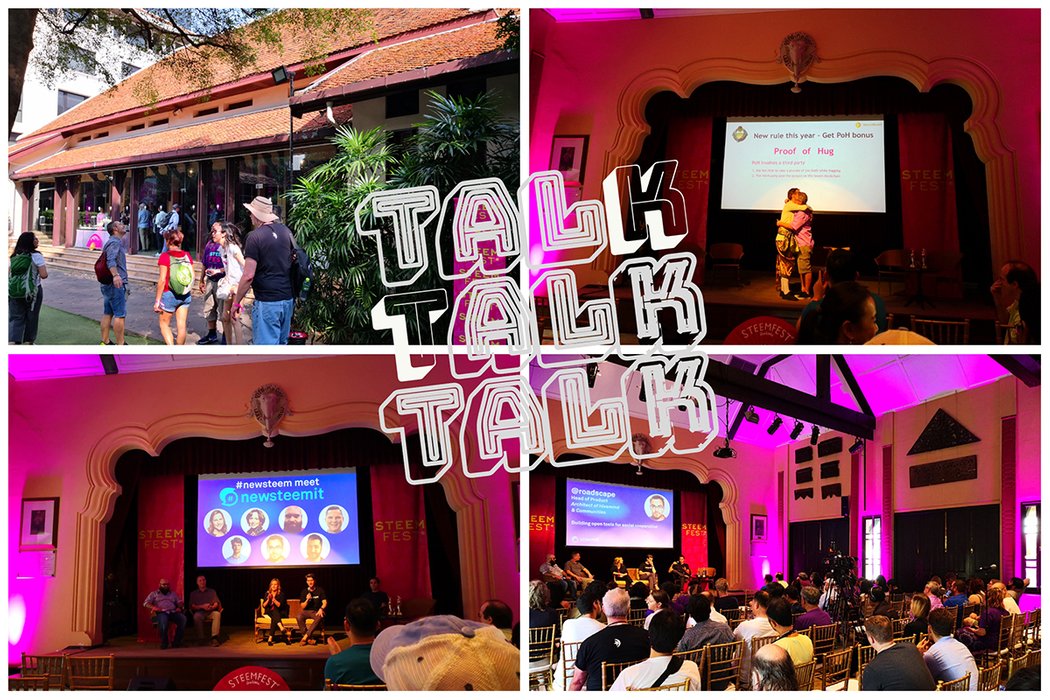 Lunch time
In the lunch break there was something from the buffet and chilled drinks. But with the warm weather I was not very hungry and rather nibbled at the different snacks). In the lunch break I took the opportunity to go to a Seven Eleven and get some headache pills. The warm weather, the alcohol - I had to get used to it :-D Back again I went on with the other conferences and talks.
Mittagspause
In der Mittagspause gabs dann etwas vom Buffet und gekühlte Getränke. Bei dem warmen Wetter habe ich aber auch kaum Hunger gehabt und eher zwischendurch an den verschiedenen Knabbereien genascht :) In der Mittagspause hatte ich mir dann auch noch die Gelegenheit genutzt mal schnell zu einem Seven Eleven zu gehen und mir ein paar Kopfschmerztabletten zu besorgen. Das Warme Wetter, der Alkohol - da musste ich mich erstmal dran gewöhnen :-D Wieder zurück ging es dann auch wieder mit den weiteren Konferenzen und Talks weiter.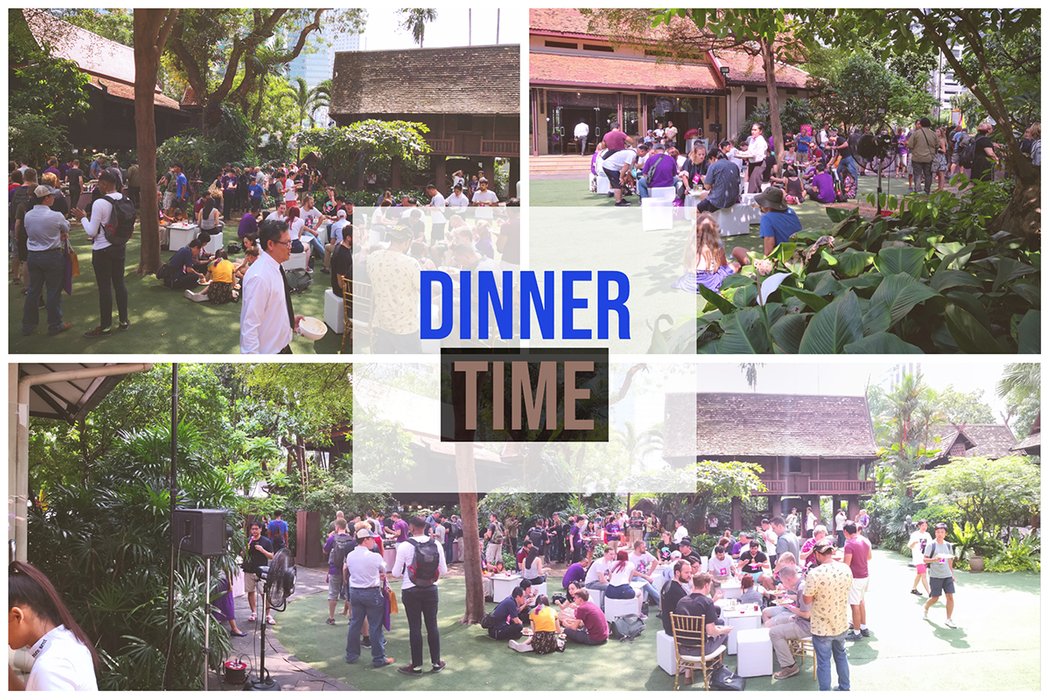 And the program continues
The second part of the first conference day continued with the Steemians @theycallmedan and @starkerz, who talked about the video platform 3Speak.online. Shortly after that 4 Steemians came and talked about their Steem projects for 10 minutes each. Among them was @stoodkev, who talked about his project SteemPlus. Then @martibis followed with the ingenious project Haveyoubeenhere - https://haveyoubeenhere.com - a mobile app for travelers who want to write their stories on their blog. Then @howo who came a little late to the event ;) and talked about SteemPress - The WordPress Plugin for Steem.
Und weiter geht's im Programm
Im zweiten Teil des ersten Konferenz-Tag ging es dann mit den Steemians @theycallmedan und @starkerz weiter, welche über die Video-Plattform 3Speak.online gesprochen haben. Kurz danach kamen dann 4 Steemians, die jeweils 10 Minuten über Ihre Steem Projekte gesprochen. Mit dabei waren @stoodkev, welche über sein Projekt SteemPlus gesprochen hat. Dann folgte @martibis mit dem genialen Projekt Haveyoubeenhere - https://haveyoubeenhere.com - Eine Mobile-App für Traveler die Ihre Geschichten in Ihren Blog schreiben möchten. Dann noch @howo, der etwas verspätet zur Veranstaltung kam ;) und über SteemPress - Das WordPress Plugin für Steem erzählte.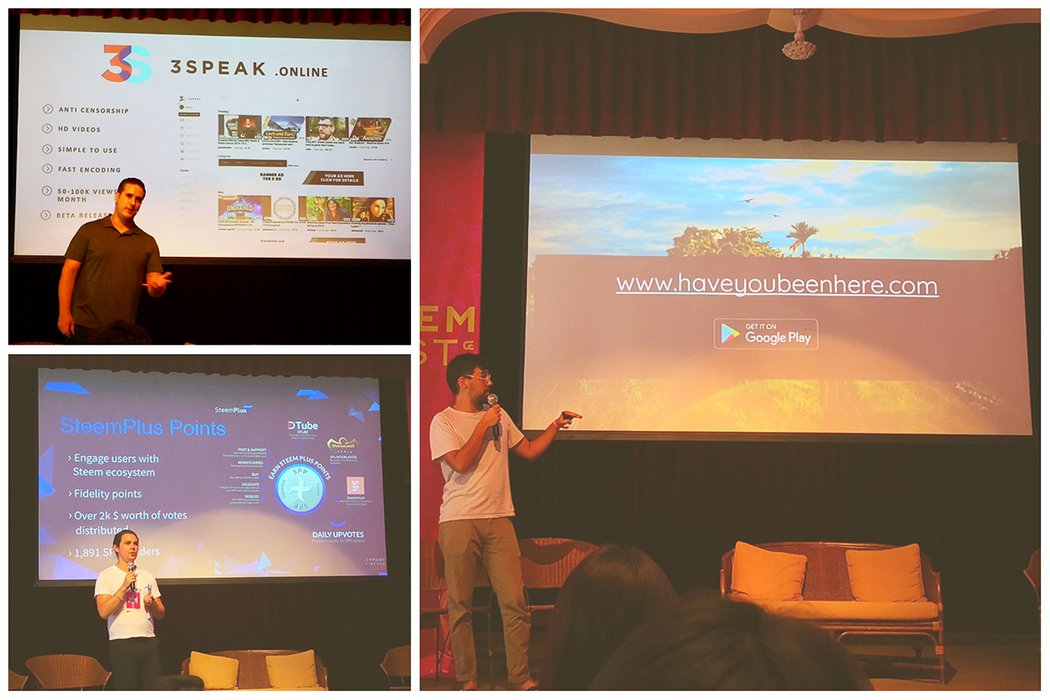 Smart Media Tokens <3
After the first State of the Apps it was finally time to go. The 2 Steemians @vandeberg and @gerbino from the Steemit team entered the stage and told us something about the current progress of the SMT's (Smart Media Tokens). Using a practical example, they created their own Smart Media Tokens. The SMT Wizard is now available for testing at https://smtwizard.steemitdev.com/. You can find the Github repository here:
https://github.com/steemit/smt-wizard
The talk about the SMT's was great and long awaited. I am curious how it will go on soon with the SMT's and when they start.
After the presentation of the Steemit Team I went out into the fresh but warm air. Then I went to the roundtable session and talked to several Steemians outside.
Smart Media Tokens <3
Nach dem ersten State of the Apps war es dann endlich soweit. Die 2 Steemians @vandeberg und @gerbino aus dem Steemit Team betraten die Bühne und erzählten uns etwas über den aktuellen Fortschritt der SMT's (Smart Media Tokens). An einem Praxisbeispiel führten Sie das Erstellen eines eigenen Smart Media Tokens durch. Der SMT Wizard ist mittlerweile auch schon zum Testen unter https://smtwizard.steemitdev.com/ verfügbar. Das Github Repository findet ihr hier:
https://github.com/steemit/smt-wizard
Der Vortrag zu den SMT's war super und lang ersehnt. Ich bin gespannt wie es nun bald weiter geht mit den SMT's und wann diese Starten.
Nach dem Vortrag vom Steemit Team bin ich erstmal raus an die frische und doch warme Luft. Ich hab mich dann zu der Roundtable-Session getan und draußen mit verschiedenen Steemians gequatscht.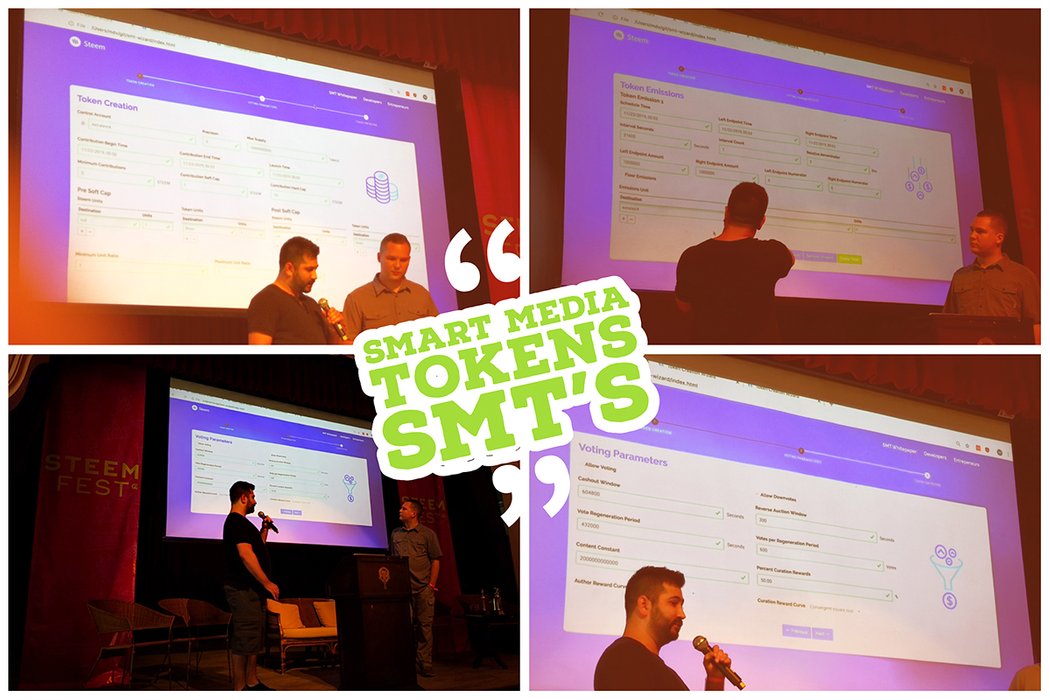 That's all for now for this post. In the next article I will go into more detail about visiting a temple and bowling. Thanks for reading and until then!
Das war's auch erst einmal für diesen Beitrag. Im nächsten Beitrag gehe ich dann spezieller auf den Besuch eines Tempel und dem Bowling ein. Danke für's Lesen und bis dahin!
---
My SteemFest 2019 in Bangkok: