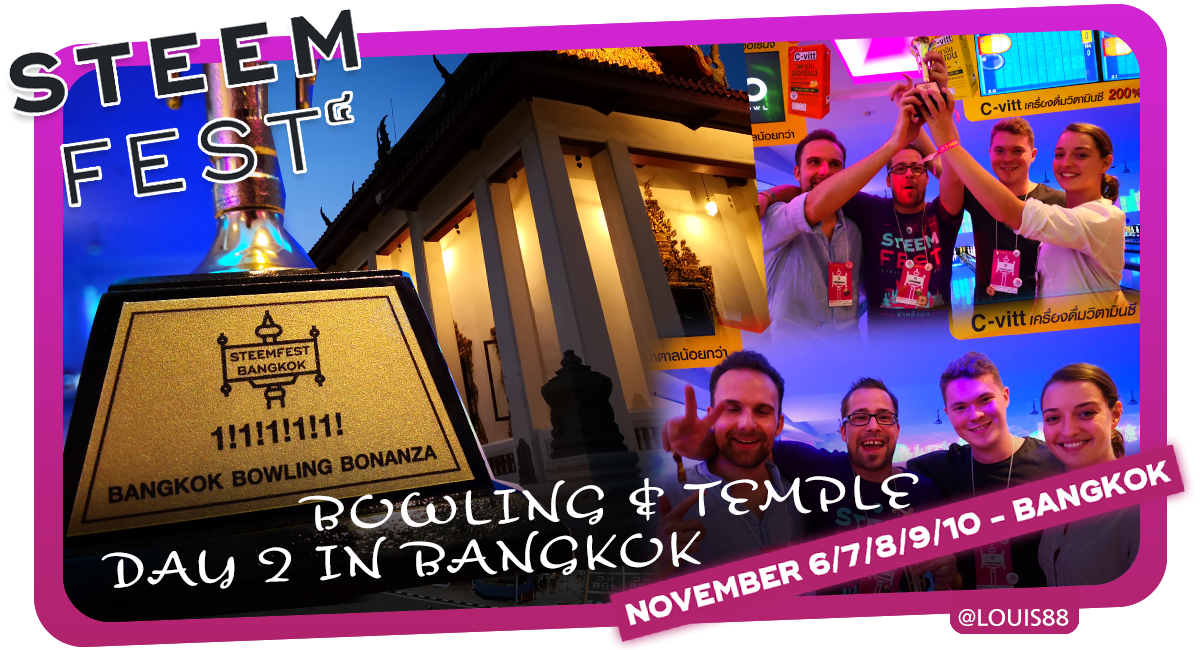 After the conferences in the Siam Society in Bangkok it was possible for the participants to visit the Wat Pathum Wanaram temple afterwards. At the end of the conferences we got tickets so that we could go by train in the direction of the temple. It was very funny to see how a mass of people coordinatedly got on the train and made their way to the temple :-D I think we had 3 giant wind fans with SteemFest symbol, which ran ahead to show the way.

Nach den Konferenzen in der Siam Society in Bangkok war es Möglich für die Teilnehmer anschließend an einem Besuch des Wat Pathum Wanaram Tempel teilzunehmen. Am Ende der Konferenzen haben wir Tickets bekommen, sodass wir mit der Bahn in die Richtung des Tempels fahren konnten. Es war schon sehr lustig anzusehen, wie eine Masse an Menschen koordiniert in die Bahn steigt und sich auf den Weg zum Tempel macht :-D Ich glaube wir hatten 3 Riesen Windfächer mit SteemFest Symbol, welche voran gelaufen sind um den Weg zu weisen.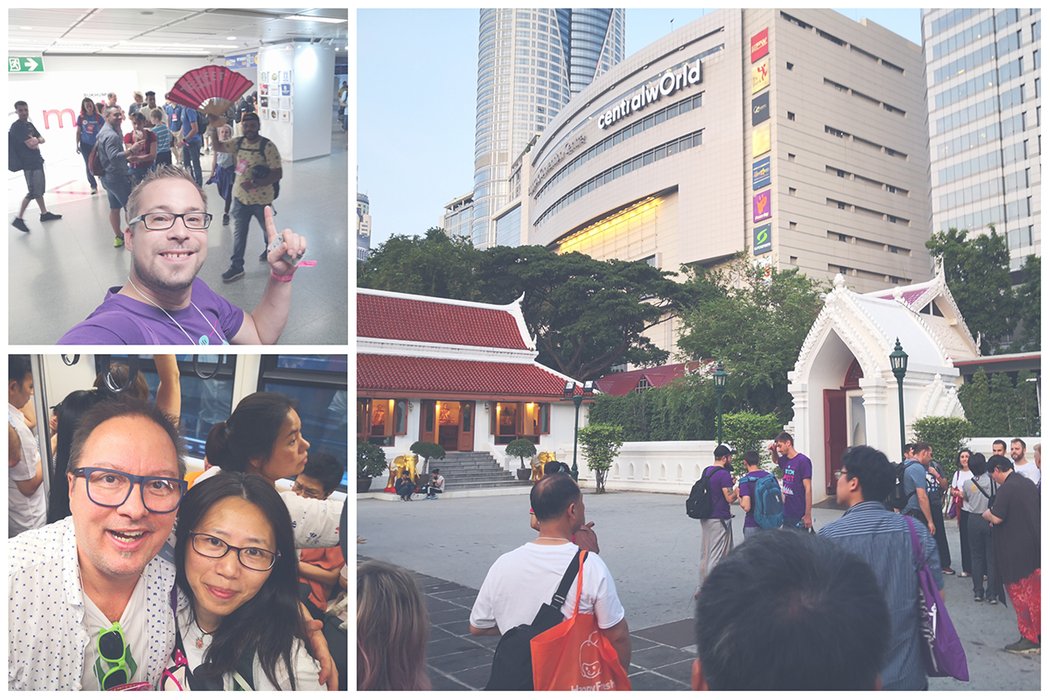 Arriving at the temple, we were divided into 3 groups, each of which started the tour at different places. Our group first went to the nearby park. Since the guide spoke unfortunately quite quietly, I could not really understand much. But one could already feel in the area of the temple to calm down, despite of the hectic pace of the city.
Am Tempel angekommen, wurden wir in 3 Gruppen eingeteilt, die jeweils an verschiedenen Stellen mit der Besichtigung angefangen haben. Unsere Gruppe ist zuerst in den angrenzenden Park gegangen. Da die Reisegruppenführerin leider recht leise gesprochen hat, konnte ich gar nicht so wirklich viel verstehen. Gefühlt konnte man in dem Areal von dem Tempel aber schon gut zur Ruhe kommen, trotz der Hektik, die so in der Stadt herrscht.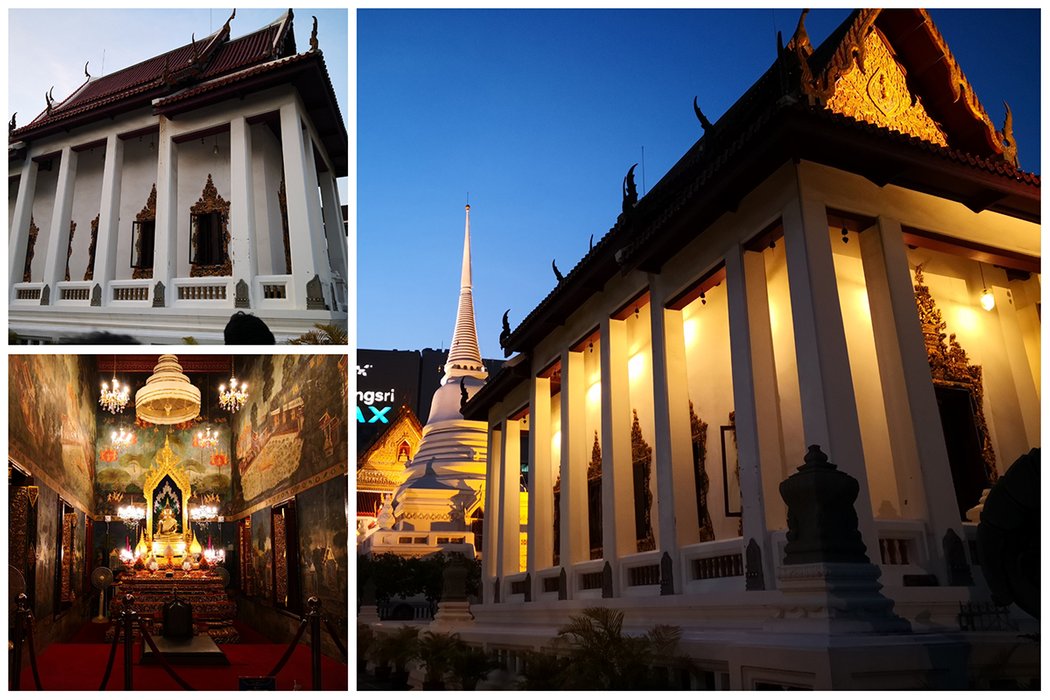 After visiting the temple we went around the corner. In a huge shopping mall on the top floor was a big bowling alley. Arrived there the buffet for dinner was already prepared. Drinks were available at each lane the whole evening. The food was quite extensive and was also quite tasty. After the dinner we started with the pairings. @roelandp introduced the teams and told how the Bowling Bonanza is going this year. You could register as a team with Roeland before the bowling. Since I came to Bangkok this year as defending champion, it was already a big deal for me to defend the title. As Team Germany the Steemians have joined together: @lizanomadsoul, @fabianklauder, @neueimmo and I @louis88.
Nach dem Besuch des Tempels ging es um die Ecke weiter. In einem riesen Einkaufszentrum im obersten Stockwerk war eine große Bowling-Anlage. Dort angekommen war das Buffet für das Abendessen schon angerichtet. Getränke standen an den einzelnen Bahnen den ganzen Abend zur Verfügung. Das Essen war recht umfangreich und war auch ganz lecker. Nach dem Essen ging es dann auch mit den Paarungen los. @roelandp hat die Teams vorgestellt und erzählt, wie das Bowling Bonanza in diesem Jahr abläuft. Man konnte sich vor dem Bowling als Team bei Roeland eintragen. Da ich dieses Jahr in Bangkok als Titelverteidiger angereist bin, war es mir schon eine große Angelegenheit den Titel zu verteidigen. Als Team Germany haben sich zusammengeschlossen die Steemians: @lizanomadsoul, @fabianklauder, @neueimmo und Ich @louis88.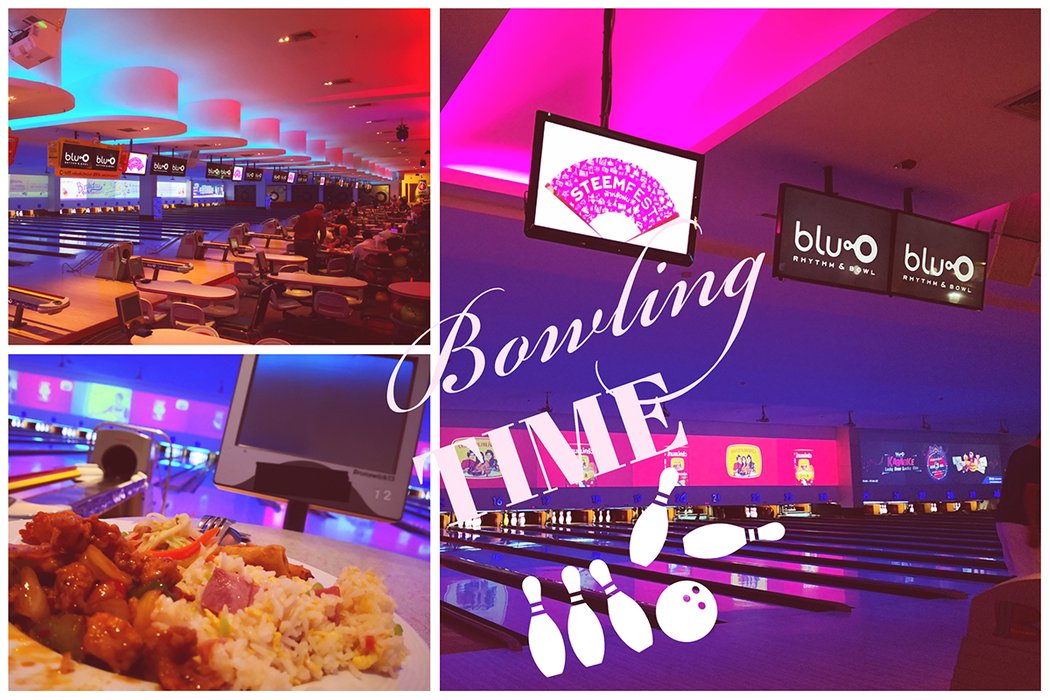 The games for us have begun! We were allowed to start with our games relatively at the end. We were not in top form and only got one pin. Nevertheless we managed to play until the final. I was actually looking forward to a match against the Steemit team, but unfortunately @elipowell and your team dropped out of the competition quite early. In total we played 5 games. In the first 4 games the following scores were achieved:
Game 1: 86 points
Game 2: 86 points
Game 3: 101 points
Game 4: 130 points
Die Spiele für uns haben begonnen! Wir durften relativ zum Schluss mit unseren Spielen beginnen. Wir waren zwar alle nicht besonders in Top Form und haben auch mal nur einen Pin erwischt. Dennoch gelang es uns, bis in das Finale zu spielen. Ich hatte mich eigentlich sehr auf ein Match gegen das Steemit Team gefreut, doch leider sind @elipowell und Ihr Team schon recht früh aus dem Wettbewerb ausgeschieden. Insgesamt haben wir 5 Spiele gespielt. In den ersten 4 Spielen haben die folgenden Punktzahlen erreicht:
Spiel 1: 86 Punkte
Spiel 2: 86 Punkte
Spiel 3: 101 Punkte
Spiel 4: 130 Punkte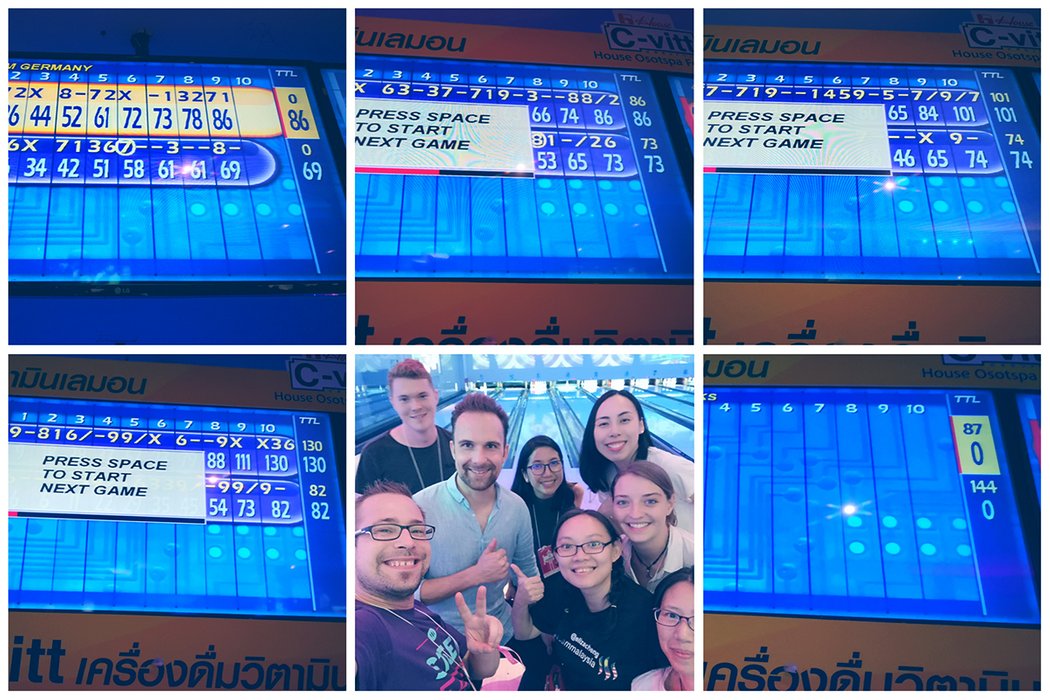 Until we finally made the finals. Our opponents in the final were the guys from Team Bangcocks with @anomadsoul, his brother and 2 more. In the final it was really hot - they tried to manipulate the opponents with words :-D But all this didn't work for Top Team Germany. Finally we could catch up our victory - I think in the 7th round it was almost clear that we will bring the title back to Germany. The final result for the final match was 144 points to 87 points for Team Germany.
A fantastic victory - I would like to thank my team-members again - who played a really great game! You are great!
And so the trophy for bowling at the SteemFest goes to Germany this year again!
Bis wir dann endlich im Finale standen. Unsere Gegner im Finale waren die Jungs vom Team Bangcocks mit @anomadsoul, seinem Bruder und noch 2 weiteren. Im Finale ging es dann richtig heiß her - es wurde versucht, die Gegenspieler durch Worte zu manipulieren :-D Das hat aber alles nichts gewirkt, beim Top Team Germany. Schlussendlich konnten wir unseren Sieg dann einholen - Ich glaube in der 7.ten Runde war es schon fast klar, das wir den Titel erneut nach Deutschland holen. Das Endergebnis für das Finalspiel war 144 Punkte zu 87 Punkte für das Team Germany.
Ein grandioser Sieg - Ich möchte hier noch einmal einen großen Dank an meine Team-Member richten - die ein echt super Spiel hingelegt haben! Ihr seid großartig!
Und somit geht auch in diesem Jahr, die Trophäe für das Bowling auf dem SteemFest nach Deutschland!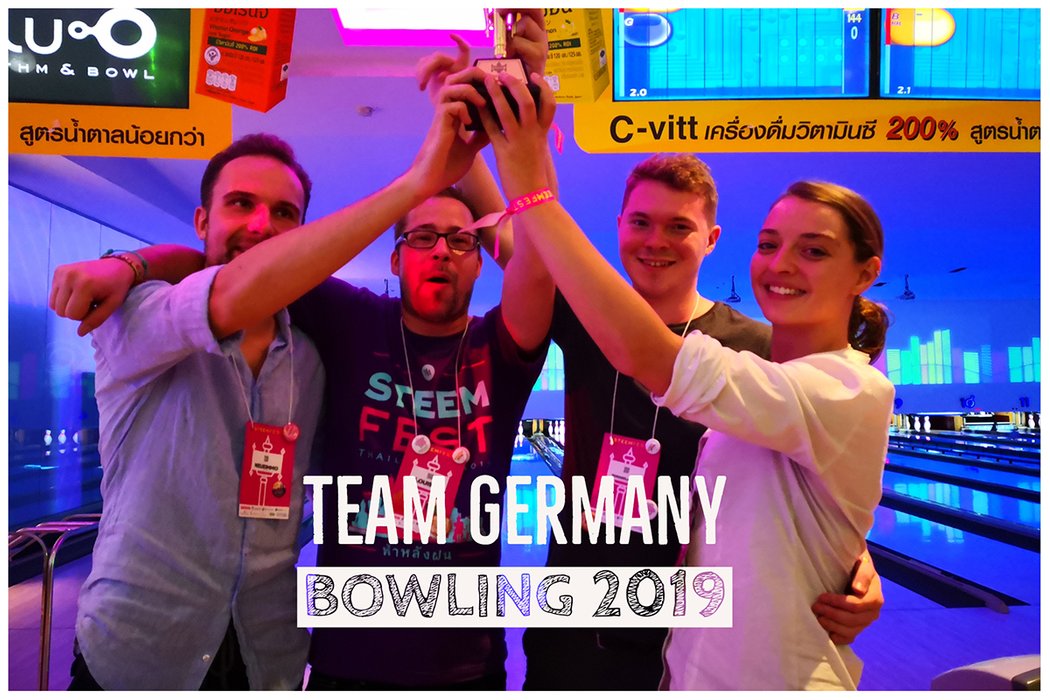 Besides the conferences and the temple visit, the day was a real highlight of my trip in Bangkok. In my next contributions to the SteemFest in Bangkok I will report about day 2 of the conferences and what else happened in Bangkok :) Stay excited!
Thanks for reading and commenting - see you then! @louis88
Neben den Konferenzen und dem Tempel-Besuch, war der Tag ein richtiges Highlight, bei meiner Reise in Bangkok. In meinen nächsten Beiträgen zum SteemFest in Bangkok berichte ich dann über Tag 2 der Konferenzen und was noch so in Bangkok passiert ist :) Bleibt gespannt!
Danke fürs Lesen und Kommentieren - Bis dahin! @louis88
My SteemFest 2019 in Bangkok: