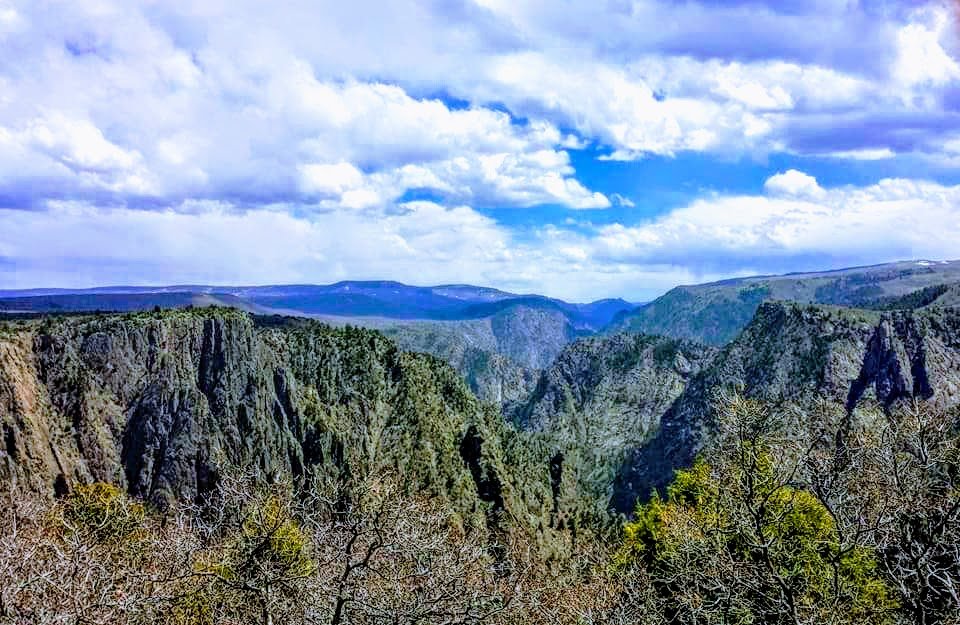 There's nothing quite like my home state (Colorado), especially in the spring and particularly in the summer (my favorite season). Of course, everyone says this about their home states, but in my case I'm right lol.
We have many parks here, and one of them is just right up the road. Black Canyon of the Gunnison.
We visited it once shortly after moving to Colorado, but I was only 7 and actually moreso remember the campground we stayed in town at then the canyon.
So May of last year, shortly after moving here, my sister Birdy drove me up to see the canyon and do a little walking here and there.
The day was lovely with a slight breeze and fluffy clouds above. The famous Colorado blue sky was glorious, and wildflowers and various shades of green were abundant.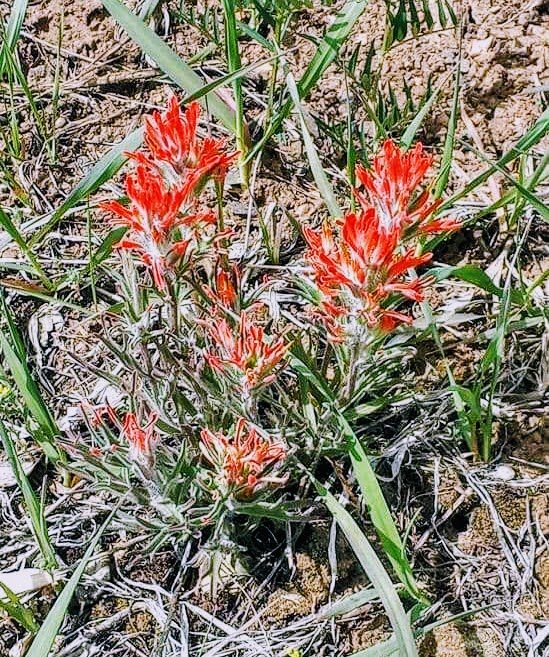 Indian Paintbrush.
I have a fear of heights, and the dropoffs of the canyon presented a challenge. Surprisingly though, I found myself able to slowly move closer to look down in areas and get a better view of the many cliffs and rock formations.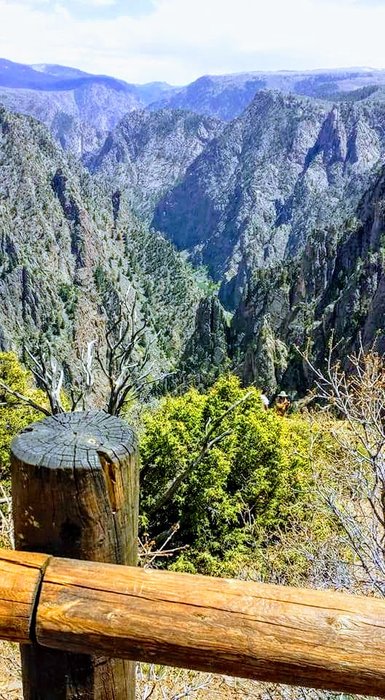 As someone who loves stone, I could thoroughly appreciate the rock formations and colors. The majority of rock making up the canyon, was granite. There were certain colors, though, I wished I could of reached out and grabbed to be featured later in one of my jewelry pieces.
INTERESTING FACT:
The metamorphic rocks exposed at the bottom of the canyon are nearly two billion years old, dating from the Precambrian or oldest era of the Earth.
Source, nationalgeographic.com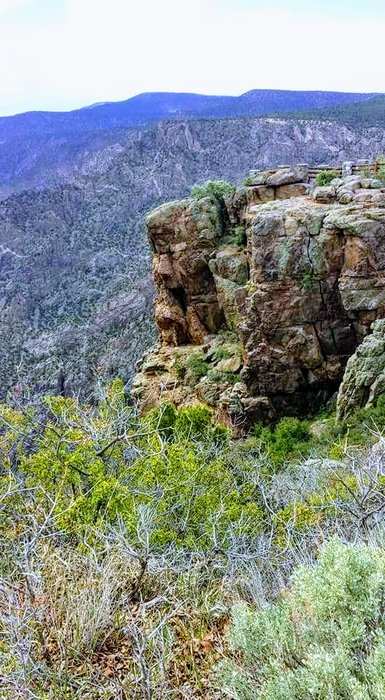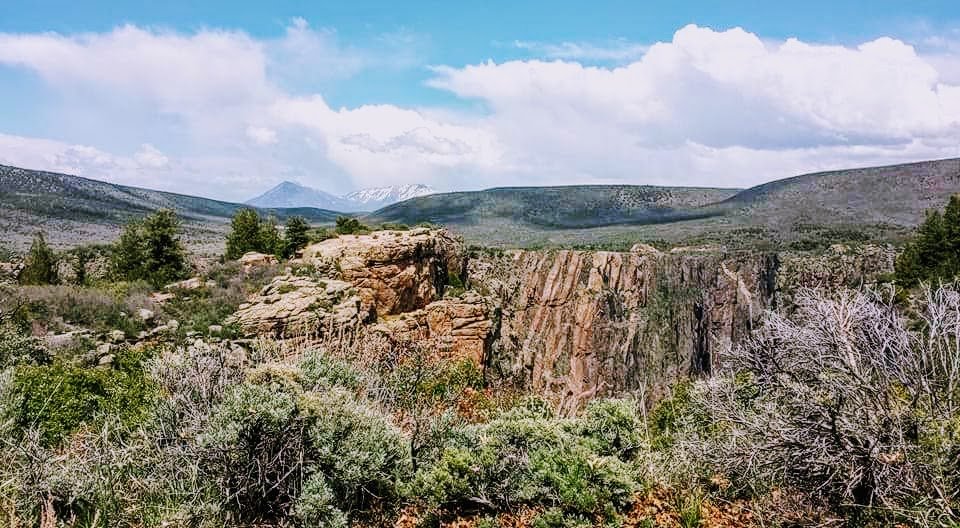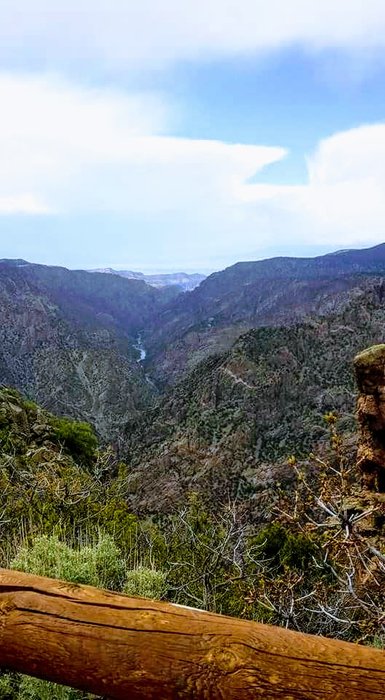 The little peek of blue you see in this last pic, center, is part of the river that helped carve this canyon. The Gunnison River.
We took our time that day, taking in various scenery, outposts, and rock formations. My sister was also preparing to do some wildflower walks for her business, and had brought along a Colorado Wildflower Identification Book in case something interesting crossed our path.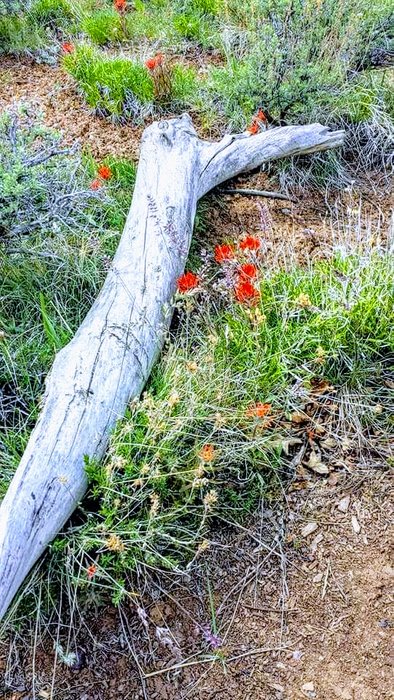 More Indian Paintbrush.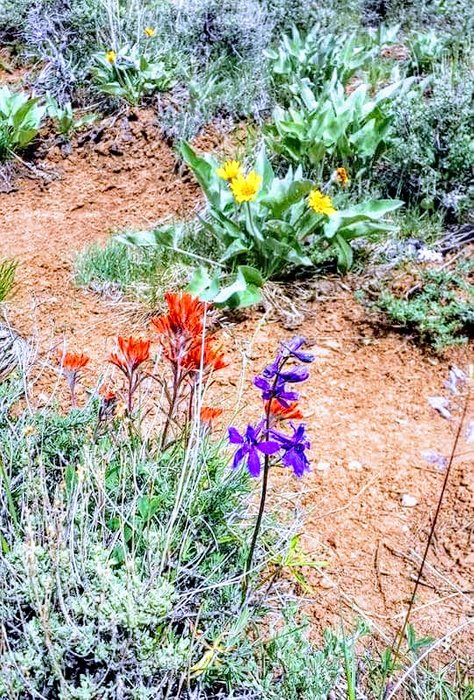 Indian Paintbrush, Larkspur, and DYTs (damn yellow things).
INTERESTING FACT:
The canyon's name owes itself to the fact that parts of the gorge only receive 33 minutes of sunlight a day, according to Images of America: The Black Canyon of the Gunnison. In the book, author Duane Vandenbusche states, "Several canyons of the American West are longer and some are deeper, but none combines the depth, sheerness, narrowness, darkness, and dread of the Black Canyon."
Quoted, Wikepedia
The yellow flowers were most likely mules ears but as my sister had pointed out to me many years past, wild flower hunting has been a hobby of hers for eons, these were obviously the result of some sort of mutation as they didn't fit the correct description for mules ears, hence her classifying them as DYTs.
(Apparently certain types of vegetation have learned how to cross pollenate, resulting in "wildflower hybrids" most of which are yellow.)
Under her tutoledge when I was younger, I knew a variety of wildflowers myself and appreciated their grace and beauty as much as her. I even have dried and pressed some in the past, using them in my jewelry making.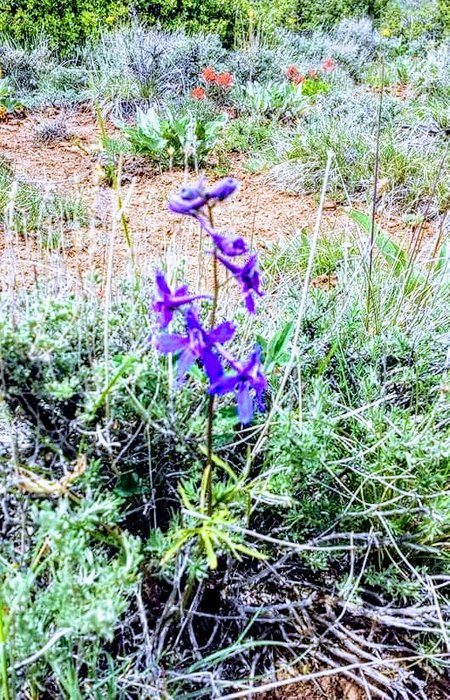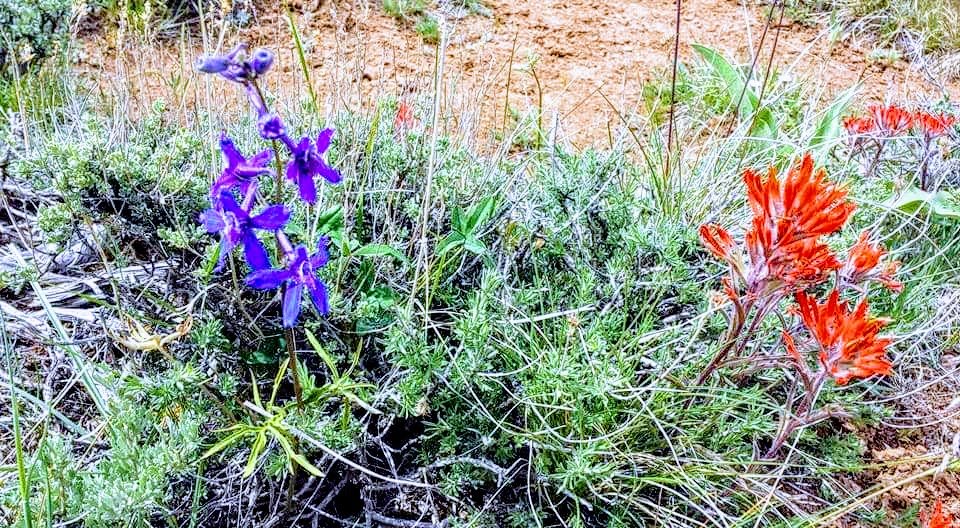 Colorado Larkspur, and more Indian Paintbrush.
INTERESTING FACT:
Black Canyon has the 5th steepest mountain descent in North America. By comparison, the Colorado River drops an average of 7.5 feet per mile (1.42 m/km) through the Grand Canyon. At
its narrowest point the canyon is only 40 ft (12 m) wide at the river.
Source, nationalgeographic.com
One of the most popular features of the canyon, is the rock formation they call Painted Wall. You'll have to forgive as I'm not sure which picture is of it, or even if I did get a pic of said wall.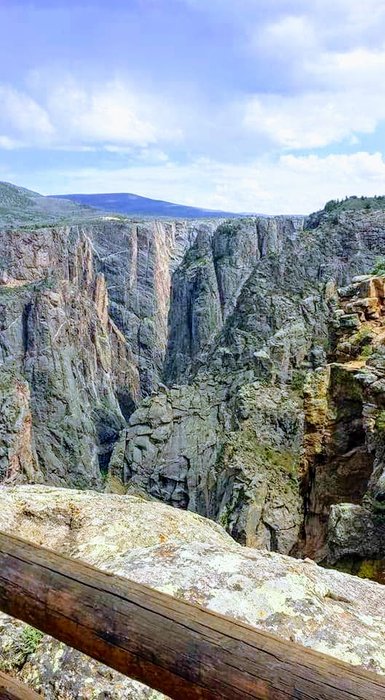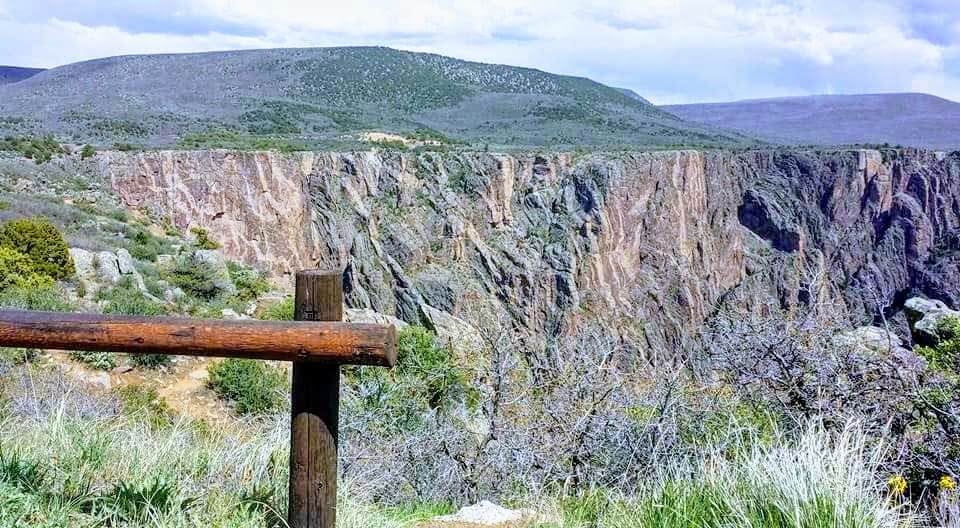 I think one of these are Painted Wall, but am not certain. I'm also including a picture I found online for comparison.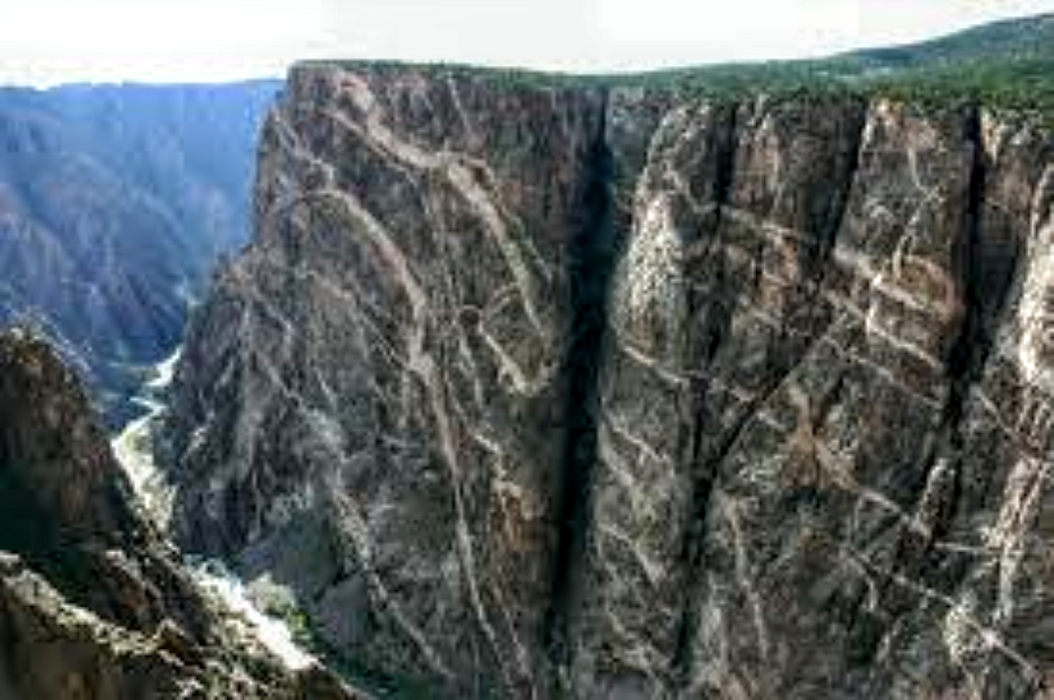 Source, summitpost.org
INTERESTING FACT:
The Ute Indians had known the canyon to exist for a long time before the first Europeans saw it. They referred to the river as "much rocks, big water," and are known to have avoided the canyon out of superstition.
Source, Wikipedia
Both of my sister and I are disabled. (She just had her 4th hip surgery. Yes 4th, and like #8 or #9 surgery overall. She's diagnosed with having debilitating arthritis, but like our father, doesn't know how to slow down😕). So our walking was brief and intermixed with moving the car from one scenic area to the next.
I continued to be completely preoccupied with various rock formations of the canyon, but the pictures taken were with a different cell phone camera, and left alot to be desired despite editing. I even tried to find rock samples of the cliff walls in the gift shop but much to my chagrin, was unlucky.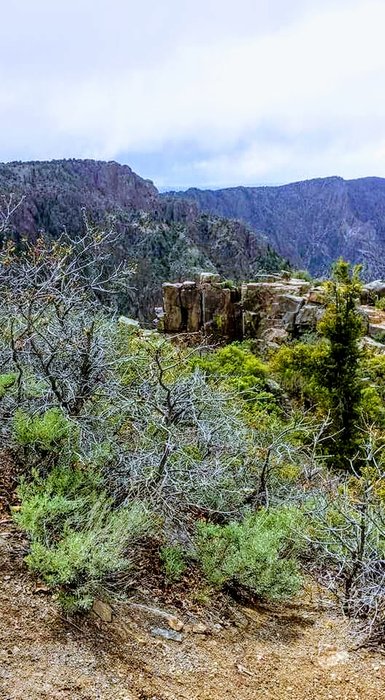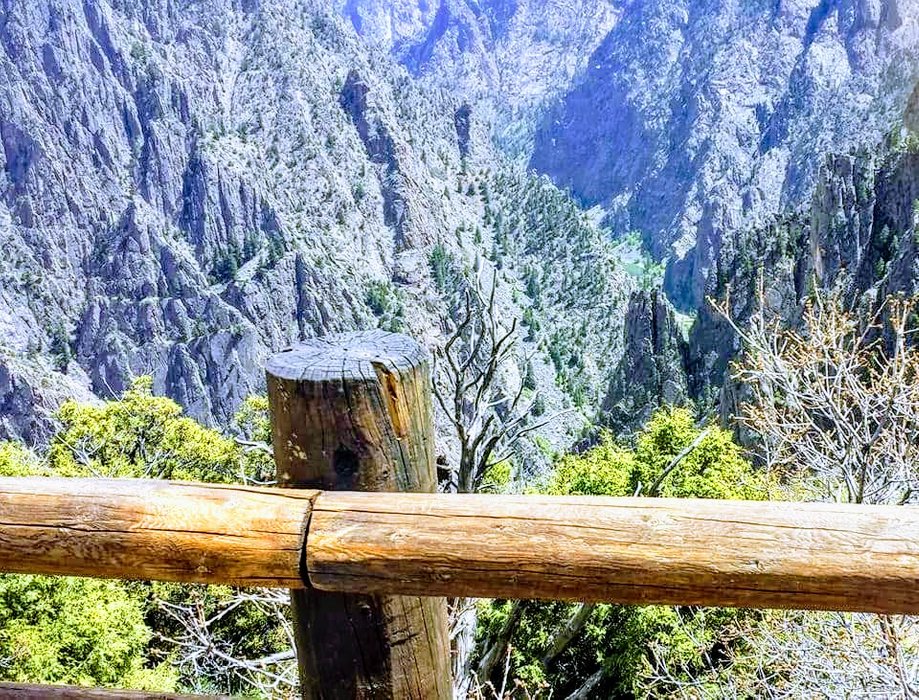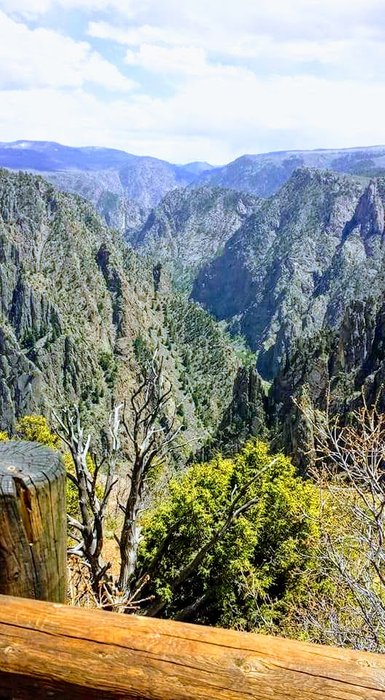 INTERESTING FACT:
In 1900, five men attempted to run the river in wooden boats to survey it as a possible source of irrigation for the Uncompahgre Valley. After a month, with their boats in splinters and their supplies gone, they gave up. But the next year two men ran it in ten days on rubber air mattresses.
Source, nationalgeographic.com
It may seem short sighted on my part, but I would have loved to have seen a long waterfall spilling over one of the cliffs of the canyon. Granted there could be just that further down, but what a sight it would be to see one at top!
Despite all, Black Canyon of the Gunnison is a marvelous sight to behold, and I highly encourage anyone sight seeing in Colorado, to put it on their list!!