Just west of the Chaing Mai University at the the base of the Doi Suthep mountains is the Chiang Mai Zoo and Aquarium, a 200 acre (81 hectares) zoo established in 1977. I'm not a big fan of zoos but when I was having lunch at a nearby place and heard a lion roaring in the forest my curiosity got the better of me. I spent a day visiting the place and snapping pictures.
The animals seemed well cared for and like most things in Thailand it was inexpensive. Covering the huge, forested property along its winding roads and bubbling streams felt more like walking in the woods than being at a zoo facility. Like the rest of the city this place was noticeably clean without a speck of litter, not even a cigarette butt.
One could easily spend an entire day here meandering through the forested paths, listening to the sounds of birds and wild animals, stopping to enjoy the views of nature.
Here are some shots taken with a Canon T7i using a 18-135mm lens.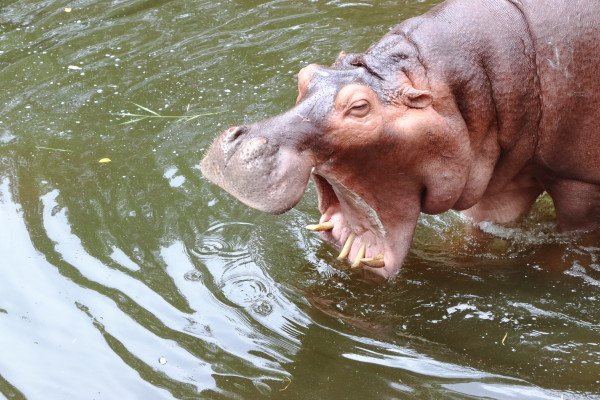 Hippos like to yawn a lot
There something about hippos that fascinates me. Their gentle grace seems to defy gravity as they tiptoe slowly across the ground like astronauts wearing bulky spacesuits, but once they're in the water their agility is multiplied and their true grace is revealed.
The sound of this lion roaring is what caught my attention and lured my to the zoo. The tone of a lion roaring reverberates deep in your bones, commanding attention. Every animal in the zoo was noticeably on alert each time he cried out. What was he roaring about? The two female lions in the pen next to him, of course.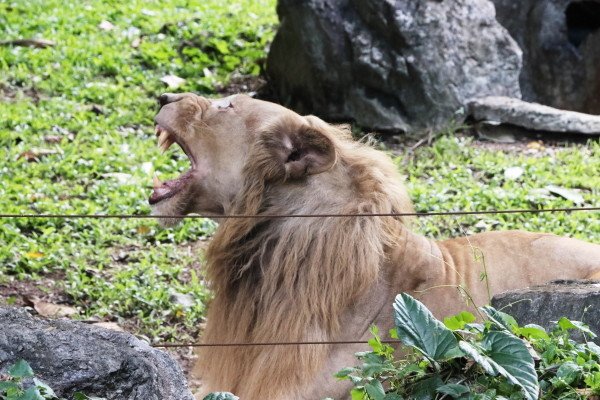 This lions roar echoed through the mountains and sent chills down my spine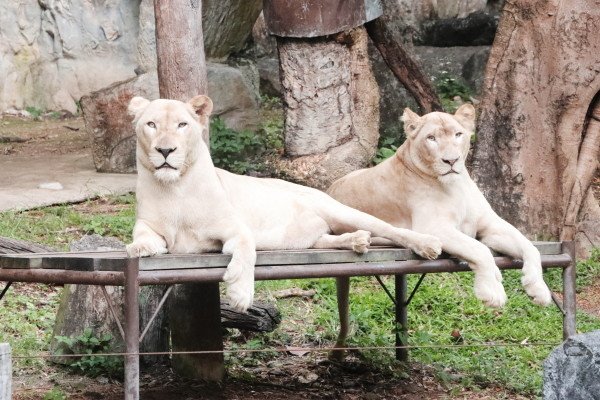 Lionesses at the Chaing Mai Zoo in Thailand
Mountain sheep are master rock climbers who also seem to defy gravity the way they navigate the steep cliffs. Goats have the same ability. If the shit ever hit the fan and we had to survive on the land again a goat would be my first choice of animal to raise. They can pack 40-lbs over the steepest terrain, eat just about anything, produce wool, milk, cheese, and meat. They make great companions.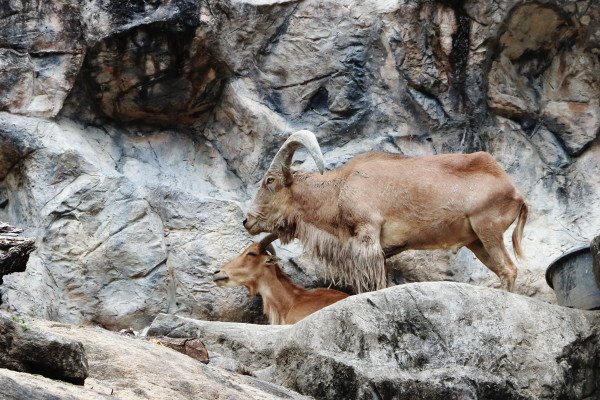 Mountain Sheep are the worlds greatest climbers
This manicured garden across from the Aquarium was so beautiful I had to stop to take in the scene. It felt good to sit after hours of walking and the serenity of the place quickly recharged my energy.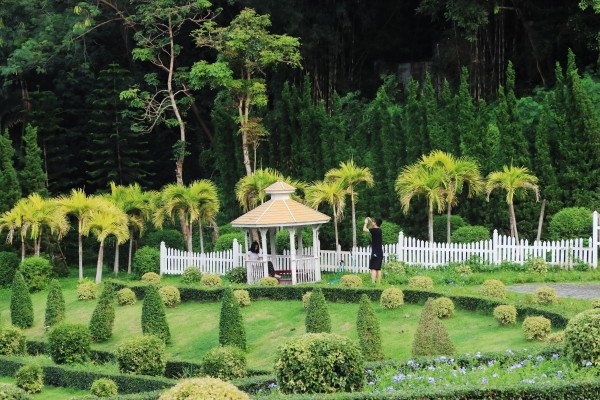 Beautiful gardens at the Chaing Mai Zoo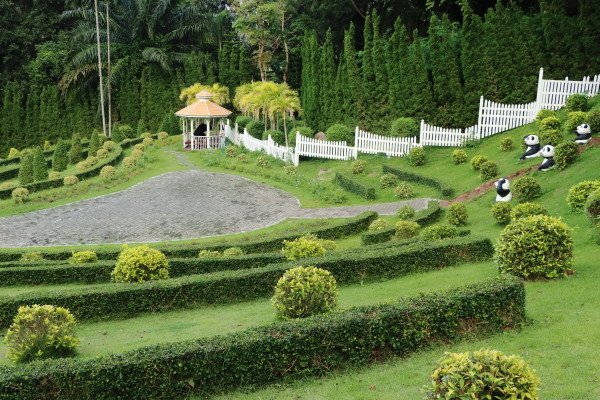 More gardens
Prairie dogs are common in North America. I've seen lots of them before in their native habitat but it was odd seeing one here in Thailand. He kept his eye on me too and I wondered if he was thinking the same thing about me as I was thinking about him. "What are you doing in Thailand?"
There were lots of varieties of monkeys and apes at the Chiang Mai Zoo but it wasn't easy getting good shots of them with my camera. This was the only decent shot I was able to take. It came out pretty good and made up for all the poor shots I took.
Of all the animals I feel sad about seeing in cages, monkeys and birds make me the saddest. Perhaps because monkeys are so much like humans the feeling of empathy is strongest. I've seen more wild monkys than caged ones in my travels and there's no denying the difference in the animals state of mind.
Like most kids I fantasized of having a pet monkey growing up, but once you see Wild monkeys in their natural state keeping one as a pet seems cruel.
I once did a midnight, full moon monkey rescue in Mexico, releasing a group of monkeys from their cages and returning them to the wild. Maybe I'll do a post about that story and tell you all about it.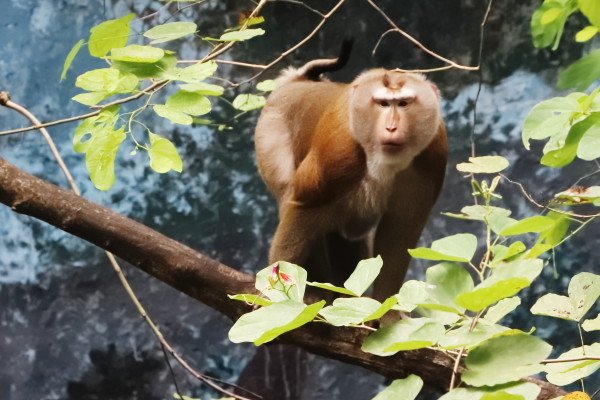 Monkey in a tree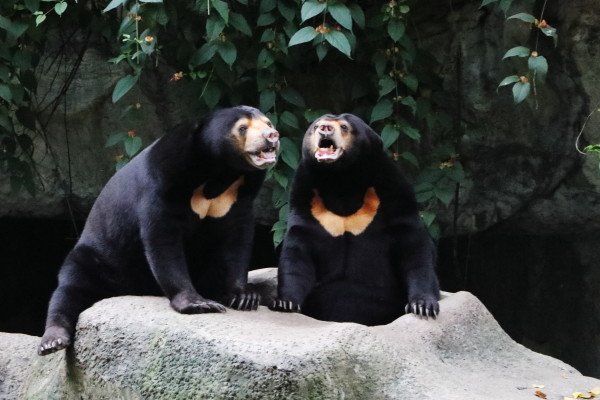 Asian black bears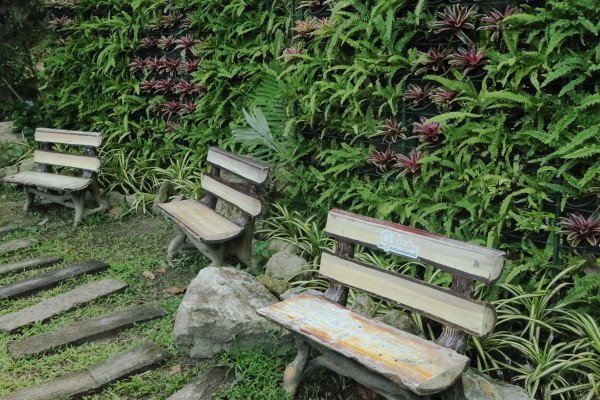 Chill spot in the park
It was fun seeing the zoo and perhaps will return when my friend comes to Thailand later this year. As far as zoos go this one was pretty remarkable for its natural beauty, cleanliness, and good vibes.
Thanks for reading my post and looking at my images. I hope you'll join me in my adventures as I travel through Thailand. Here's some more posts you may enjoy.
Related Posts
---
Wondering what awaits in those hills, the bike read my thoughts and seemed ready to find out. Making quick work of it as it glided along the perfectly smooth roads, the bike and I became one, racing away from the city below flying past the croaking frogs and rice paddies, through thickly forested hills and breathtaking vistas, round the winding roads and waterfalls, cutting through cool, floral-scented air pockets until we reached Doi Suthep.
---
Call me crazy but last week I flew to Bangkok, Thailand with nothing but a camera, half a suitcase of clothes, my trusty laptop, and an incurable case of wanderlust for new adventures. While that may seem impulsive to my close friends and family, some who've made their opinions concerning my sanity very clear, to me it's perfectly normal. Home is where you feel at home and for me, that's almost everywhere.
---
Strolling through the Huay Kaew Arboretum in Chiang Mai, Thailand I imagined saving the world one forest at a time and stood in amazement under new-to-me trees, basking in hungry curiosity for this novel biosphere. Most of the trees in these parts are hosts to a wide variety of orchids growing on their trunks
---