Place-des-Arts is a beautiful art venue nested in the middle of the Montreal. It's one of my favourite places in the city. It's a great spot to hangout as there is always something to see, do or hear in there. It is the largest cultural and artistic complex in Canada.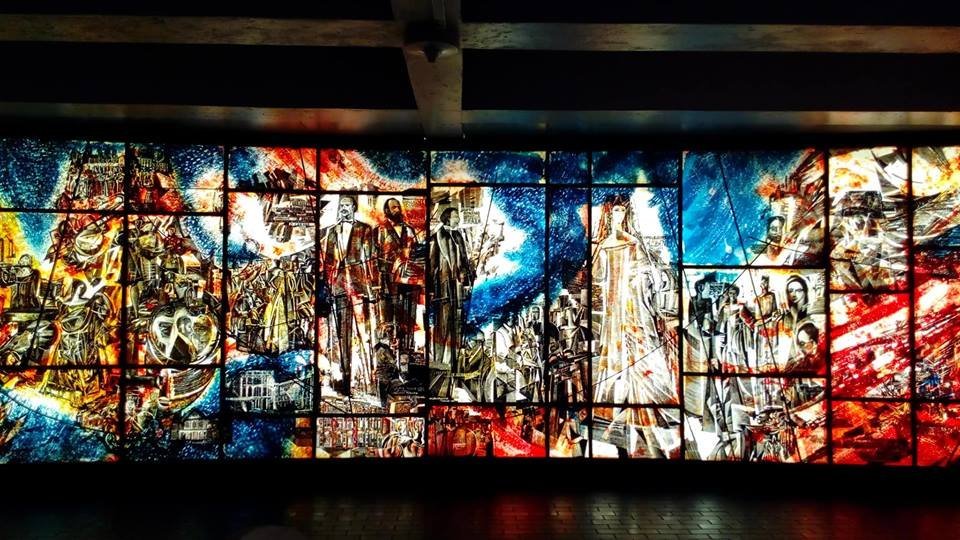 Histoire de la musique à Montréal (1967), painted glass and wrought iron realized by Frédéric Back. This artwork is installed in the Place-des-Arts metro station.
This living art complex is a MUST see if you are planning to visit Montreal. From June to August, this place is packed! The street vibe is lovely, there is no admission fee and it is child friendly!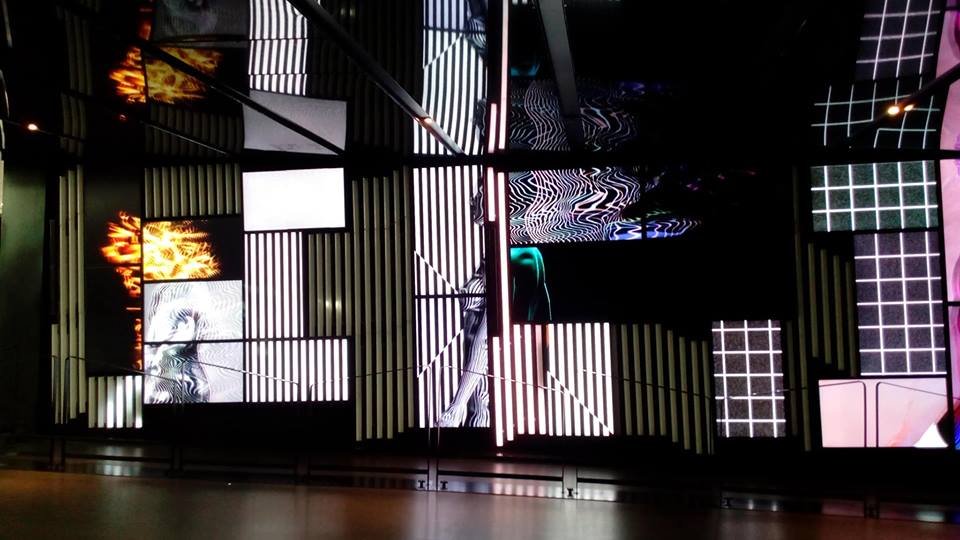 Multimedia zone - 35 digital screens designed by Érick Villeneuve where original digital works are displayed for millions of passersby
Place-des-Arts is Montreal's central entertainment complex. This fun entertainment area hosts many concerts, plays , festivals, parties and many other events (Opera, theatre or Broadway musicals). Among the major ones you can find The International Jazz Festival, Just for laughs, Les Francofolies and Montréal en lumière.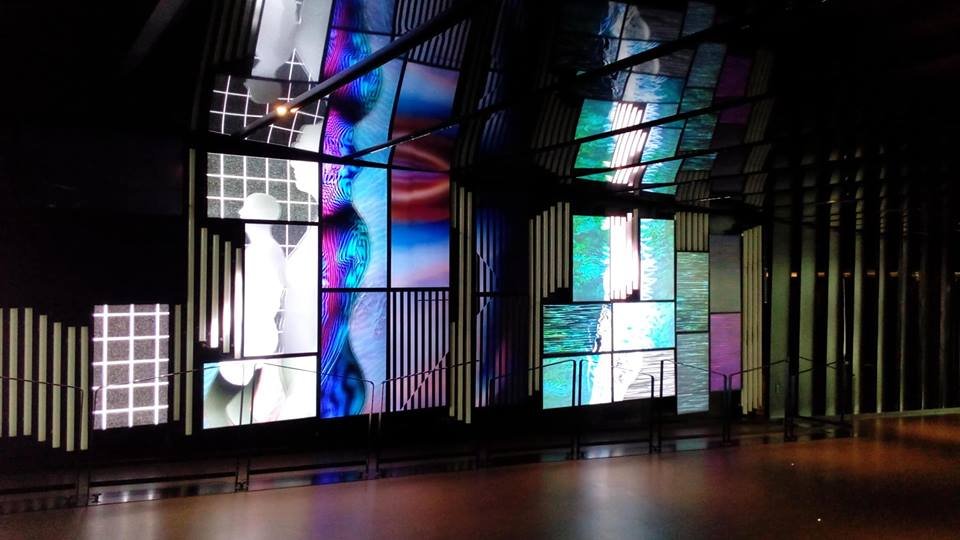 Multimedia zone is a corridor connecting Place des Art metro station to Complex Desjardins shopping centre
In the past years the complex has seen a new facelift. It got bigger and more tourist friendly.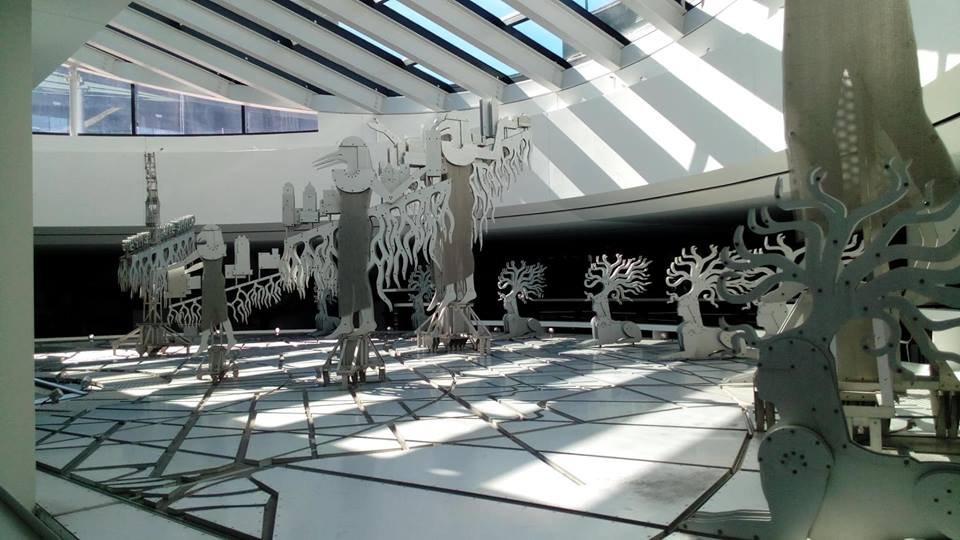 Artworks in the underground tunnel of Place-des-Arts
Tourists and locals enjoy spending time here regardless the season. The Esplanade is a vast outdoor space connecting all of Place-des-Arts' show venues. This outdoor plaza has fountains and an ornamental pool and it is attached to the Complex Desjardins shopping centre via an underground tunnel.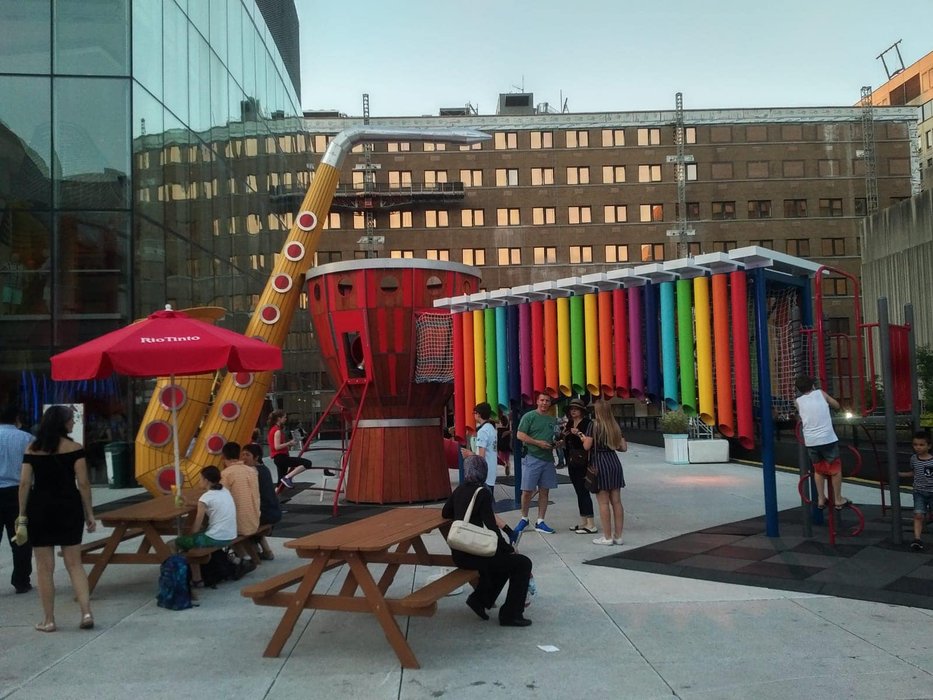 Place-des-Arts play area
Many of the concerts are held inside of the complex of theatres in the area, but there are a lot of free ones held outdoors. There also are plenty of shops and restaurants around, in case you get hungry or want to go shopping.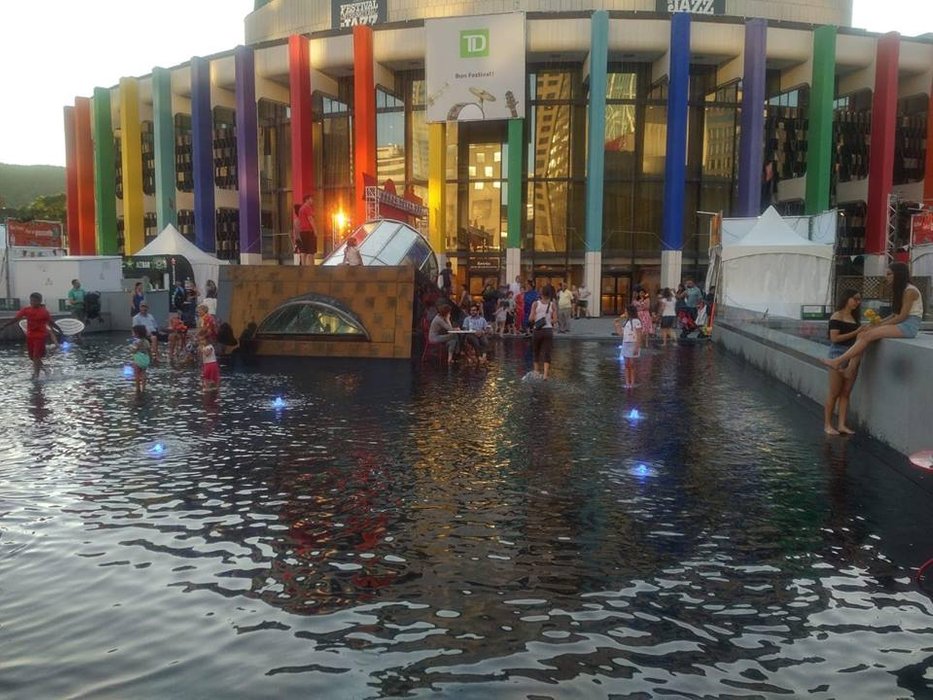 Place-des-Arts ornamental pool
One of the things that I love about Montreal is the city's commitment to public art. In Places-des-Arts you can see comedy shows, public street performers, giants, free entertainment/play areas with games.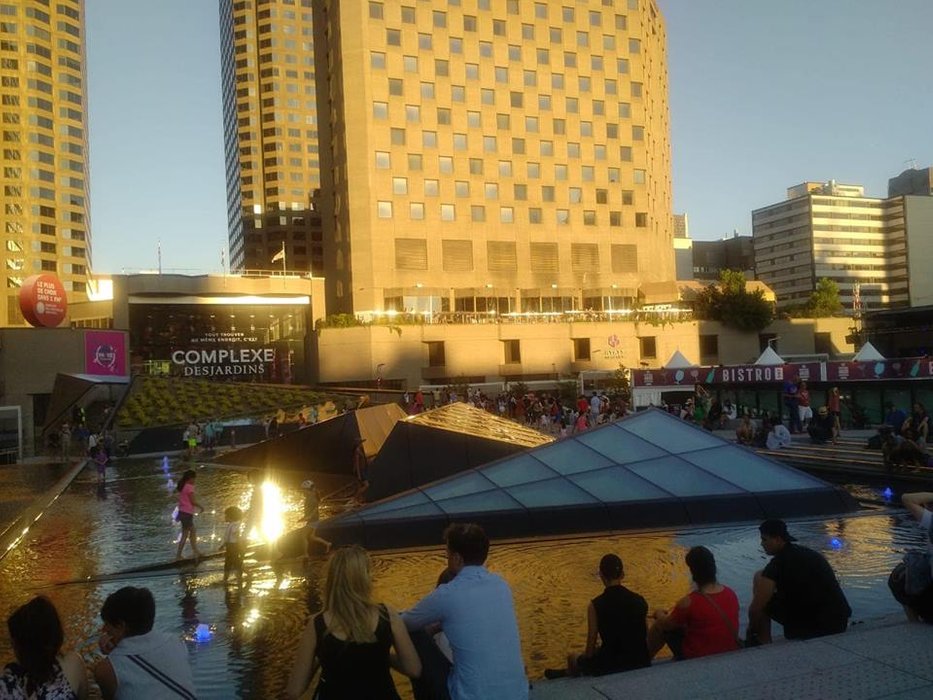 View over Complex Desjardins
Some of the artists I have seen performing in Place-des-Arts are Pink Martini, Cesaria Evora, Goran Bregovic, Norah Jones and many others less famous.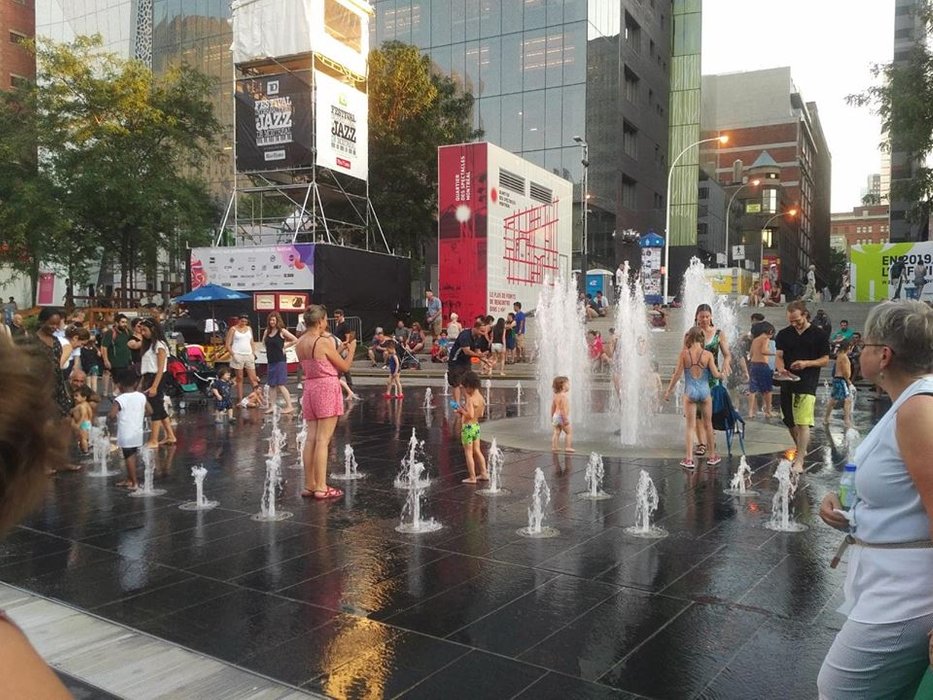 Place-des-Arts is easily accessible by metro. Even the underground lobby connecting the metro station to the Arts complex and the Desjardins shopping centre has been renovated. Everything breaths art in there, from the artworks on the wall, or the lights installation to the visual exhibitions or interactive sculptures.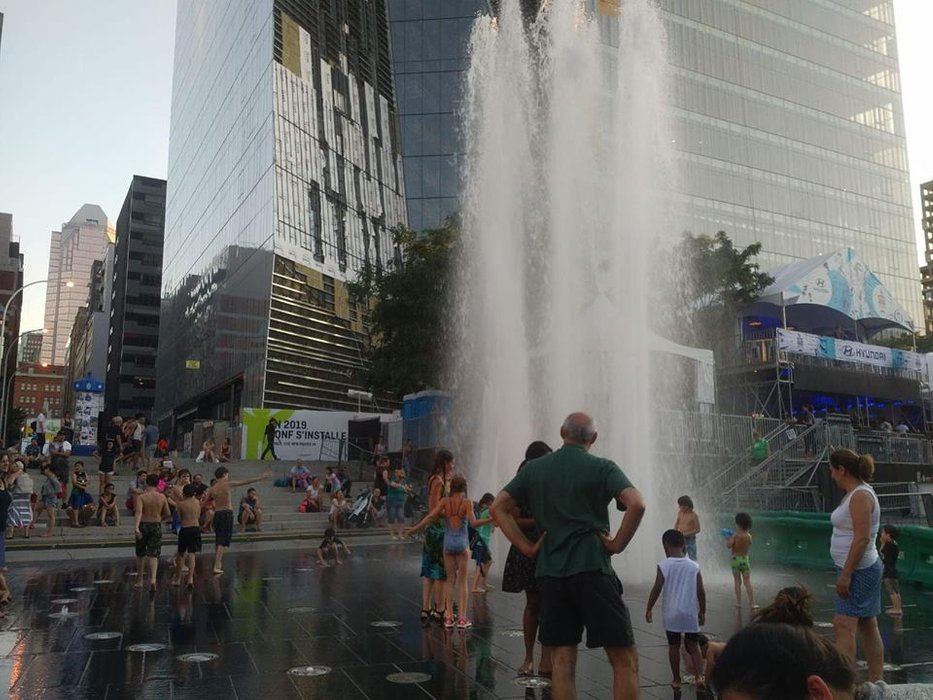 The Esplanade itself is nice place to sit, relax and admire the urban architecture. You can grab a snack and enjoy the views.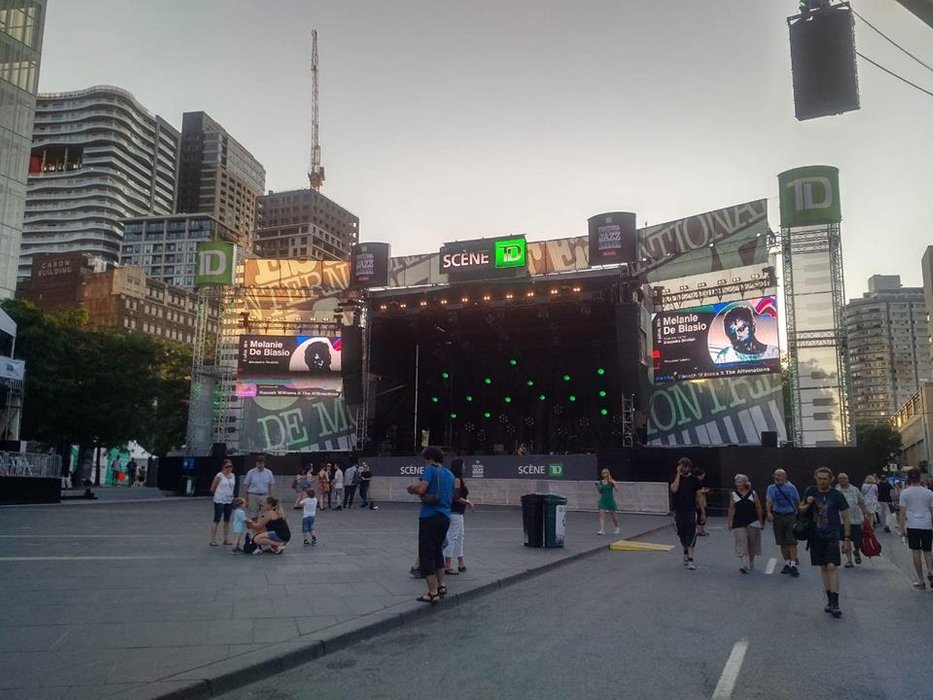 TD stage -
Did I mention that during winter there is a free entry huge skating rink where you can practice your skating skills? Also, the Christmas Fair which is held in December is simply amazing!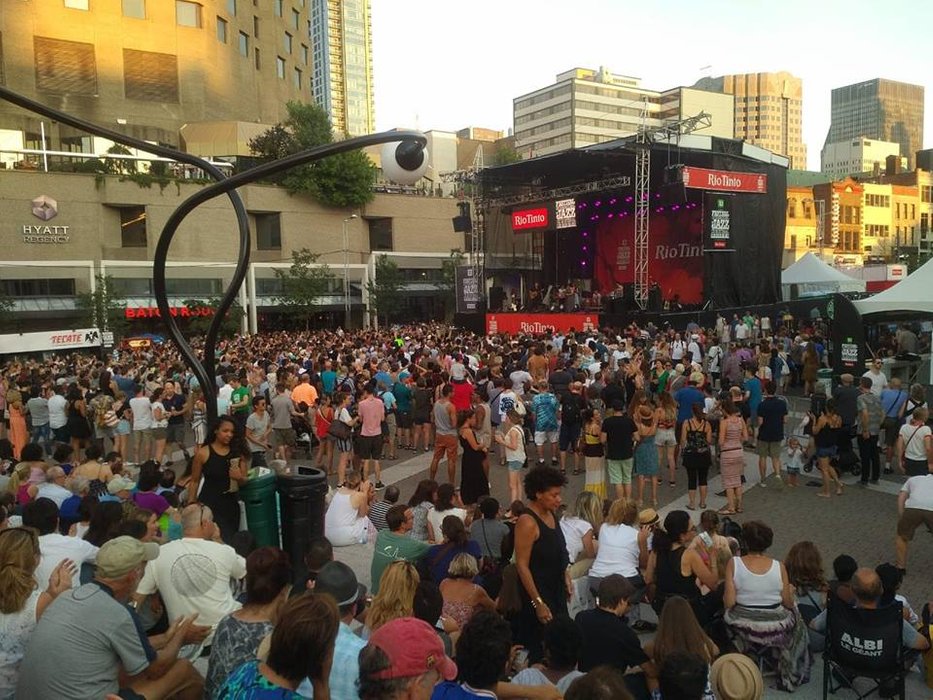 Rio Tinto stage
The winter Carnival attracts lots of people even in freezing temperatures.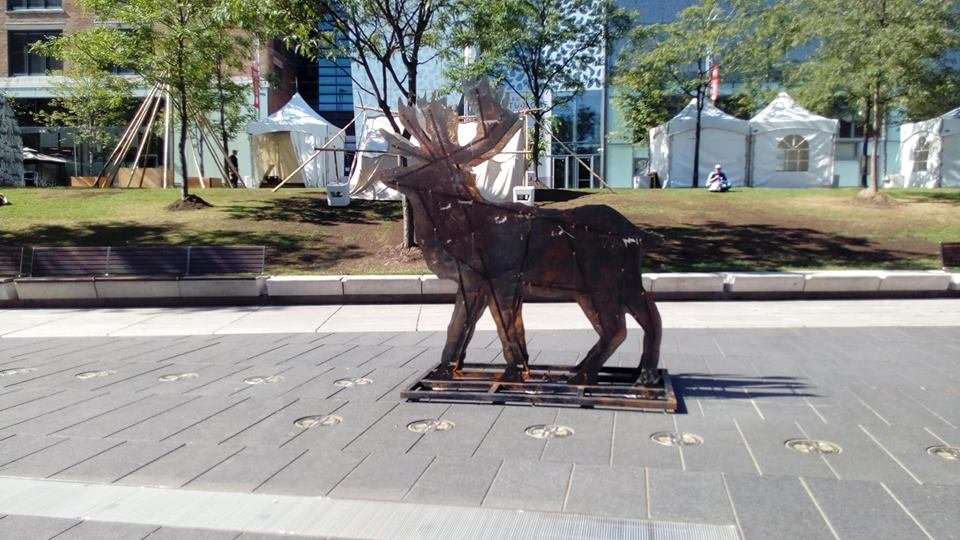 Moose -Montreal First People Festival
This past August, Place-des-Arts hosted the 28th edition of Montreal First People Festival, an event highlighting American aboriginal art, history and traditions.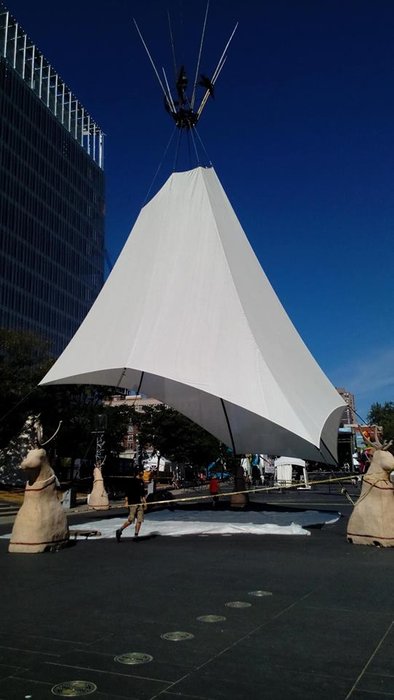 The multidisciplinary event celebrated Aboriginal cultures from throughout the three Americas.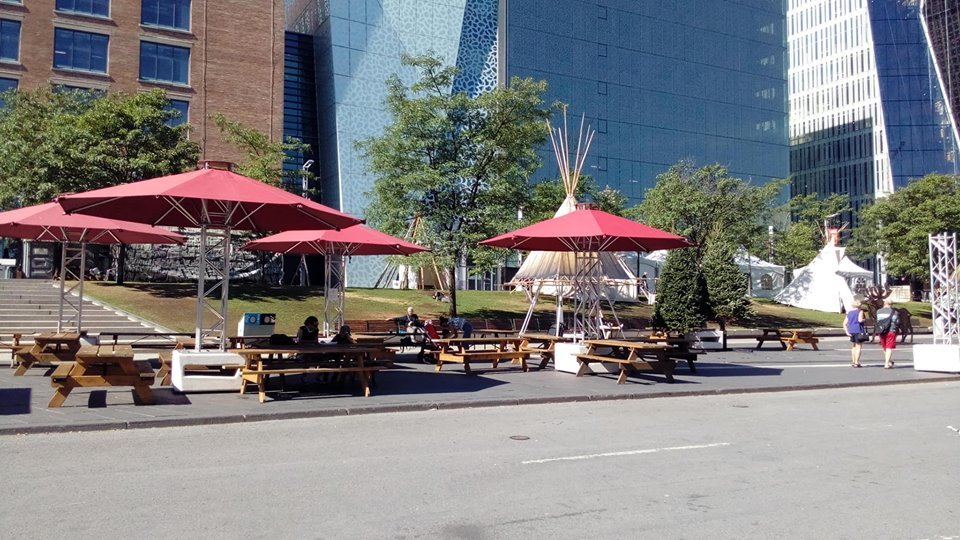 The newly reconfigured Esplanade is a giant stage capable of hosting major public events all year round.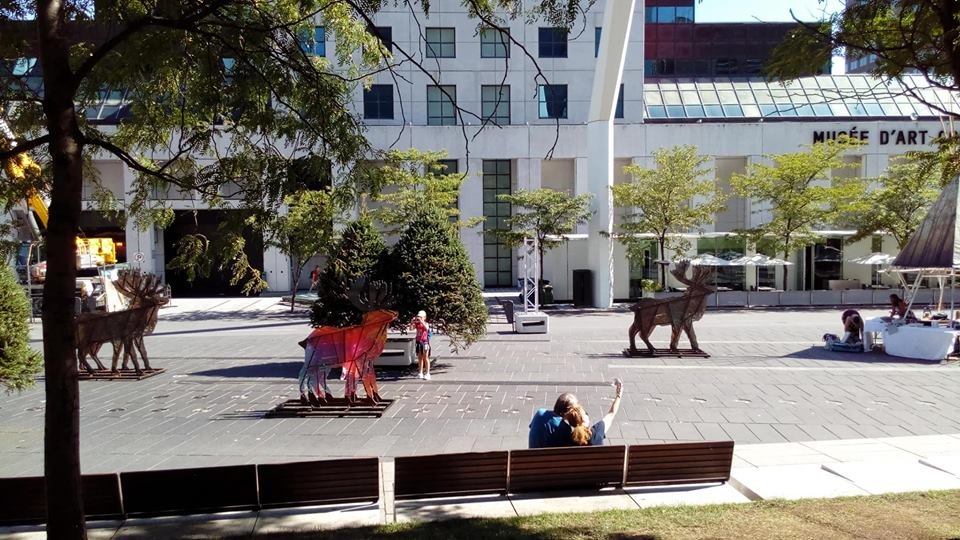 This $34 million facelift turned the Esplanade into the signature space of a great cultural metropolis.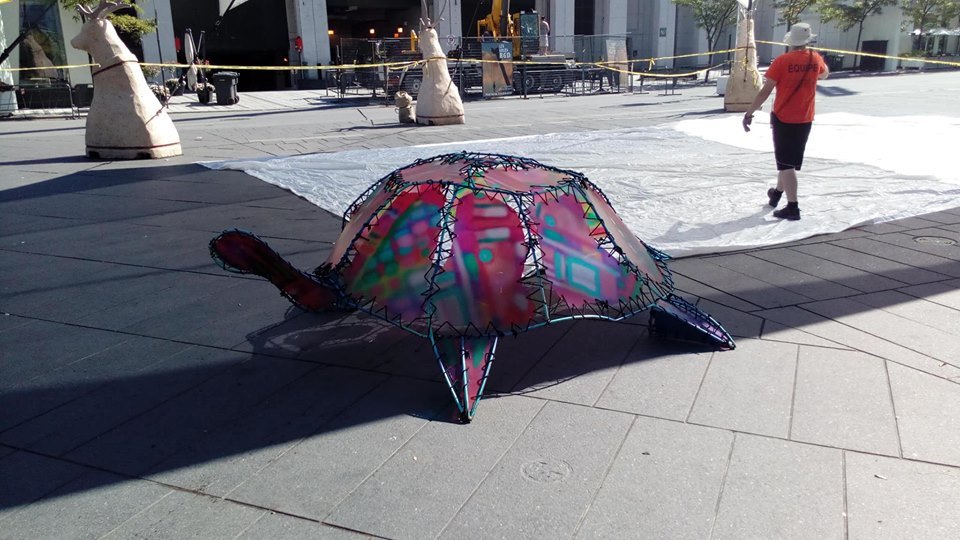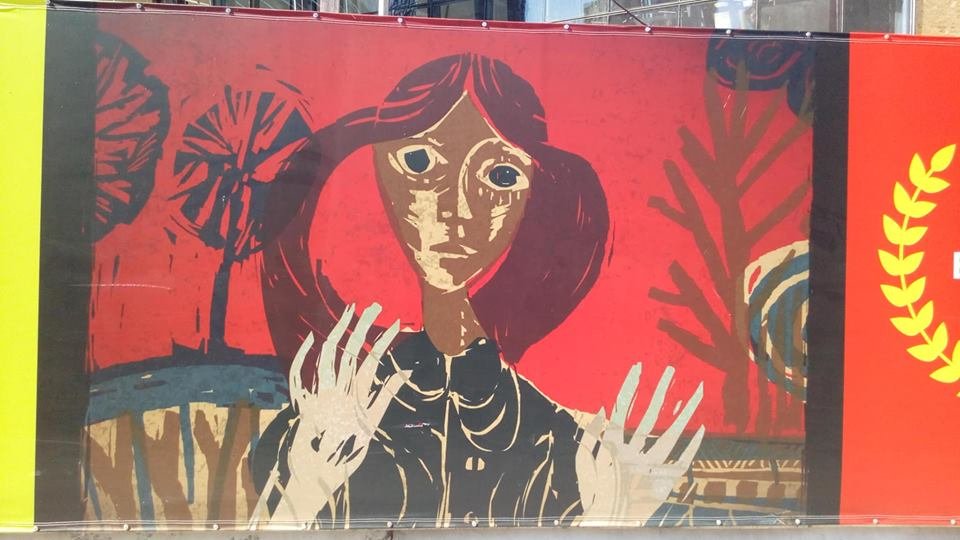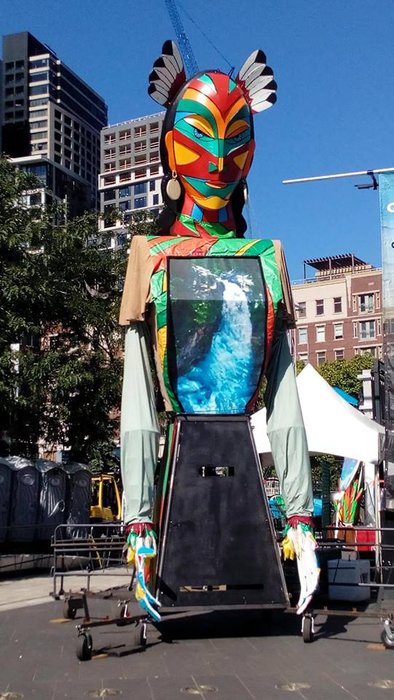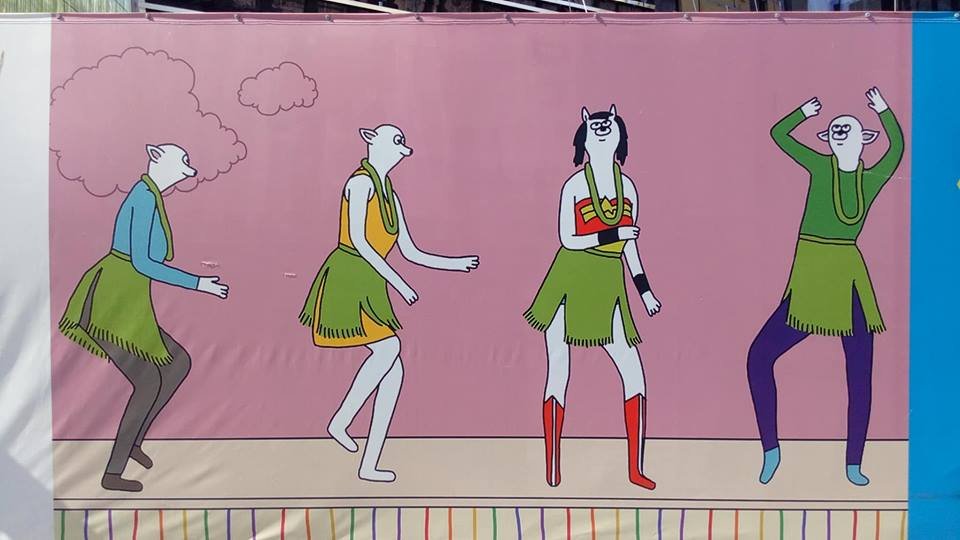 I was fascinated by these artworks I have seen around Place-Des-Arts. They are all part of a major artwork, designed in five scenes by Stephen Schofield.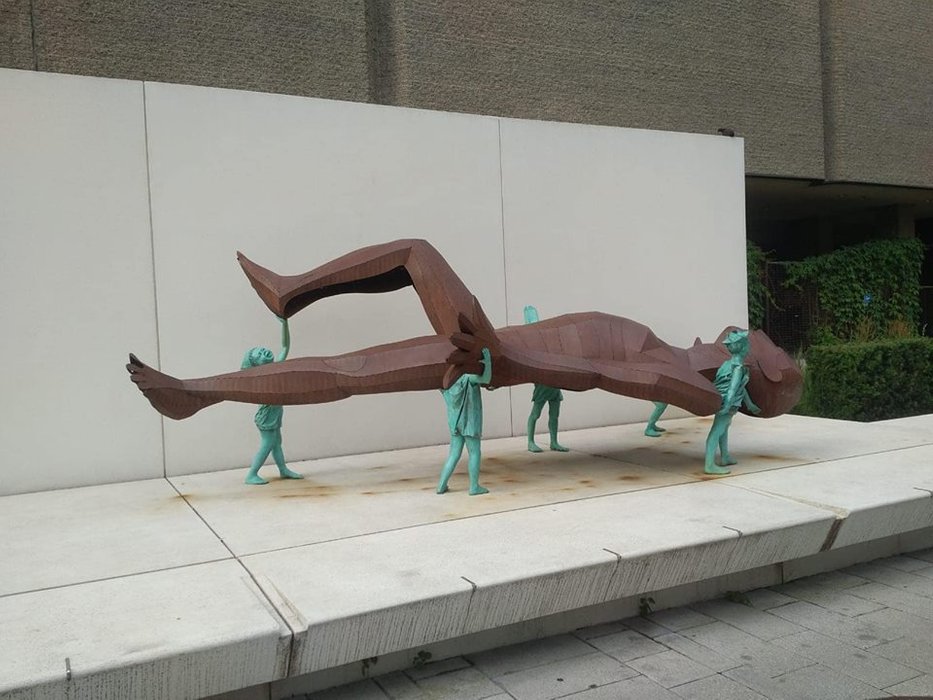 L'Effigie et les enfants by Stephen Schofield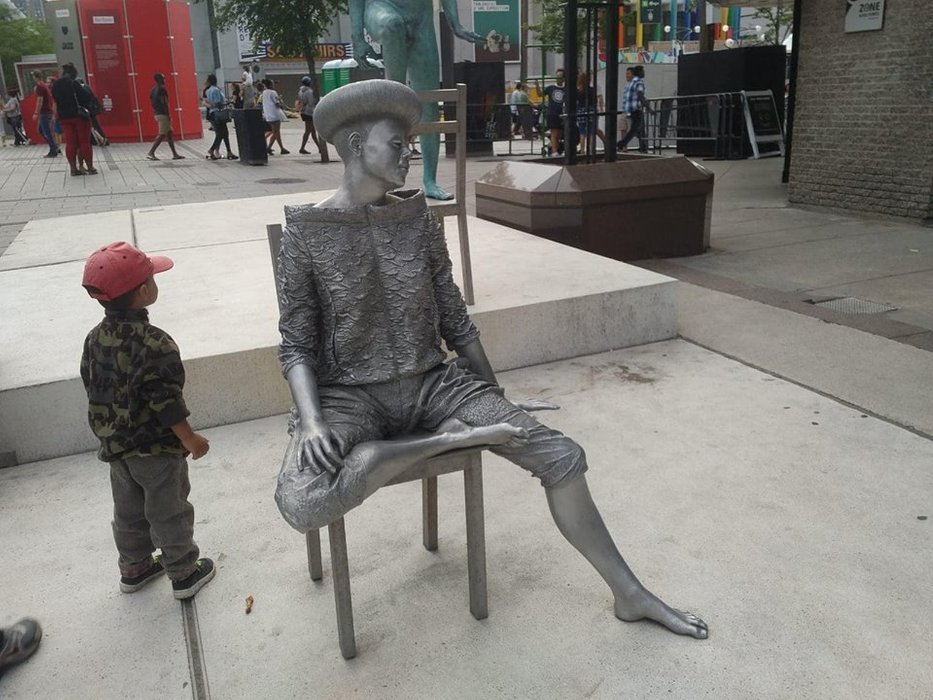 La directrice et le figurant by Stephen Schofield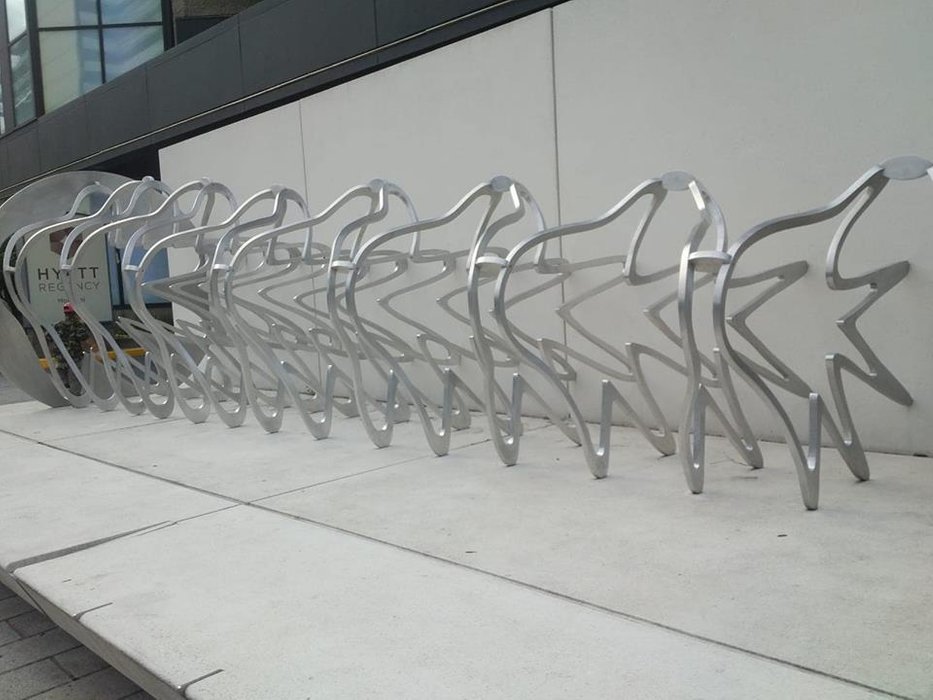 La cadence by Stephen Schofield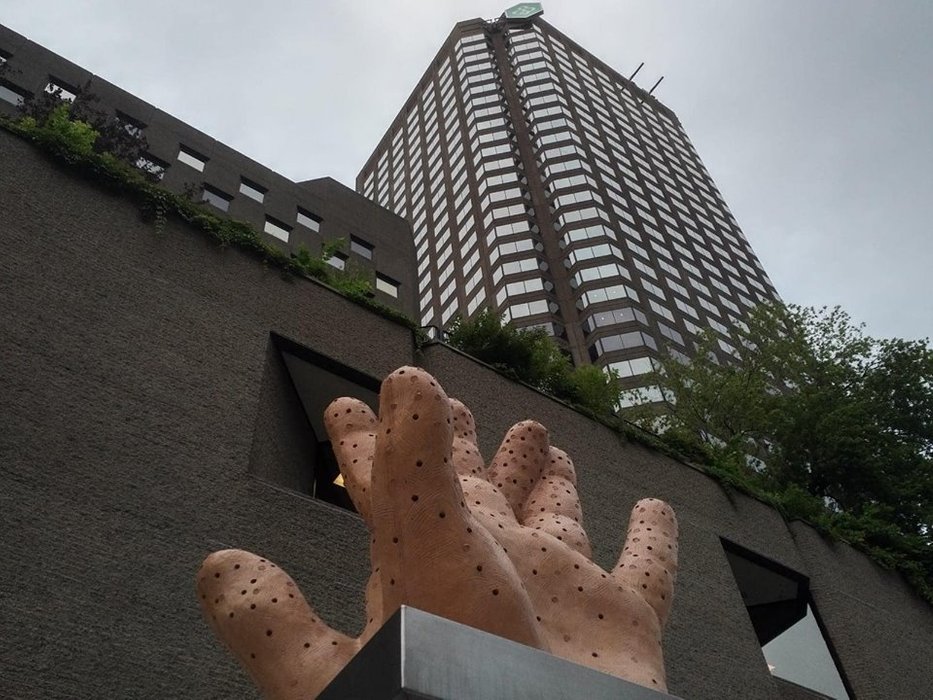 Le petit théâtre by Stephen Schofield
What is your favourite city? Do you have more than one? What do you love about it/them?


Here are other travel related posts:

PANAMA SERIES: PANAMA CITY'S SKYLINE AT NIGHT

PANAMA SERIES: THE GRINGO PRICE

PANAMA SERIES: TEN FACTS OR MORE ABOUT BOQUETE, PANAMA

PANAMA SERIES: BOQUETE'S FLOWERS AND COFFEE FESTIVAL

PANAMA SERIES: VISITING DAMARLI ESTATE IN BOQUETE

PANAMA SERIES: CARIBBEAN PARADISE - BOCAS DEL TORO

ECUADOR SERIES: OTAVALO, THE ARTISAN MARKET MECCA

ECUADOR SERIES: COTACACHI, THE CITY BETWEN TWO VOLCANOS

ECUADOR SERIES - DUE DILIGENCE TRIP

ECUADOR SERIES: TIPS FOR TRAVELLING TO ECUADOR

HIKING IN MONT-ROYAL PARK, MONTREAL

ZUMMER FUN BUS RIDE IN CONSTANTA, ROMANIA

THE STONEHENGE OF ROMANIA: SARMIZEGETUSA REGIA

LAURENTIANS MOUNTAINS: COTTAGE TRIP AT LAKE CACHÉE

OTTAWA LIGHTS SHOW ON PARLIAMENT BUILDINGS

HIKING AT DANUBE'S GORGES, ORSOVA, ROMANIA

DECEBALUS CARVED STATUE, ROMANIA

PIRATES TREASURE PLAYGROUND, CONSTANTA, ROMANIA

DOLPHINARIUM 2, CONSTANTA, ROMANIA

DOLPHINARIUM 1, CONSTANTA, ROMANIA

GONDOLA RIDE IN MAMAIA RESORT, ROMANIA

BEACH DAY IN CONSTANTA, ROMANIA

BUBBLES - INDOOR PLAYGROUND IN CONSTANTA, ROMANIA

BAHIA DE PAQUERA, NICOYA GULF, COSTA RICA

EXPLORING AMSTERDAM, NETHERLANDS

MACKINAC BRIDGE, MICHIGAN, USA

CHASED BY TORNADOS IN MINNESOTA

MINNEHAHA FALLS REGIONAL PARK, A GEM IN BETWEEN THE TWIN CITIES

BANFF, A RESORT TOWN INSIDE THE BANFF NATIONAL PARK, ALBERTA, CANADA

OLD PORT OF CONSTANTA, ROMANIA

MORAINE LAKE, A SURREAL BEAUTY IN ALBERTA, CANADA

TIPS ON HOW TO MAKE A LIVING WHILE TRAVELLING THE WORLD

FEELING UNINSPIRED? VISIT A WELSH RETREAT: GLADSTONE'S RESIDENTIAL LIBRARY

TURDA'S 400 FEET UNDERGROUND AMUSEMENT PARK, A HIDDEN GEM OF TRANSYLVANIA, ROMANIA

VISIT TO SAINT-JOSEPH'S ORATORY IN MONTREAL, CANADA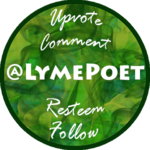 Unless stated otherwise, all photos used in this posts are taken and owned by myself. If you wish to use any of my images, please contact me!
Thank you for reading, I hope you enjoyed it! Please leave your feedback in the comments, I would love to hear your thoughts!
@2018 LaviPicu aka The Lyme Poet. All rights reserved.