Ramadan Bazaar is one of anticipated events during the Muslim sacred month. While etymologically, bazaar means market where goods or service being exchanged, in this case, Ramadan Bazaar typically sells snacks, desserts and iftar menu (a meal for break fasting). This market is widely awaited since it only happens once in a year.
This street market usually starts from 3:00 p.m until after *iftar (5:30-6:00 pm). People visit this bazaar none other than to find meal for their break fasting. In this type of bazaar, vendors usually sell drink and deserts. However you can also find a whole meal, BBQ menu or light snacks. I will show you a glimpse of food which are sold in this type of bazaar.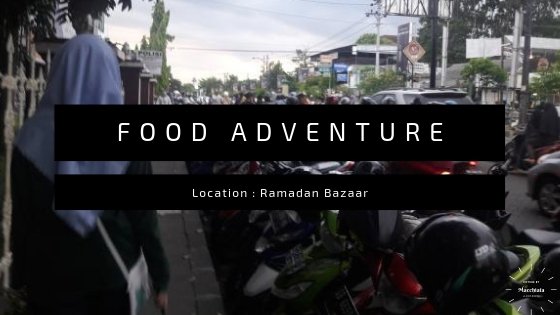 Four days ago, I had the chance to visit this type of market. I don't usually visit overcrowded space, but why not have a little adventure?
In this food adventure, I was accompanied by two acquaintances, who was as excited as I was. We started the journey from from their home at around 5:00 pm. We decided to go around that time because generally vendors will be settled in their booth and the meal will be fresh and hot.
Upon walking to the main area, I was greeted by dozens of motorbikes parked by the road side. It was rather chaotic. Especially next to the line of motorbikes, there will be vendors selling and offering their goods. Such as this blurry picture below.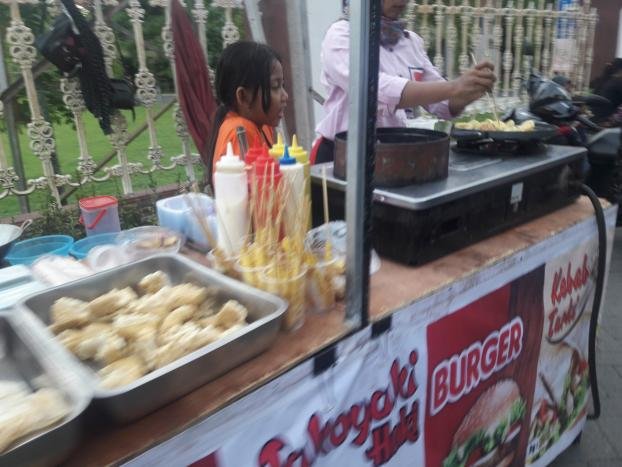 When we get to the main area, it was ten times more chaotic. I was stunned by the diversity of foods offered.However, it seems that 50% of the food are not traditional Indonesian meal. From my observation, I found more Bratwurst and Takoyaki vendors than Indonesian dishes.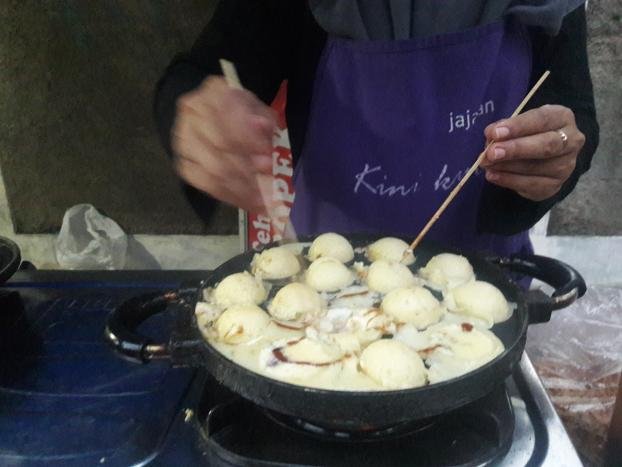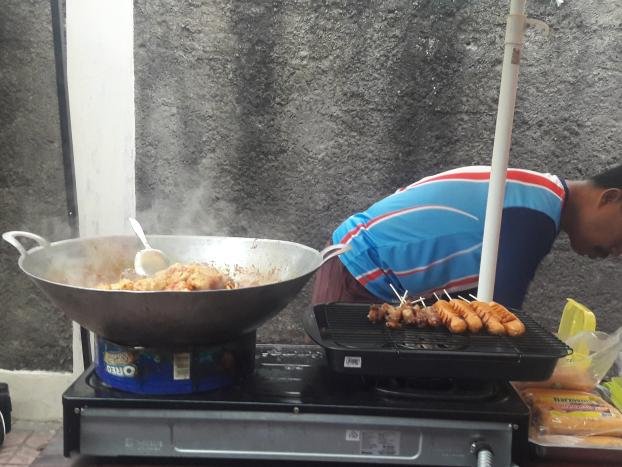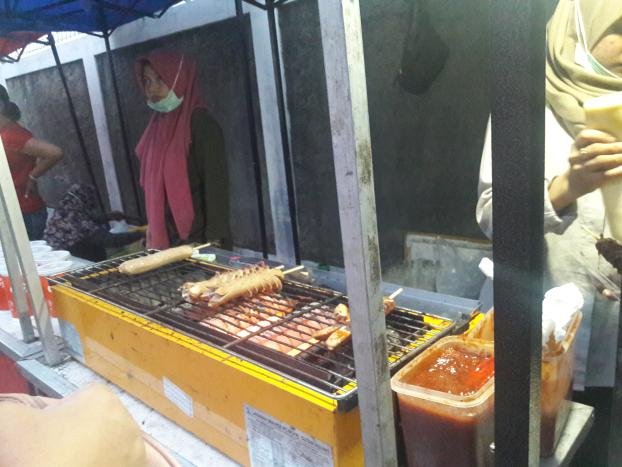 Since we were a little confused due all the food choices, we decided to walk around at first. Until, Arfa, one of my acquaintances decided to buy a round shaped ball in a stick. I am not sure what was it call, certainly something made of seafood.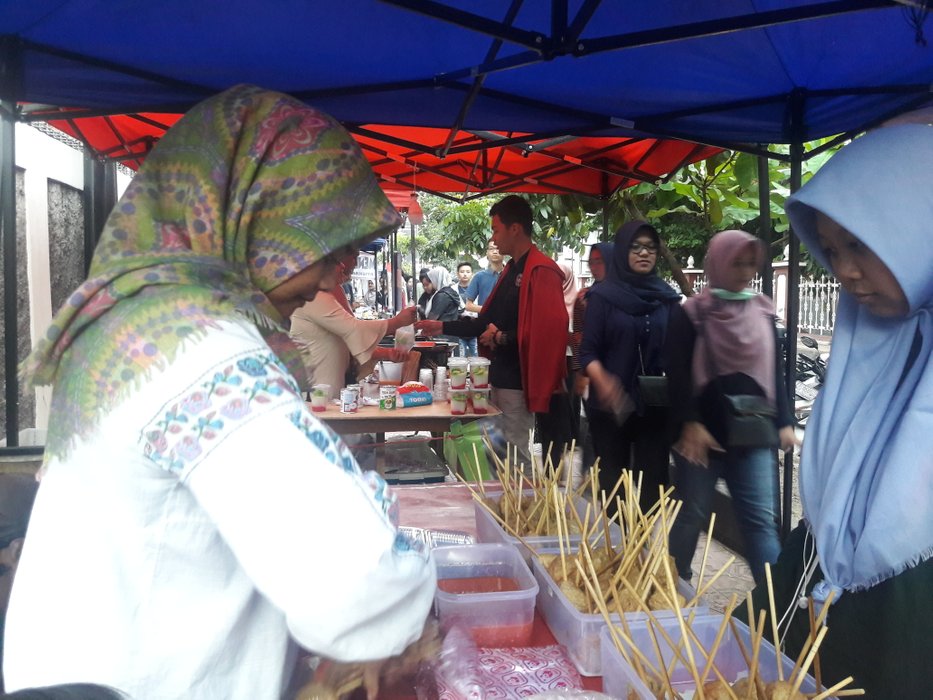 Then we continued the journey until I spotted Spicy Chicken Feet on the pan. I was compelled to buy but sanity prevailed. I did not want to harm my stomach by eating too spicy delicacies.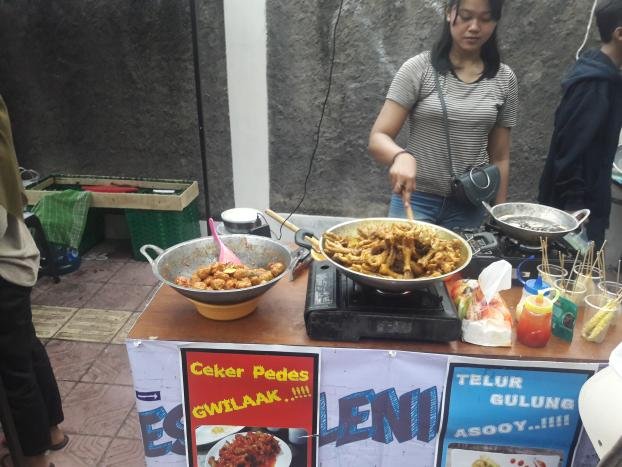 After looking at some vendors, I knew that moment,I would rekt (wrecked) my stomach. I had history of eating street food and it often ends up badly.
But there was one thing that caught my attention. The booth was crowded and it smelled very good. I was wondering, " what is that thing sizzling on the pan?" for a second I thought it was bacon, but that couldn't be right since this was a Muslim festival.
So I asked the vendor. Then, she answered,
It's octopus 20,000 idr for a small serving.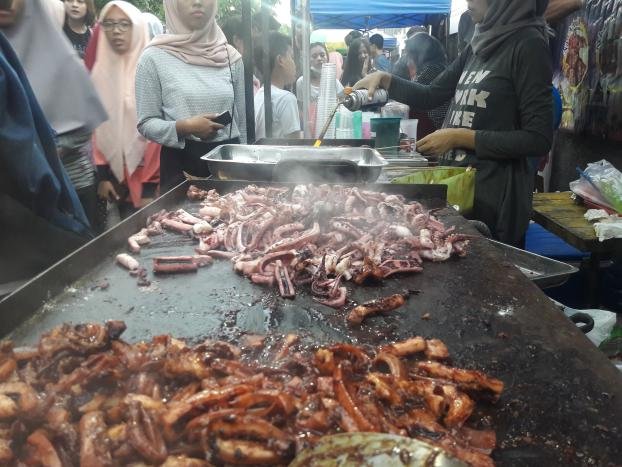 Then, I was going in full mode, " take my money!" at this point, I completely forgot my allergies.
While waiting for my order, I decided to capture some pictures of it. I think it looks rather gross. However upon trying the octopus, it was chewy but flavorful.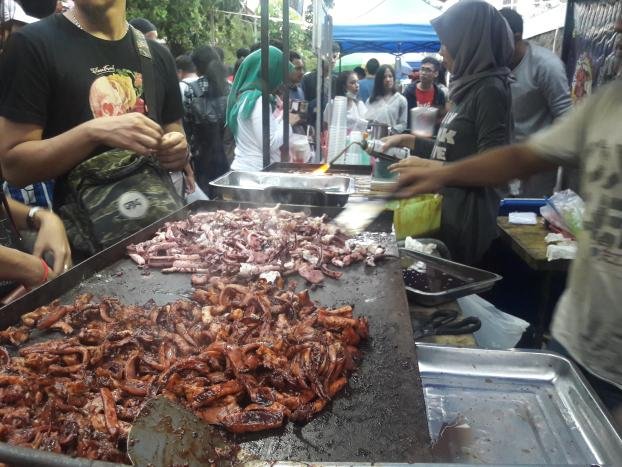 Look at how the vendor poured MSG on it, lovely ;)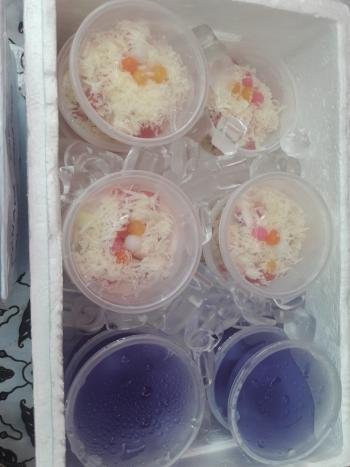 Then, my journey continued to finding more bizarre food. This time I found something that's very strange. A drink made of blue pea or
Clitoria ternatea
. Okay, I'll just give you a spoiler, the plants look like a female reproductive organ. According to the seller, it said the flower has anti-depressant and sedative properties. Quite interesting right?
However, in terms of taste, it was tasteless, just like water with a drop of blue coloring ingredient.
While two of my acquaintances were queuing to get takoyaki, I decided to find another traditional indonesian snacks, which in this case, I found a massive deep fried tempe (soy bean cake). It was traditionally served inside banana leaves which was interesting as well. But of course, from the picture you can see plastic around it too.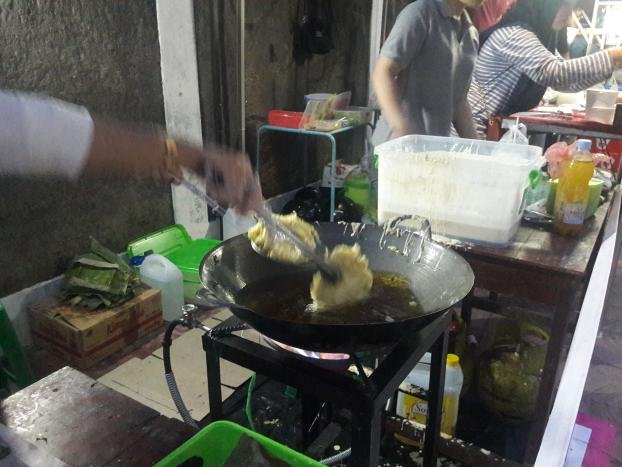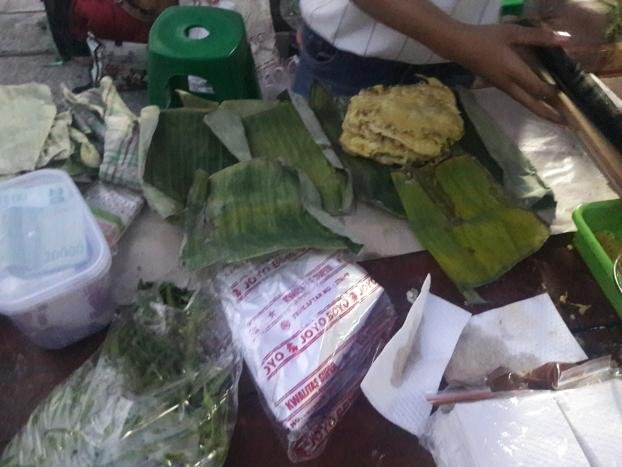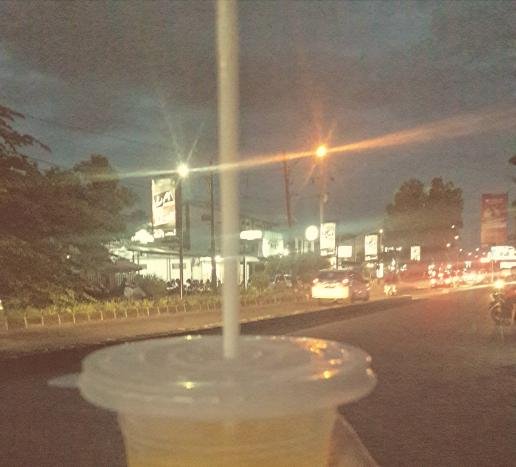 These food were quite pricey in comparison to regular price during normal days. However, it was still fairly acceptable. I ended up spending roughly 5$ for my octopus, mushroom, tempeh, salad and the orange juice which marked the end of our food adventure. I had massive fun at the bazaar, especially it was also the day I got older.
This was one of the day that inspired me to get back on the road. I honestly missed it but the best has yet to come. I hope and wish, I can show you around the area where I'll be stationed during my community service. Thus, see you in my next adventure !
References & Notes: