During the last day of our service, I and other students got the chance to travel visiting interesting point of attractions nearby. There are plenty options that we can visit in nearby area including beaches, carved limestone sites, waterfalls, hills, and even historical cemeteries tour. Although we have plenty options, we accounted the time that we had. So,we decided to visit two places in the same area, which are the Mangunan fruit garden and the hobbit's settlements/village. These two objects,particularly the hobbit's settlements, is an interesting place if you are a big fan of The Lord of The Ring. Meanwhile Mangunan fruit garden is a mesmerizing site especially if you are a sunrise catcher. Anyhow, without further adieu, let me take you to explore Indonesian Hobbiton's version and the Mangunan fruit garden.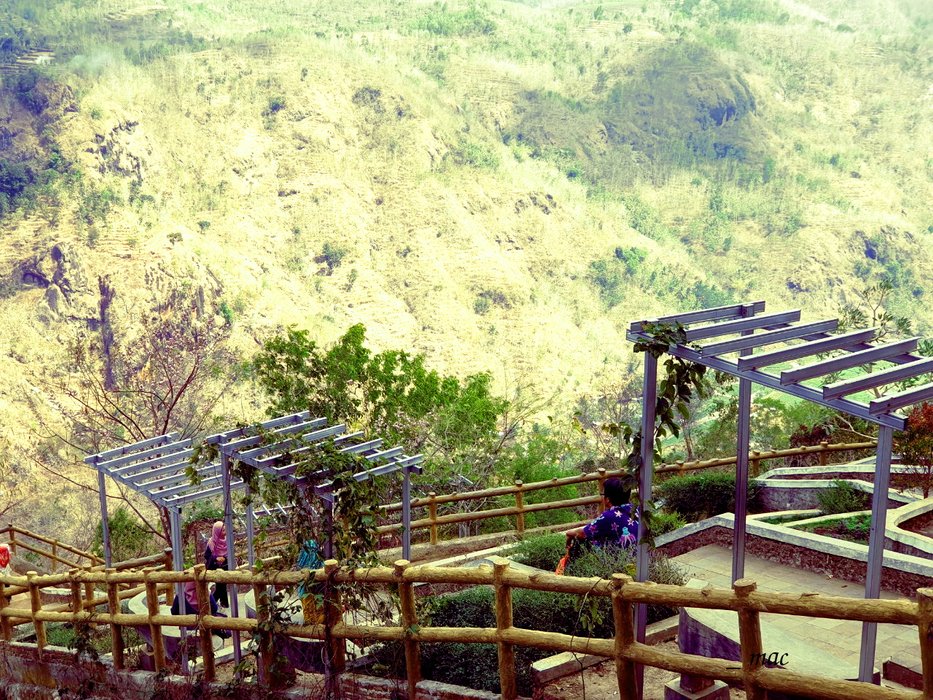 Mangunan Fruit Garden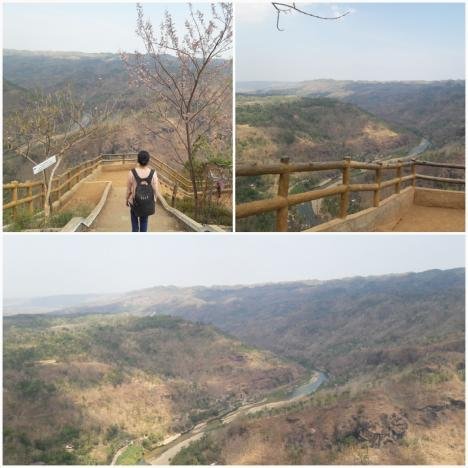 Location : Mangunan, Dlingo Bantul, Yogyakarta, Indonesia
Distance from the city : approximately 1,5 hr ride
Entrance ticket : 5,000 idr/person
Best time to visit : 5 a.m. for sunrise*
If you are a fan of nature and looking for a weekend getaway, this place offers more than just a mesmerizing scene. With a little effort of hiking, you will be stunned by the beauty of imogiri hills and the valley which lays beneath it. From up above, you can see green forest hill especially if you come during wet season. Don't get disappointed just yet, if you're only seeing dry hills, it's still worth visiting. I was unfortunate to visit the site during dry season. Actually, the stones will be slippery had I come during the wet season. Hence why, I think I was still fortunate. As captured below, you can see the surrounding hills are dry and the water is static and slightly green colored.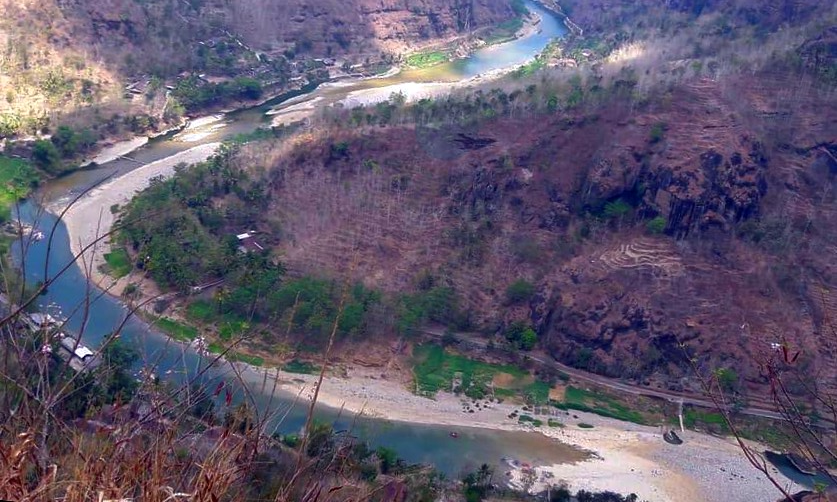 ---
Map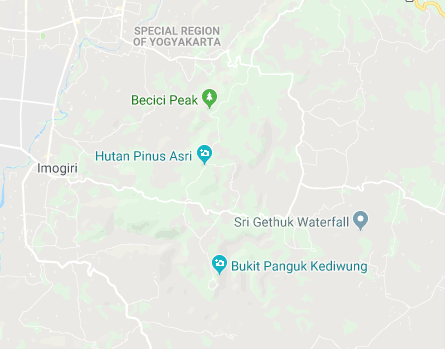 As you can see from the map above, there are several others interesting sites to visit.
What can you do there?
Although it depends on which season you're visiting, the general activity that you can do there is taking pictures. However, if you are willing to wake up early, you might be lucky to catch a sunrise, since the place is well-known for that. Other than those two, during the harvest season you can pick tropical fruits and pay at a cheaper price.
Other information
The internet connection works, so don't worry about not being able to share the moments with your families/friends on social media
There are small warung(food stalls) selling bottled water and fruits. Although it is advisable not to drink with ice cube unless you're already immune to e coli.
Make sure you are in a good health while visiting this site of attraction because you are required to hike in order to explore around.
Wear hiking clothing/apparels when exploring these area.
---
The Hobbit's settlements
Location : Jalan Hutan Pinus Nganjir, Mangunan, Bantul
Distance from the city : approximately 1,5- 2 hr ride
Entrance ticket : 3,000 idr/person
Best time to visit : 6-12 a.m
Are you a fan of The Lord of the Ring? this destination might be for you. If you are indonesian, this is a friendly budget version of New Zealand's hobbiton tour. Or even while you're in Indonesia, why not visiting this hobbit themed village?Although there are plenty of this kind of park, this one has unique atmosphere and surrounding as it is located within the pine forest conservation. Don't worry about not getting the chance to take pictures. There are plenty houses located within the complex and other type of houses that can be an alternative to fill your social media feeds.
Map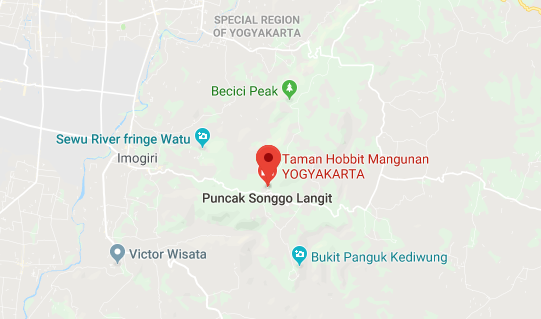 What can you do there?
Not only that you can take pictures as if you're a hobit, you can also hike up the hills to see mesmerizing scene of imogiri's area. You can also rent a jeep that will take you to an adventurous trip exploring the pine tree conservation forest. If you are not adventurous type, you can simply enjoy the nature while sipping a fresh coconut water from one of the warung that's located within the complex. Below are some pictures from the hobbit's settlements.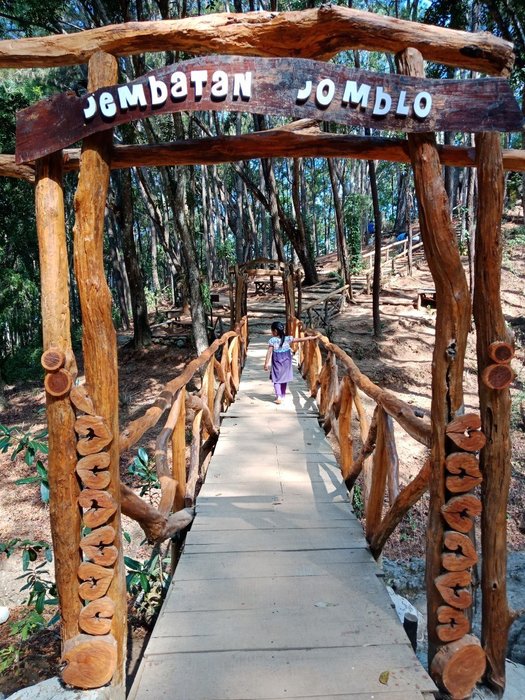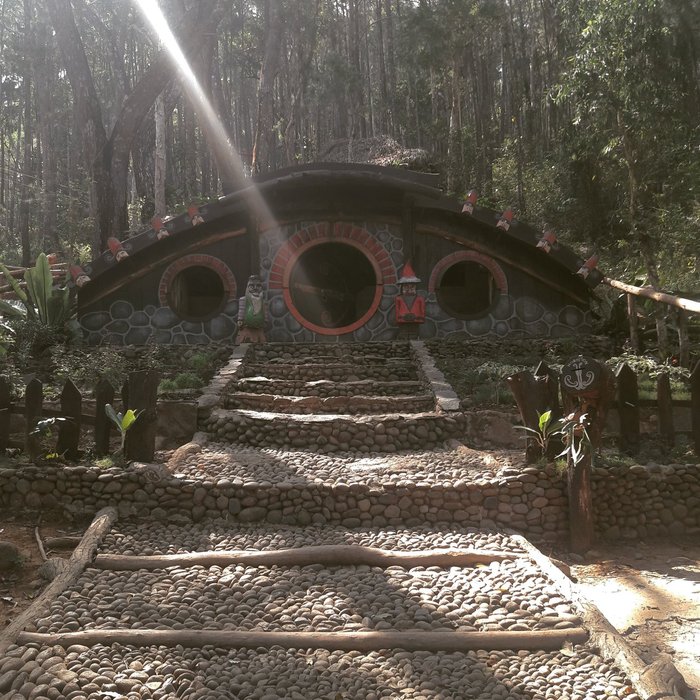 ---
Other information
It's better to visit during low season since it means no queue in taking pictures
Make sure to bring bottled water
Apply mosquito repellent before you're going deep into the forest.
There are plenty warung selling snacks and meal at cheaper price. You might want to try some local dishes while at this complex such as chicken soup served in a coconut bowl.
Final Note
This is one of recollection of my last travel. I have not travel much these days due focusing to classes but hopefully, in the future, I will share more of travel reviews and stories. Thank you for reading. I hope you like it.
~ mac