It was a busy Christmas day then I had to run and catch the bus for my trip back to Manila. I thought it was my first time traveling on Christmas night and had no idea how the traffic would be so I had to anticipate the worse.
Taking a cab was a challenge when you are in almost the end side of town and at night. I had to take jeepney from La Trinidad and ended up having a walk along the streets of Baguio City while praying for a cab to the bus terminal. It was not a bad walk after all as I got the chance to enjoy the sight even for a short period.
Coming from Perfecto Street and approaching Harrison Road, I can see the busy night market from afar. I climbed the foot bridge to cross Harrison Road and got clearer view of the market.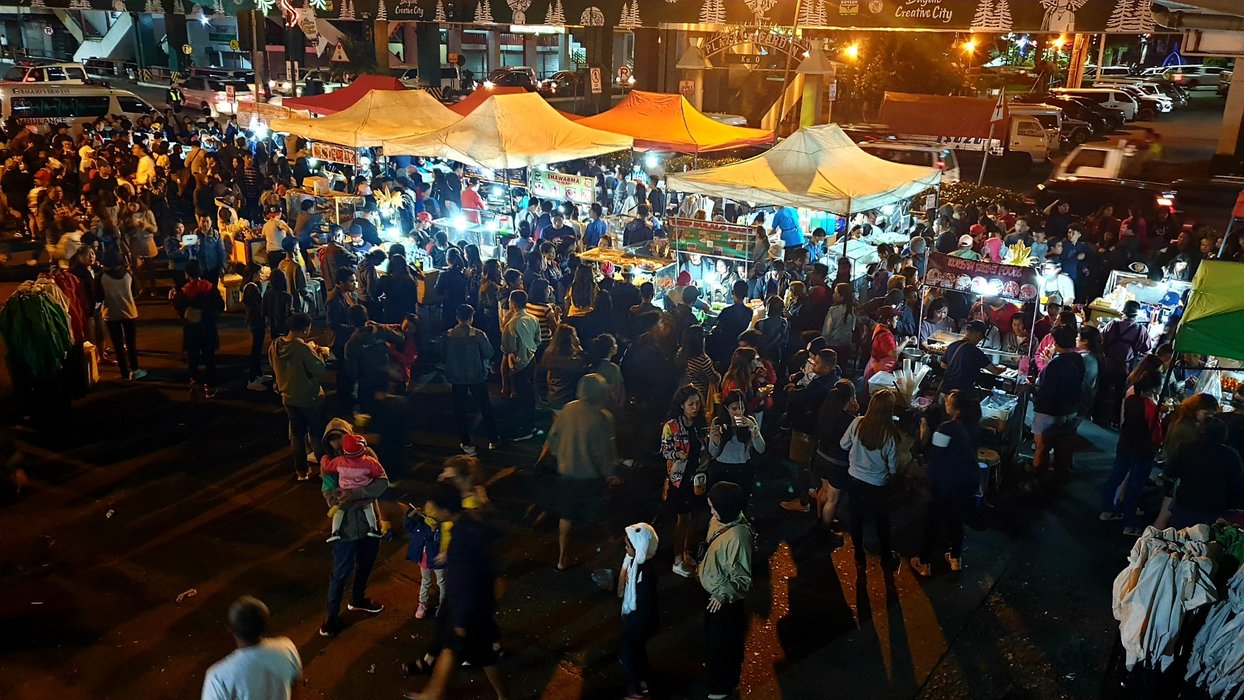 Here in Baguio City, they close one side of Harrison Road every night for the night market. The closure starts from the junction of Harrison Road, Magsaysay Avenue, Abanao Street and Shanum Street up to the corner of Jose Abad Santos Drive and Harrison Road across Baguio Patriotic High School.
Here is the junction of Harrison Road, Magsaysay Avenue, Abanao Street and Shanum Street. Abanao Street is in front, Magsaysay Avenue is to the right, I was standing on the footbridge crossing Harrison Road and Shanum Street is to the left.
This side of the market has street foods from barbecues to balut, kikiam, fish balls and more.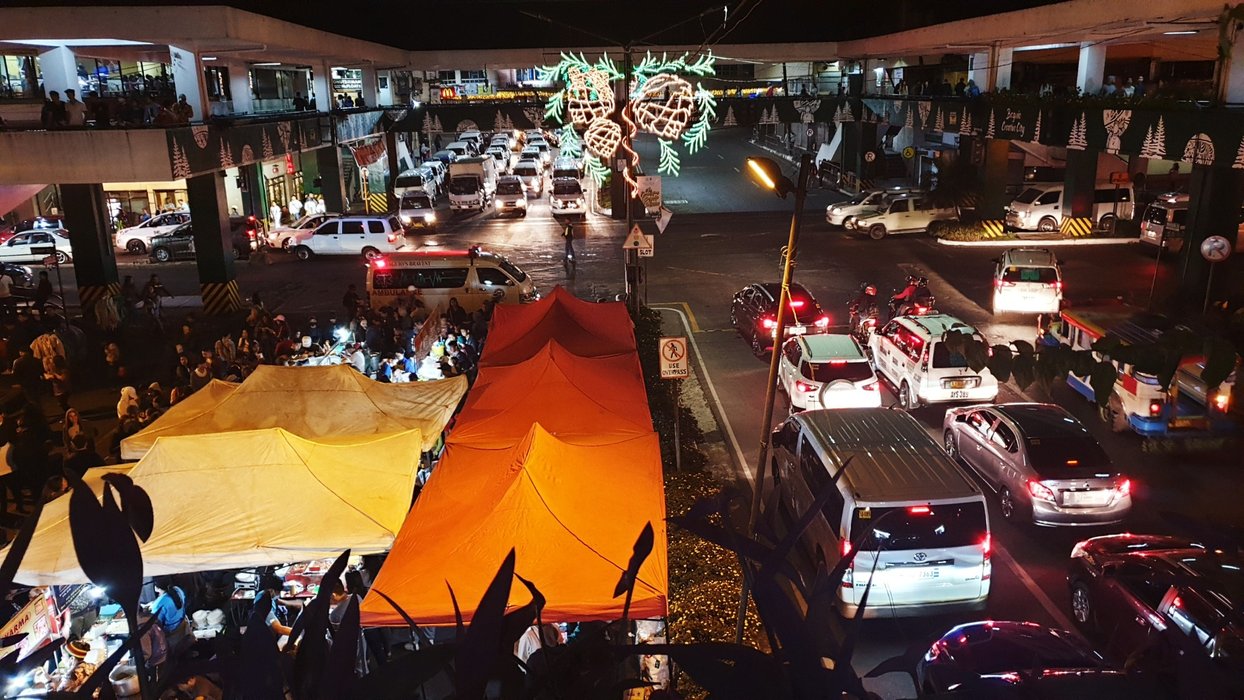 On the other side of the footbridge is this view to the other end of the night market. This side of the market is more concentrated with surplus dry goods which are popularly known as ukay-ukay which literally means to dig up or sift through.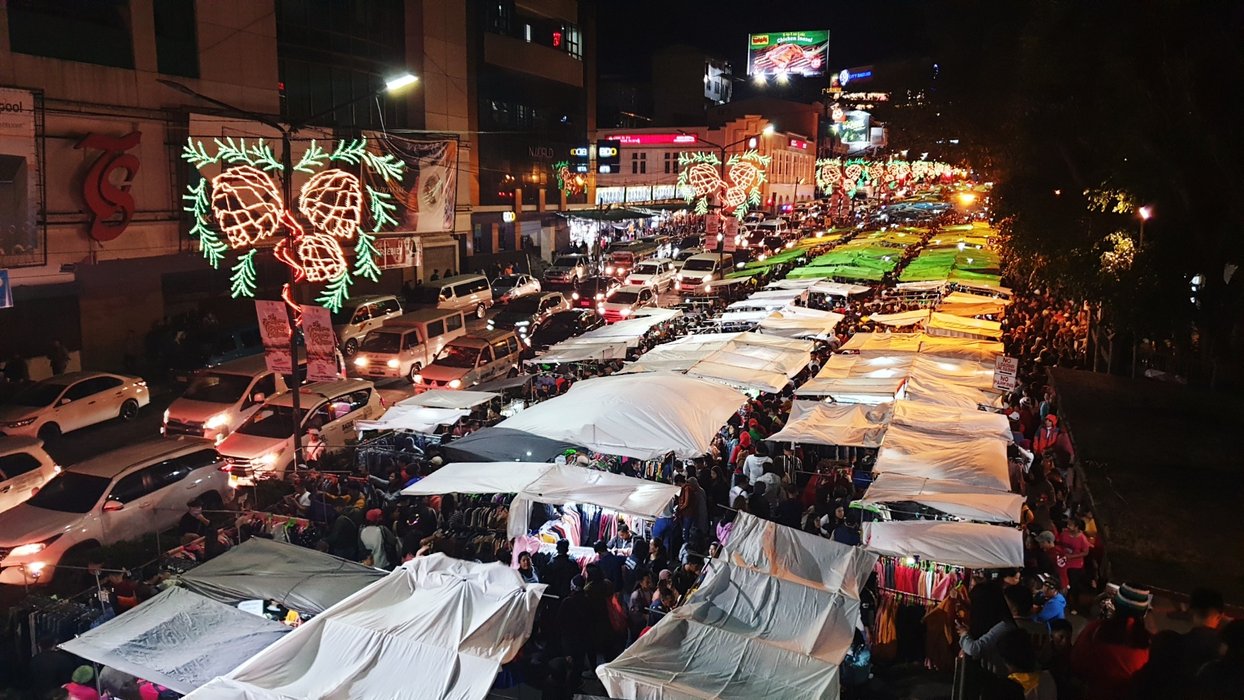 When I first witnessed the night market for myself, I was surprised to see it on an ordinary weekend. I first thought it is done only during special occassions. My friends laughed at me with my revelation. I have been living in Manila for more than a decade that I did not know what's new in the locality.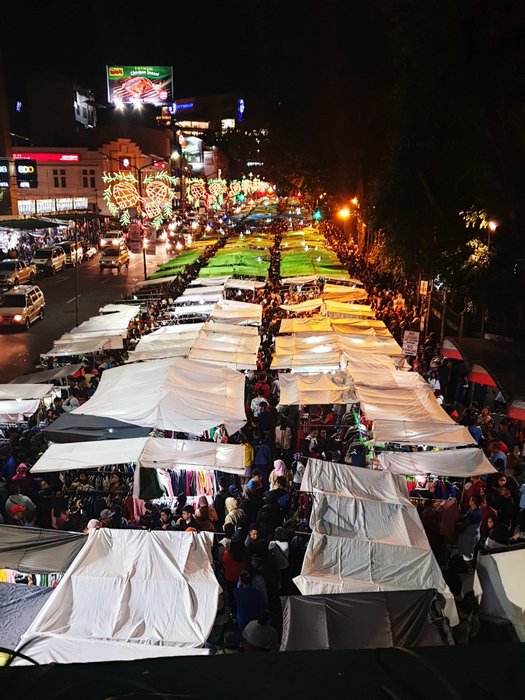 The night market is so popular up to the point of becoming a tourist destination. When I first got down there and made rounds to see what's on display, there were many foreigners and local tourists who were also making their rounds. Some of my colleagues even cheerfully talk about their experiences as to how they were able to get very good apparels at bargain prices.
Aside from the bargain prices, try to imagine the fun of being out there in the cold and mingling with lots of people. General temperature in Baguio City is at 20 to 24 °C at day time. It drops up to 15 °C at night during non-winter time. Starting from December to February, temperature is much lower. The lowest I can remember that I myself experienced was at 8°C. That is still hot to freezing countries but is cold for a tropical island.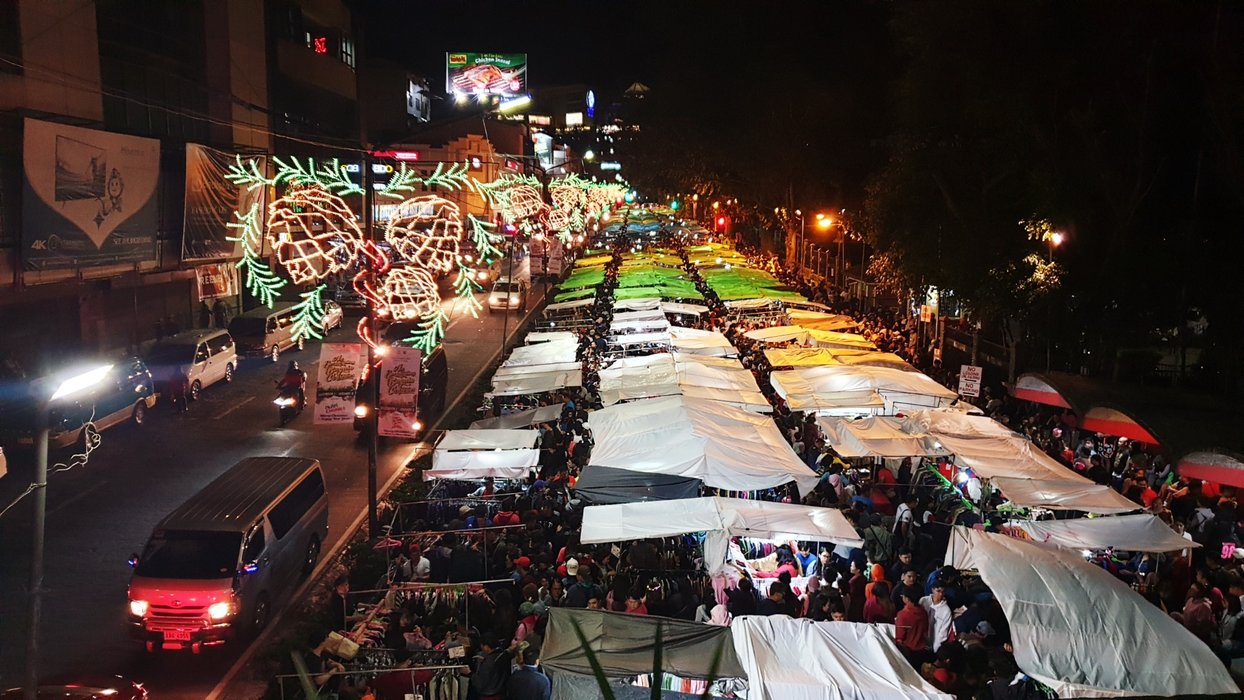 Moving on towards the other end of the foot bridge where I was standing, I came to this view of the Maharlika Livelihood Center. It is towering over the crossing of Session Road and Magsaysay Avenue.
The building is one of the big commercial complex in the city. It is fairly old but not obvious this time. It actually looks lovely with this sight of the Christmas decors.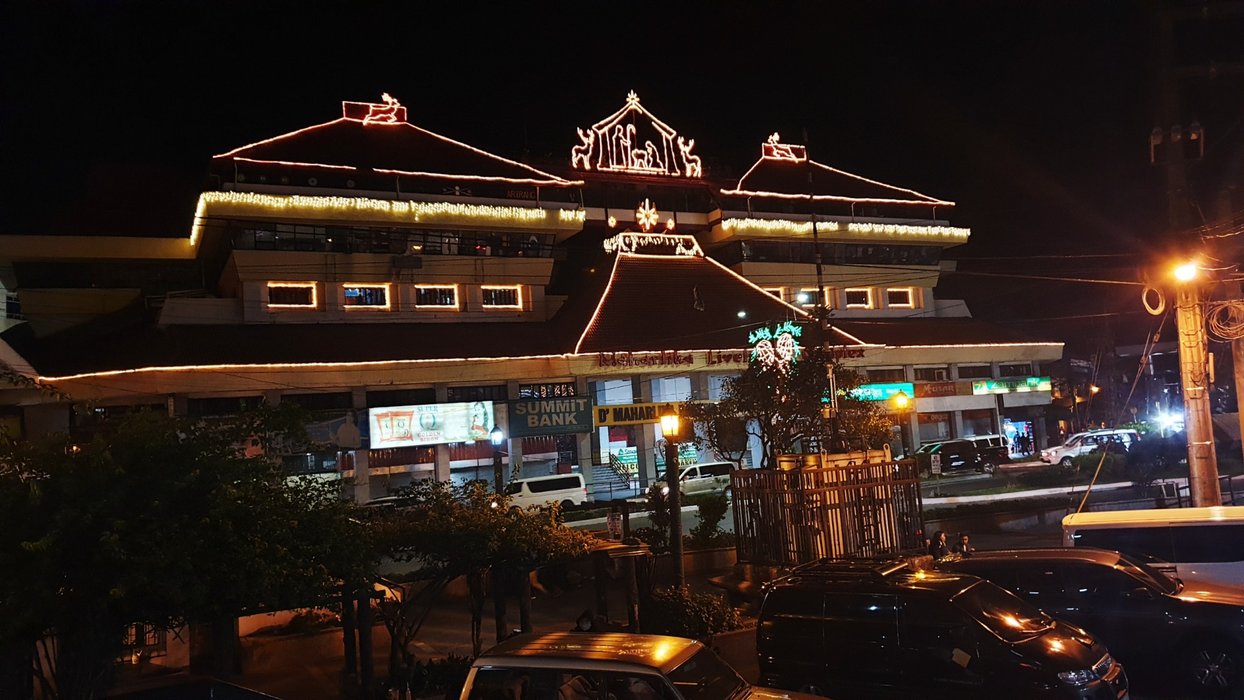 Near the foot of the bridge stairway is this long line of commuters waiting for a ride home on Christmas evening. Now that reminds me why I was there. I need a ride to the bus terminal and it is hard to get one because of the rush hour! Yes, rush hour at pass nine o'clock in the evening. I have about 40 minutes left to the bus departure and I wonder if I can make it if I walk. Google Map says it is one kilometer away so that should be fine but really? I don't think I can make it from the busy day.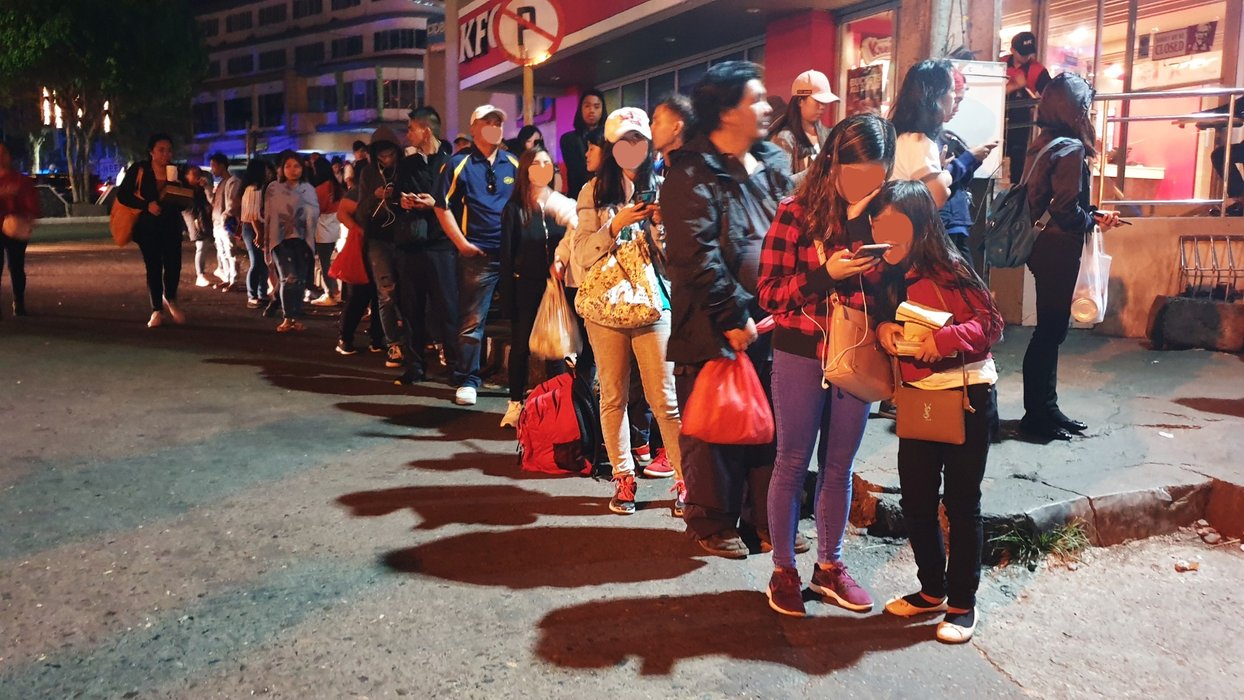 I walked a few meters away towards Session Road where I found more commuters competing to hail a cab. I realized that will be harder and made me more uneasy. I will have to fall in a looong queue of chance passengers if I miss my trip reservation. I already experienced being in the queue for five hours. Please, I can't take that anymore.
I was skeptical about having Grab ride (our Uber version) but still tried and viola! A driver accepted my request for a ride in just few minutes.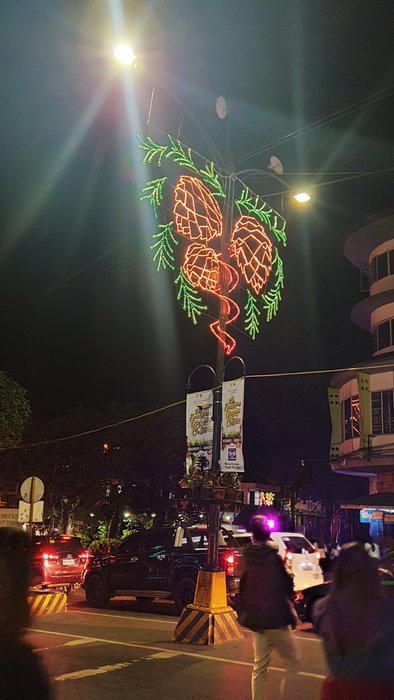 Thank goodness for the ride. I will not be left behind with my bus reservation. Christmas will end up well after all, in spite of a funeral and ICU visit.