I posted about my business trip six days ago. That was one good week of a trip! Now I am going back and looking forward to it.
From the Skytrain platform, I checked which counter I am supposed to check in and counted to row 14. I can not it see from where I got in which means it is on the farthest end. Alright, let's have an exercise walk to row 14! After all, it is still very early.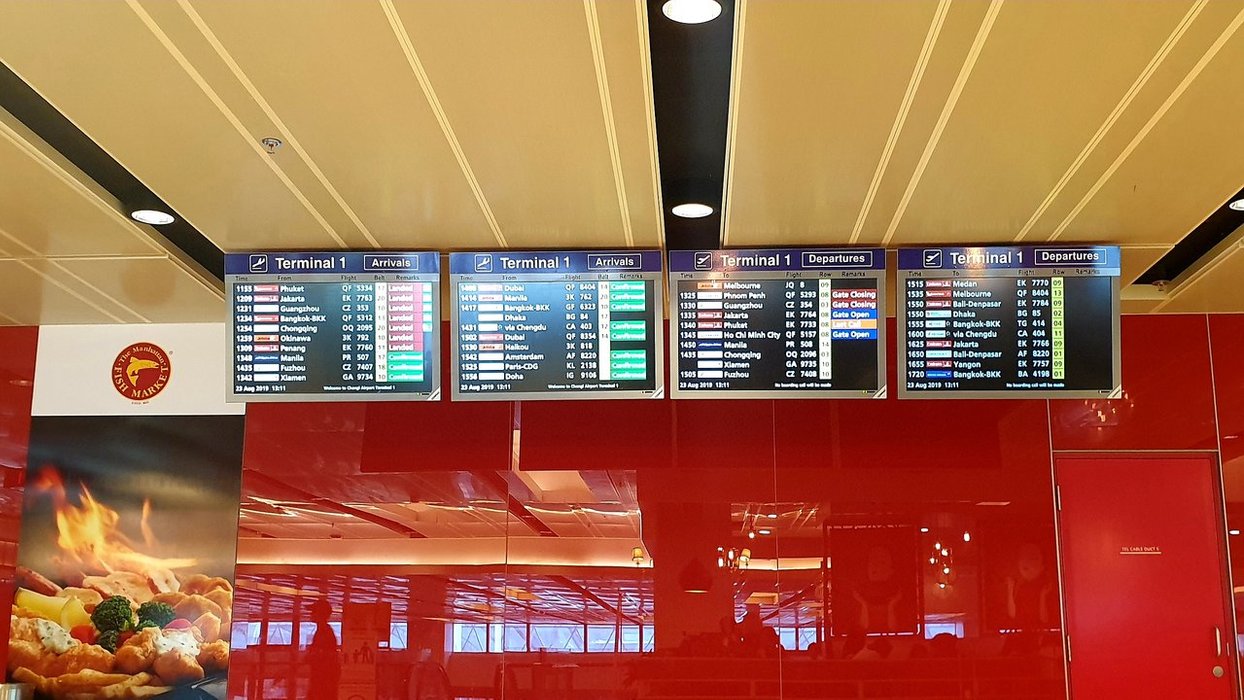 I took this from when I was having lunch. The restaurant was an open space and these monitors were just across to the left from the table that I was dining on.
As I approached the check-in counters, a smiling woman approached me and asked.
"Online check-in?"
I shook my head and answered, "Oh, no."
"Ah, then you have to take the queue," she said and motioned me towards the already long and still piling up queue.
I joined the queue and took my phone out. Online check-in is allowed at least one hour before the flight and I still have about two hours to go. I checked in online, pulled my luggage and left the long queue. I approached the woman who greeted me earlier and said, "Okay, I'm done checking in."
She laughed and ushered me to the online check-in counter. I dropped my luggage and thought of what to do while waiting.
I joined a few people watching the dancing Kinetic Rain structure. The drops were moving in harmony with each other and making every movement smooth. I tried to find a different angle from where to take photo but unfortunately can not because there were other onlookers who occupied spaces around the structure.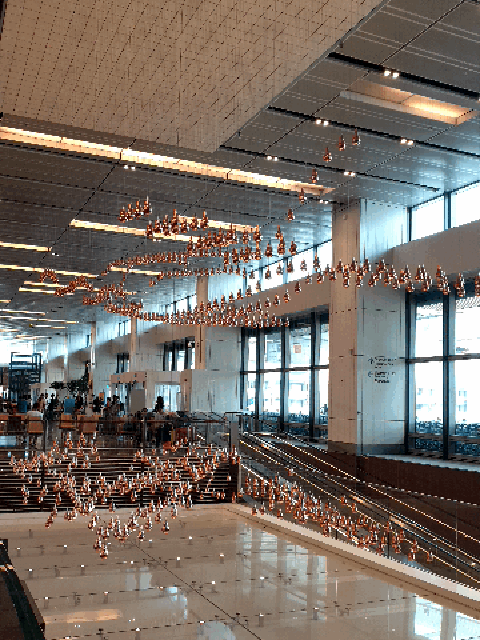 The famous Kinetic Rain structure at Terminal 1 Changi Airport.
After few minutes of capturing gif photo of the Kinetic Rain, I looked around to find restaurants. Meal is included in the flight but that will be a very late lunch if I wait until then so I better have one now. I saw KFC logo at the farther end of the mezzanine. Food establishments must be there so I went up and had my ipoh koay teow soup at Pappamia. Now that's for Tasteem post later!
When I went to the boarding gate, it was still closed and not many people were within the area yet. I took a seat and played on my phone. Few minutes later, a couple of senior citizens arrived and stood to my right, in front of the gate. I looked around and realized that there were no available two seats together. The few available seats are just one in between people. The one to my left was vacant so I stood up and offer, in our national language, my seat along with the one beside it.
The old woman smiled and asked if that gate is for the flight going to Manila, also in our national language.
"Is your flight number PR 508?" I asked.
"The flight going to Manila," she said.
"She did not memorize their flight number," I thought. I looked at her hands if she is holding a boarding pass but no so I instead asked the time of their flight.
"Are you referring to the flight at 2:30 PM going to Manila through PAL?" PAL is Philippine Airlines.
"Ah, yes."
"Okay, yes. This is the boarding gate for that flight," I said. She thanked me and they took the seats that I offered.
With still a long wait to go, I searched for ladies room and spotted the sign at the other side right across where we were. I had to go around the walkalator which was in the middle. When I was to the end of the walkalator on the other side, I passed by gate D44 and spotted the logo of Philippine Airlines in the corner of my eye. People were entering so I got curious and turned around to go back a few steps and see what flight it is for.
PR 508. That's my flight through a different gate! How come?
I pulled my boarding pass from my bag pocket and checked the gate to be sure. D34. It is correct.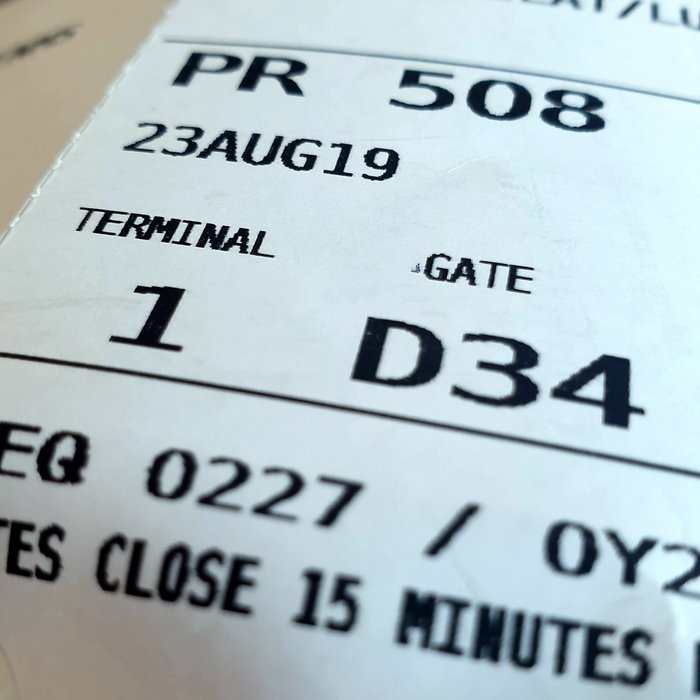 I asked one of the ushers to confirm the flight number and he said, "yes."
"It was supposed to be on the other gate." I said while I held out my boarding pass showing gate D34 and continued. "Was there any announcement that the gate has changed because I did not hear any?"
"You have to check for yourself because there is no more announcement."
"What? There are people on the other gate waiting for it to be opened and here are others being allowed inside another gate."
A woman usher who has been listening along squeezed into the conversation.
"You have friends at the other gate? You go and call them."
"Just like that," I thought. There is no effort at all to inform those who have different gate numbers that the gate has change. There are already many people inside the waiting area while those at gate D34 maybe just around 20 or so. With such difference, I suspected that us who made the online booking or those who checked in earlier are the ones with different gate number.
"You go and call your friends," the woman reiterated. I just shook my head and went to the ladies room next to gate D44. When I got out, I went to gate D34 to inform the senior couple. I spoke louder than necessary for the couple so the others can hear. They actually turned to me and listened to what I was saying. Right after I was done, I turned to go back to D44 without waiting for anyone. I turned around to see people standing up and starting to follow.
After I passed by the x-ray machine, there was this woman who greeted me at the check-in counter.
"Hello, you're already here!" I said smiling wide at her.
She seem cheered up to know that I remembered her as she smiled back and said "oh, you remember me ha!"
"Yeah, but you guys did not make any announcement to inform us that you changed the boarding gate. Many of us were waiting at the other gate."
She did not say anything. I did the same and just went on to the waiting area.
We were suppose to take off at 2:30 PM but the boarding started at 2:32 PM.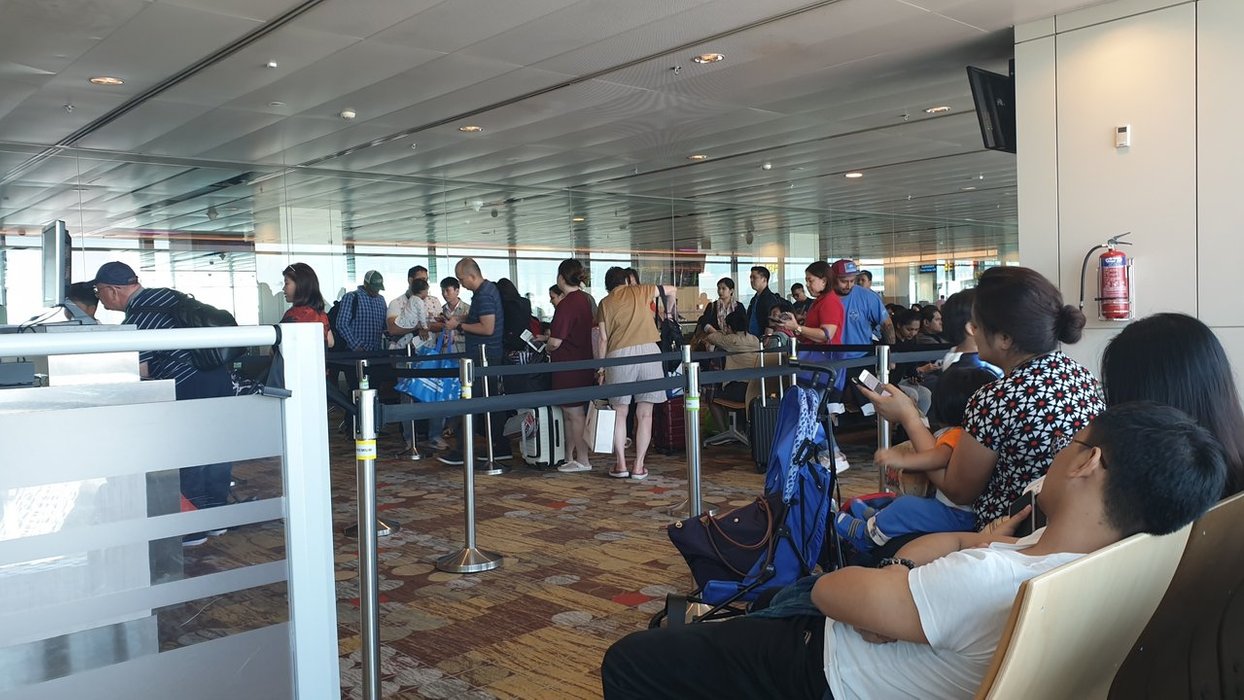 My boarding pass says I am with Group F. That means I have to wait for more groups to get boarded before I do.
I can't help wondering what the airline personnel were thinking about those passengers who may have not known about the change of boarding gate.
"Do these ground personnel realize how big an inconvenient it is if you are left behind by your plane specially for cross-country flight?" I have no answer to myself. I just thanked God for finding a way for me to discover the change and that we were not left behind after all.
Ahhh... After a week of what I thought was a chase business trip, I am going home! That is what matters now. And I got a ton of photos to filter from for my travel posts.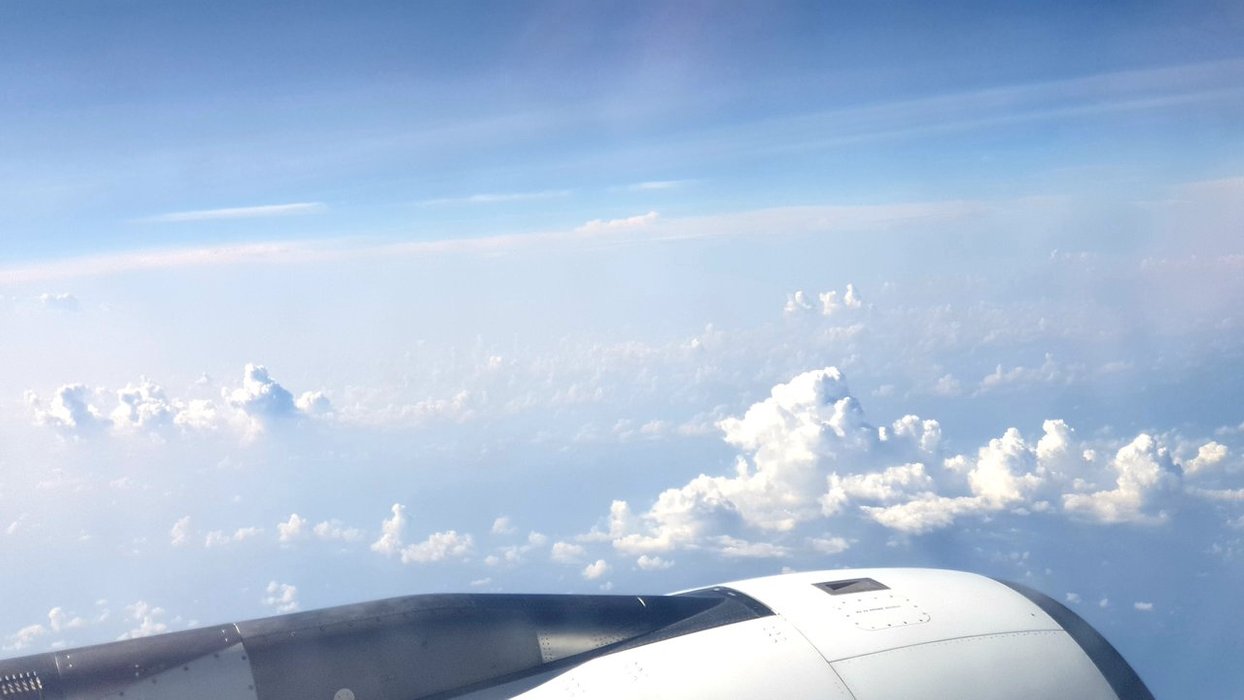 To my one o'clock on my previous flight was the plane's wing at seat row 64. This time at my ten o'clock is the plane's turbine engine at row 40. I never paid much attention to the window views on my previous flights over the years. Now these made me conscious. I have to estimate and select as much as possible an unobstructed row number the next time I check in.

Join #ccc for Guaranteed 👍 Daily Income 💵 and Payout 💸 for Newbies \(2.0\) 🐟 🐜 🐛 in #ccc 👣 and Follow 👣 the Honor Code 🏅 \- the Creed \(Conditions and Limits Inside\) AND the latest update <<< please click to read.