Greetings, friends!




This will be my last extensive report from the beaches of Tenerife but not my last from the island. There's always more to it. Despite what the agent of the rent-a-car service told me at the airport, and I mean "It's a small island", I wouldn't say it is. Maybe compared to Australia, yes, a small one. But I drove for about 700 kilometers during six out of our seven days there (because of a festival-related lockdown, which is coming to you later), so...

I would say the island is pretty big, much, much more than you can see in a week only.
But today I'm going to take you where most of the tourists go, the popular beaches of the South.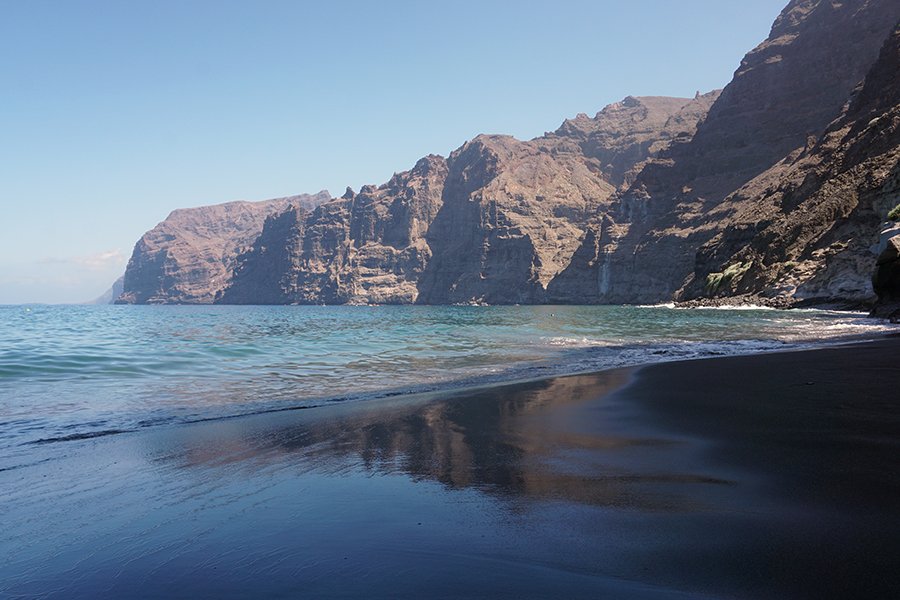 Los Gigantes. I have been circling this place and showing photos from it for some time now. But here you get to see new ones.
Well, I have to admit that what I call South is actually south-west and what I called West last time borders on the north-west.
In case you missed my previous posts, you can find them here:
Flying Over The Canary Islands
And a short collection of photos, called...
Crashing Waves
(not on TravelFeed)
The funny thing about us getting south...
There is actually a highway running along the coast, going around the island, crossing inland to the north, but... there are about 20 % missing to make a full roundabout. A major pass through the western mountain range and a small one connect what is not covered by this highway plan. Once you're south you are on the comfortable road labeled TF1. It runs into TF2 in the north and then TF5 in the north-west.
Our hotel was in the town of Garachico (the article about it linked above, and another one of a festival there is not yet finished) lies a few kilometers west of that TF5 part of the highway. So, we mostly took the TF82 mountain road connecting us to TF1 where we're going in this story.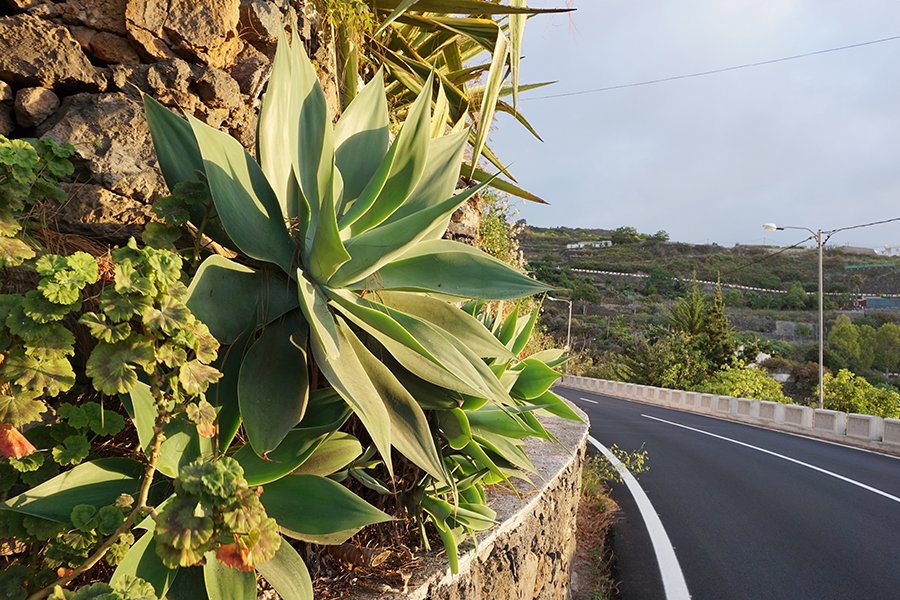 At a curve on TF82. It has a lot more of those and much more dangerous ones. This one was easier to stop at.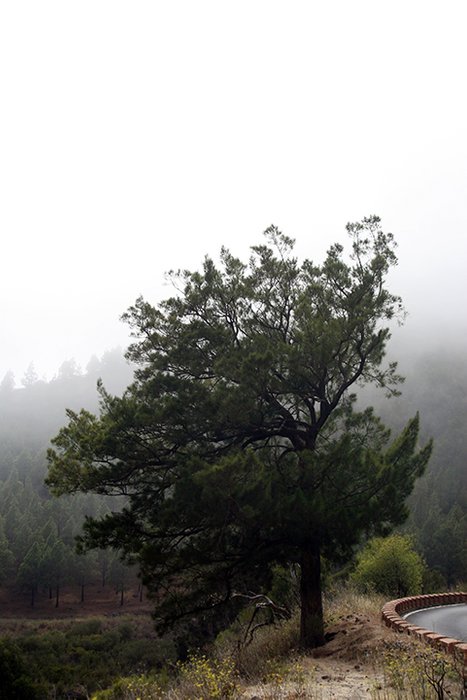 Along TF82...
Still on TF82...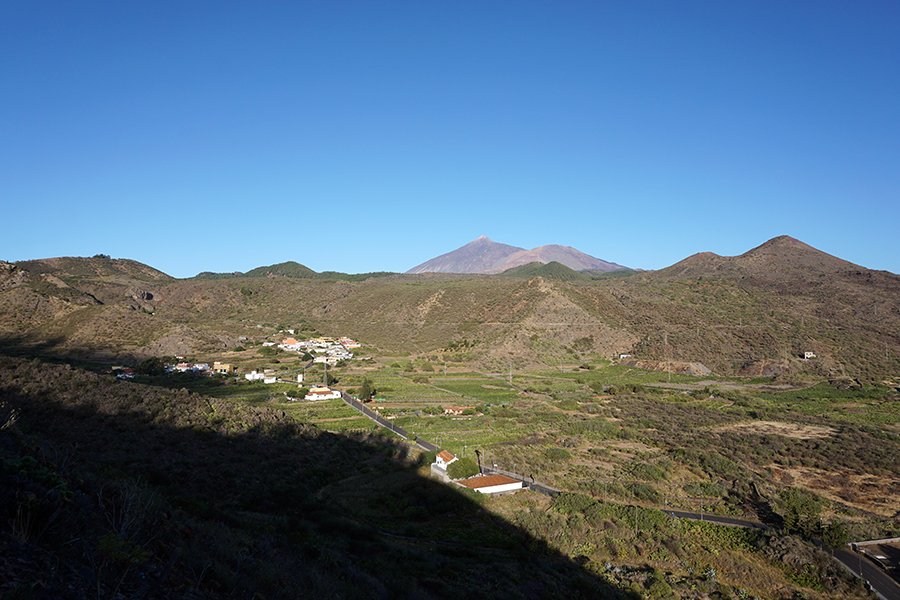 A good observation point near the southern gate of the pass on TF82 where you can see...Guess who or what...
That's right, that Mount Teide that gets into almost every story. I can't wait to take you there next time. I can't wait to return there. But I will have to. Wait. For many years, probably, until I get old and rich.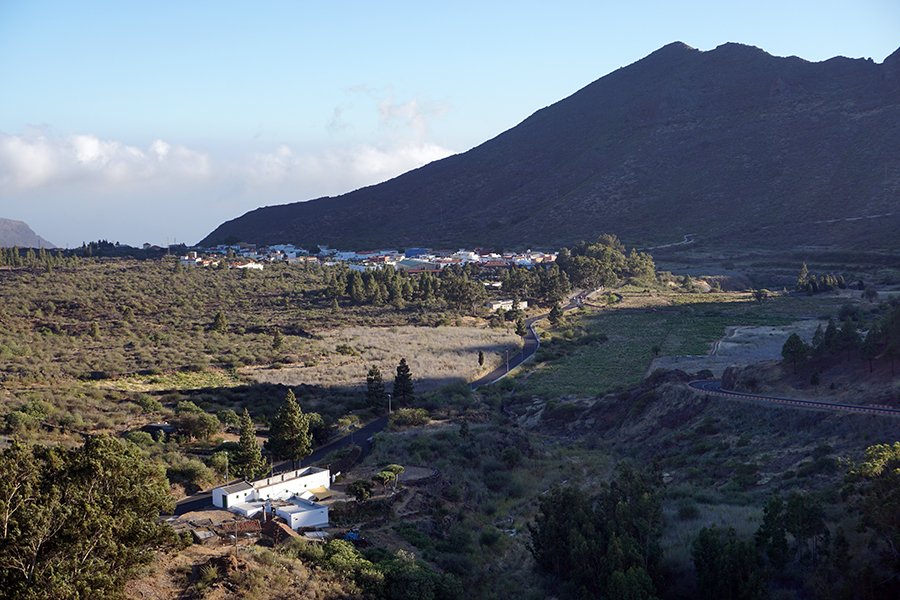 The place where TF82 reaches Santiago del Teide, a beautiful small roadside town on the south end of the mountain.
From there you can get to the highway, the TF1...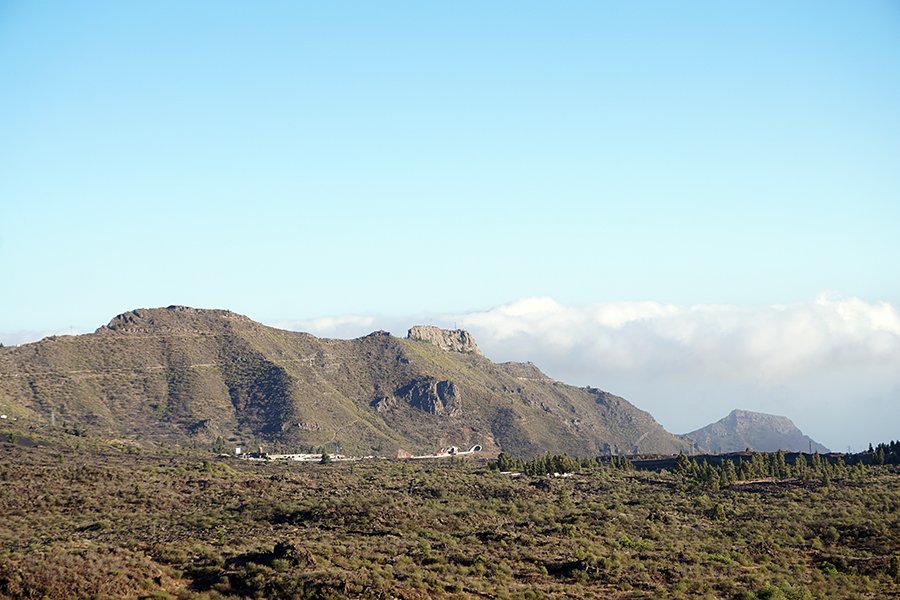 You can see the tunnels in the distance.
They will take you there and to Costa Adeje which we shall visit in this story...Or you can go down the other end of TF82 from Santiago del Teide, then at Tamaimo turn right towards our other destination, the one from the thumbnail image. Playa de los Guios, the beach right under the gigantic rocks called...you've seen it a lot already...
...Los Gigantes.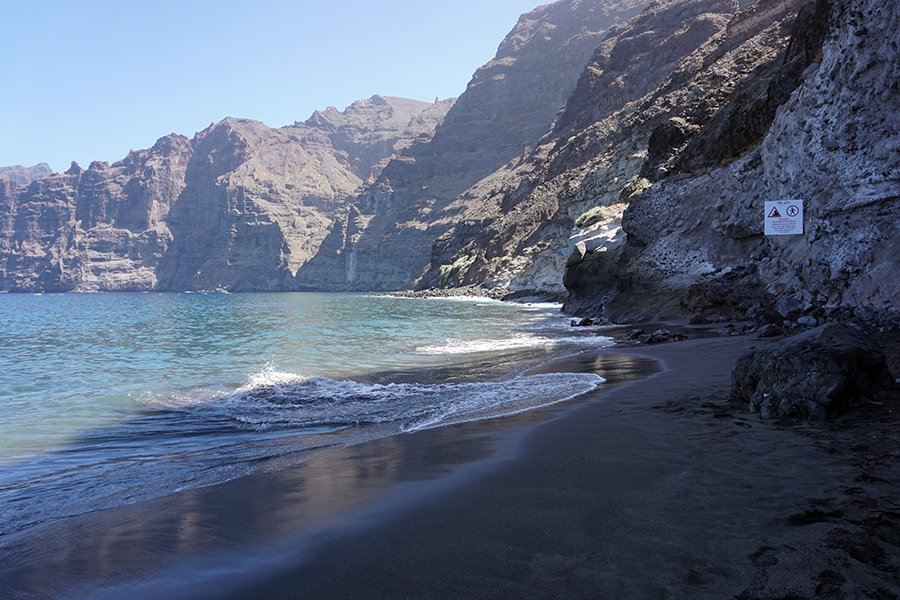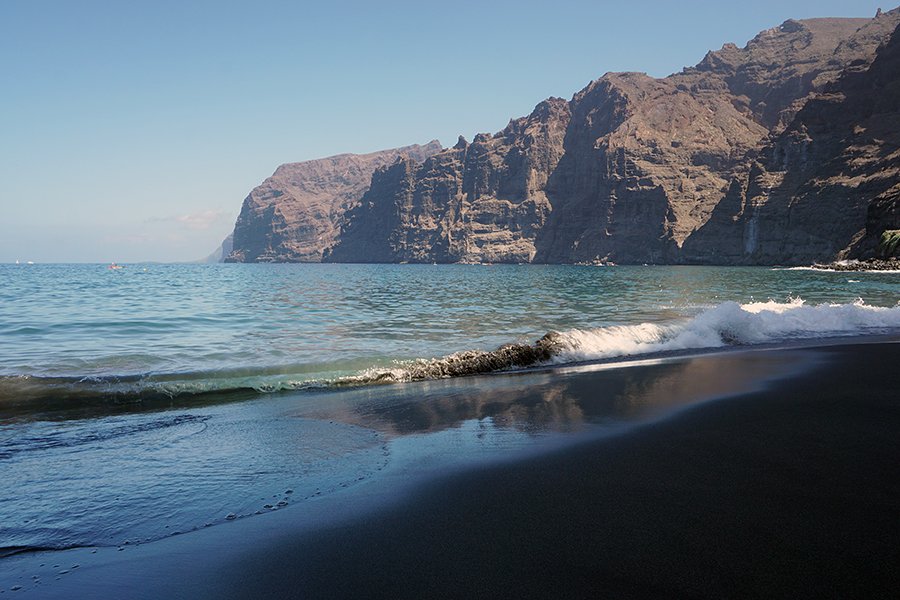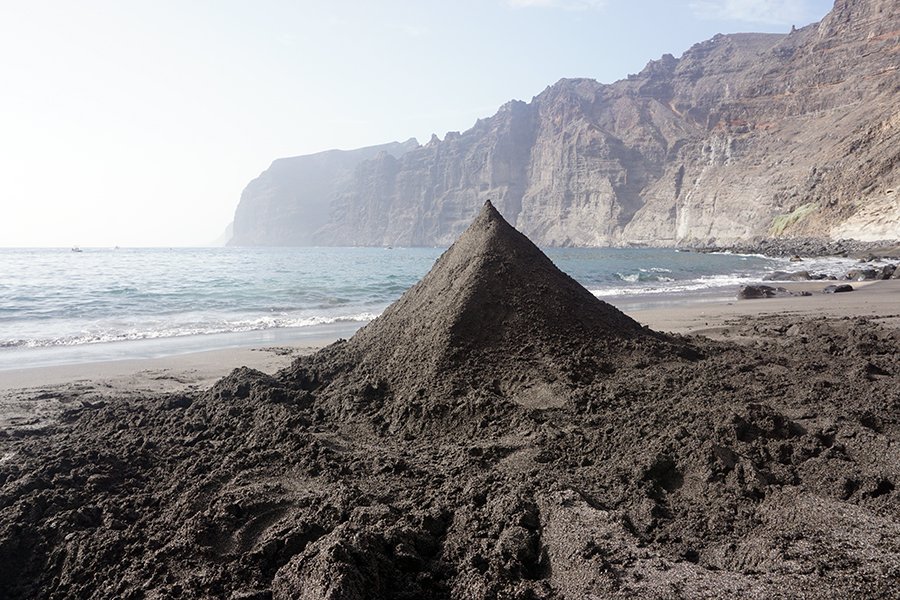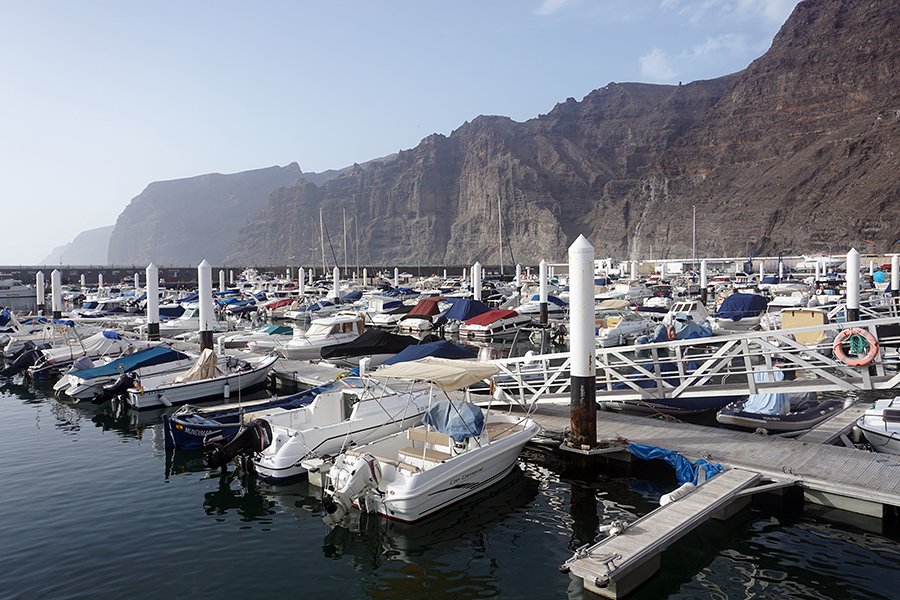 Which is...not an absolutely easy place to reach. We visited twice. The first time we parked 20 minutes of walking uphill. The second time we got to the parking at the harbor to see it full and bursting and we were redirected...nowhere. And we searched, and we searched, and we parked 20 minutes of walking uphill.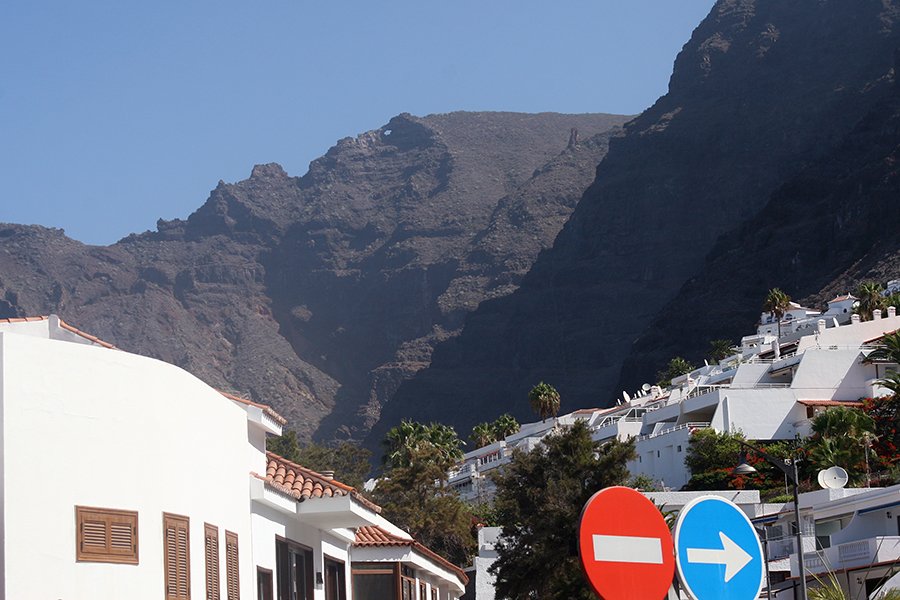 Guess where we wanna go! That's right. Left.
At least there were nice and shady places to stop by and have a refreshing drink along our pedestrian descent.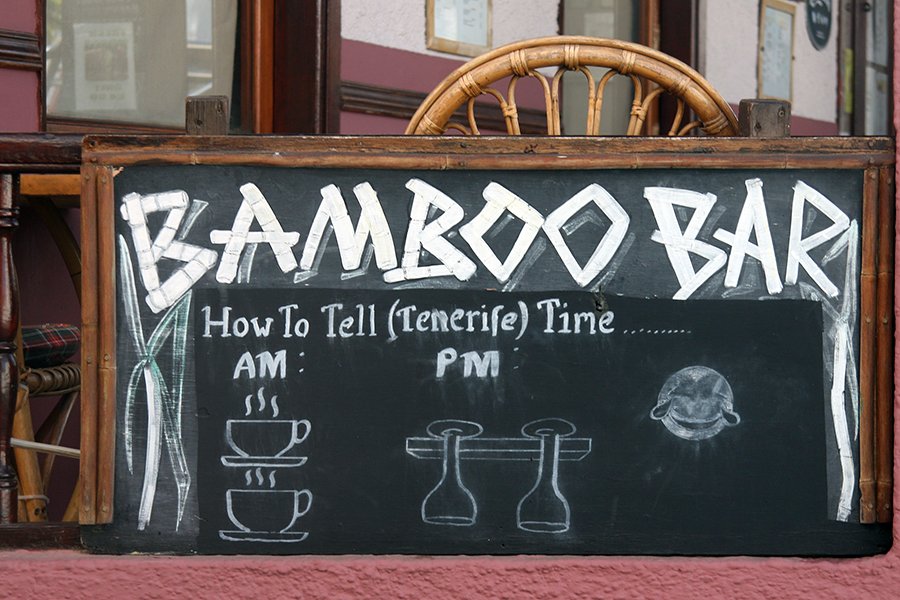 And they seem to be drinking Steem each morning there! How about that?
Awesome place. Awesome. Lots of hotels and villas, lots of tourism.
Speaking of tourism...
Our next stop, the beach of Fanabe at Costa Adeje
Maybe somebody took a wrong turn from the highway, at first, going straight to Fanabe, which turned out to be in the hills.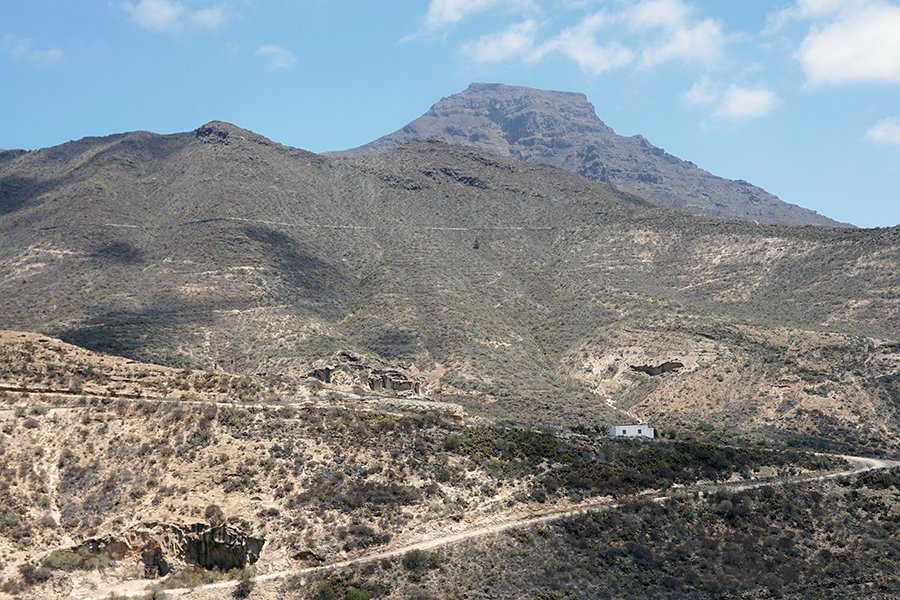 This is a view taken from a street full of cars and villas. And heat.
Then that somebody drove back to the highway and turned right a few more kilometers to the south and barely found a place to park in the dust in the midst of "Hoteltown". And started looking for that beach called Playa del Duque. Yup, the Beach of the Duke. Which turned out to be right after a castle some minutes of walking after the Beach of Fanabe, which is more in the center of things.
Somebody was pissed, didn't like that popular Beach of the Duke, took no good pictures there and went back to plain old Fanabe.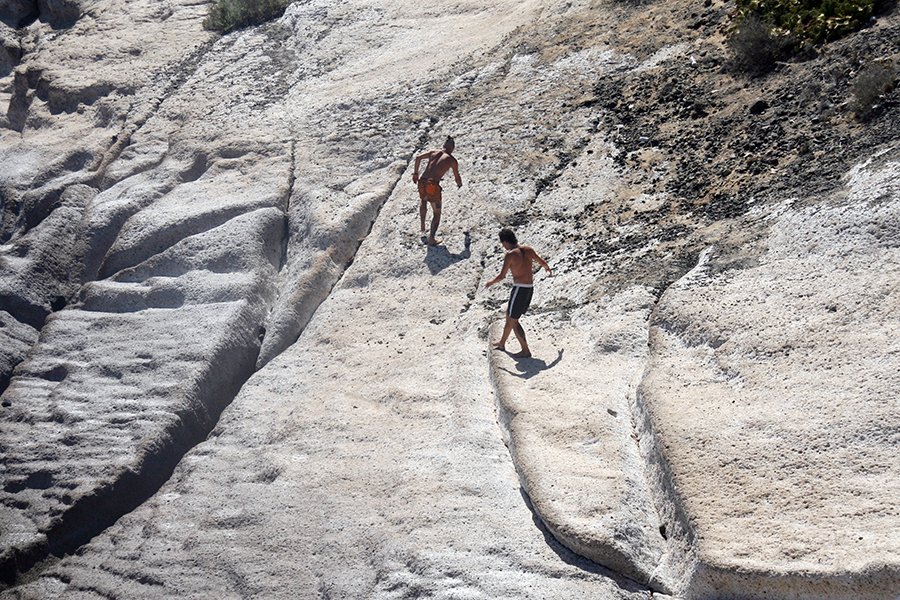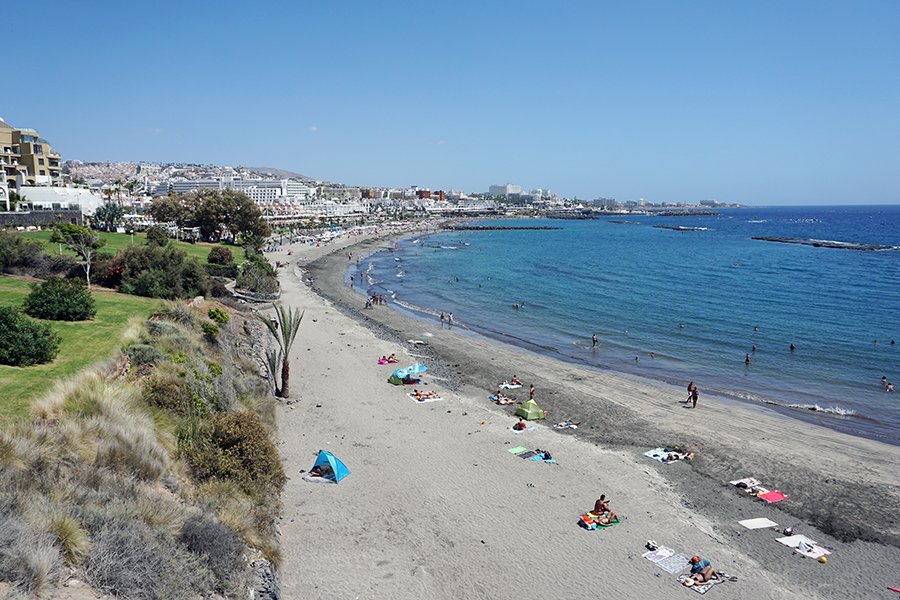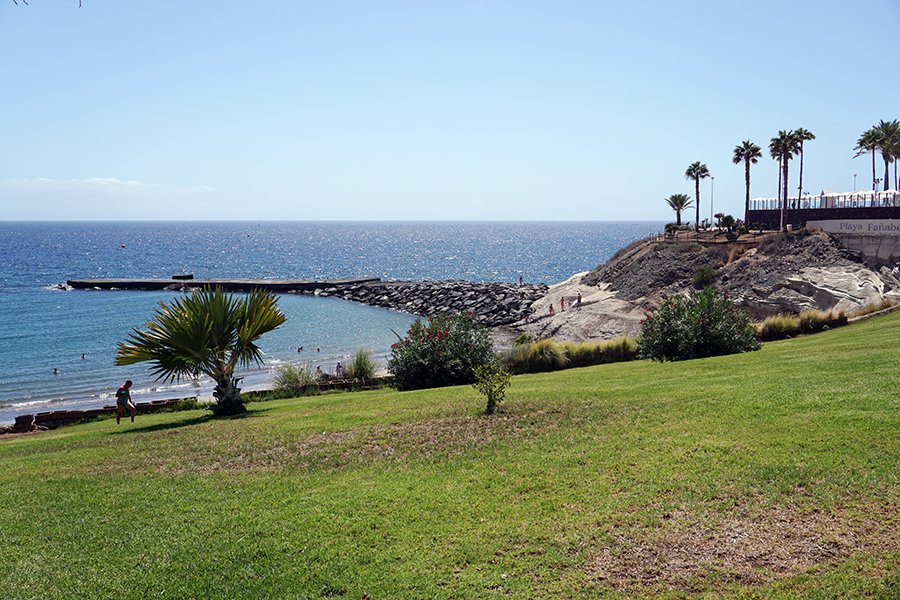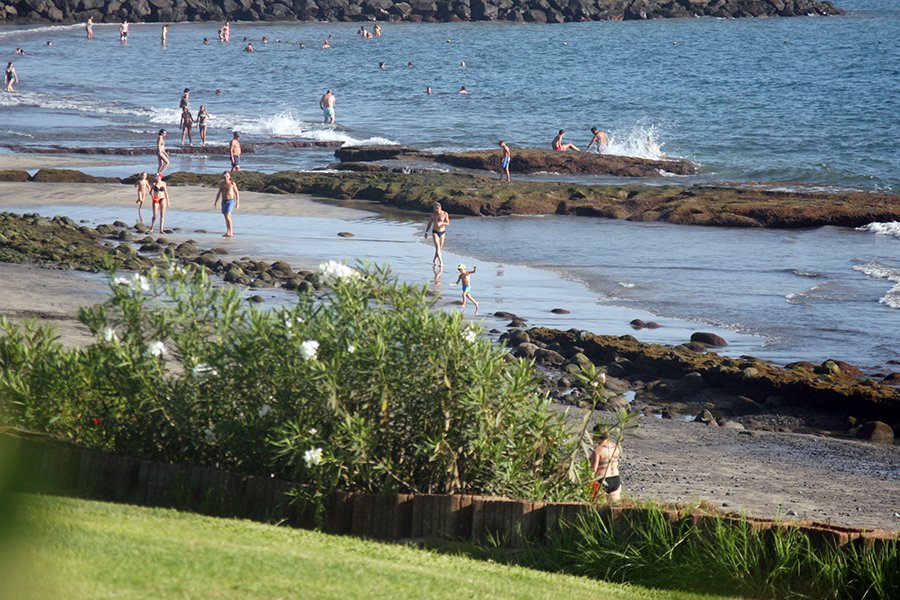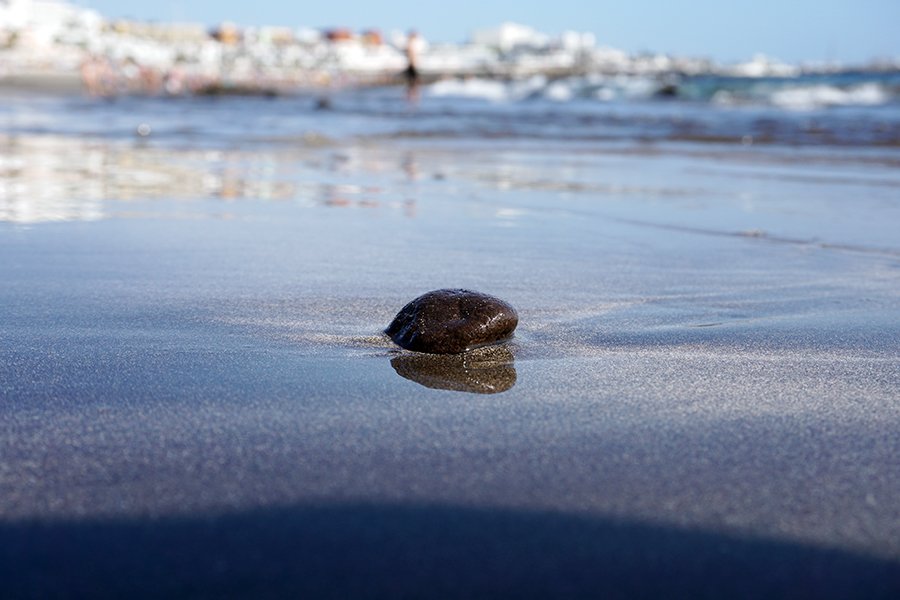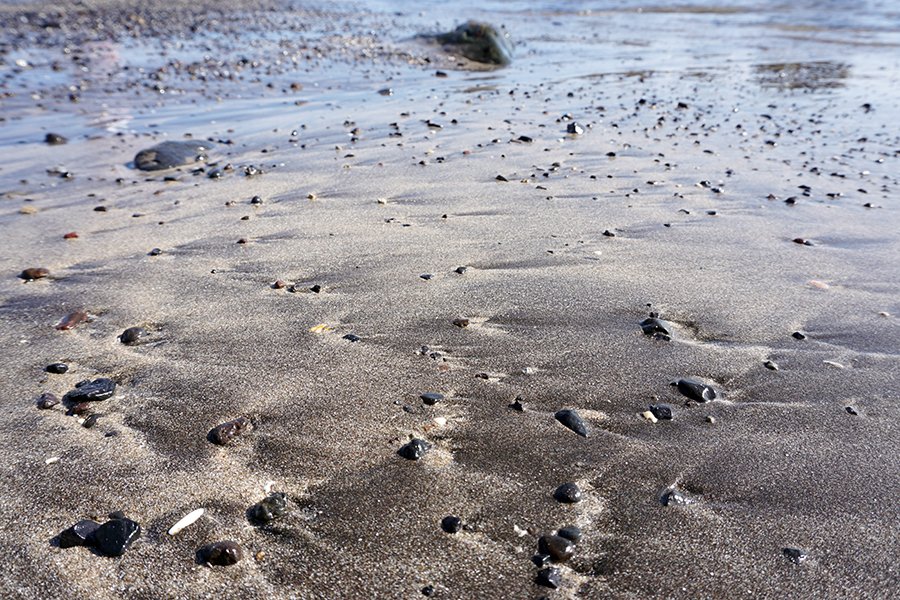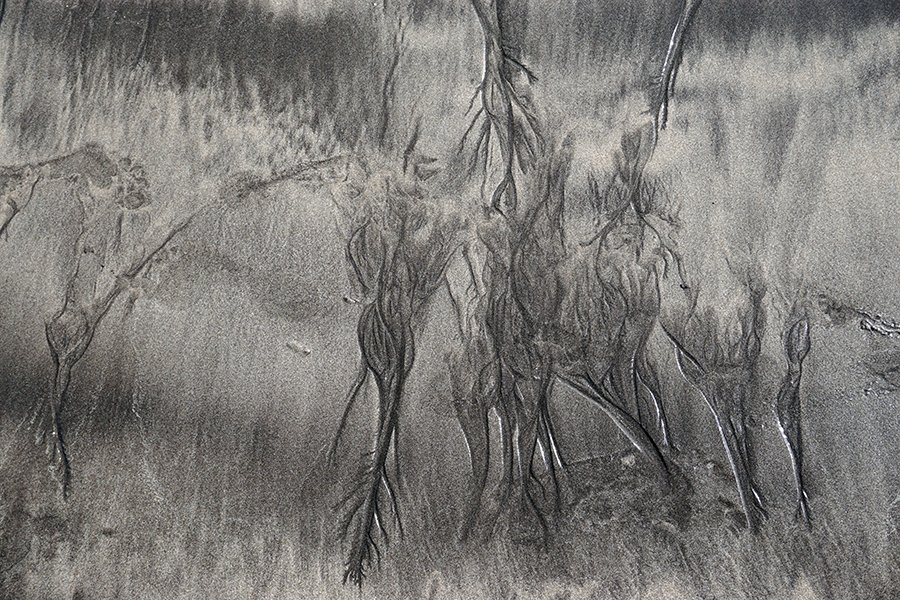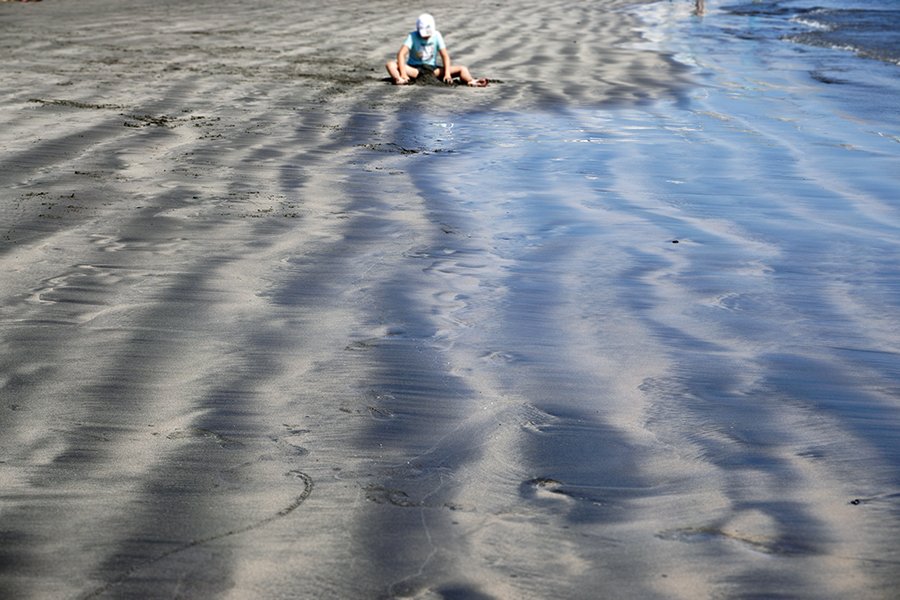 The Not So Monochrome Stripes. If you were following my stuff last week, you will know why.
It takes a while to let the heat go, relax and forget you have a whole new mountain pass to drive back through. But it works. Eventually. If I had one word only to describe that place, it would be...
Calm.
See you next time! There will be a mountain.
Yours,
Manol