Greetings, everyone!
Coming with my long-postponed report of
The festival of San Roque
that we were able to witness during our stay in the little town of Garachico on Tenerife Island.
It was quite random. We had no idea it would be happening. Until our hotel receptionists advised us about it.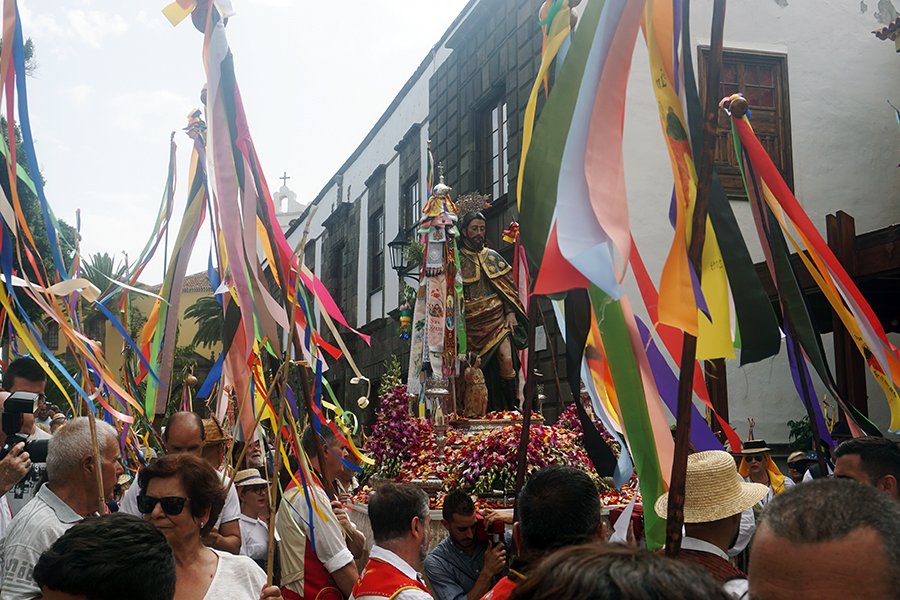 ---
Before continuing, here is a list with
My previous posts from Tenerife,
most of them — extensive stories with lots of photos:
Flying Over The Canary Islands
And a short collection of photos, called...
Crashing Waves
(not on TravelFeed)
---


So, Saint Roch is what I was able to find as a corresponding name to San Roque, the patron of the town of Garachico and our hotel, actually. Also related to a lot of things medical, of bachelors, dogs, second-hand dealers, pilgrims, etc.
Wiki source.
It was two days before Friday, the 16th of August, when our hosts warned us we would not be able to use our rented car during the festival, at least not go through town, park in town or get out of town, for that matter. So we agreed with their advice to leave it locked at the local stadium, turned parking lot during the summer, along with hundreds of other cars, and go fetch it on Saturday morning after the festival was over.
That was the only day that I took some rest from driving. It was a welcome rest, and an opportunity to dig deeper into some festival photography.
The decoration was already in place. Days before. You can see some snippets of it in the link about Garachico that I provided above. Colorful paper or plastic strips, pieces of rural equipment or some decoration of agricultural plants.
We knew there would be many people coming to town, locals of other villages and towns across the island. We would later see them rolling through the streets in their huge two-stories, room-sized, brewing- or cooking-fit ox carts.
The Icecream retailers came first, though. Early morning, the ice cream "hot points" tripled in numbers.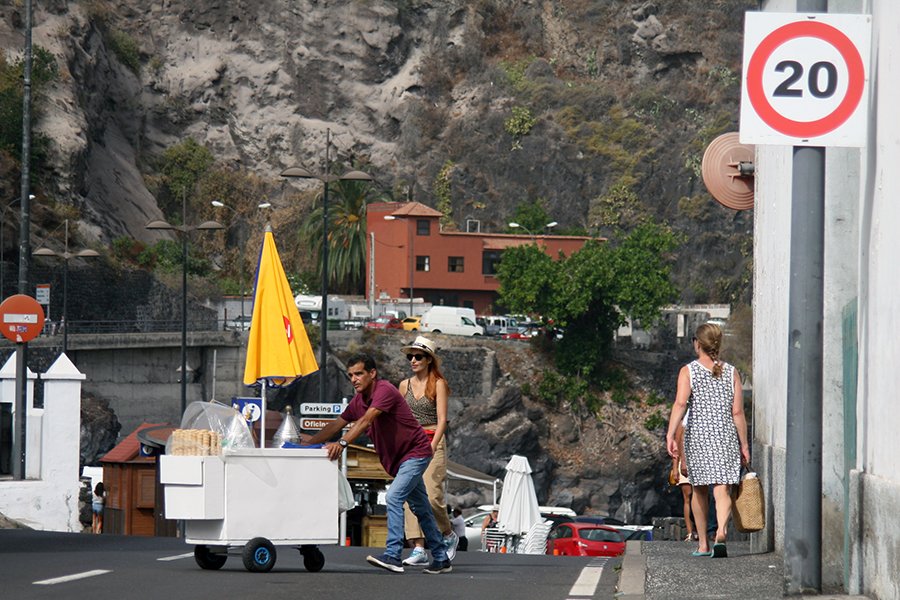 We walked around, visited a small park, had a frappe, a thing that most of the island inhabitants and merchants had not heard about ;) And then something like a cannonade announced the official beginning of the festivities.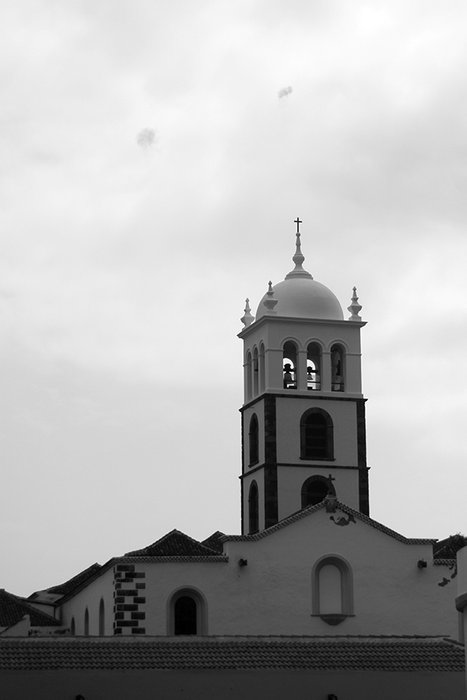 Can you see the puffs of gunpowder in the air?
We headed that way and into the street where the crowd had gathered. What made some impression on us was it looked as if most of the locals were active and participating. Almost only tourists were observers.
Even local photographers were "in the movie" as we say.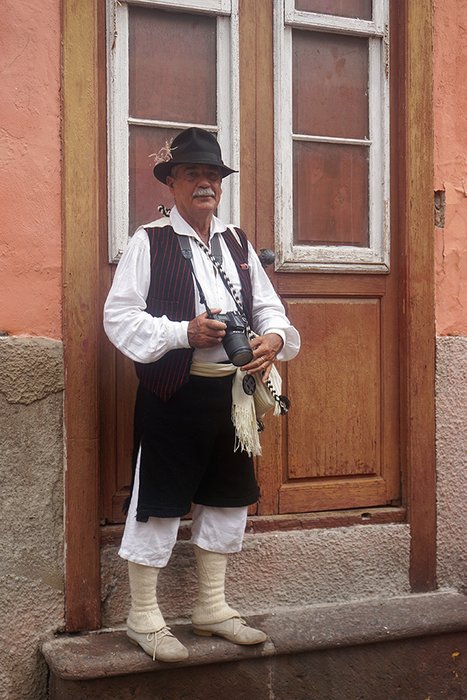 The street coming down towards the town square looked full of a wave of people. Rocking slowly from left to right and back again under the sounds of seashell horns, drums, castanets.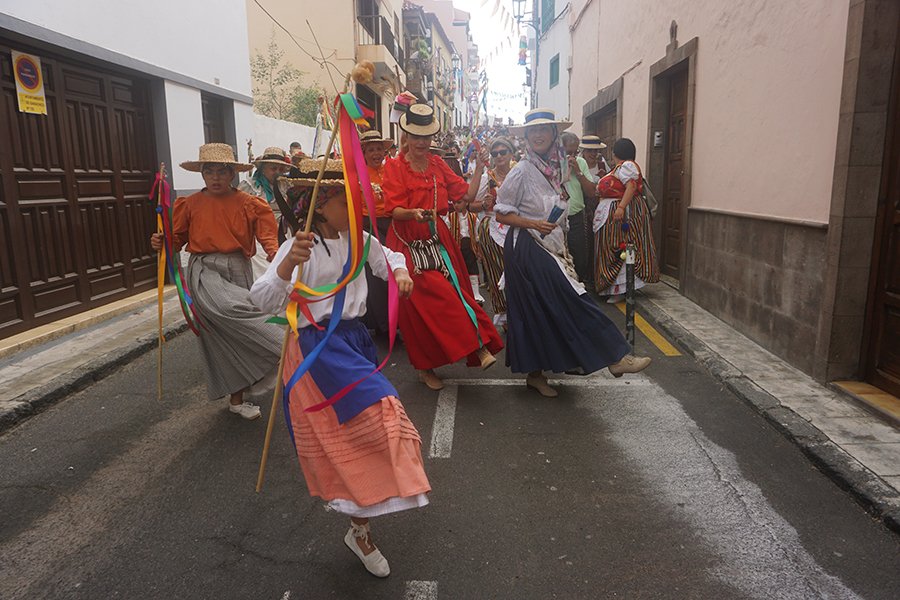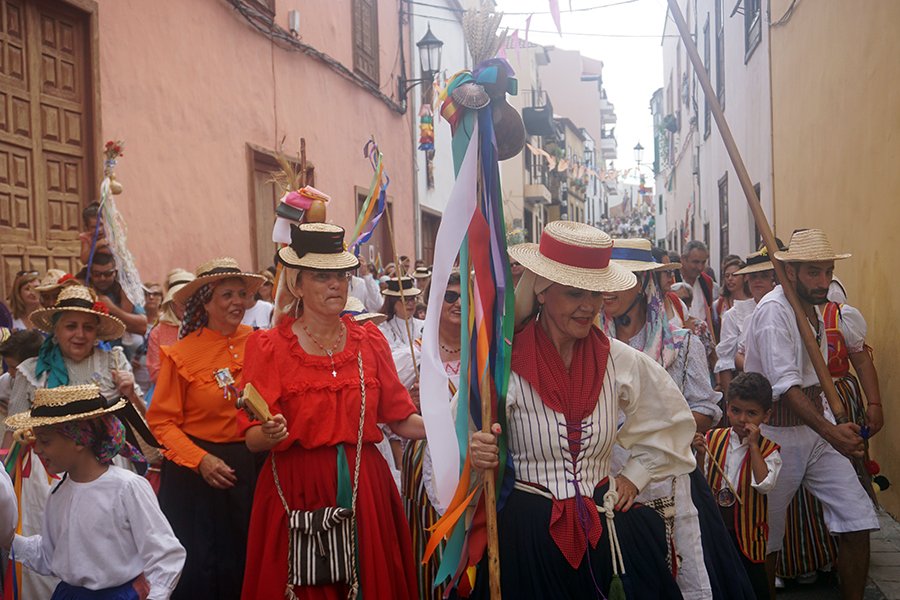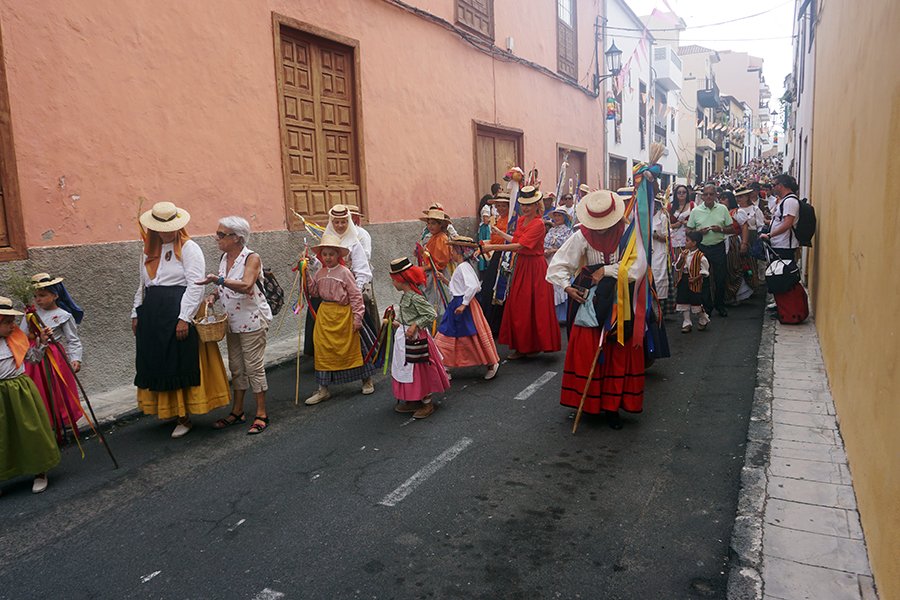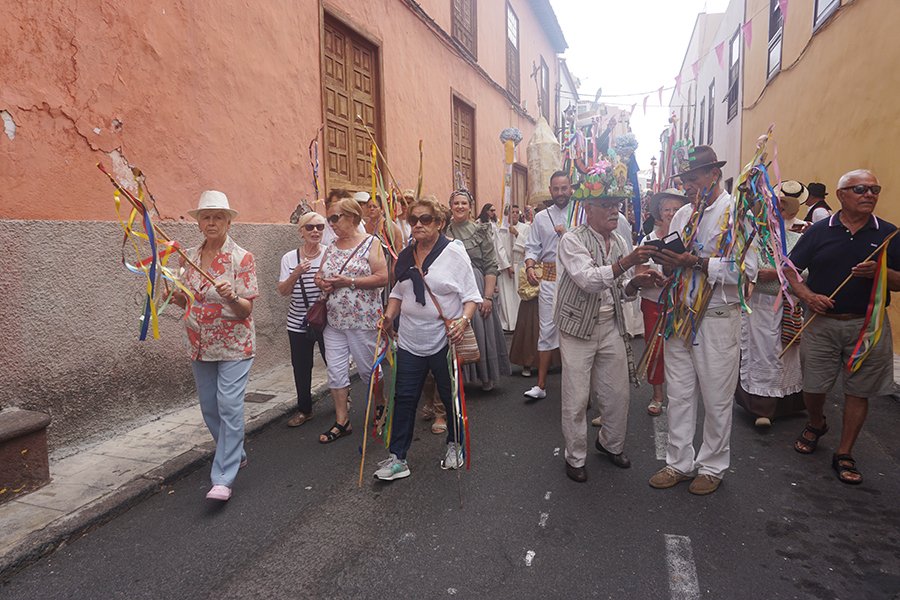 You know that new thing called smartphones?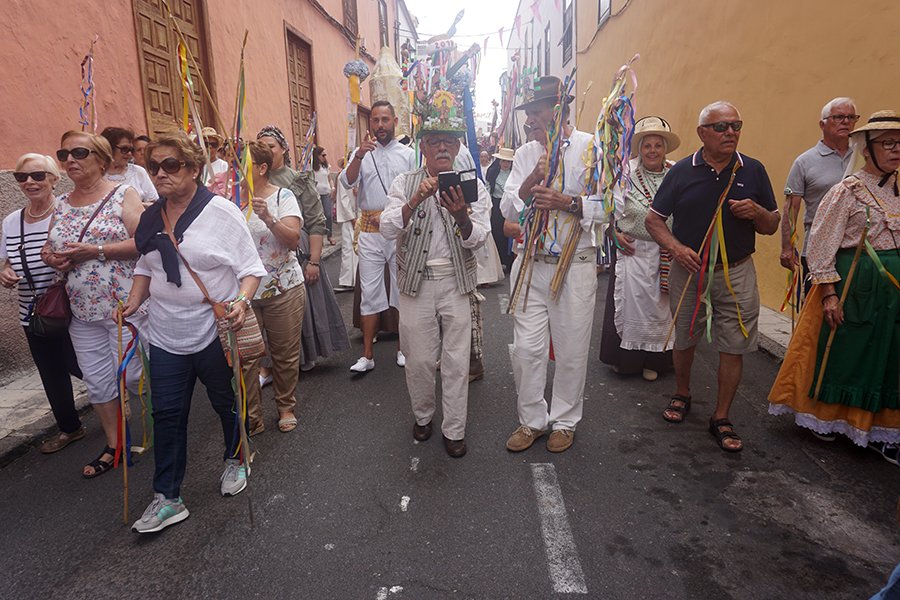 It's everywhere.
After a few waves of people, I was able to reach the bearers of the statue of the saint himself. It looked like a heavy burden and people were taking turns carrying it.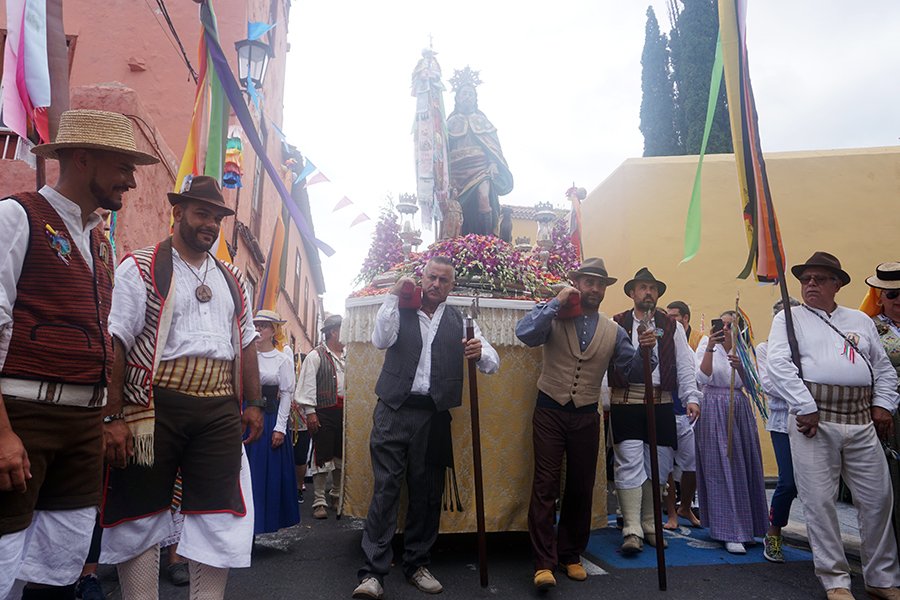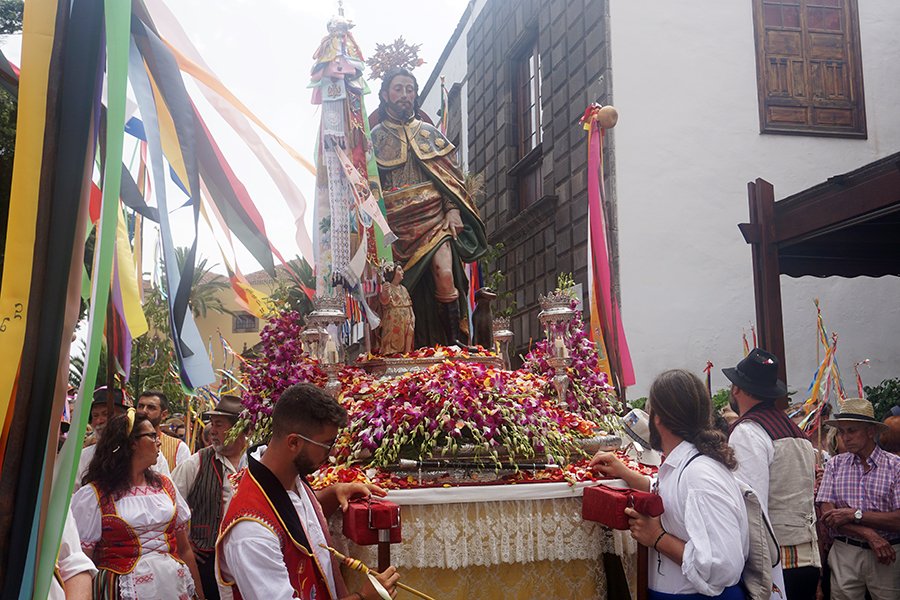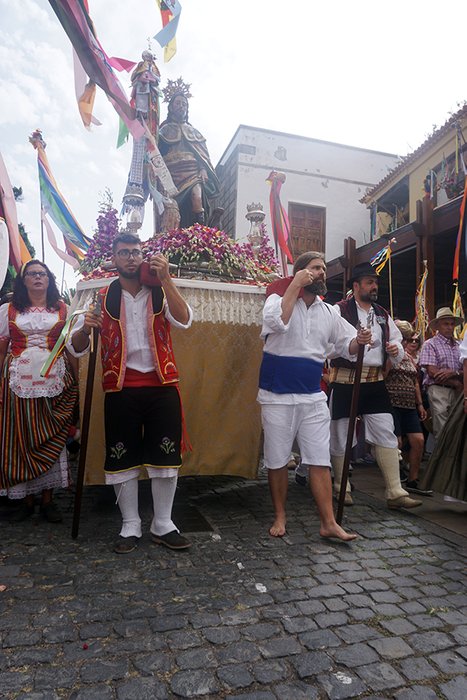 Somehow still in the rhythm of the whole crowd...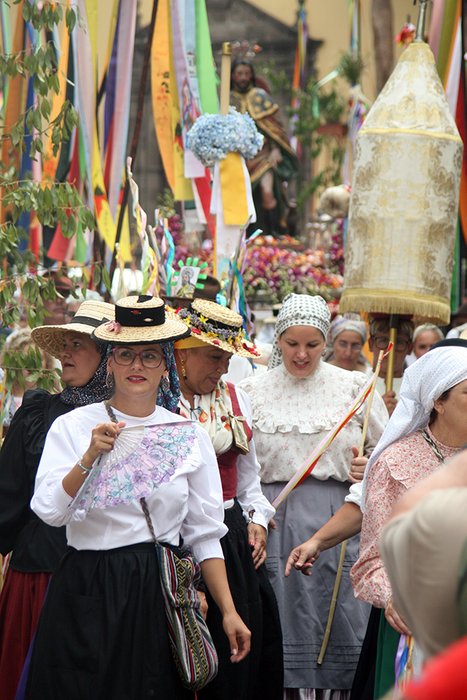 Those who remained at home were waiting in ambush from the rooftops to pelt us with rose petal leaves.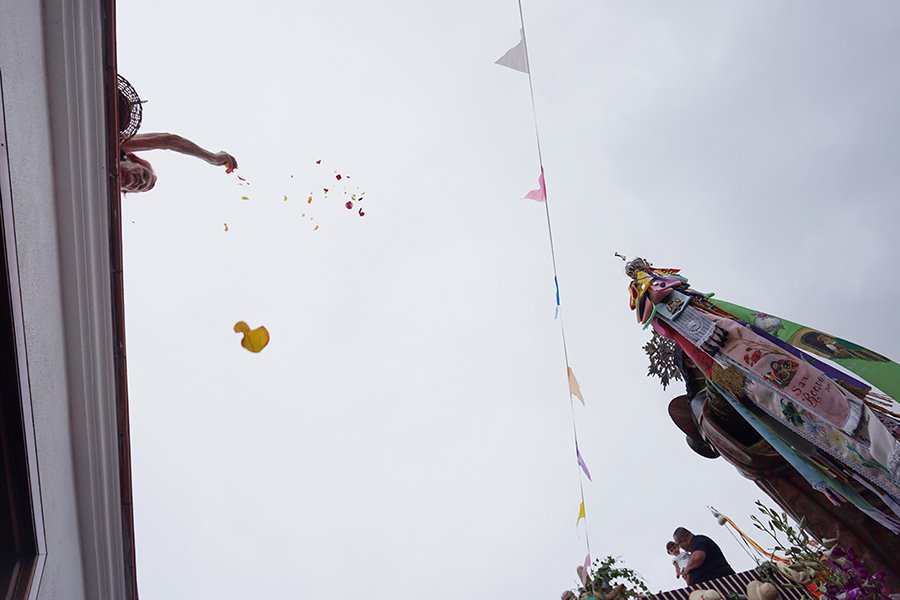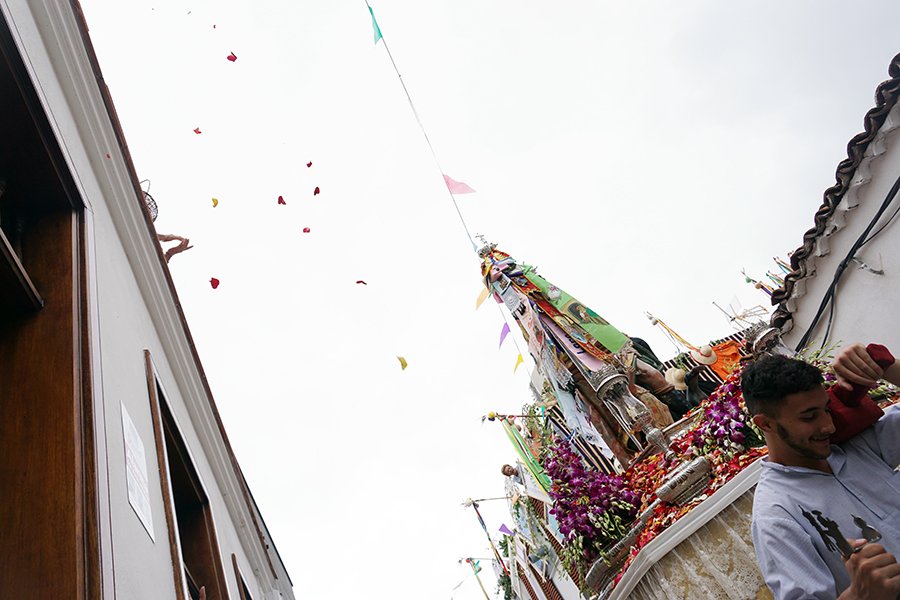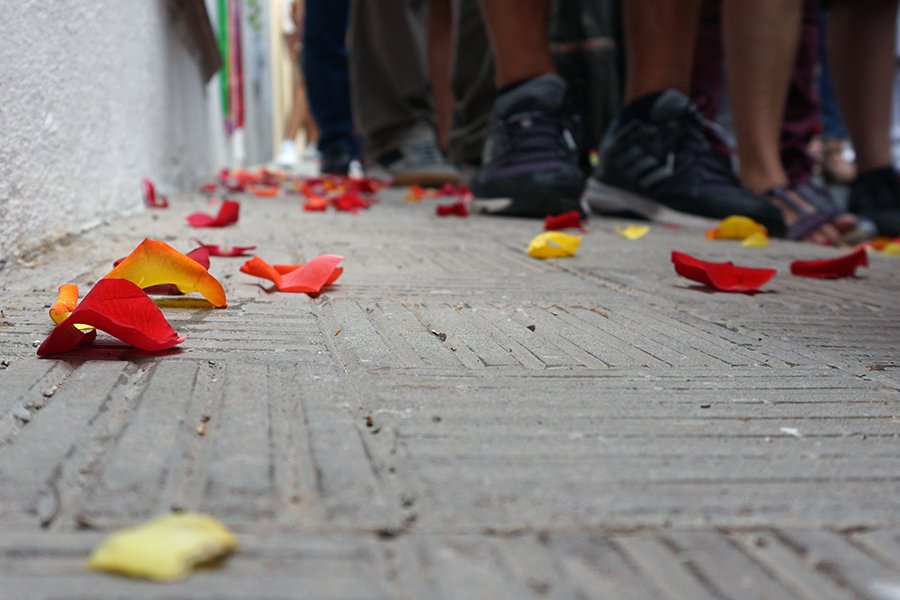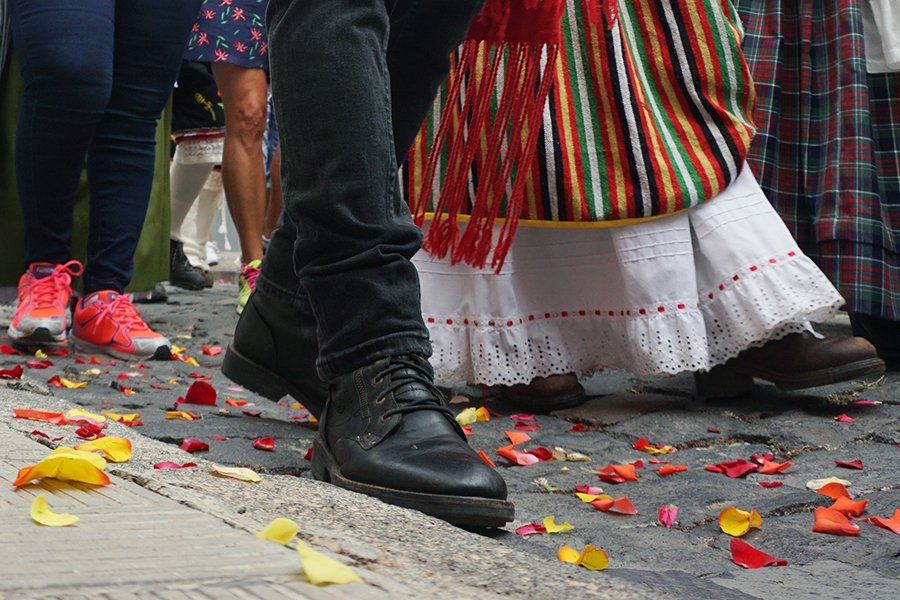 Which turned into quite the photo decors for the folks right in the wake of the marching crowd.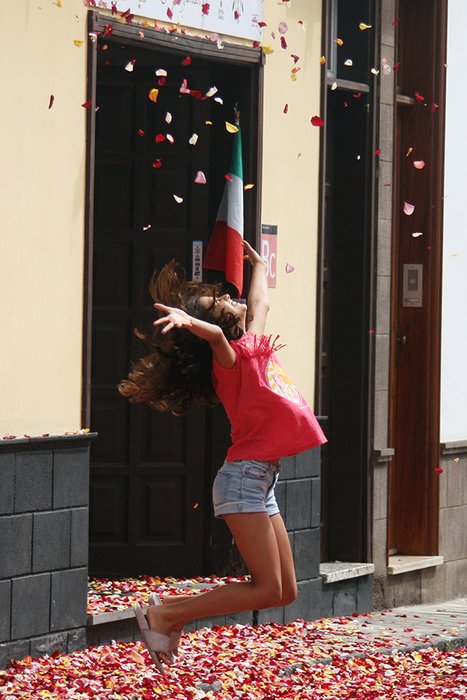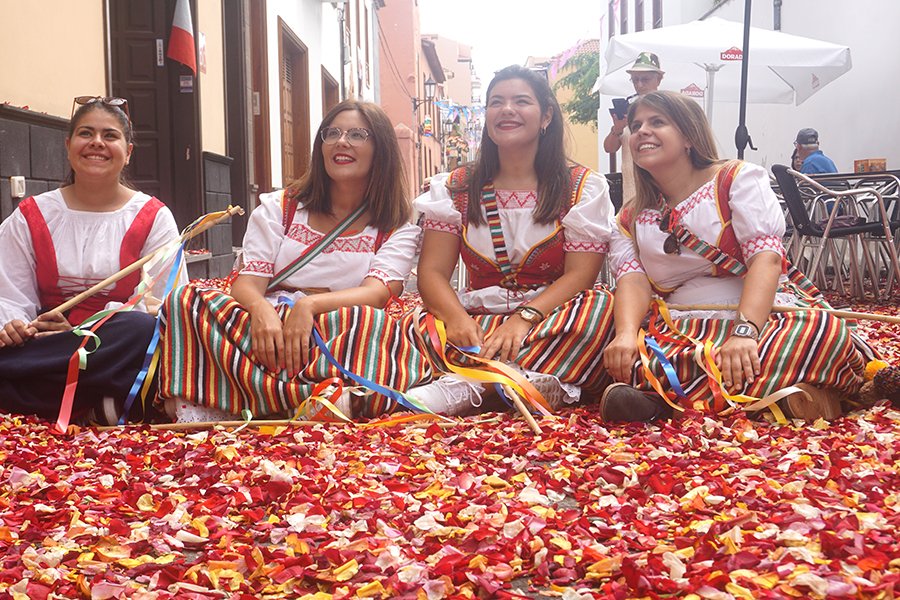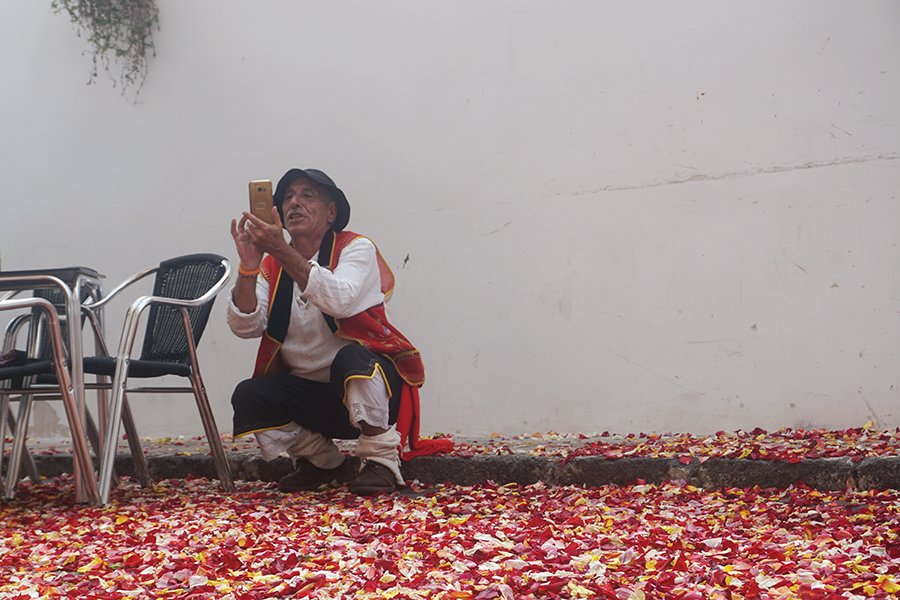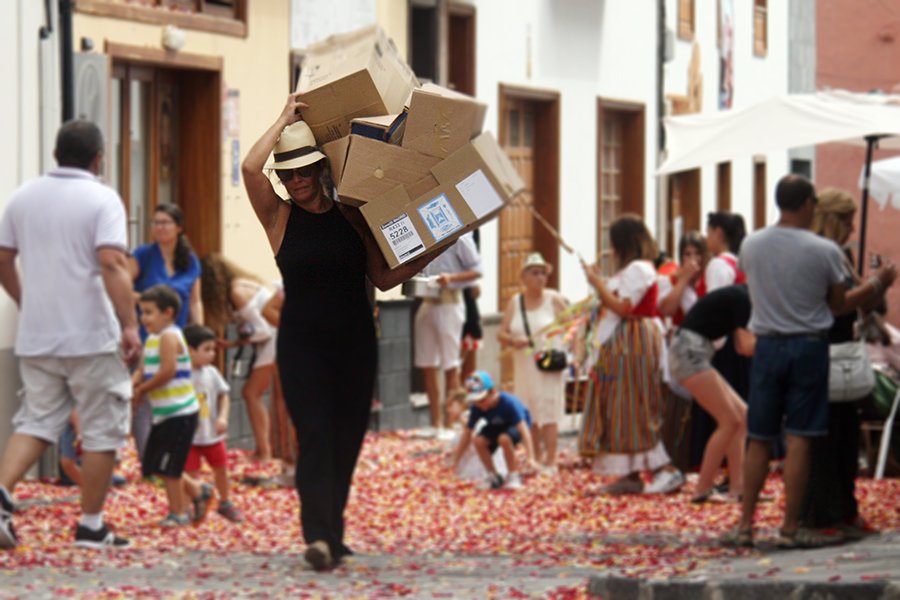 And here's the truth behind the large quantities. Our Lady of Rose Petal Boxes.
The procession soon reshaped at the town square, had some dancing, had some lunch, played a bunch...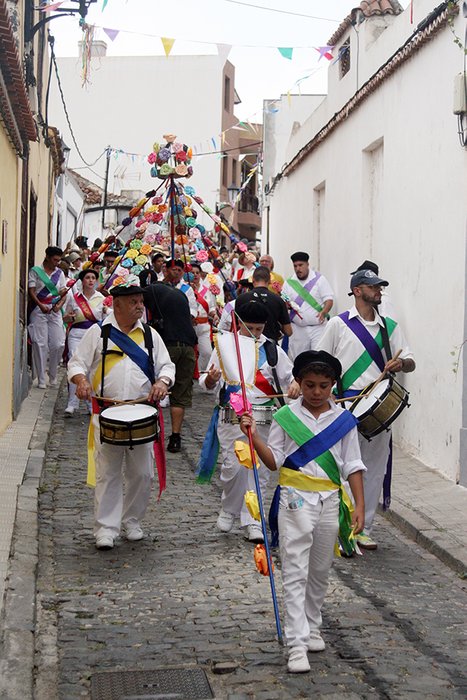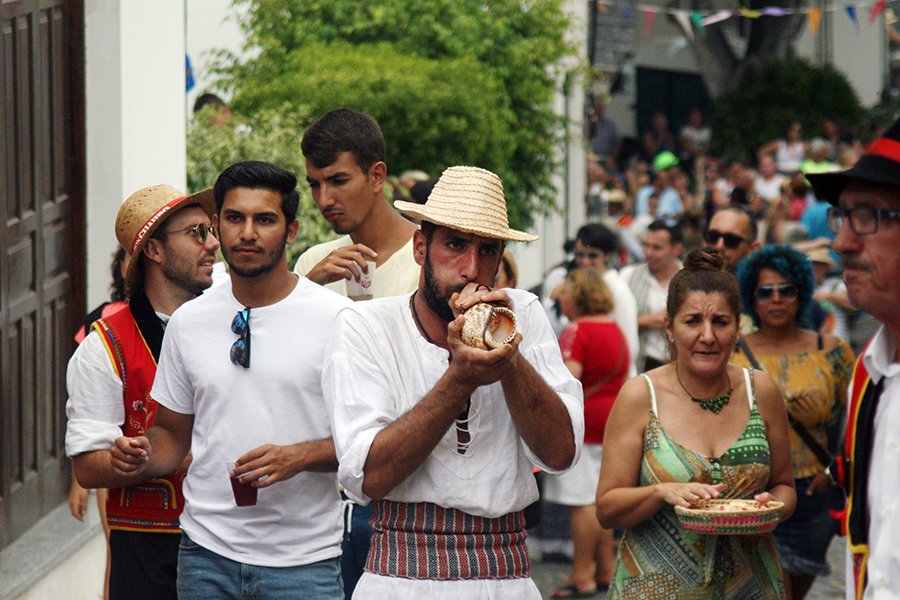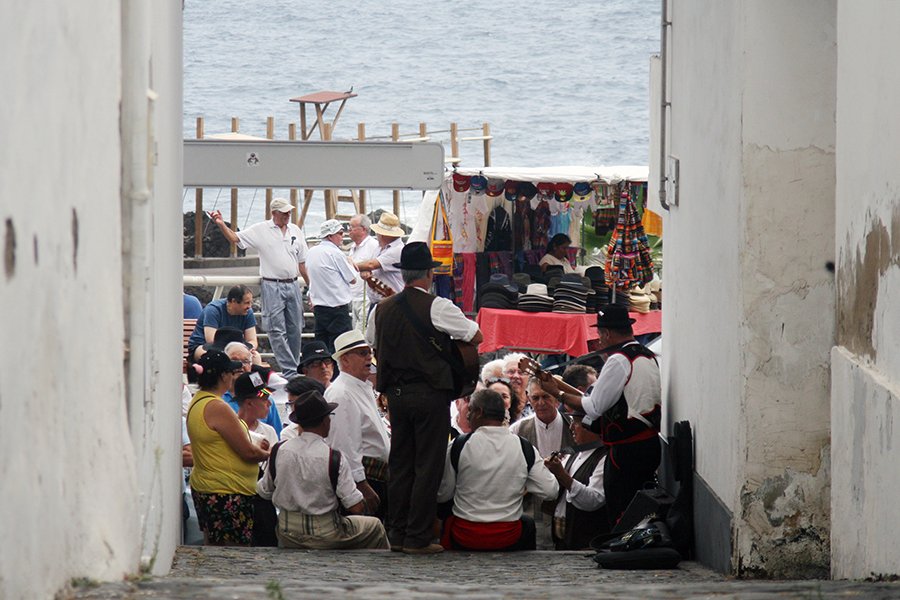 ...and a new stage began. The oxcarts parade I mentioned before. By that time we had retreated to our hotel, after having lunch ourselves. And it took us by surprise, coming right below our window. So I put a towel on my (still wet from the shower) head, and instead of going into bed for a nap, I grabbed my camera again.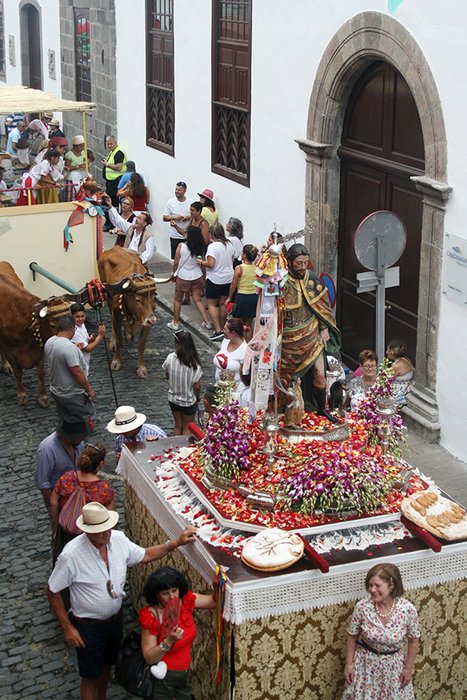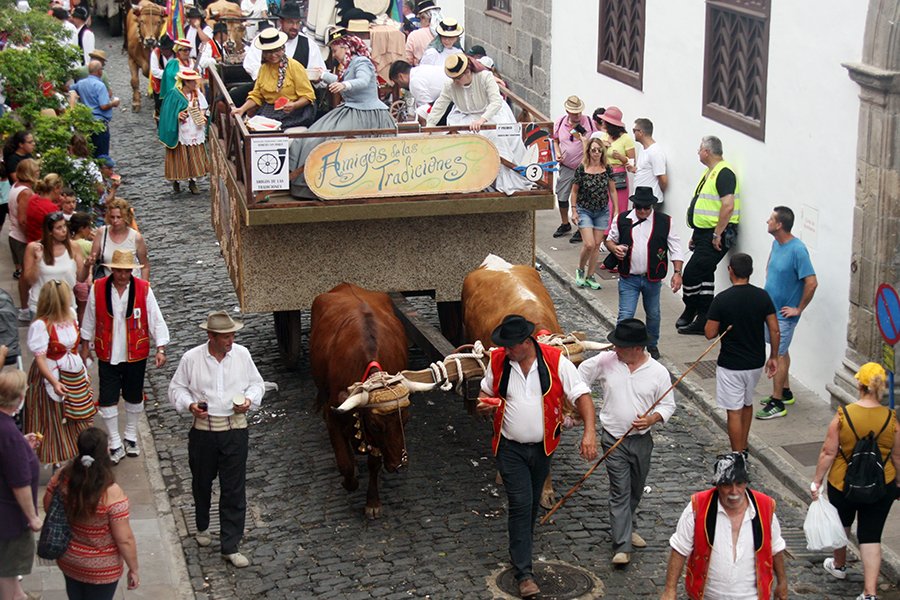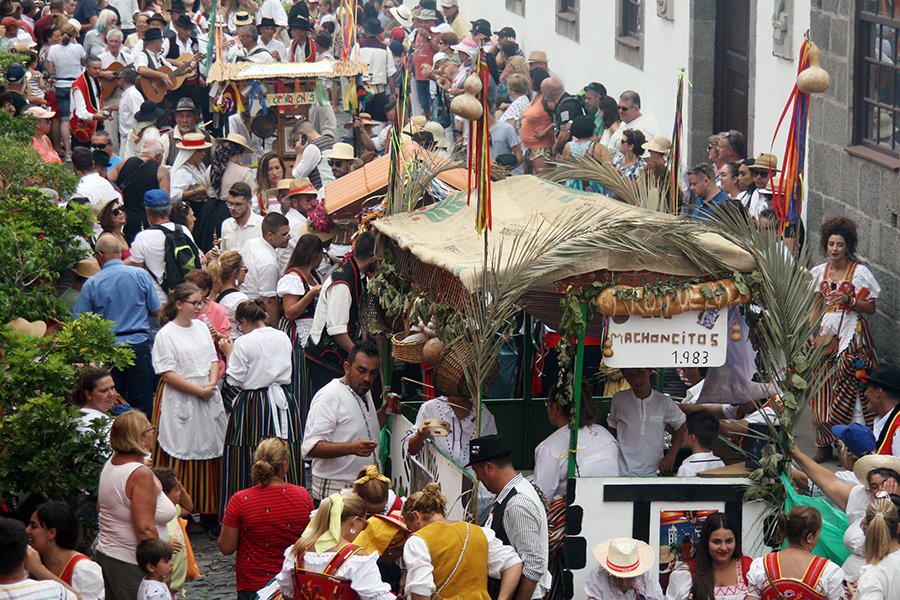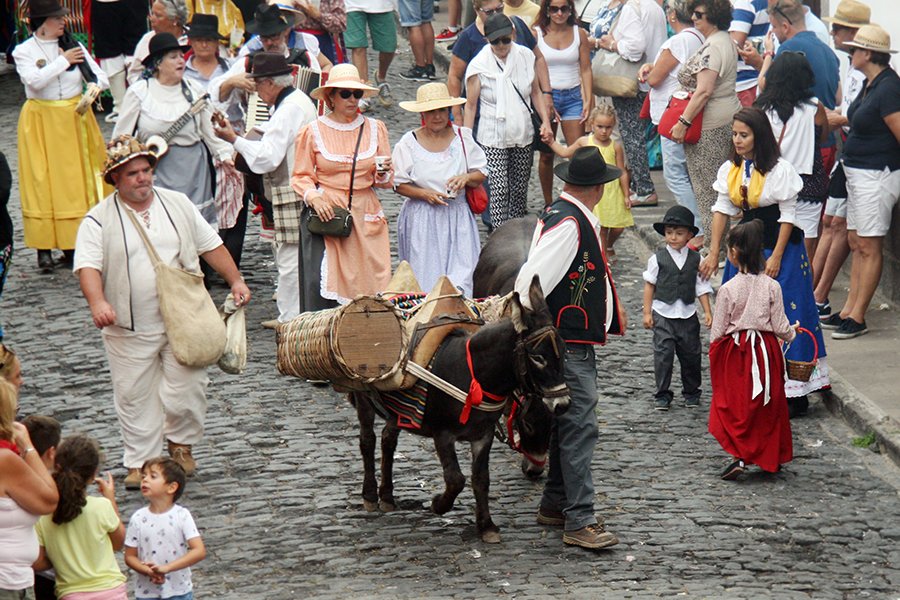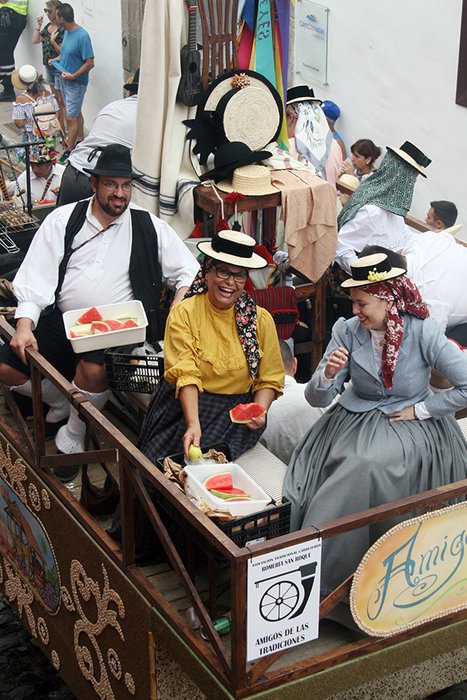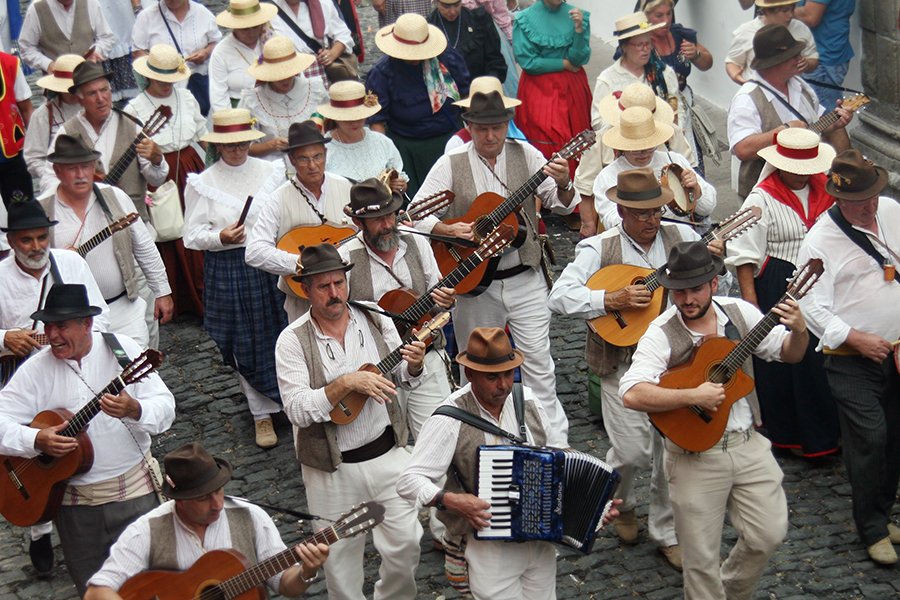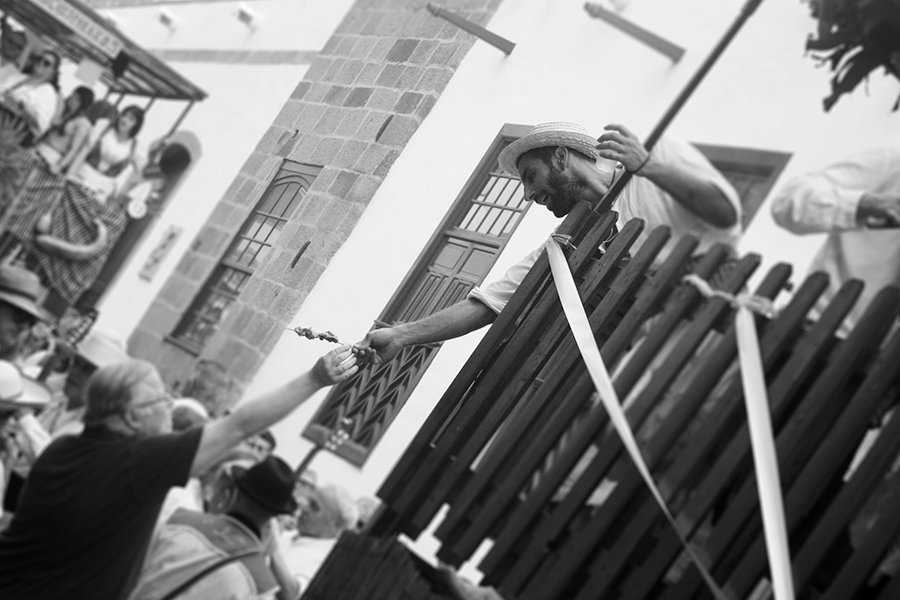 Skewers from above.
But it wasn't the food and drinks giveaway that brought me back on the street soon after. It was my need for a better angle at those cool characters.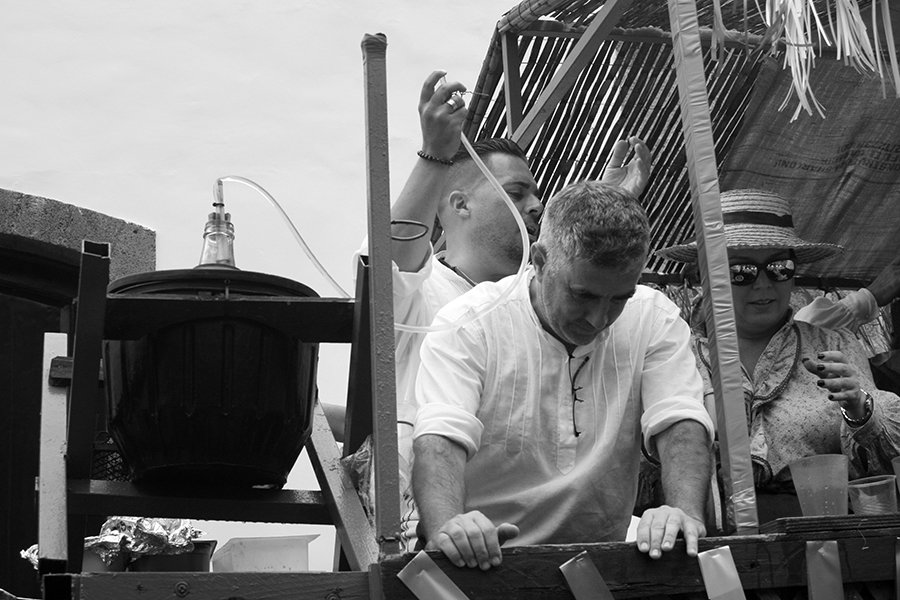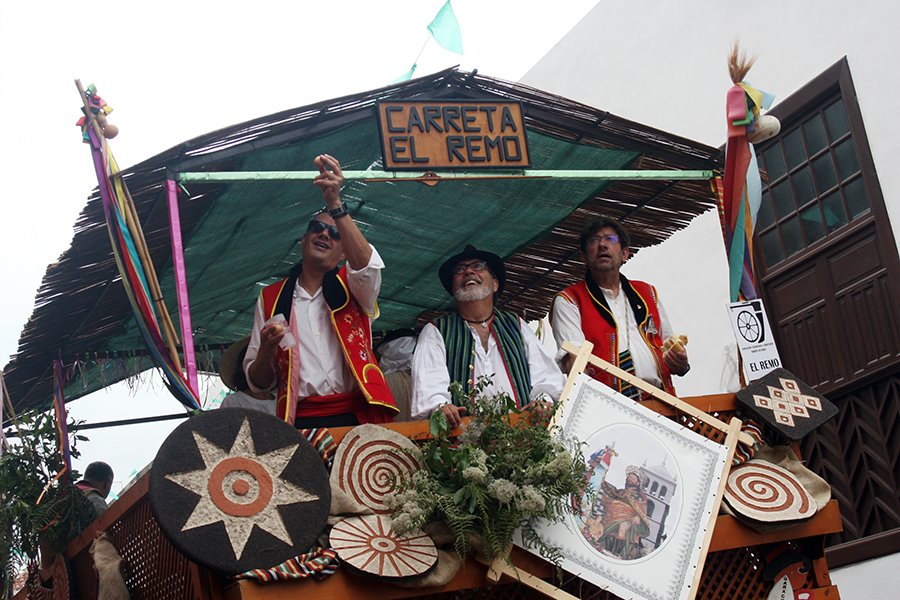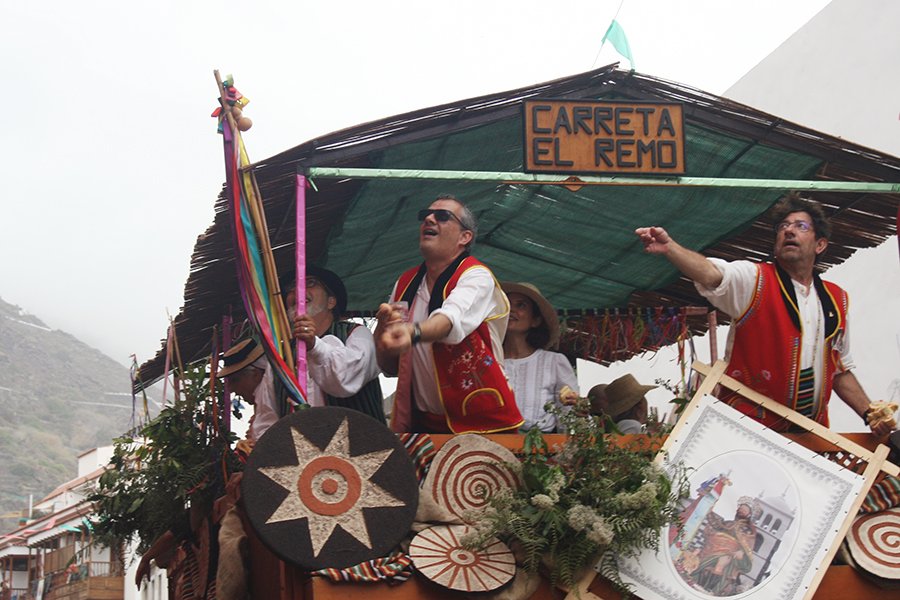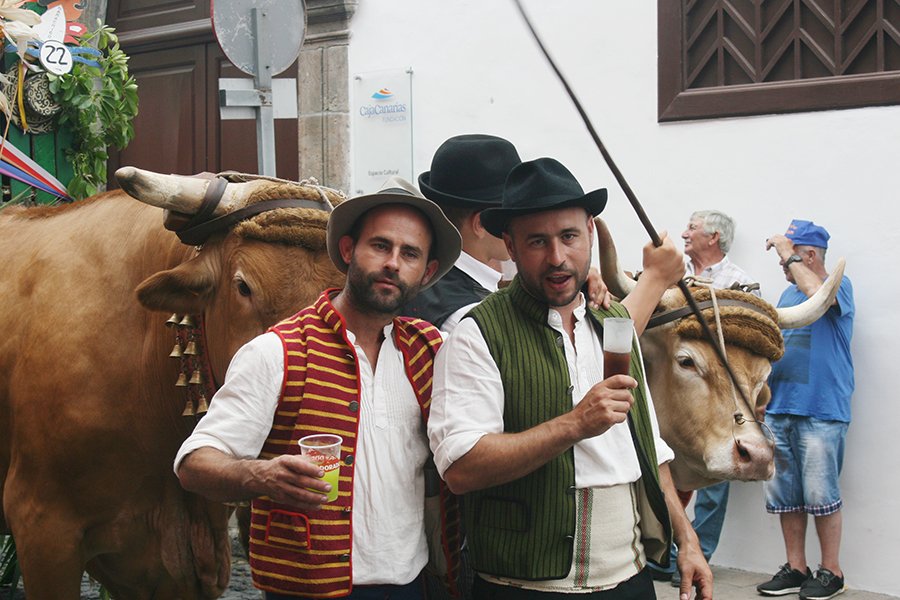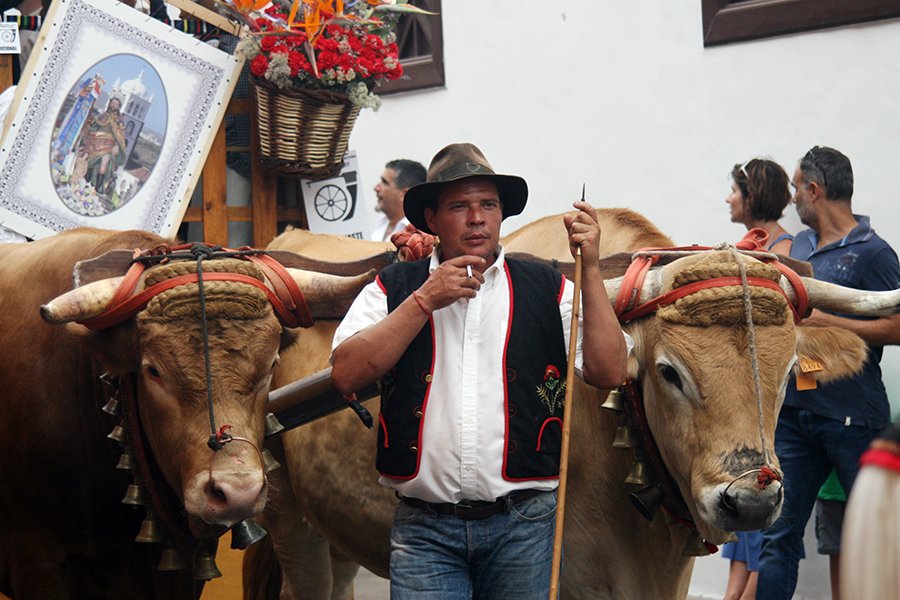 Tenerife Cowboy Style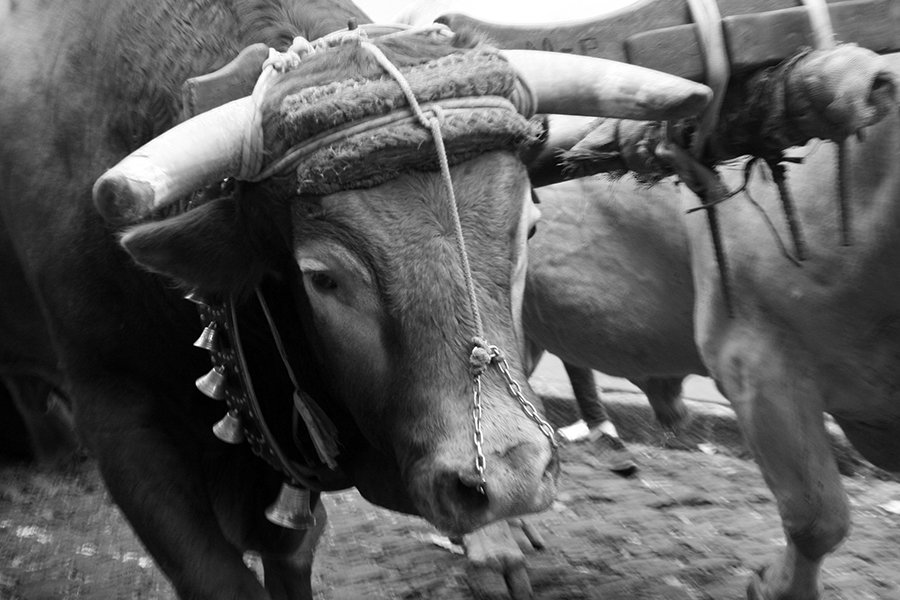 Poor oxen or cows. As I said in a preview post some weeks ago (wow, that long already!), I wouldn't like to be a cow in Spain.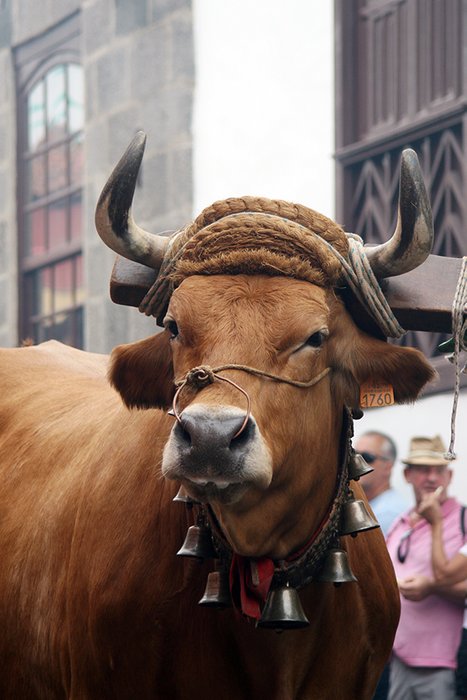 Although some look more dignified than others.
Well, the show must go on...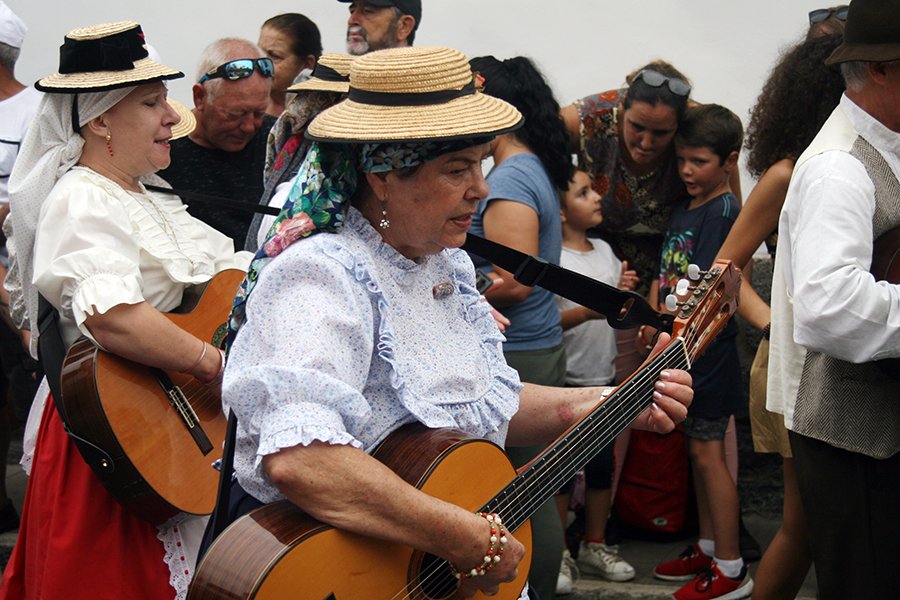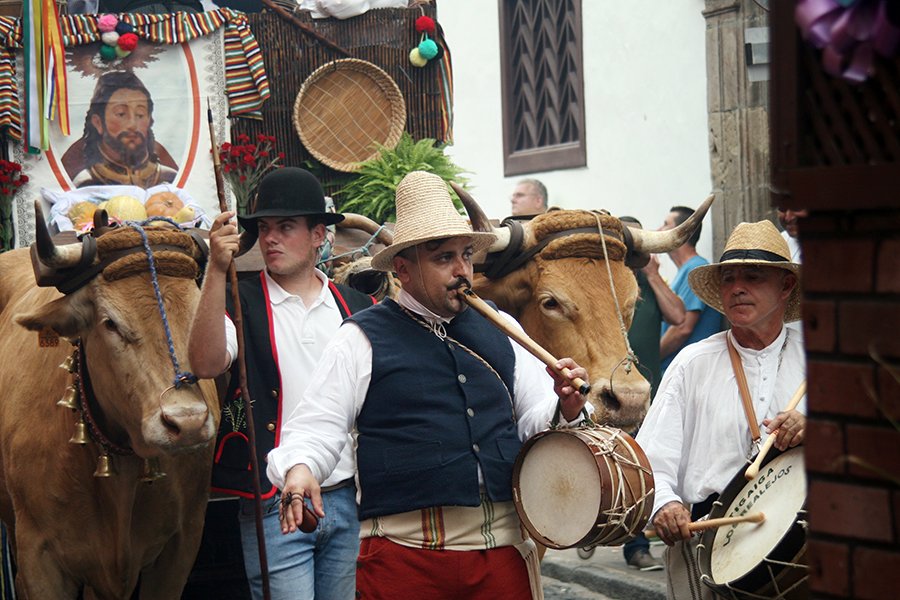 It is what it is. You don't need to know about the cow dung smell quality of the town air after the fair but I just could not omit that. Or the dust fallout covering all the cars parked at the stadium.
I think we went through various kinds of emotions on that long and festive day ;)
That's it for now, friends. Thanks for staying with me! Next time I will probably move to our return through Barcelona back on the continent.
---
Take care and travel safe!


Yours,


Manol