So I like to bike. Even back home in the States, I got rid of my car and switched to bike commuting. It's infinitely cheaper, healthier, and environmentally friendly. Naturally, when I decided to stay in one place until the pandemic is over, I decided to purchase a road bike. Here's a short guide to biking in Angkor Wat that I hope you'll enjoy.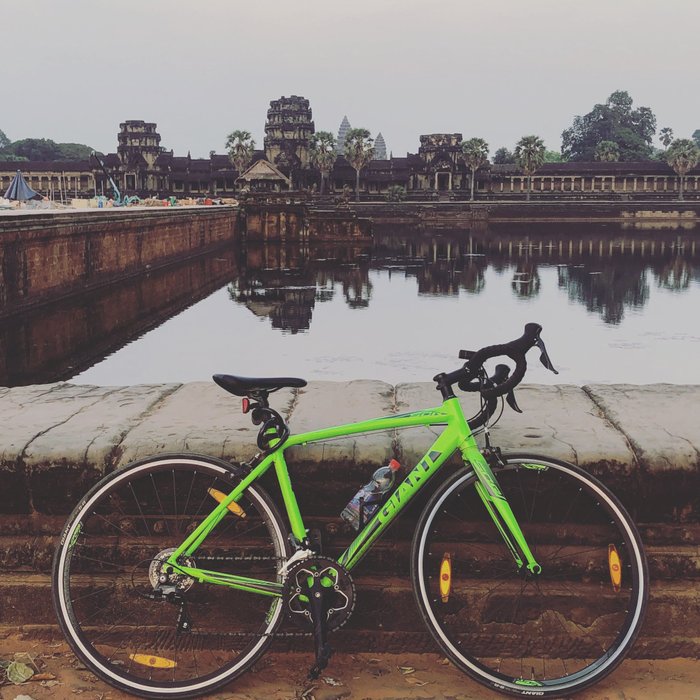 Biking in Siem Reap, Cambodia
Pre-pandemic is was incredibly easy to get around town on a road bike. While the roads weren't the best, they were still easy to navigate. Over the past year, the city has been undergoing massive road construction and renovation.
While I understand this is the best time to do construction since there are few tourists, it has made riding my bike quite difficult.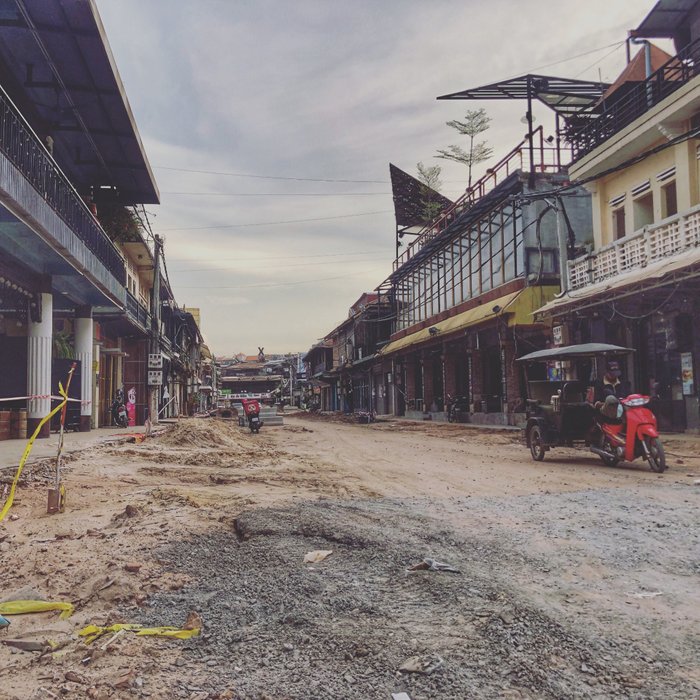 Biking Angkor Wat
At the time of this article, the smoothest, finished roads can be found heading out towards Angkor Wat. This makes an ideal bike ride for anyone. Whether you are a triathlon athlete or just out for a leisurely stroll, you'll have a great bike ride.
The ride is easy for mountain bikes and the local 'granny bikes'. Once I get my road bike outside of town, the roads are smooth and safe for road bikes as well.
Be warned I have had several flats due to construction. Luckily, new tubes can be less than $1 USD at my bike shop.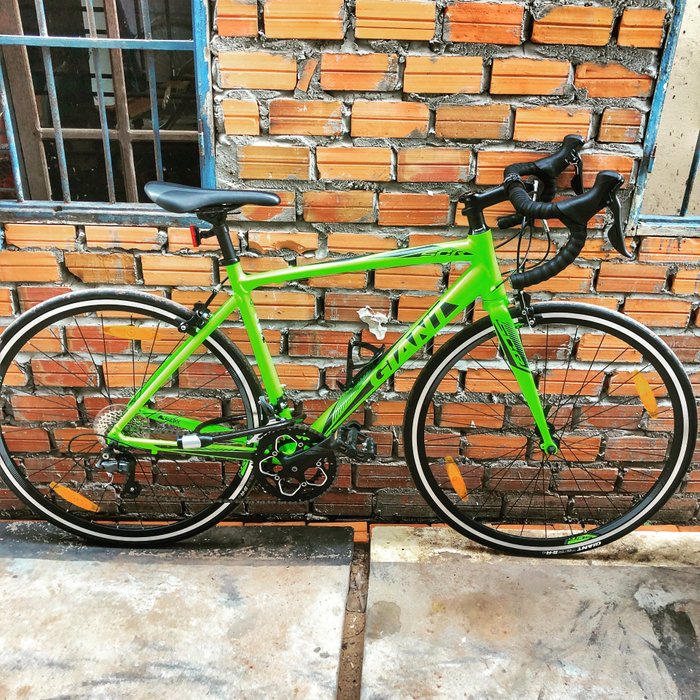 Can you Bike to Angkor Wat for Free?
It costs money for tourists and foreigners to enter Angkor Wat for the day. If you plan on arriving in the morning or afternoon, you will have to have a pass to stay in the park. You will be checked for the pass and fined if you do not have one.
You can go to Angkor Wat for free every day after 5:30 pm. After this time, you can wander the grounds, bike around, take photos, or just chill and relax. The main temples are closed unfortunately so any photos you take will have to be from a distance.
Still, coming to Angkor Wat daily for exercise and relaxation is one of the best ways to enjoy Siem Reap and Cambodia. It can be refreshing after a tough day of crypto losses or worrying about an overdue project.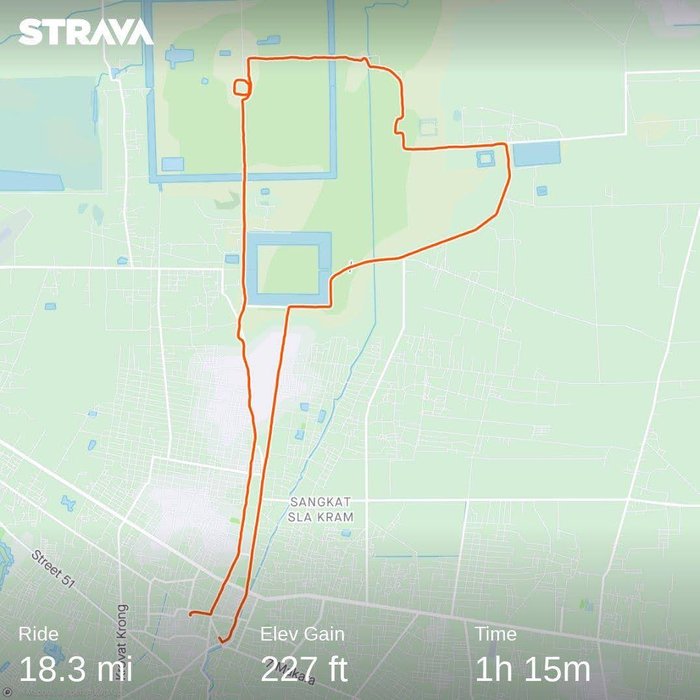 Getting to Angkor Wat by Bike
Currently, the best way to reach Angkor Wat from downtown is to go north and follow Charles De Gaule. After an 8km ride, you should reach the gate. 
If it's before 5:30 pm, you can wait at the entrance until the guards let you in. Don't just ride by the guards. They will catch you and fine for entering before 5:30 pm.
For a longer and tougher ride, I used to ride out to the Siem Reap Airport and arrive in Angkor Wat from the west. This will be more than double the length of the ride but you do get some nice countryside views. There's also plenty of opportunities to test your speed since there are few cars and motorbikes out this way.
Unfortunately, I wouldn't suggest heading towards the airport currently. The roads are under massive construction and it could take you hours as an experienced mountain biker to reach Angkor Wat this way.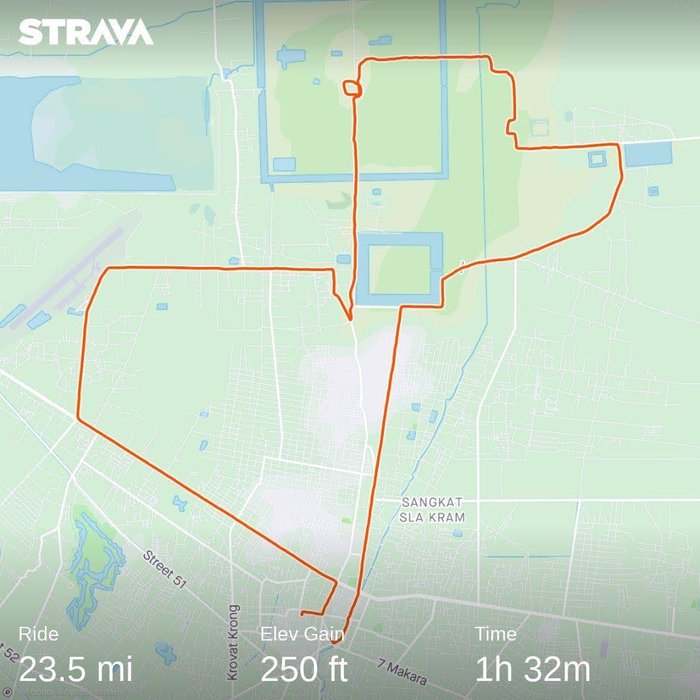 Biking inside Angkor Wat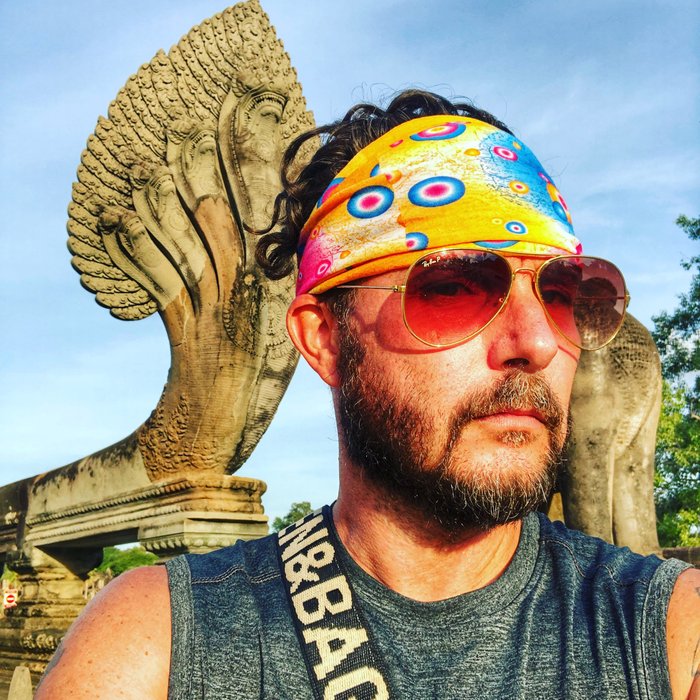 Once inside there's plenty to see. Angkor Wat is the first temple you'll notice. Take a left at the end of Charles De Gaulle to reach the entrance. Here you'll find locals and foreigners relaxing, taking selfies, and exercising.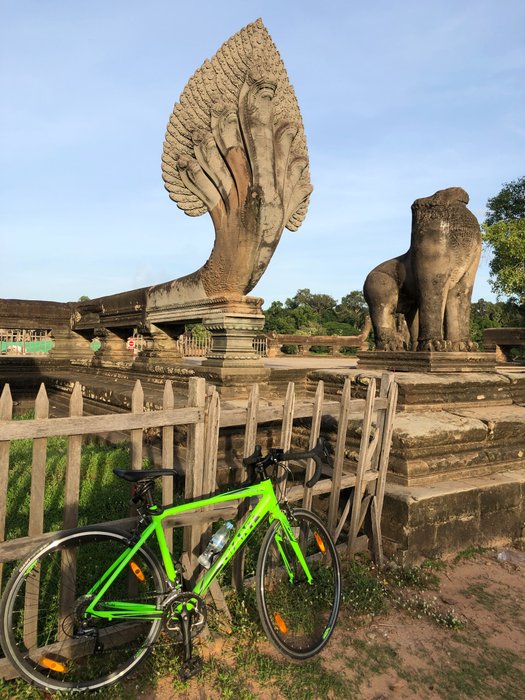 Continuing past Angkor Wat, you'll reach Tonle Om Gate. Don't forget to stop and take photos here. Passing through the gate, you may be able to stop and feed the monkeys. There have been fewer monkeys lately due to so few tourists but they still show up sometimes. Bring snacks!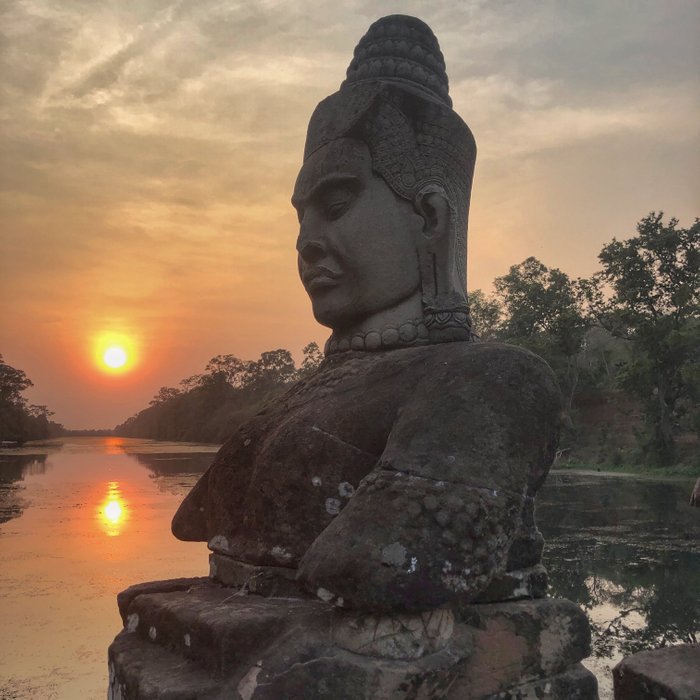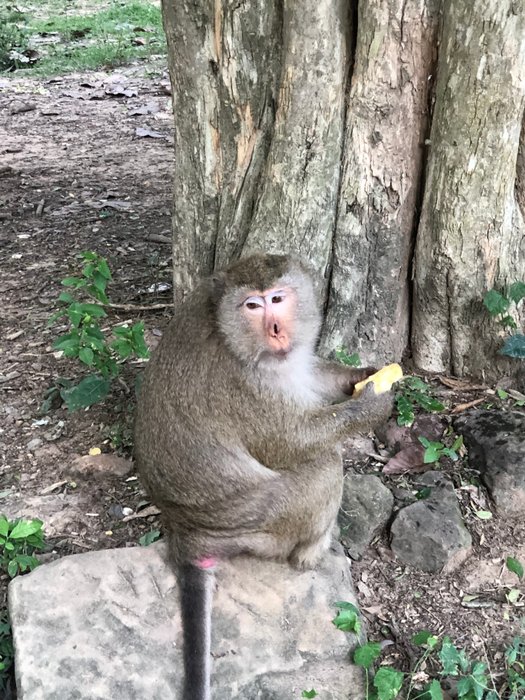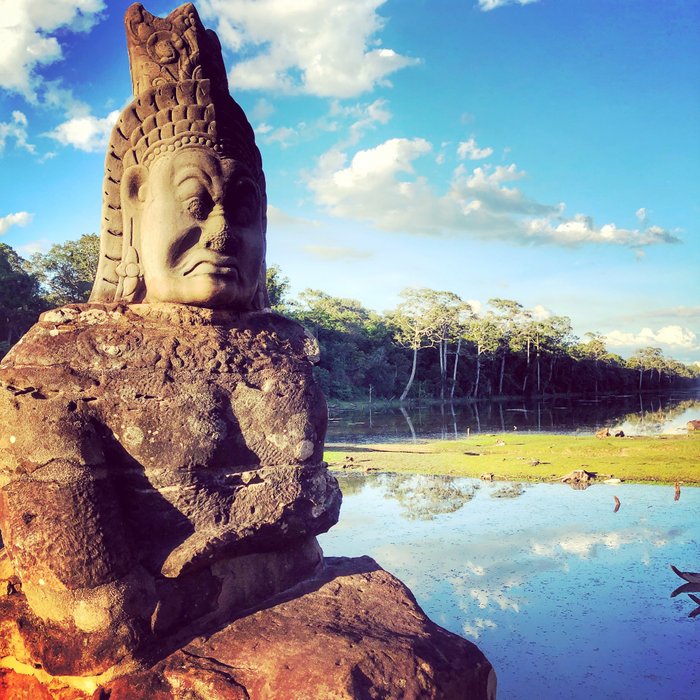 Next, you arrive at Bayon Temple. This is my favorite place to exercise in Siem Reap. The road is a square around the temple and it's so smooth. I can do sprint laps here all day and not be bothered by anyone.
Continuing north, you'll come upon the Terrace of the Elephants, and a group of smaller temples. You are allowed to walk through these temples after 5:30 pm.
Short Bike Tours of Angkor Wat
While you can continue north through the park, I would advise either turning around or continuing east at this point. You can't stay in the park after dark, so always be aware of how far you went in and how long it will take you to get back.
If you still have energy, go east and finish the loop around Angkor Wat. This will approximately double the length of the ride, but you'll get to experience some calmness and quiet since not many tourists go this far in. You'll also pass by Ta Prohm and many other smaller temples and sites on the way.
Always pay attention if you go this way. You will come to a few intersections where you'll have to choose a direction. If in doubt always go south and west. That should bring you back to the Angkor Wat entrance.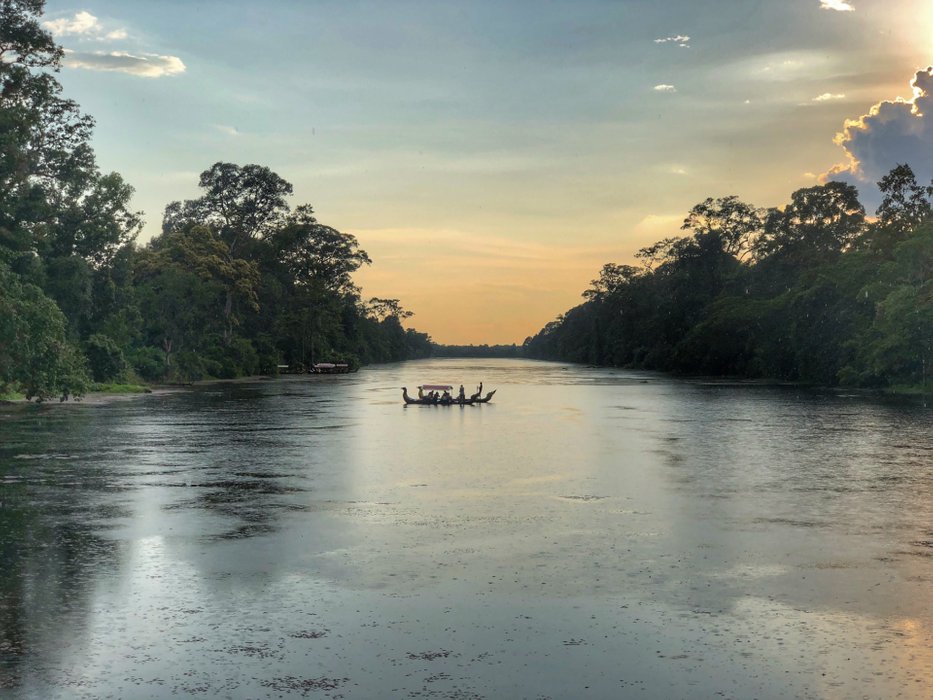 Angkor Wat During the Pandemic
The rules at Angkor Wat can change daily during the pandemic. Always check online to see if the park is open. If you're not going to wear a mask, at least carry one. Out of respect, please social distance from others as well. 
Hopefully, once construction is complete and the pandemic dies down, I hope to see more locals and ex-pats on my biking adventures around Angkor Wat.
Thanks For Reading!
I'm pretty new to the Hive Network and am loving it so far. I would love to hear any advice you may have to enjoy the sites better. Also if you're local I'd love to hear from you.
Let's connect and Collab
Facebook  Instagram  Twitter Website