Part 1: Trains, planes and interesting layovers
It's 5 A.M. in the morning, I wake up feeling groggy. After a quick shower, I throw myself in the hammock spanning my room. The coffee slowly starts doing its job. It's not the first time I had a hard time sleeping before a long trip. In a little over an hour I have my train to the airport. My dad is already up, getting ready for work. We say goodbye without a lot of words, I guess we never were good at goodbyes anyways.
On the way out I grab a can of coke. It's cold outside. Like Belgian cold, not snowing, not beautiful, just cold, cold and dark with a hint of rain in the air. I put on my headphones and make my way to the train station. A train ride and a flight - in which I was sleeping as much as I could -, later I am in Zurich airport.
A seven hour layover. After developing a bit on Monster Maker I decide it's time to go exploring. All of a sudden I see this pink covered iPhone X just laying all by itself in a chair. Not quite sure whose it is, but expecting it to be from someone who has lost it, I try to get hold of some airport staff. Unfortunately, at the start they're very unwilling to help me return the phone to the rightful owner. Eventually I discover several cards - including a drivers license -, in the cover of the phone. After a wild social media search and eventually finding a staff member who was able to help out, I was able to return the phone to its rightful owner just before she was boarding her plane! Mission accomplished!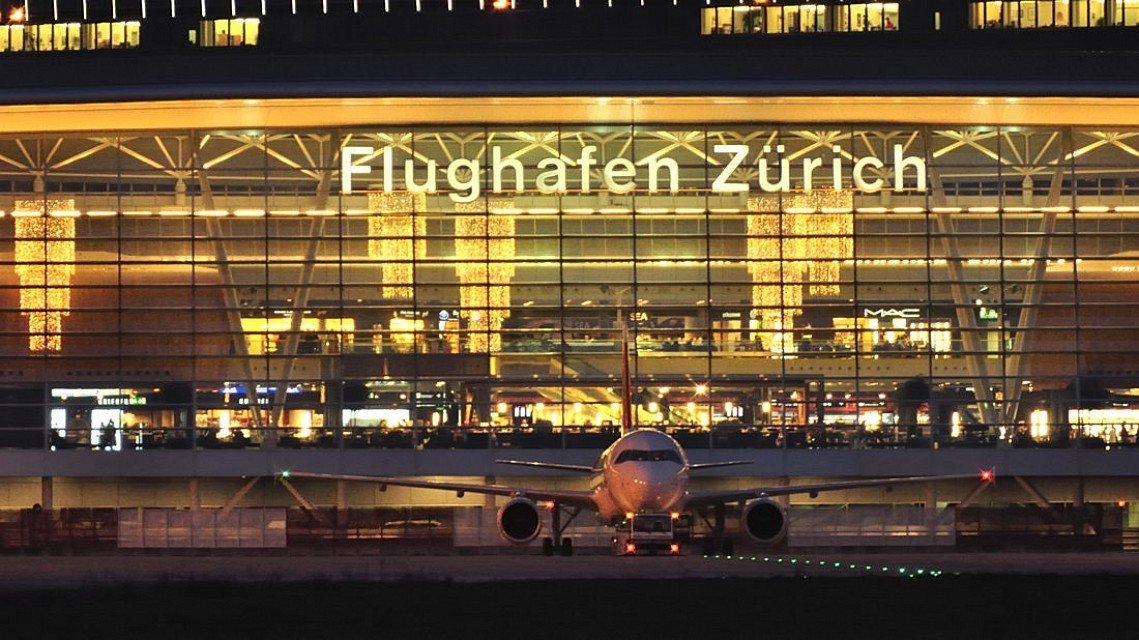 Zurich airport entrance, which I never saw, but I don't have another picture for this chapter, haha! Source
Part 2: Being lazy and the Loi Krathong festival
After a long flight, I'm back in Bangkok, Thailand. With the plan of staying in Thailand for a few months. The flight is smooth and I already have my airport routine down from last time: get the sim card, go downstairs, exchange money there (it's cheaper than the offices upstairs), buy a skytrain ticket from the machine - and off we go! For the last leg, I share a taxi with another backpacker, as our hostels are closeby, and before I know it I have my first delicious street food and Chang (a Thai beer) in my stomach.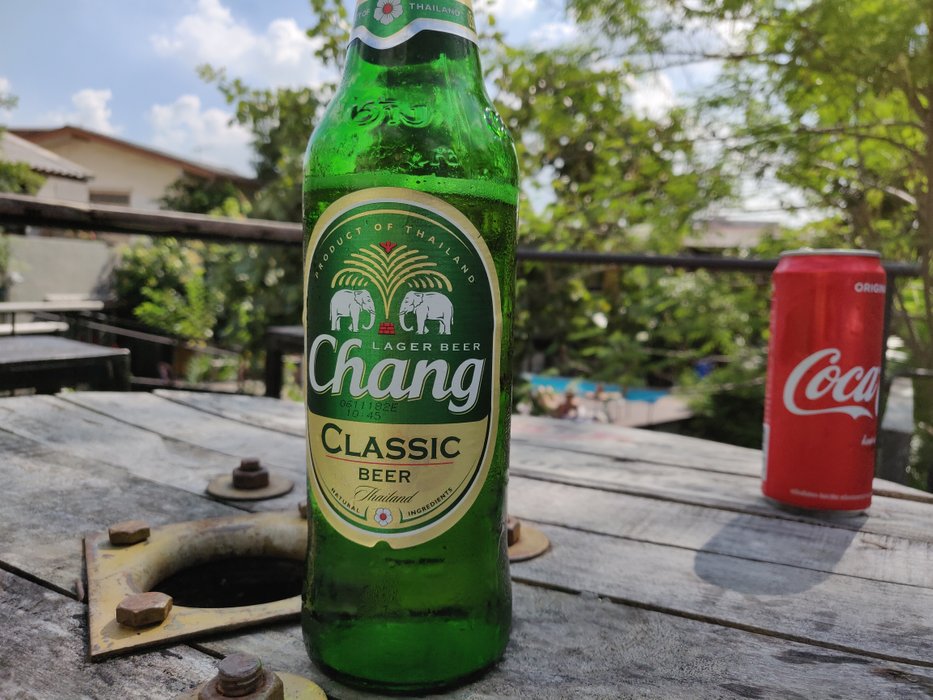 Eventually, I make my way down to my hostel, where for four days most of the time is spend chatting away with travelers, developing a website for the hostel I am staying at (made a deal to stay some nights for free), having one to many beers and eating a lot of both Thai and Indian food (as the hostel was run by Indians). One perhaps slightly interesting thing to note, is that I had entirely forgotten to activate my bank card for Thailand. Woops! Luckily it took just one, quite funny and perhaps slightly drunk, phone call to get it all sorted.
I did wander around the area some and with several other people from the hostel we participated in the Loi Krathong festival. From what I've understood they celebrate family members and friends whose life is somehow linked to water. E.g.: boatmen, fishermen and the like. They create beautiful floating decorations with a candle on them, and let them float off in the water to wish them good luck.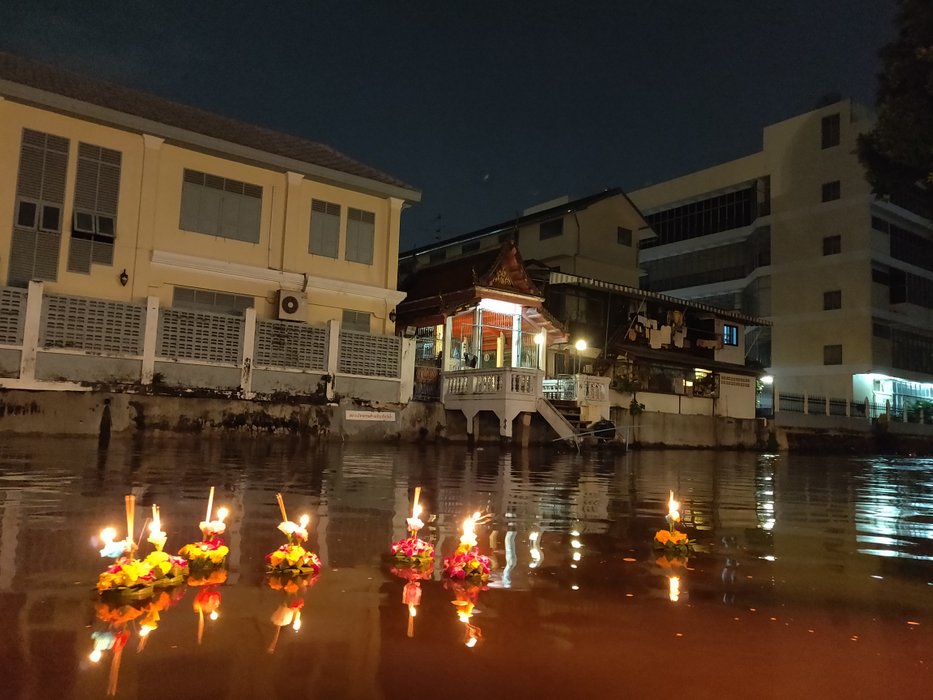 Part 3: Exploring a haunted skyscraper!
After a few days, I decided I had to go visit at least one thing that I hadn't seen before in Bangkok. When someone told me about the Ghost Tower, I was intrigued. Whilst the sister building - just a few meters down the road thrived, the ghost tower didn't. Long story short, there were a few incidents of bad luck causing the construction of the second tower to stop completely, even though most of it was already built. The architect was charged with murder, even though he did not commit one and right after that in 1997 the Asian financial crisis hit. This combination made it pretty much impossible to find funding.
In 2014 a backpacker was found hanging in the tower, after which the landowner made an effort to clear out all the squatters residing in the tower, fence of the entire area and install some guards on the premises. For safety reasons I will not mention how I got in the tower here, but it was quite the adventure. If you want to know more on that, just contact me privately! For all other purposes, it should be assumed I got in legally. I did notice that local taxi and tuktuk drivers were very unwilling to bring you to it. We ended up asking for the Shangri La Hotel which is a 5 minute walk away.
It's 50 stories up by stairs to make it all the way up, so if you're in terrible shape, don't do it. Whilst most floors are similar to one another, it is impossible to discover everything there is to see, the building is just too big for that. It is however still easy to see how luxurious it was supposed to be. With beautiful balconies, wooden floors and big rooms. In the bathrooms you often times still find abandoned bath tubs and the occasional toilet.
We made a first stop at the 25th floor to take a look around and catch our breath again. From here the view was already amazing, so we didn't want to waste too much time and started going for the top. Near the top, on one of the levels we found a noose lying around. It does make you wonder if it was the same noose the backpacker in 2014 used. Kind of creepy if you ask me. The view from the top made it 100% worth it though. You can find a short video and some images below.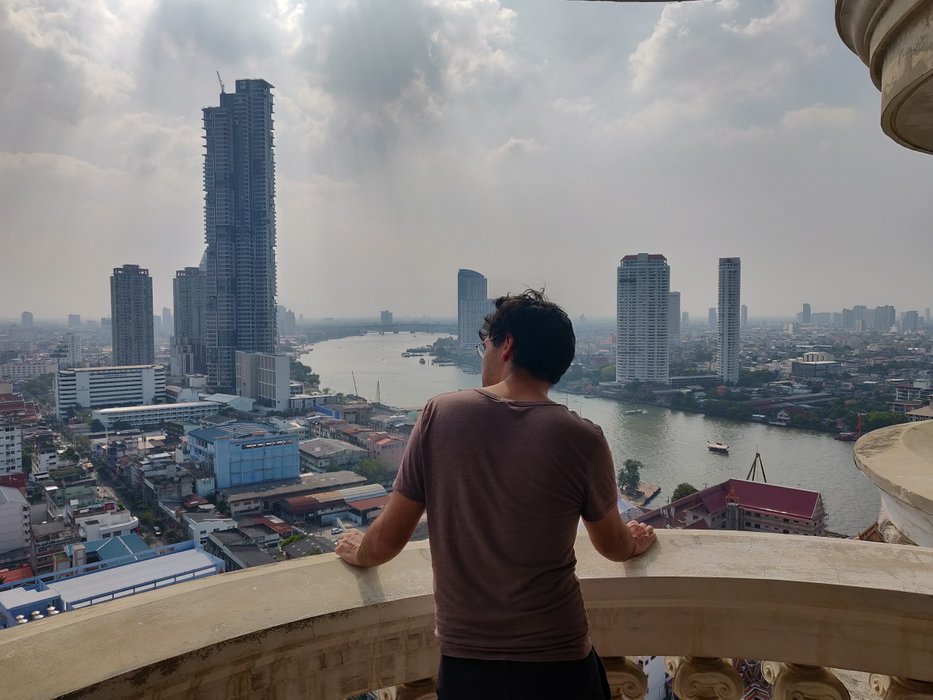 That view was amazing!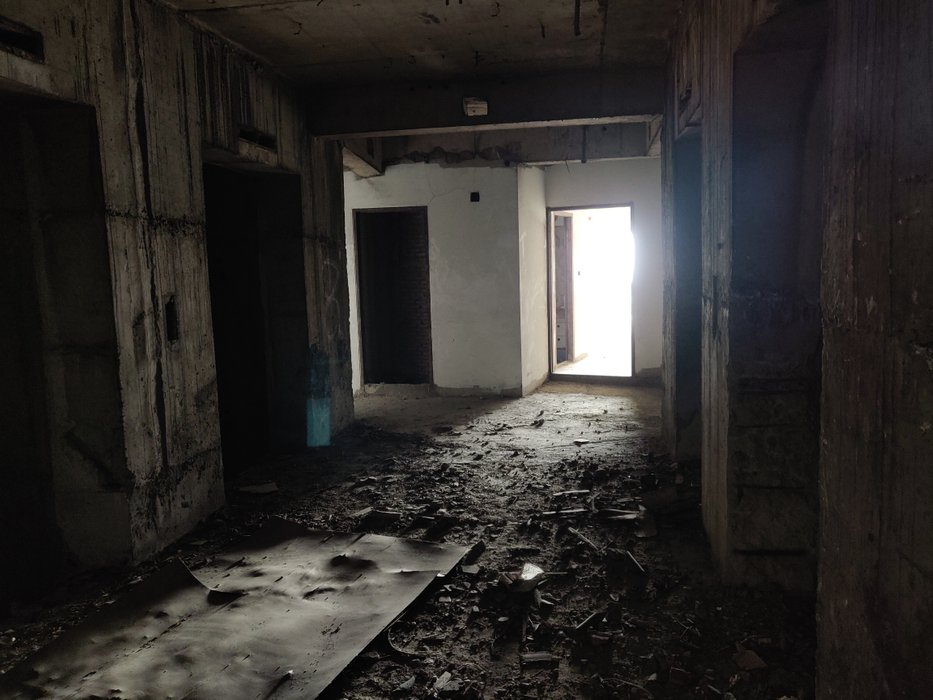 Some light at the end of the tunnel, haha!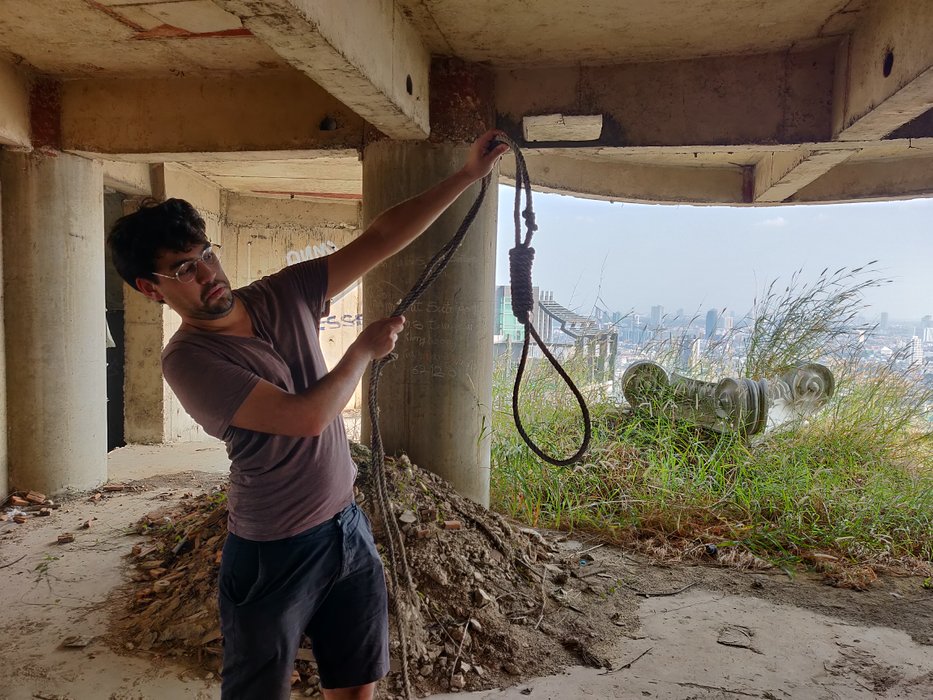 This is where you start rethinking the choices you make, haha!