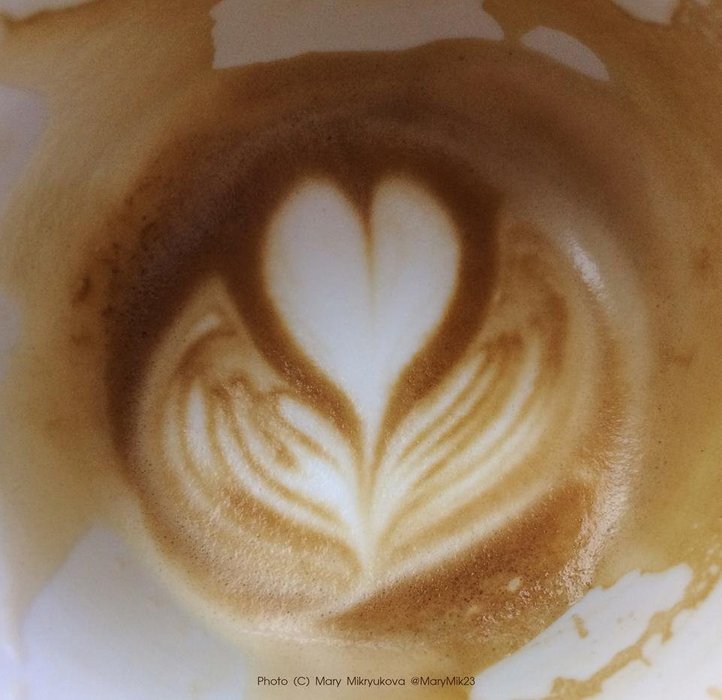 ---
As Greece said NO to McDonald's...
About Greek food, I decided to make a post when I drank a cappuccino in McDonald's. I want to say that I very rarely buy food in McDonald's, it is not useful, but on travel this cafe often saved us. For example, in some European countries there is a siesta when everything is closed, or restaurants only sell cocktails in the evening, and then McDonald's is a great solution.
But Greece and McDonald's are incompatible! This cafe we met only once in Athens, because to compete with the Greek fast food is simply not realistic.In my memory, perhaps, this is the only European country where traditional local cuisine expelled American Burger!I read that Americans consider Mediterranean cuisine to be dietary and even curative. I must confirm this fact, because the abundance of delicious vegetables, natural cheeses, seafood - this is the Greek cuisine.
---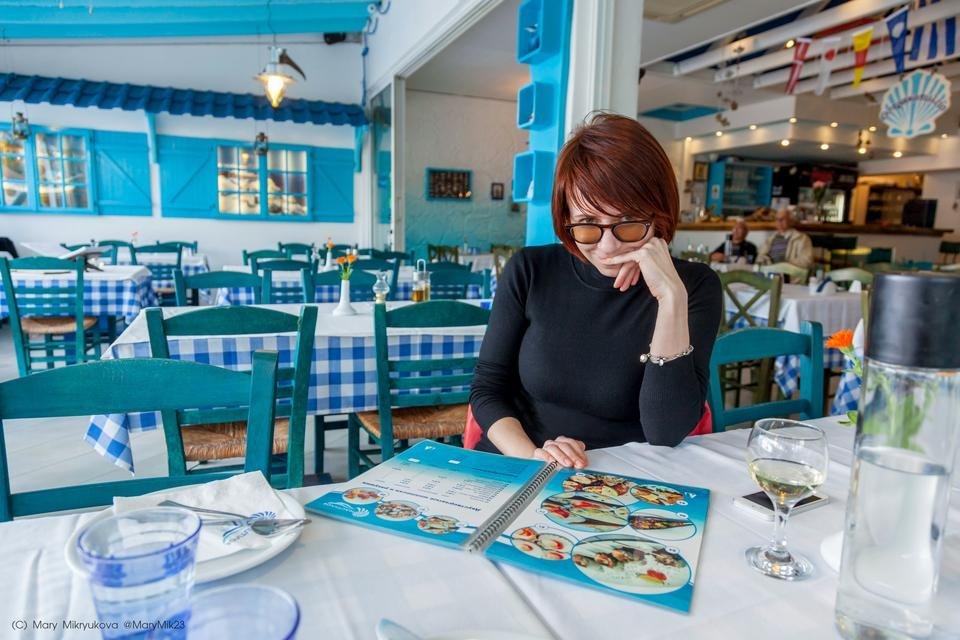 It's me (in the photo) saying YES Greek cuisine
---
In may, restaurants in Greece start working around 1 PM. Until that time, it is rather difficult to find, except for places especially saturated with tourists, which we tend to try to avoid. In the morning, Greeks drink coffee, often cold with ice - frappe, or neskvik, the tastes of both are very similar. In cities, coffee shops are found literally at every step, with coffee exclusively on the menu. Greeks distinguish grades of sweetness of coffee and suggest you choose what you need during its preparation. Of course, I advise you to try the delicious coffee in a specialized coffee shop.
The next type of public catering establishment is the manufacturers of gyros and various variations of dishes from the same ingredients. Giros is a grilled pita, filled with pieces of chicken or pork kebab, fresh tomato, onion, French fries with yoghurt, cheese, or mustard sauce. Really delicious, fresh, very nourishing thing. Of the dubious ingredients in it are only French fries and sauce, but you can make up your own useful gyros. It costs from 1.5 to 3 euros, depending on the location. An adult person is completely satisfied with a single portion of gyros. In the afternoon local chew gyros, sandwiches, different potato pies, pizza, pastries. Many eat right during a walk down the street, others sit in outdoor street cafes. Both are nice, although some anxiety can be brought to you by cats, which are very much around and they require their share of lunch.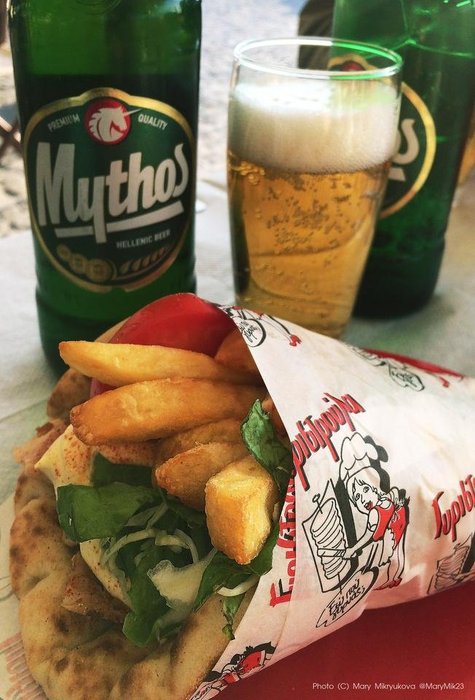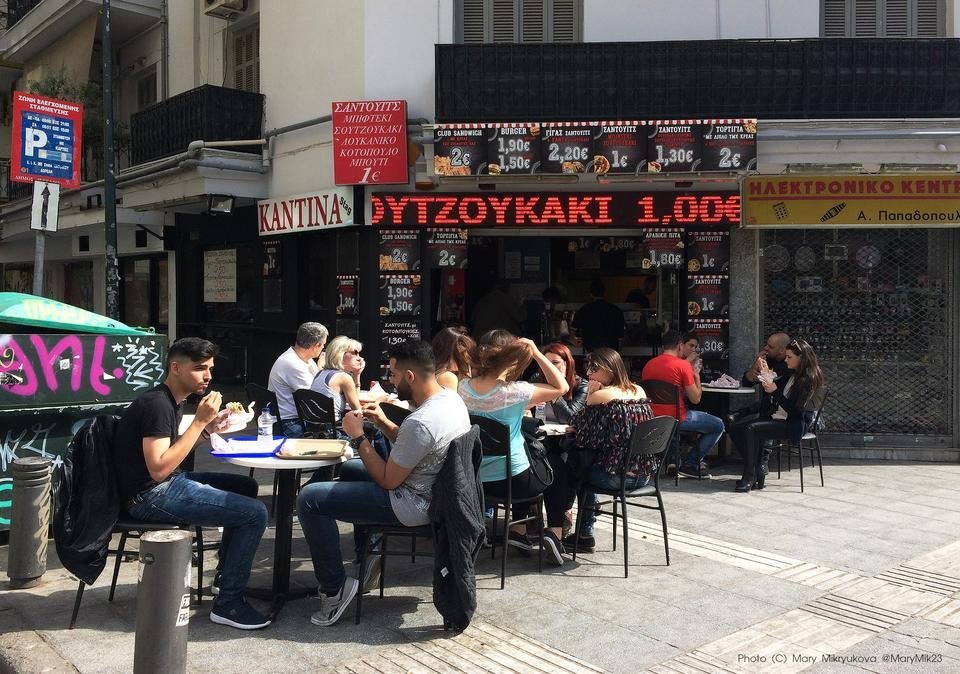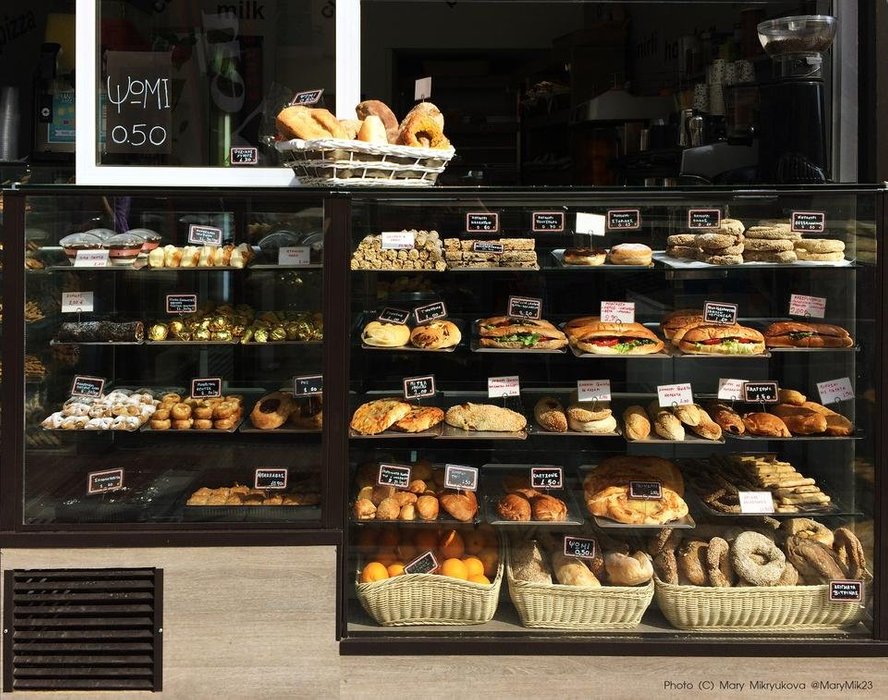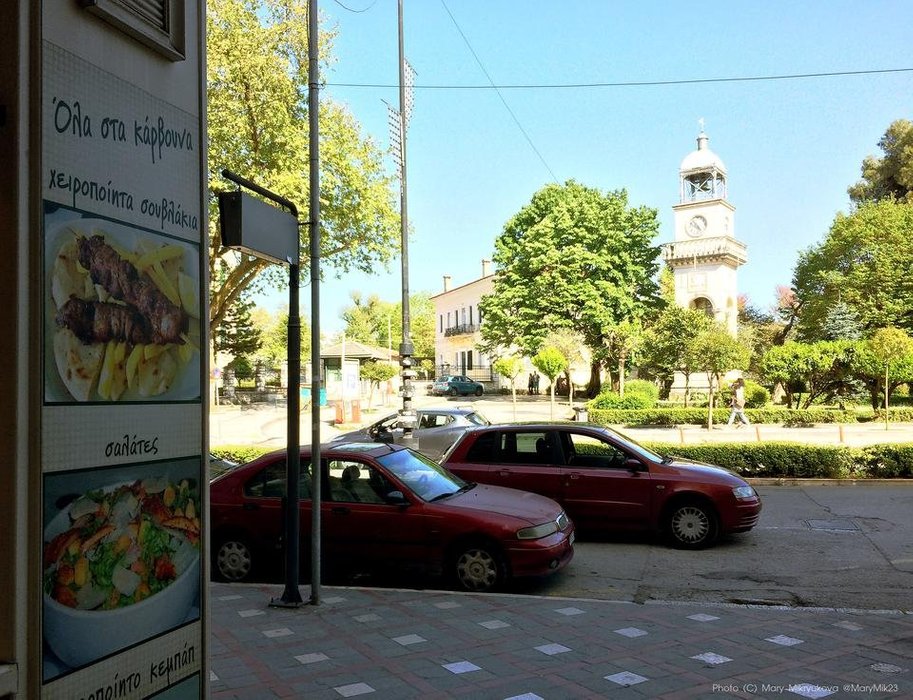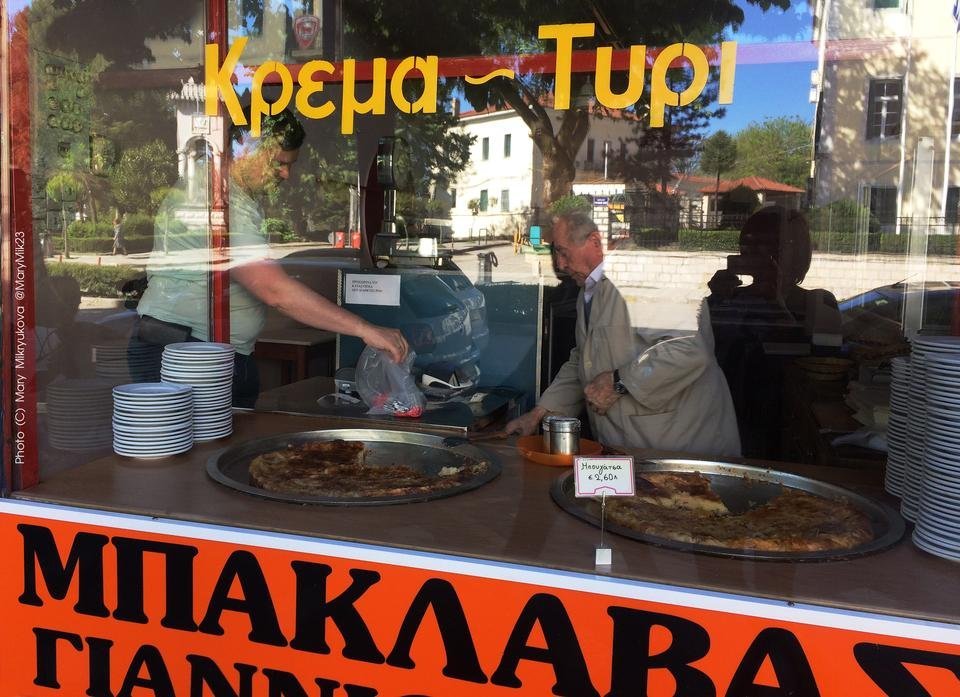 Towards evening, the restaurants begin to fill up. On a day off, it will be difficult for you to find a free place. Greeks eat a lot, tasty, noisy. The traditional "Greek salad" has little in common with our. In the original it is large-sliced juicy fleshy tomatoes, cucumber, onion, dried olives, whole pack of feta cheese, olive oil and spices, usually oregano. All ingredients are very tasty in themselves. One serving is more than enough for two. Price list from 4 to 6.5 euros.
Another traditional dish is cooked on coals, it's called souvlaki. In fact, it's a shish kebab - pieces of meat on a skewer. Meat you can choose: chicken, pork or beef. Souvlaki is not fat, without the aroma of smoke. Can be served with sauce, vegetables, French fries, it needs to be clarified, so as not to take a double portion of the side dish.
In general, the choice of food in restaurants is quite large, some surprisingly similar to the Russians. Greek moussaka, in fact - it's a baked potato with meat. Tzatziki is a famous appetizer from yogurt, garlic, herbs and seasonings, which you can put on bread, or eat as a sauce for meat or fish for your taste. And in one hotel restaurant the waiter offered to try lahanodolmades, so we were surprised when we saw the usual stuffed cabbage. I will explain that the Russian dishes stuffed cabbage - it's rice with minced meat and vegetables, wrapped in cabbage and stewed in this form. And in translation into Russian lahanodolmades sounds like a hoax, a joke, so we were so surprised to see a familiar recipe with a strange name.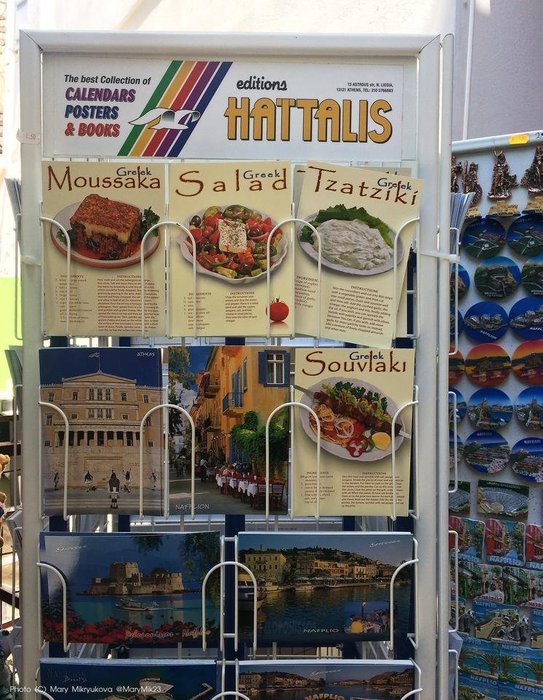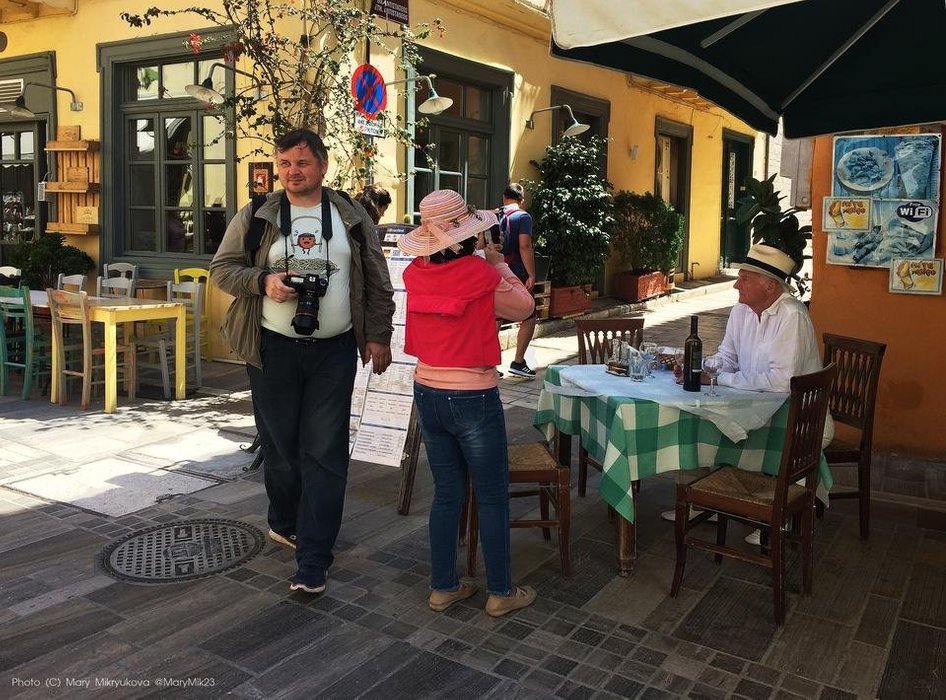 In general, going on a trip, you need to prepare for a new kitchen. I write down local names of dishes and their composition in the notebook, so that it's easier to choose the right dish in the menu. Of course, even in this case, surprises are difficult to avoid, but this also has its own charm.
Here, for example, Horiatiki is a vegetable salad with cheese. Saganaki - very tasty roasted cheese, sometimes served in foil. Yuvarlakia - meatballs, balls of rice and meat in white sauce. I apologize in advance for possible translation errors, try to correctly fix the transcription of names in your language.
On average, dinner in an ordinary Greek restaurant for two turned out at us 23-26, but no more than 30 euros. In the nearby restaurants, the same dish may have a different price. It is better to choose a restaurant where local people eat, there will be more delicious. And in a cheaper institution at the tables, mostly young people sit. These restaurant selection rules work in every country.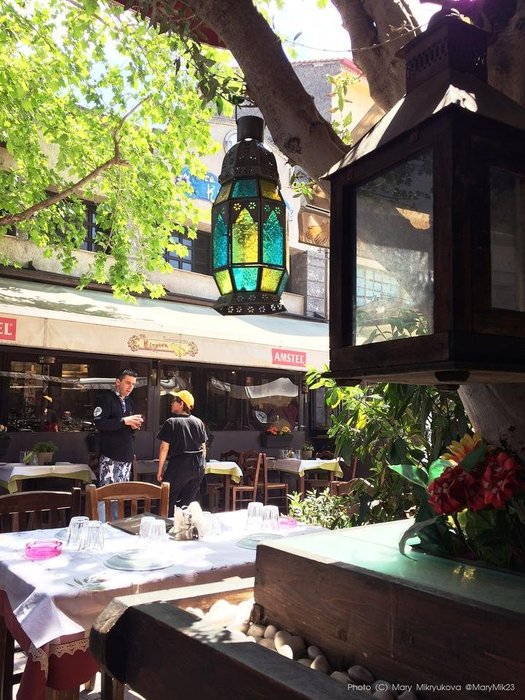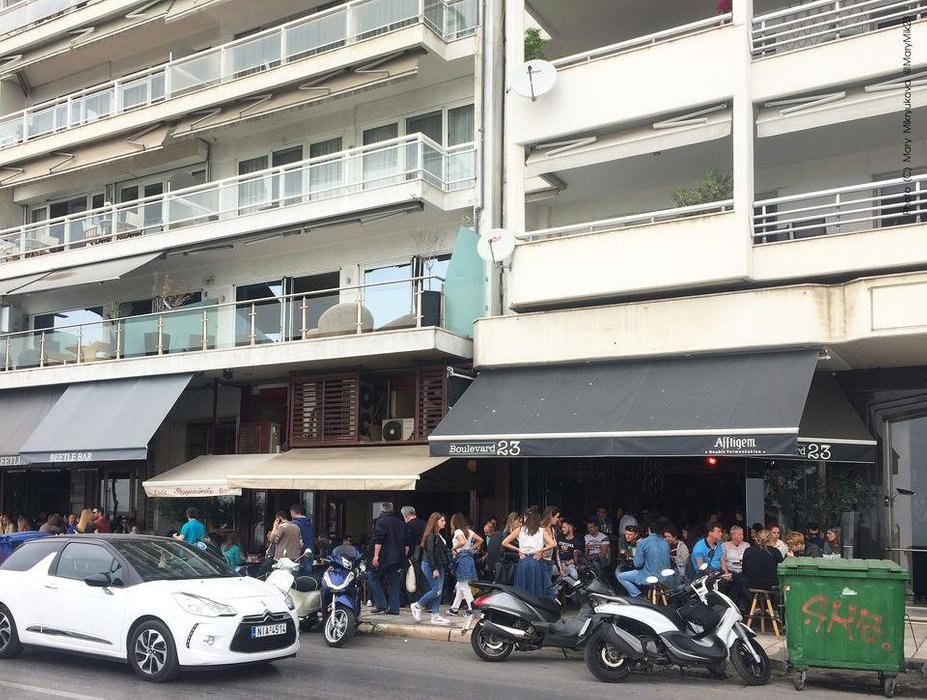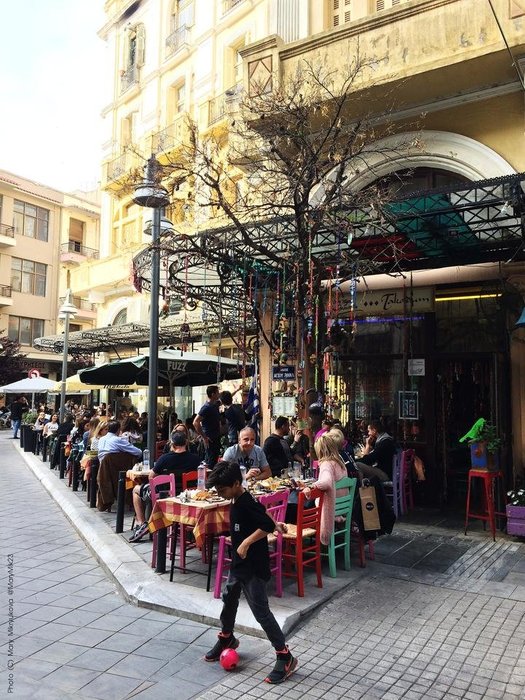 Separately it is necessary to allocate fish restaurants, the sea across the road! They are certainly more expensive, but quite acceptable, a check for two 45-50 euros. Fish and seafood, usually laid out in open storefronts, you can choose your favorite. Specify in advance the weight and the total cost, because the prices in the menu may not correspond to the total weight of the fish.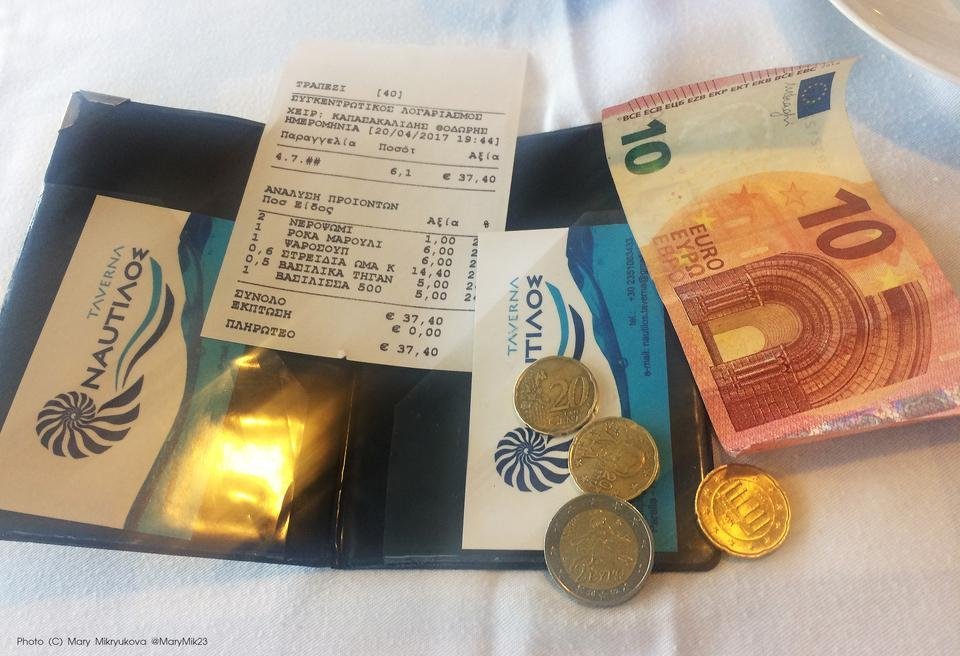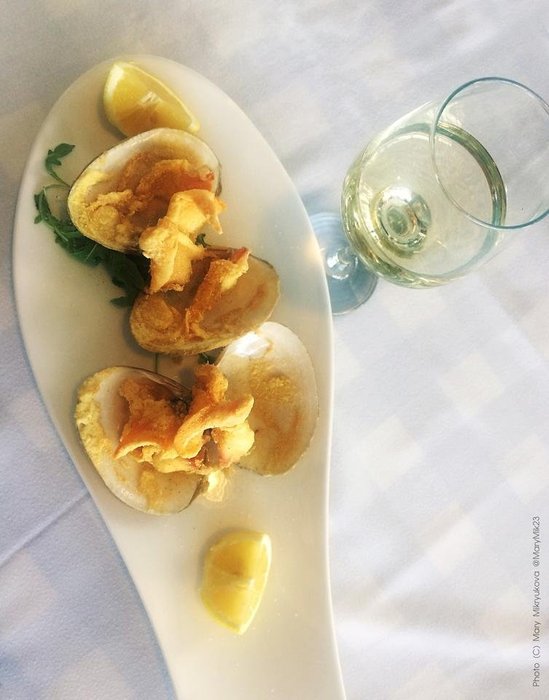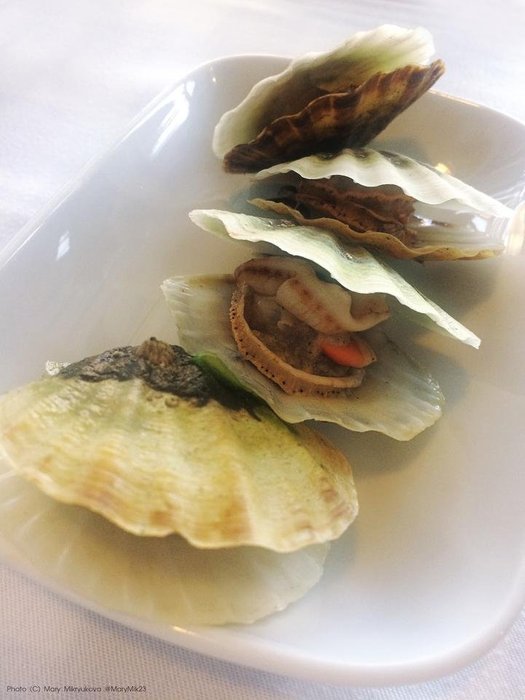 It's a good thing that I do not like seafood ))) They seduced me with a baked Royal Callista, but even she didn't make much of an impression on me. But shrimp, cooked in different variations - this is my favorite dish! The most delicious shrimp I tried in Tenerife. But everyone has their own tastes and fresh, freshly caught shrimp on the grill must be eaten in Greece!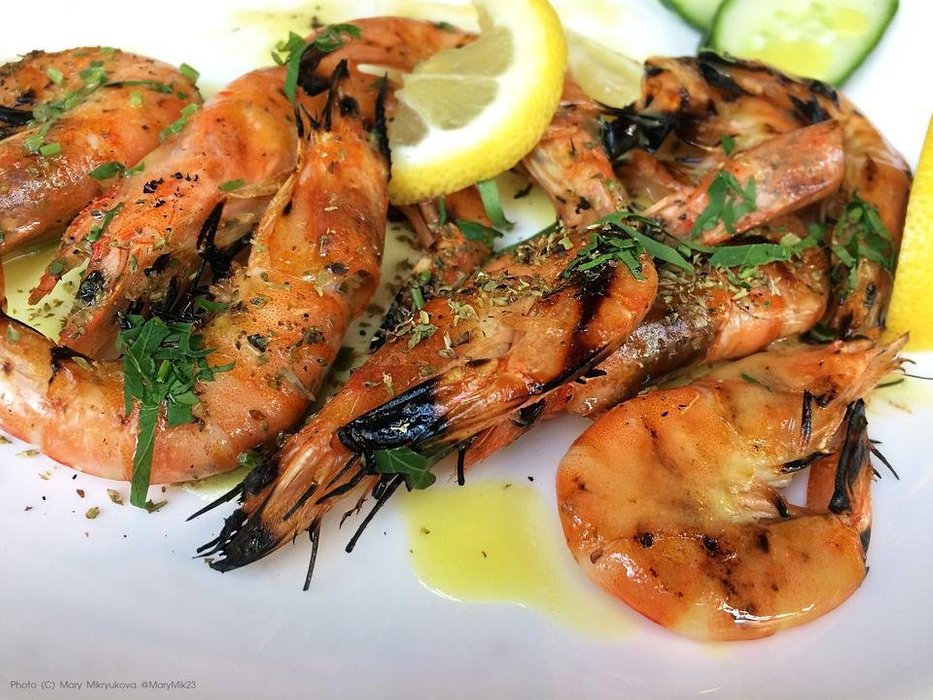 It's nice that in every restaurant at the end of dinner you get a delicious dessert as a gift ))). I warn you about it specially, do not order dessert at once, but wait until the end of dinner, maybe you will get it for free. It can be delicious cakes, or donuts, ice cream. Even if you are already full and do not want a dessert, you will be asked to take it with you to try later. Such courtesy is very impressive.
And yet, the Greeks are very happy when you show awareness, you know the names of dishes, and especially - the varieties of local beer! Therefore, take advantage of my advice to eat deliciously in Greece and to give pleasure to yourself and others around you.
---
In my blog you will find many stories about the sights of Greece and my drawings. I really hope that you enjoyed it all. Please write me a comment ;)
Text, photos and good mood - ©Copyright @marymik23 (04.06.2018)