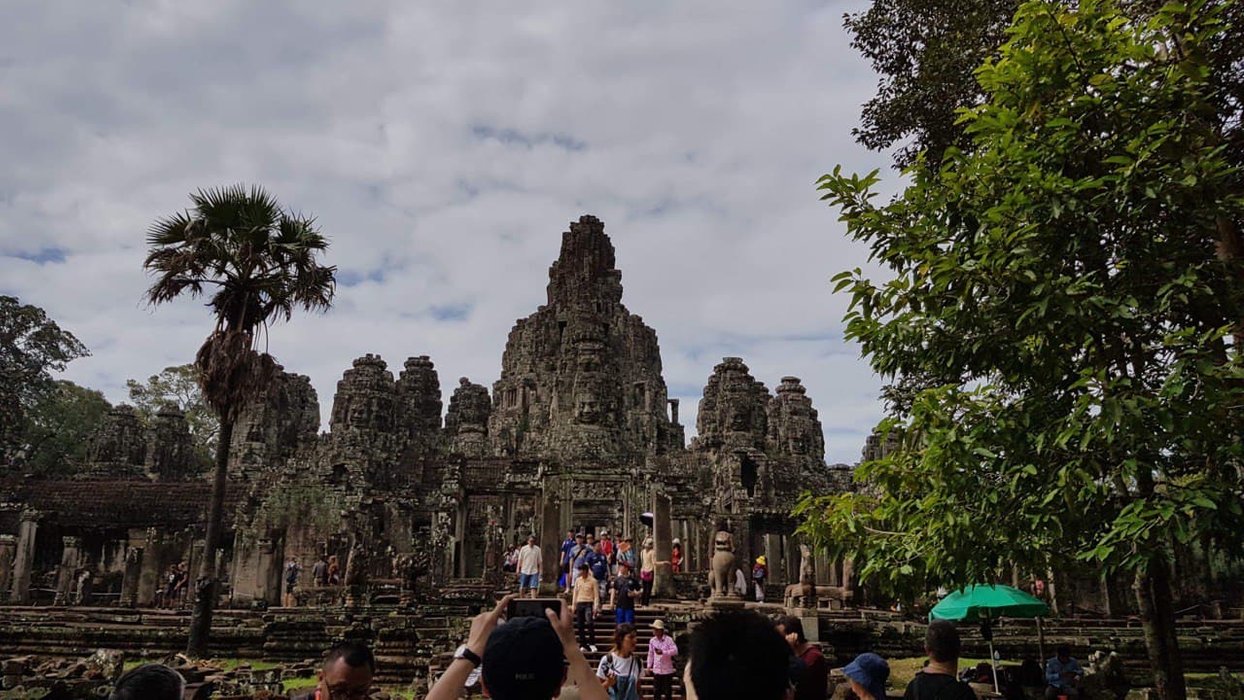 I am an avid traveler 😄✈🌎🗺
My trip blog continues...as I wrote in my previous trip blog, I am addicted to travel. LOL. I love traveling around the world visiting amazing places all over the world. Due to the Covid19 pandemic, I could not travel as I wished last year so that I am just soring out the old travel pictures I took in 2018.
So, after we visited Halong Bay in Vietnam, we flew to Cambodia to visit Angkor Wat, a magnificent Khmer city of temples in Siem Reap, Cambodia. I have wanted to visit Angkor Wat for a long time since my childhood when I read about it on National Geographic, the traveling and geographic magazine which my father was reading. The reason why I said YES! to my mother to join this tour when she asked me to come with her is to visit Angkor Wat! At last, my dream has come true!
Resort Hotel in Siem Reap
To tell the truth, I usually do not stay in a resort hotel when I travel because of my travel budget, and also I personally believe that resort hotels do not have local-like feelings which I want to feel when I visit a new country where I have never visited before. As you know, all resort hotels have a very similar luxurious feeling which makes visitors special. I like it to feel so sometimes, but I did not use it for a long time since I got so used to using Airbnb these days or Hostels where I go. But, this trip was exceptional since I was with my 70-year-old mother. I do not want her to feel that she is a needy backpacker like me again when I travel with her. So, we decided to stay Sokha Angkor Resort Hotel, which was pretty gorgeous and luxurious as we expected. Wow!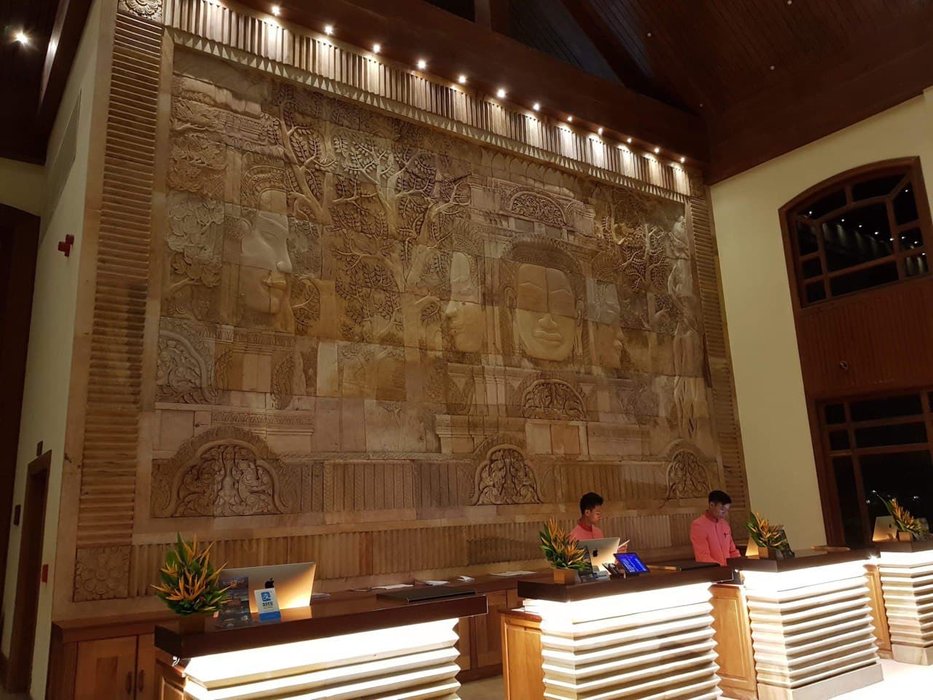 When I arrived at the hotel, I was amazed by this huge relief which is a motief of Angkor Wat, a smile of Khmer. The reception desk was decorated with tropical flowers and the hotel staff was pretty well trained and very welcoming. 😀🙏
There is a big swing which is hanged from the ceiling in the reception. It was so cozy to sit on the swing and listen to Cambodian music they play at the reception desk.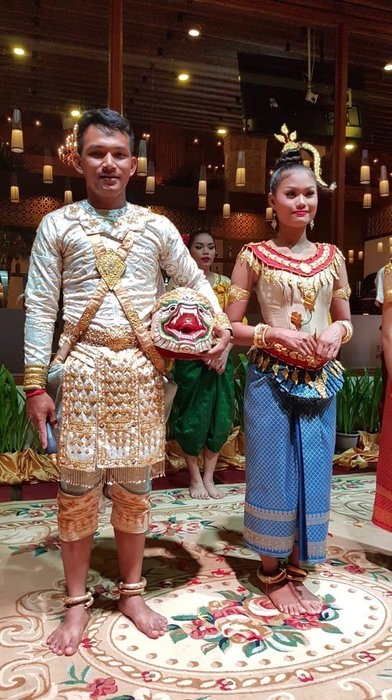 One of the best memories we had at the hotel was a dancing performance at dinner. When we were at the dinner table eating our dinner, Khmer dancers performed the traditional Khmer dances which were depicted a love story between a young Khmer warrior and a young girl who fell in love. Their customers were embroidered so beautifully with gold strings and they were wearing beautiful gold arm and angle bracelets. Female dancers performed a group dance which was synchronized so well and it was like I was watching a synchronized artistic swimming performance in the Olympic Games. 😃👏👏👏 I remembered that I videotaped the performance and forgot where I stored it. LOL! If I find where I saved it, I would like to post it later. 
Trip to Angkor Watt!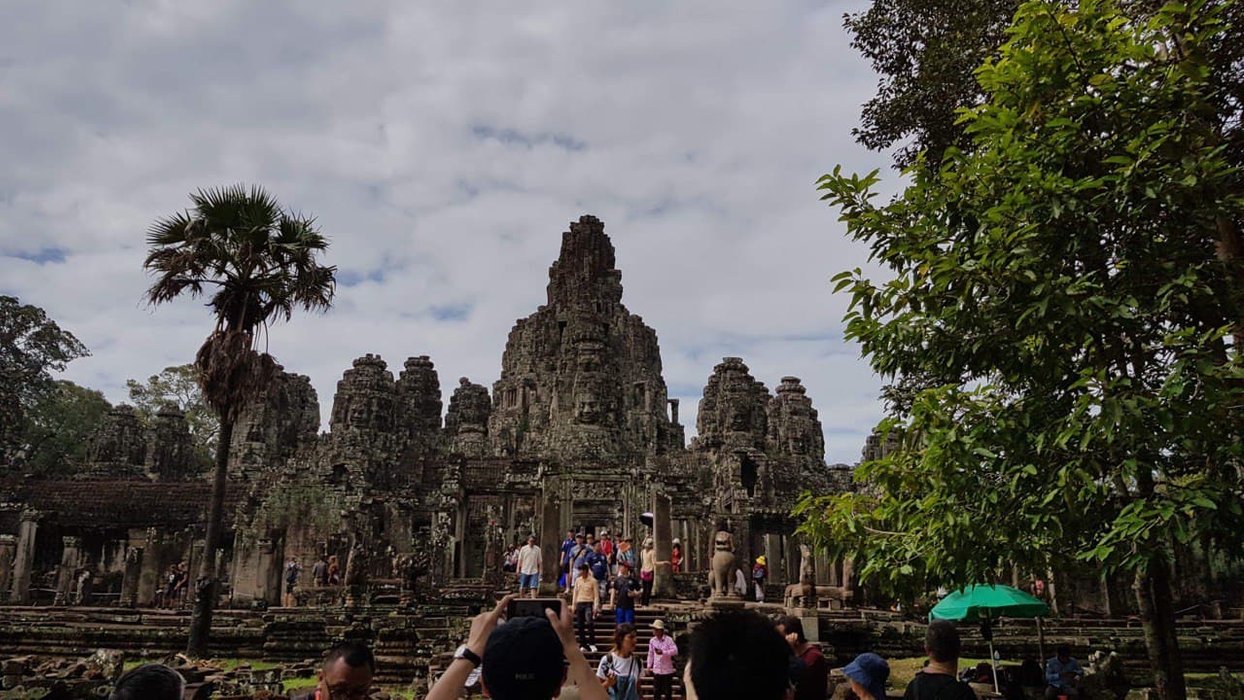 The next morning, the staff of the hotel drove us to a visitor center of Angkor Wat to purchase an entrance badge. It took some time to take a picture as an ID and paid for it. So, I would recommend leaving the hotel with some extra time to do so, but after you get the entrance badge you can use it for the whole day or even you can purchase a week pass, which I would like to buy next time I visit there!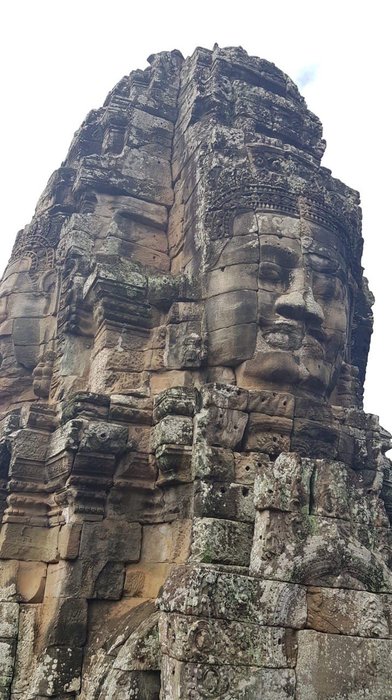 Angkor Wat is HUGE! From the hotel, it took about 15 minutes to the visitor center then we arrived at the entrance of Angkor Wat. From the entrance, we walked around Angkor Wat. The whole area of Angkor Wat is very large and widespread so that it would be nice to be prepared for a long walk in the humid temperature. Do not forget to wear long sleeves and mosquito spray otherwise you will suffer from getting bit by tons of mosquitoes. 😅
As I wrote before, it was a tour of Angkor Watt, so that we just had to follow a guide. And, I couldn't go where I wanted to visit and see. 😑 Plus, we were a bit in a rush since the area is pretty big and widespread, so we were walking pretty fast. I was a bit disappointed since I wanted to see more, but well, it was a tour, and being on a tour is like this! Thus, I really want to come back here again and stay there for a week, at least to see not only Angkor Watt but other Wats (temples) in the area. 
As you may realize that reliefs are built up using many different pieces of stone. It is like a big puzzle of art the ancient Khmer people built up to create Angkor Wat, this magnificent ancient capital of South East Asia. I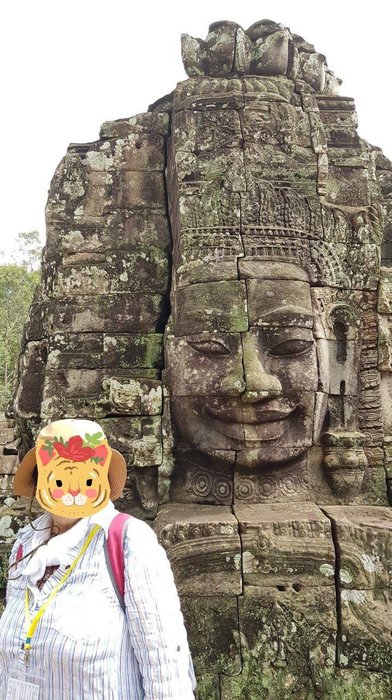 My mother is around 70 years old, and it was such a challenging walk for her to Angkor Wat in this humid temperature. There are many steps in the remains of Angkor Wat, so it would be better if you wear hiking shoes. Never wear heels because they will damage the remains, plus you would regret that your legs will be sour! 
It was nice to travel with my mother to have this wonderful travel memory. 😃👏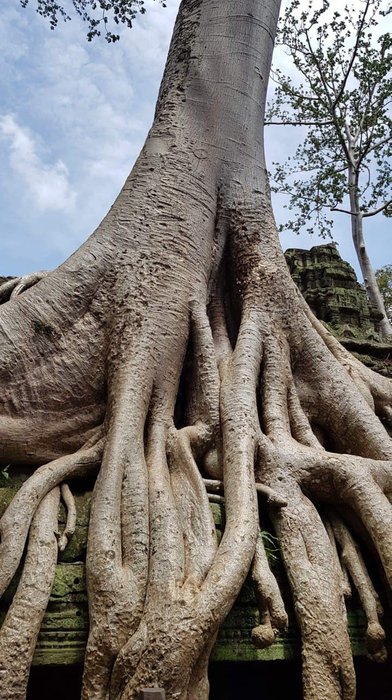 In the remains of Angkor Wat, there were many scholars who are researching the area. It seems that Japanese, French and American scholars were cooperating with each other to preserve the remains as well as excavating to research the area for new discovery. 😃👍 Also, many of the areas were covered by the big roots of trees like this picture above, so that this UNESCO World Heritage was once registered on the Danger List of World Heritage. I hope they preserve these wonderful remains for the next generation.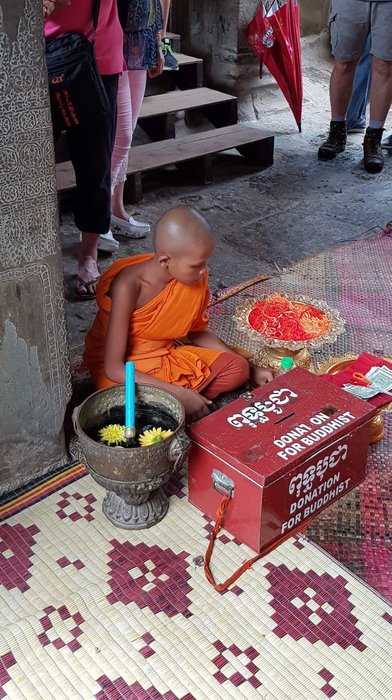 And also, it is important to keep in mind that Angkor Wat is a religious place for many Buddhists. Like this young monk in the picture above, there were many monks and visitors who were praying to statues of Buddhist deities and Buddhist guardians. So, it is important to show some respect to them as a visitor of this wonderful place. 
After visiting Angkor Wat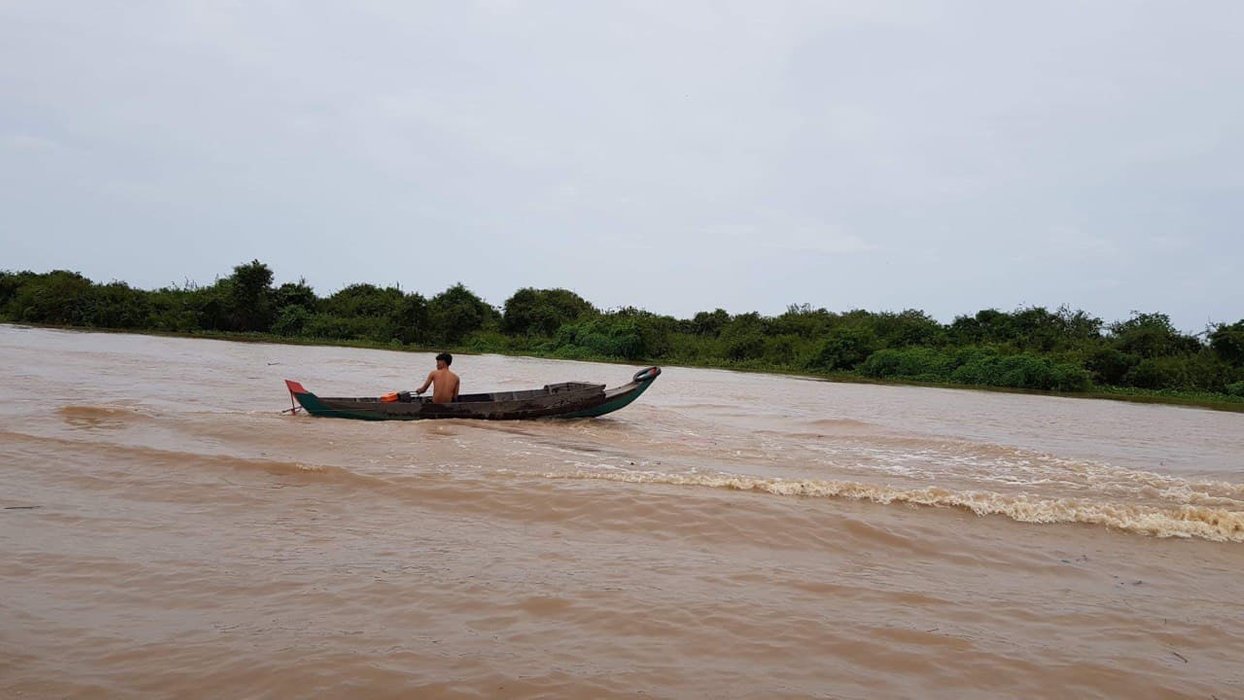 After we visited Angkor Wat, we drove to Tonle Sap lake where is located 30 minutes away from the remains. We took a boat trip on the lake to visit a floating island on the lake. It was nice to feel the fresh and cool air from the lake on the boat.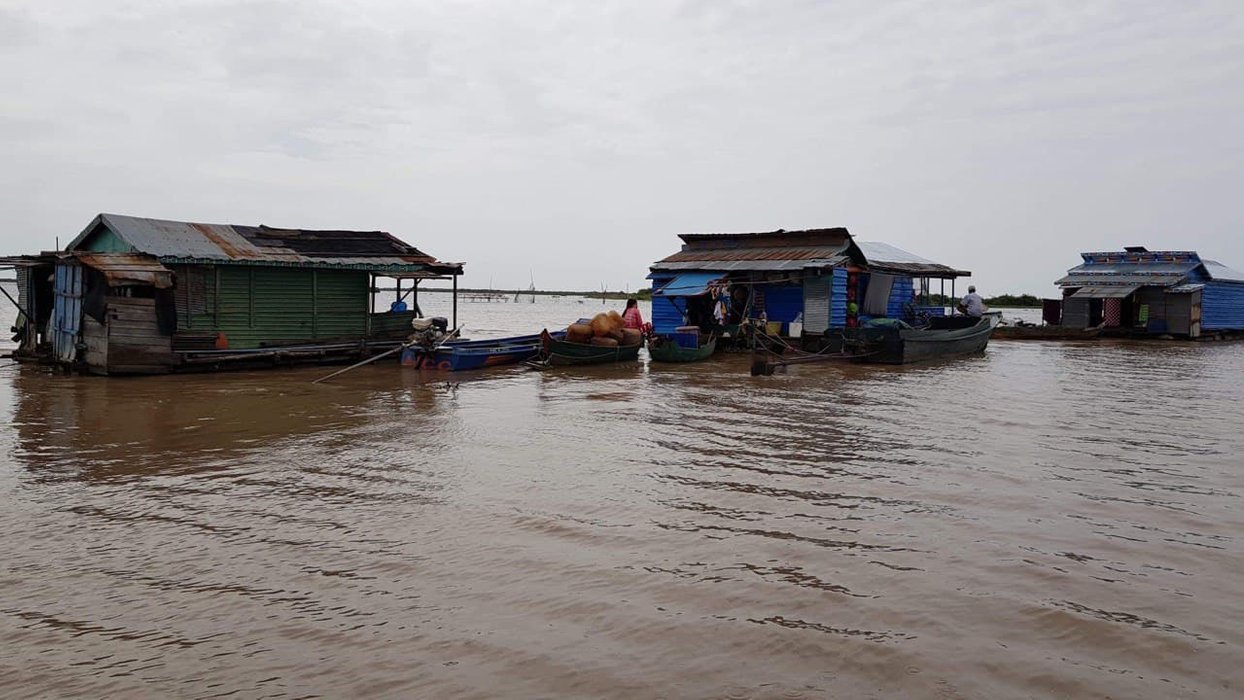 It seems that there are many people who live on this lake. And, the guide explained that there were many alligators in the lake so that many people got killed by them....😑😅 But, today, they hunt almost all of them so it is safe to live on the lake now. 👍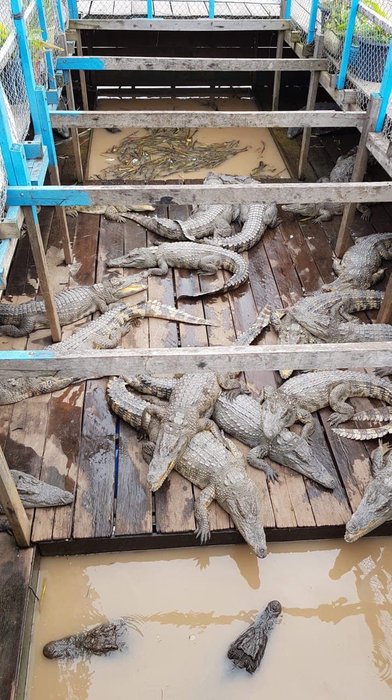 This artificial floating island was made for tourists. And, on the island, there is a cafe which raises many alligators they hunt from the lake. 😅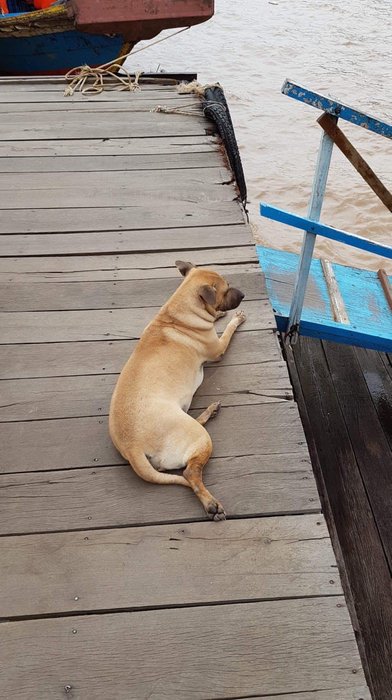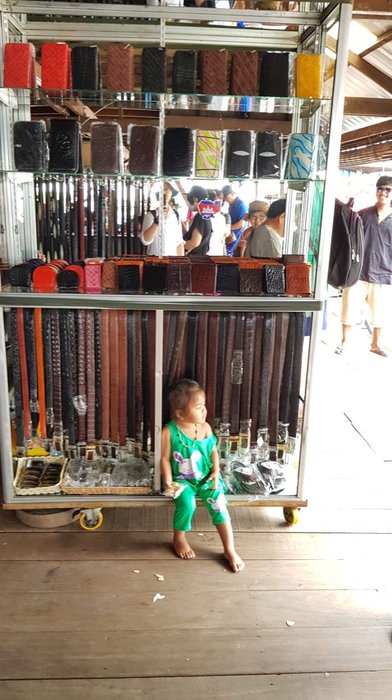 It seems that tourism is one of the biggest incomes they earn on this lake. Many adults were working so hard to attract as many tourists as possible, but it was so cute to see that their kids were not interested in these tourists at all, and like this cute little girl, she was tired and sitting on the rack of souvenirs which her parents were selling. I hope their business is OK during this Covid19 crisis. 😃🙏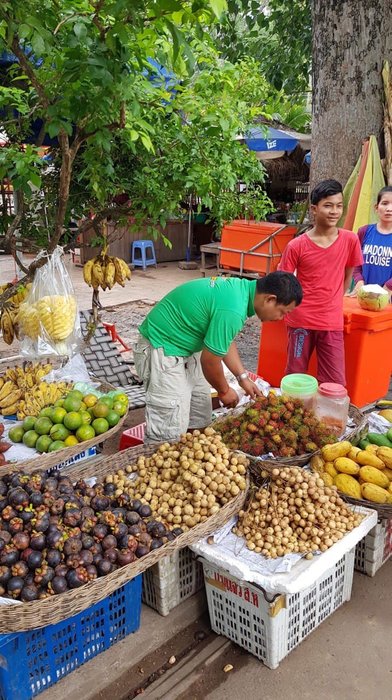 There were many street fruits sales on our way back to the hotel. While we had a toilet break, I walked up to this street shop to buy my favorite fruit, mangosteens!! Loved them so much!!