Der nächste Tag began am frühen morgen - Genau genommen um 7:30 Uhr. Mit dem kostenlos geliehenen Fahrrad meines Hostels ging es bei entspannten 25 Grad los Richtung Ausgrabungsstätte der Maya in Tulum. Die Mayastätte in Tulum ist einer der bekanntesten Ausgrabungsstätten in ganz Mexico. Vor dem Eingang tummeln sich entsprechend viele Händler und Straßenkünstler, was man aber auch mal erlebt haben sollte.
Gegen Mittag ist es hier ziemlich überfüllt, deswegen ist eine frühe Anreise sehr zu empfehlen.
The next day started early in the morning - actually at 7:30 am. With the free rented bike of my hostel, at relaxed 25 degrees I started to the excavation site of the Maya in Tulum. The Mayan excavation site in Tulum is one of the most famous in Mexico. In front of the entrance there are a lot of merchants and street artists, a thing you should have experienced once.
Around noon it is quite crowded here, so an early arrival is highly recommended.

Voladores und Kokosnuss
Die ''Los Voladores'' auf Deutsch ''Die Fliegenden'' ist ein Tanzritual der Mayas, welches hunderte Jahre alt ist.
Dabei klettern 5 Männer auf einen ca. 30 Meter hohen Mast. Einer davon setzt sich auf eine am Mast befestigte Plattform und spielt Flöte, die 4 anderen lassen sich mit einem Seil von einer drehbaren Plattform (kopfüber!) hinab. Man sagte mir der Flötenspieler solle die Sonne darstellen und die 4 herumwirbelnden Tänzer die 4 Elemente - Erde, Wasser, Feuer, Luft. Leider habe Ich vom Tanz keine Bilder, die Vorbereitungen dauern sehr lange und auf dem Nachhauseweg ist mein Akku leer gewesen. :(
Voladores and coconut
The ''Los Voladores'' in English ''The flying ones'' is a Mayan dance ritual that is hundreds of years old.
5 men climb a mast about 30 meters high. One of them sits on a platform attached to the mast and plays flute, the other four spin down with a rope from a rotating platform (upside down!). I was told that the flute player should represent the sun and the 4 whirling dancers the 4 elements - earth, water, fire, air. Unfortunately I have no pictures of the dance, the preparations take a very long time and on the way home the battery of my camera was empty. :(

Be sure to click on the image to view full screen!
---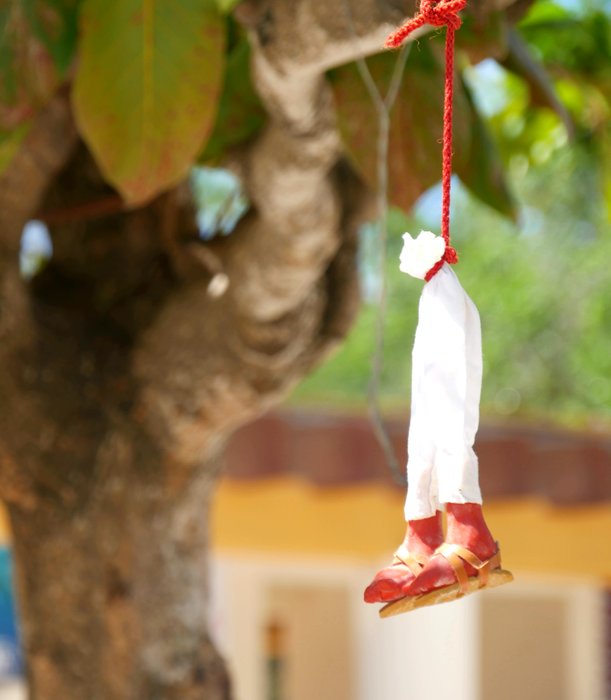 Be sure to click on the image to view full screen!

Bevor es nun endlich in die alte Mayastätte ging, gönnte Ich mir noch eine frische Kokosnuss von diesem coolen Typen!
Before it finally went to the old Mayan site, I got myself a fresh coconut from this awesome dude!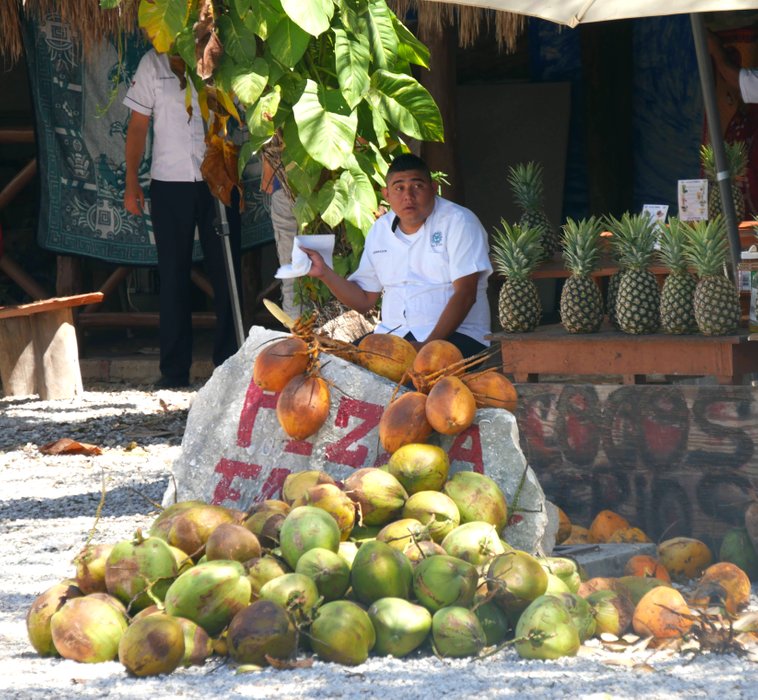 Be sure to click on the image to view full screen!

Hereinspaziert
Nachdem Ich mich bei den Händlern umgeschaut habe, jedoch nichts kaufte, da alles viel zu teuer gewesen ist - kauft lieber auf kleinen Märkten ein, betrat Ich endlich die Mayastätte. Ein mystischer toller und teilweise verwunschener Ort, den man bei einem Eintritt von 52 Pesos (umgerechnet 2.50 Euro) unbedingt besuchen sollte. Direkt am Meer gelegen, kann man nur erahnen wie paradiesisch die Mayas gelebt haben müssen. In späteren Blogeinträgen werde Ich mehr auf die Kultur der Maya eingehen. Für das erste lasse Ich die Bilder für sich sprechen.
Walk right in
I did not buy anything at the merchants market, because everything was too expensive - rather shop in small markets. I finally entered the Mayan site. A mystical and partly enchanted place, which is definitely worth a visit. you only have to pay an entrance fee of 52 pesos (equivalent to 2.50 Euro). Located directly at the sea, you can only guess how paradisiacal the Mayas must have lived. In later blog entries I will go into more detail about the Mayan culture. For now I let the pictures speak for themselves.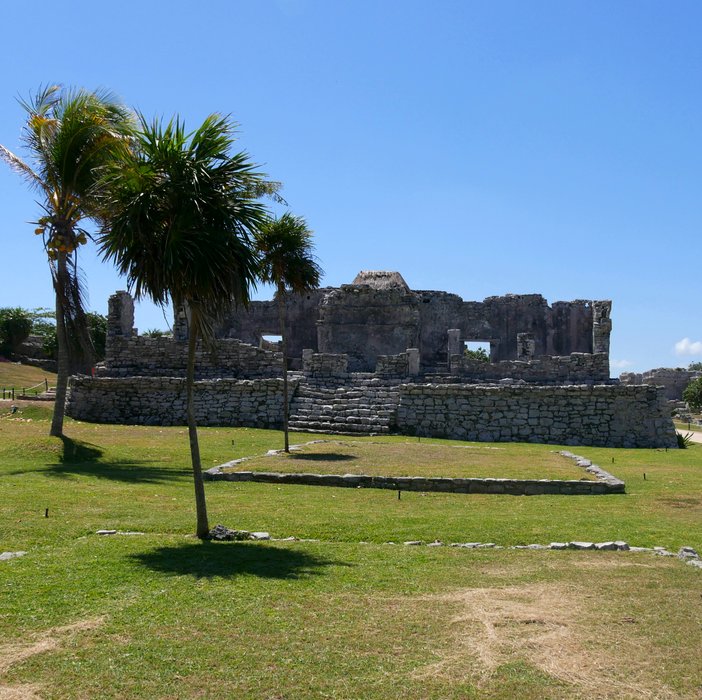 Be sure to click on the image to view full screen!
---

Be sure to click on the image to view full screen!
---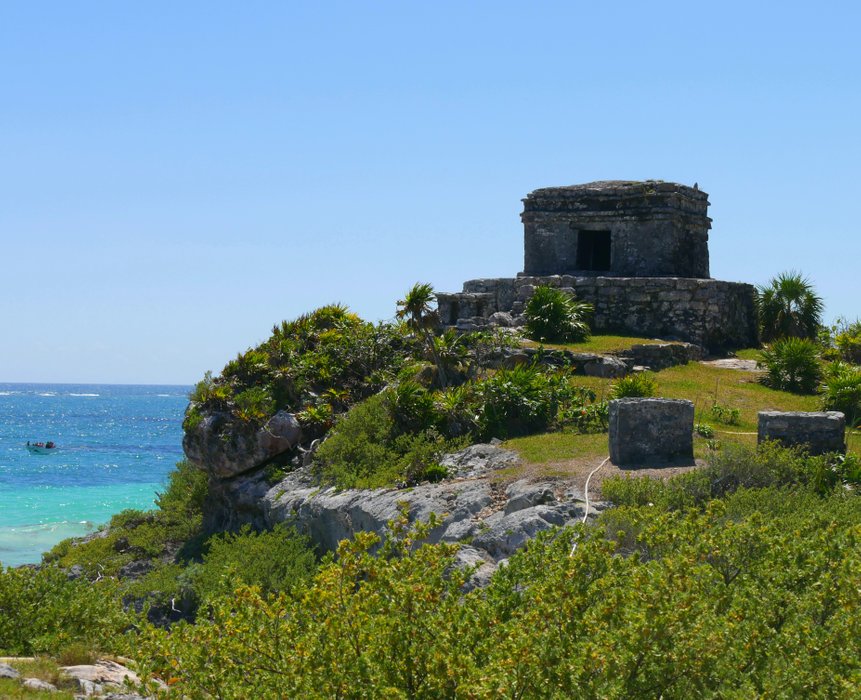 Be sure to click on the image to view full screen!

Bis Bald
Ein herrlicher und ereignisreicher Mittag neigte sich dem Ende zu. Die Tulum Mayastätte ist definitiv einen Besuch wert. Denkt aber dran möglichst früh, am besten schon um 8 Uhr dort zu sein, damit Ihr nicht in einer überfüllten Ausgrabungsstätte ankommt.
See you soon
A wonderful and eventful noon came to an end. The Tulum Maya site is definitely worth a visit. But remember to be there as early as possible, preferably by 8am, so you don't arrive at an overcrowded excavation site.
---
Ein fettes Danke an @rivalzzz , der mir erlaubt hat, seine selbstentworfene Trennlinie farblich zu modifizieren und zu verwenden. Schaut mal bei ihm vorbei. In der letzten Zeit bin Ich sehr in mein Studium eingebunden gewesen und war deshalb nicht sehr aktiv. Wird sich jetzt wieder ändern. Steem on!
A big thanks to @rivalzzz "who allowed me to modify and use his self-designed dividing line. Check him out. Recently I have been very involved in my studies and was therefore not very active. It'll change again now. Steem on!
---
TravelBlogs
Mexico
MoriartyRoue pasion de viajar #1 - Cenote Tulum
Kenya
MoriartyRoue Wanderlust #10 - Kenia - Diani Beach
MoriartyRoue Wanderlust #9 - Kenia - Mombasa Old town
MoriartyRoue Wanderlust #8 - Kenia - Nakuru Lake
MoriartyRoue Wanderlust #7 - Kenia - Aberdare
MoriartyRoue Wanderlust #6 - Kenia - Amboseli Part2
MoriartyRoue Wanderlust #5 - Kenia - Amboseli Part1
MoriartyRoue Wanderlust #4 - Kenia - Maasai Village
MoriartyRoue Wanderlust #3 - Kenia - Hunting Big5
MoriartyRoue Wanderlust #2 Kenia - Mwtapa downtown
MoriartyRoue Wanderlust #1 Kenia - Jambo Mwtapa!