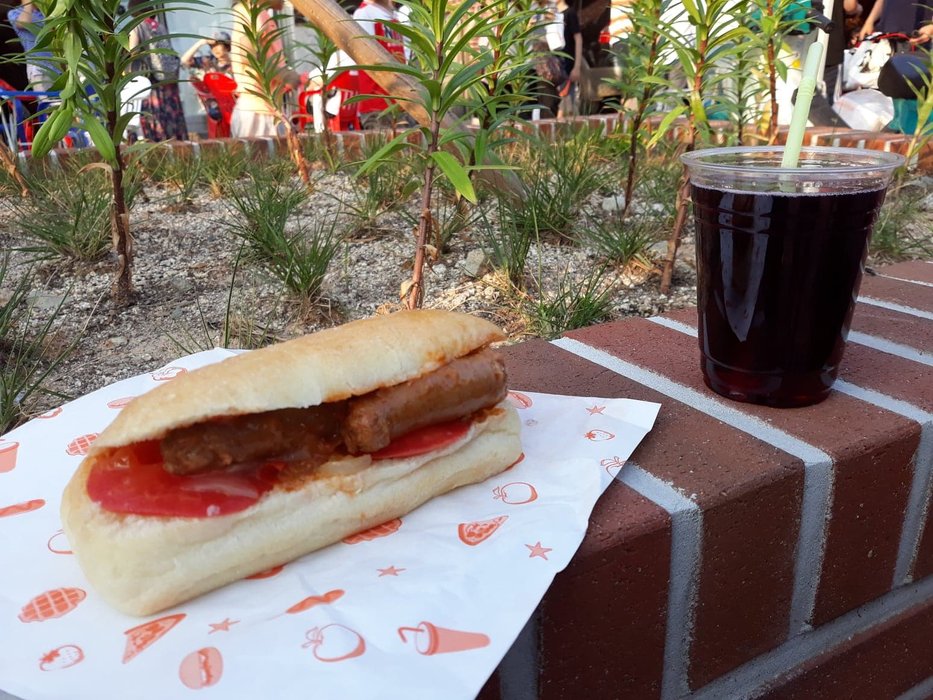 This weekend I went to Seoul with a friend to check out the Global Food Festival in Nurimasil. As a cook of ten years, this was a must visit for me. I came up with a friend Friday night, leaving work early to catch a bus. The next day, we joined another friend and went to the festival together.
We got there a little early, so we decided to have a few drinks on this hot day and escape the heat. What better way than with some frozen fruit soju and fruit, am I right?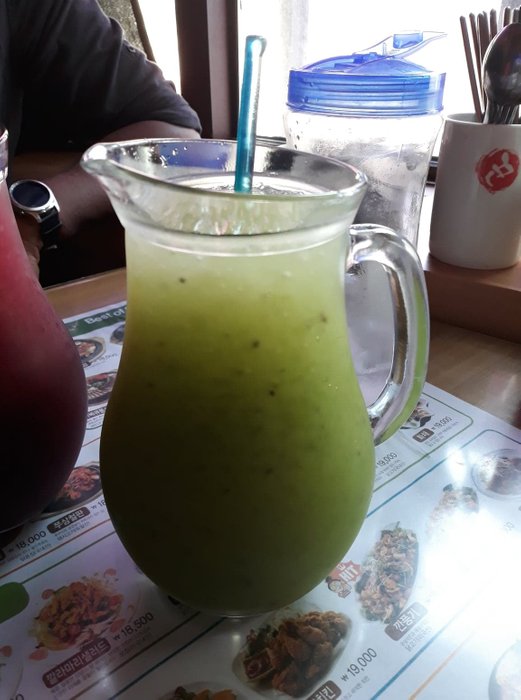 Kiwi Soju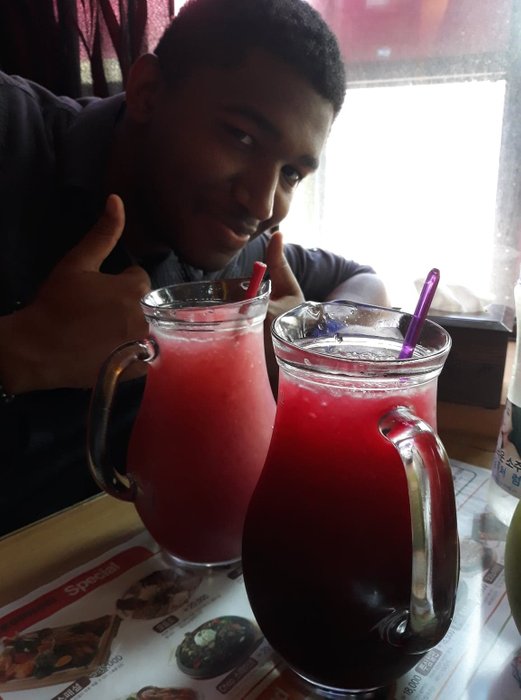 Raspberry and Strawberry Sojus along with my buddy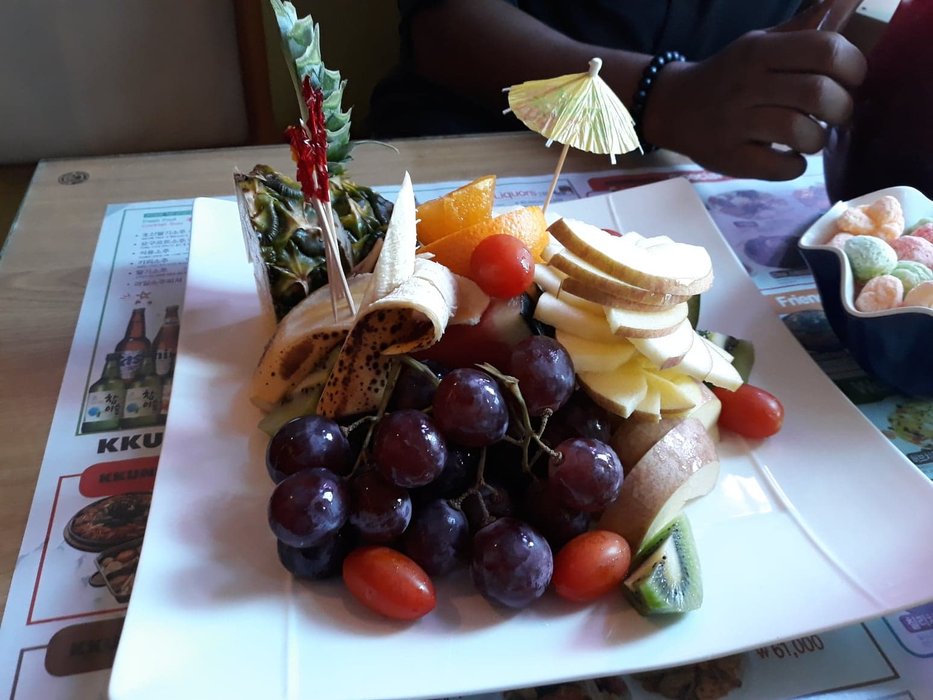 Our fruit platter

Now, the sojus were not that strong (we agreed that they must be purposely weaker); however, they were delicious. Mixing the kiwi and strawberry flavors sounded about as good in theory as it was in practice, by the way. Finishing a pitcher of one of these, you feel more full from the juice you drank than drunk from the alcohol ingested.
The Festival is On!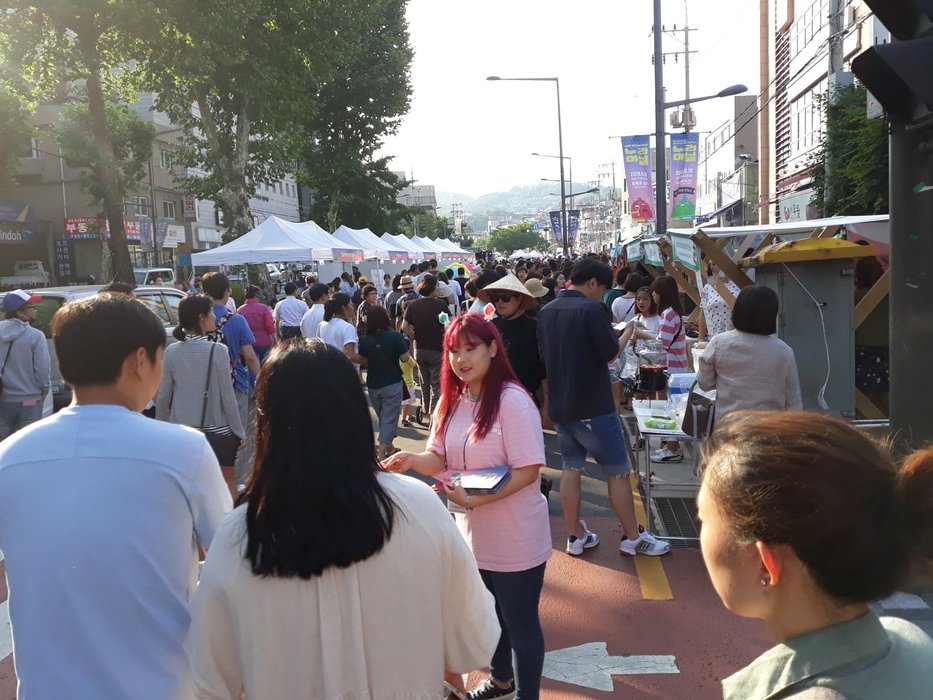 A street view of the festival

The festival spanned the whole main street area with tents set up down the way. Most of them were for food of course, with representatives from each country there making food to sell to people. There were also booths about other country's cultures, ones for outreach programs, hobby goods for sale, etc. Halfway through the line of stalls, there was a performing stage to kick off the festival. The story involves a proud stork and a fox making peace and having a big feast to celebrate. So the stork also greets some of the countries ambassadors as well, which was entertaining to watch. You can view the video below for more details.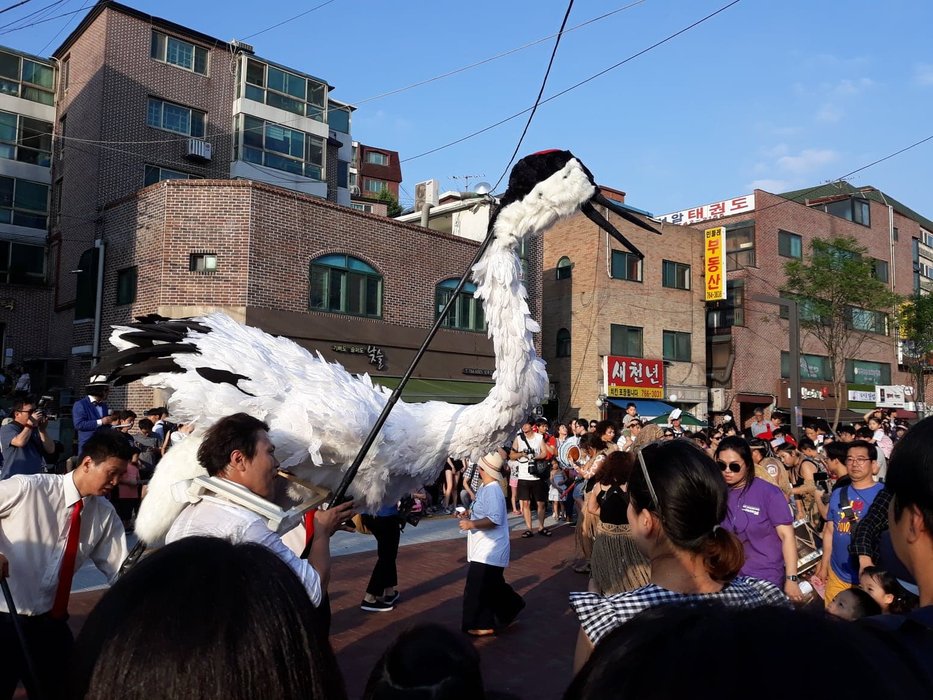 For that Food Already!
Turkish Chicken Kabab Wrap
The first stop on our taste bud's world trip was Turkey! We needed a little something to settle our stomachs after the soju and what better way than some Chicken Kebab wraps. You will often see Turkish stands selling food at festivals, but this had a different flair to it. The wrap had a mint tzatziki sauce to it which mellowed out the heat of the chicken. It was a fascinating flavor combination that I will have to try myself since I have never heard of mint in tzatziki sauce before.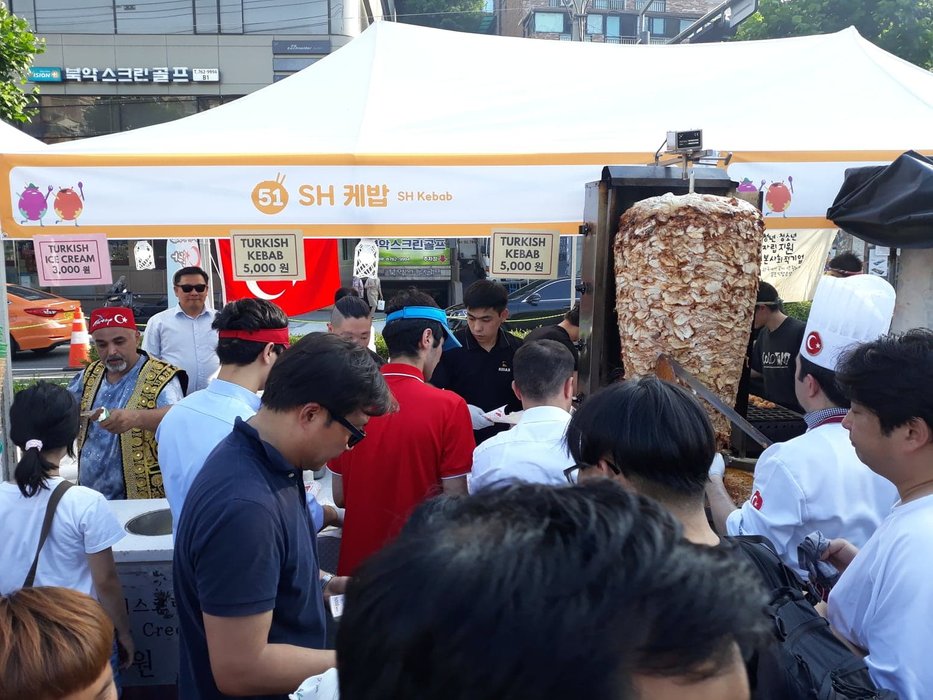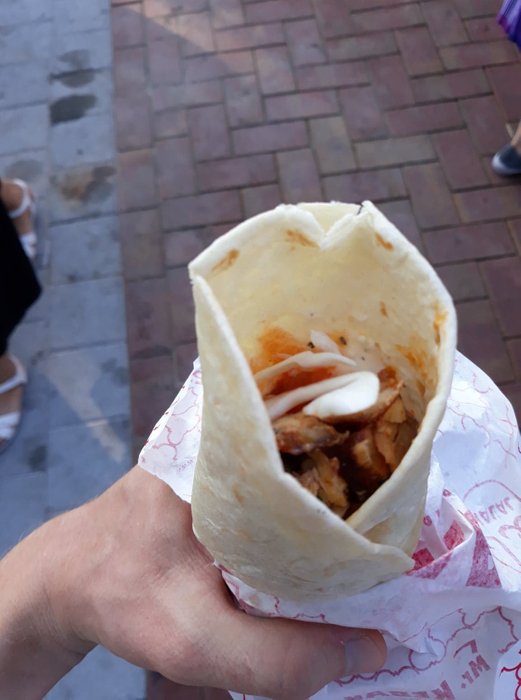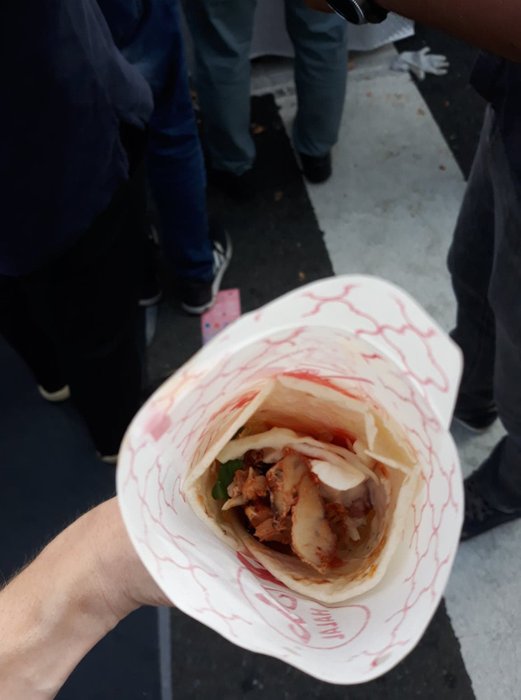 Kenyan Beef Sambusa and Mandazi
Next stop, Kenya for Sambusa and Mandazi. Sambusa is a kind of meat-vegetable pastry, and Mandazi is like a Kenyan donut, both fried and delicious. These bring back memories of when I taught Samolian students back home. We had a potluck near the end of my time working there, and students brought in these very things along with cuts of lamb. As I write this, I think to myself, 'I have never had lamb that was not delicious.' Anyways, if these were good enough to stir up some fond memories and emotions from back home, then they were obviously awesome.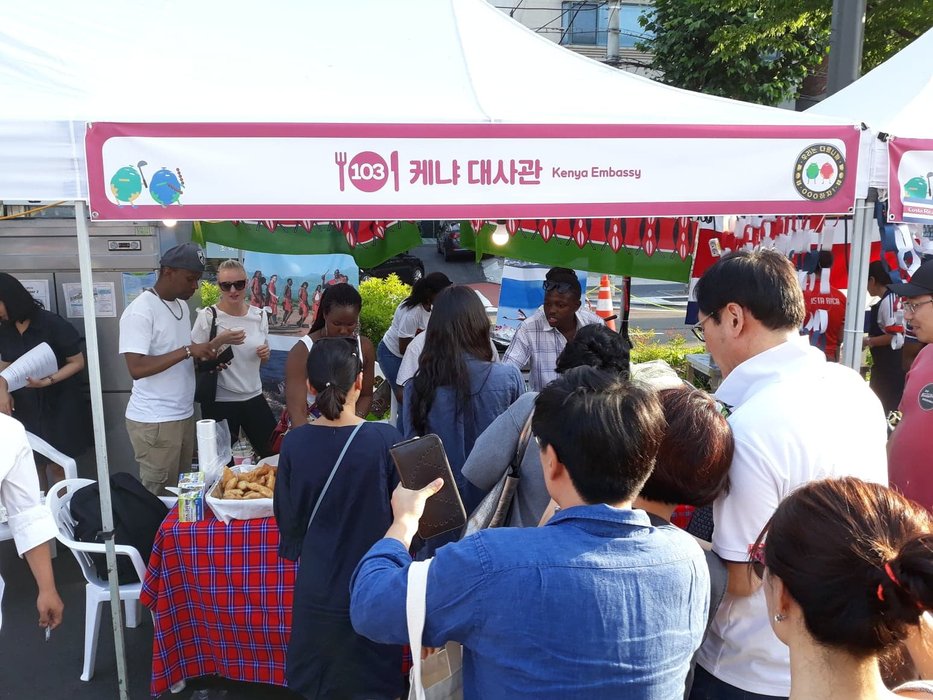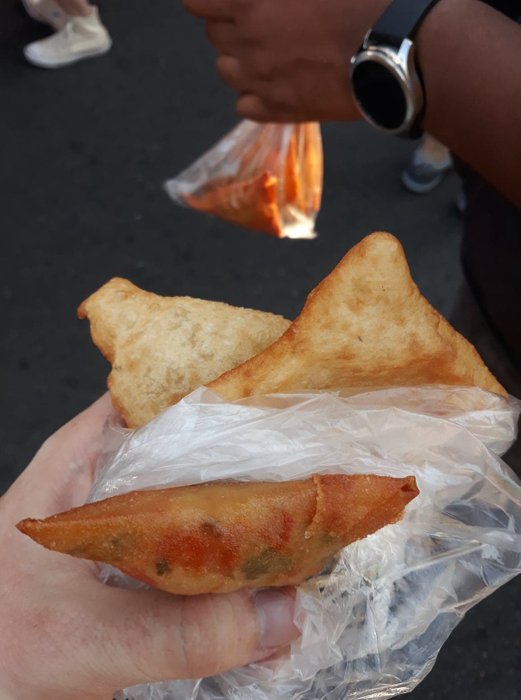 Spanish Chistorra and Sangria
Last stop, Spain! This was the best for last. I had a chistorra, which is chorizo sausage, tomato, onion, and (real) cheese on ciabatta bread. No sauce needed for this sandwich, the tomato and chorizo juices made their own sauce as you ate it and the ciabatta bread soaked it all up, and it was just heavenly. I have written about Mexican restaurants before on here, but none of their chorizos stand a snowball's chance in Hell compared to the sublime balance of spices this meat had to offer our taste buds.
Then, that sangria washed it down leaving me with such a feel-good mood leaving. Which, the woman didn't have ice at the time when I bought it, so she was worried it was a going to be to dry and charged me just half for it. So, that just took the cake for me long before I took a bite!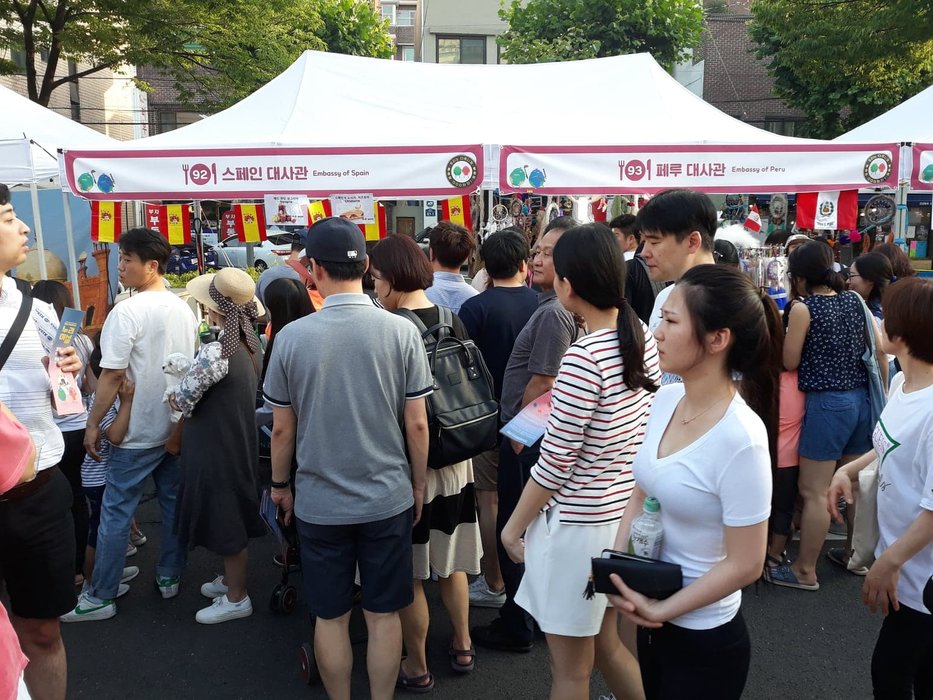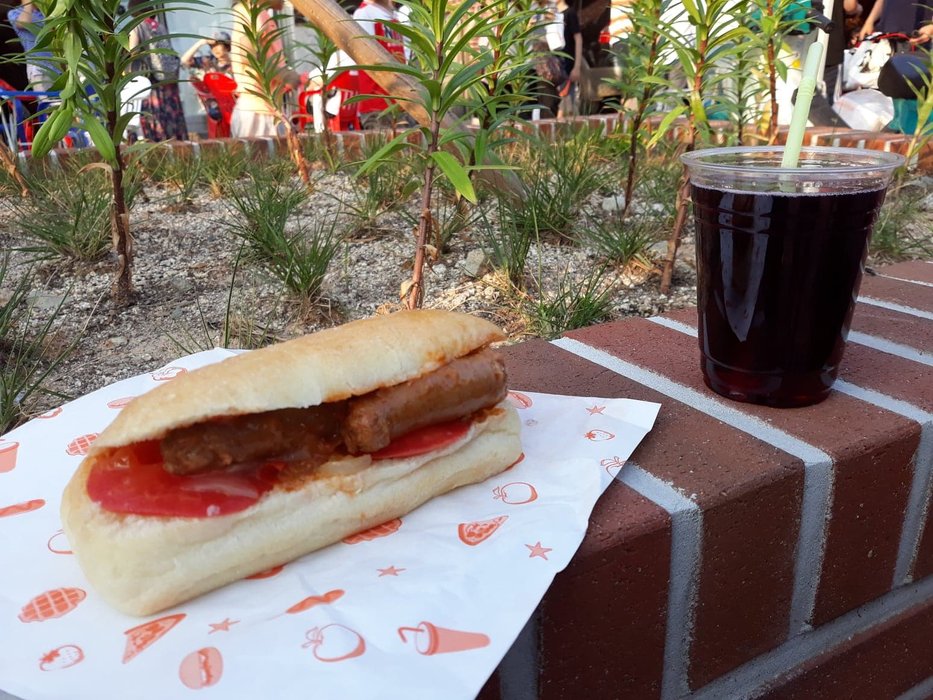 In closing
There was a whole skit going on between the crane and the fox while we were stuffing our faces. By the time we were enjoying our chistorras, it was coming to an end. Did not expect confetti to fly out though, almost dropped my sandwich to get this shot... worth it.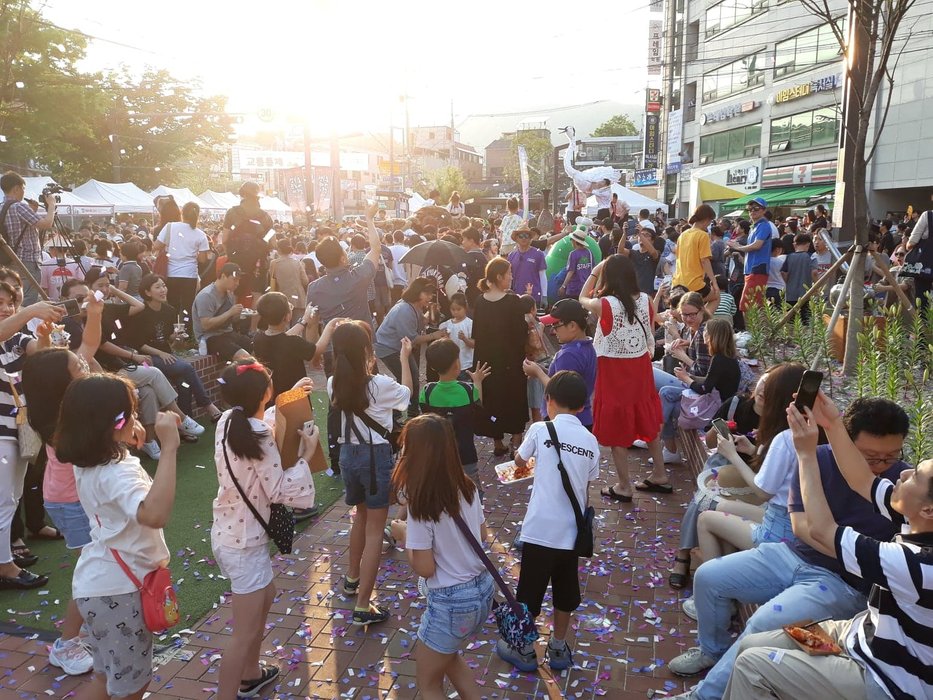 In closing out, I wish I had a bigger stomach. We did not even begin to scratch the surface of this festival. They hold it each year, and I know I need to come back to have another taste of Spain, and Kenya for sure. Turkey, I just need to visit you already since I have your kebabs at every other festival lol
---
---
---
I tend to write about life in Korea as a foreigner, food, photos from trips, and things teaching related. If that interest you and you like this post, please give me a vote and follow
Fellow minnows can use Busy and Steemfollower to get more upvotes and followers, my referral links are below respectively:
https://busy.org/i/@mr-bike
https://steemfollower.com/?r=14715
Until then,
Ride on!