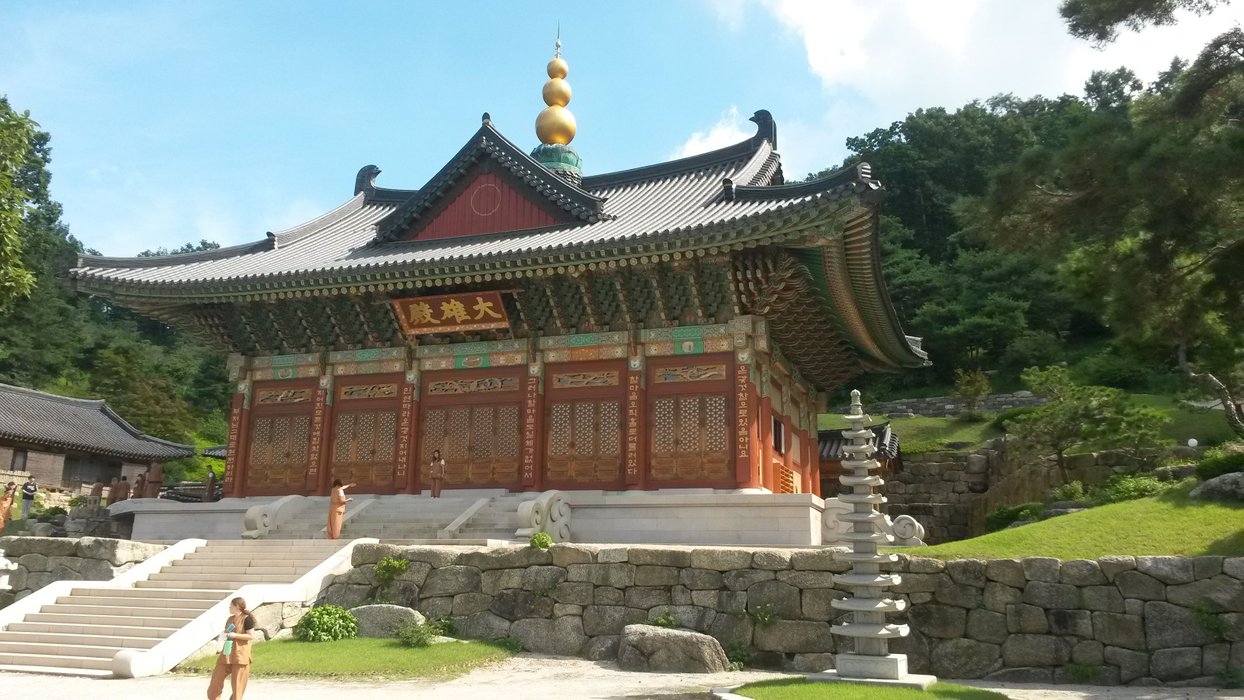 This was a temple stay that I did while doing my Fulbright orientation. We had to pick at least 2 extra curricular activities while we were in orientation and this was one that I chose along with Korean cooking. This was through the Hanmaun Seon Center wonderful people behind this program.
We took a bus up to the area for about 3 hours and when we came to the temple stay we were greeted by the staff, super nice people. From there we got our gowns for the temple stay (super freaking comfy! Wish I could get this material for pajamas lol). We then paticipated in a monastery meal. You may here this a few times in this blog but I didn't take photos out of respect; however, here is a video explaining a monastery meal 😉
Souce
The Dharma Hall Day One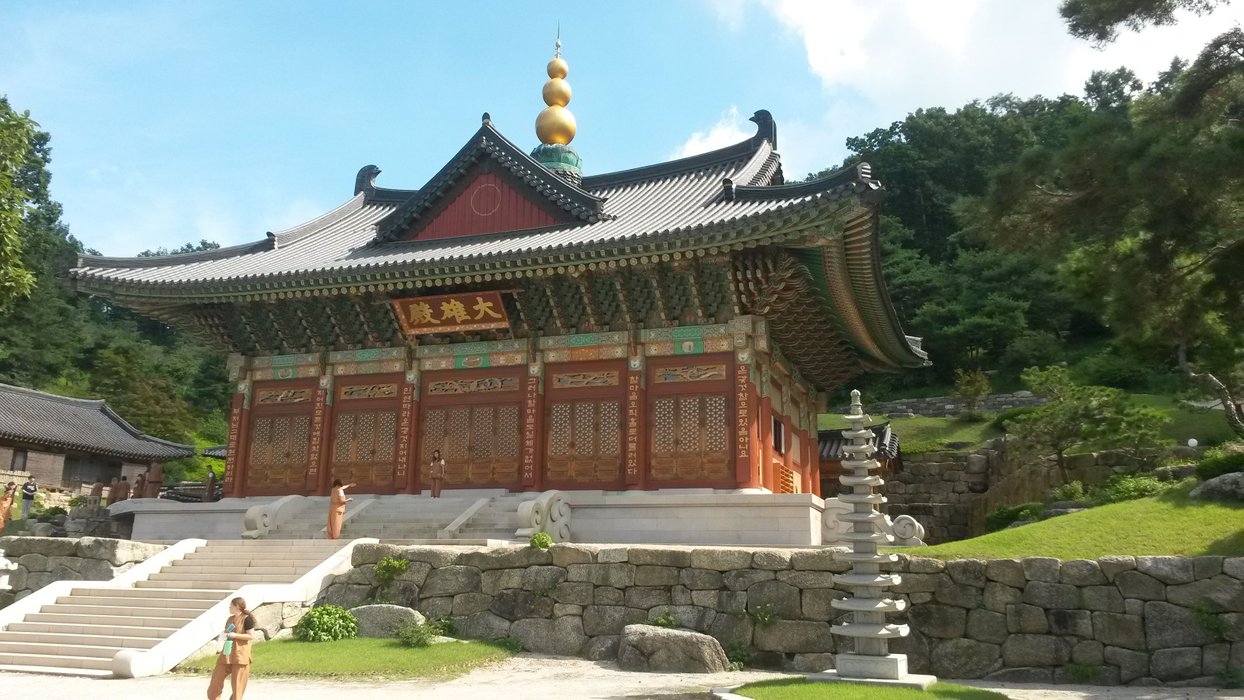 This is the Dharma Hall, the main place for rituals and mediation for the monks. We continued here for a prayer/meditation before we slept. Also, we learned the process of bows for when you enter a dharma hall. You bow 3 times when you enter facing the Buddha, then three more times for each family member, lastly you biw three times when you leave. So, I have to bow 24 times!
I didn't take any pictures inside because that is considered incredibly disrespectful of the practice. I can describe it though, there is a huge statue of a golden Buddha inside with a painting of all the other Buddhas that have attained enlightenment. There are also bells and food offerings up to the Buddha.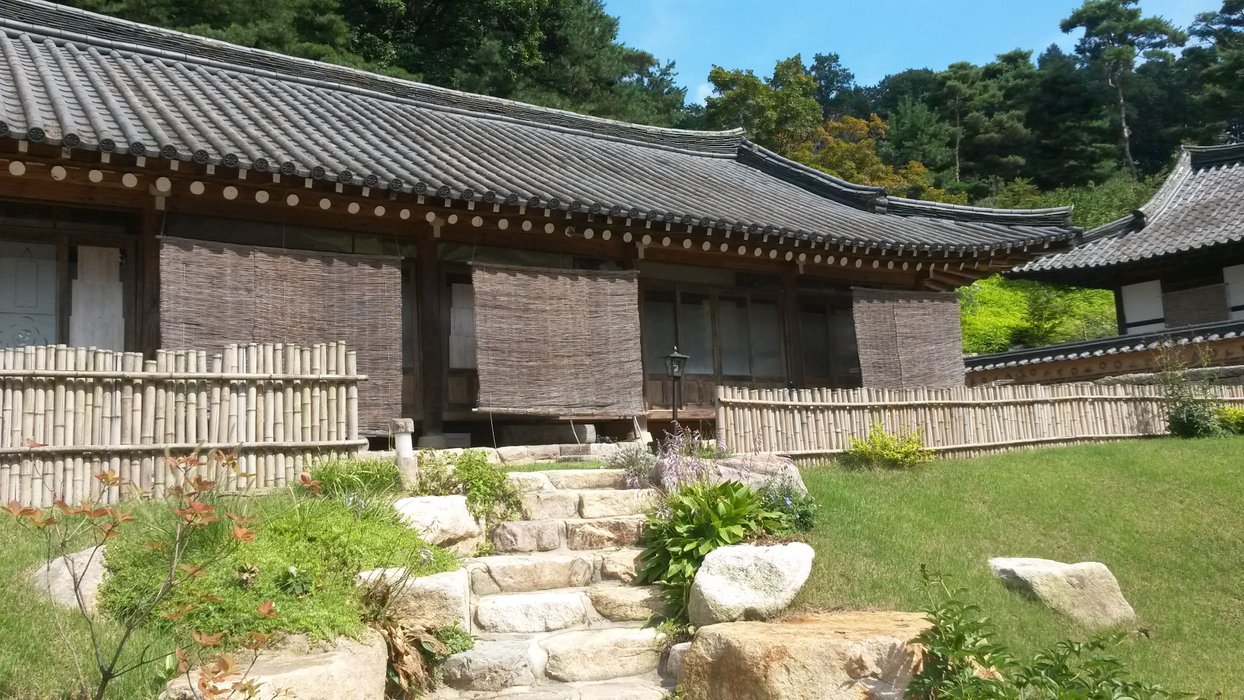 These are the houses that the monks sleep in from the temple. Simple design and arrangements.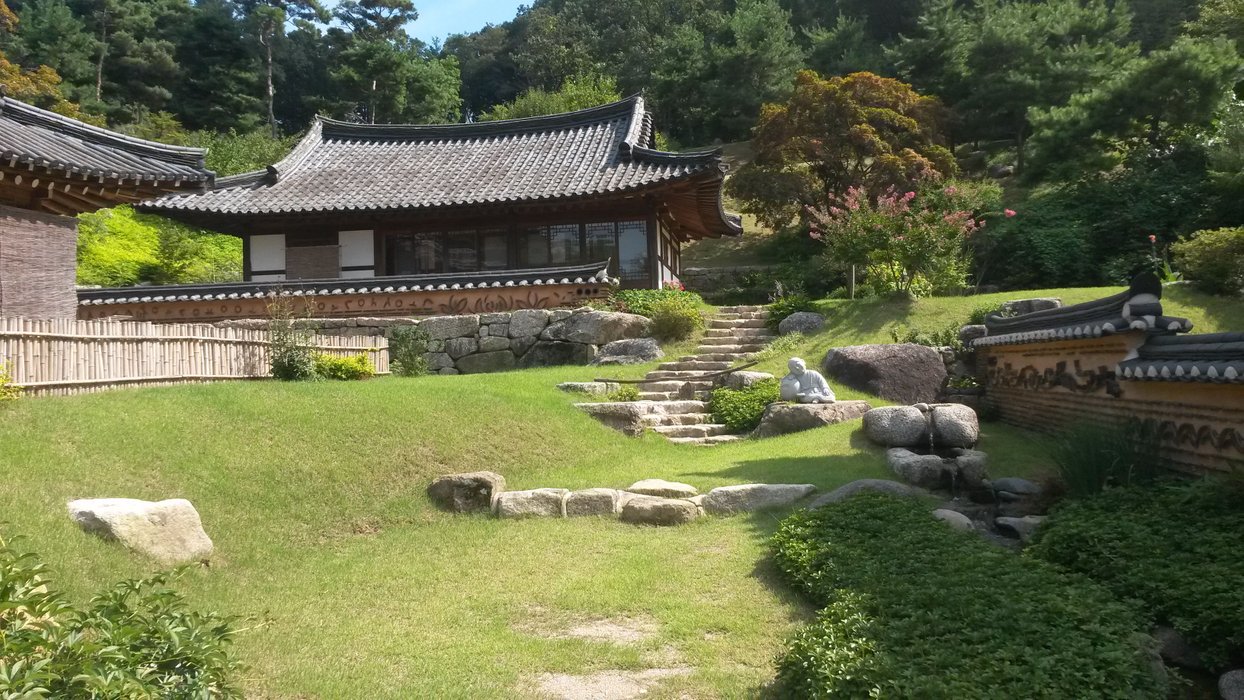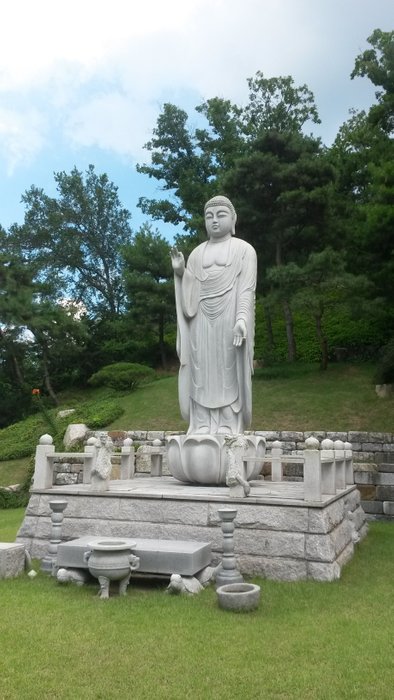 A statue outside, not sure if it was the Buddha or just a monk.
Day Two of Meditation
We got up and had a light breakfast and went to meditate and learned about the history of Buddhism. We also got to experience some Buddhist songs and games. :)
After this we met individually with monks in small groups to talk with them about individual points of Buddhism and we got to make fans and prayer bracelets....that I will have to upload later cause I didn't take pictures at that time 😂.....
We also made a lotus candle holder that we were told to make with care. So this is the candle before spreading it out.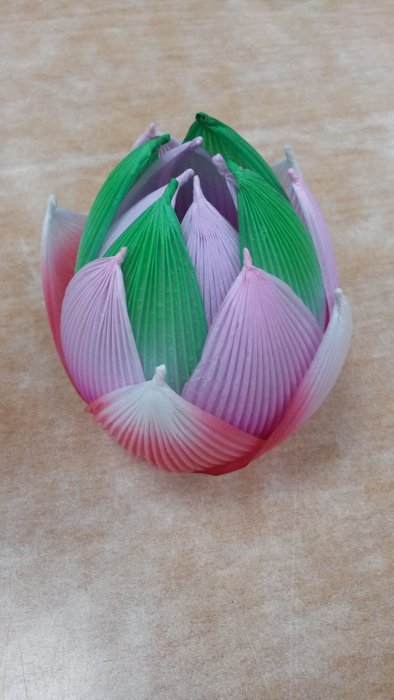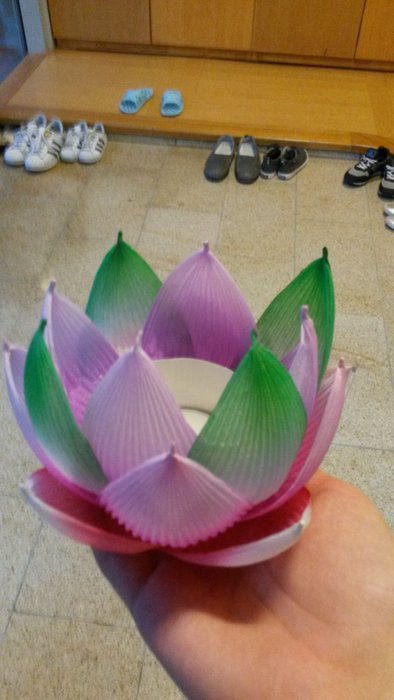 With the petals pulled out 😍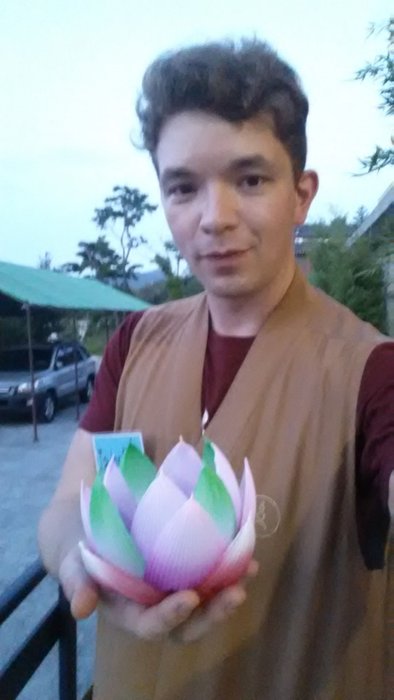 Back to the dharma hall!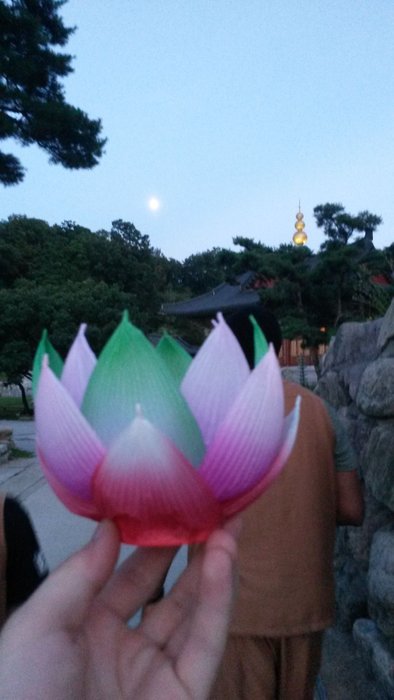 In the dharma hall we lit the candles and they were meant to represent our spirit and we meditated thinking about the change that we want in ourselves. We only had our candles lit after we could feel that change within ourselves and feel our inner light.
Honestly, I felt something that night, similar to what people would say is the presence of a god. Then, when we had our candles lit we walked around chanting in the dharma hall. We were told to take that feeling that we had and the changes that we want to see, hold onto it and feed our inner light....
Reflecting back on that feeling, I can honestly say thay despite feeling a devine presence, I haven't held onto it 😂 oops....anyways.. There was a 6am meditation session in the morning which I did attend, though.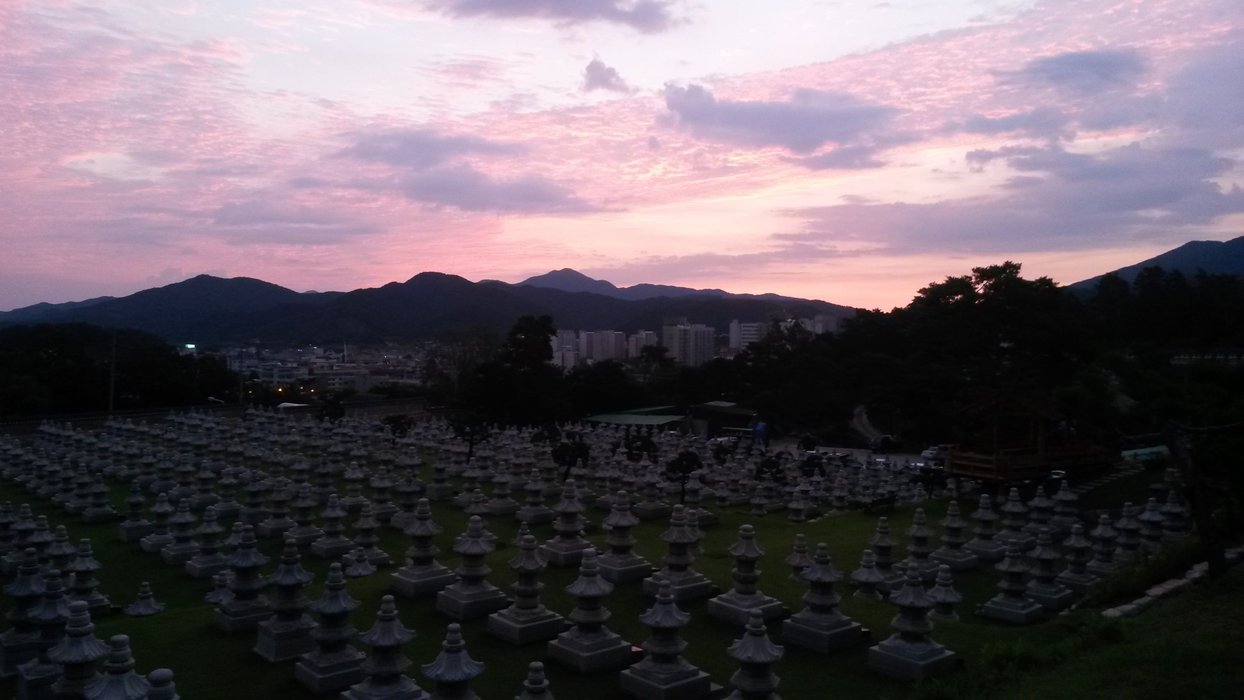 Sunrise before morning meditation.
Last Day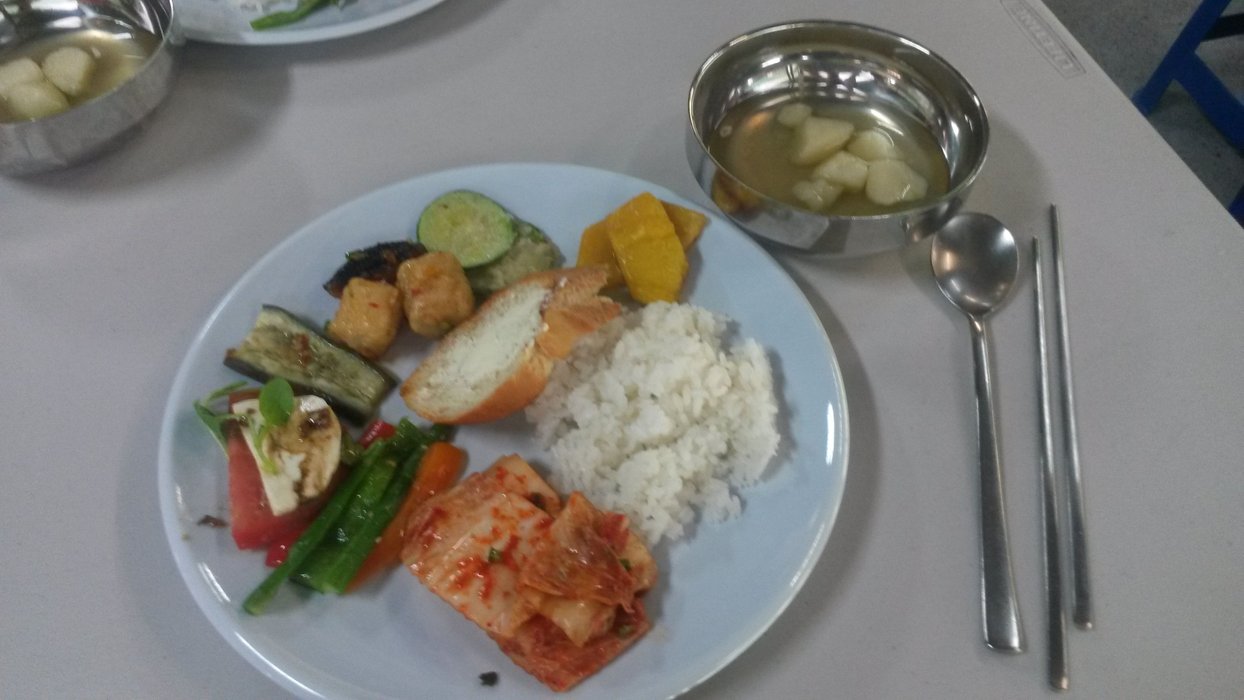 Our breakfast on the last day. It isn't normal for monks to have this kind of breakfast. At the end of Temple stays they have this special breakfast made for the visitors. One thing to point out though, do not take more than you can eat, know your limit and don't be wasteful. Just a forewarning if you want to do a temple stay.
After breakfast we returned our temple garments, I got a couple books for my parents that might interest them and said our goodbyes. Super nice people everyone there, wish I would have taken some of the worker's phone numbers to keep in contact. 😓 If you are a volunteer at these temples let me know 😉
If you have an interest in doing a temple stay, I highly recommend it. It is a truly unique experience that cannot be recreated. Even if you have no interest in Buddhism yourself, you can still enjoy the peacefulness of a few days rest.

---
---
---
I tend to write about life in Korea as a foreigner, food, photos from trips, and things teaching related. If that interest you and you like this post, please give me a vote and follow 👍
Fellow minnows can use Busy and Steemfollower to get more upvotes and followers, my referral links are below respectively:
https://busy.org/i/@mr-bike
https://steemfollower.com/?r=14715
Until then,
Ride on!