Heyho stinky travelers! Let's get off the beaten track to go fishing in southern Brazil.
---
Shaka-boom readers, the good thing about Brazil is that there are all those astonishing well known sexy spots, the cristal clear beaches and, for the more adventurers, maybe the Amazon forest with its hungry gigantic-ass snakes that can eat you alive.
Buuuuuut... there's also the hidden gems that lay under the radars of the big tourism industry, such as the Estrada do Inferno presented on my previous posts. Then, deeper into the places people definitely don't go, there are the uttermost master blaster tranquility of the yuge Brazilian nature.
On this post I'll bring you to a place that for sure you won't go, but hopefully it'll inspire you to come to Brazil to seek new adventures away from the beaches. Let's go fishing on one of Brazil's river - the Camaquã river, in the southernmost state called Rio Grande do Sul.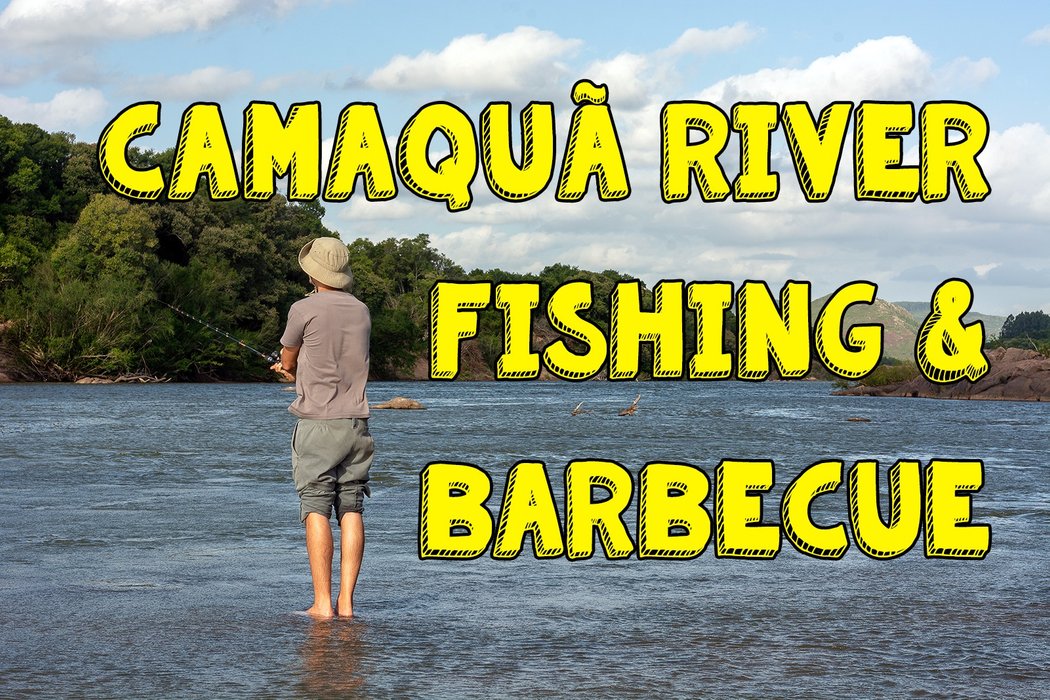 ---
I had just arrived in Porto Alegre after cycling the 400 km on the Estrada do Inferno, a trip that I did with two purposes; one to adventure on that unknown area, the second because I had planned to meet my friends in Porto Alegre and go straight to a fishing trip on the Camaquã river. I must say that both objectives were a success, apart from my friend Leandro, basically demanding that I went straight to the shower upon arrival, the only thing left for him to do was to grab his slipper and throw it on my ear. That's how lovely my friends can be, even after two or more years that I didn't see them, due to my other adventures solo.
― God dammit, you look like a homeless! Shower, now! Then we'll eat. ― Mom He demanded.
I couldn't complain, really... as after 4 and a half days cycling under the sun, and only one shower on the way, my situation was clearly not the best.
After so many years without seeing your friends, something epic should happen, it needed to involve camping, barbecue and beer. Some say the master blaster objective was fishing, even though the fish we never saw, but the baits we somehow lost.
However, the most important thing was to have fun and enjoy nature, so we picked our base camp this time wisely, it would be in my friend's farm near the Camaquã river; the place had a simple structure that we could use and one astonishing view of the green mountains and the valleys. Plus, the star of the show, the river, passed just nearby on a deep valley after a forest path.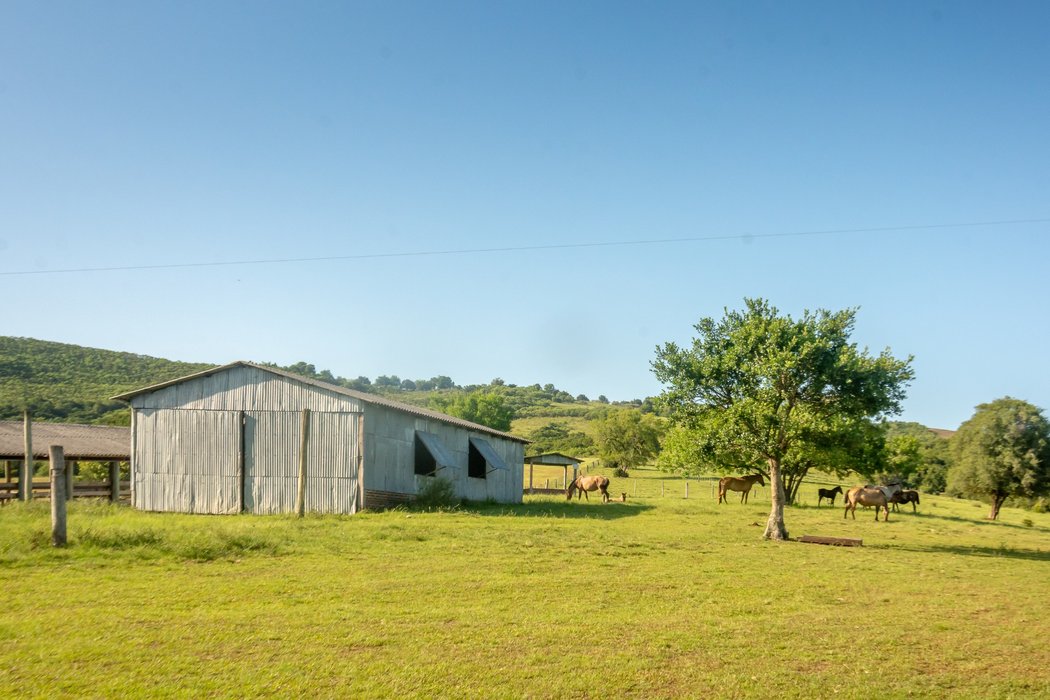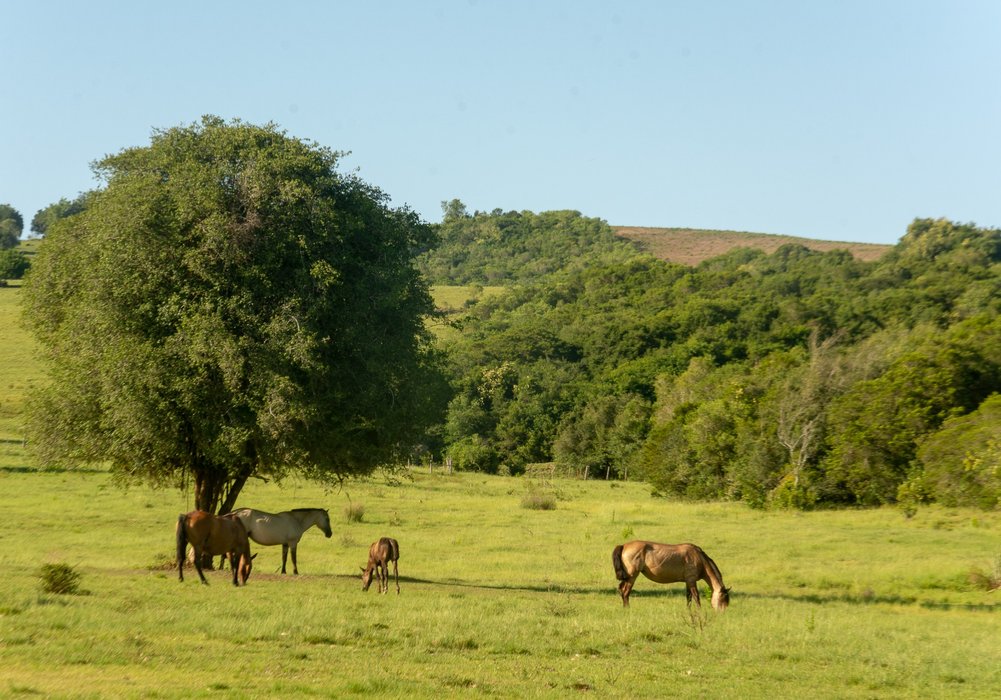 * * *
The name Camaquã is said to be originated from the Indian Tupi-Guarani, and means "river of the valley with the shape of breasts". Another interpretation popularly accepted says that the meaning of the word Camaquã comes from yacuã or "fast river".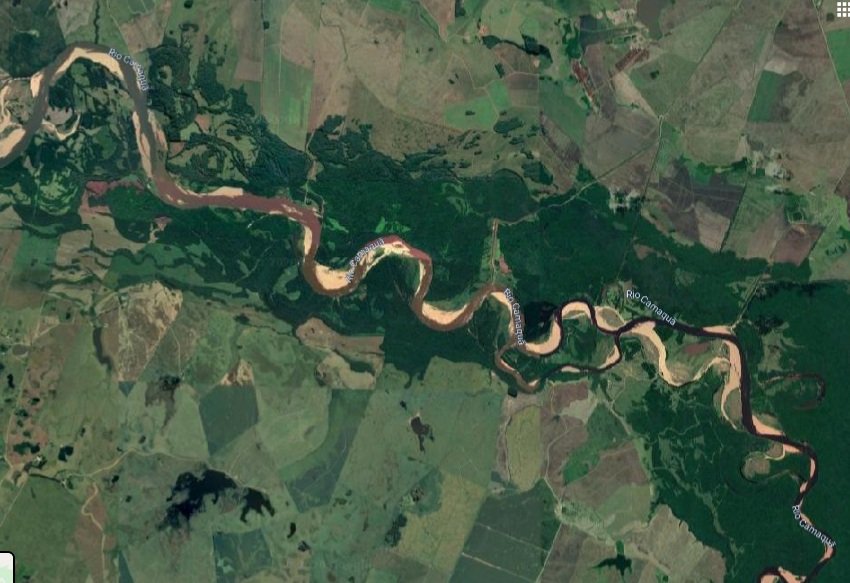 Which one is correct I don't know, but what I've ever been told is to be careful around brazilian rivers, as the currents tend to be strong on the bottom and trees and branches dragged by the water can get you stuck. Also, the rivers in Rio Grande do Sul generally have loose rocks everywhere, making it very easy to twist an ankle or crack your but if you slip somewhere.
Near the river bed though it's the perfect spot to be, as the river bed consists of a thic sand that form some sort of beach, where you can enjoy the sun, go fishing and prepare a nice barbecue. Bring your freakin' chair inside if it's too hot!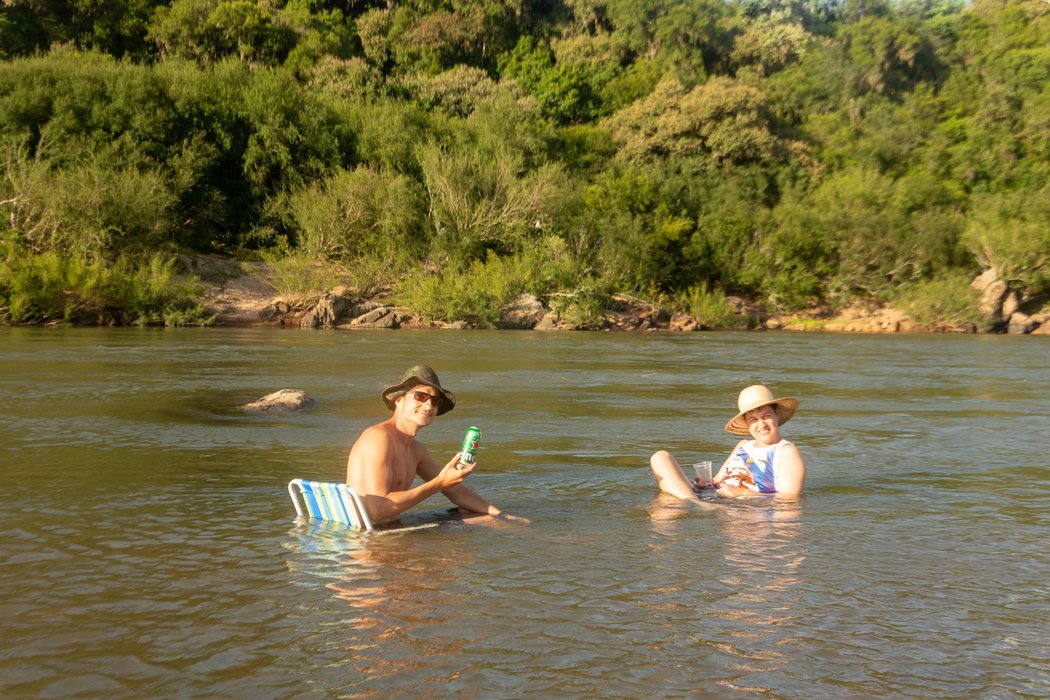 ---
Speaking of barbecue, if there's one thing we are good at in southern Brazil, that's barbecue! Search the word gaúcho and it's guaranteed that you'll find barbecue associated with it.
It can be appreciated in a nice steakhouse (churrascaria), or on a fireplace, or anywhere... all you need is meat, salt and fire... gauchos like to improvise, and if the barbecue can be done in the wilderness, great! The perfect combro of awesomeness!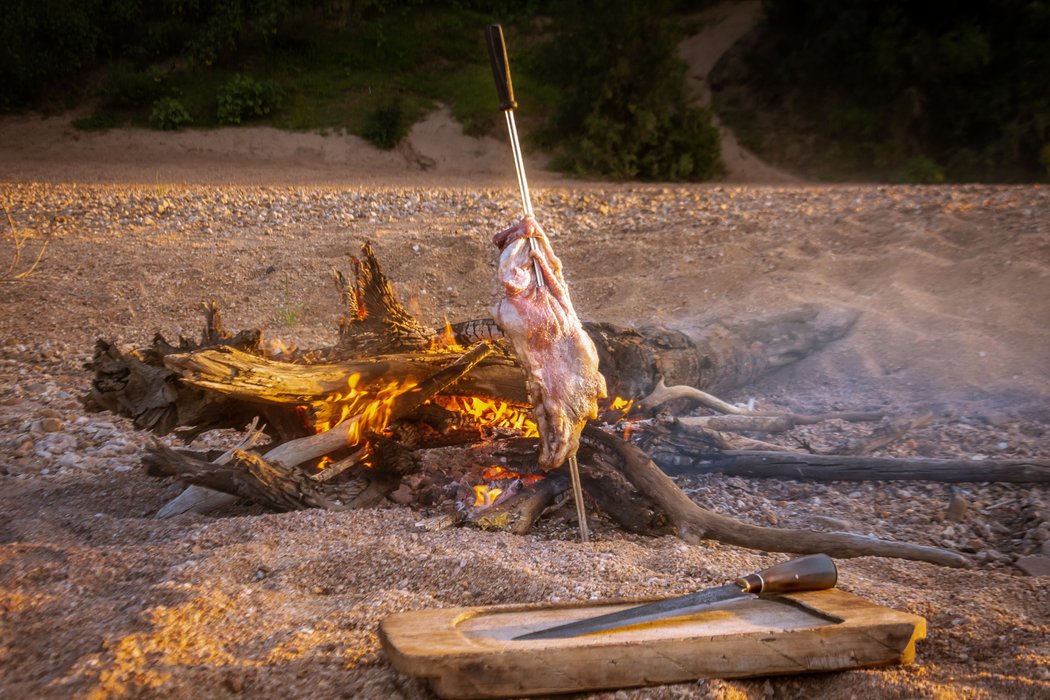 ---
The Australians are good at barbecue?! the Texans? The Argentineans and Uruguayans, without a doubt. But can you top a good 'ol Brazilian barbecue on a riverside?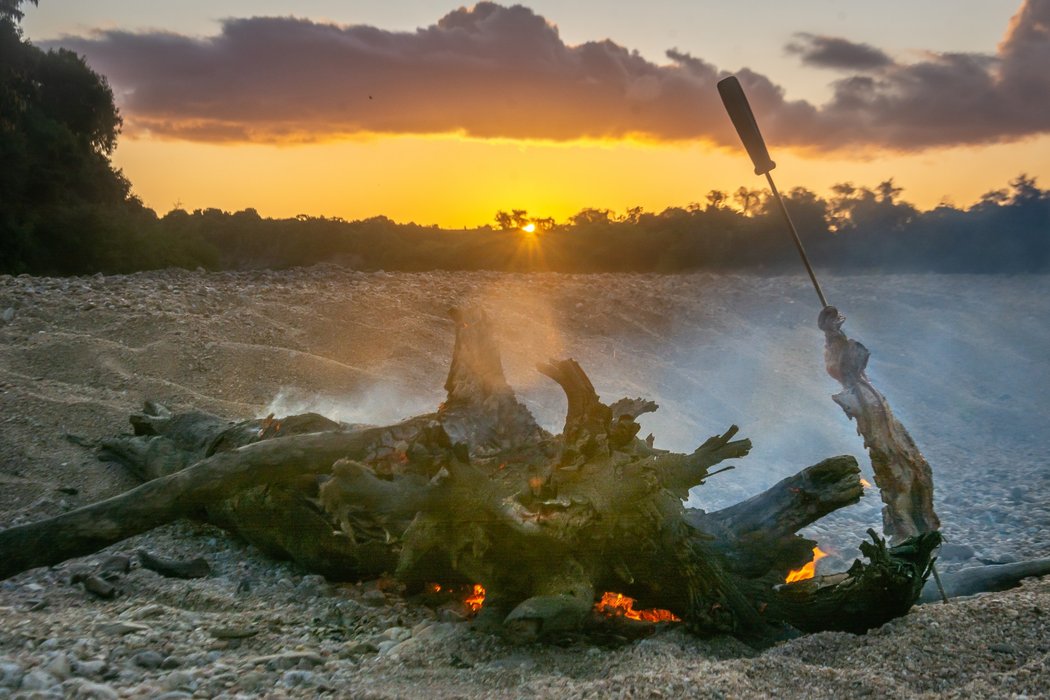 ---
By this time the fishing had became a small detail the group had forgotten, as I usually say... fishing is just the excuse. Some swear that the fish were jumping, but the only thing I remember was the mumbling because of another bait being lost. At least I had the chance to play with the camera and recorded some nice shots.
I strongly recommend that you check this post on TravelFeed to see the gallery
---
In the end no fishes were harmed during this photo shooting, nor during the fishing session... but we've had one hell of a great weekend eating, drinking and laughing, exactly everything I needed after months of travelling alone around Europe.
I might complain about Brazil and how it can be violent at some places, but I still encourage people to come. Not to go to those well known places, but instead to find the hidden gems. I like to encourage people to search for those family hotels that can be found in small towns and generally near regions with waterfalls. Believe me, this country is huge and you'll be amazed by the diversity here.
Um grande abraço!
---
Do you enjoy fishing or you prefer only the barbecue? Leave a comment, I love talking to you all!
If you liked this post, please, consider leaving your upvote for a hot coffee.
~Love ya all
---
Disclaimer: The author of this post is a convict broke backpacker, who has travelled more than 10.000 km hitchhiking and more than 3.000 km cycling. Following him may cause severe problems of wanderlust and inquietud. You've been warned.