Whoop whoop readers! How are you? Travel Feed is all about love - Check this out!
---
The times of writing long letters using meticulously chosen words to exchange news with the loved ones across long distances are long gone with the invention of telephones and internet. The emotions of waiting for the answear and the curiosity and apprehension of not knowing if it was delivered are no longer felt.
On one hand we've lost the feeling of touching something physical sent to us, on the other hand the technology has shortened the distances by allowing us to communitace at any time.
This is a short post to show how Travel Feed can surprise us in all different ways possible!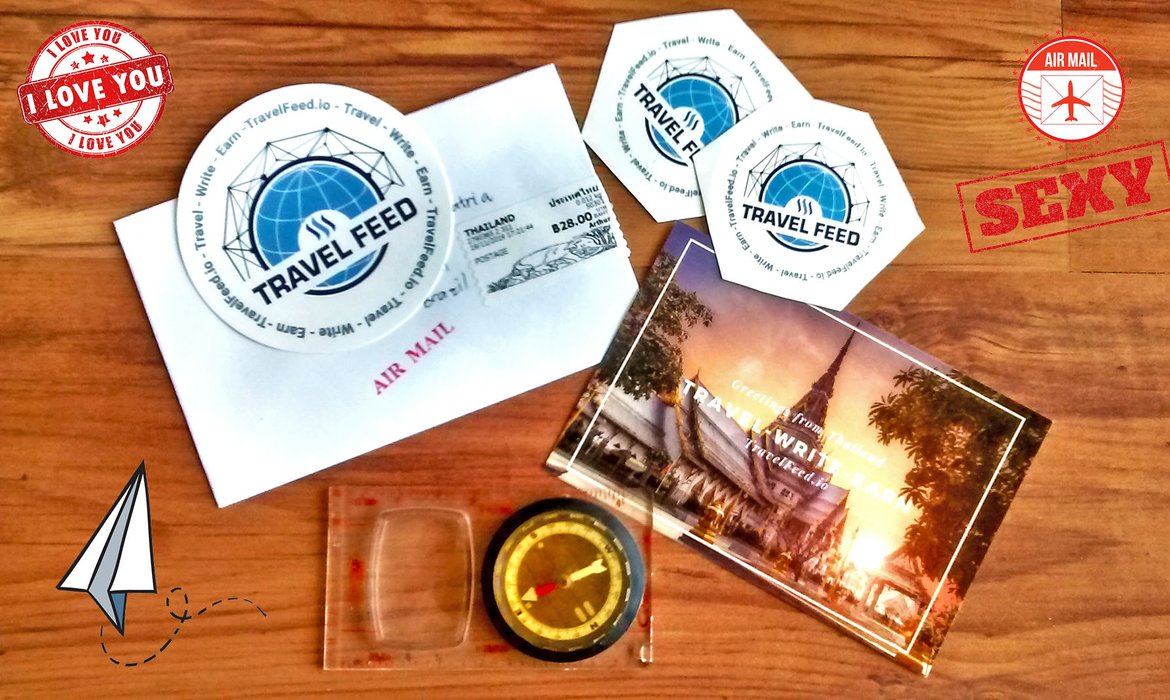 ---
Checking my mailbox is generally an unpleasing and unwanted activity. I know there won't be good news in there, at most there will be letters from Satan bills to warp my money into a black hole forcing me to postpone much desired trips.
But not when it comes to Travel Feed! These monsters whom I'm happy to work with don't cease to amaze me; how the hell did they find time to send me some love amidst the chaos of organizing the presentation on Steem Fest 4 and the subsequent meetups. I don't know... but they did and surely made me happy xD
Gifts, glorious sexy gifts!
Travel Feed stickers and an awesome postcard sent directly from Thailand to my hometown in Brazil, unfortunatelly the contents of the letter I can't show as it contains nudes \o\
Gealous already?
You should be! What are you waiting to join us on TravelFeed.io? The team is sexy, the users are sexy, we talk about travelling all the time and we share love.
Now if you excuse me I'll go find a nice place to put my Travel Feed stickers.
Join the vibrant community of travelers on our Discord server! Any questions? Don't hesitate to ask for help — we are here to help!

---
Have you ever received gifts from online monsters? How did you feel?
If you liked this post, please, consider leaving your upvote for a hot coffee.
~Love ya all
---
Disclaimer: The author of this post is a convict broke backpacker, who has travelled more than 10.000 km hitchhiking and more than 3.000 km cycling. Following him may cause severe problems of wanderlust and inquietud. You've been warned.