Heyho Readers! How are you? In between adventures I like to explore isolated places, check this one.
---
On this post I'm not going to talk about one of those Patagonian adventures, even though I do want to get back to those Travel Stories. Instead, I'll share a type of trip I do in between the long ones. You'll read about a camping which my friend André (you know him) and I did one or two years ago. Isn't it strange, I guess André is the only one of my friends to be crazy enough to follow my ideas.
The place is called Pontal de Tapes in Tapes, Rio Grande do Sul, Brazil. It's only 180 km from my city, but as you may have noticed, my trips are never normal. For that reason, I had to take 3 buses, hitch-hike and walk 15 km on sand - Just so we could camp peacefully away from civilization. It was only 180 km! Enjoy.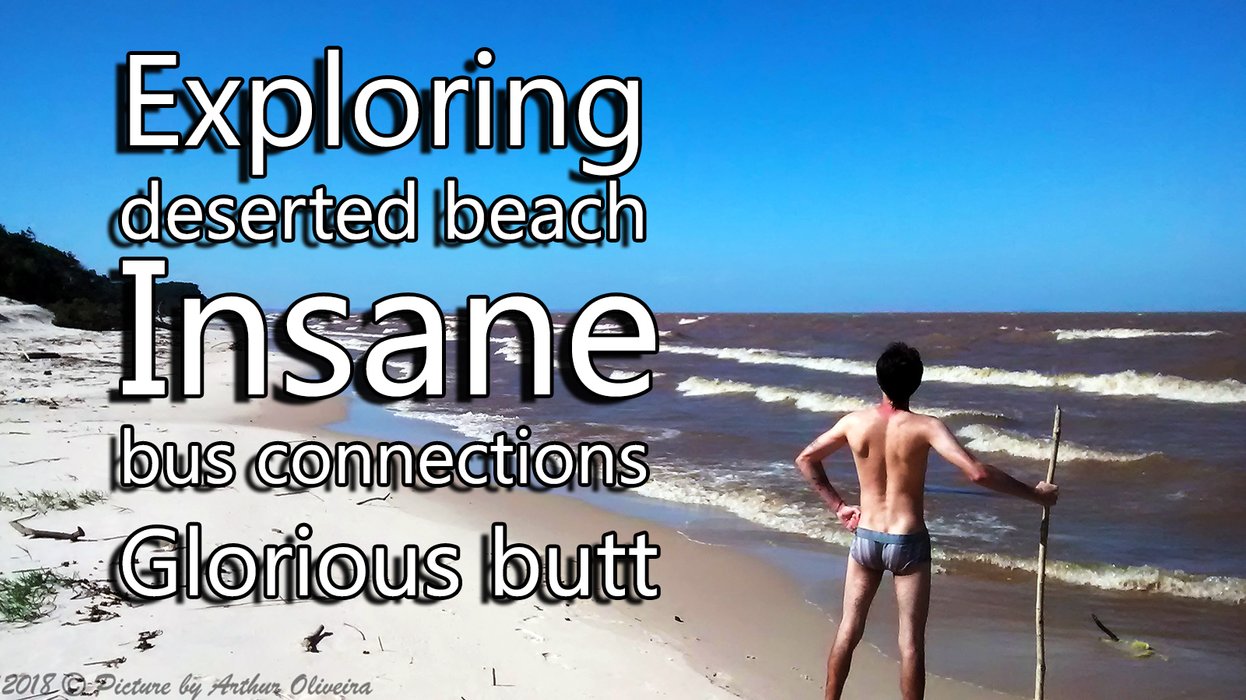 ---
Tapes is a small city 180 km from my city and it's known for having a beach by the lagoon, where you can walk by the shore until you find a deserted camping spot. I immediately grabbed my phone to call my partner in crime, to see if we were able schedule a trip to explore that place; at that time I was living in Pelotas and my friend in Porto Alegre. Tapes is exactly in the middle.
     - Dude, listen up... I found a cool place to camp, are you in? - I asked my friend over the phone.
     - Tapes? sounds fair, it's 100 km from me, I could go by bike and meet you there! - He agreed without further questioning.
That's the thing with this particular friend, he's always up to do insane trips. A couple days later, on some weekend, we were all set and ready to go; André would go by bicycle from Porto Alegre; I'd take a bus to Tapes. From there we would walk the 15 km to the deserted beach. All easy and beautiful until things got difficult, as always.
Do you remember that on all my Travel Story posts things are never easy? Exactly. This time it wouldn't be either, it's part of the game.
I went to the bus station in Pelotas, however there weren't express buses o Tapes, only to Camaquã, a nearby city. There a connection would be needed to reach Tapes. All perfect, you may think. Only if the connection wasn't going to leave minutes after the arrival of the Pelotas - Camaquã bus. Tight programming doesn't work in Brazil, but what else could I do?
We departured from Pelotas on a smooth and pleasing 2 hour bus trip. I even took a nap, because of course, I had packed my camping gear the dawn before the trip. A good adventurer will always pack the night before, and will make sure to leave something behind.
     - Amigo, get up! We're arriving... - The ticket man shaked me.
I quickly woke up, dressed my backpack and rushed down the isle to stay near the bus door. I couldn't miss one single second.
     - Ohhh ****, we've just lost our chance, the other bus is leaving. - The bus driver cursed.
     - Ohh, shit happens, right? Guess I'll have to take another one.... - I said.
And there I went, trying to discover another bus to Tapes. Only If had hitchhicked, It would've been faster. Luckly though, another bus was leaving in a few minutes, that one could take be to the intersection of the main road with the road that goes to the beach, a third bus would be required there. Three buses to travel 180 km.
Cutting the story short... I've tried to hitchkike from the intersection to the beach, no success... so I took the transportation to get there, where I finally found a ride to get me to the camping. André had been waiting for me since earlier, impatiently.
That day we spent the night at the organized camping site, to enjoy the comfort of a hot shower and a nearby supermarket. We also took the opportunity to load up our bags with food to three days, we'd need that in the wilderness. André had his hammock/tent set in between two Eucaliptus tree. The night was hot and mosquitoes attacking ferociously.
For the first time we woke up early; a beautiful and nutritious breakfast was taken, time to hit the road. Before leaving the camping we asked a man for general directions, we were heading inside some forests, it's always good to know where you are going.
     - Ah the Pontal? Yes, just walk straight and you'll be there, it's NOT FAR. - The man said.
Full of excitement, my friend and I started our walk until we found the Pinus forest, that was the one we needed to cross.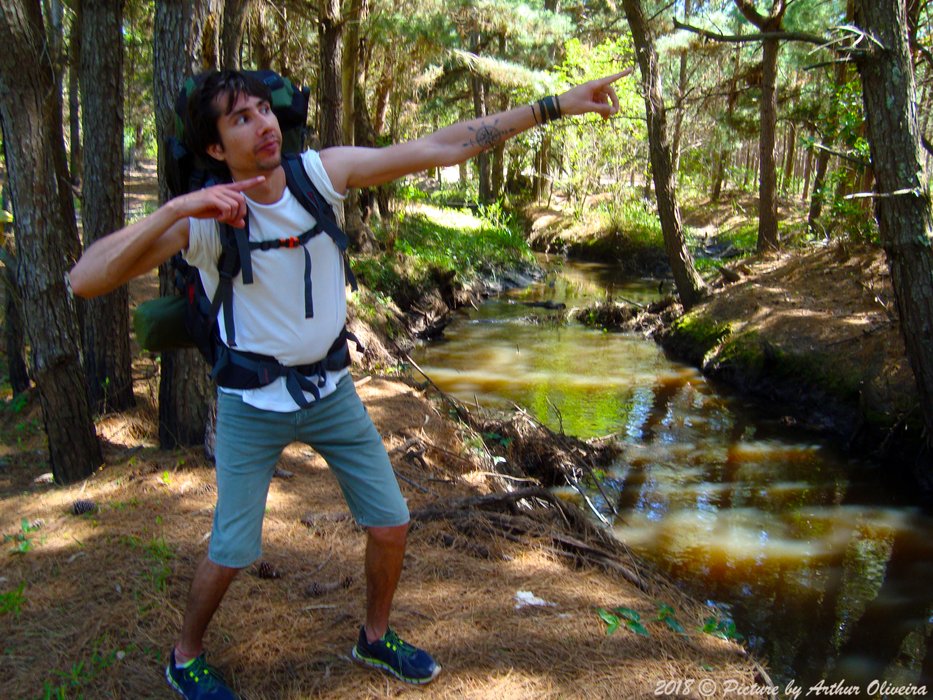 Bo bo bo o o Boooooolt pose.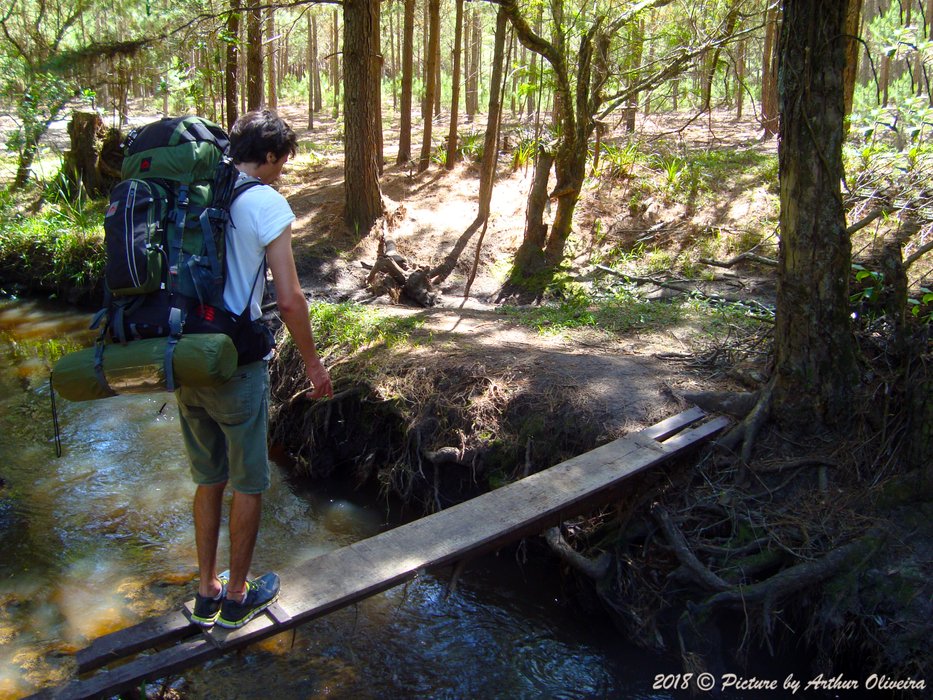 This is a fail waiting to happen.
---
Pinus forests are cool and organized, but they easy to get lost if you don't pay attention, especially if you don't know exactly where you need to go. Sometimes we've doubted if we were going on the right direction, during two times I've undressed my backpack to check some secondary trails, to make sure we were not getting lost.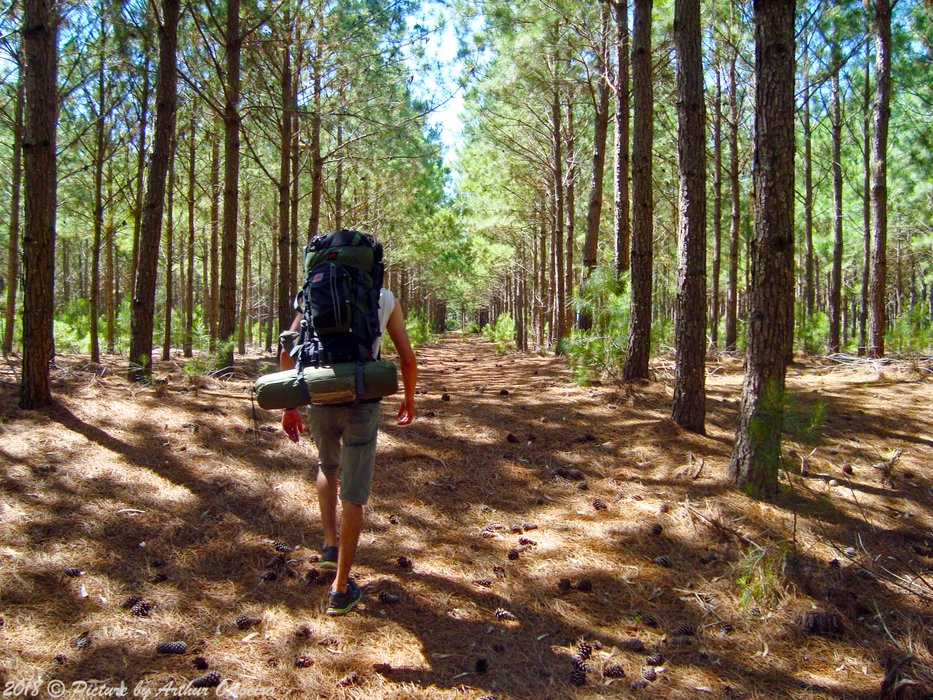 Pinus forest: Cool to walk inside; easy to get lost.
---
After walking and losing the trail many times we've decided to stop to drink some water. At this point, two persons could be heard coming, we waited to see and maybe they would be locals. They weren't.
     - Olá! Heading for the Pontal too? - I asked them.
     - Oh yeah, do you know how to get there? - The guys asked.
     - Nope... but now we can find it all together if you don't mind. - I asked.
Anderson and Roberta promptly agreed that we could all walk together. The couple from Porto Alegre were also going to camp at the Pontal, with the same intention to hide from civilization for some days. They immediately became friends and I still talk to them 'till today.
Walking was hard enough, the terrain was made of soft sand making us double the strength applied to our steps. André and I had been walking for some solid two hours before meeting Anderson and Roberta, sum with that another one hour.
After burning our heads below the sun, there it was, the deserted beach we so desperatly wanted to find.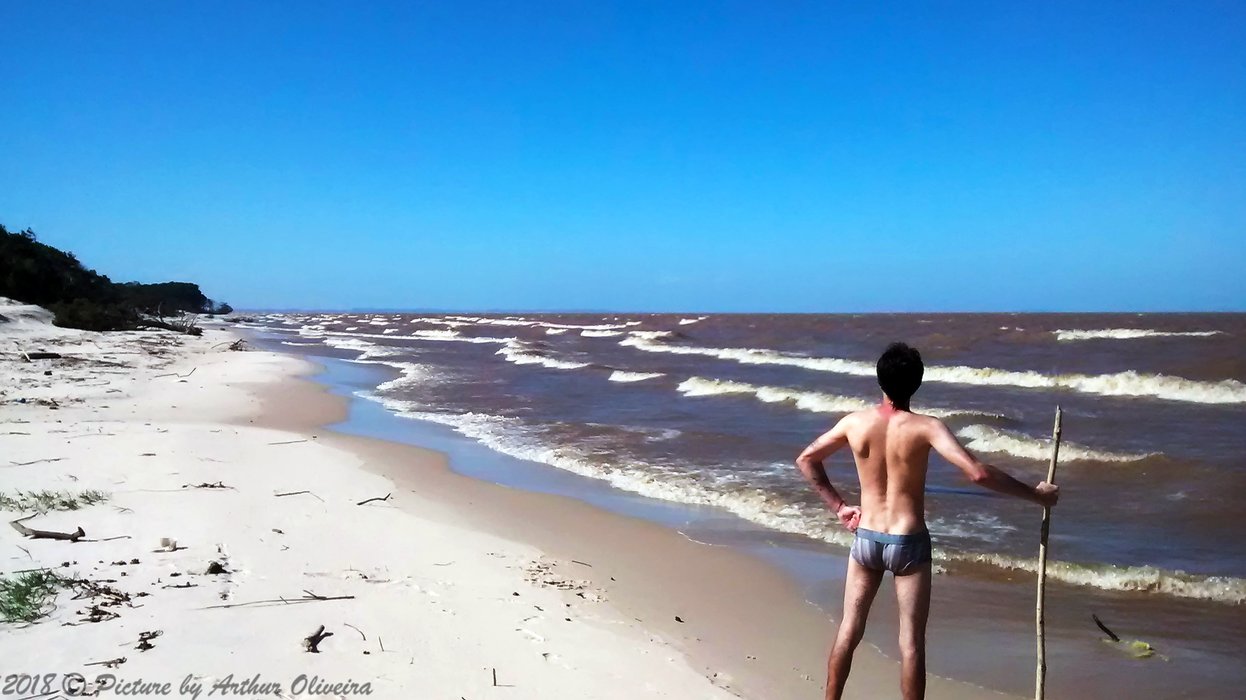 My glorious explorer's butt.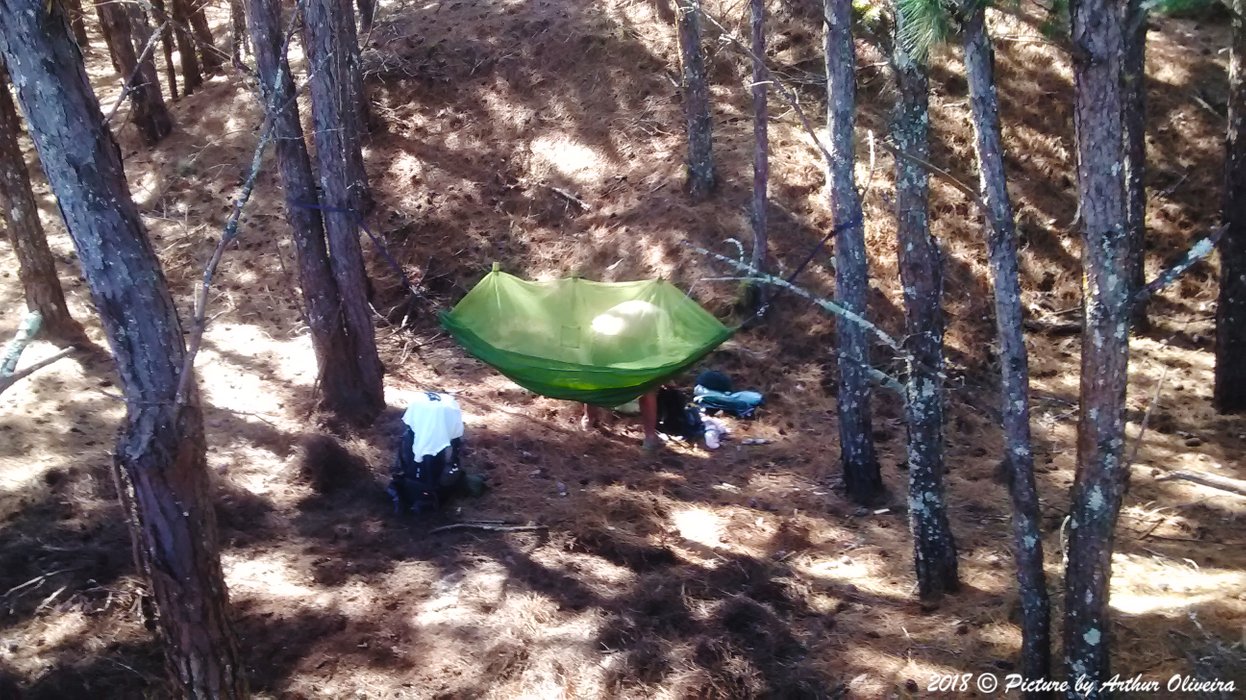 André's hammock.
---
Unfortunately there's not much records of that camping trip as last year my old computer burned, with it tons of old photos were gone. The only ones I had spared on my cell phone are here.
We've spent two nights and three days there doing nothing but cooking, making fire, enjoying the moon and the wild animals, swimming, talking, laughing. One day André got stuck on his hammock and the thing was going to rip apart.
     - Duuuuuuude! For f*** sake, heeelp me. It's going to rip. - He shouted.
How in hell could I lift a 100 km guy? Luckly he was able to stand without destroying his shelter. What a funny vision that was.
Going back was tough, we didn't want to go back home; it was also easy, because now we knew the path. Getting back to the city we took a hot shower and prepared to head back to our cities. Easy task for him, another pain in the neck for me. There were no express buses again! There we go... one bus to the intersection, another bus to a city called São Lourenço, where I've had to wait for hours to an old looking bus to Pelotas. A trip back home that should've taken two hours, ended up taking a whole afternoon and a part of the night.
Was it worth it? Absolutely! Except that the next time I'll hitchhike, it'll be cheaper and faster than all those insane connections.
I hope you have enjoyed this journey with me and that I have achieved my goal to inspire you to explore, even if it's near your house. I'm sure you don't need to go around the globe to have fun.
If you liked this post, please, consider leaving your upvote for a hot coffee.
~Love ya all,

---
Disclaimer:  The author of this post is a convict broke backpacker, who has travelled more than 10.000 km hitchhiking. Following him may cause severe problems of wanderlust and inquietud. You've been warned.
---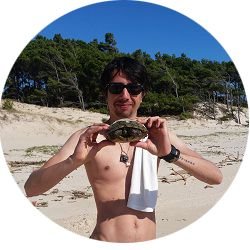 I'm Arthur. I blog about Adventure Stories, Brazil, Travel, Camping & Life Experiences.
Follow me to stay tuned for more craziness and tips.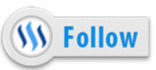 You may also want to read:
A PROUD MEMBER OF: