So yesterday, we finished the post on the touristy side of Kanchanaburi and the bridge over the River Kwai with a promise that today we'd look a little deeper into the tragedy of the human side to war and the building of the 'death railway'.
The Prisoners of War
The best records tell us that there were 61,811 Prisoners of war who worked on the railway between 1942 and 1945.
UK, British Indian and Crown Colonies - 30,131 (6.904 deaths)
Netherlands and Dutch East Indies - 17,990 (2,782 deaths)
Australia - 13,004 (2,802 deaths)
United States - 686 (133 deaths)
Most of the POWs were from a prison camp in Singapore after Singapore had been taken from the British in what was to become the biggest surrender in British history and took place in February 1942.
The first batch of 3,000 Australians were taken by sea to begin work in Burma in May 1942 followed by 3,000 British by train to Thailand. Further POWs were taken from Singapore and from Dutch East Indies as work on the railway progressed. The POWs were housed in camps along the route of the line where conditions were atrocious, with very little food and medical supplies. Disease ran rife in the tropical conditions.
After the war had finally ended, the bodies of the POWs were removed from their resting places in the camps and along the line, many had been buried where they fell and moved to three official war cemeteries. Two in Kanchanaburi, Thailand and one in Thanbyuzayat, Myanmar.
The main cemetery in Kanchanaburi is the Kanchanaburi War Cemetry, which is the largest and perhaps ironically located just across the road from the railway station. There were a lot of people wandering up and down the lines of regimented and uniform memorial stones set within the beautifully tended lawn. The whole scene was just so un-Thai like, but I wanted to see the smaller cemetery, the Chungkai cemetery which is just out of town so I rented a scooter for the day and off I went.
Chungkai War Cemetry
The Chungkai war cemetery is the final resting place for 1,693 soldiers. 1,373 British, 314 Dutch and 6 Indian, and it is set in open countryside, adding to the serenity and peace. It was a beautiful day and the birds were singing as I pulled up and walked through the gates. There was no one here except me and the fallen.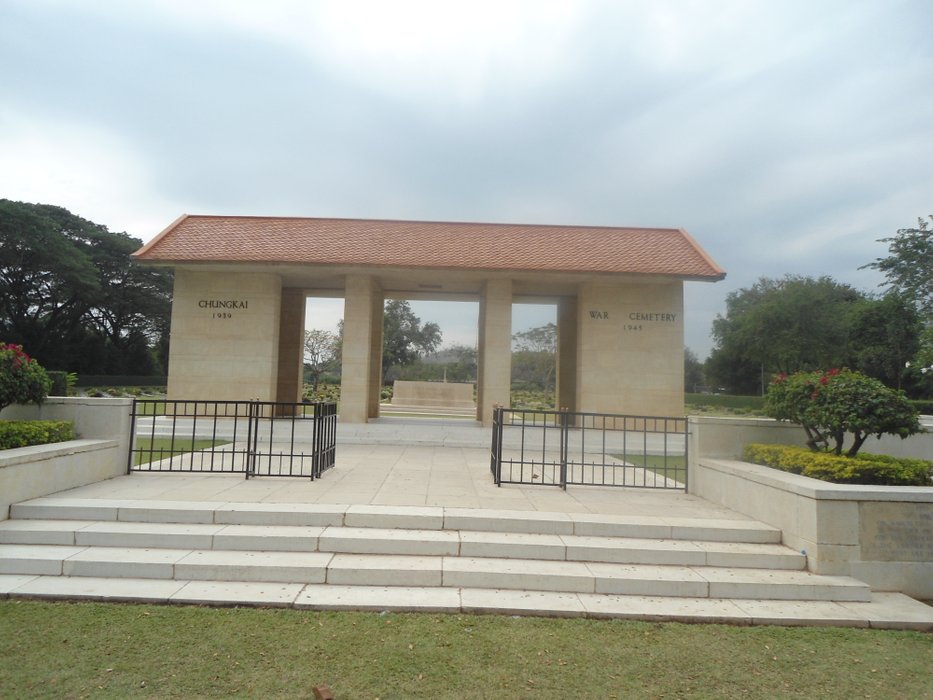 A beautifully simple entrance constructed from sandstone greets you and walking through it you are introduced to the incredibly perfect lawns with their hoe'ed beds set with carefully trimmed shrubs. At the far end of the cemetery, a cenotaph has been erected. The memorials are laid out in lines, each one documenting the name, date of birth, rank, regiment and serial number of the fallen soldier. Even more than before, it felt like I'd been transported back to Europe and despite the well-kempt gardens, there wasn't a gardener in sight. The land on which the cemetery sits is a 'gift' from the Thai people and is maintained by the Commonwealth War Graves Commission, read all about them here.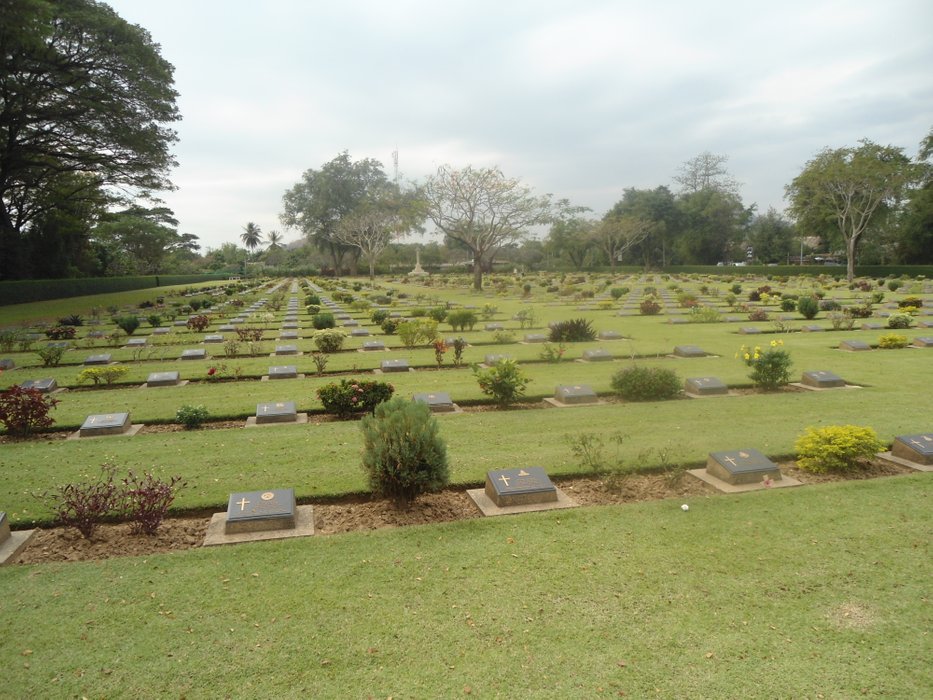 Walking up and down the rows looking at the names on the plaques was very sobering and I couldn't help but try to imagine 75 years previously and the terror and helplessness that these guys must have been feeling before they died so far from home. Of course, it was impossible, I could never have any idea.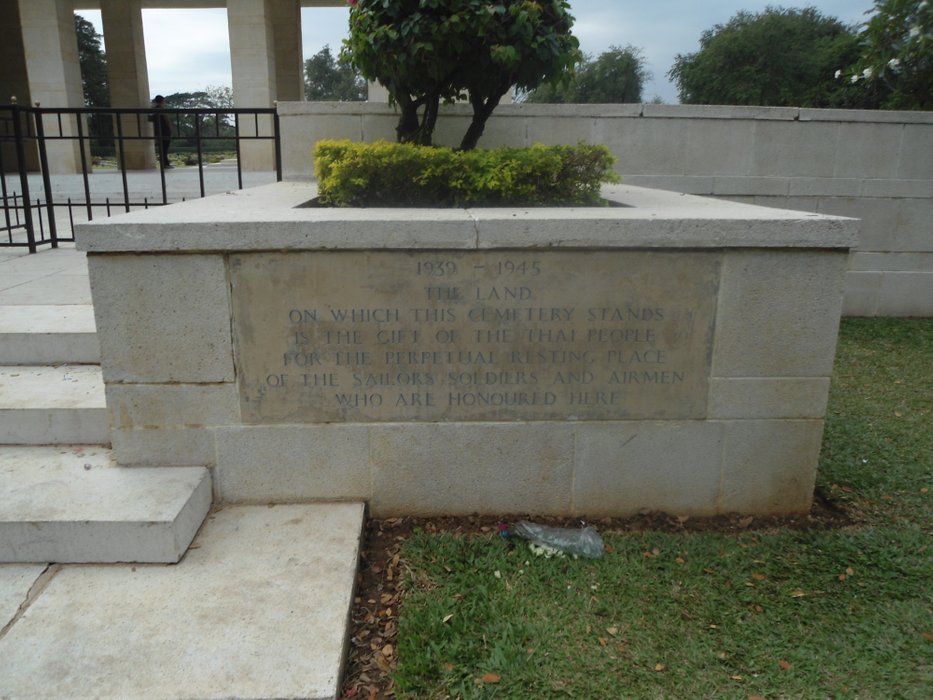 Whilst I was meandering in solitude, I came across the resting place of Sergeant K. Wright of the West Yorkshire Regiment who fell on the 26th of January, 1944 aged just 29 years old. His grave immediately stood out because I am from West Yorkshire, a county (province) in England and so there was a connection, albeit a loose one. There isn't much detail on the plaques, they are all uniform so as not to make a preference for race, rank nor religion but there was enough to try and find out some more about Kenneth Wright, who as it turned out, was a cook. More about him in a later article when I've finished my research into his family tree and service record etc. He is going to get his own article permanently etched into the Steem blockchain!
Suddenly, it had become personal. Ken was now a person and not just a plaque.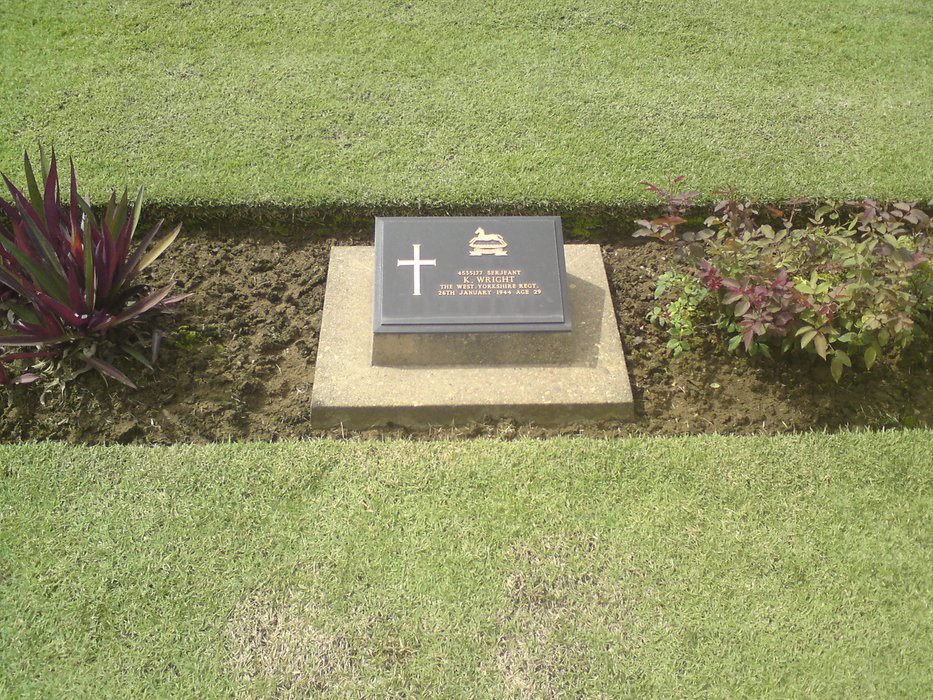 That night I couldn't sleep as I tried to imagine what our Ken looked like, what his passions in life were. Was he married? Kids? Hopefully, I'm going to find all this out in time, but that night all I could think about were the horrors of war, the noise, the heat. Living in constant fear for your life as you were worked to death as a captive, building a fucking railway line in a jungle 8,000 miles from home.
The American casualties?
As I mentioned at the start, the Americans tragically lost 133 men, and after the war, they were all repatriated back to the US to be laid to rest where their loved ones could visit and say their final goodbyes.
Just when you thought it couldn't get any sadder...........
Right back at the start of part 1, I made mention of the conservatively estimated 180,000 South East Asian workers who both volunteered and were coerced into working on the railway. There were many Thais, Chinese, Burmese, Malay Tamils and Javanese forced into the effort, but when labour was short, the Japanese advertised for workers with the promise of good wages, short contracts and housing for their families. After that, and still short of workers, many were rounded up and forced into labour. These South East Asian workers were known as Romusha and their working and living conditions were also grim. It was also reported in various memoirs and eye-witness accounts that a number of Malayan Tamil workers brought their wives and children. It doesn't bear thinking about.
As part of my research, I came across this excellent document which brings together facts and many of the diaries of the soldiers who were there to tell the terrible story of the Romusha by David Boggart.
The point is, over 80,000 of these local labourers died. For them, there are no neat rows of plaques or manicured lawns, there is very little I could find to tell me what happened to them. It's almost as if they never existed. I find that thought absolutely tragic.
Spare a thought......
I really hope that when the excited trainloads of tourists hanging out of the train windows taking photos and videos as they cross 'Bridge 277' to give it its official title, and the multitude of people walking across, happily taking selfies and whistling Colonel Bogey spare a moment to think about all the poor souls that were lost, and the cruelty and misery endured by the survivors during the construction of this 'tourist attraction'. Both the Romusha and the prisoners of war.
History Repeating?
In a last gasp shot of irony, when I arrived back at the station to be greeted by a gang of railway workers replacing some old wooden sleepers with concrete ones. Not a hi-vis jacket or helmet in sight and the safety shoes are just fake Crocs and flip-flops. There is even a kid working there. Thai labourers earn minimum wage; 300baht (£7, $10USD) a day.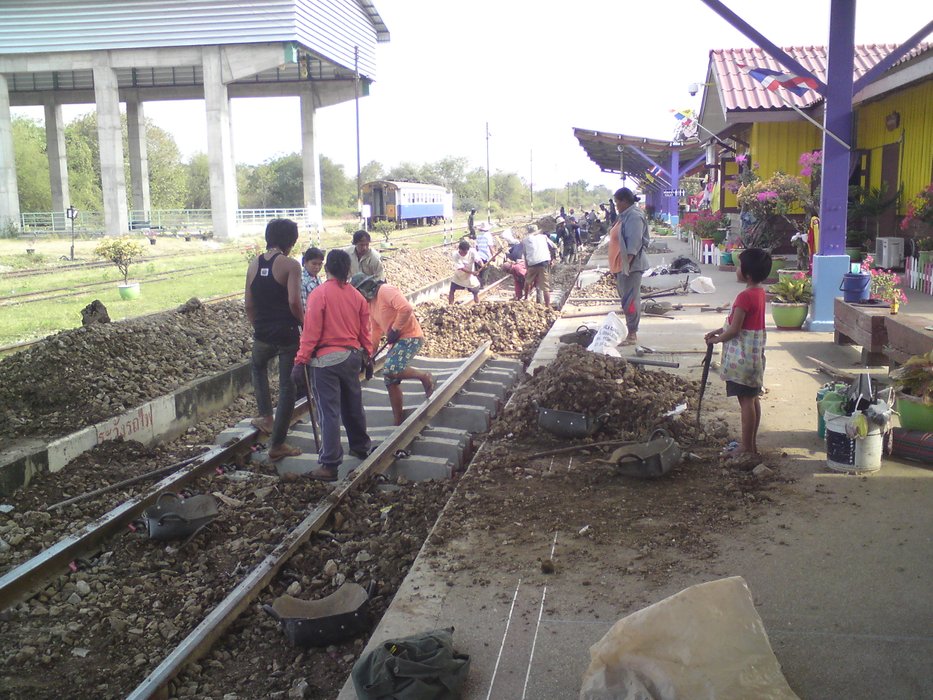 Lest we forget
All pictures used are my own unless stated and mine are free to use by anyone with a small credit. Thanks
Additional research sourced from www.maninseat61.com and www.wikipedia.com