Whilst returning to Thailand last week, I was lucky enough to catch a ride on a Malaysian A350-900. It was my first flight on an A350 and so I was intrigued by the differences between it and Boeing's amazing B787 Dreamliner.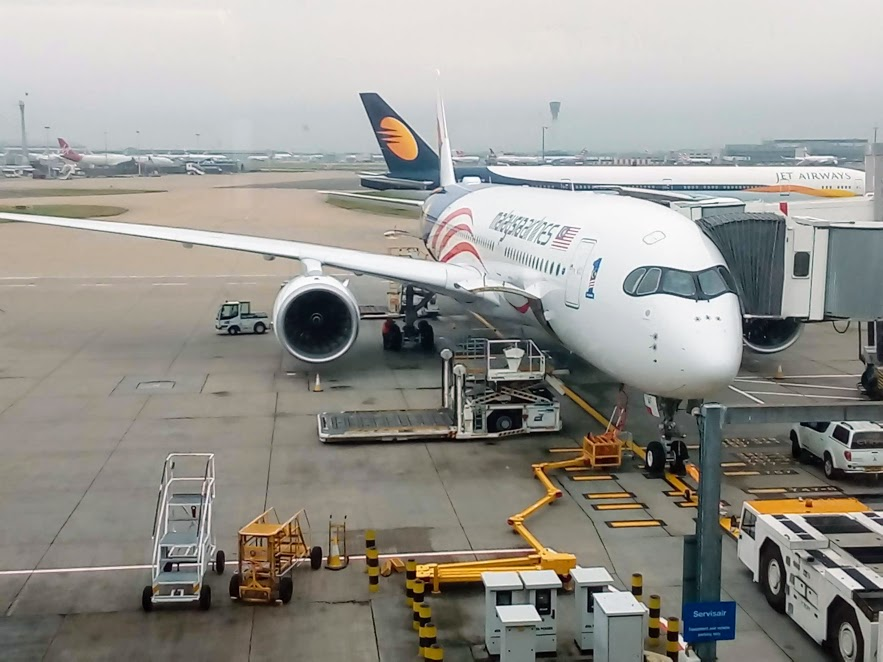 'Come fly with me'......
Whilst both aircraft are not truly direct competitors, comparisons are often made between them due to them both being 'next-gen' aircraft, using the latest composite technologies and aerodynamic tweaks to improve fuel burn, and improve the passengers' experience and comfort.
"How does this improve passenger comfort?" no one cried....
Ready for some science?
The fuselage of both aircraft are made from about 50% composite material as opposed to aluminium, that's carbon fibre and plastic to you and me! This is both stronger and lighter than the aluminium that it replaces so as well as burning less fuel due to its weight advantage, its strength advantage means the cabin can be pressurised more. This simply means more oxygen can be pumped in, reducing dry eyes and skin and the possibility of DVT and makes for a much more refreshing journey.
Now I've previously flown Vietnam Airlines Dreamliners and a comfortable, smooth ride it was too but there was one thing about the aircraft I absolutely hated and has stopped me from flying them again; The windows, despite the Dreamliner having the largest windows on any commercial jet.
On the Dreamliner, there are no window blinds. It is the glass which is actually electro-chromatic meaning you control its opaqueness using a switch on the seat. Fine so far, but it takes about 5 minutes for the glass to go from its darkest to lightest and at 52 years old, life is too short. However, it gets worse.
When flying at night, the cabin crew override the passengers' control of the windows and blacken them all en masse. This seriously pisses me off as I love to stare out into the blackness, looking at the stars, gazing in wonderment at the spider's webs on street lights on the ground and watching out for 'Tales of the Unexpected' type gremlins on the wing.
Flying is not the most fun way to spend time, but being totally stuck in a flying plastic toilet roll without the ability to see the outside world for me, is a nightmare.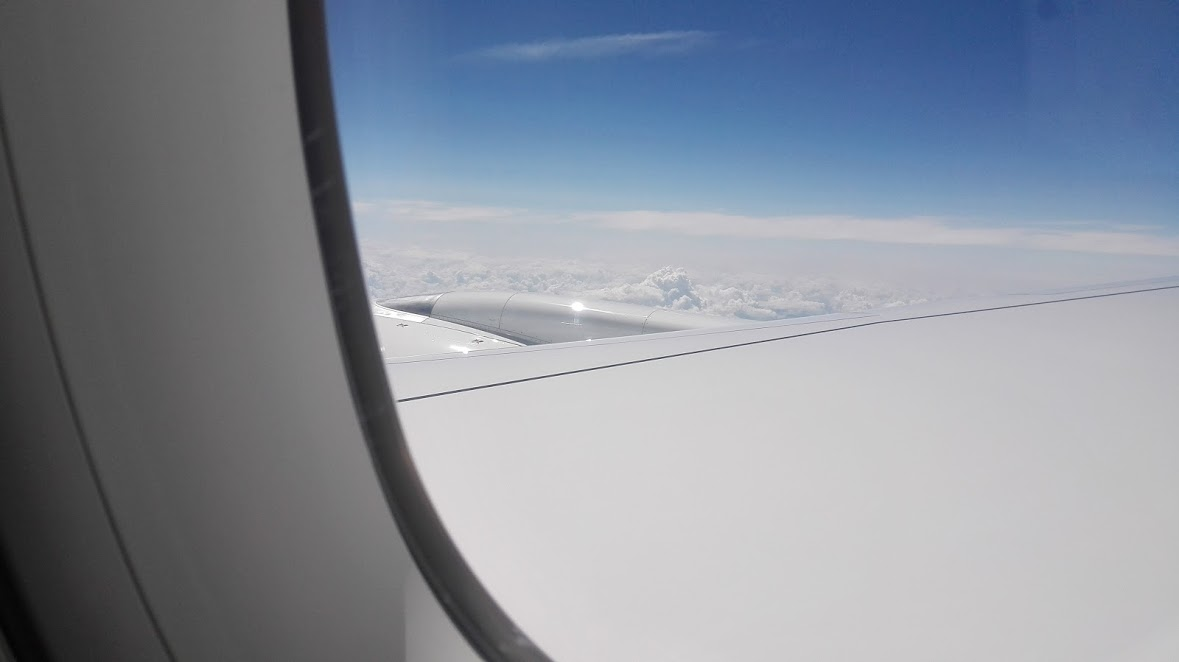 For this reason alone, the A350 knocks spots off the B787. On the latest Boeing777s, they've done away with windows altogether as a trial on some first class seats, instead showing fibre optic pictures. Whilst this isn't ever going to be an issue for me as I will doubtfully ever fly first class, it is possibly the top of a very slippery slope.
The other thing to mention for the slightly nervous and safety conscious flyer is that there were a number of well-documented problems with the Lithium-ion batteries early on in the Dreamliner's career. Airbus decided not to use them instead, sticking to the more trusted old type Nickel-Cadmium ones. Not a worry for me, but for some, it might be an issue to consider.
The cabin comfort levels are very similar with nothing that immediately stands out to make one better than the other.
So how about Malaysian Airlines?
Malaysian airlines have had a tough few years with the disappearance of MH370 and the shooting down of MH17, so bad in fact they were almost put out of business, and that's a shame. They are a very good airline and due to their fleet upgrades and very aggressive pricing stance seem to be pulling it around although the last couple of times I have flown them, the aircraft were barely two-thirds full.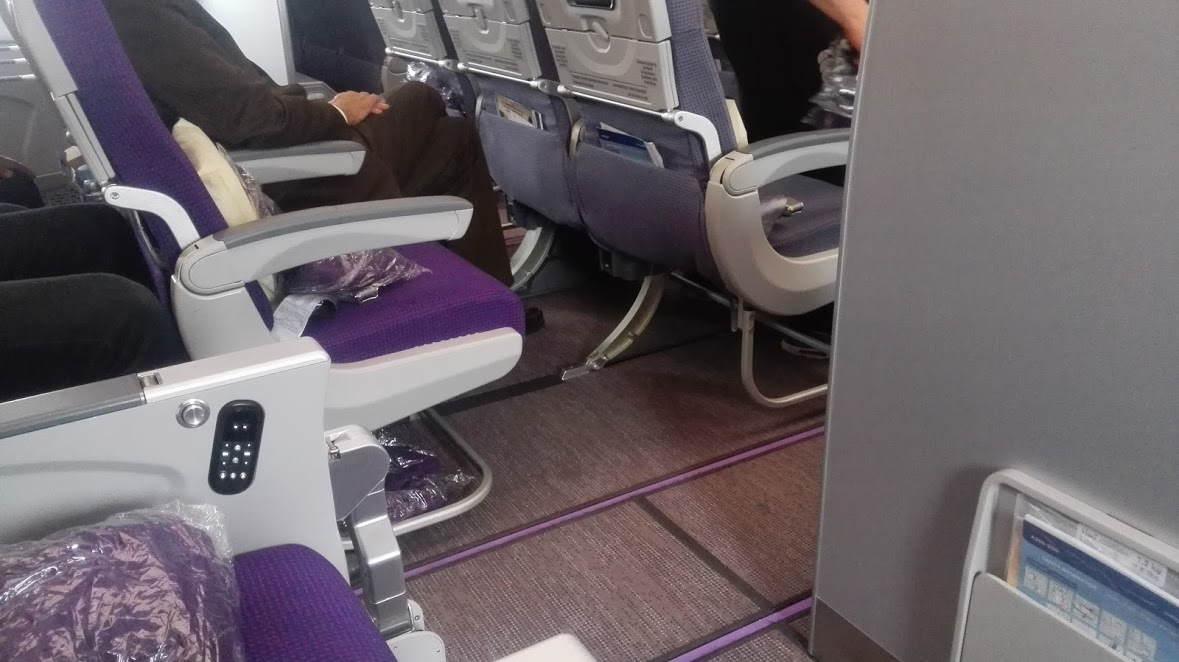 The legroom on this flight was great, boosted by the fact that the seats seem to have a lot of clearance under them. There was a huge choice of absolutely up-to-date movies, TV and music and even the back catalogue of films was fantastic with some real classics. The 10inch screen was clear and crisp and the sound was better than normal, even through the crappy free headphones. This was also helped by the quieter than normal cabin of the A350.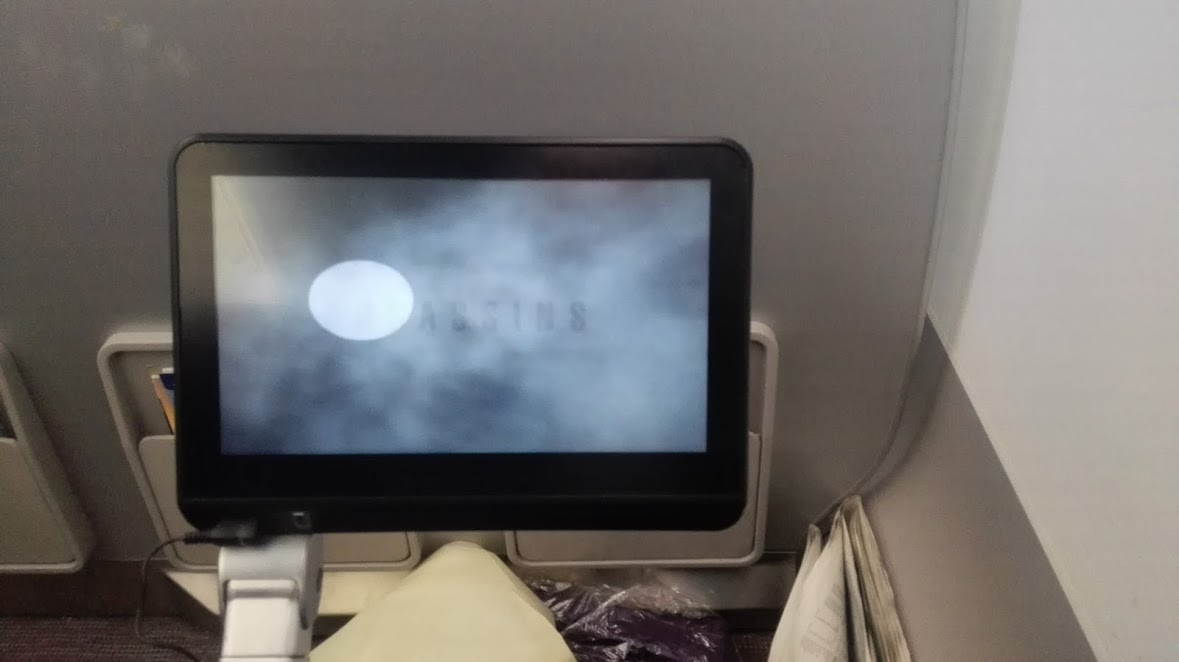 Food was good, again, not quite at the Emirates or Qatar standard but I was somewhat narked that even on an only two-thirds full flight out of the UK, my choice of breakfast had run out. I had to make do with chicken and rice for the second time!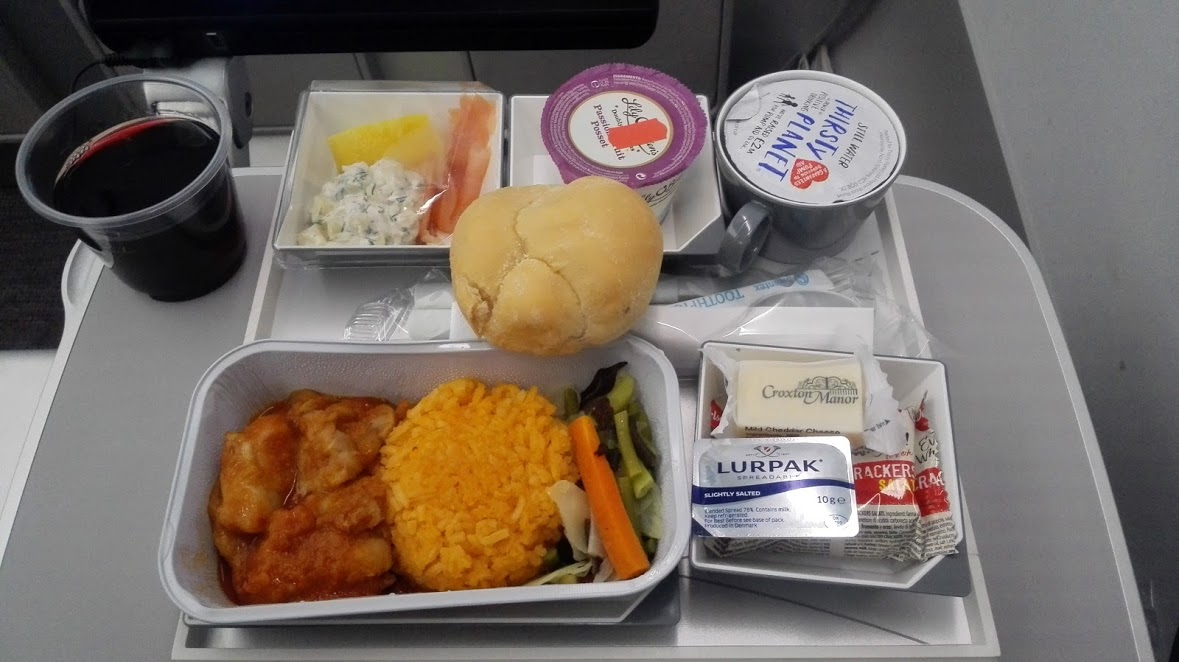 The first time I had chicken and rice I really enjoyed it....
The crew on Malaysian are attentive and do really well not to show how pissed off they are when you hit the 'call' button and nothing is too much trouble.
Any downsides ? Well yes, the blankets are too narrow, if you try and sleep you spend half of the time in a state of semi-consciousness pulling it from side to side trying to cover up the bit thats not covered. This issue was so great in fact that I didn't even bother trying to steal one! In fairness though, the little pillows were a perfect size and very comfortable. I managed to nick 2 of them :-)
But the best part, and a definite reason I actually choose Malaysian?
Proper salted peanuts. None of that Bombay mixture crap that they hand out on the snootier airlines. Real, proper, simple salted peanuts, and along with a nice plastic glass of house red sets me right up for the 13 hours ahead! Not only that, they use 'slightly salted' butter. I hate with a passion saltless butter, it tastes like sugary oil.
How many more reasons do you need to choose Malaysia Airlines? ;-)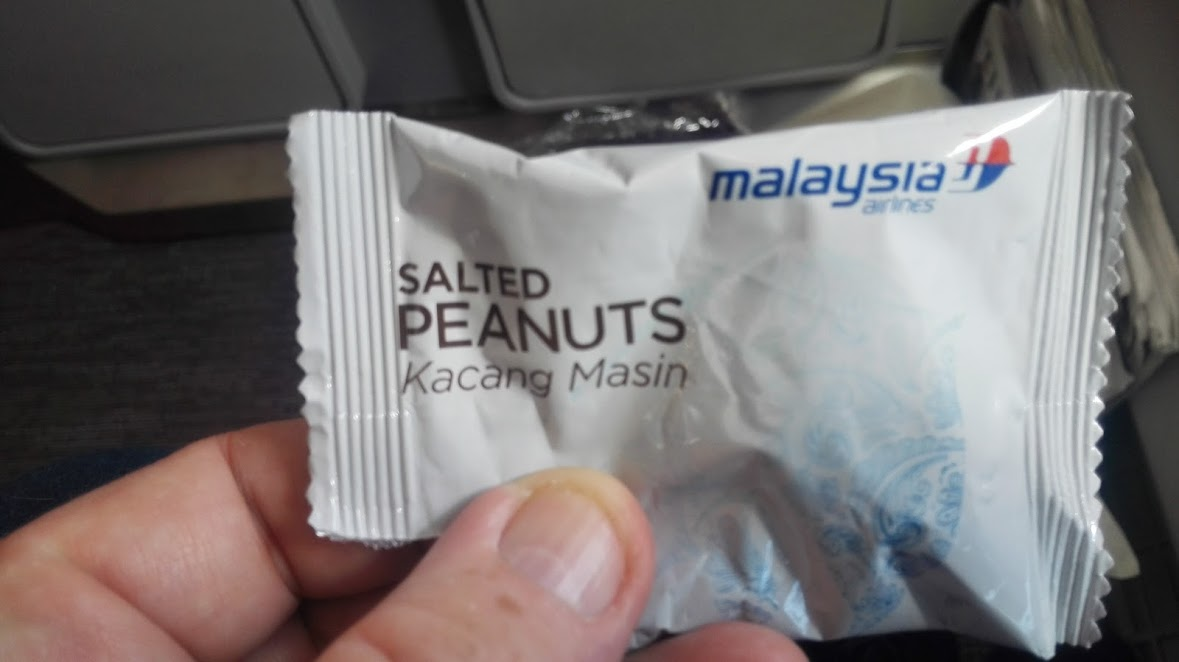 Proof of peanuts! (and bitten nails)
Next leg from Kuala Lumpur to Bangkok put me on this regional B737-800...what a scrapper. Less said about it the better!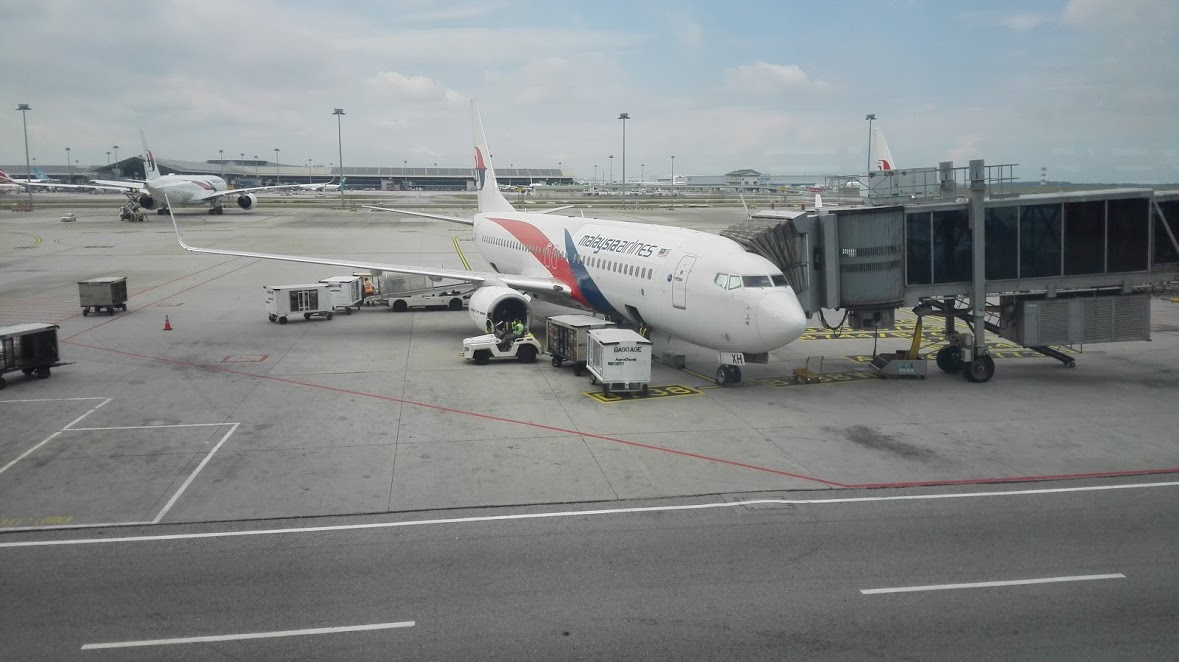 DISCLAIMER: I am not a professional airline reviewer and the opinions laid out are my own. If you fly Malaysia Airlines and it crashes and you die, I hold no responsibility for your death. Neither do I accept responsibility for your peanut allergy, heart attack due to the high salt content of the food nor your arrest if you get pissed on the free wine and end up groping a member of the cabin crew. Thank you.
Photos are all my own
Thanks for dropping by. Your Upvotes and Resteems are gratefully received but your comments and engagement are truly appreciated. Let's keep up the debate. Thank you
Life's not about the hustle. It's all about the humanity