I love to go back in time looking at the old photos. Instantly they bring memories and mostly pleasant ones. Especially the photos from the trips. Like these I wish to share with you.
So, let us go back in 2004. Seems so long time ago. My friend Julia, my son and I were invited by our dear friends in Switzerland to vist them for a week. Julia and I had another trip to Switzerland later on and you may remember some of my posts about the places we visited in Switzerland and France.
This time I would love to show you some unique art we saw near the Lake of Gruyère.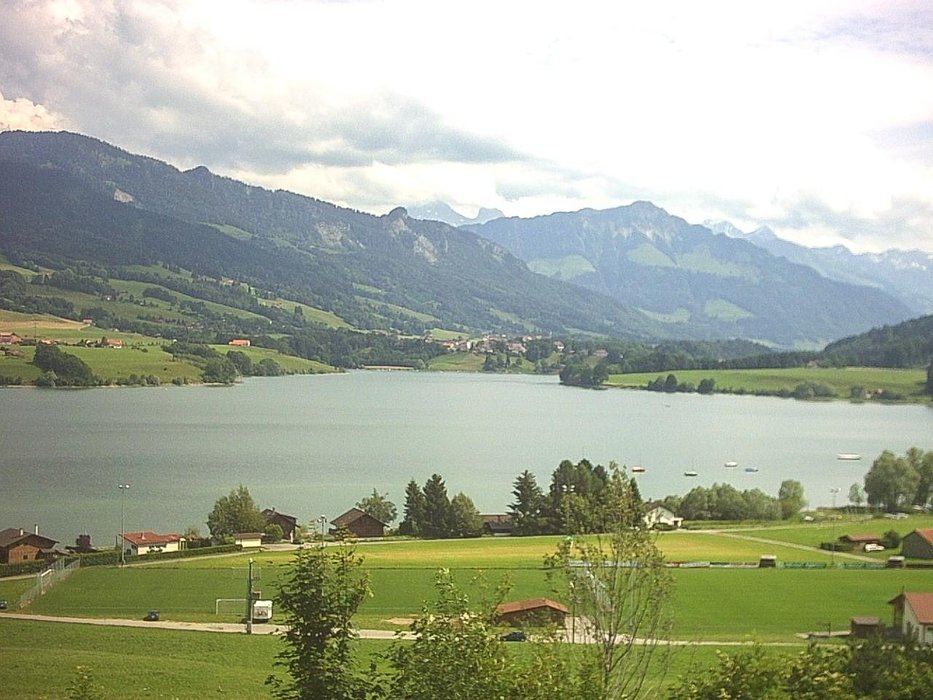 The lake is artificial and is located in La Gruyère region of the Canton of Fribourg. We were back from visiting the castle and the Cheese House.
We stopped at the Motel de la Gruyere where we had cup of coffee. From there the view was stunning.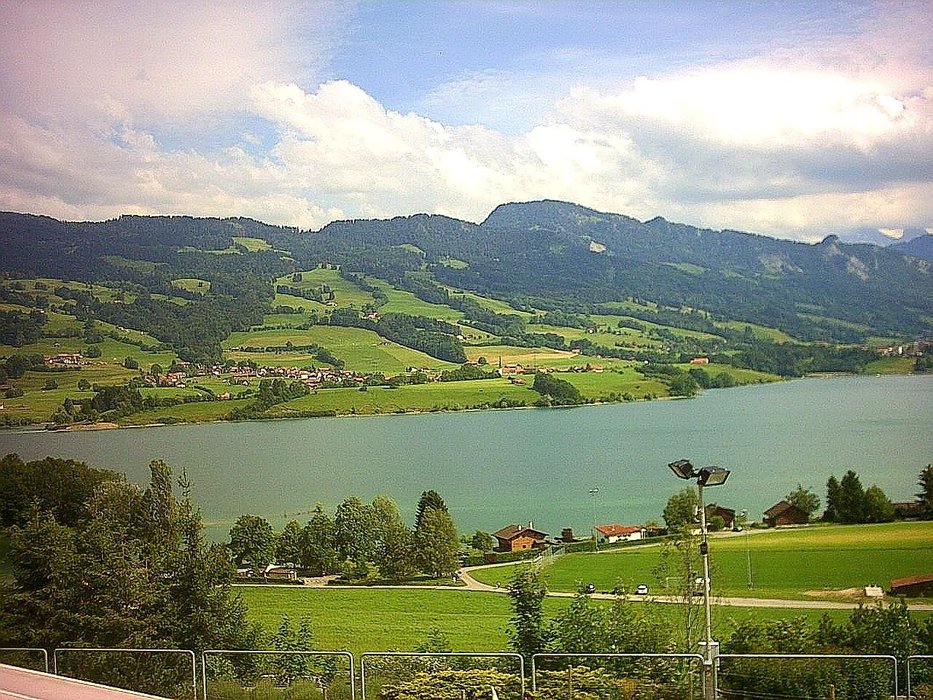 But more attractive was the exhibition of painted cow sculptures in front of the motel.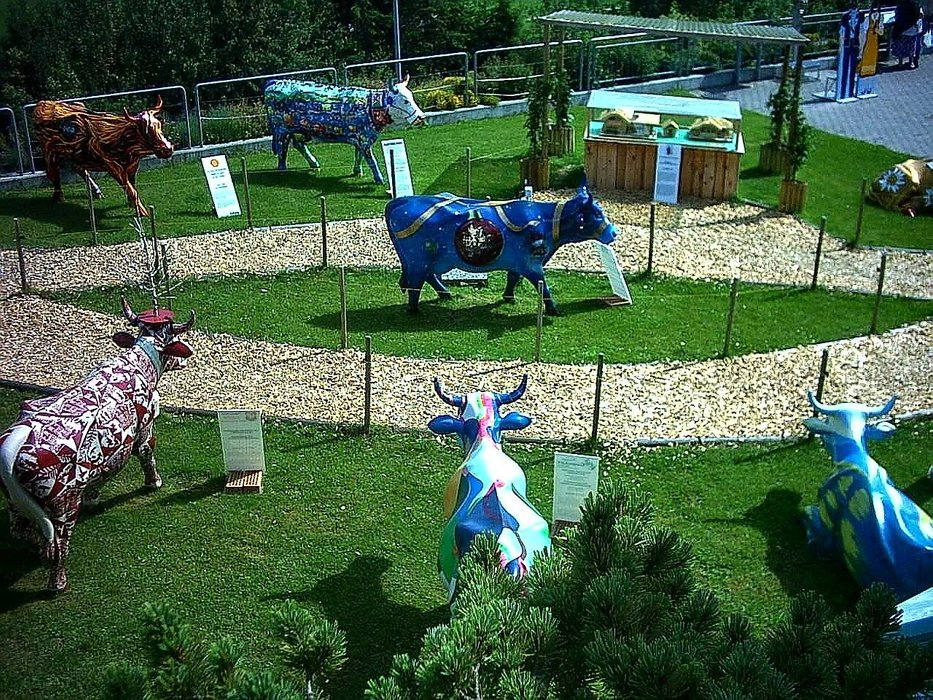 Little did I know about that exhibition at the time of visit. I have made several photos, but I did not capture well enough the signs to read about them.
Let's see them closer.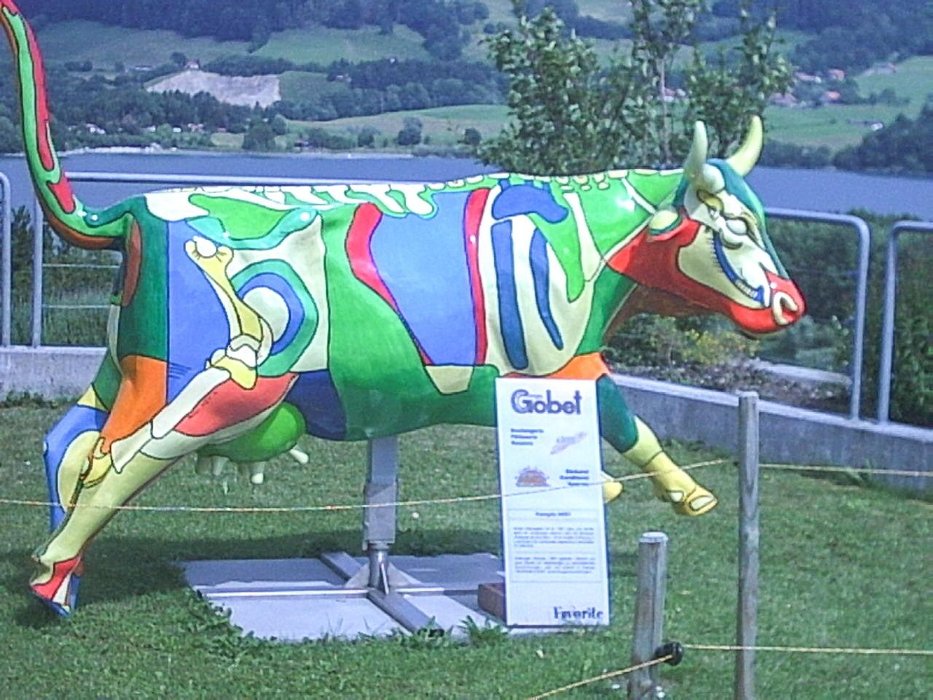 Hmm, I don't know how to put this right, but it reminds me butcher shop. Well, the colours are bright and not horrible.
Let's move on.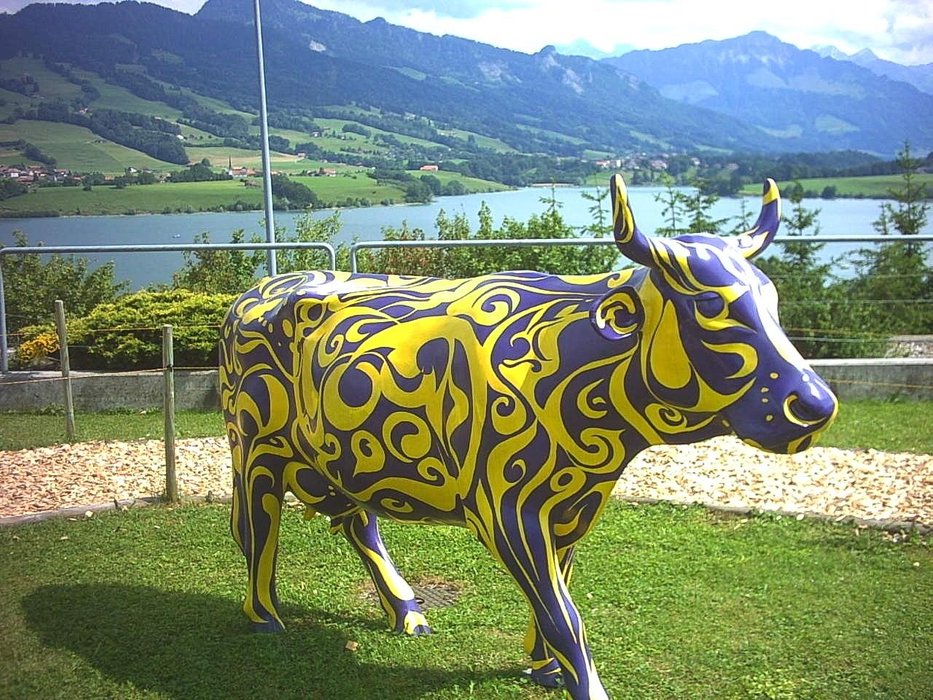 Some abstract pattern, but sits well with that background.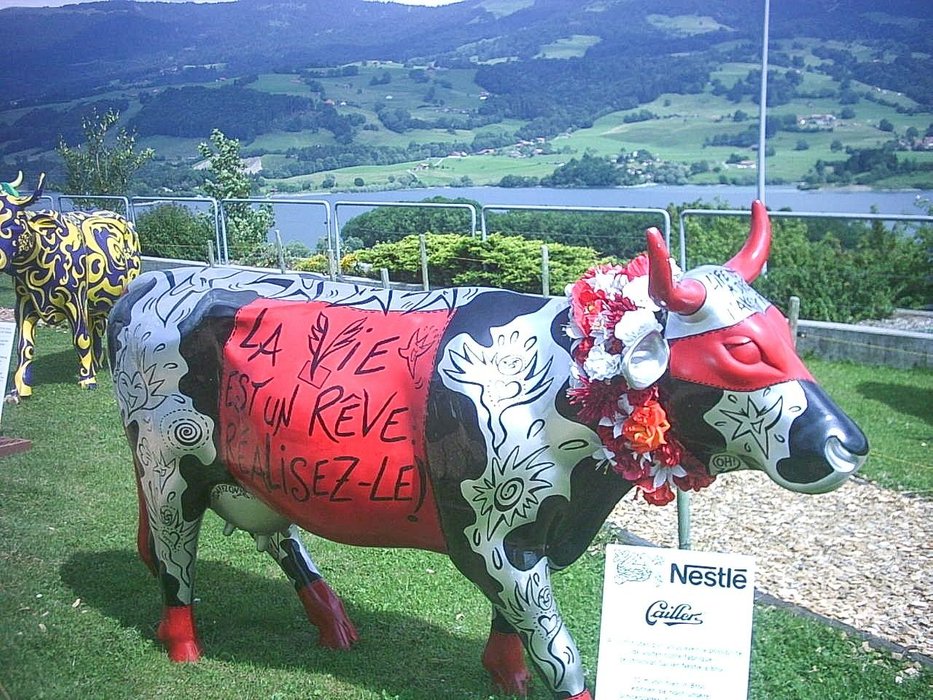 And here it is a jolly cow with something written on it. Something about life that is a dream. My French is so poor, I need someone to help me translate it properly.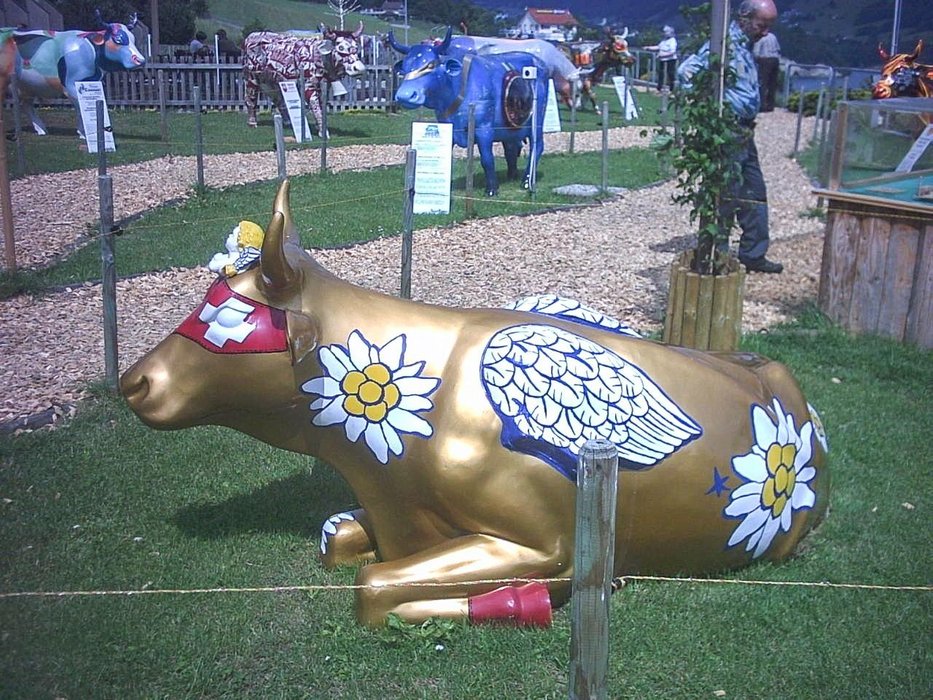 Next - so Swiss with the edelweiss and the flag.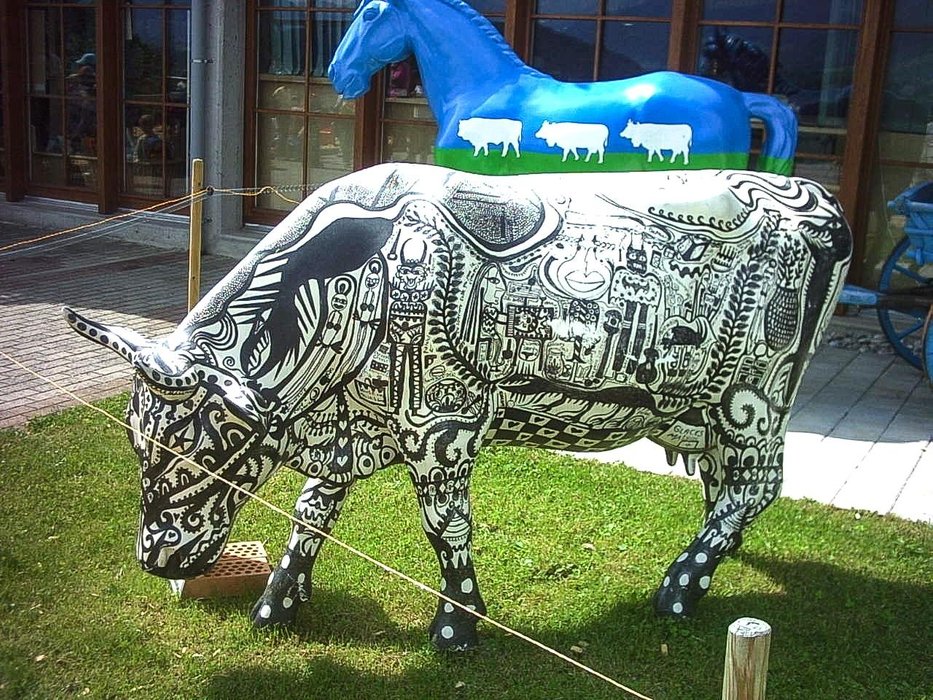 And what we have here - very contemporary. Look closer and see the figures of women, the devil and Batman with a guitar. Seriously. You may see something else.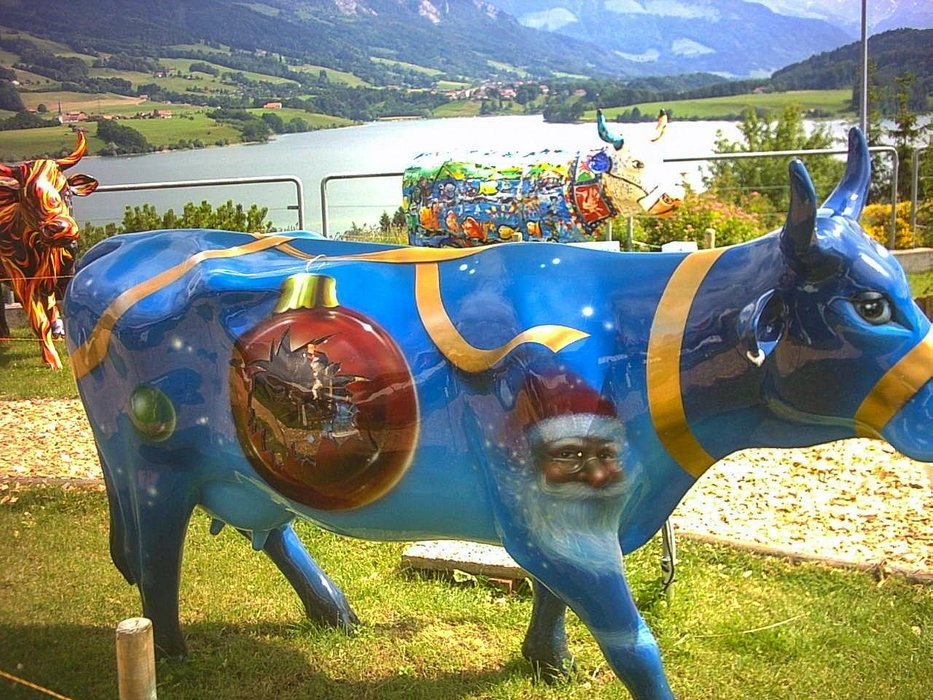 Christmas cow! Would you like to have such decoration for your Cristmas?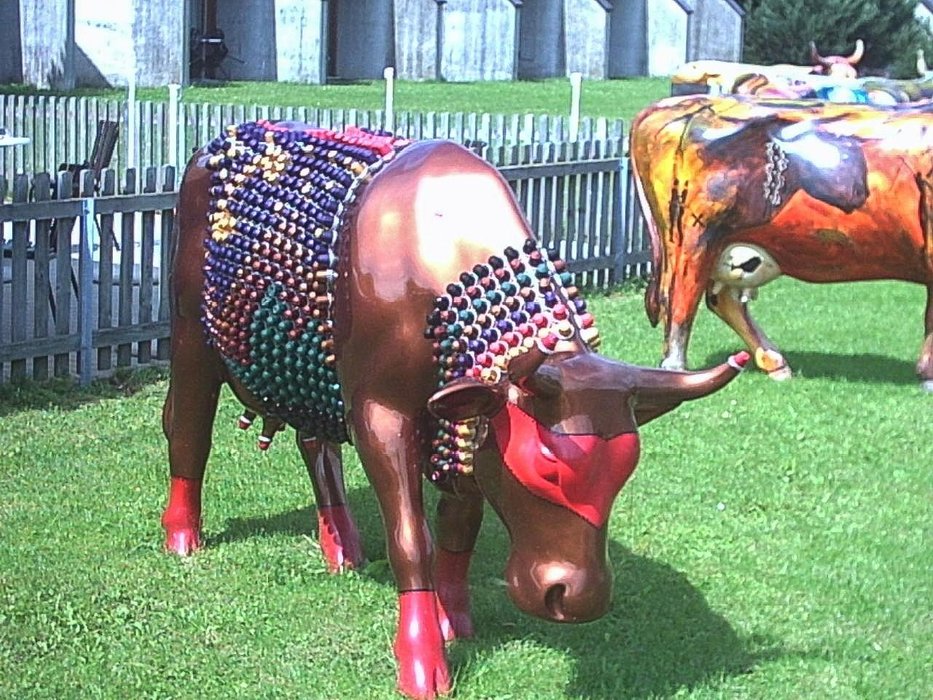 Look at this one, covered with Nespresso capsules. It looks like a Spanish bull.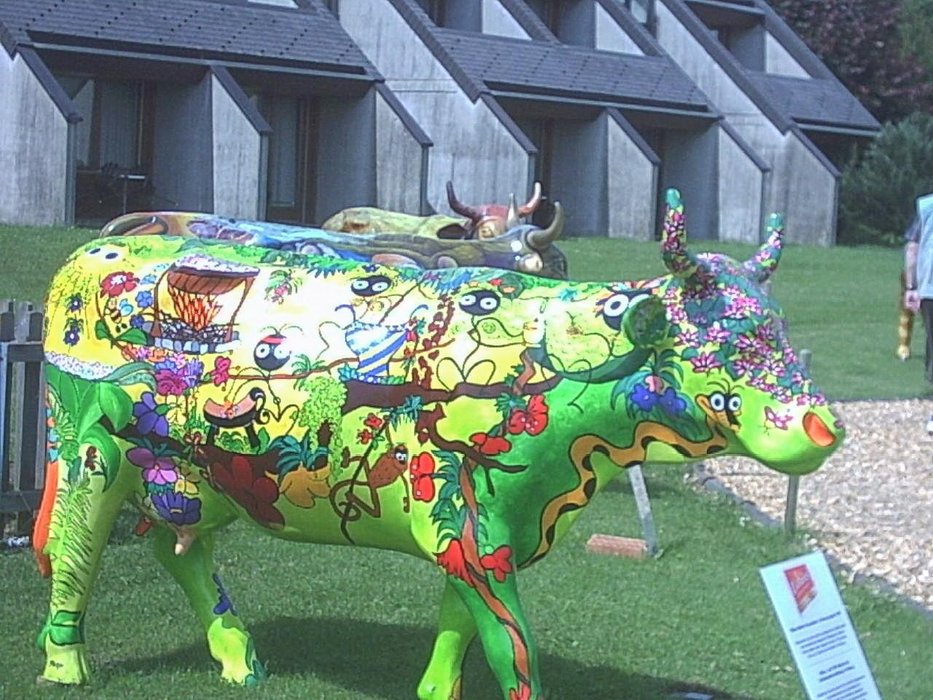 The last of cows I have in my photo archive is that green one. So lively with the spring motifs and jungle creatures on it.
Unlike my friend I did not photograph each cow and now I regret. They are pretty nice with all that different colours and themes.
But at the end of it let us see the painted horse. It is nice, isn't it? And the cart, that was real.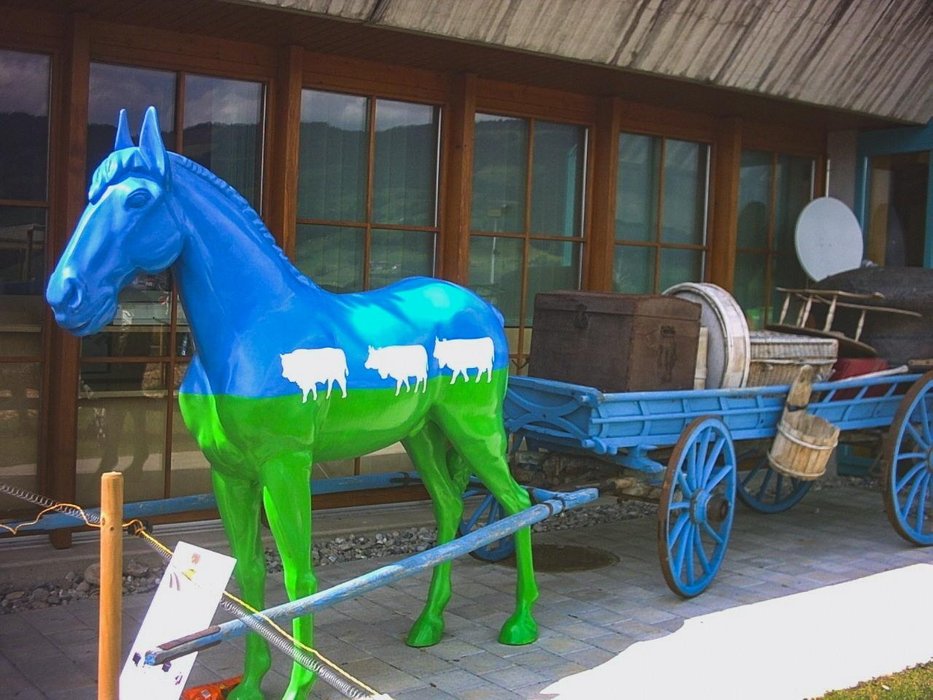 I have to say that the reason to look into these photos was the contest initiated by @kus-knee - The Old Dog Presents: The Weird is Good Art Contest!. Two entries are allowed and I had to choose two photos to submit. After I submit the Nesoresso cow, or a bull and the horse, I thought to make this post and to show you all of the photos I have, because they all are so unique.
U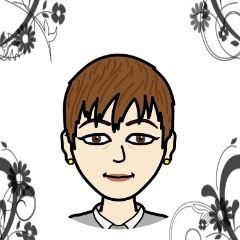 Thank you for visiting.
If you like to share your thoughts you can leave a comment.


[email protected]
🌐eSteem.app | 👨‍💻GitHub | 📺YouTube
✍🏻 Telegram | 💬Discord