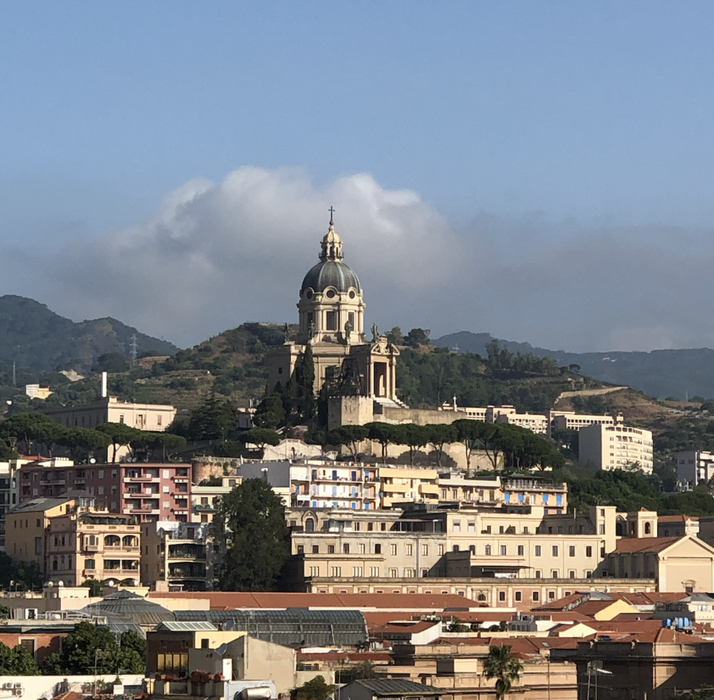 Messina is situated on thr northeastern Sicilian coast and is the capital of Messina Province which is on the western shore of the Strait of Messina. A port city opposite the Italian mainland, Messina has industries producing foodstuffs, silks, muslins, linens, and chemicals. The city was founded by the Greeks in the 8th century BC. It was occupied by the Roman forces in 264 BC, an event that precipitated the First Punic War between Rome and Cathage. Following the occupation by the Saracens during the 9th century AD and the Normans during the 11th century, Messina was ruled by various powers which in turn shaped its vastly diverse culture. The University of Messina which was established in 1548 was rebuilt extensively along with the rest of the Messina after the earthquake in 1908 that destroyed almost the entire city and killed some 84,000 of its people. from NCL Daily Report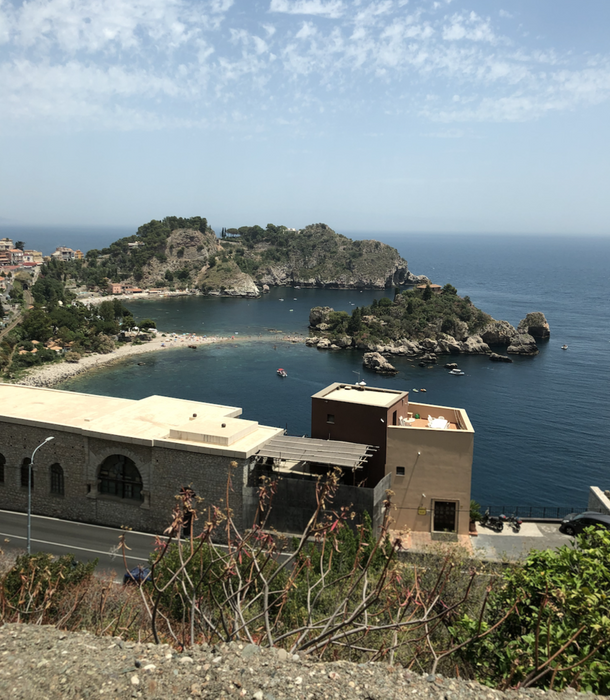 Another new destination for the family and me this trip was the island of Sicily, Italy. We arrived at Messina, Italy and had setup a private tour to see only a handful of places and the island of Sicily has enough to make a completely separate vacation from. The guide told us that he arranges tours for tourists that spend up to two weeks and barely get it all done as Sicily is known to be its own region with many different sides for visitors.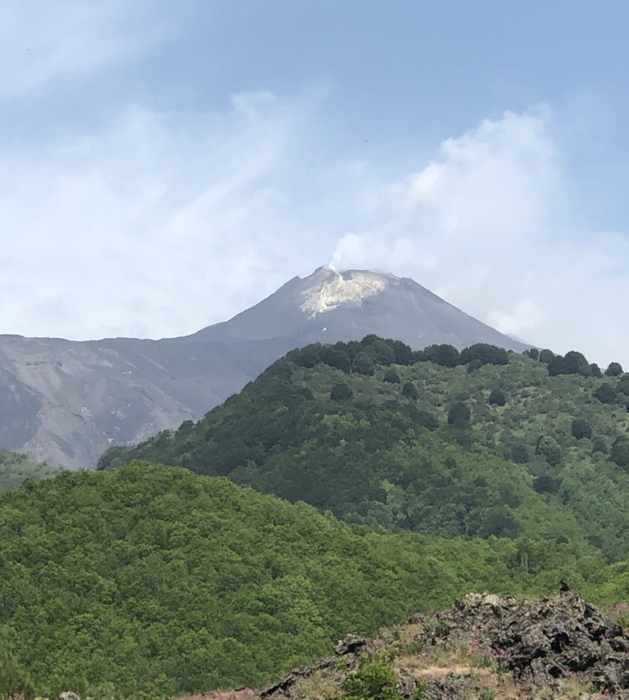 We started our adventure heading towards the farthest point, Mt Etna which is an active volcano sitting atop the mountain range. It is known for large eruptions although it has been quiet for a number of decades. There was one small eruption this past December so we could see the smoke from the sulfur still at the top. Given the activity, we could see the lava rocks from the many eruptions over the years as well as a number of craters when we reached the viewpoint halfway up the volcano. We had limited time and it was not appropriate for young children for the hike to the top so we stayed there and explored the craters made from past eruptions.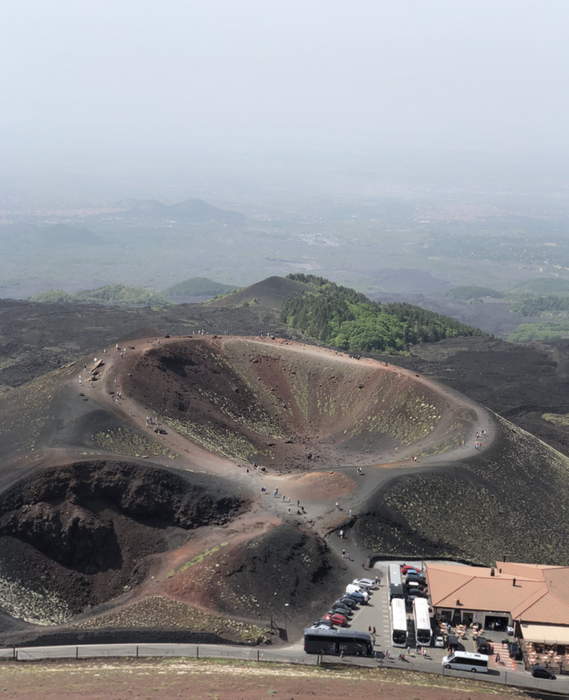 Since I wanted to get some exercise done I did choose to walk up a steep crater for a better view of the various craters and lava rocks that surrounded is for a great experience. Although I almost turned back half way up, I made it to the top only to start my way down quickly after some pictures as the way down was more dangerous given the amount of loose rocks. My daughter and I then went to the smaller crater and collected some lava rocks for memories. We then stopped for refreshments and a souvenir before heading back down the volcano.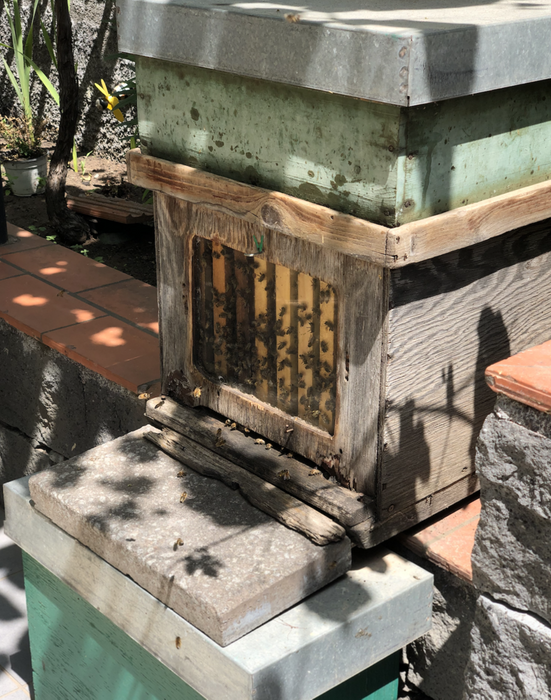 Our guide then stopped at a well known bee farm that are also known for olives and wines. We had a long session of tasting as it was still empty. The olive oils and honey were my favorite although I did also buy some liquor for our mini bar back home. We did it all just in time as the tour buses started to arrive as we were paying! It was a great place to buy some ingredients for our food challenges in the kitchen so we also bought some special mix of spices like salt, peppers, basil, garlic, and oregano.
This ultimately worked up an appetite as we all wanted to finally eat some Italian cuisine again. It had been since Venice that we had not had the opportunity for some homemade pasta. The tour guide assured us that we would be happy with a spot in our next stop. The now popular town of Taormina was our next stop; known for its film festival and a playground for celebrities during the event. We started with a great lunch which we really needed and I can say it was the best pasta we have had since our last visit to Italy more than five years ago! My daughter was in awe with how good fresh pasta tasted and the waiter and owner was kind enough to take her to the kitchen for a brief tour!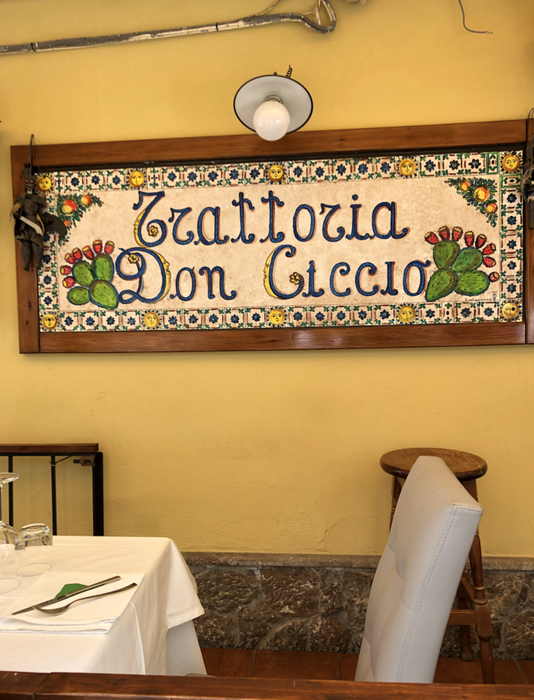 We then had an hour of walking and shopping on the 1 kilometer town center with some great view of the Mediterranean below. It continues to amaze me to see how well preserved these structures remain given their age. The United States is so relatively young that we do not appreciate the history as visual as it can be done here in Europe. Even considering the adversity of history here, with war and natural disasters, culture is strong and the people preserve their beauty with these towns. Before leaving the town, we were driven down to the beach where a replica of a Statue that inspired the Nike brand once stood.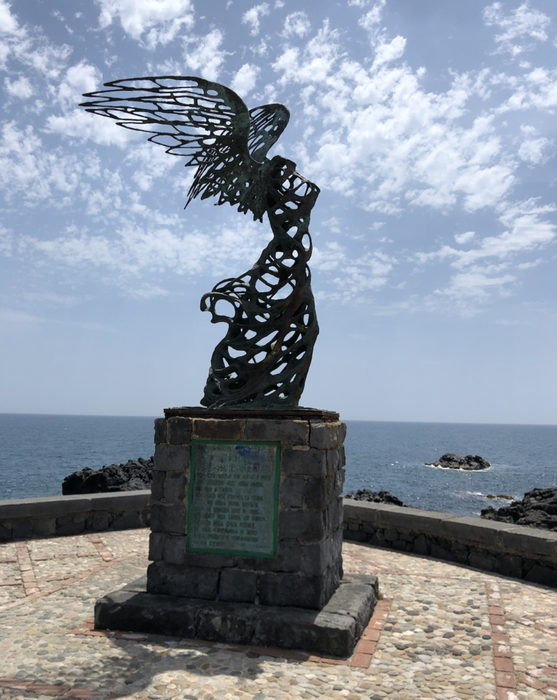 As time was ending for our day in Sicily, we drove back towards the Port but not without having a stop at one of the Squares in Messina where a mechanical clocktower stood next to a Church. This is one of the handful of towers made across Europe by the same Company that did the one in Prague. We were lucky to be there at the top of the hour to see it in action! It gives a totally unique perspective of the phrase "works like a clock!"

Discord: @newageinv#3174
Chat with me on Telegram: @NewAgeInv
Follow me on Twitter: @NAICrypto
The following are Affliate or Referral links to communities that I am a part of and use often. Signing up through them would reward me for my effort in attracting users to them:
If you are like me and interested in continued personal growth, invest in yourself and lets help each other out by leveraging the resources Minnowbooster provides by using my referral link
Start your collection of Steem Monsters today at my referral link
Try the Partiko Mobile app to engage while on the go with my referral link
The dice game that has captured the attention of many Steemians is here! Earn your tokens and try your luck here!
Check Out the New Way to Interact with Other Social Media using my referral link
Get started on the latest game on the blockchain Drug Wars by signing up here!
If you select one of my above referral links, I will sponsor a @steembasicincome SBI in return. Let me know if you do so in the comments below!

DISCLAIMER: The information discussed here is intended to enable the community to know my opinions and discuss them. It is not intended as and does not constitute investment advice or legal or tax advice or an offer to sell any asset to any person or a solicitation of any person of any offer to purchase any asset. The information here should not be construed as any endorsement, recommendation or sponsorship of any company or asset by me. There are inherent risks in relying on, using or retrieving any information found here, and I urge you to make sure you understand these risks before relying on, using or retrieving any information here. You should evaluate the information made available here, and you should seek the advice of professionals, as appropriate, to evaluate any opinion, advice, product, service or other information; I do not guarantee the suitability or potential value of any particular investment or information source. I may invest or otherwise hold an interest in these assets that may be discussed here.
---
Hey guys it's teenagecrypto and for awhile i thought...