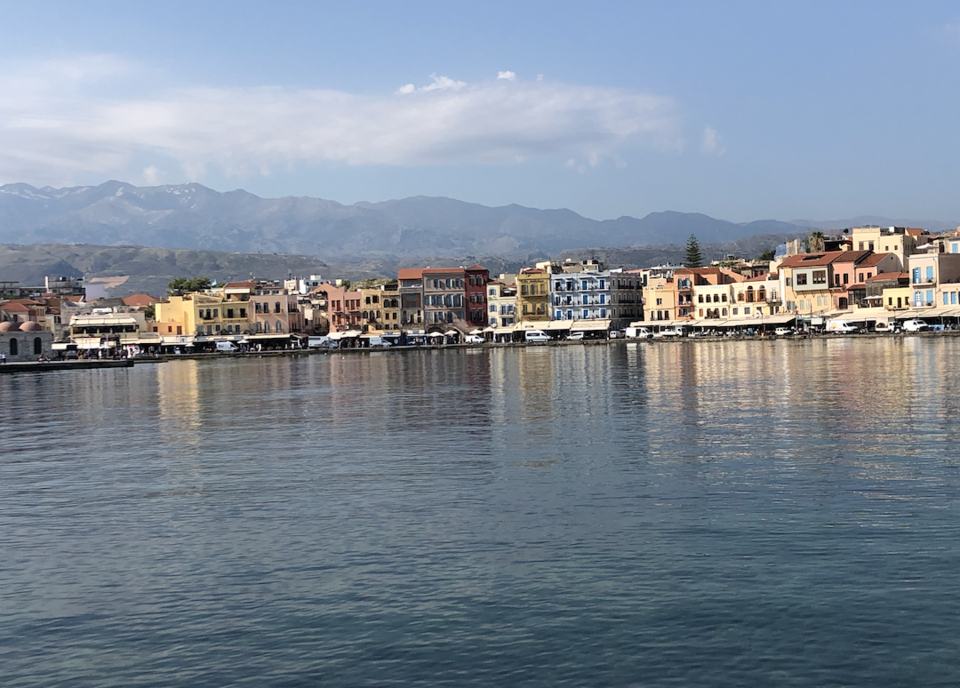 Chania is a city on the northwest coast of the Greek island of Crete. It's known for its 14th-century Venetian harbor, narrow streets and waterfront restaurants. At the harbor entrance is a 16th-century lighthouse with Venetian, Egyptian and Ottoman influences. Opposite, the Nautical Musuem has model ships, naval objects and photographs. The former monastery of St. Francis houses the Archaeological Museum of Chania. from NCL Daily Report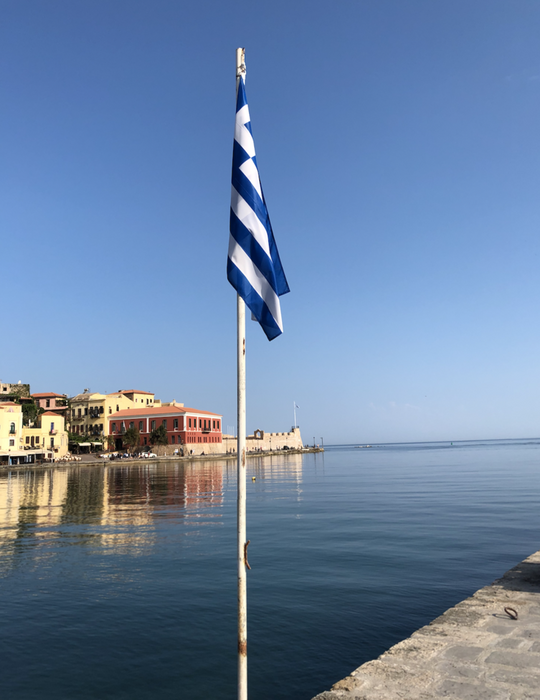 The family had to wake up early for our visit to Chania located on Greece's largest island Crete. Our blunders of our vacation continued as we (me really) did not realize how large Crete really was and we booked a walking tour to visit the ancient village of Knossos. When we got off the ship we realized that we were almost 65 kilometers away from the site. When speaking to the taxi drivers it would take up to two hours to get there and we only have 5 hours on shore today so those tours were cancelled (and money lost due to cancelling the same day)!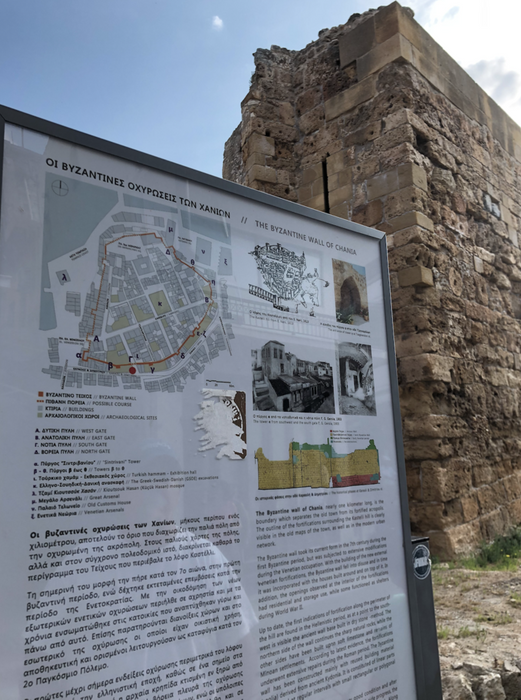 Luckily, we reacted instantly and decided to get on the bus towards the downtown area to view the city and its old town. It was still early so we could appreciate watching a city wake up and prepare for tourists to invade the city. The bay area which we focused our time in was impressive as you can see the influences of the many cultures that had spent time in the region. The walls of the city were great to walk on as it provided some great pictures for the family.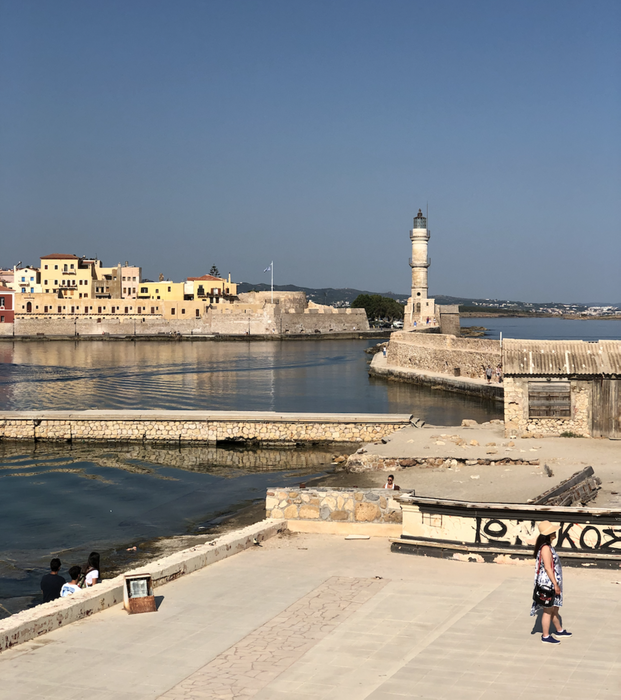 As we walked around the bay, I realized how clear the water was in the bay which is strange as it is typically more polluted given the active boating in bay areas. This allowed me to see fish swimming along when a friend mentioned that they were Minnows! More signs towards the relevance that Steem continues to play in my life! Minnows willl soon become the most important class here as we continue to expand the capabilities of our ecosystem.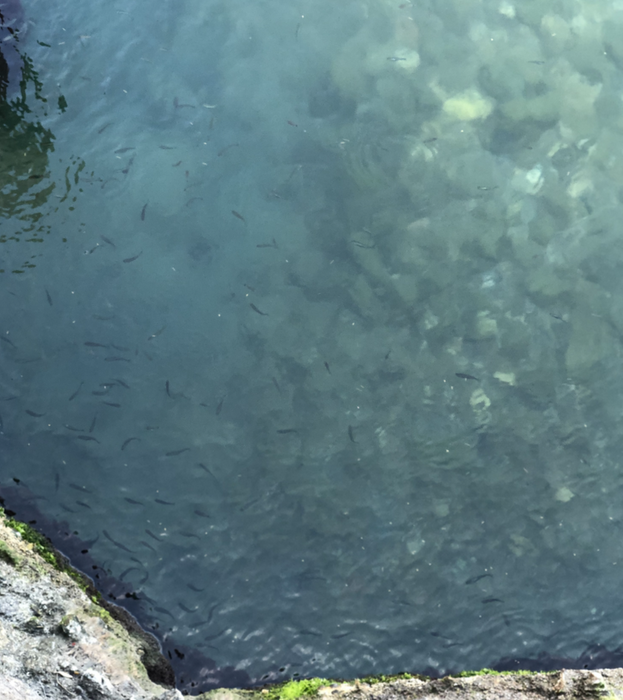 After stopping for some coffee and what would be my last Baklava from Greece, we decide to take an alternative route in order to see the shops along the way back to the bus. While we did not buy much given the little time we had, I continue to think about the Greek people and the adversity they have seen in the last couple of years which I have been able to relate to given the situation in my former residence, Puerto Rico. Despite globalization creating an expanded middle class, the case in some countries has been more challenging as the standards to live in a globalized world costs more than the benefits they bring; Greece and the EU experiment continue to demonstrate this clearly.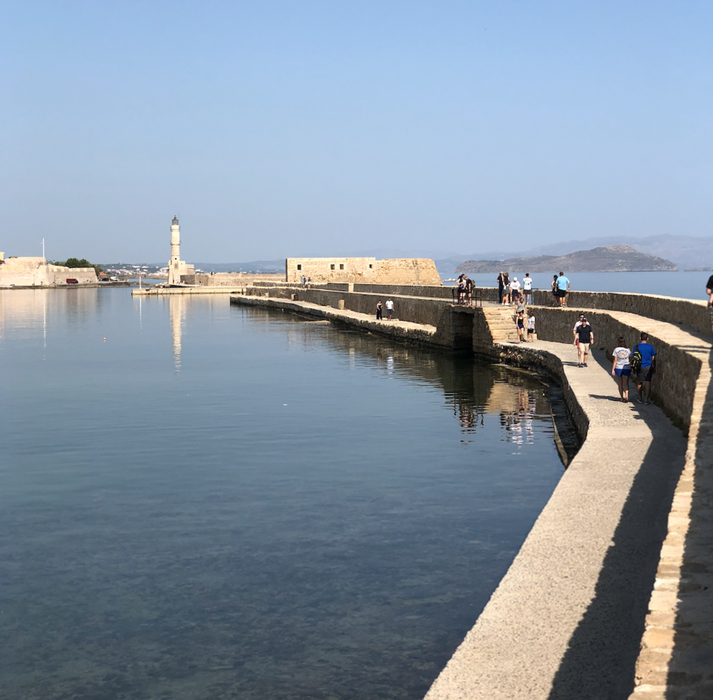 We left the island behind wondering what more it could have offered us but given the time constraints, we had to miss most. Greece as a whole has had a big impression on me as it has far exceeded my expectations! As a Mythology lover, this has been a very fulfilling experience as seeing it tangibly adds a level of appreciation I cannot expain. This part of the world has been around with civilization for over thousands of years whereas we in the United States only have been around a couple of hundred (even though Indians have also been traced before those European establishments. It truly provides perspective on where we have been, where we are at, and we can potentially go!

Discord: @newageinv#3174
Chat with me on Telegram: @NewAgeInv
Follow me on Twitter: @NAICrypto
The following are Affliate or Referral links to communities that I am a part of and use often. Signing up through them would reward me for my effort in attracting users to them:
If you are like me and interested in continued personal growth, invest in yourself and lets help each other out by leveraging the resources Minnowbooster provides by using my referral link
Start your collection of Steem Monsters today at my referral link
Try the Partiko Mobile app to engage while on the go with my referral link
The dice game that has captured the attention of many Steemians is here! Earn your tokens and try your luck here!
Check Out the New Way to Interact with Other Social Media using my referral link
Get started on the latest game on the blockchain Drug Wars by signing up here!
If you select one of my above referral links, I will sponsor a @steembasicincome SBI in return. Let me know if you do so in the comments below!

DISCLAIMER: The information discussed here is intended to enable the community to know my opinions and discuss them. It is not intended as and does not constitute investment advice or legal or tax advice or an offer to sell any asset to any person or a solicitation of any person of any offer to purchase any asset. The information here should not be construed as any endorsement, recommendation or sponsorship of any company or asset by me. There are inherent risks in relying on, using or retrieving any information found here, and I urge you to make sure you understand these risks before relying on, using or retrieving any information here. You should evaluate the information made available here, and you should seek the advice of professionals, as appropriate, to evaluate any opinion, advice, product, service or other information; I do not guarantee the suitability or potential value of any particular investment or information source. I may invest or otherwise hold an interest in these assets that may be discussed here.
---
My thoughts about basic income crypto currencies