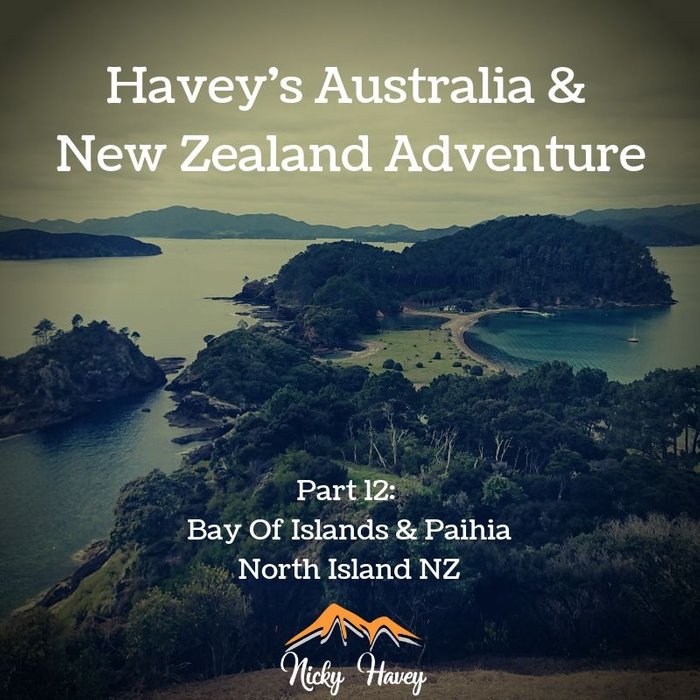 The Island Life
After the activity filled road trip (and sea trip) from the previous blog, we stayed the night on a boat house in the middle of the Bay of Islands in the North Island of New Zealand. Today, we didn't have quite as much travelling to do as we stayed on the boat house cruise but there was still a lot of fun to be had! Here's how the day went when we were at the Bay of Islands and Paihia.

Sunrise
Well, if staying on a boat house overnight in the middle of around 140 islands wasn't enough then waking up early to try and catch the sun rise surely would be! Sadly though, the weather wasn't in our favour this time round as it was a little bit cloudy but it was still worth it to be out there on the deck, experiencing the tranquillity this part of the world gave us.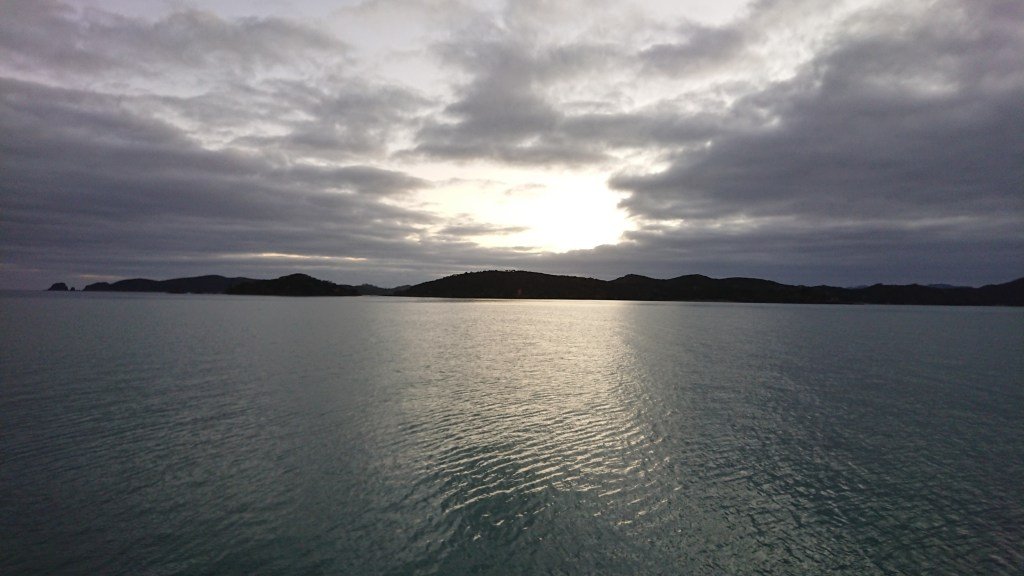 The Sun did it's best to poke through...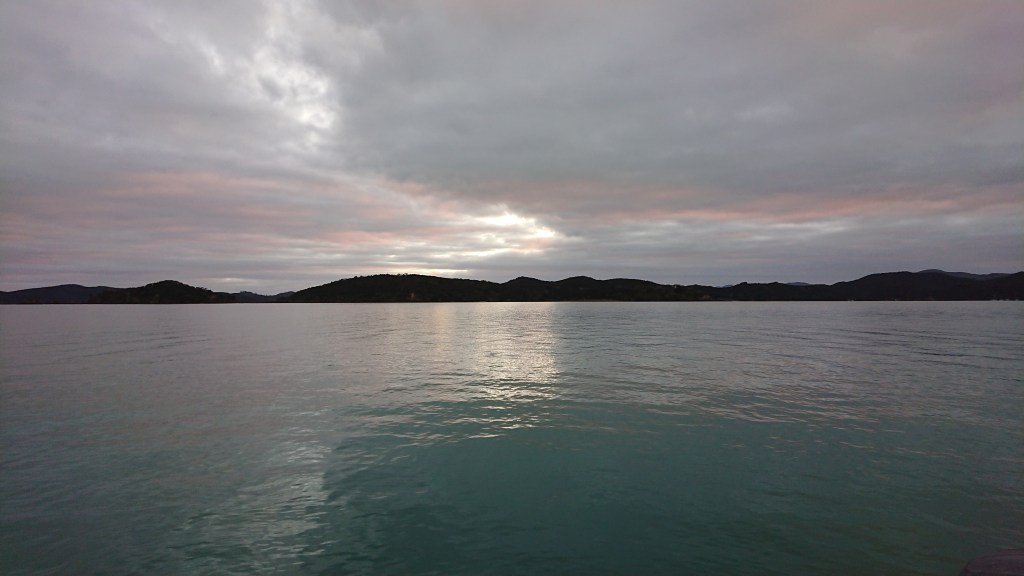 ...but the clouds got the better of it although the red tinges add a nice effect.
Snorkelling
Later that morning, as part of the boat cruise we were on, we had a chance to go snorkelling and explore some of the coral action that was going on underneath the surface. I don't have any pictures of it as my phone would probably disintegrate in the salt water but you get to see all kinds of fish, eels, sea urchins and beautiful patterns of the coral below. Some folks saw a turtle as well but I was a bit slow, flapping in the water with my foam noodle haha! The divers brought up a sea urchin for us to hold which was spiky but it felt a little weird as it was moving around in my hand!
It did get a bit cold in there though with water temperature around 16C and after 30 minutes, it was time to get out as a few of us were shivering! However, the Sun did make an appearance and we thawed out on the upper deck.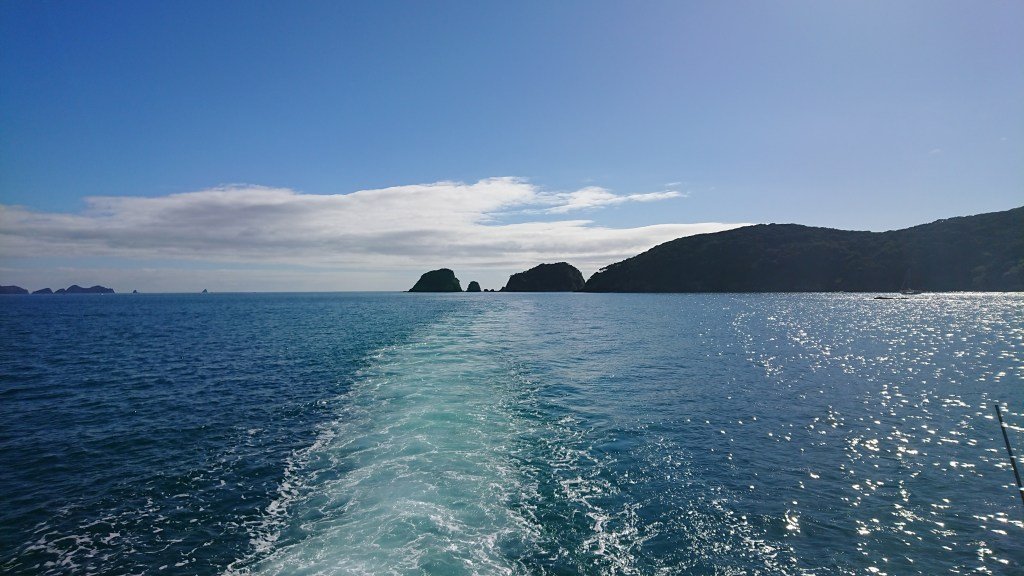 We snorkelled at the corals by those islands in the distance
Motuarohia Track
After we thawed out from the morning's snorkelling adventure, we were taken over to Roberton Island for a mini expedition to walk up Motuarohia Track. This is a short 15 minute walk (although fairly steep, you'll definitely feel it) up to the top of the island which offers amazing panoramic views of the surround Bay of Islands. It has changed ownership many times but it's believed that the first European owner, Roberton, bought it from the Ngapuhi chiefs in 1839 [Source].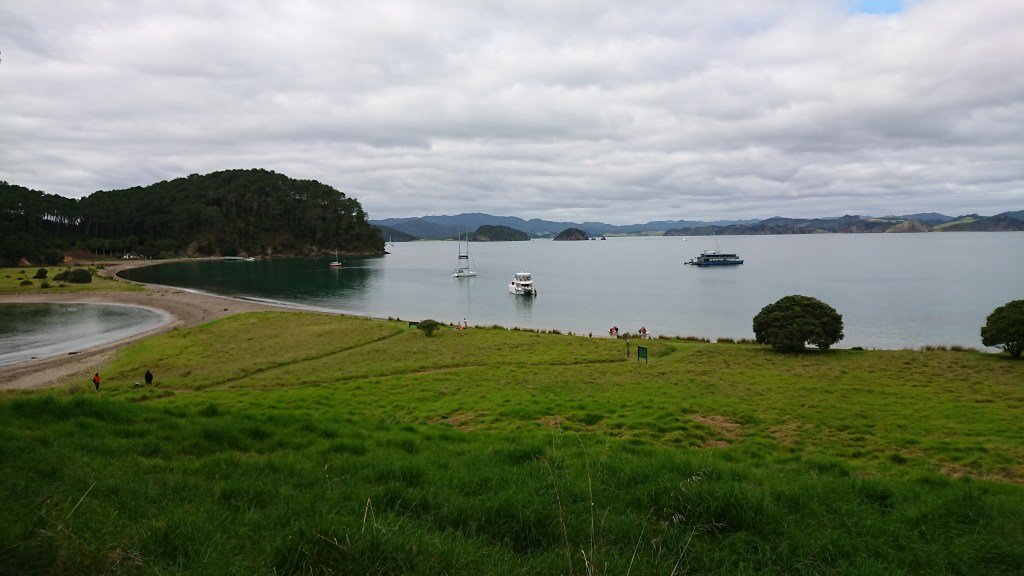 The base of the Motuarohia Trail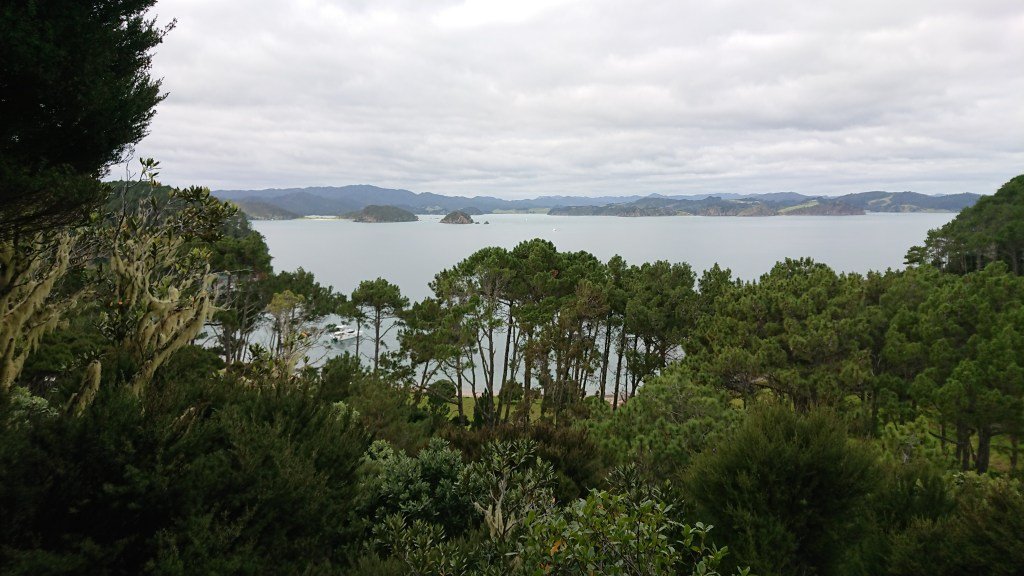 As you climb up above the tree line, the views begin to emerge...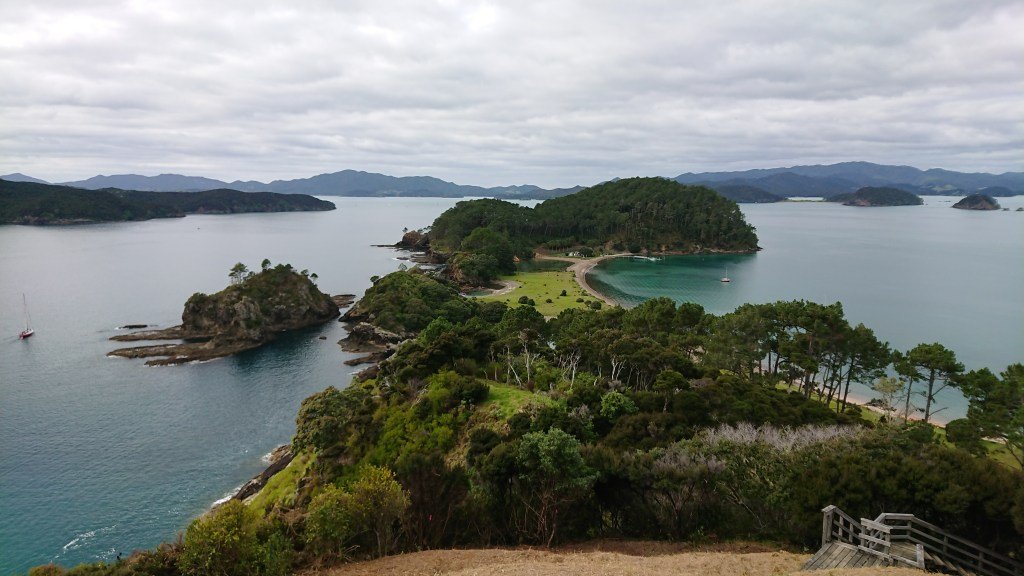 ...until you get to the top platform and it really opens out!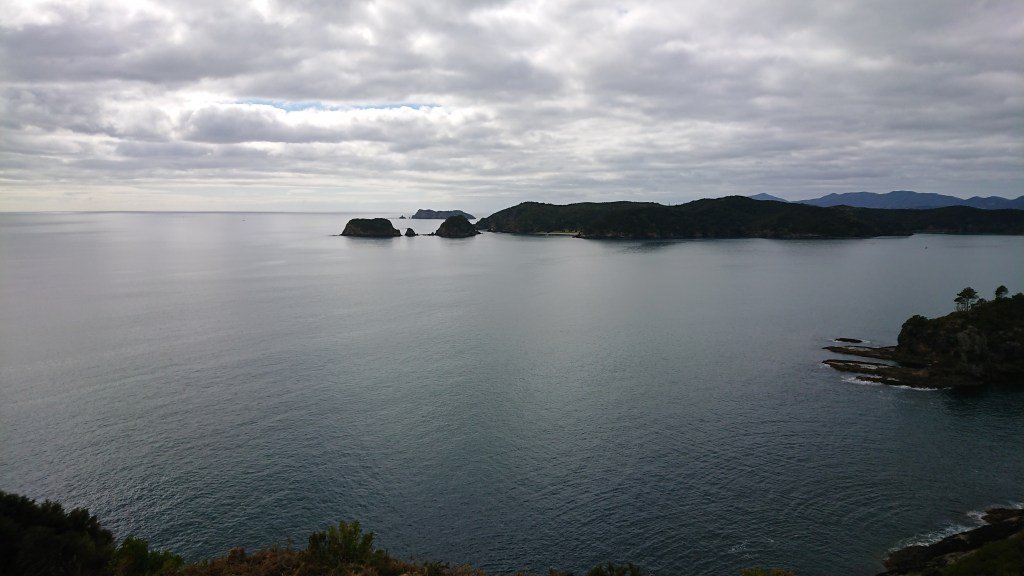 Some of the surrounding islands at the top...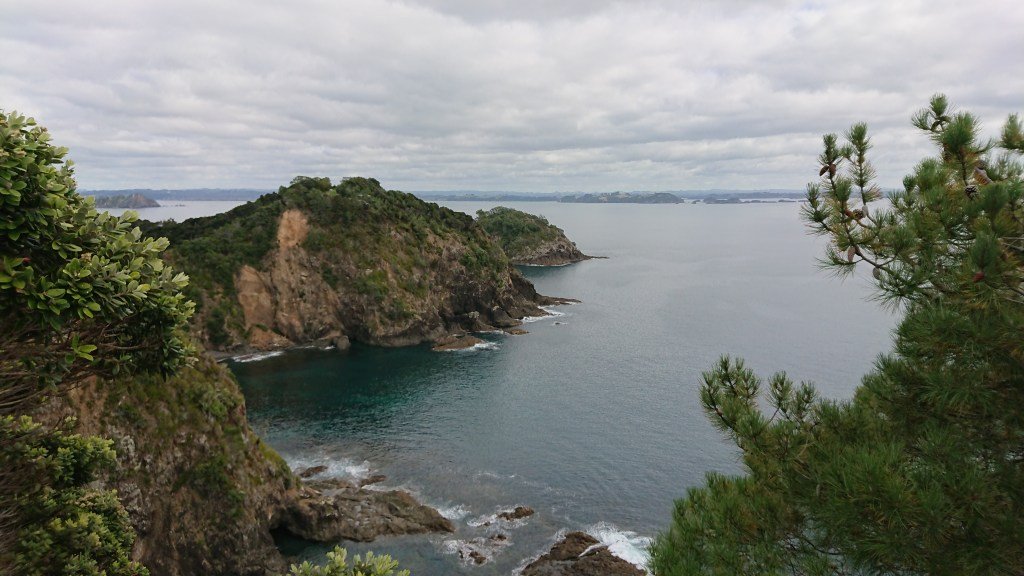 ...and more at the back.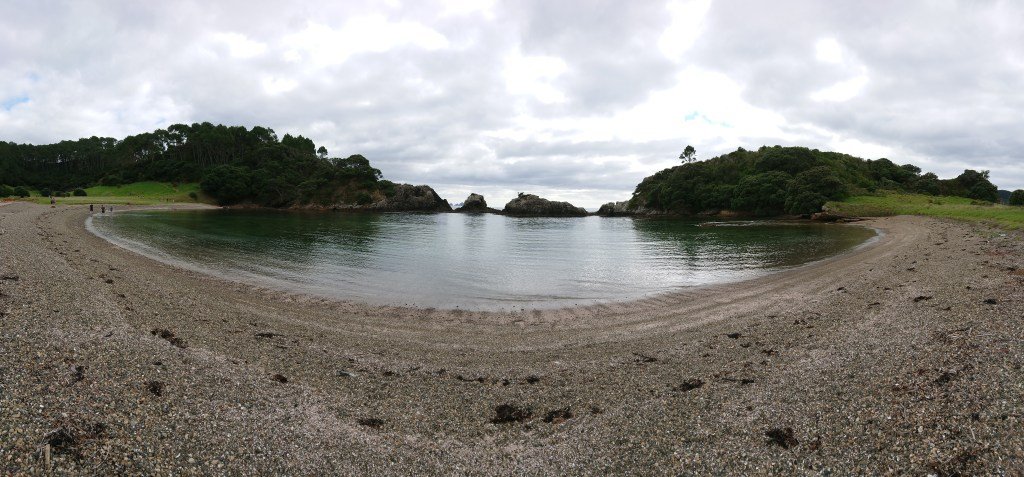 One of the coves at the bottom of the trail.
Back To Paihia
Sadly, it was time for us to head back to the mainland of New Zealand and say goodbye to our crew mates on the "Rock The Boat" cruise. It was good fun and they looked after us well but the tour must go on for us in the group!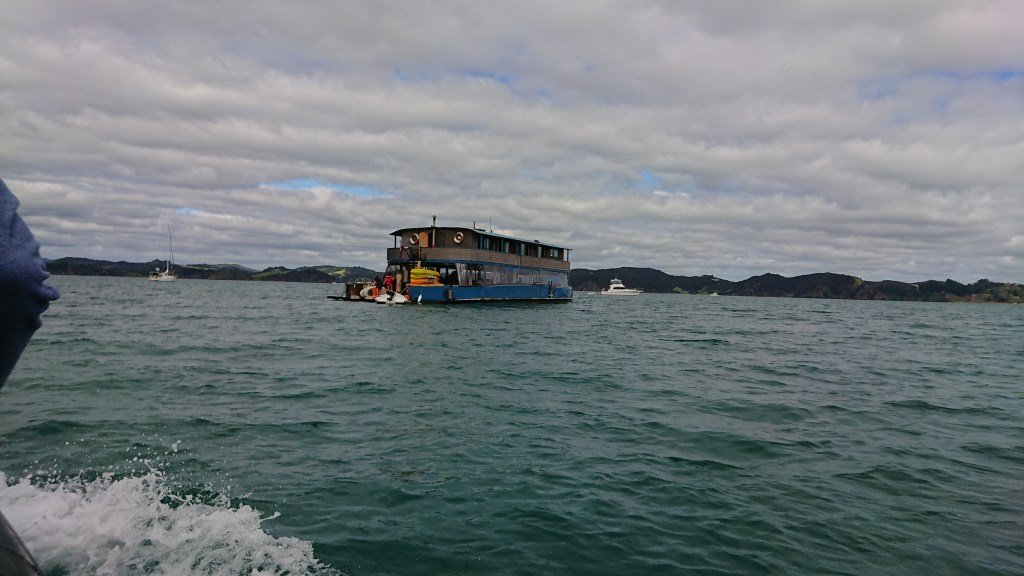 Farewell to the Rock The Boat crew!
Some of the group members went off and did another boat cruise to see if they could find dolphins but for those of us who wanted to get acquainted with Terra Firma, we pottered around this little tourist town and hung around for sunset on the beach. There's quite a few bars and cafes to enjoy in Paihia as well as a supermarket to stock up on beer if you're so inclined! We decided to have an ice cream before sunset, chocolate of course ;)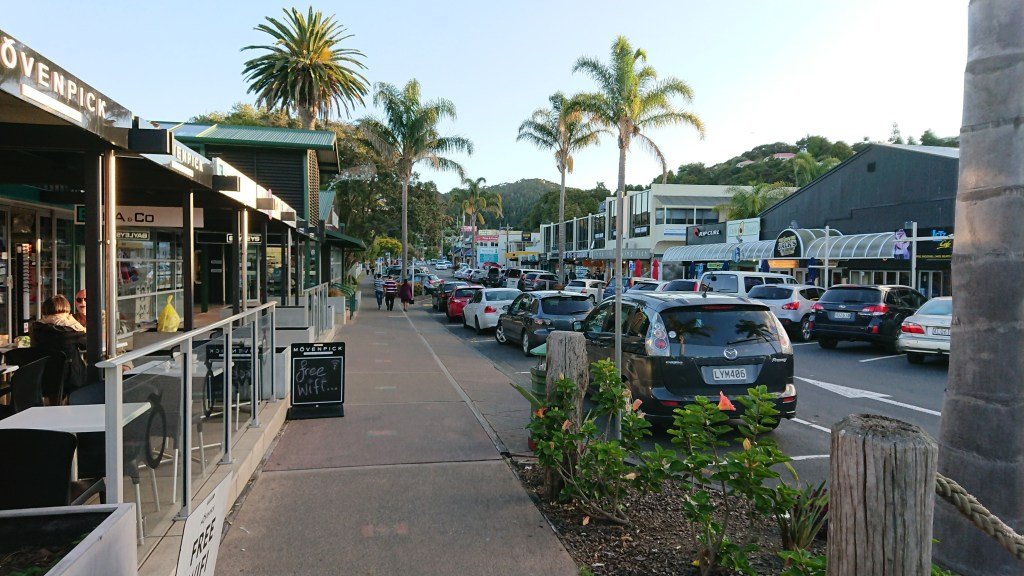 One of the streets in Paihia with a good choice of cafes and bars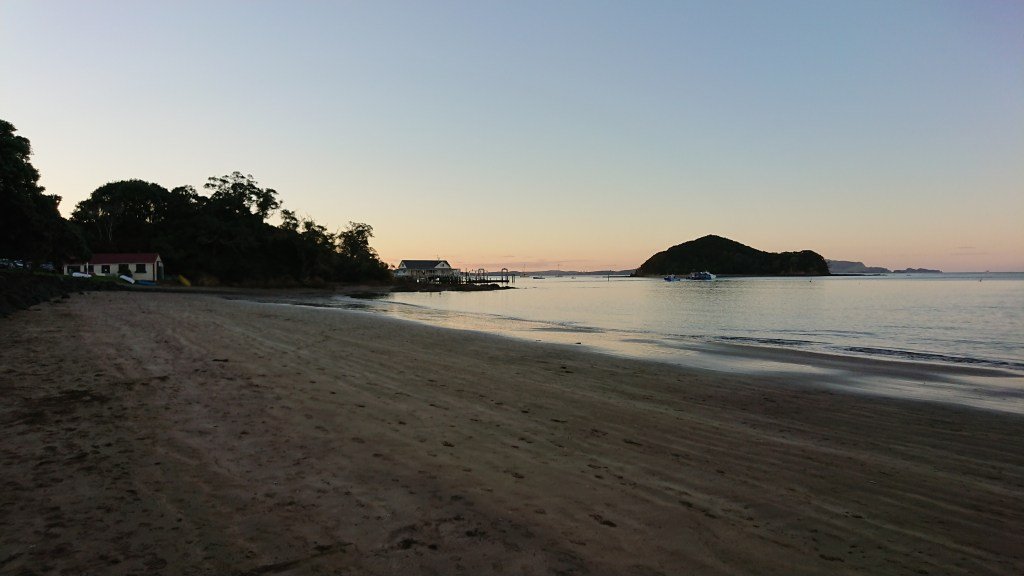 Sunset over the beach in Paihia


The colours in the sky make for a magical setting don't they?
Cringe Moment Of The Day
Well, I thought I'd throw this one in here because it was pretty "bleurgh" when it happened and everyone on the boat who witnessed it was "bleurgh" as well haha. You remember earlier on I said the divers went and grabbed some sea urchins... that was a part of lunch! Not only that, they showed us how seafarers and Asian cultures enjoy these high protein balls of spiky nutrition... specifically their gonads... ooooo eeeee!
First, the crew passed around a live urchin, you can feel it moving creepily in your hands. Then the dude sat down on his chair with a sharp knife and just cut it open in front of us, took out the meat that they eat and then asked "who wants a bit?" I think all 30 of us who were watching were a little bit "bleurgh"!! But then someone went forward and tried, said it tasted a bit salty but not too bad. A few tried it but I had to walk away, it was too.... bleurgh haha! If you want more information on sea urchins as a food delicacy, click here.

What a day it was and a beautiful place to explore here in the Bay of Islands of New Zealand. I hope you enjoyed this one and some of those views are spectacular! If you're feeling brave, enjoy a sea urchin...but I won't be joining you haha!
Until the next time, take it easy
Nicky

PHC Top 3 - A Chance To Win From A Growing Prize Pool
Well, whilst I'm here, I might as well take the chance to tell you about a new contest that I've been a part of with the Power House Creatives called @phctop3. All you need to do is tell us what your top 3 favourites for a chance to win from a growing prize pool - more info here.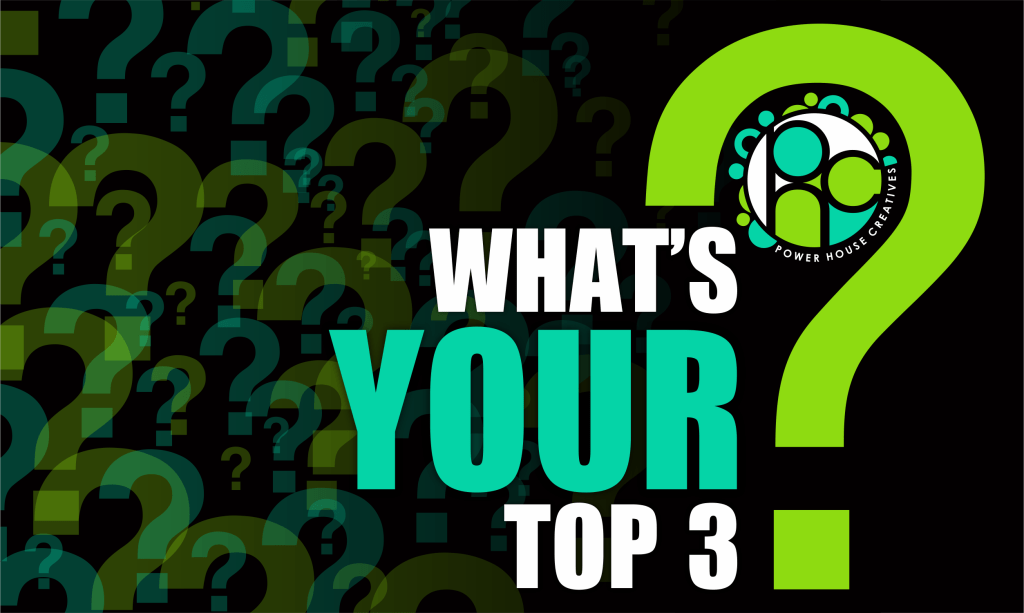 Electronic Music Alliance (EMA)
EMA is a growing electronic music community run by electronic musicians FOR electronic musicians. We have weekly playlists on a variety of platforms to cater for all streaming preferences - make sure you follow our blog for your weekly dose here. We're also launching a new community run label called Electronic Alliance Records which aims to spread the word even more for our artists - check the latest developments and what music is coming up here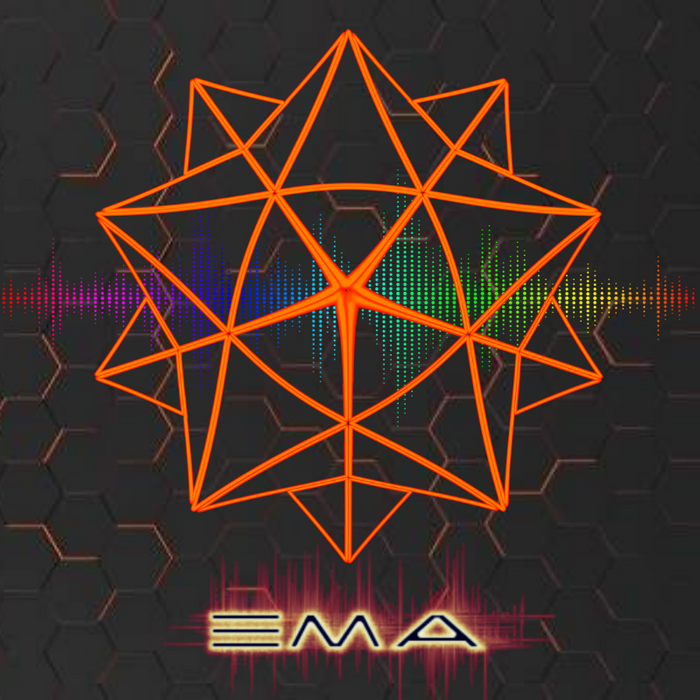 ---
Posted from my blog with SteemPress : https://nickyhavey.co.uk/2019/07/haveys-australia-new-zealand-adventure-part-12-bay-of-islands-paihia-north-island-nz/
---