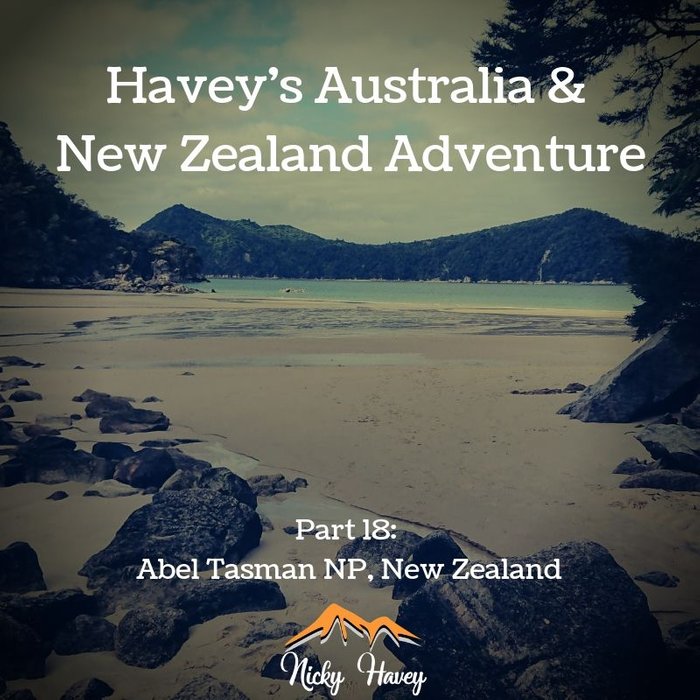 North to South
In today's blog, we're departing the North Island and beginning our exploration of the South Island of New Zealand. We had a long journey from Wellington to Abel Tasman National Park where we hiked 16km through this amazing place. On our guided adventure tour, we didn't really get to hang around Wellington for too long and I'm not much of a city person anyway - give me spectacular mountains any day... and that's exactly what we'll see today (check out the rhymes)! Let's go! :)

Ferry Crossing
To get to the South Island, you have a couple of options - the Interislander or Bluebridge ferry services. Fun facts - they both leave from Wellington on the North Island and arrive in Picton on the South Island, take the same amount of time (about 3-4 hours) and cost about the same amount of money (around $110 NZD for a return ticket). It's just the Interislander has more transits per day (6 vs 3). Make sure you use Direct Ferries when you book as you can get some good deals.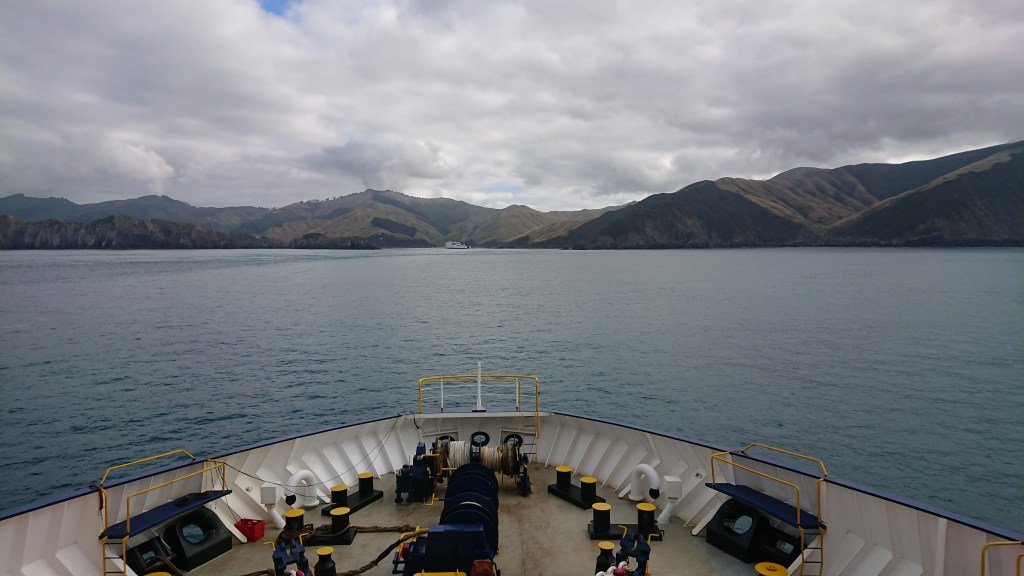 Travelling across the ferry to the South Island
When you leave Wellington and travel across the Cook Strait to the South Island, be prepared for some potential "turbulence", particularly if the weather has been "busy" the night before. Once you are out in the open water, there is a chance for some serious "boatation" (rotating boat... I just made that up, you can keep it ;) ), which may cause a lot of rattling in the kitchen as all the crockery and utensils fly out the cupboards! However, once you start entering the Marlborough Sounds of the South Island, the waters calm down a bit and you can start taking in the amazing sights!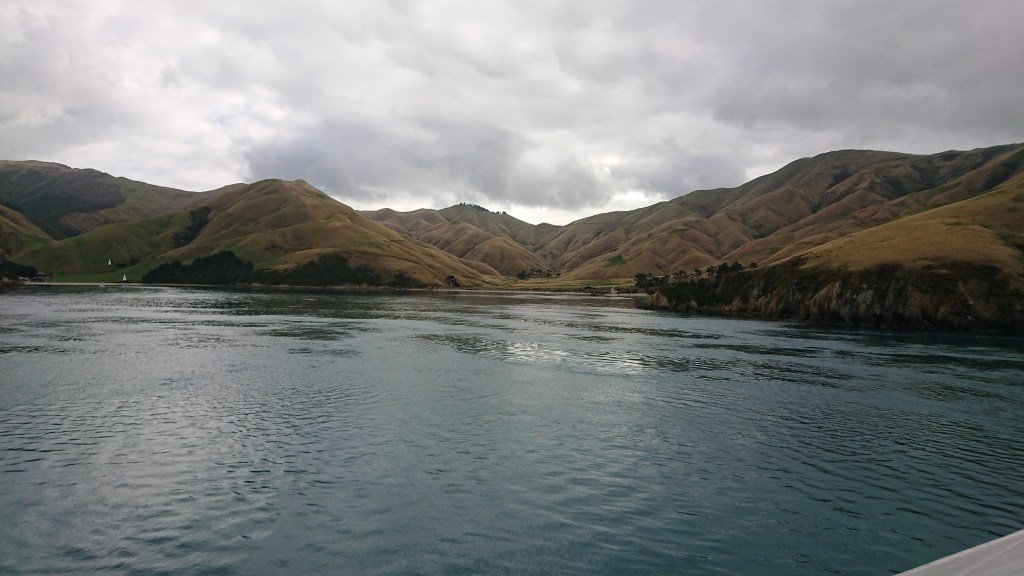 If you can handle the wind, stay outside and enjoy the views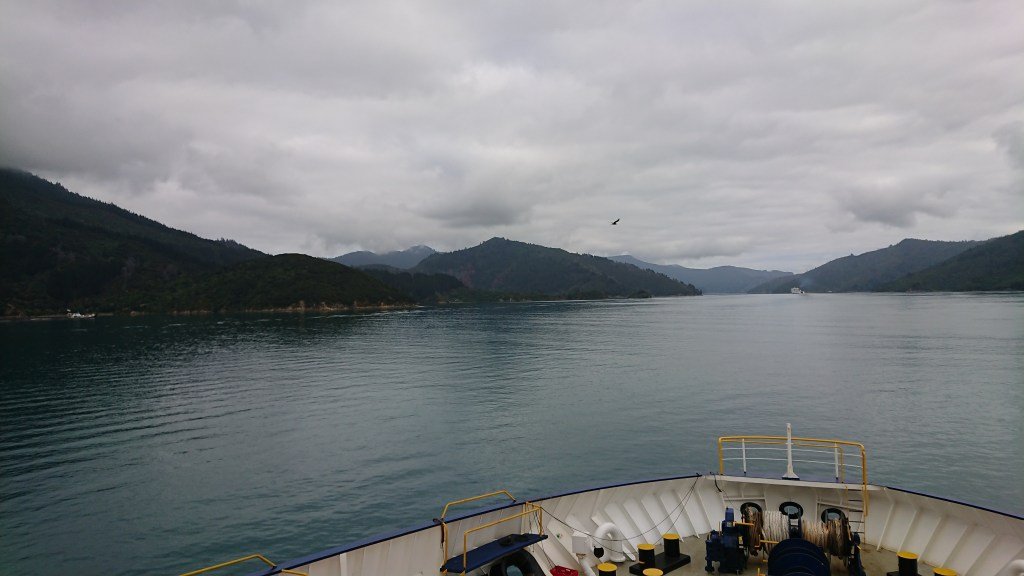 Look out for wildlife on the way through. Can you see the bird?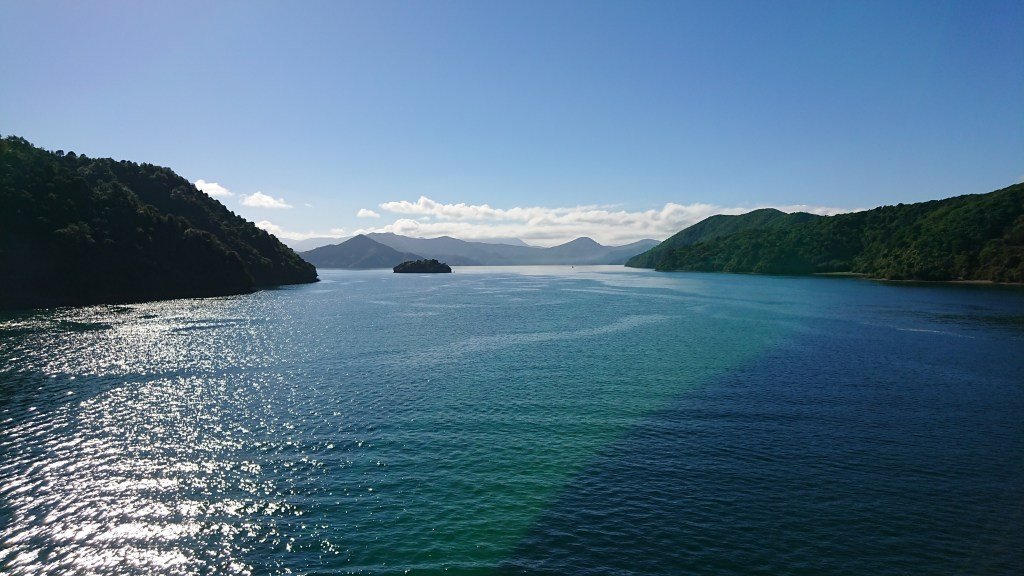 Looking around at this new landscape as we enter Picton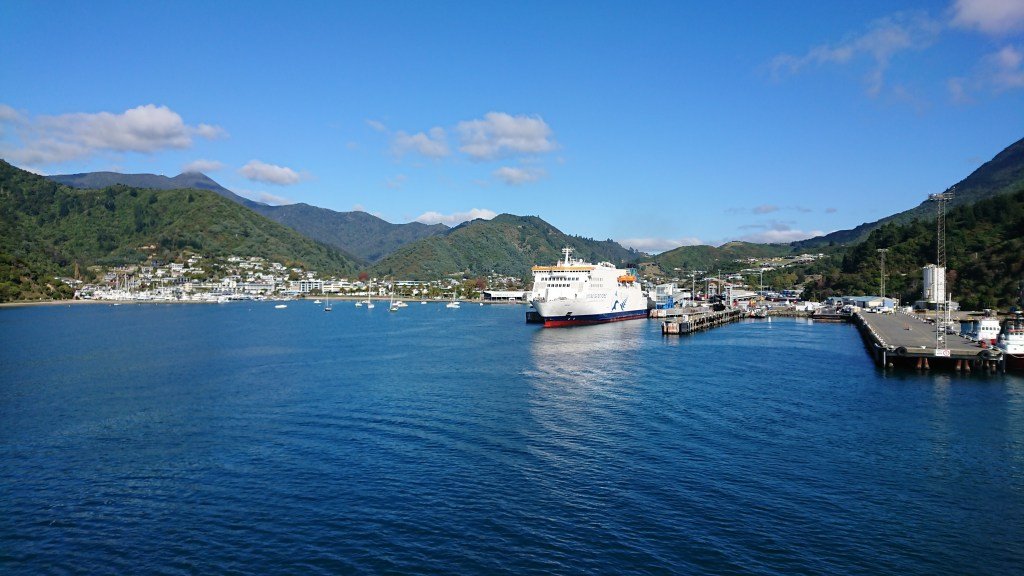 Made it to Picton Ferry Port :)
Changing Weather
In the pictures above, you can see just how quickly the weather changes in New Zealand. The ferry takes around 4 hours and the weather went from dark, cloudy skies to beautiful sunshine. Our Kiwi tour guide was telling us that all you need to do is wait a couple of days for the weather to change (or in our case, a couple of hours)! It makes sense as New Zealand is a really narrow country and many miles away from any large landmass so the weather systems just pass on by!

Driving Over To Abel Tasman
After we landed in Picton, we picked up our minibus and began our road trip south along Highway 1, then west along a very scenic Highway 6 through Mount Richmond Forest Park and north on Highway 60 to get on up to Abel Tasman National Park. This journey took a good 12 or 13 hours to do from Wellington but I didn't come to New Zealand to do nothing! Here are some snaps from when I was enjoying the views from the front passenger seat.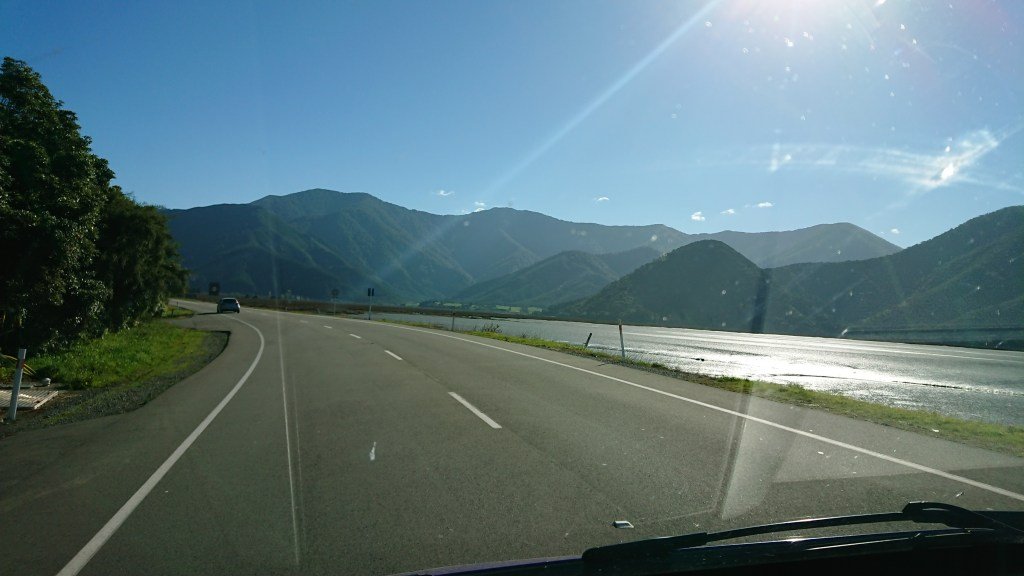 Just leaving Picton and entering this wonderful landscape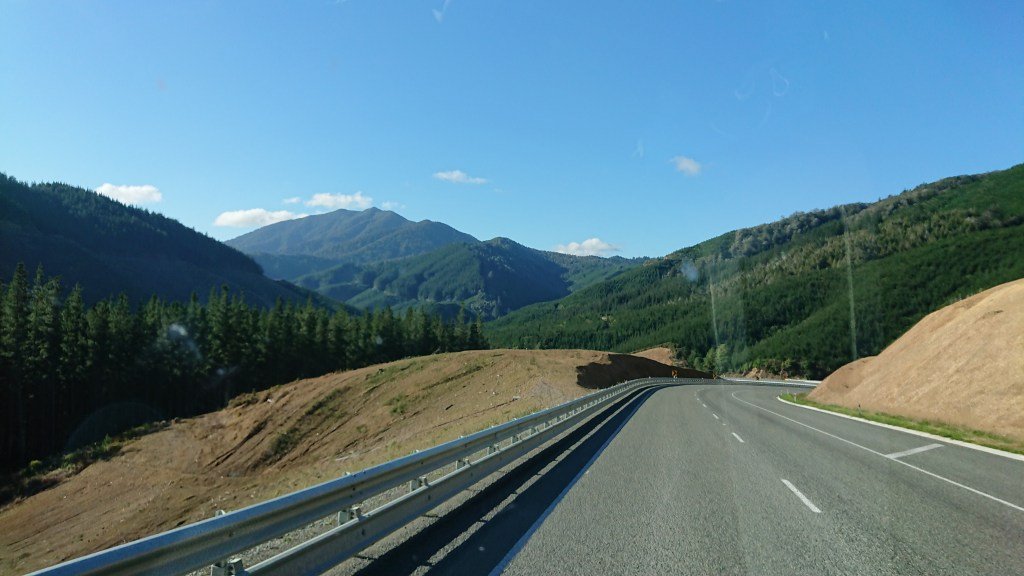 Now we are about to have some fun heading in to Mount Richmond Forest Park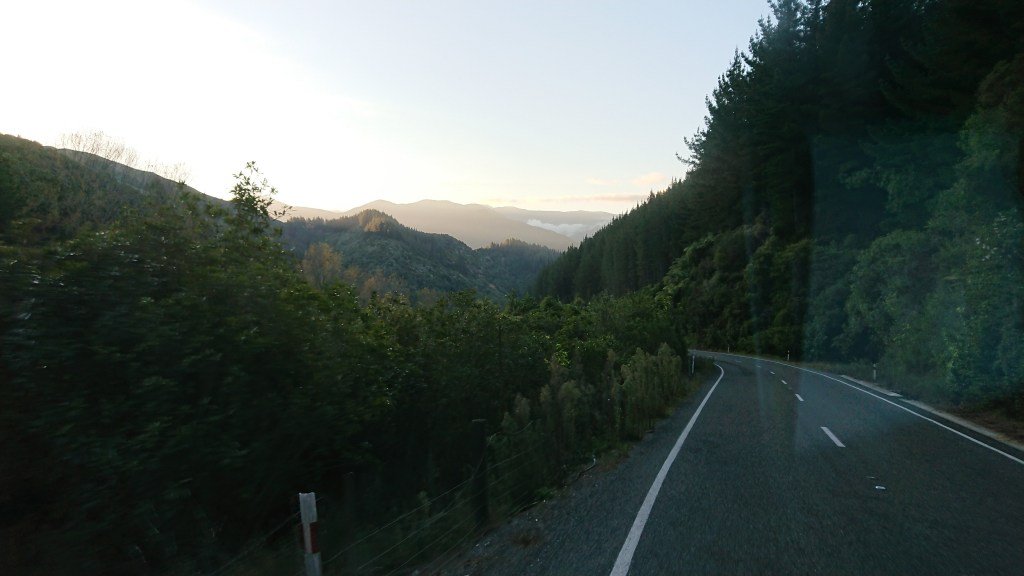 Deep in the Forest Park now as we continue along Highway 6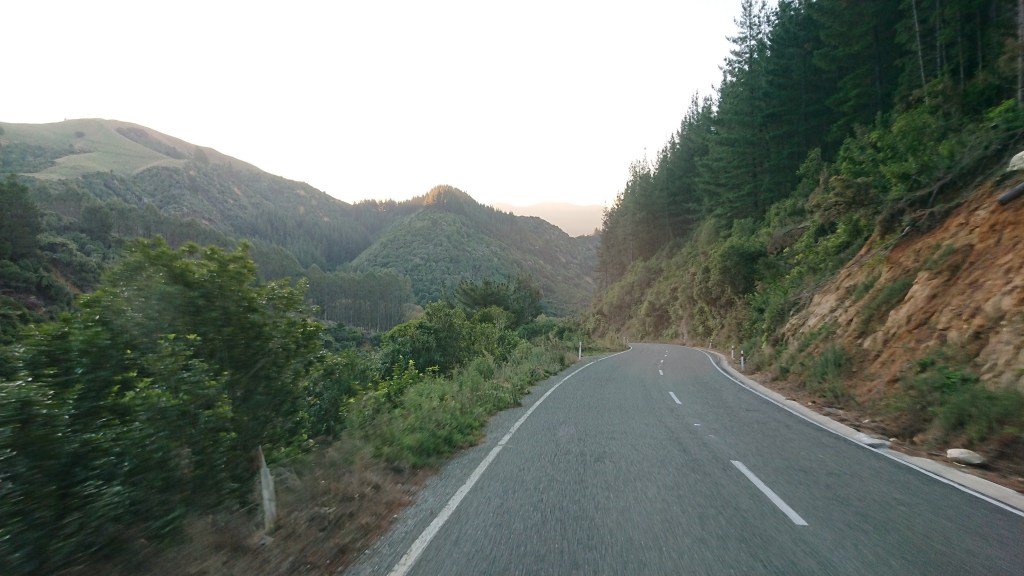 You really feel small compared to all the mountains around you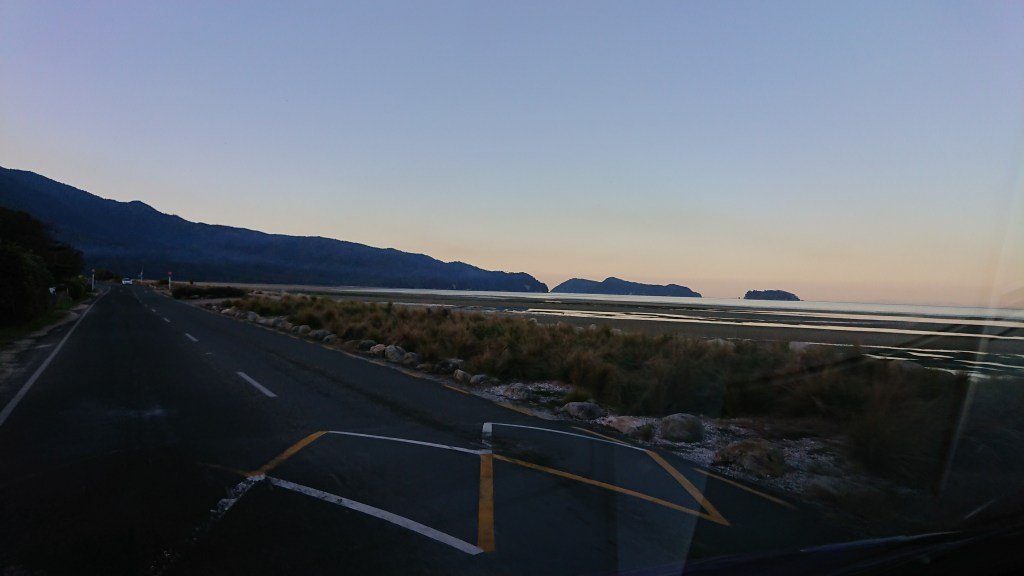 And we arrived in Abel Tasman just after sunset
Abel Tasman National Park
When we arrived at Abel Tasman, you can see that the post-sunset sky was pretty special with the contrasting colours from a beautiful blue to mauve to the yellows and oranges. However, we still had to get to our accommodation for the night which was on a boat somewhere behind these islands!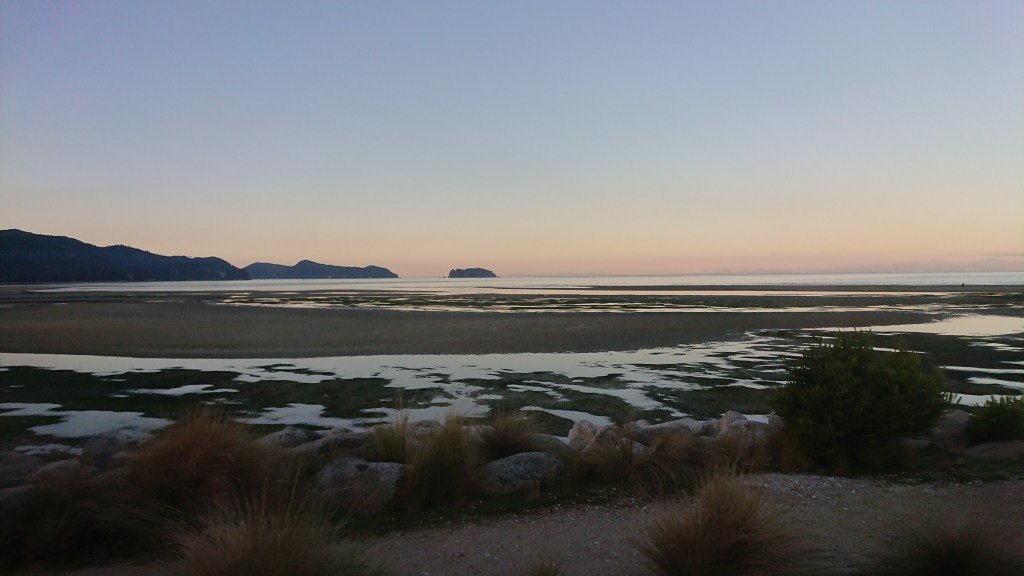 Somewhere out there is our accommodation!
This is where our water taxi, courtesy of Abel Tasman Aquataxi came to our rescue! They provide a people delivery service to a variety of places for $37NZD but we had a night's stay on the Aquapackers boat house with dinner and breakfast included (they accommodate for all dietary requirements). This will cost around $110.00 NZD for backpackers (more if you wanted the double room) and the boathouse is cosy for the group dorms.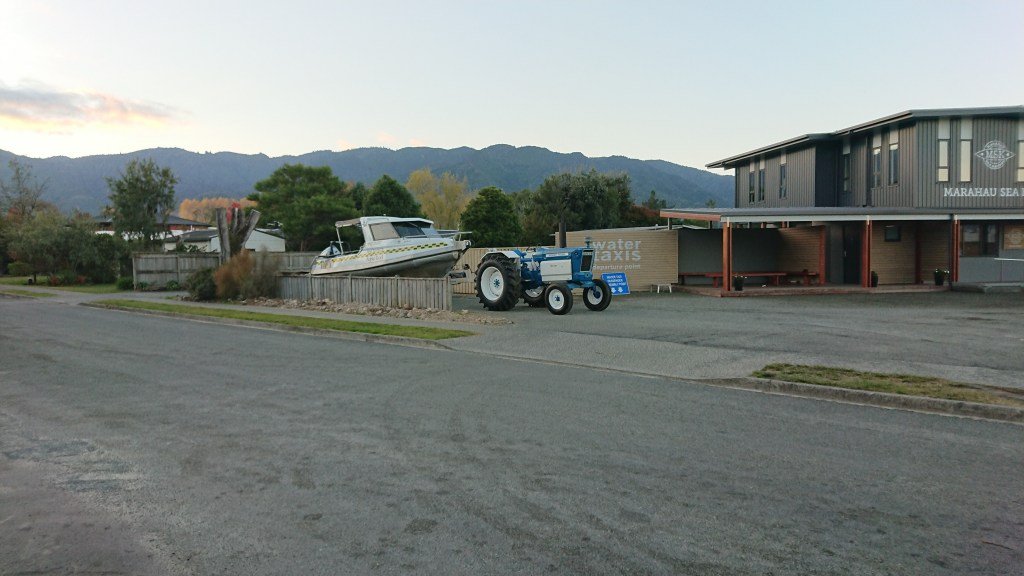 Our water taxi was towed by this tractor, it was quite a ride!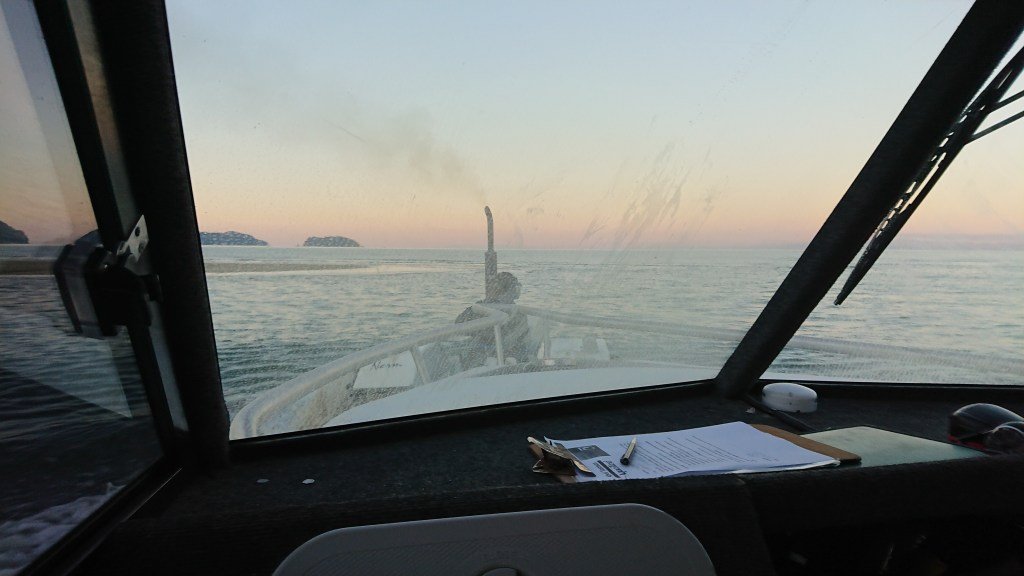 On the water taxi making our way to our boathouse...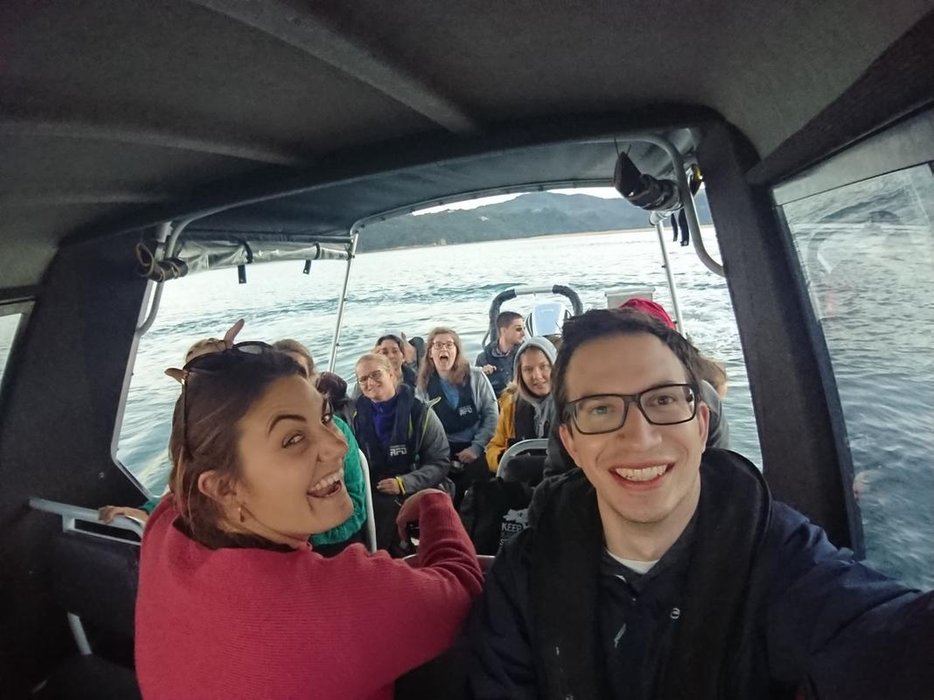 ...the group having fun along the way!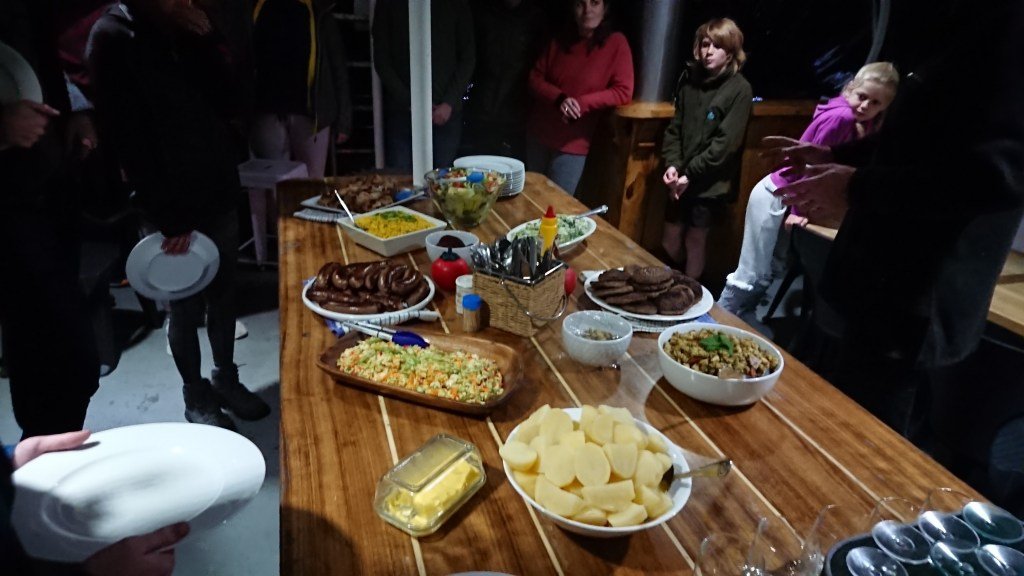 When we got to our boathouse, this delicious buffet was waiting for us :)
I slept pretty well on the boat and there was hardly any botation at all compared to the ferry across from Wellington! I think being on the water made me want to jump in it first thing in the morning and that's exactly what me and Jan did!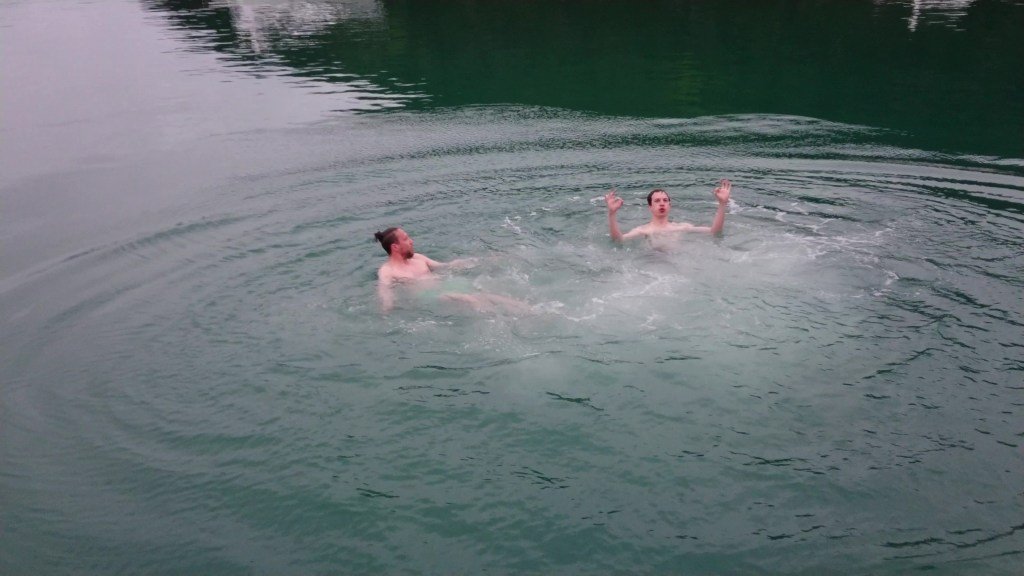 All OK here!
However, we didn't stay in for too long, although there were some other fun videos we took of getting thrown in by Dries which I'll share with you at some point in the future once I've managed to dive in to video editing :)
Hiking from Anchorage to Marahau
One of the most iconic hikes in Abel Tasman is the 16km walk from Anchorage to Marahau and the good thing about the Aquapackers accommodation is that it is right next to the start point - the beautiful golden sands of Anchorage Bay! They drop you off at the beach in a little dinghy and you're free to roam around for an awesome coastal hike!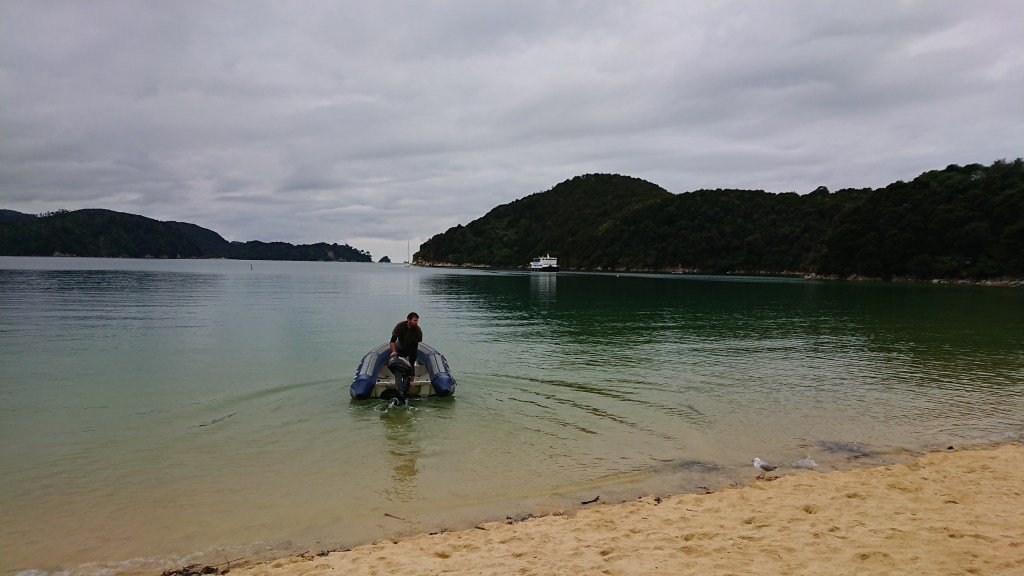 After we got dropped off by the Aquapackers, it was time to get started on our hike!


Beautiful golden sands of Anchorage Bay
There are toilets behind where these pictures were taken and I'd highly recommend you make the most of them as there aren't many around on this hike! Also, watch out for these little weka birds as they'll take whatever food you have in your bag as Dries found out!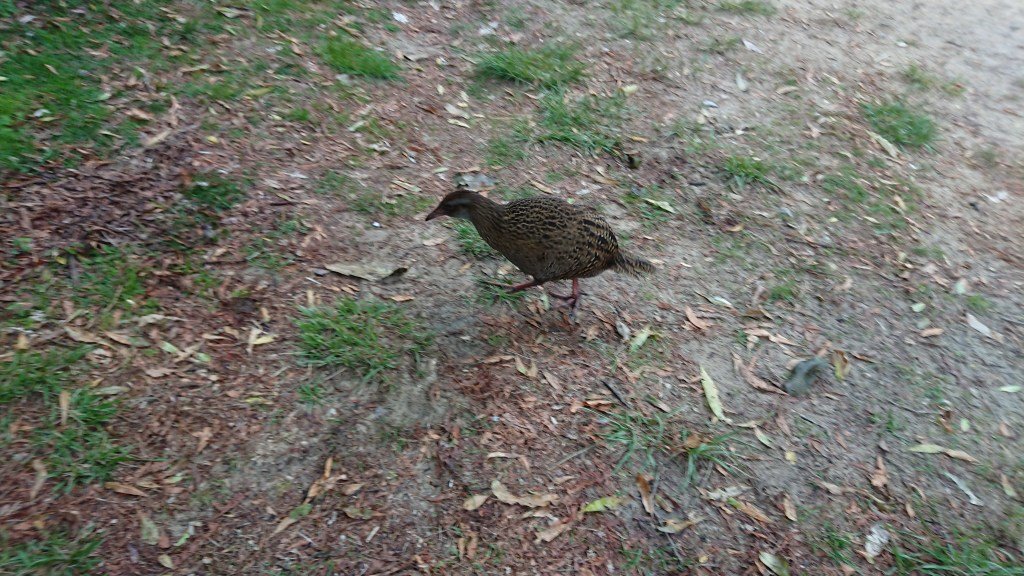 Watch out for the weka!
Cleopatra's Pool
This is an optional extra for you if you wanted to stretch the legs for an extra 6km to visit an area known as "Cleopatra's Pool". If you walk left along the beach from the pictures above then you'll get to a sign that will point you to the path to the pool.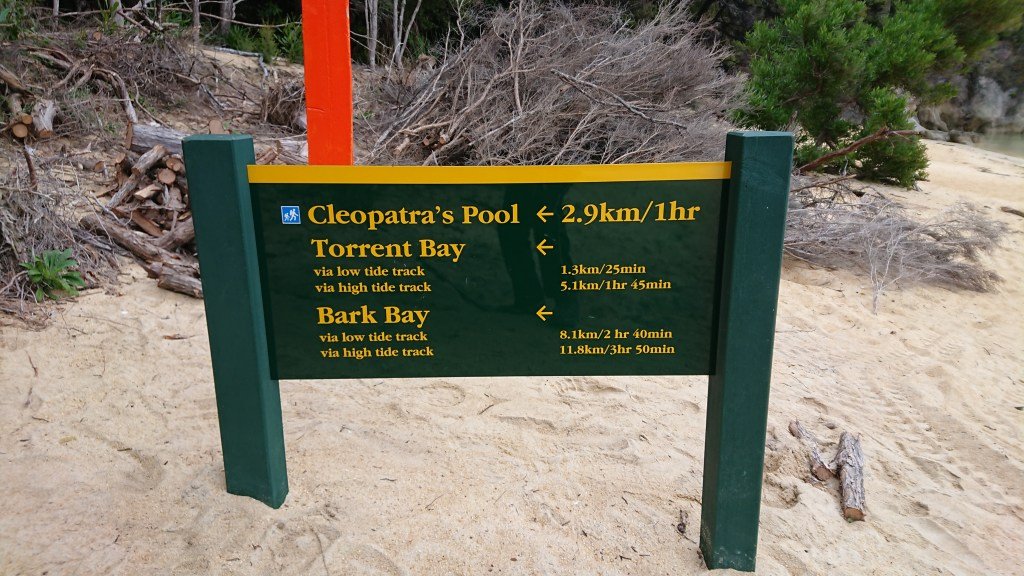 Look for this sign along the beach if you want to go to Cleopatra's Pool
There will be steep uphill and downhill sections which will test the fitness levels but it will be worth it. Even just walking along the paths gives you plenty to look at.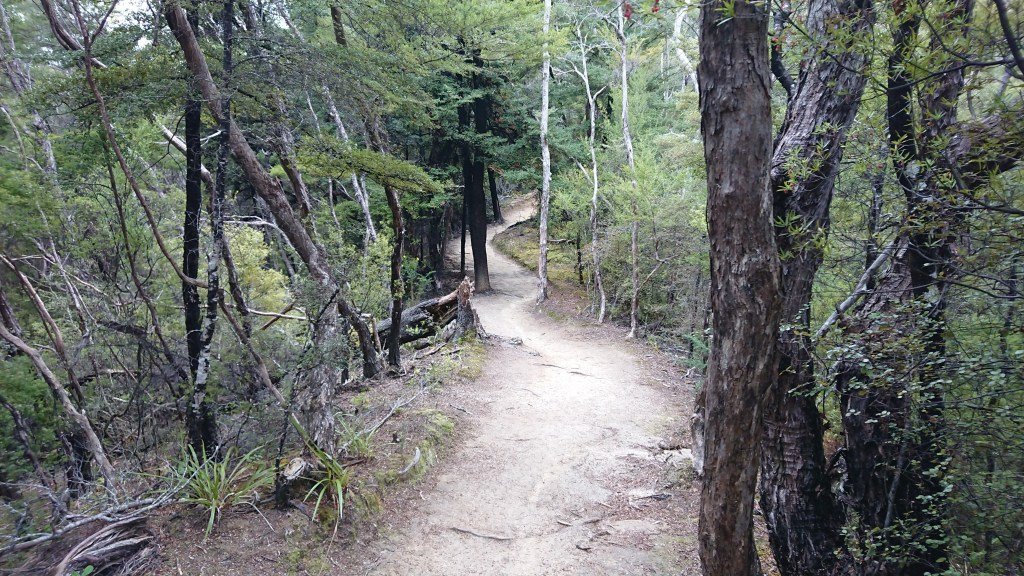 One of the winding sections you'll be walking along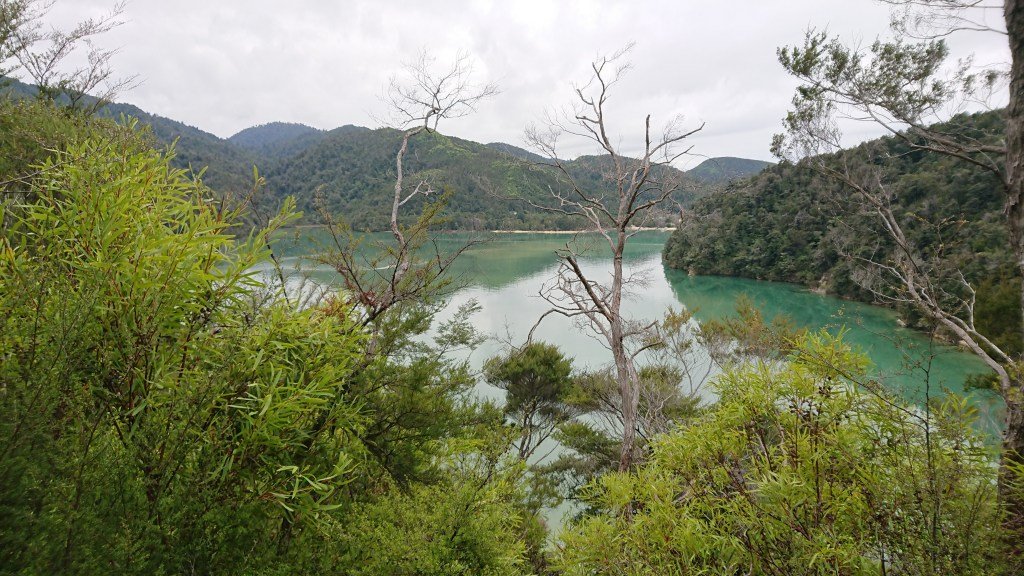 Views open out of the clear blueish green water in the bay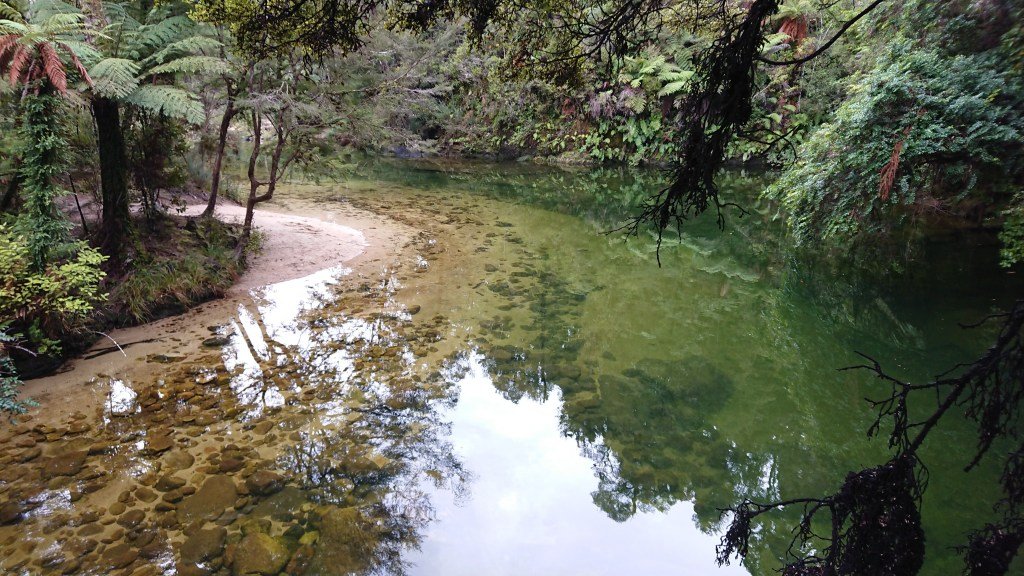 The water is SO clear!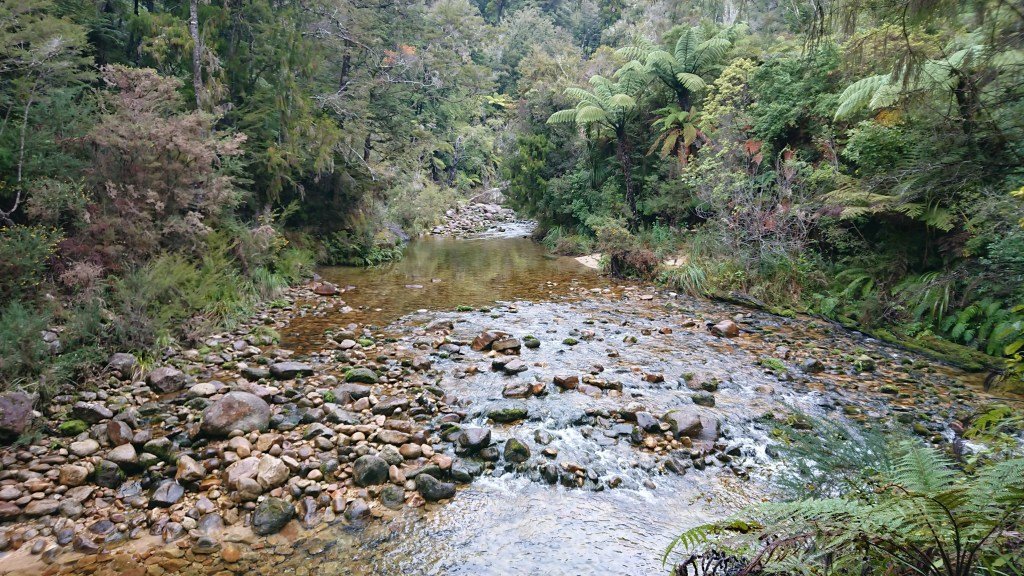 As you get closer, you'll see more rock deposits from the river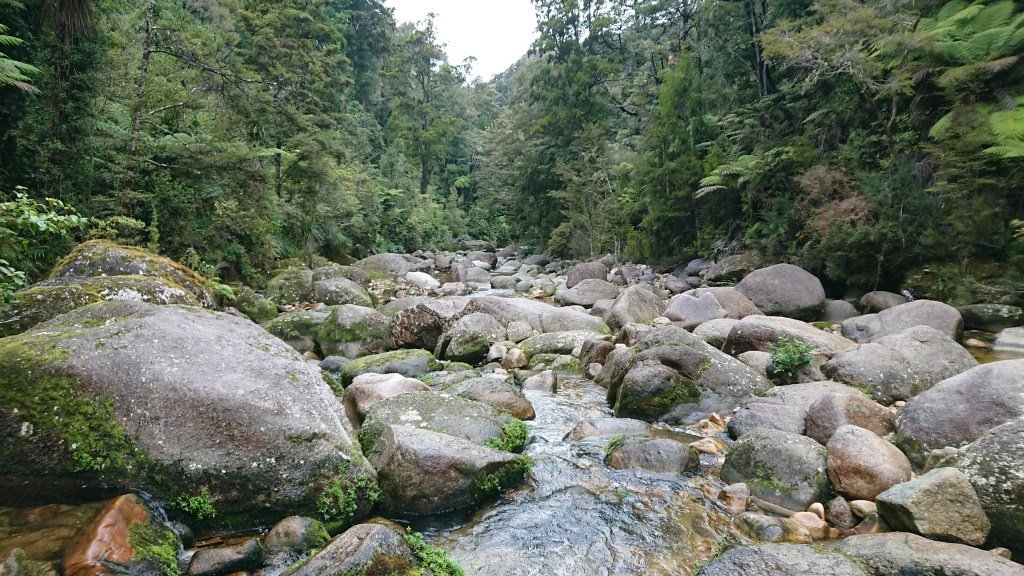 Take care and cross the rocky river to get to...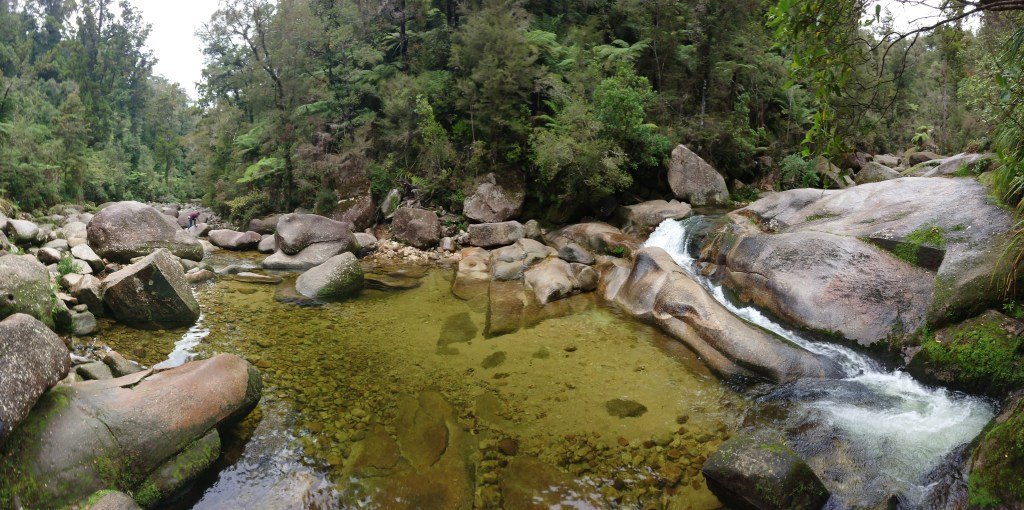 Cleopatra Pool!
Believe it or not, you can actually slide down that natural water flow on the right side. I did take a little look over there as the rock surface is pretty smooth but I'd say it's probably best to do that in warmer months, rather than Autumn! Although if you're feeling hot, you'd probably be tempted to take a dip! Why it's called Cleopatra's Pool, I don't know and there doesn't seem to be much information out there so it shall remain a mystery.

Cleopatra's Pool to Marahau
Make your way back from where you came but if you don't want to go all the way down to Anchorage bay again, that's fine as you'd only have to come all the way back up to rejoin the path! Follow the signs to Marahau where the path splits and you'll be good! Along the way, you may find some interesting fungi.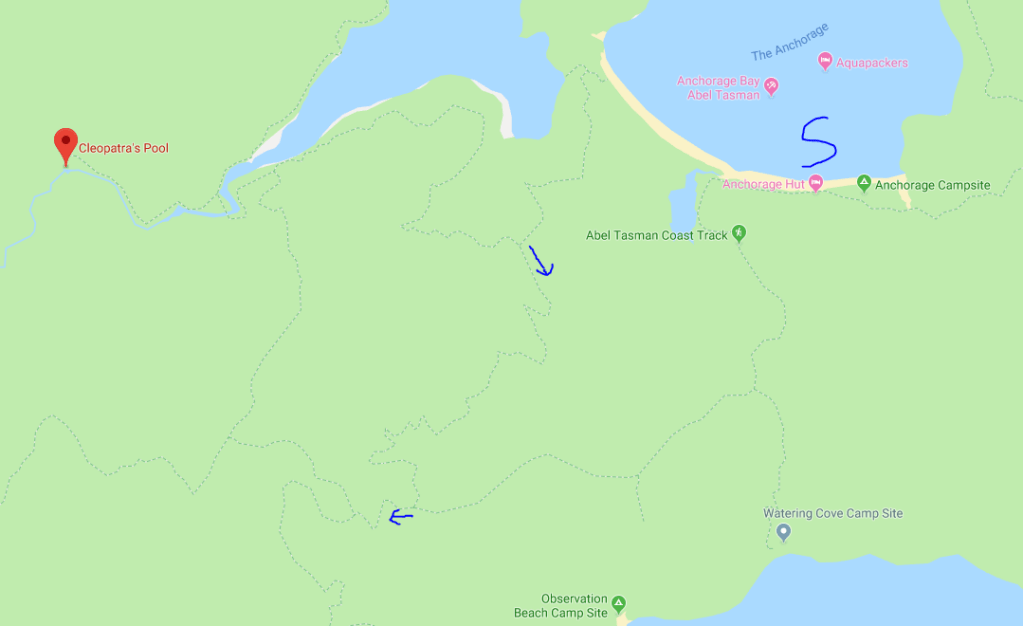 S is the start at Anchorage Bay. Head to Cleopatra's Pool, then follow the path at the blue arrow in the centre of the map if you don't want to head back down to the beach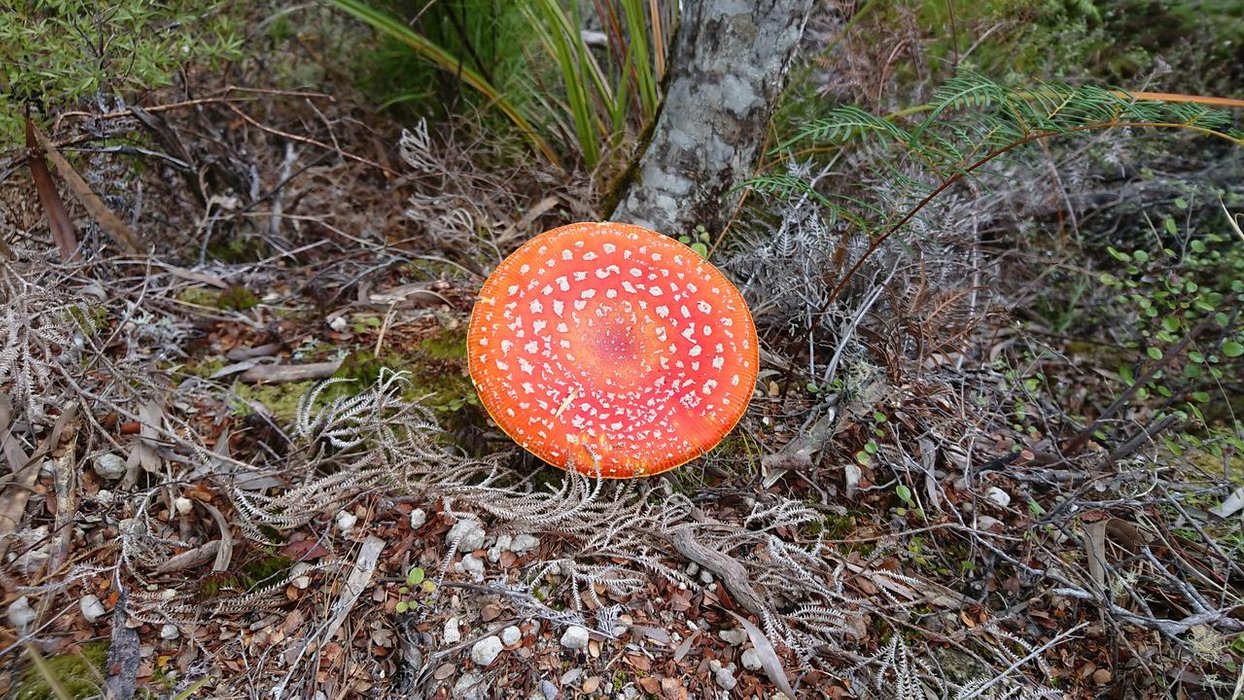 See if you can spot these red fungi
The path along this national park goes in and out of the coastline, teasing you as it takes you inland before showing you scenes of the bay!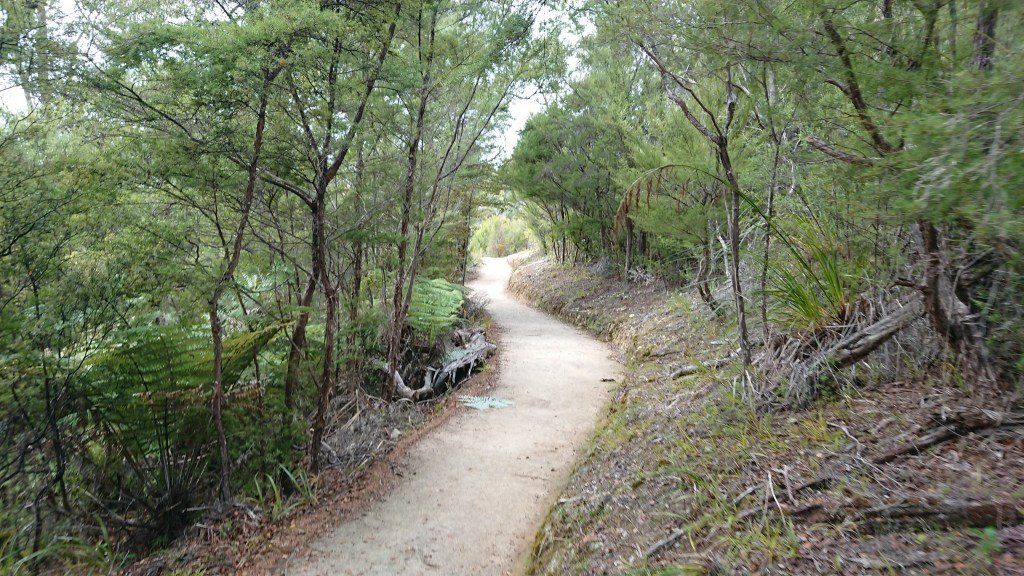 The Abel Tasman path takes you in and out of the coastline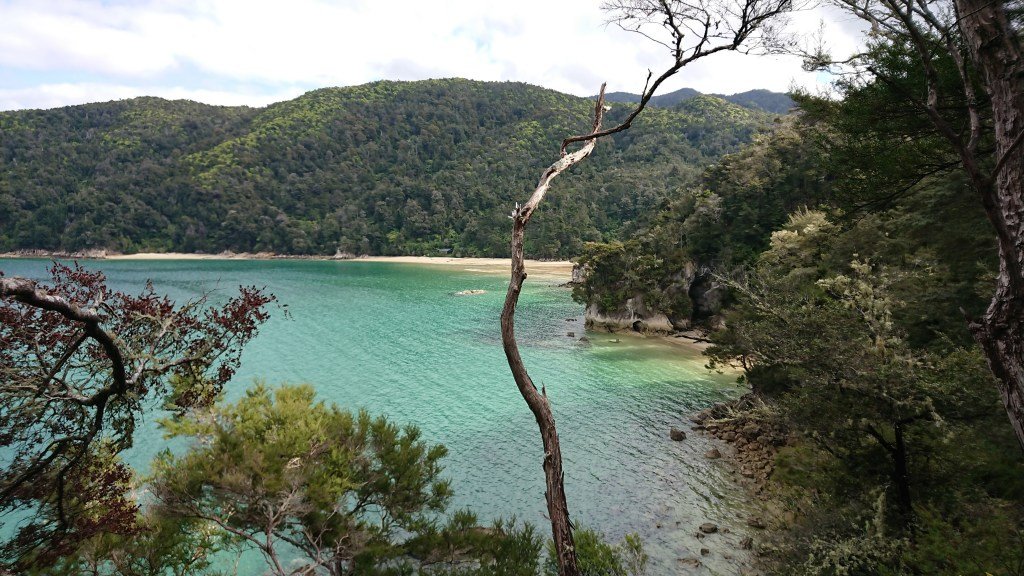 But when you see the bay, it's beautiful!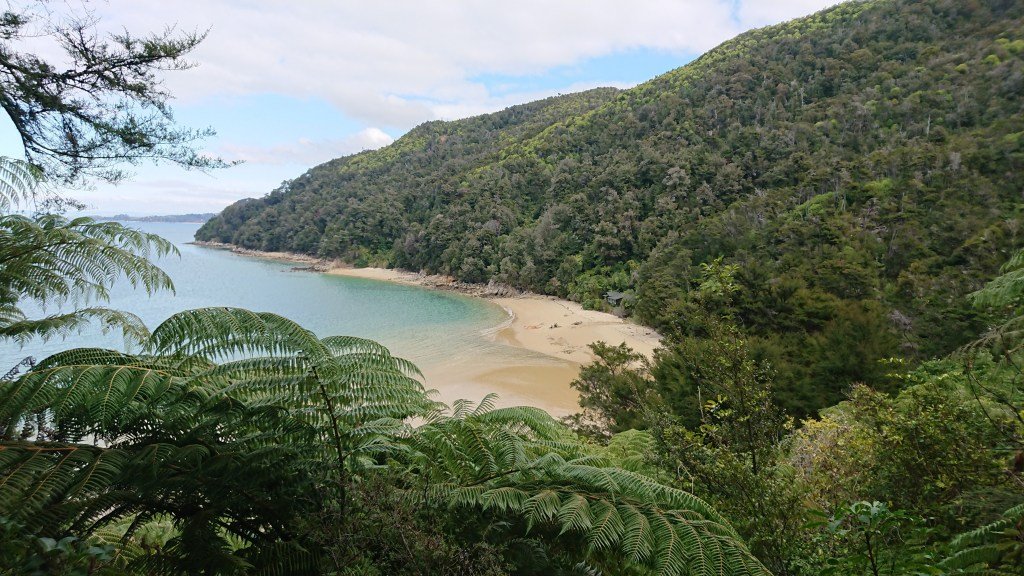 Walking further around, I say we go down and have a look at that beach don't you?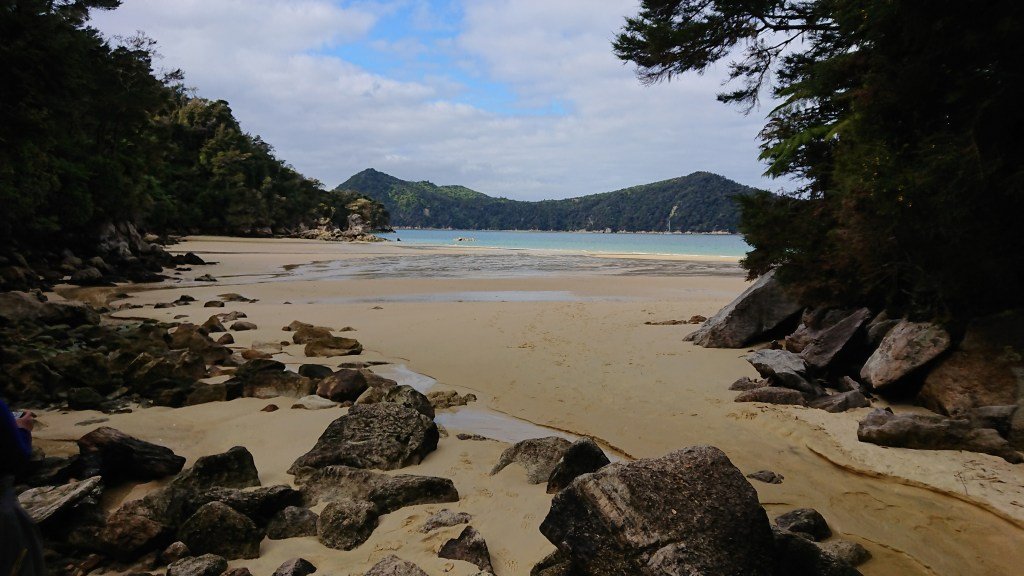 And here it is!


The sand is just so golden and fine! Glad we came down!
The beach in the photos above is called "Observation Beach" and I would recommend you pop down for a walk around there. I shouldn't have to justify it, just look at the pictures! After we managed to pull ourselves of off this beach, we continued on the path. It's as though the artistry of nature painted this amazing picture, teasing us of its beauty with small glimpses through the trees before allowing us to enter its awe.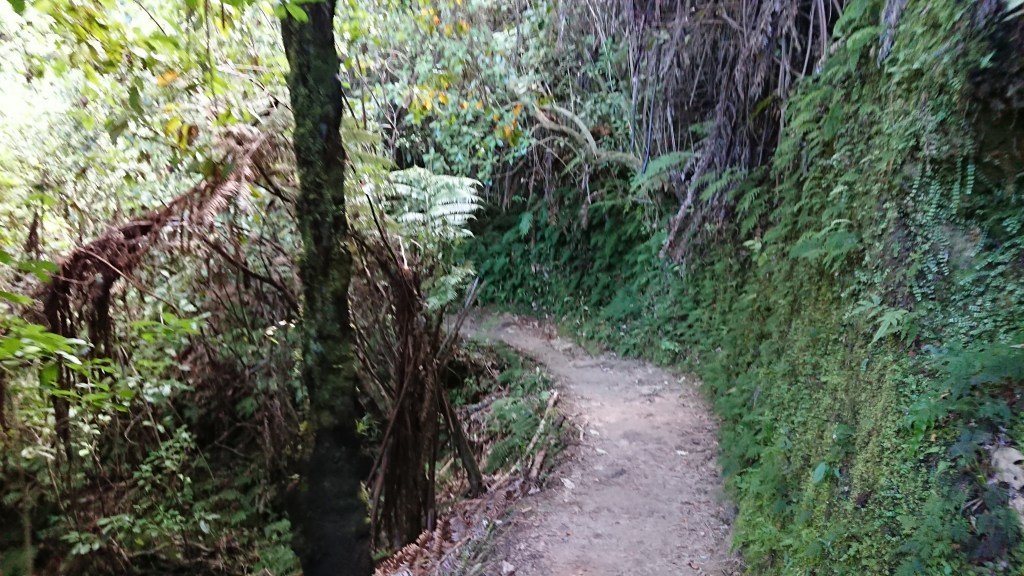 Let's see what this path brings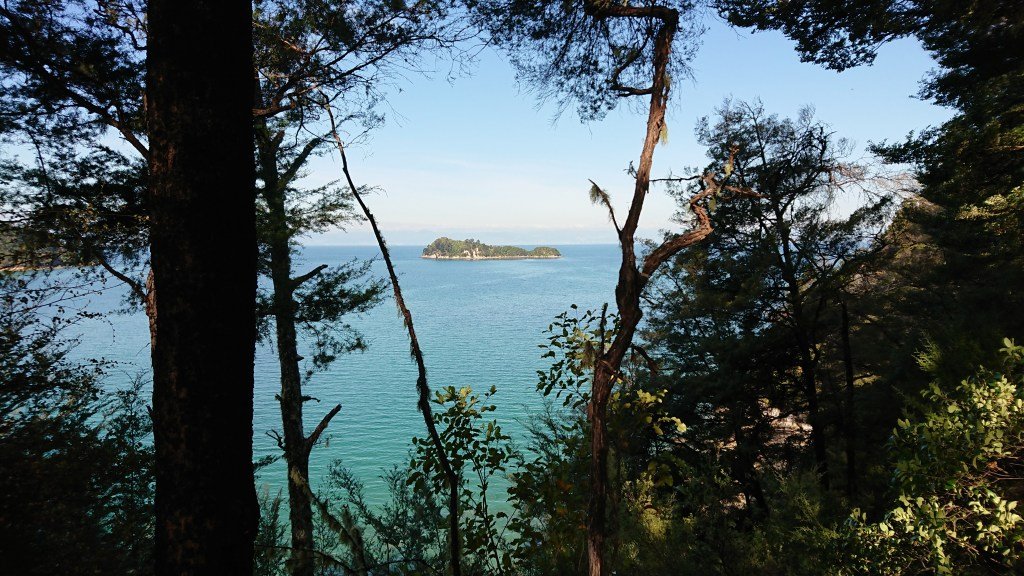 Glimpses of Adele Island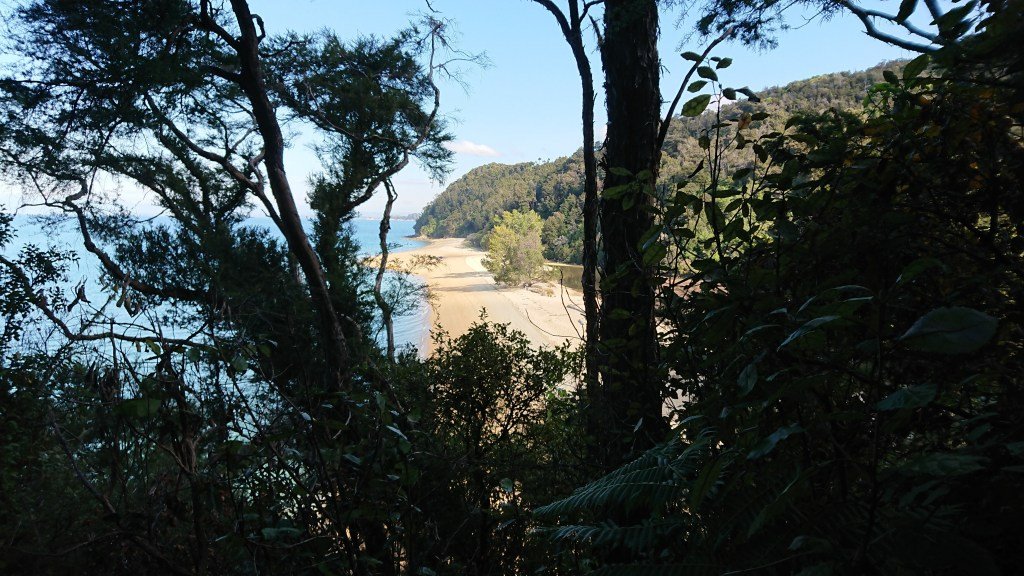 Ooo another bay! Let's explore!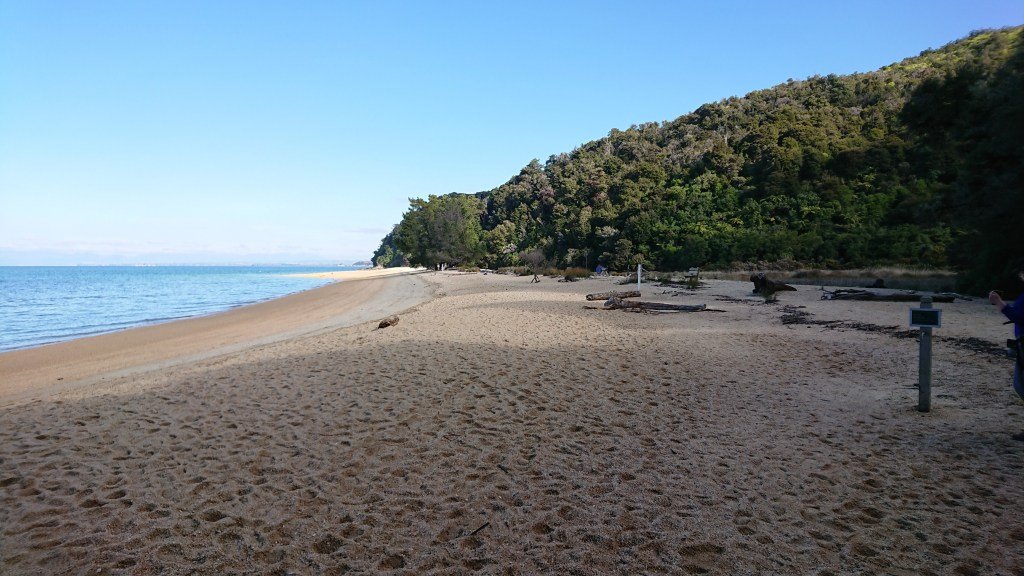 Welcome to Apple Tree Bay
What I will say about Apple Tree Bay is that there is a pretty nasty smelling portaloo (toilet) on this beach as you first enter from the footpath... don't hang around there too long haha! Other than that, the sand is a bit less fine than Observation Beach with small stones dotted about. If you wanted to camp, there is a campground further down. But we are about to enter our final stretch :)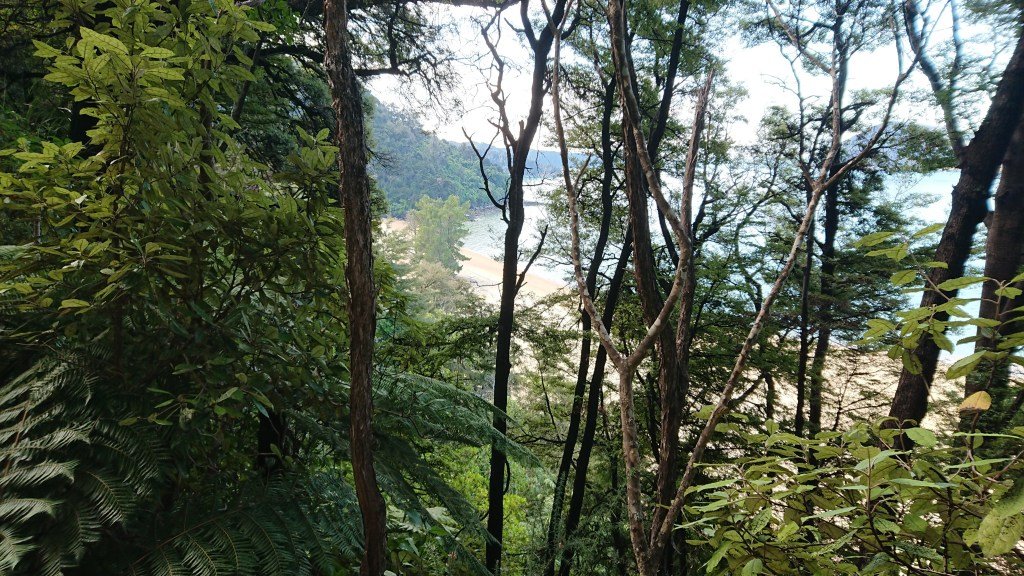 Saying farewell to Apple Tree Bay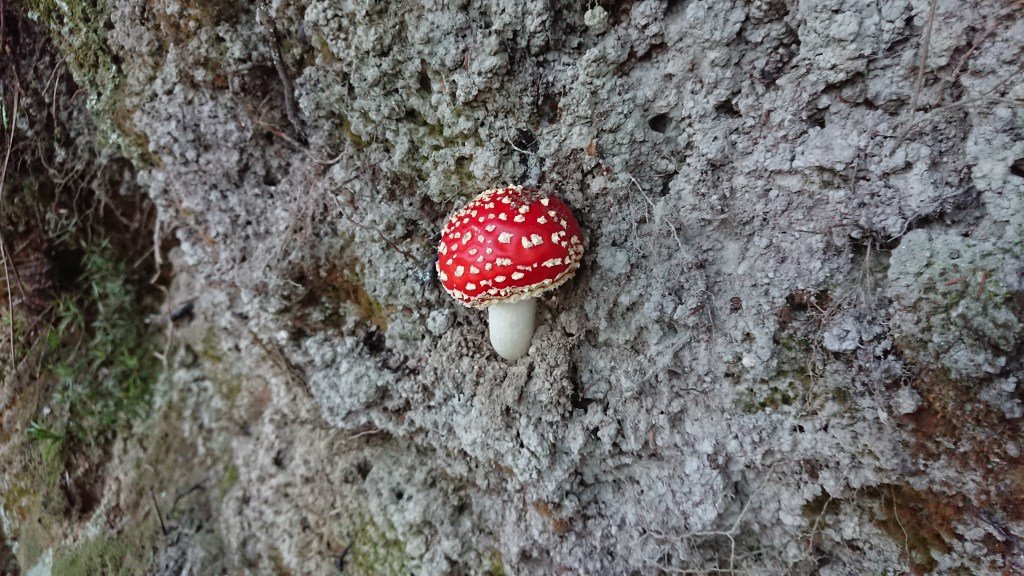 Ooo look, another red fungi, this time growing out of the rock!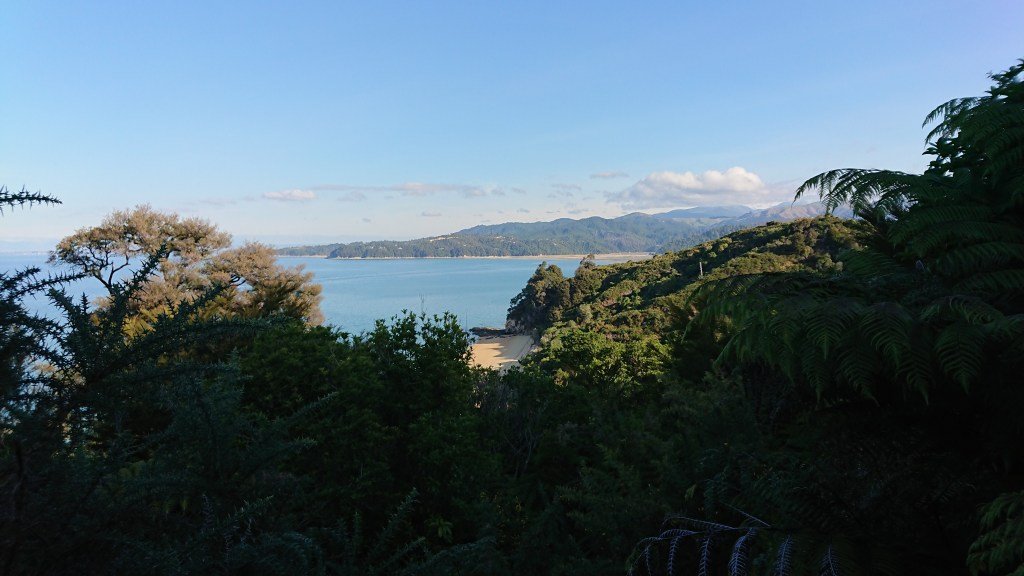 Our final bay comes in to view - Sandy Bay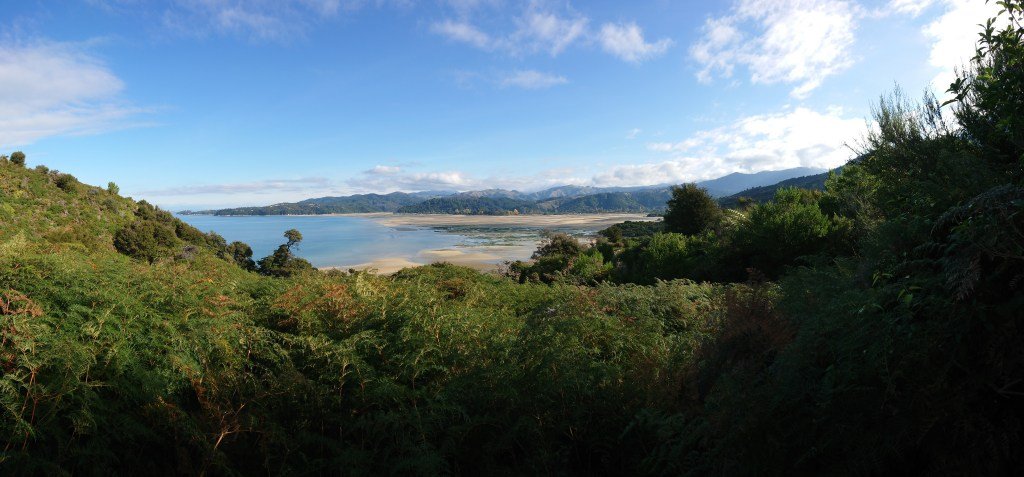 As we get further down, we can see it more clearly from the footpath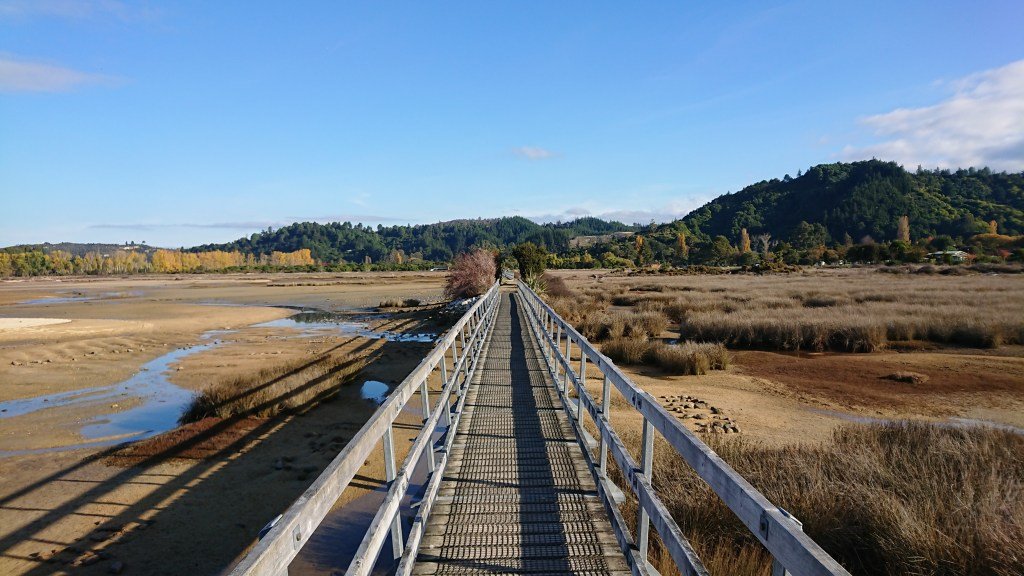 Just this long bridge section to get across and we'll have made it to the finish line!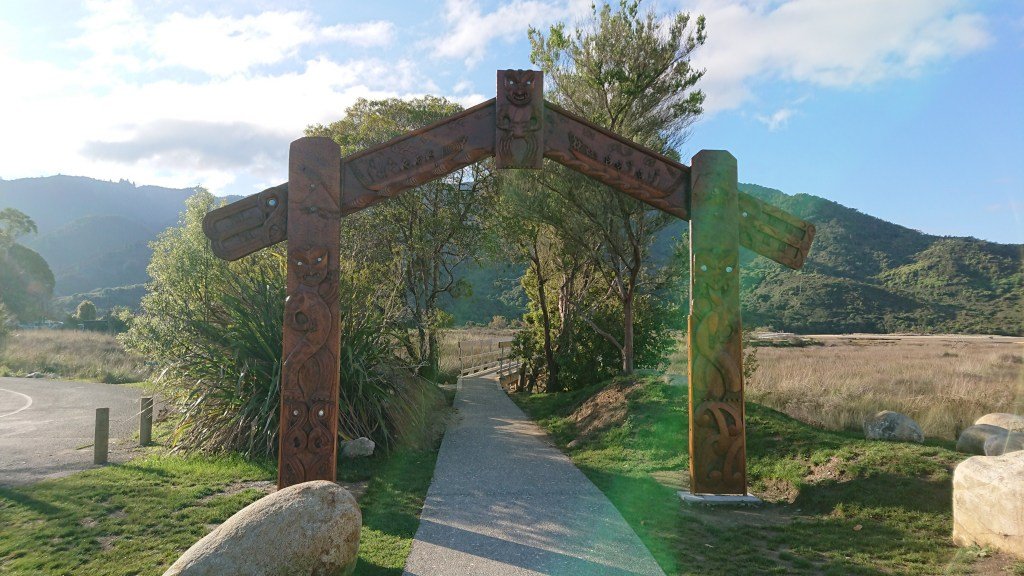 The finish line marked by this wonderful carved wooden arch
Our accommodation was left down the road you see in the picture above at a place called Old MacDonald's Farm. Your textbook farm stay with multi-share rooms, shared kitchen and bathroom facilities but pleasant enough for prices from $20 per person per night. The surroundings are pretty amazing to say the least!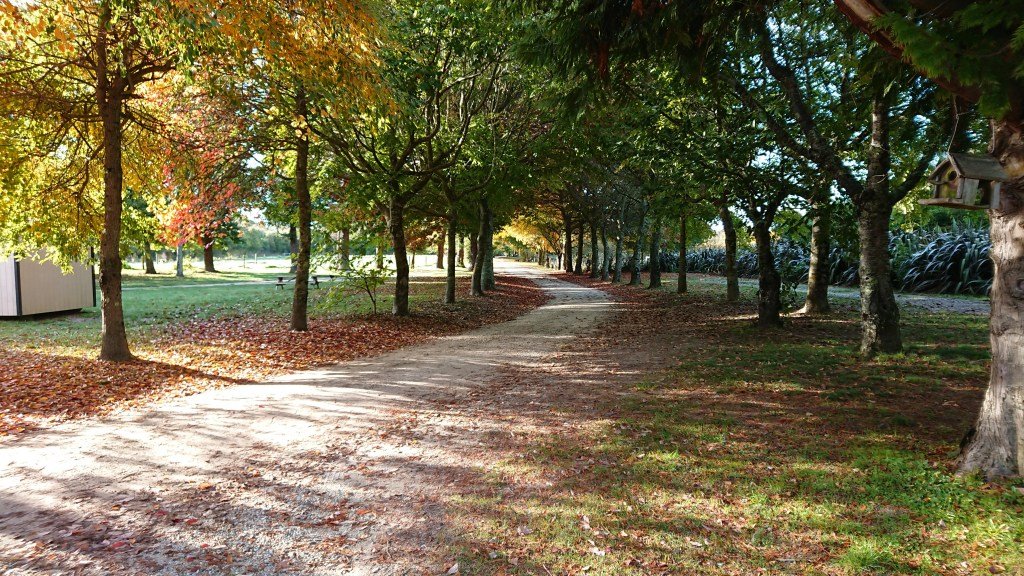 Driveway leading up to the accommodation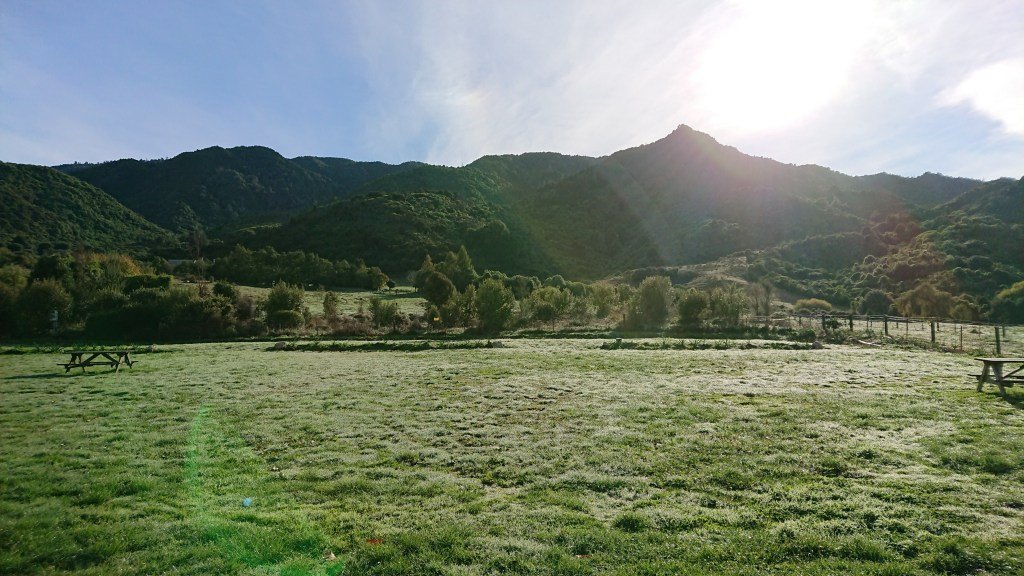 Beautiful mountain scenery surrounded us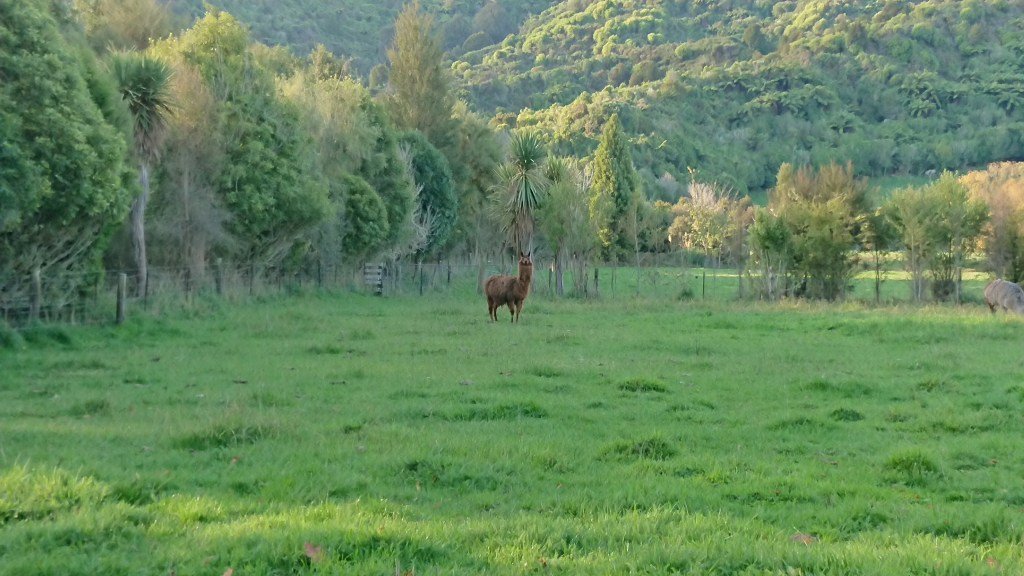 We had to negotiate with this guy to get some WiFi though ;)
So there you have it folks, a 2 day trip from Wellington to the South Island and hiking through Abel Tasman National Park. Not a bad way to spend your weekend hey :)
I hope you enjoyed this as much as I did reliving it! Time for a well deserved rest I think!
Take it easy
Nicky

PHC Top 3 - A Chance To Win From A Growing Prize Pool
Well, whilst I'm here, I might as well take the chance to tell you about a new contest that I've been a part of with the Power House Creatives called @phctop3. All you need to do is tell us what your top 3 favourites for a chance to win from a growing prize pool - more info here.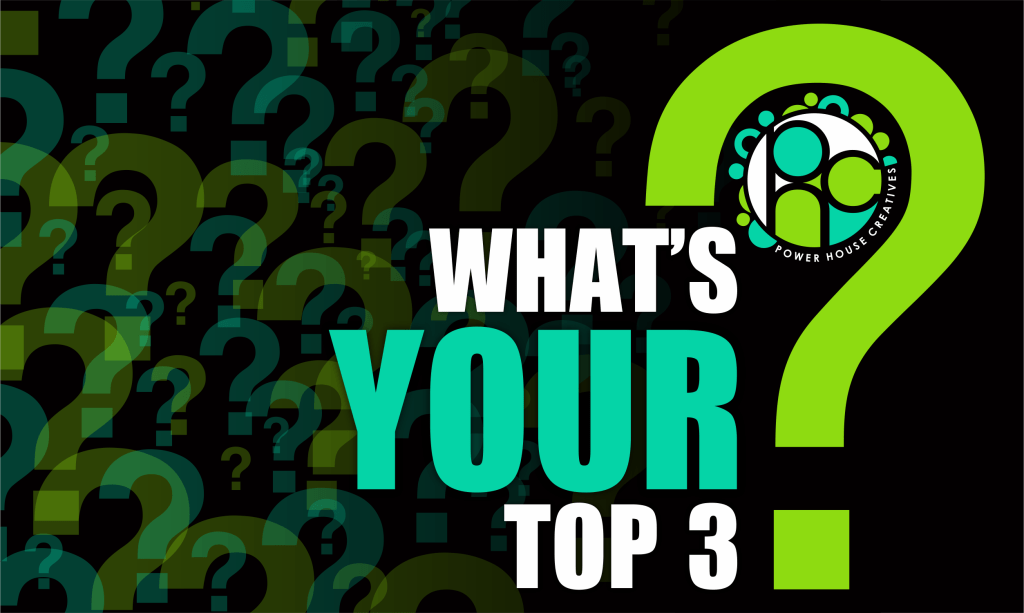 Electronic Music Alliance (EMA)
EMA is a growing electronic music community run by electronic musicians FOR electronic musicians. We have weekly playlists on a variety of platforms to cater for all streaming preferences - make sure you follow our blog for your weekly dose here. We're also launching a new community run label called Electronic Alliance Records which aims to spread the word even more for our artists - check the latest developments and what music is coming up here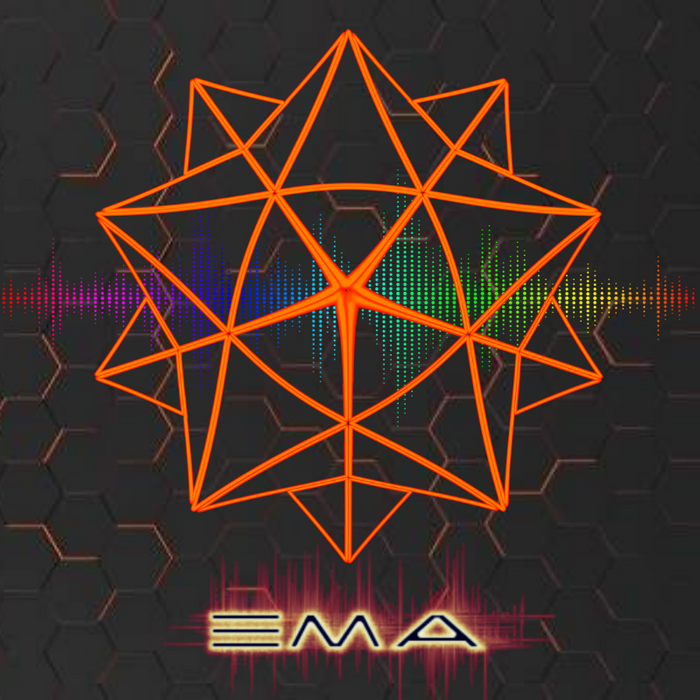 ---
Thanks to @steempress for developing the WordPress plugin! Get it here Original article here
---