The Search Begins
One of the things we wanted to see was an epic sunset and, although yesterday was spontaneously epic, we were looking for something to top that! This is where a quick Google search pointed us to an article called "11 great places to watch sunsets in Cornwall" and it was decided that we would head over to Land's End and Sennen Cove to see it (more on that later). First, the end of the land!
Land's End
As we were "in the neighbourhood", we thought this would be a great chance to visit the most westerly point in Cornwall - Land's End.
This village's name has stuck for many centuries as travellers, explorers and seafarers braved this part of the world and discovered many beautiful facets of this coast line. In fact, the history of Land's End goes back as far as 8,000 years (Source: Land's End Landmark).
Nowadays, it's a tourist hot spot offering visitors much to do and see. Once you have parked up (it's £6, which is used to preserve the 100 acres of coastline), you will be greeted with the gateway to this little touristy village.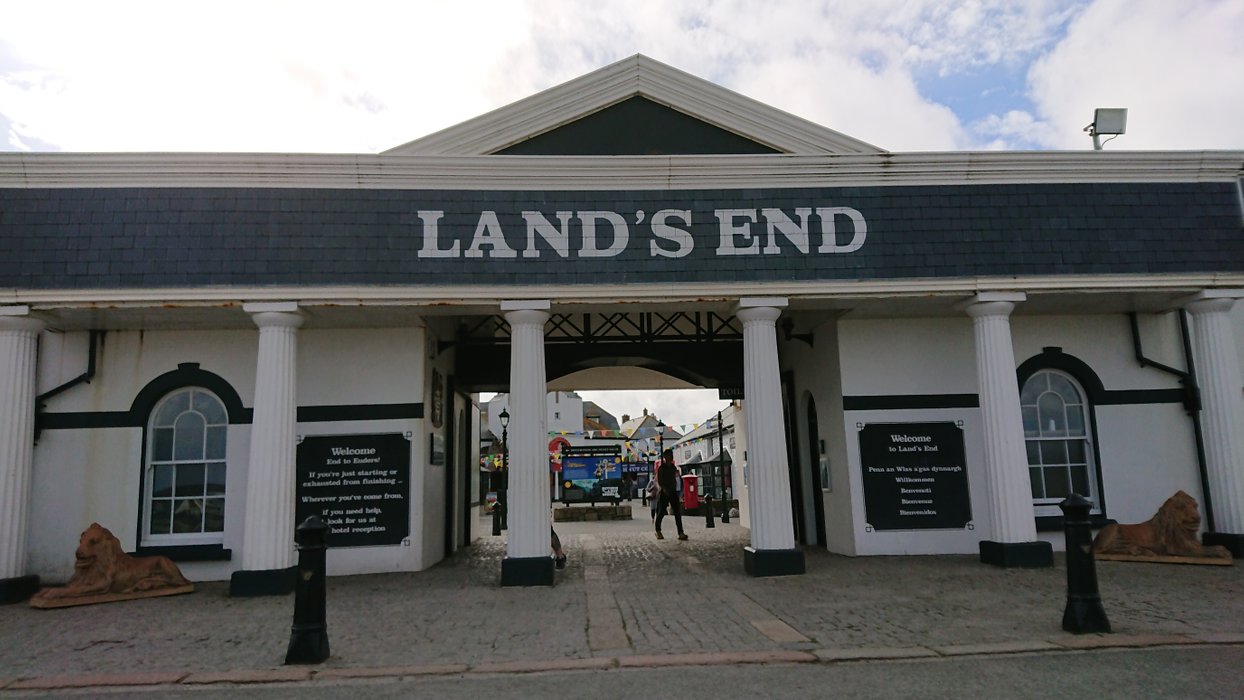 The entrance to Land's End from the car park
Things To Do In Land's End
As you walk through this gateway, take a moment to study the map on the wall to the left so you can pick where you want to go but if you spend a couple of hours there, you can see pretty much everything.
Art Gallery
We stopped off in the art gallery (Penwith House) and met one of the local painters, whose work was so compelling, Wheeler (one of my friends who came to Cornwall with me), decided to buy a couple of his pieces for his bathroom. The painter went on to tell us that he has lived in Cornwall for 80+ years… I don't blame him for that, I'd do the same!
First & Last House
This is a little gift shop which is right on the coastline, overlooking the beginning of the Atlantic Ocean. It's a perfect place to go for little treats, gifts and other tidbits if you wanted to bring some souvenirs back with you (or just eat the fudge for yourself… yummy)!
The reason for its name is quite simple. If you're entering the UK from the Atlantic, it's the first house you see, if you're leaving the UK from Land's End, it's the last house you see.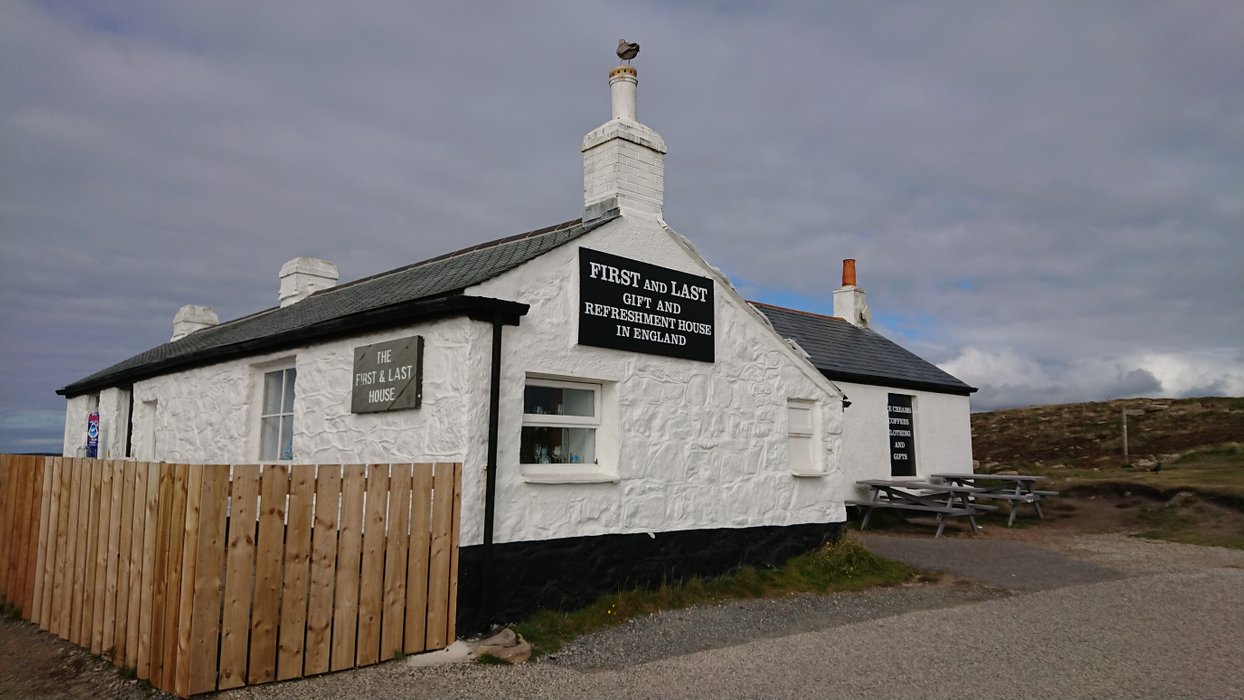 The First & Last House Gift Shop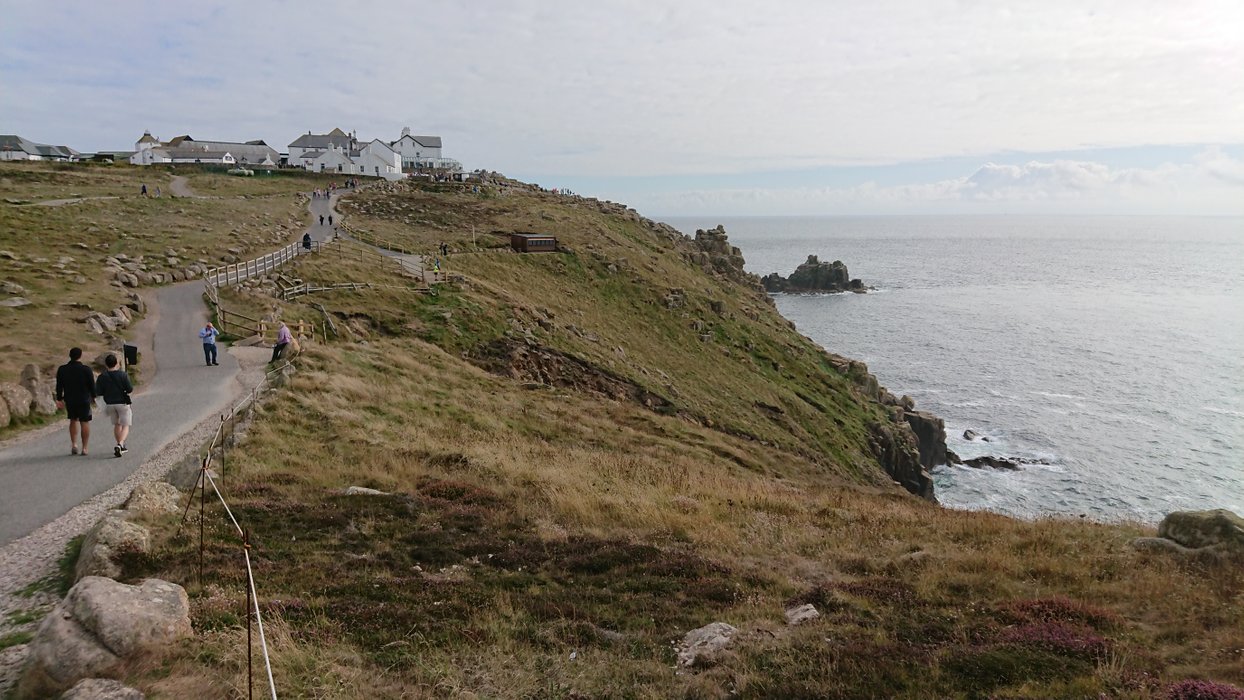 The path leading back to Land's End Village from the Gift Shop
Coastal Walk
Of course, you have the option to join the Southwest Coast walk and have a look around, enjoy the scenery, spot some wildlife, or, if it's a clear day, see if you can spot the Isles of Scilly!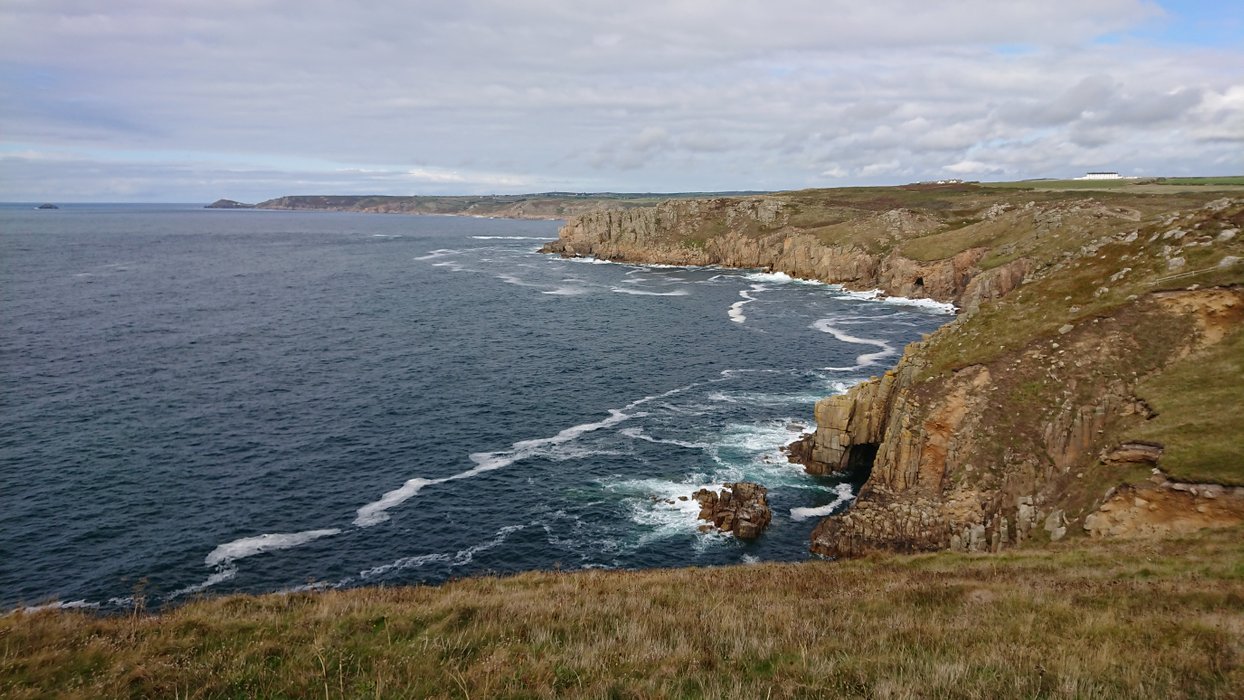 Lovely views of the coastline along the Southwest Coast Path
Greeb Farm
A short walk south from the Land's End Village takes you over to Greeb Farm and the crafts shop, which you can just about make out in the distance. Stick to the coastal path and you will get there.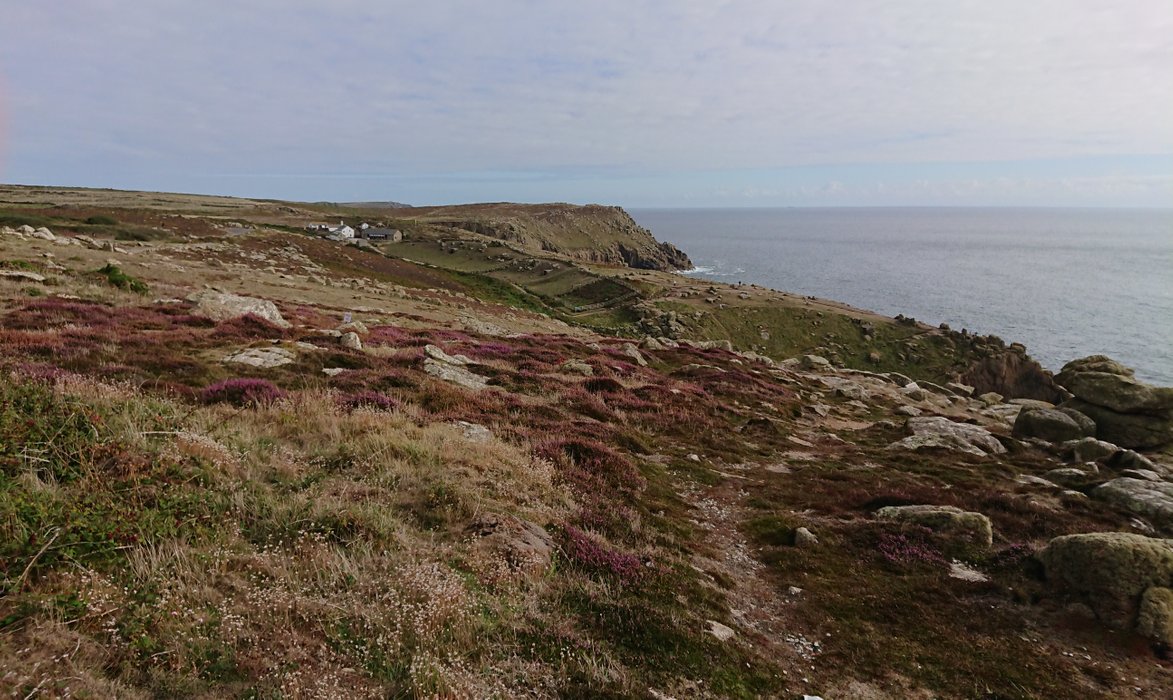 Greeb Farm and the Craft Shop is along the path
On the way over as you walk through the farm, you may see some of the Shetland Ponies they have there, like this little fellow!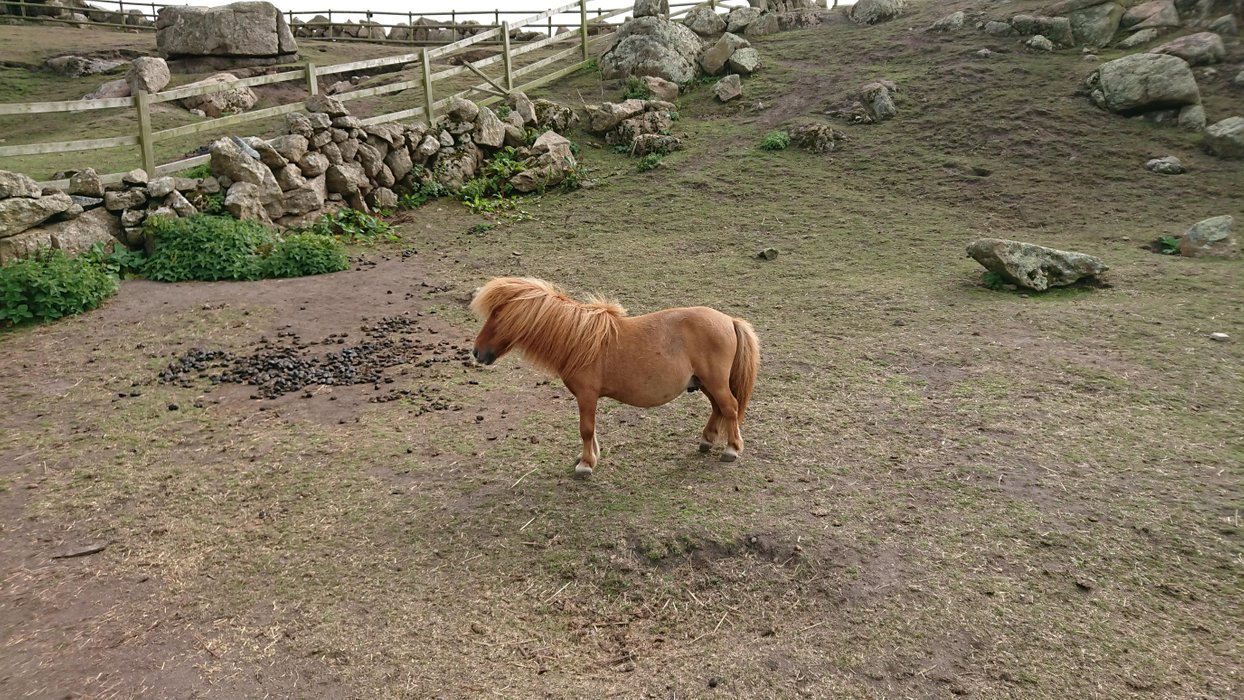 This Shetland Pony came over to say hello!
We popped in to the craft shop to see what was happening in there... turns out we bumped in to a man with a great knack for "hitting the nail on the head" as he could tell exactly what was going on with Wheeler's personal life within 10 seconds of meeting him haha! True Cornish Pisky magic going on there. Myself and Hammad (my other friend I was travelling with) deciding to hightail it out of there before our lives were predicted as well! All in good fun, the lad was a good laugh :)
Sennen Cove - Beach Time
About 2 miles (3km) north of Land's End is a quite stunning place called Sennen Cove. This was number 1 on that list from the article I shared earlier in the blog and, when the sun shines, it doesn't take a genius to work out why! The sand is beautifully fine, the waves are perfect and, despite the high tide being very close to you when you enter the beach from the lower car park, you have amazing 360 degree views as this video shows:
No Frisbee?
We forgot our damn frisbee!! Grrrr! Not to worry, we're resourceful! So instead, we made a modified version of French boules. It was just a case of finding a relatively big rock that we could stand up, pick a load of smaller rocks and throw them at the target…. Well that didn't keep us entertained for very long haha! Wheeler went off for some fish & chips, Hammad read his book and I wandered down to the sea for a little bit.
Magical Moment
Then something extraordinary happened when I was down there. I was just standing in the sea, listening to the waves crashing down before me as the cool Atlantic Ocean was applying the chill to my feet, when I heard a group of young women to the right of me screaming and waving their arms around. My first instinct was someone was in danger but when I looked in the direction they were pointing, something magical was happening.
Dolphins
It took me a few seconds to get my phone out of my pocket to start filming but I was enjoying the moment. However, in the video above, you may be able to see the dolphins jumping out of the water in the first few seconds and surfacing every now and again in the distance. Sorry for the camera work and slightly blurry images, I was trying to find them amongst the surfers as well as not get wiped out by the waves! But wow! What a moment! There must have been at least 10 of them in this group and they were really close to the shore! Magical :)
Sunset Scuppered?
It goes without saying that the weather dictates how good your sunset will be. Ideally, you'll have some light clouds and nothing too thick but as sunset time was approaching, we could see a huge, thick grey cloud, creeping its way over in the distance. We had a slight sinking feeling that things weren't going to work out for us.
Nonetheless, we went for some fish and chips at the Blue Lagoon (I have to say, the Cod was incredible and the chips were pretty decent too), took them up with us to the car park at the top of the hill on Cove Road for an epic view of the beach below.
As the thick cloud came over, it started to block the Sun but, there was a moment where there was a small pocket of sunlight that came through to light up half the beach and created quite a magnificent effect.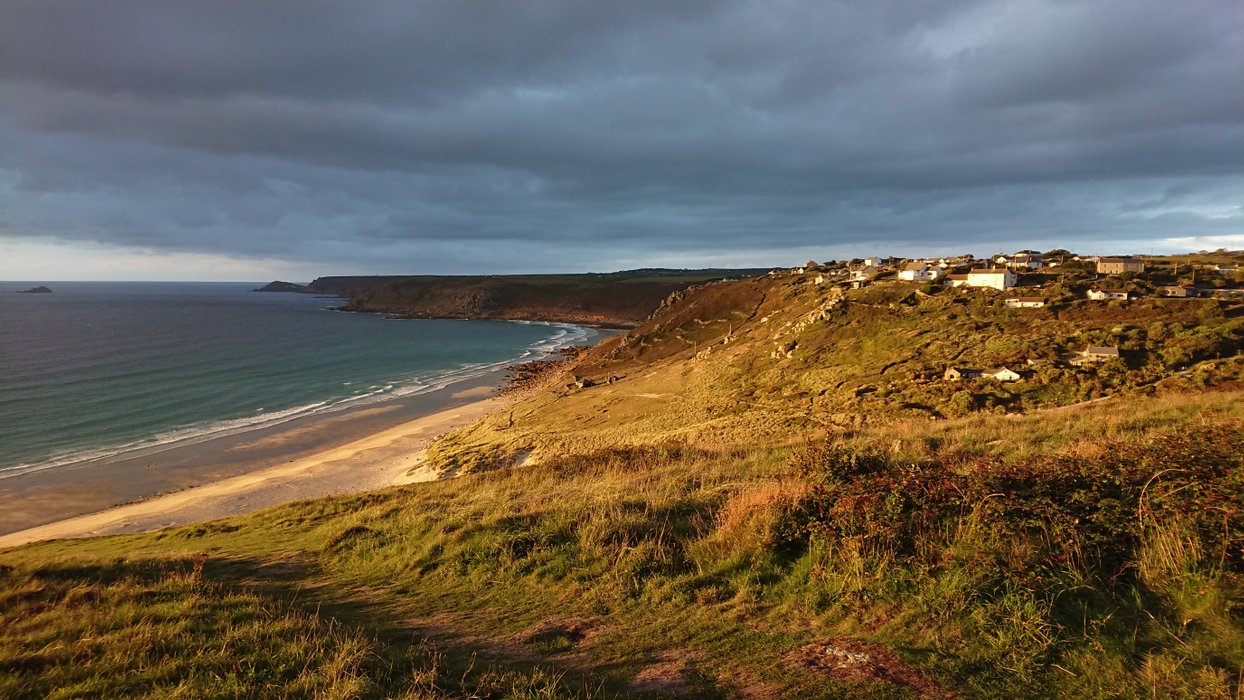 Sadly, a minute or two later, the cloud came over and it was time to ride the sunset back to our accommodation one last time.
End Of The Trip
Well, needless to say, we have 3 sad gents in their 30s here as we have been back at work for a week now - holiday blues strikes! But I certainly feel fortunate to be able to visit this part of the UK and hope that you enjoyed the stories from this past week. Here is a link to all of them in case you wanted to relive some of those moments like I did!
Until the next time, take it easy and keep travelling!
Cornwall Trip September 2018
Day 1 - Where We Stayed - Westcliff Cottage Arrival
Day 2 - Lizard Coastal Walk & Vortex Misery
Day 3 - Coverack Coastal Walk & The Elusive Pasty
Day 4 - Poldark's Coastline & More Vortex Misery
Day 5 - Dartmoor National Park Hike