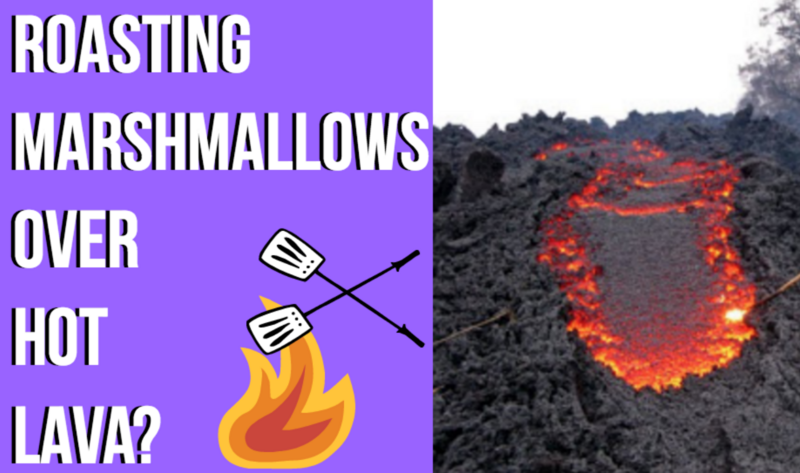 I'd heard the rumors.
And I had even seen the pictures that confirmed the rumors weren't too-good or too dangerous to be true (most of the time).
There's a place in Guatemala where you can hike to the top of a volcano and watch the lava bubbling up and flowing down the side, like a witch was stirring it's inner cauldron and accidentally let it spill over and out the top.
Even better, you can ROAST MARSHMALLOWS on the lava!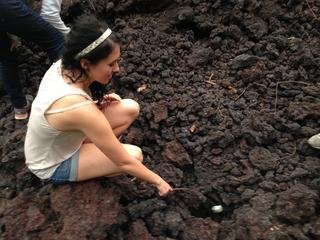 How can you say no to an experience like that?
You might be thinking it's dangerous.
Most of the time it's not (how often do volcanoes actually erupt, anyway?).
So, after 6 years of volcano 'mallow roasting sitting on my bucket list, just begging to be checked off, I finally put on my hiking sandals and sweatshirt (it gets cold up there) and hiked my butt on up to Volcan Pacaya.
I would have loved to just hike up the volcano on my own, but in this case, it's not allowed to do without a tour guide…
…so I had to book transportation/tour.
Here's a little quick info about booking a tour to Volcan Pacaya:
It's a steep climb. You'll most likely run out of breath the higher you get as the air thins out. Unless you're some kind of Amazonian beast who works out every day (maybe even then). Despite that, I think it's doable even for beginner level hikers.

It takes about 4.5-5 hours including transportation, and you HAVE to have a tour guide.

Kids will sell you cheap walking sticks when you arrive at Pacaya, and they will also offer you a horse ride to almost to the top for an extra fee (if you're not into the whole walking, thing). You can also buy marshmallows here.
It's great that most of the tours are based out of Antigua.
Antigua was so amazing, that I visited twice before deciding to live there for 4 months.
It's surrounded by gorgeous volcanos and has a colonial charm that can only be diminished by clumsy attempts to walk on cobblestone streets in heels (worst idea ever).
Just MAKE SURE you get a tour that will for sure let you roast marshmallows. I almost got duped out of that one on my tour.
Anyway, after reaching the Pacaya National Park, I saw the horses and walking sticks and all that jazz.
But I didn't need a horse.
It's just an hour and a half hike, right?
And exercise is good.
I started hiking. Not walking. This is legit hiking.
It's not so bad at first, but you definitely start to feel it soon.
At first it's not so bad. But, then I start to feel it.
I take a few breaks, but not too long, because I didn't want to be the weakest link.
Luckily, I was nowhere near the weakest link and didn't have to regret the no-horse decision even once.
Some people gave up hiking halfway to the top and got a horse at that point.
Smart locals.
They knew that wimpy people were up there, and they were just waiting for them to crack and change their minds.
It does get too steep for the horses to go completely to the top, apparently.
When you get to the top, it's hot. I mean, you're basically walking on top of cooled lava, while lava flows all around your feet.
Makes sure your shoes don't melt (for reals).
Time to take the sweatshirt off, 'cause it's gettin' hot in here.
I had a blast checking this item off of my list. Would you like to go here and do something like this? Have you been before?