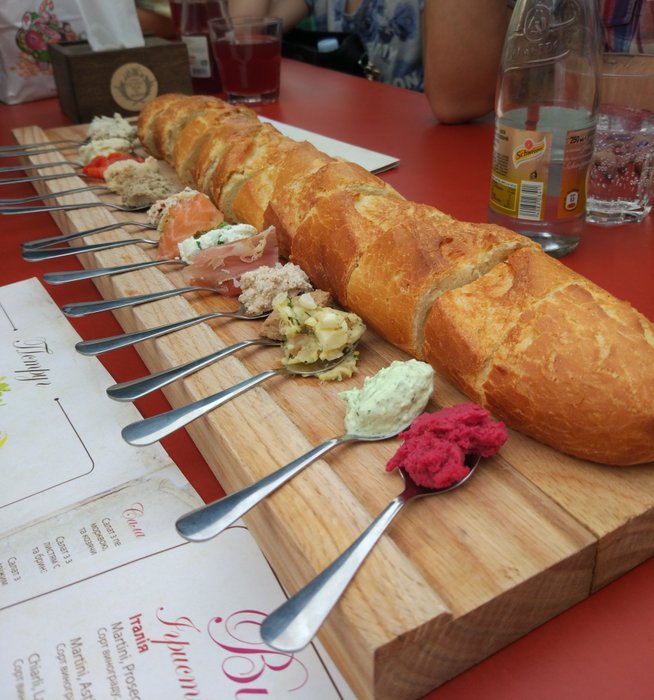 Another relation from our visit to the beautiful city of Lviv in Ukraine.
In the previous post we wrote about where you can eat the best breakfast in this city: https://steemit.com/travel/@otek/budget-travels-best-breakfast-in-lviv 
Today we wanted to introduce you restaurant with amazing history, climate and of course low prices - Trout, Bread and Wine.
 The restaurant is located in two tenements: inhabited by the trumpet's family and the family of the watchmaker. The trumpeter and watchmaker themselves are great hosts, they often greet their guests, and sometimes even offer a glass of cognac or wine.  The interior of the restaurant is divided into two parts - one watchmaker - where the leitmotif of the decor are just clocks and the other where there are trumpets and other musical accents. It is equally pleasantly sitting in the garden in front of the premises, from where we can admire the medieval defensive walls of the city!   

As for food, the greatest asset of the place is freshly baked, fragrant bread - many Lviv residents come here every morning to buy it for breakfast. The prices, as usually in Lviv, are very affordable:
1 slice of bread with spread - costs about 0.6 usd - there are 16 different spreads (Chicken liver pate, Bryndza cheese and walnut, Wanted and apple, Goat cheese and pear, Tuna, Salo, eggplant, Mozzarella and ham, Cream cheese , walnut and poppy seeds, Cream cheese and herbs, Sardine, Salmon, Prosciutto, Marinated trout, Baked vegetables and Mackerel)
As you can see, the choice is huge, that's why I recommend Tasting set of 16 bread spreads - you can see it in the main picture - it costs about 3.5 usd
Other interesting dishes on the menu are: Cheese platter - costs about 8 USD 
Cured meat platter - costs about 6.7 USD 
Trout with various additions (Sour cream and mushrooms or Grilled vegetables or spinach and potato or sweet pepper sauce and zucchini) - costs about 7 USD 
In addition to delicious food, we recommend very good Ukrainian cognac.  
If you visit Lviv, be sure to stop for a meal in Trout, Bread and Wine!   
Adress:  Rohatyntsiv brativ vul.49 Lviv, Ukraine
Facebook page: https://www.facebook.com/PstrugHlibtaVyno
Reviews on Trip Advisor: https://www.tripadvisor.com/Restaurant_Review-g295377-d4259739-Reviews-Trout_Bread_and_Wine-Lviv_Lviv_Oblast.html