Welcome Steemians!
---
It was a long time since my latest Travel Norway post. I had some nice walk around the town lately and decided to share the shots with You - one thing - the winter in Norway is amazing this year - so much snow in city center I haven't seen since a long time... another thing - it is something quite "on time" so I think it is always more intersting to see how some locations looks like "at the moment".
It the beginning - this is not about town's history, demography or detailed description. This time I want to take to the short walk along river Nidelva, showing You the most famous historical buildings and areas of the town, all in this fantastic winter scenery.
So, Stay with me! Hope You will like it!
---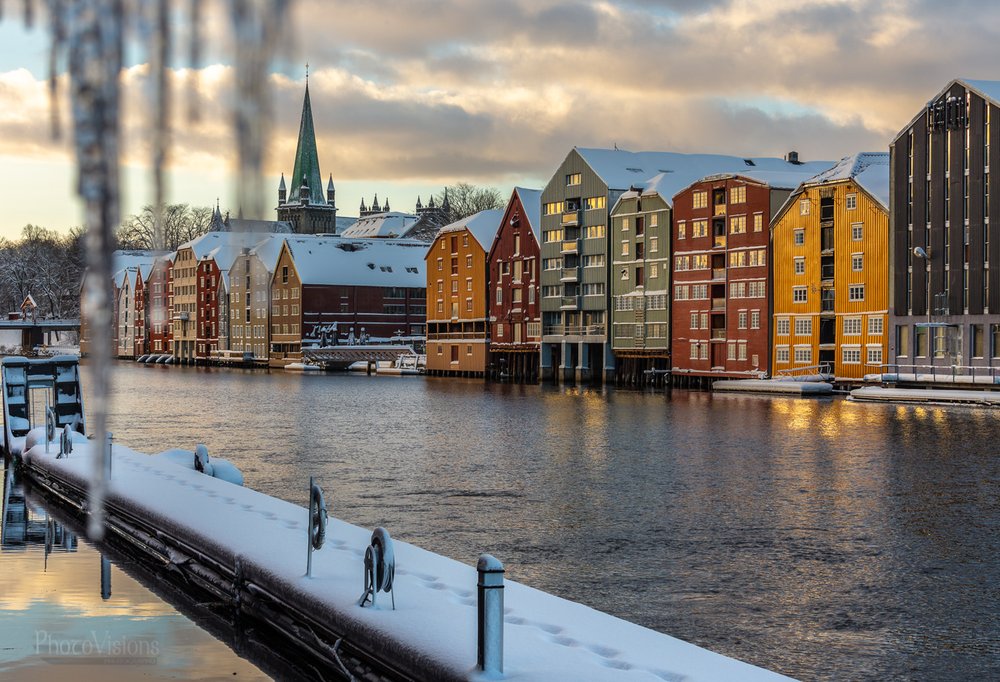 ---
We will begin our trip in district called Baklandet - it is very old part of the town, where we can explore narrow streets, surrounded by colorful, small houses. In some places we can go directly toward the river Nidelva, from where we will have a great view on the famous, big, wooden magazines on the other shore.
---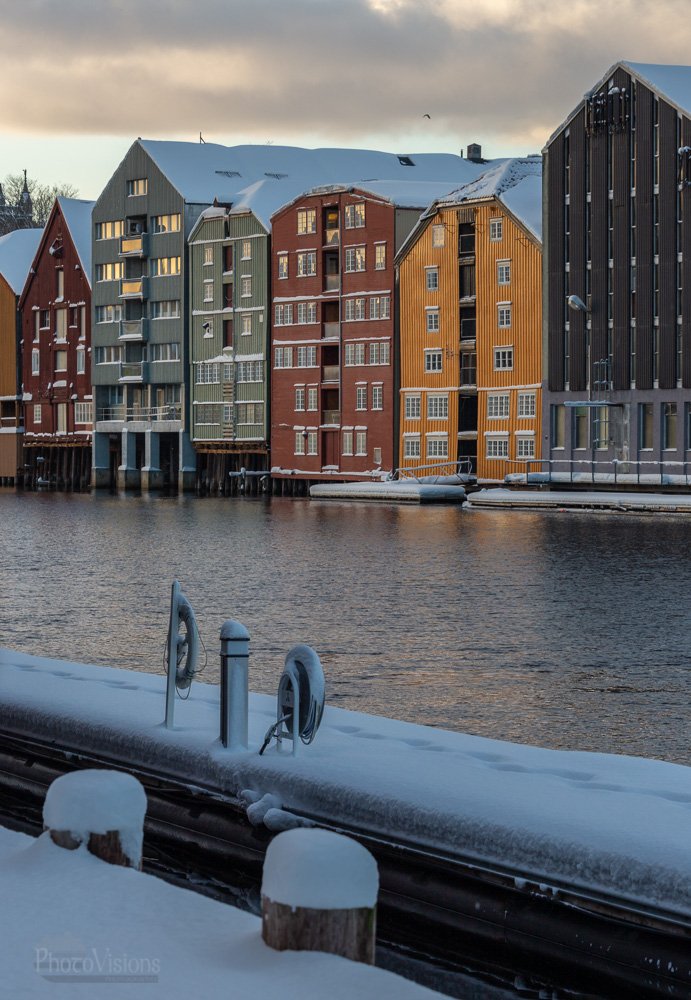 ---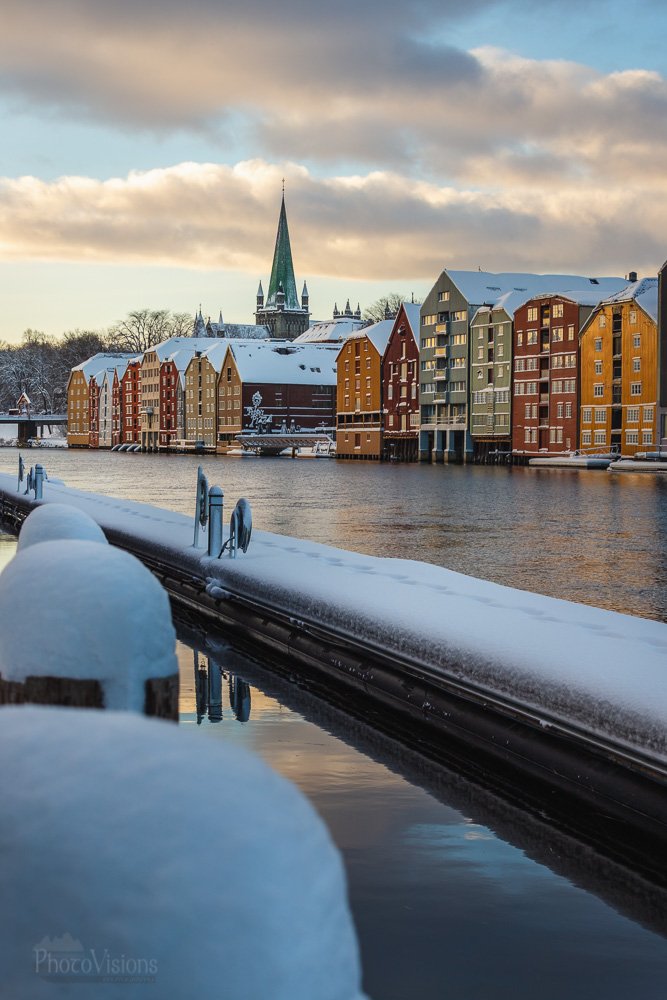 ---
Here are two more shots, panoramic ones, with overall view on the buildings.
---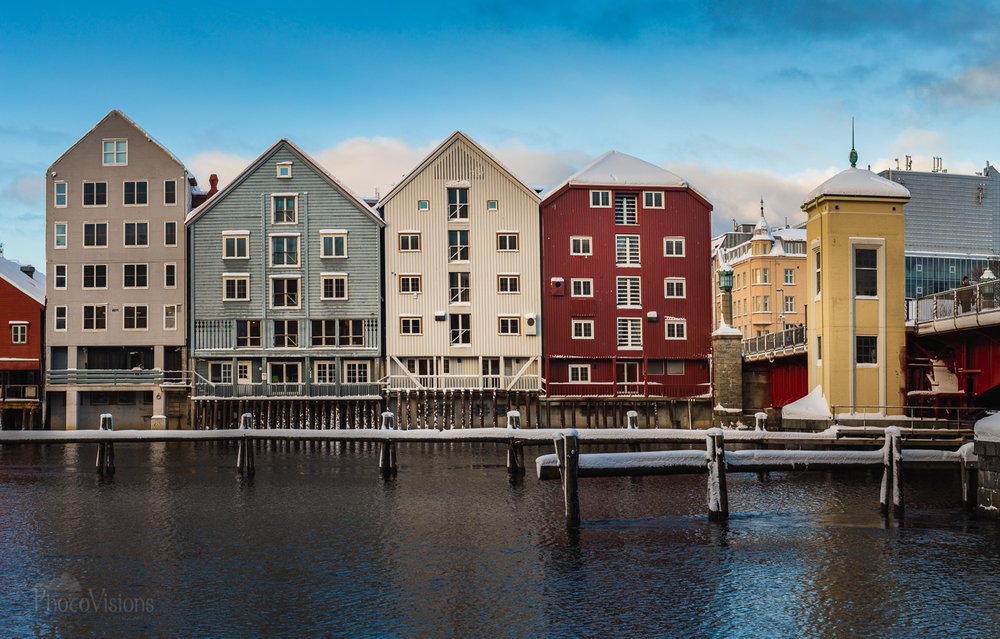 ---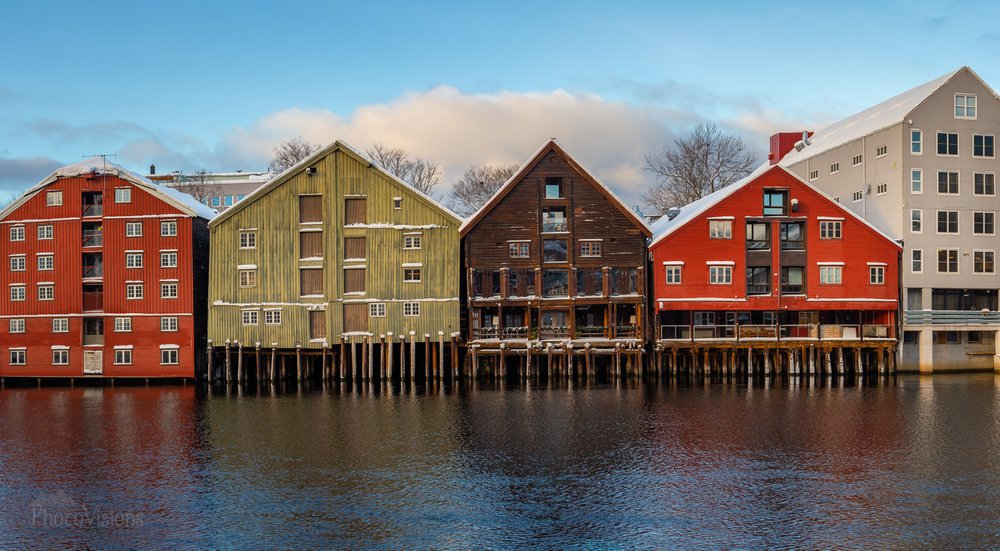 ---
Looking to the left we will see a bridge - Old Town's Bridge - Gamle Bybro - to which we will come back later in this post. In a back, high tower of cathedral - most known gothic cathedral in Norway called Nidarosdomen. We will see this one many more times on next shots.
---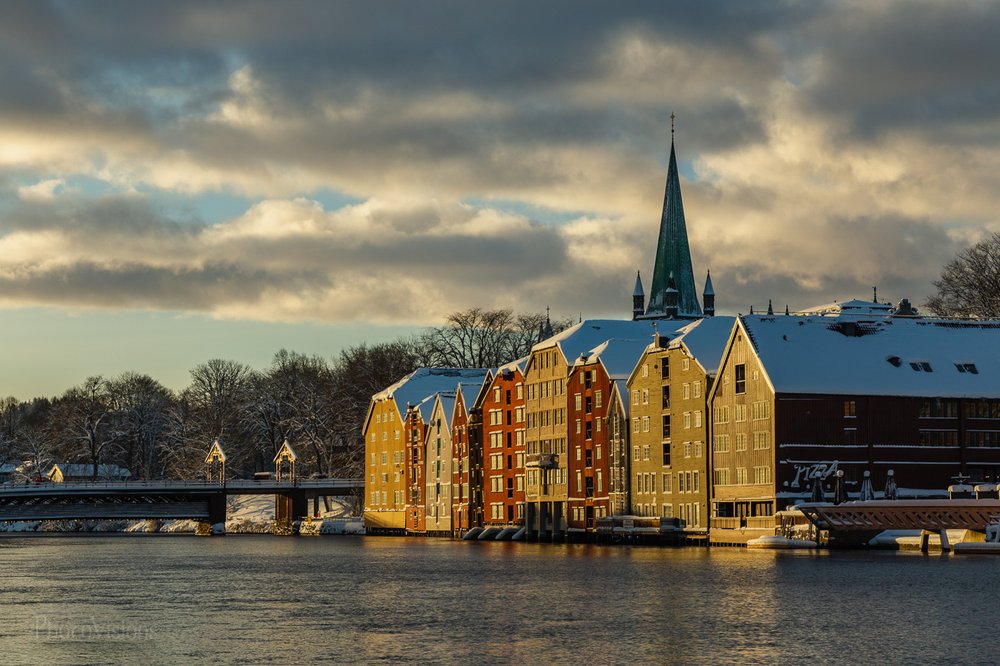 ---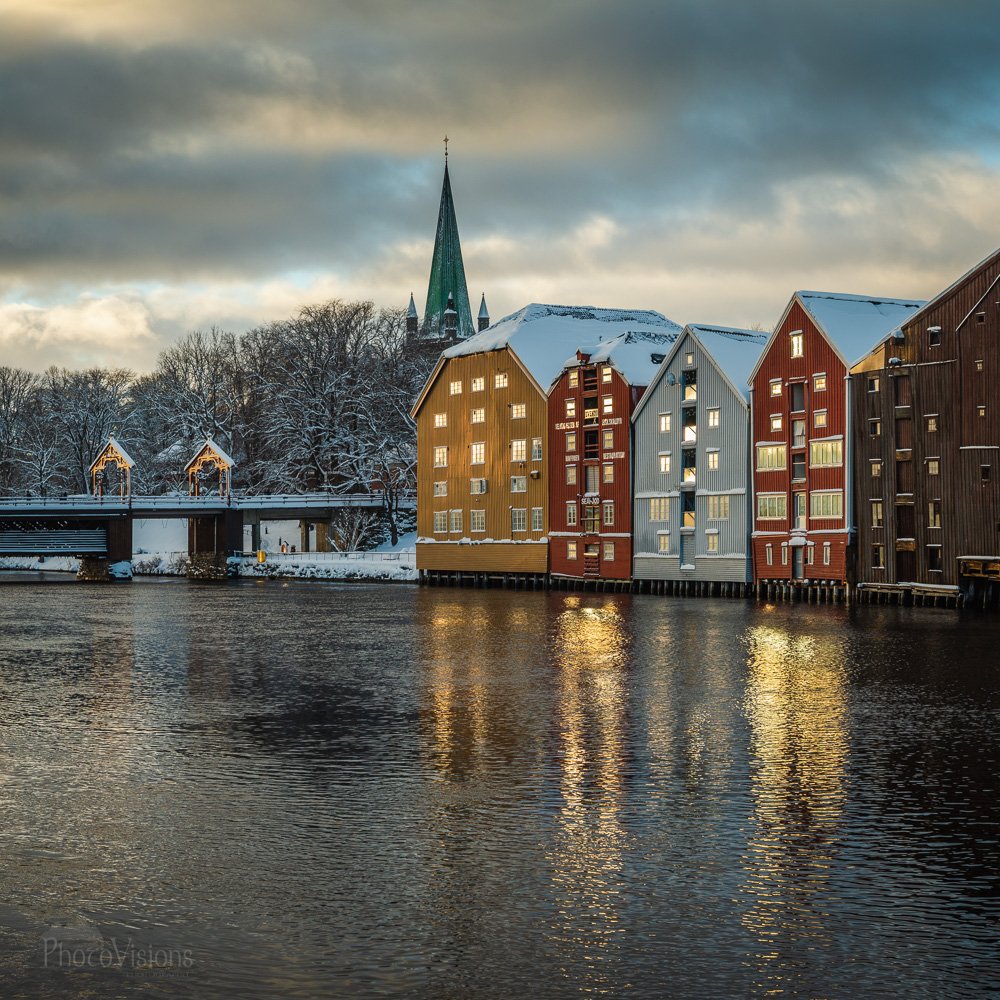 ---
Among the river shores we have many great spots, with small bridges, with benches and other nice motives. This is definitely one of the most beautiful part of the town.
---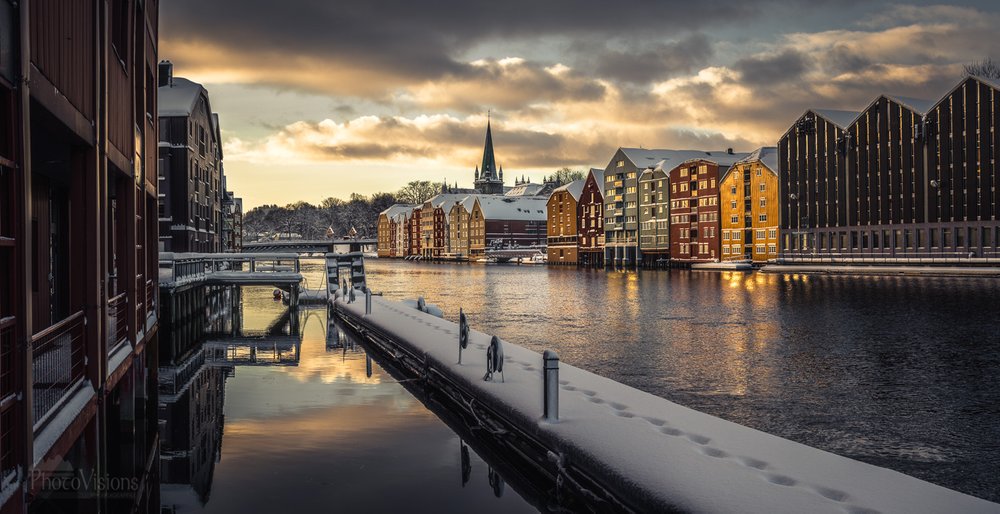 ---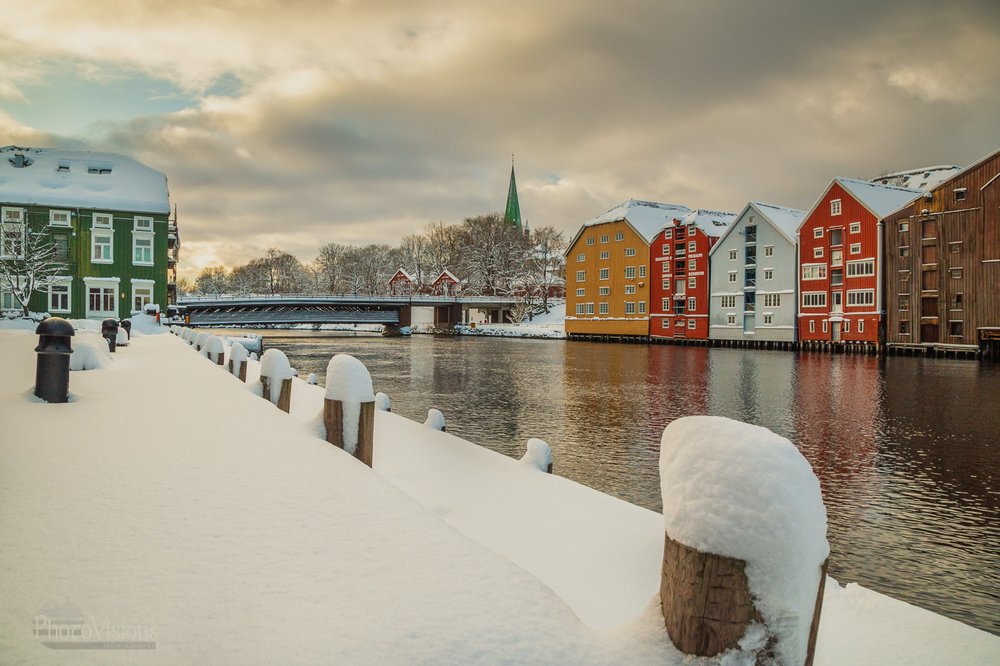 ---
Walking on Baklandet street is a nice experience - it is not a long street but during that time we can step into one of many Coffees, PUBs, Restaurants and Galleries. In high season this part of town, as well as all the indoors, are full of tourists.
Here are some shots of the street under fresh snow...
---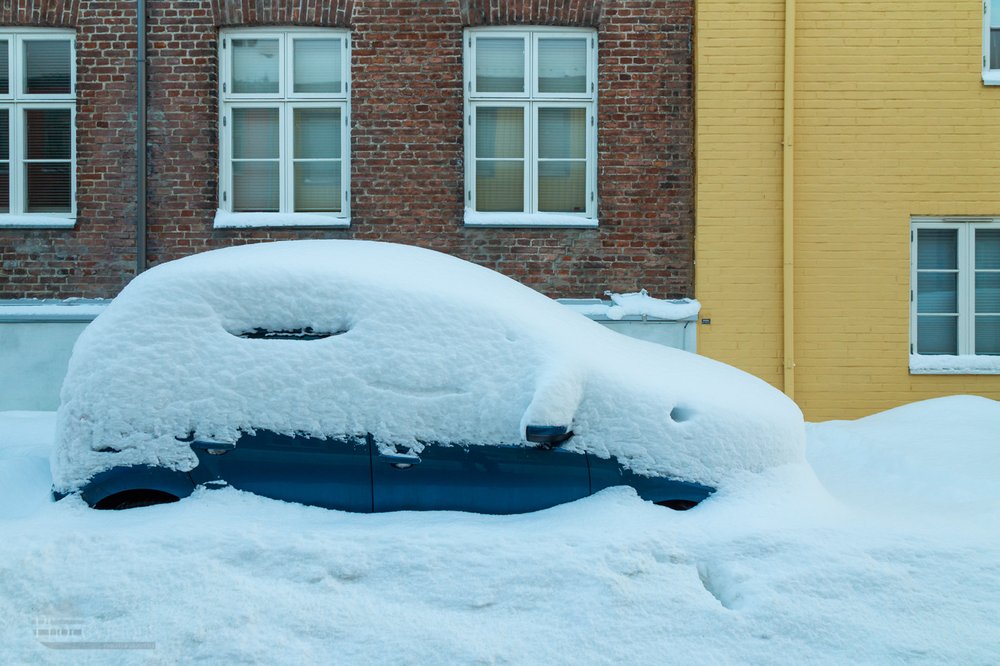 ---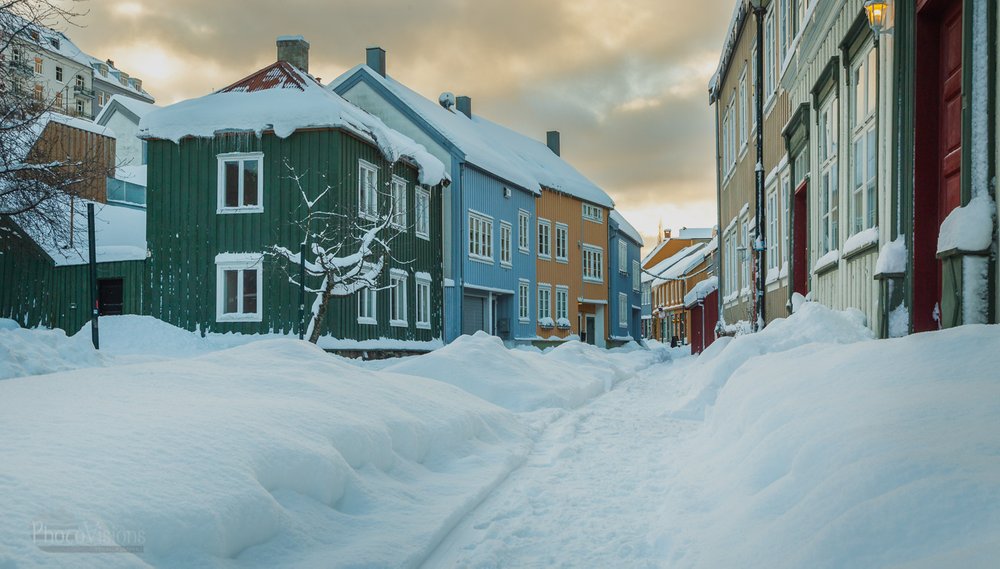 ---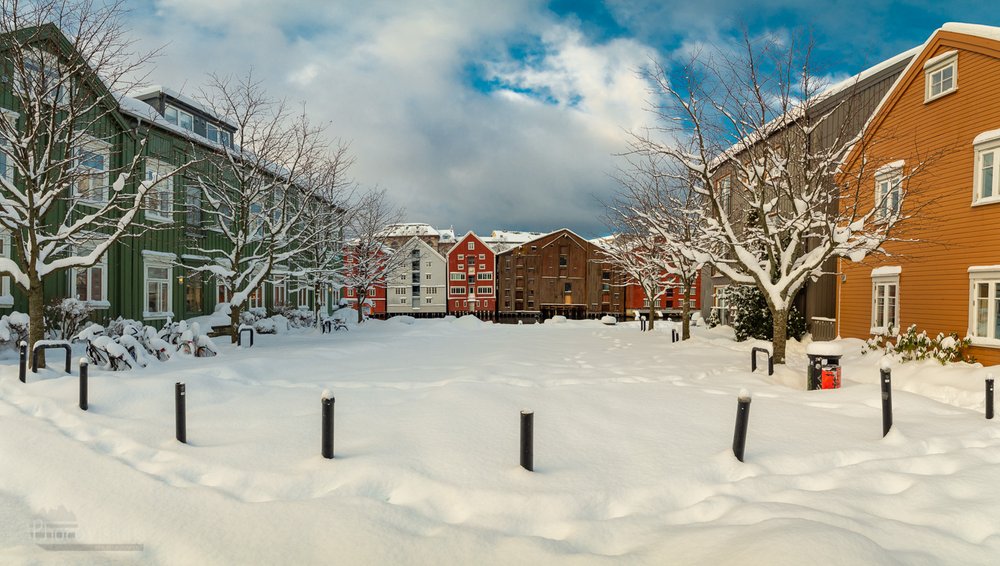 ---
I was there one or two days after gig snow falls, so I had this luck to see the place not yet "cleaned up" from great amount of snow, which was covering everything around.
---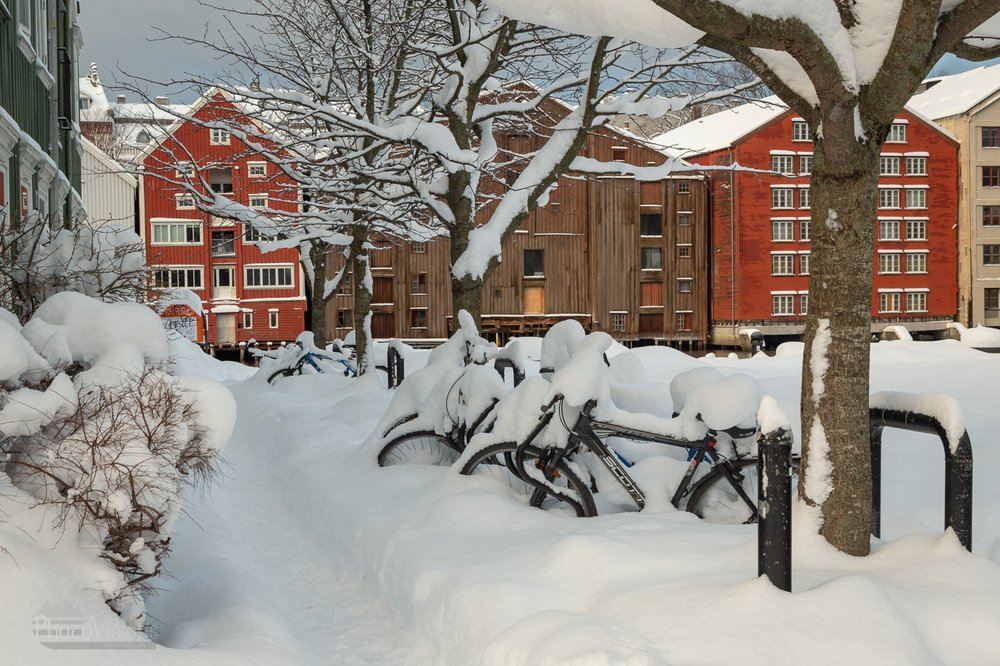 ---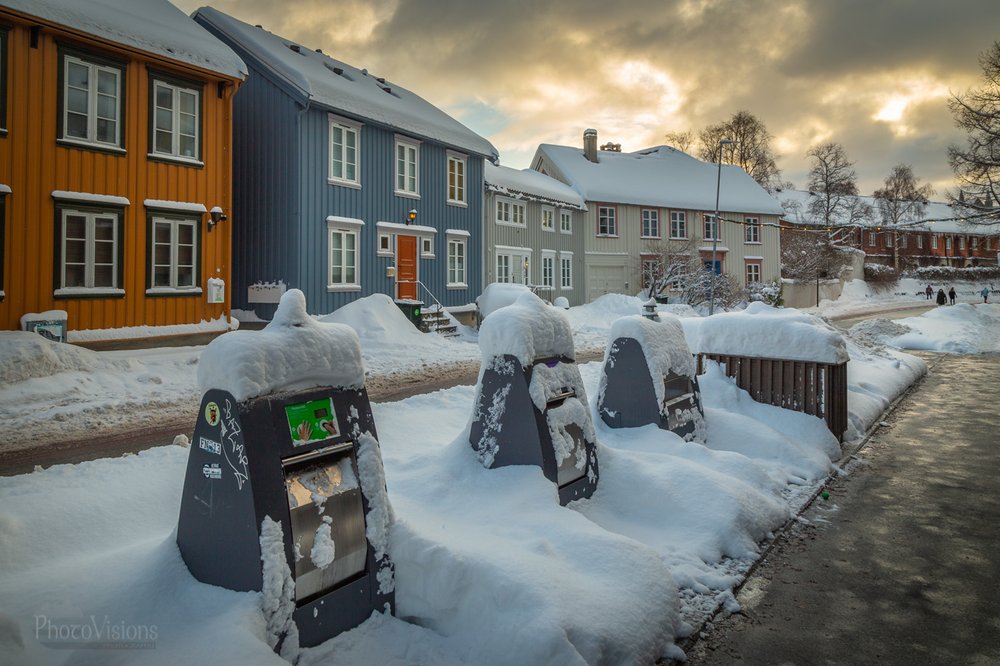 ---
From Baklandet street, going little further behind this Old Town's Bridge I mentioned before, we can turn right and go staight to the shores of Nidelva river, with the nice view on Cathedra Nidarosdomen and Cathedral park around it.
Here, in this place, we can always expect a lot of ducks and other birds, waiting for the kids with bread and seeds :)..
---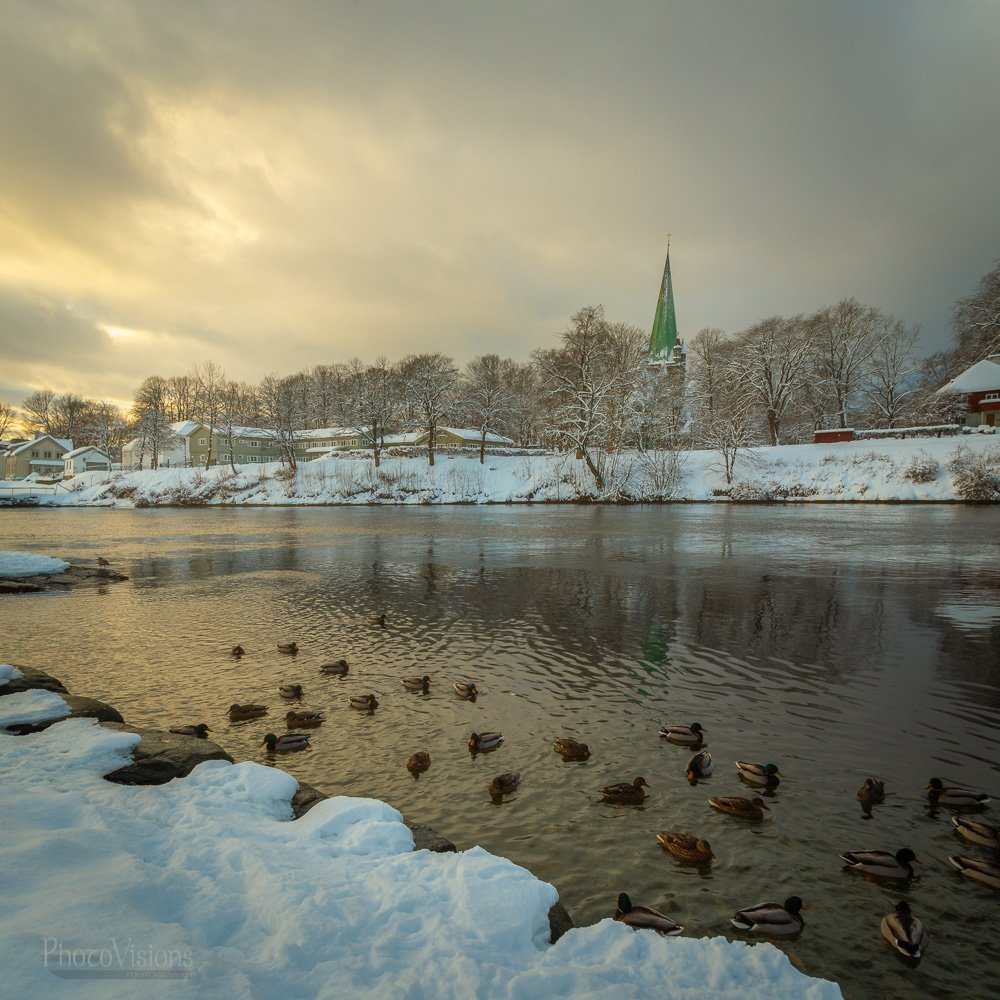 ---
Straight Forward we will see The Cathedra, on the right hand side - Gamle Bybro, but we will continue our journey among the river shores to the left.
---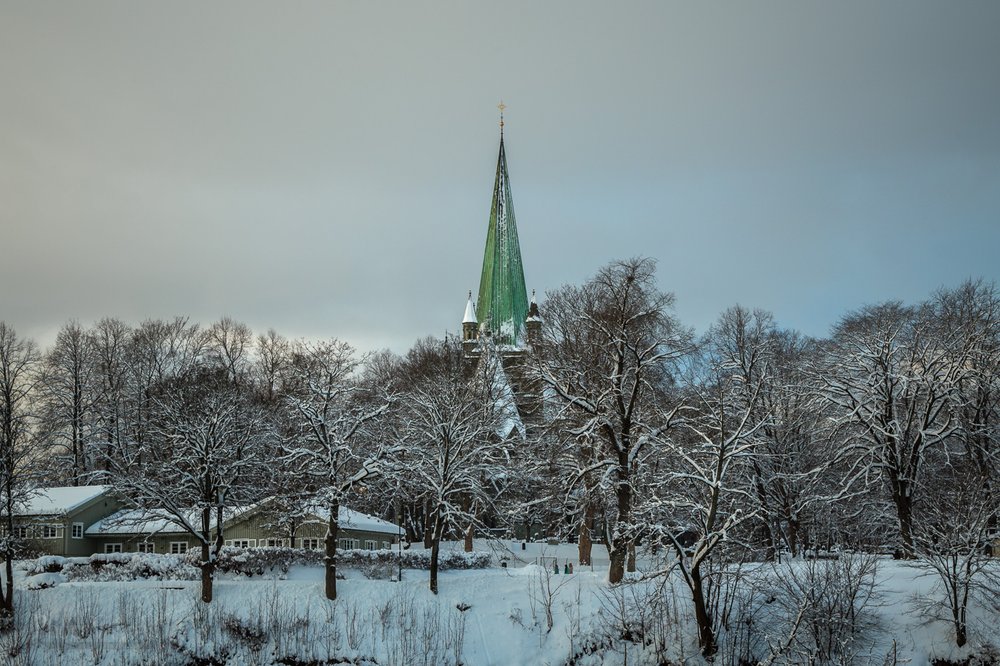 ---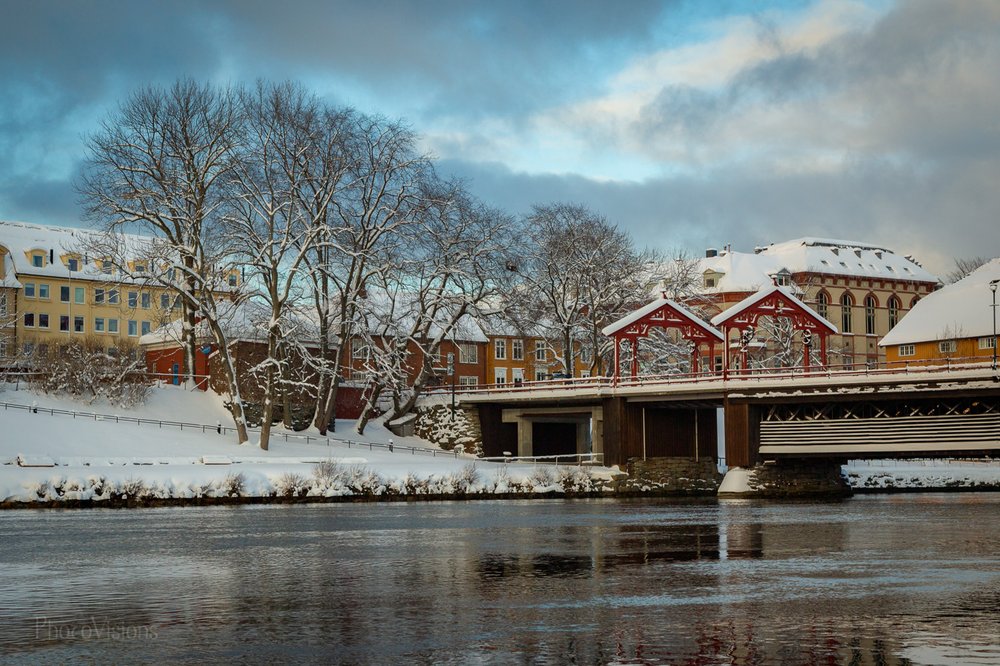 ---
Following the footpath, after few hunder meters we will reach a big bridge with car street, which we can use to cross the river, but before then, few more shots on the Nidarosdomen Cathedra and surroundings.
---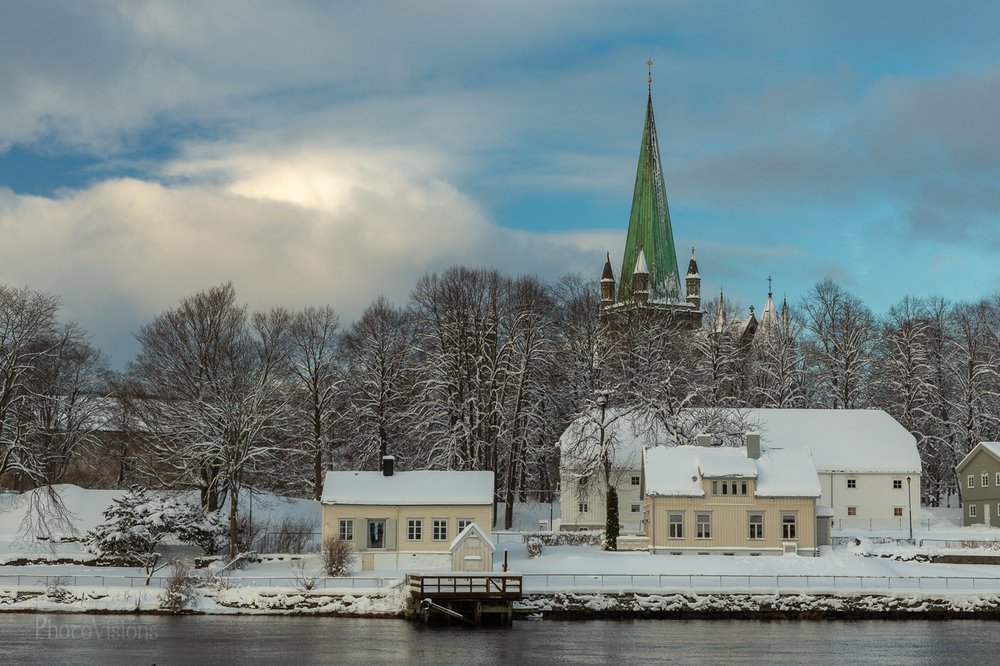 ---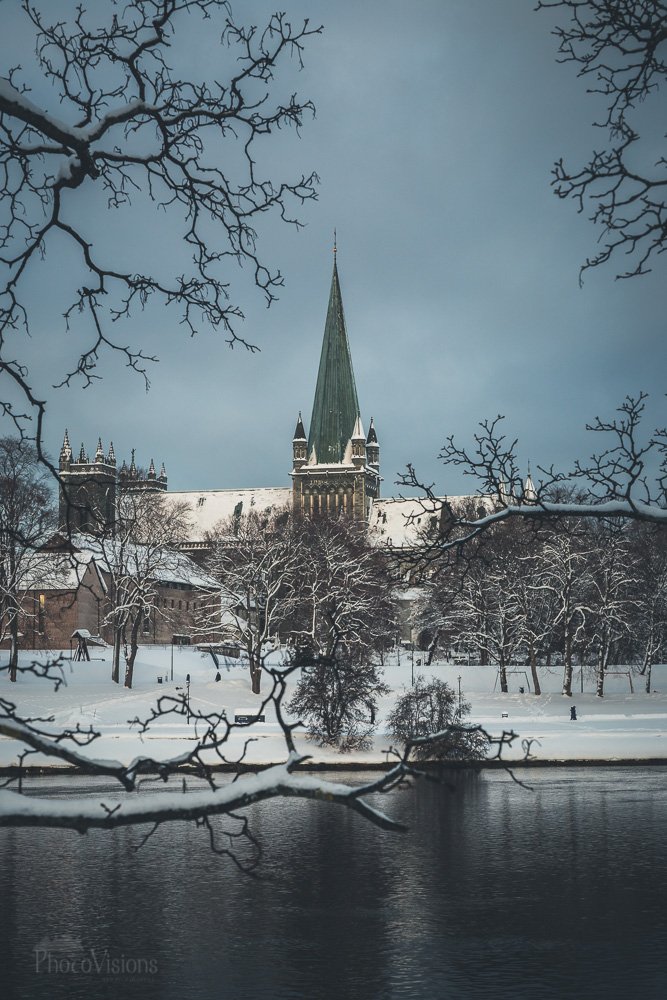 ---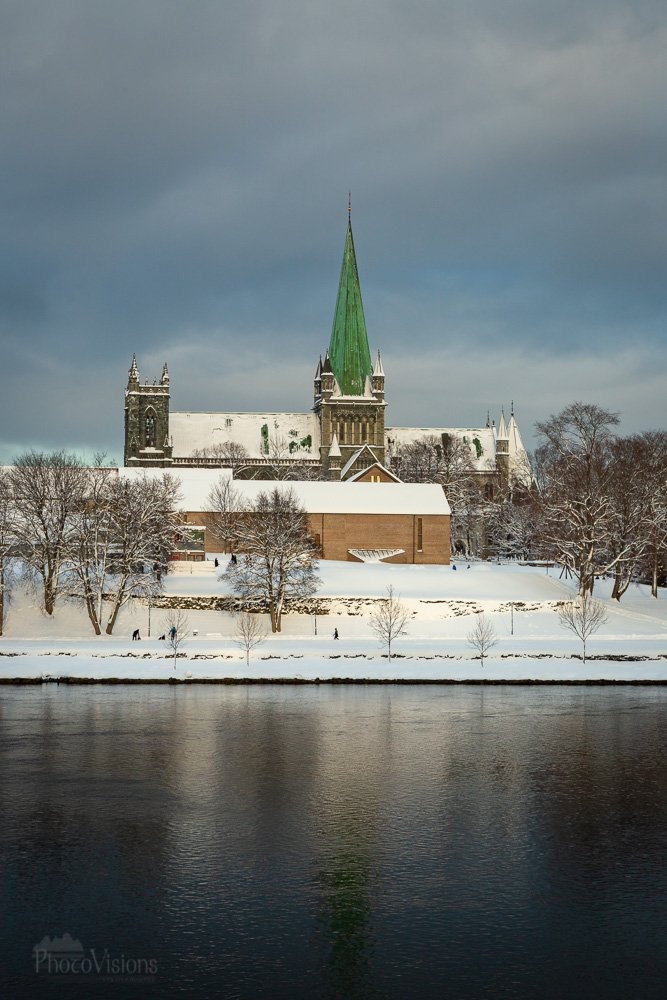 ---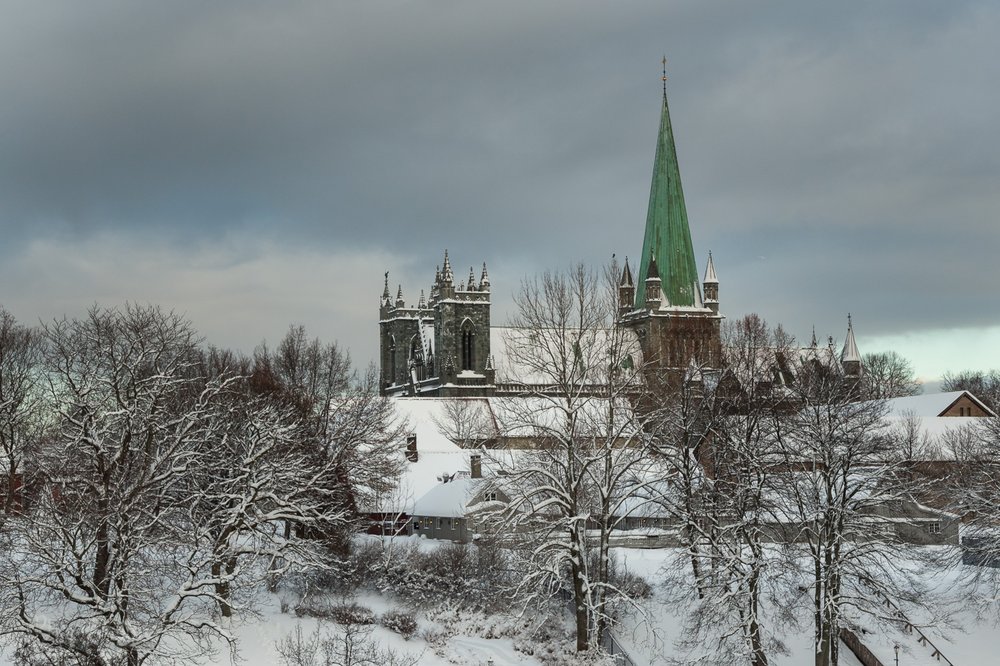 ---
Beautiful building isn't it? :) We will go closer soon.
From the bridge, we can see another very famous building in Trondheim, well known historical and touristic attraction called Kristiansten Festning - Fortress Kristiansten.
The big, white building above the town is a part of bigger fortifications, build in I World War, used also in II World War. There we can explore the walls, fortifications and see original canon from I WW as well as original anti aircraft cannons from II WW.
---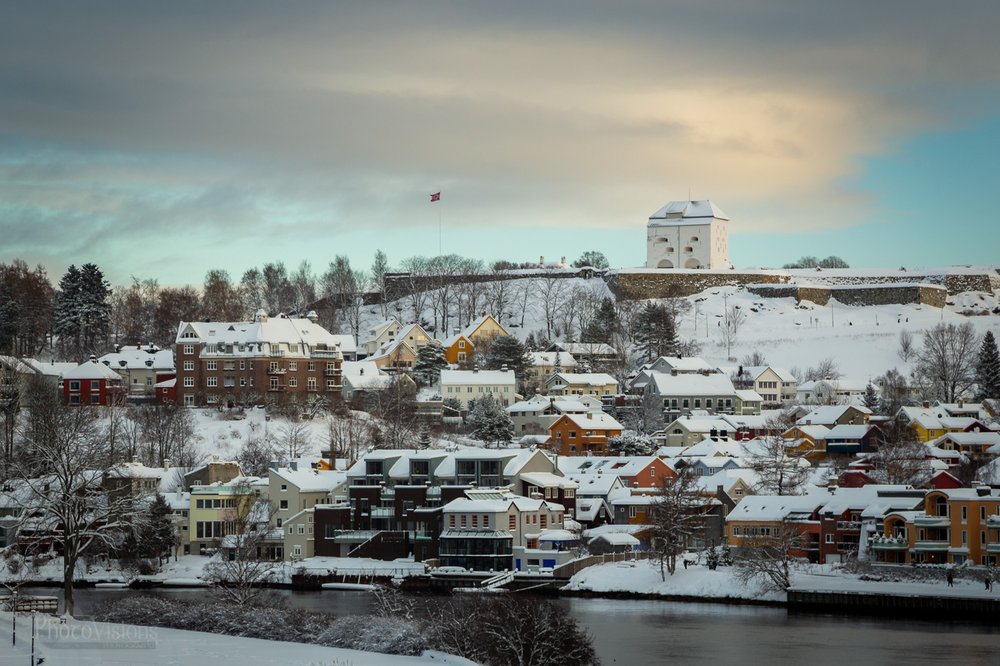 ---
Before we will leave the bridge - one more look on the Cathedral from this site:
---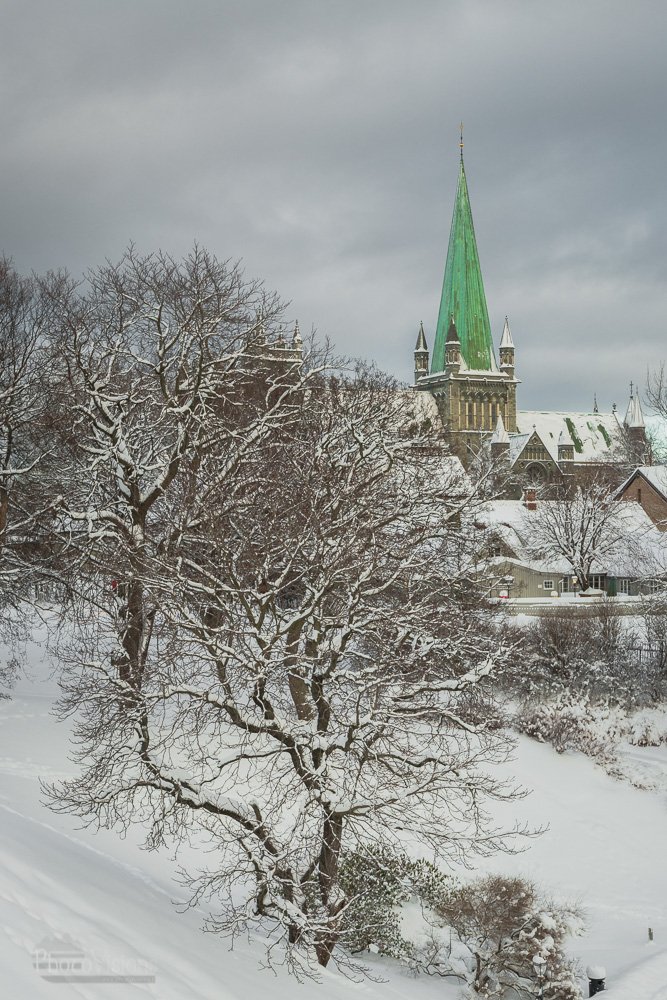 ---
Going straight toward city center we will see on the left Cinema building, some other old buldings in Cathedra's gardens and finally we will reach the front of the Nidarosdomen, which is the most impressive site of it!
---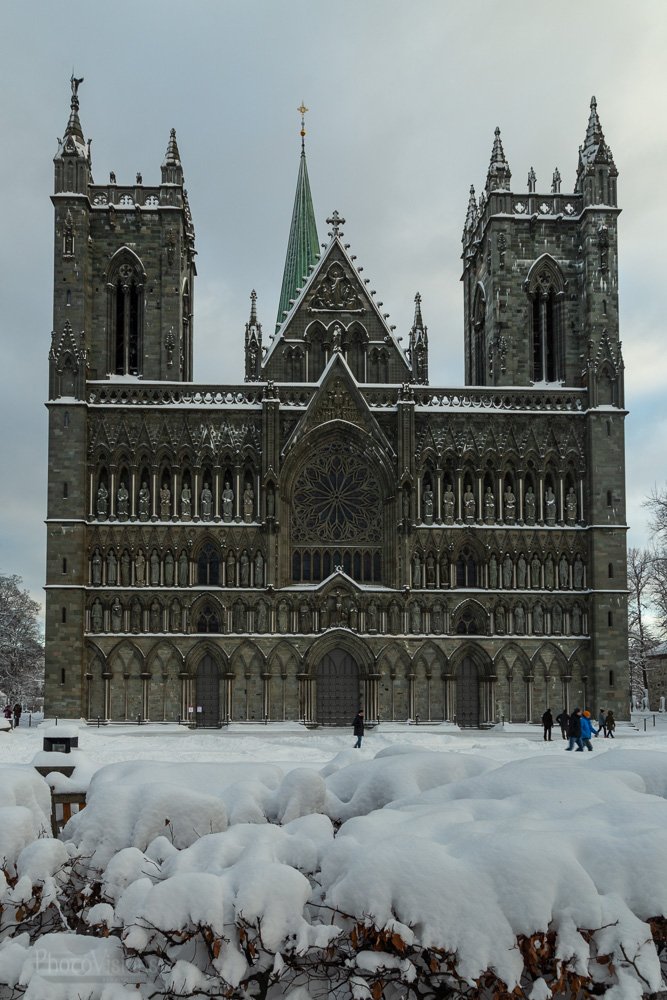 ---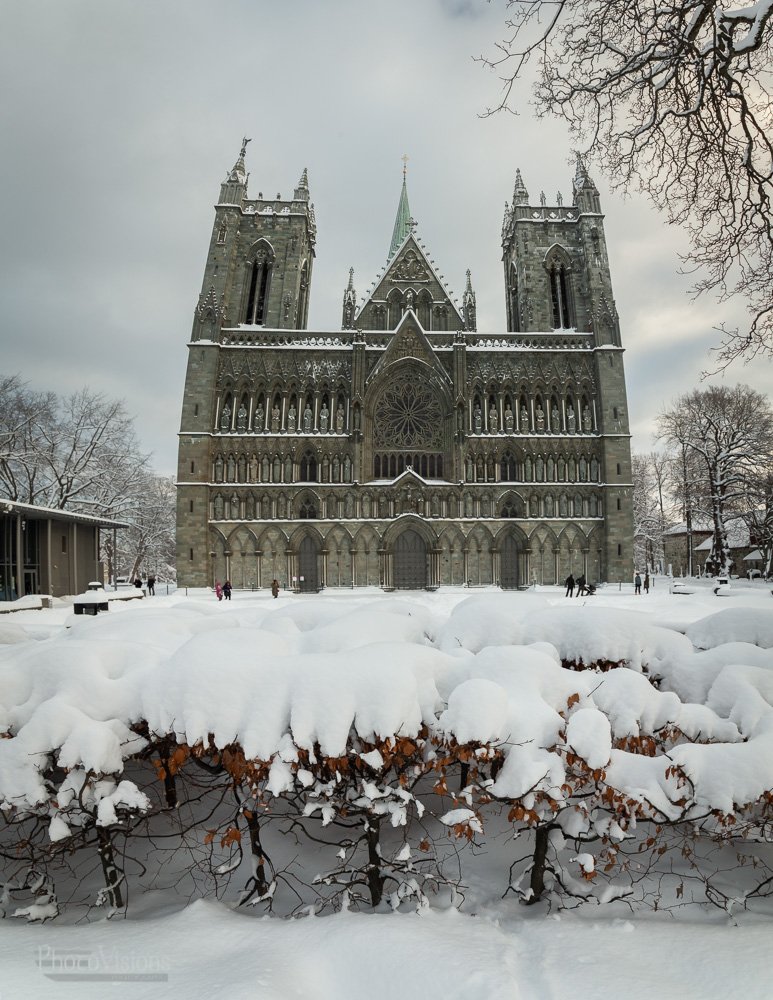 ---
We can freely explore the area around the cathedra. It is good to spend there some time to do it, to see all the sides of the building, of course there is also possible to go into the cathedra, it is normaly paid but during the mass You can do it for free.
---
---
---
In the park around the Nidarosdomen we can see very old graveyard, but most well known man was burried in the catacumbs of the cathedra - Norwegian King Olaf II.
I didn't mention that Cathedra was built in XII century! So...just imagine that times and the scale of the building back then. Even now looks monumental. This place was a target of pilgrimage.
Sad story is that the original silver coffin of King Olaf II was transported to Denmark in XVI century and melted to the coins :(... Money...alway evil... ;)
---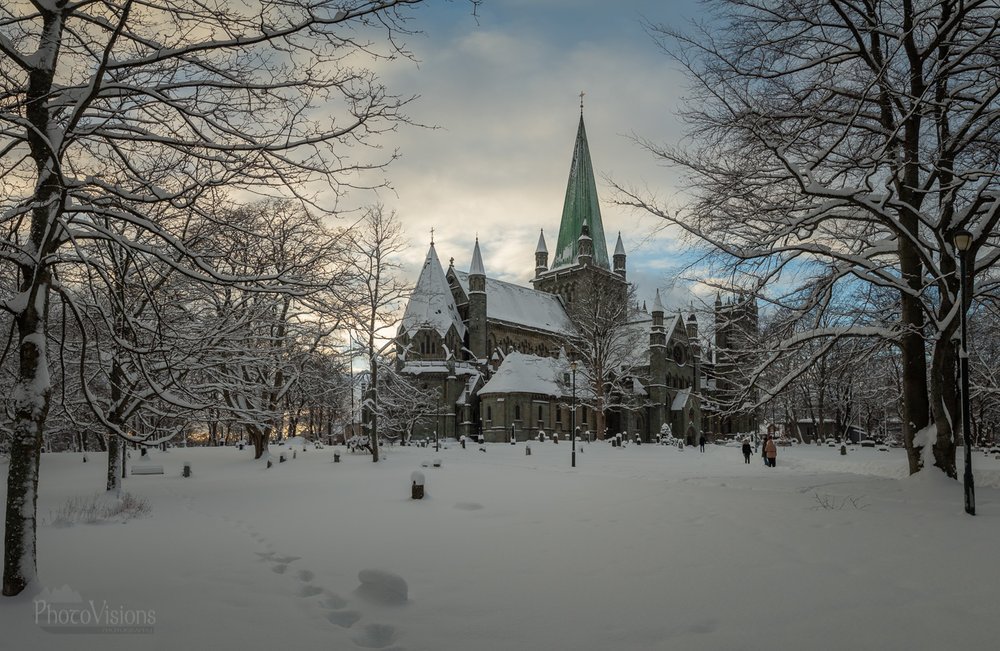 ---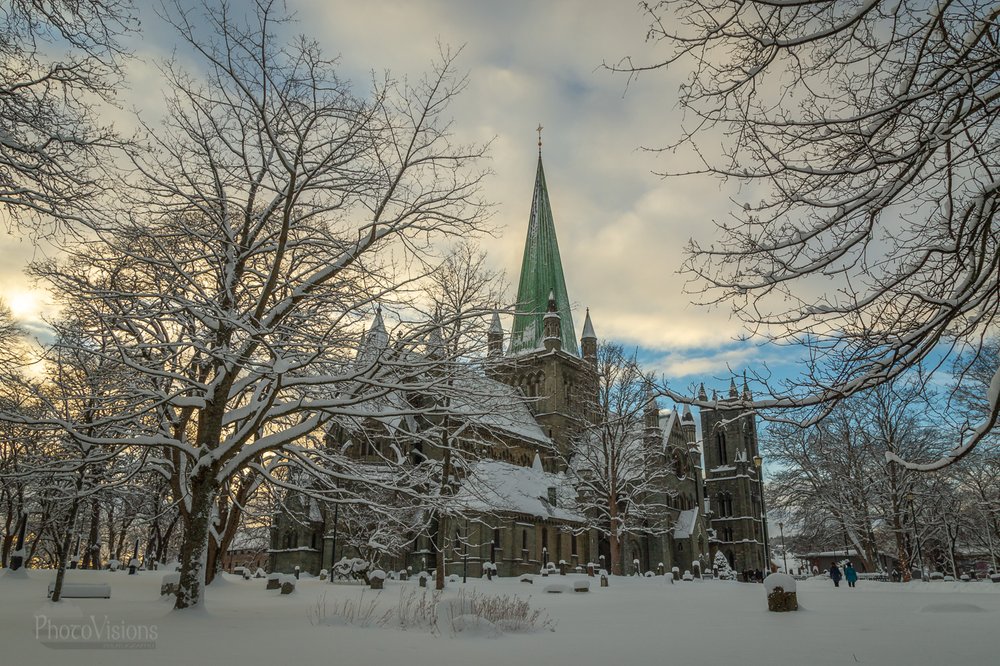 ---
Going back towards the Old Bridge and Baklandet street we will see this amazing red gates - the Gates of Old Town's Bridge - Gamle Bybro- made by wood, still looks great. The bridge itself is well preserved. It is closed for car traffic.
---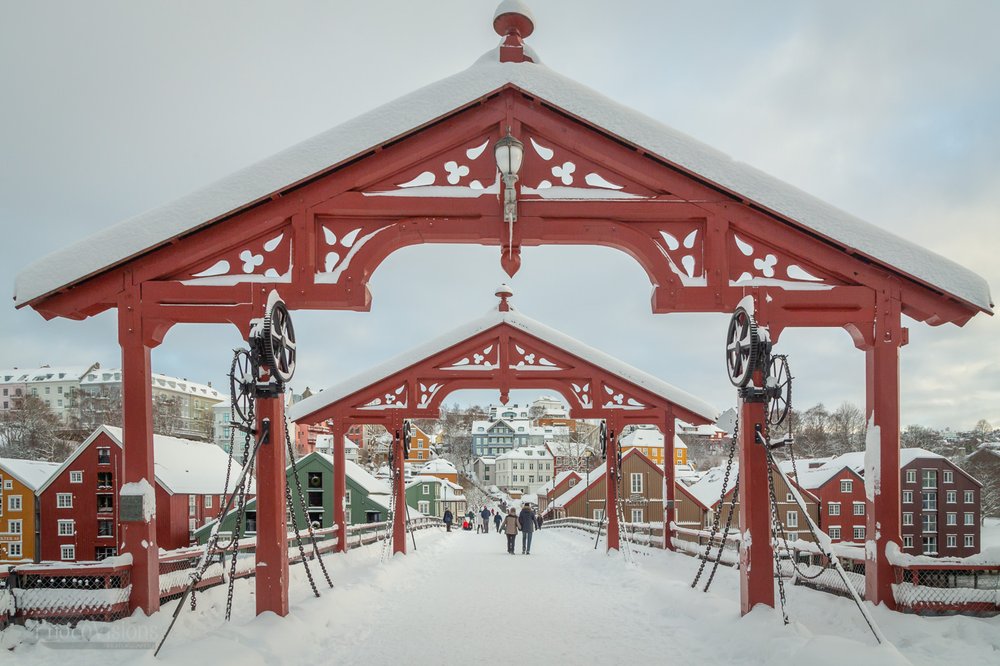 ---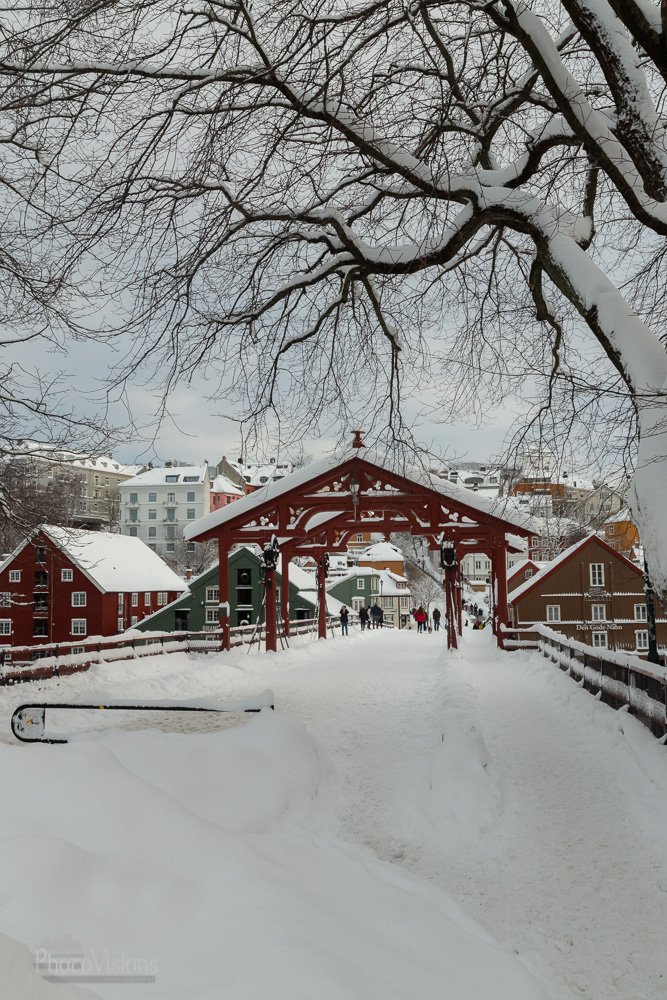 ---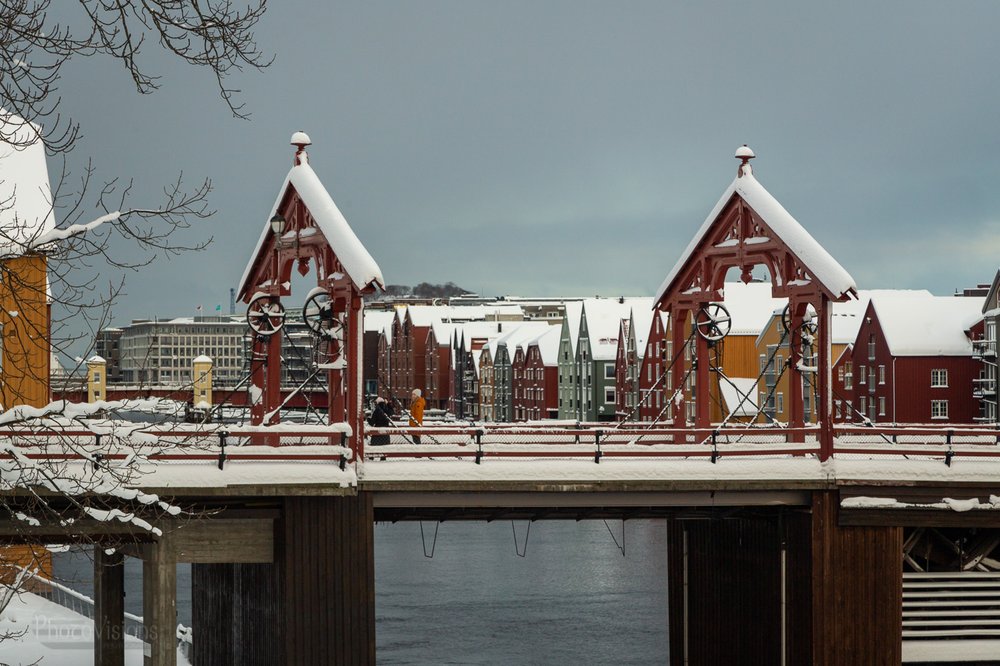 ---
Last stop on our trip will be the middle of the Gamle Bybro. From here we will have a great view towards the river end - further on the horizon, river waters meets sea in Trondheimsfjorden fiord. Interesting is that this part of river can have very different water level depending on sea tides. Sometimes water is more salty, sometimes sweet...
We can also see the whole line of colorful old magazines. Some of them are still being used as restaurants, shops and galleries, some of them are abandoned and still empty.
---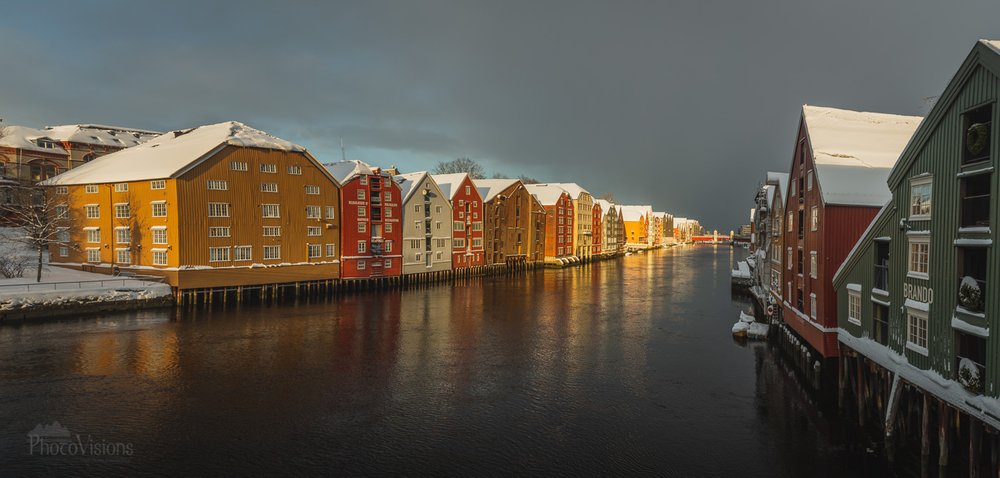 ---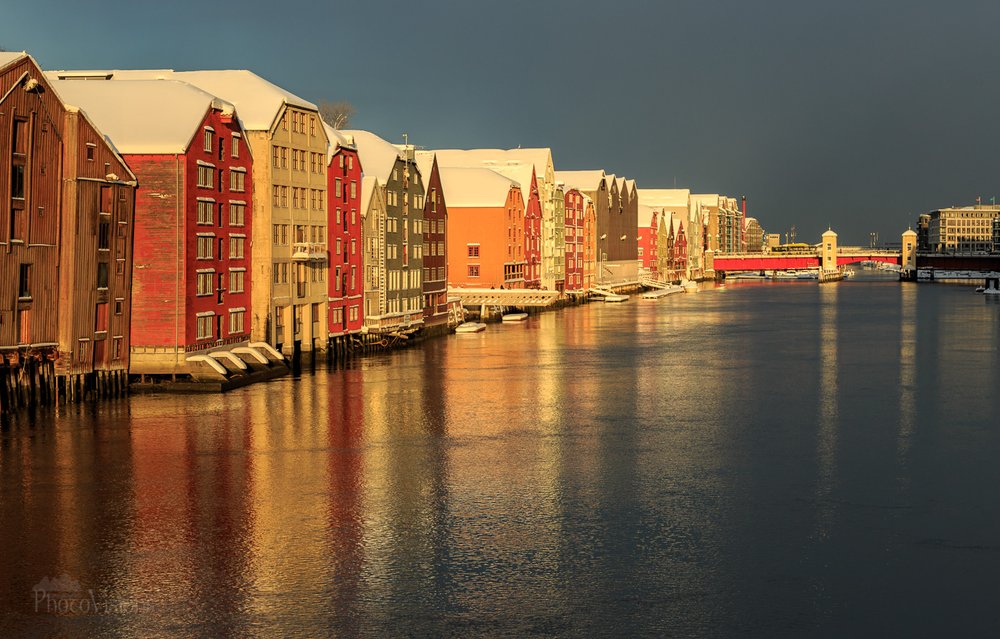 ---
I had amazing light. Air, thanks to frost, was very transparent and make colours nice and saturated. Very good light conditions, amazing winter scenery in most beautiful part of Trondheim.
Hope You liked this short trip!!
Thanks for being with me, reading and watching. And hope we will meet again during next Travel Norway part!!
UNTIL NEXT ONE!!
---

<><><><><><><><><><><><><>

Any photo available as Digital Files. Join my Discord channel for details: https://discord.gg/ApdDcNh
If You like my work, check my portfolio site asphotovisions
Prints, frames, all kind of photo products available on my site! All the support will help me to run this blog and chase my dreams :).

Thanks for watching and have a great day!
---
Upvoting, Resteeming and Following are the best way to show the authors that You like their work, it supports them not only finacially but what more important gives a huuuge amount of positive energy to create more interesting posts and work on future projects!


---