How are you spending the last day of this year? We like to go for a walk every day and today was not different.
Recently, it's been very cold and everyone around us is sick. We keep telling them to move more and eat healthier, but nobody listens to us. Therefore, we try to show them that we're healthy and full of energy and we're hoping that one day they will see it too. For now, we can only show them photos from our walks as they are too lazy to join us.
I'm not saying that you are lazy too and I hope that you will join me on our photo walk 😊
We left home after lunch because days are still short and it's getting dark around 4 PM. There are many bears and wolves in our region, and I don't feel comfortable walking in the forest when it's dark. If I would be very honest I would say that I don't feel comfortable walking in the forest here during the day too.
We walked towards the forest and hoped that there will be some snow as my mom's dog loves it.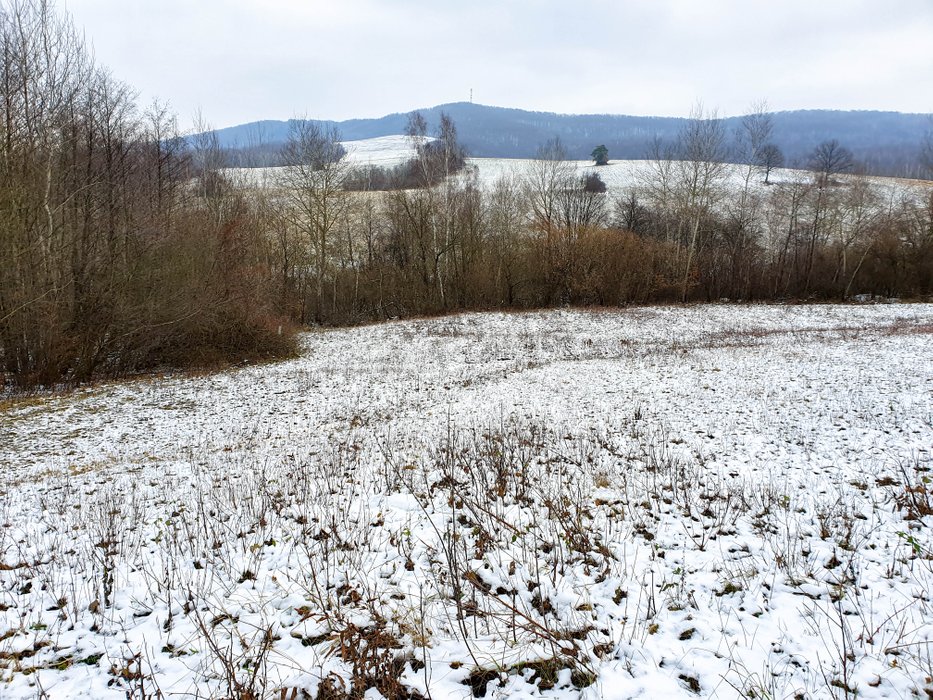 Our walk started like this but we didn't lose our hope and it's good that we didn't give up as we had a lot of fun in the end.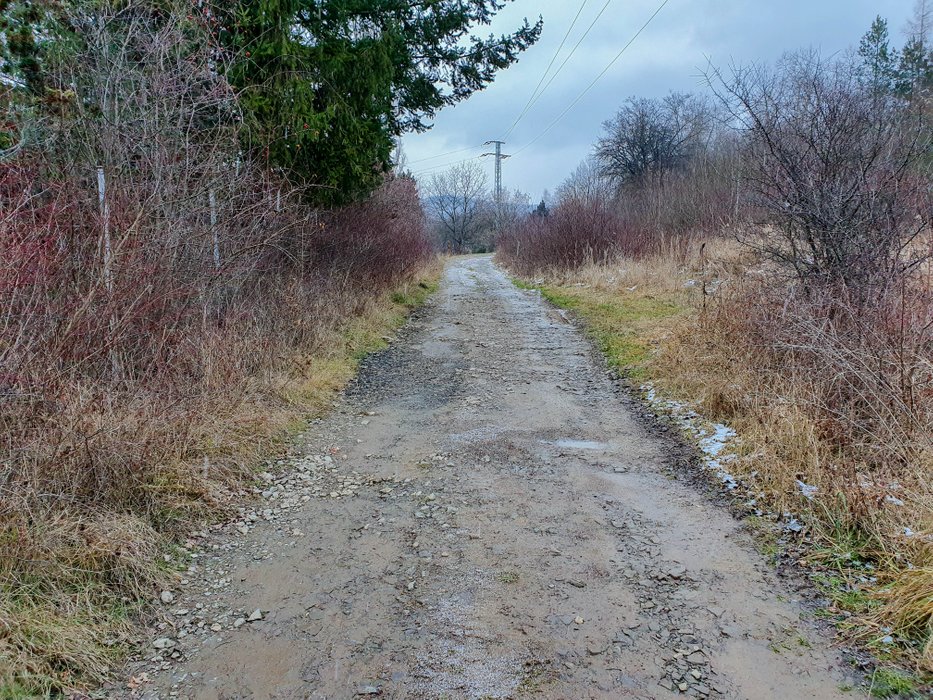 It took us just a couple of minutes to get to the path that was frozen, so it was much easier to walk there. It even started to snow and it was kind of magical.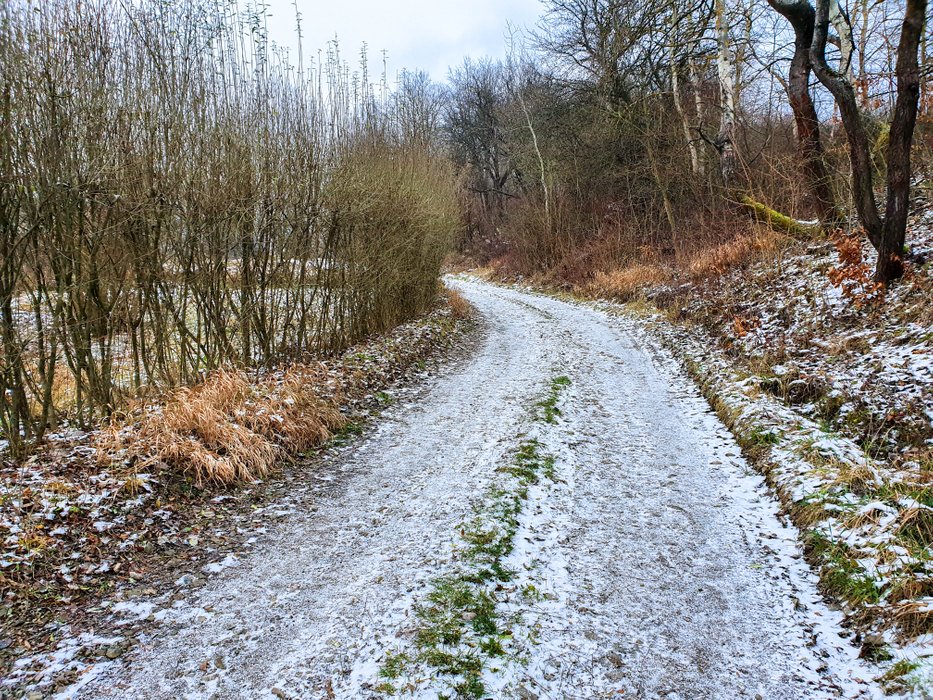 There are many cottages with big gardens and an abundance of fruit and veggies in summer. We want to get a garden here too. My mom lives in an apartment, so we don't have a garden at the moment and it would be great to have our own produce.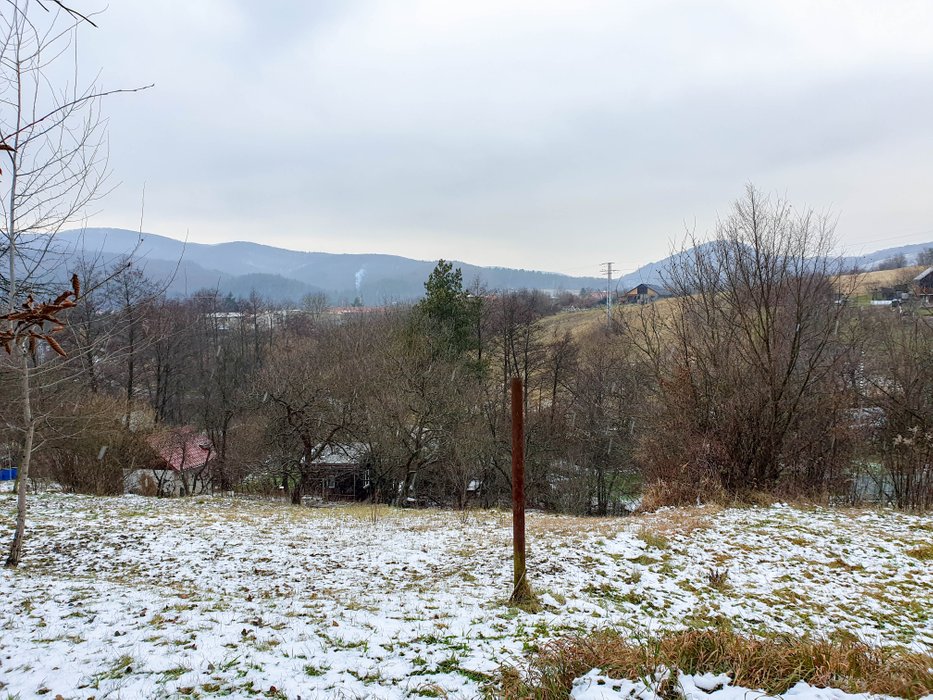 And this is how this dog enjoys snow. He likes to lie down and move from one side to another. He loves it - the more the better.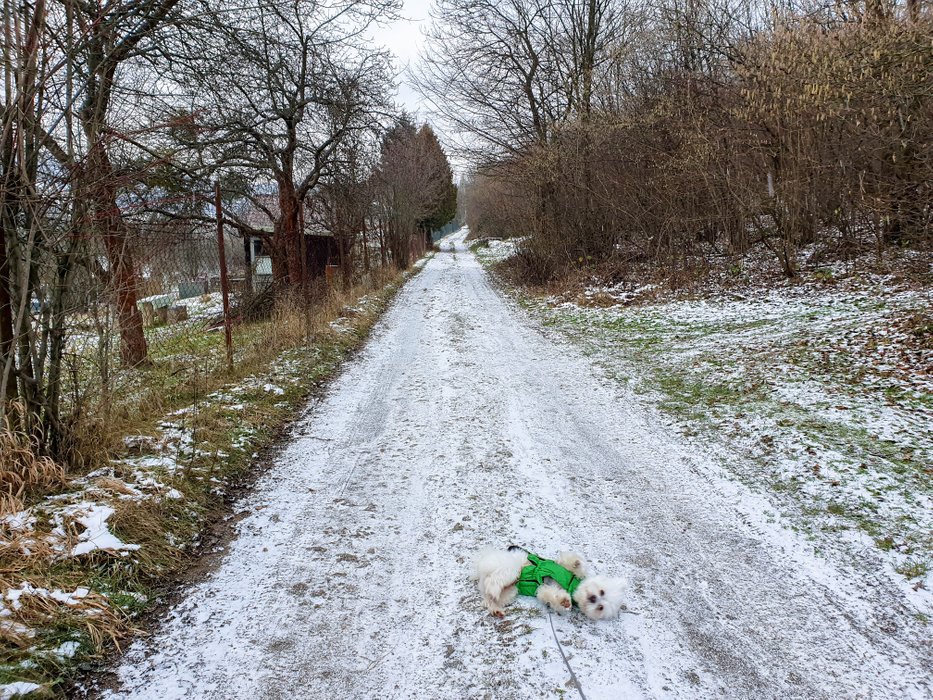 It's a beautiful place - perfect for a walk.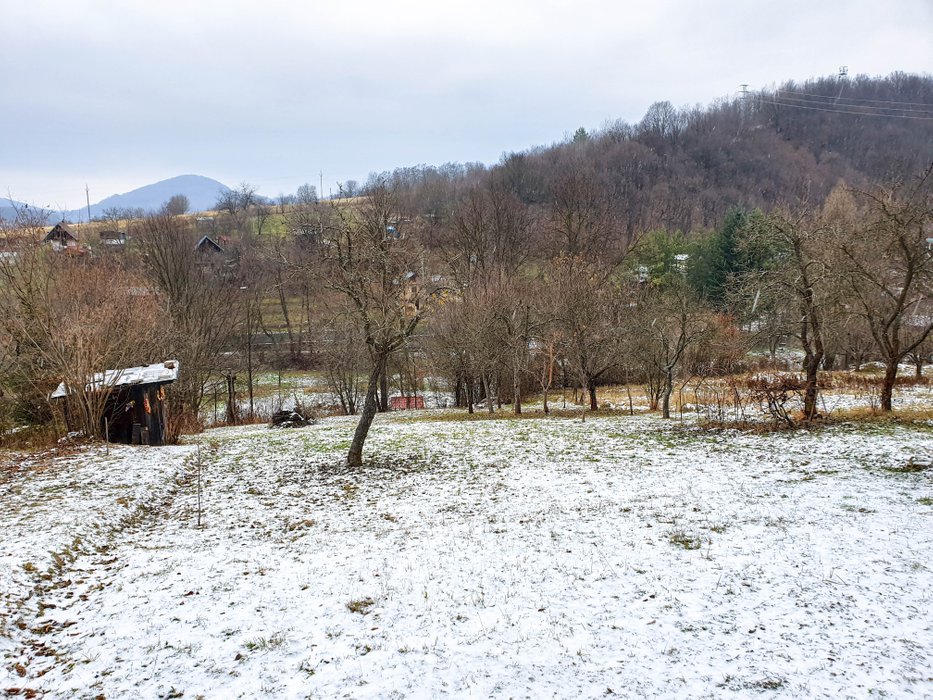 It's surrounded by the hills of the mountain range called Poloniny. Iddylic!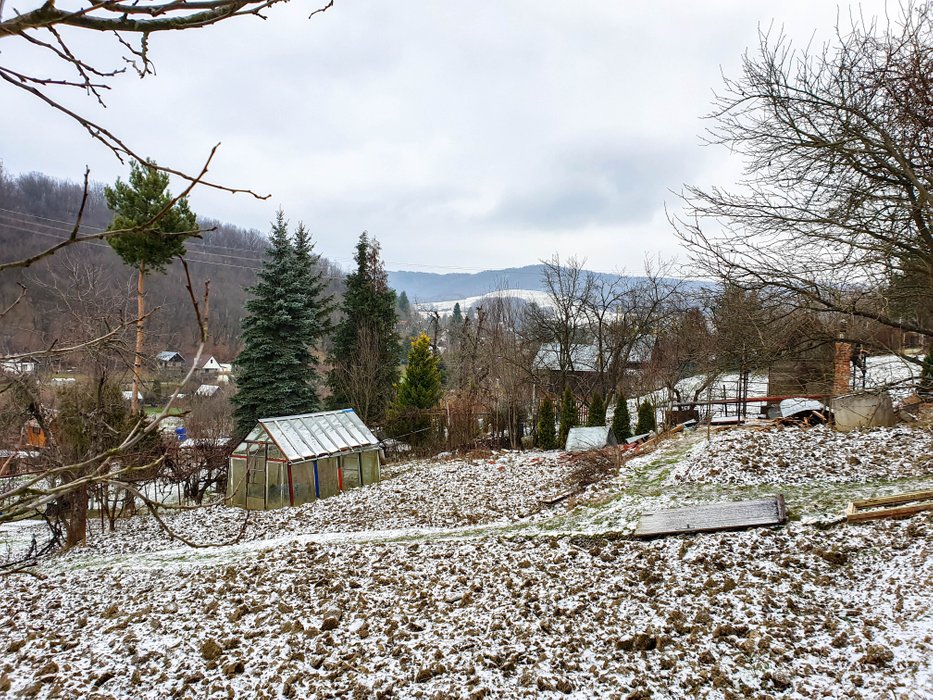 He was hoping that there would be more snow and made the best out of the little bit that he got.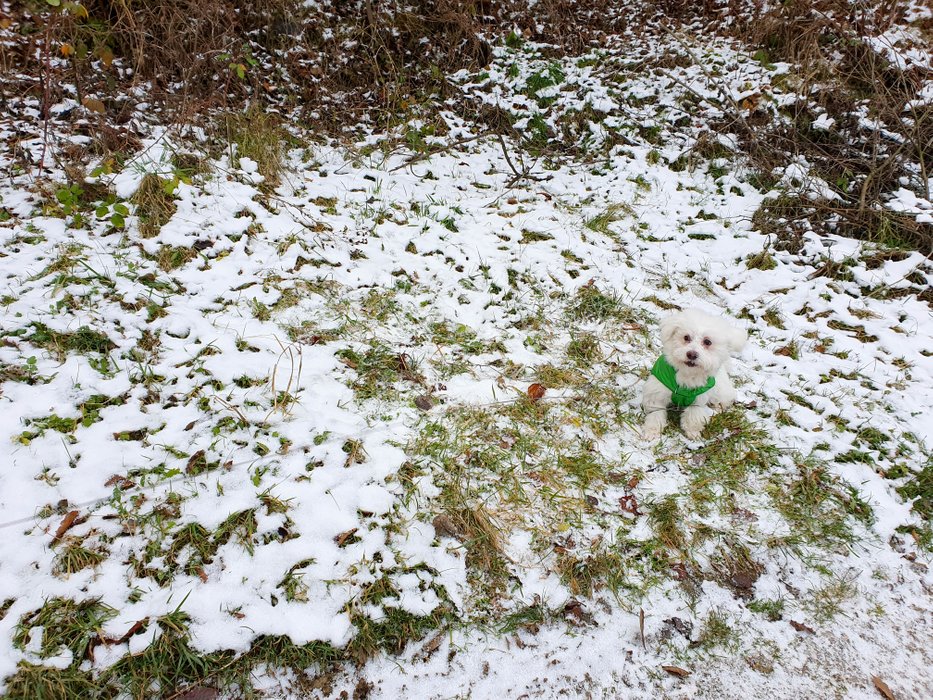 I was surprised that there was no one else. I think it was too cold today or people started to celebrate the New Year's Eve early.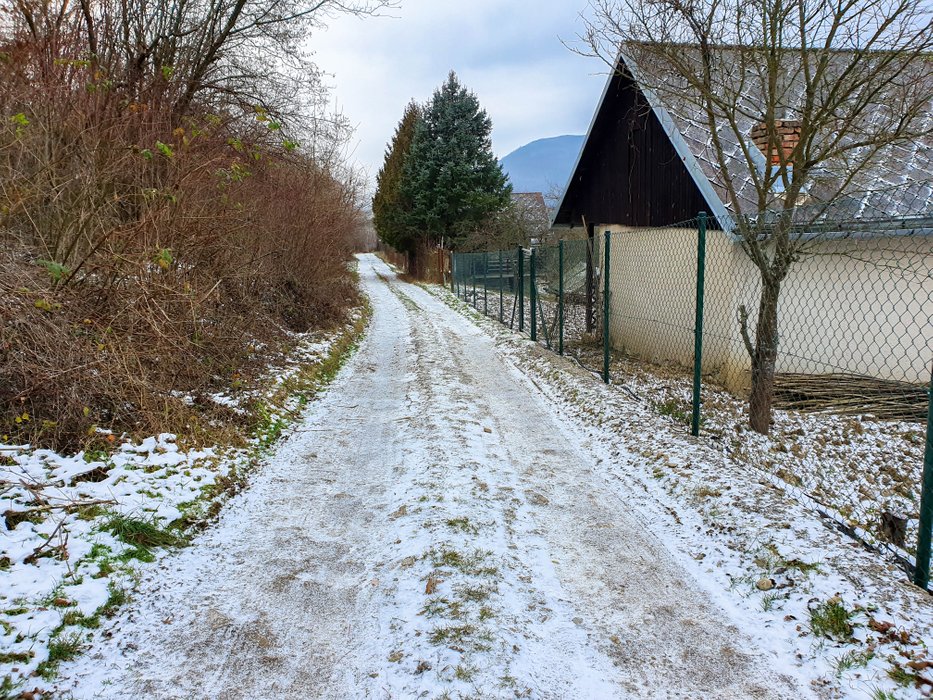 I spent so much time in these hills when I was a child. I remember it like it was yesterday. I was lucky to live so close to the forest and I think that this is why I love nature so much.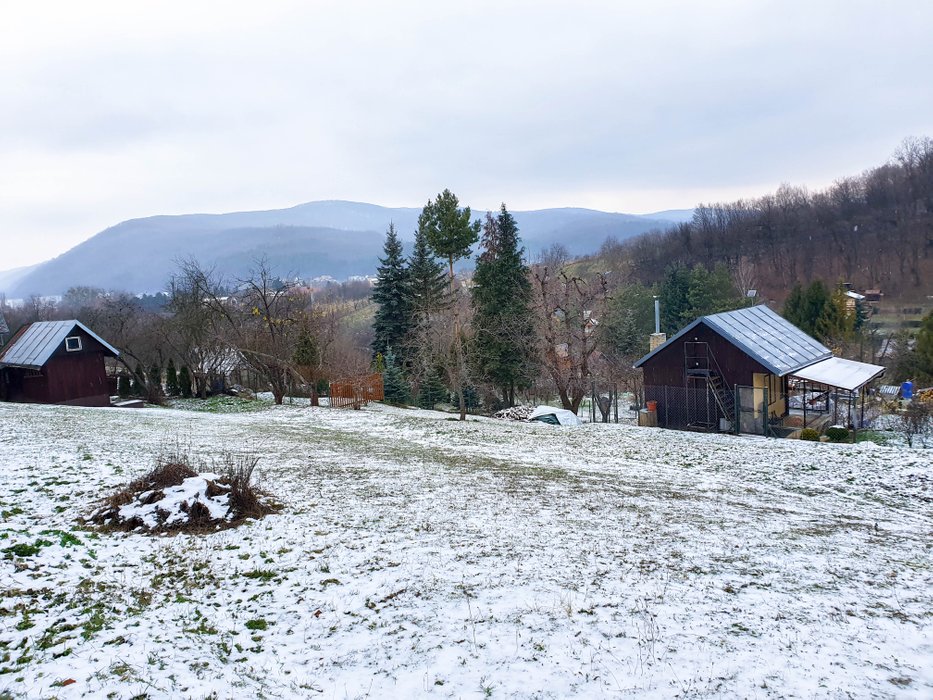 One garden was decorated with wooden sculptures. I don't know if the person owning this garden is an artist but he is very talented anyway.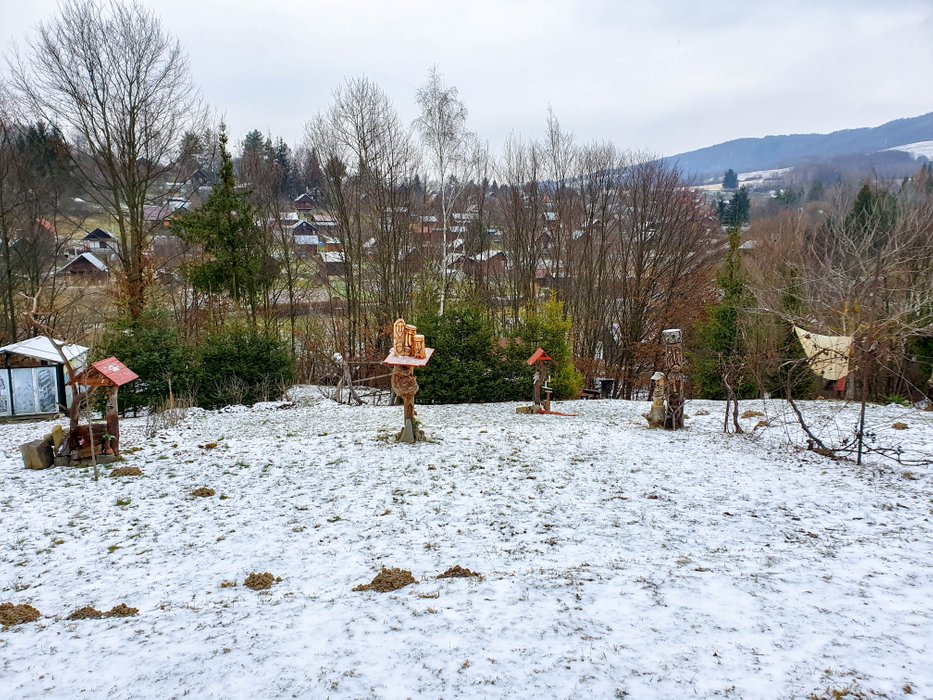 There are so many cottages on the other side of the hill...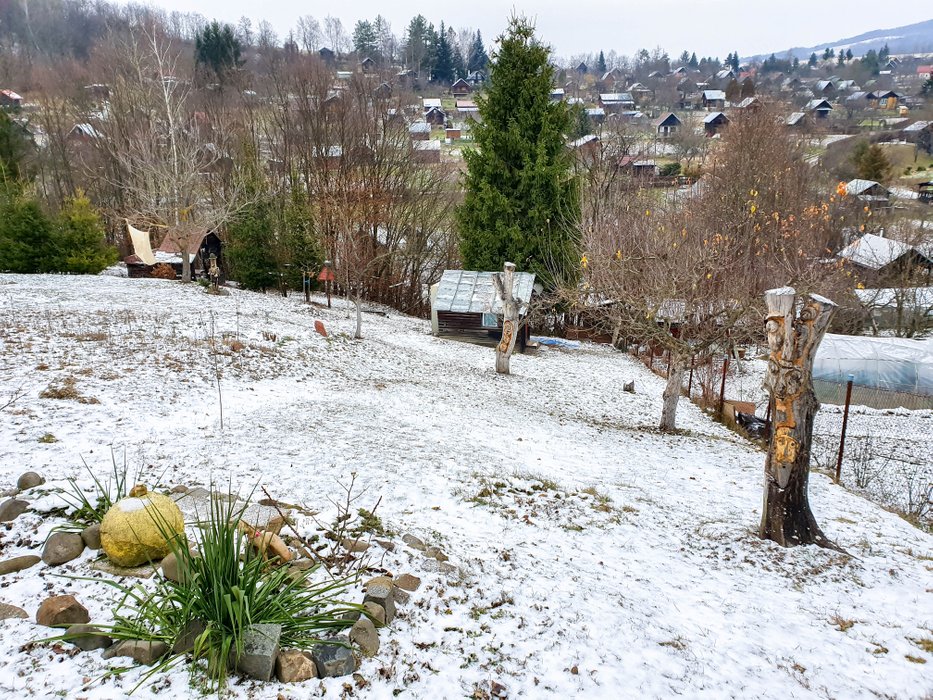 Can you see the hill in the back? It took approximately one day to get there. I did it many years ago but at that time we didn't have so many bears in these forests yet.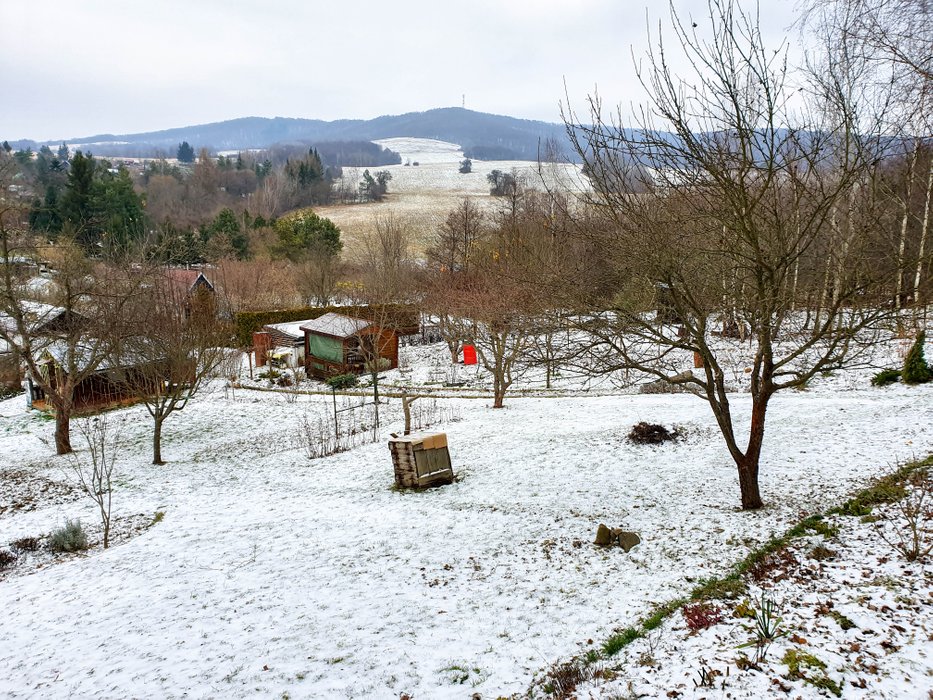 And now we can enter the forest. It was so quiet, and I must admit that I didn't feel very well there. However, I hoped that the dog would let us know if there were any animals around us.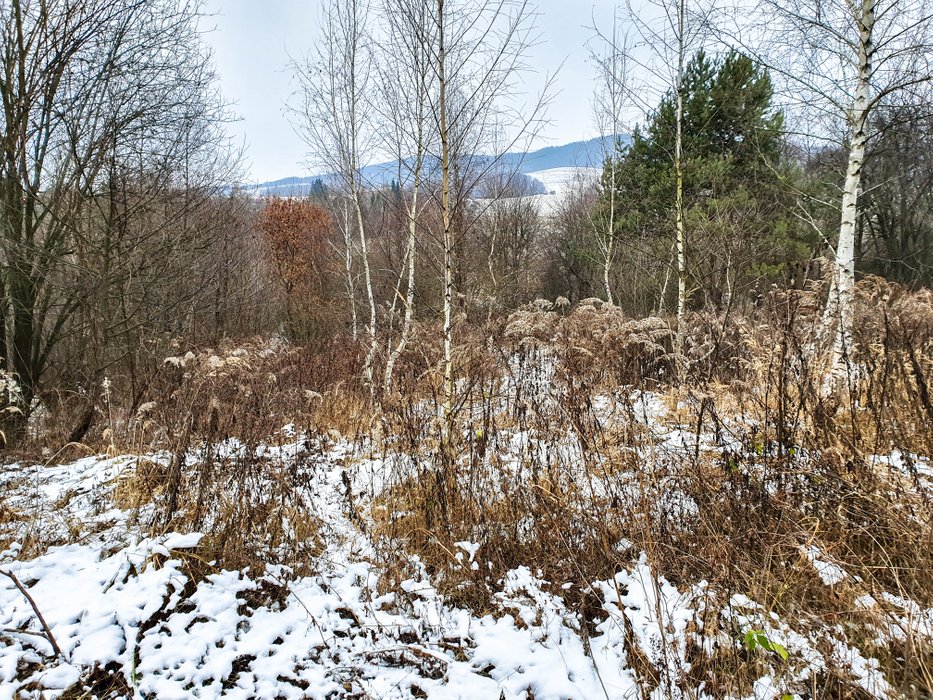 We walked for a couple of kilometers and then we turned around as we were getting deep in the forest and it was also slowly becoming dark.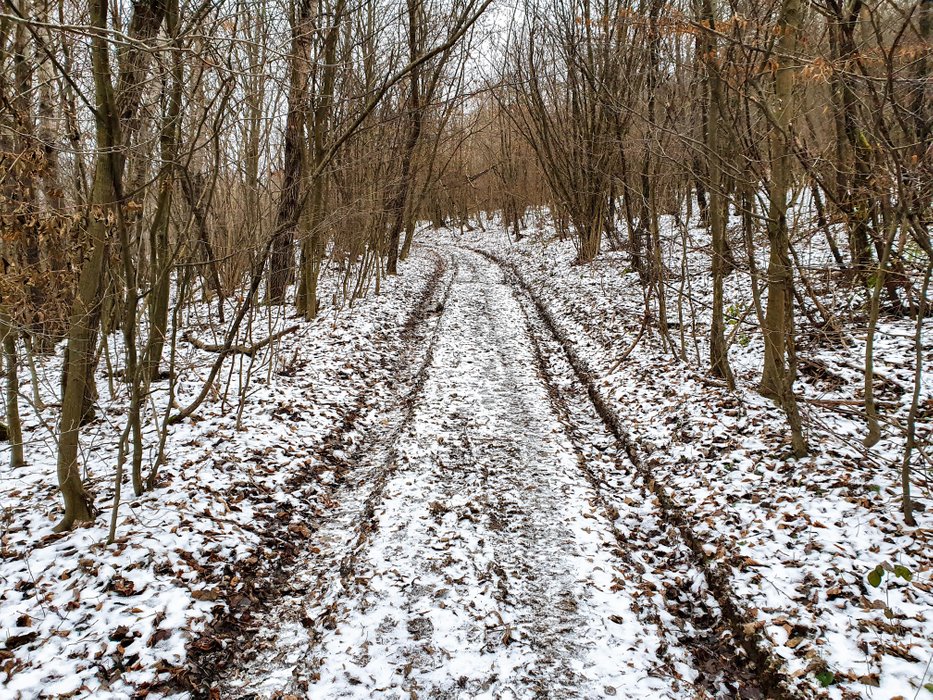 The path was very wide at the beginning. I think that it's used by the vehicles that bring the broken trees out of the forest too.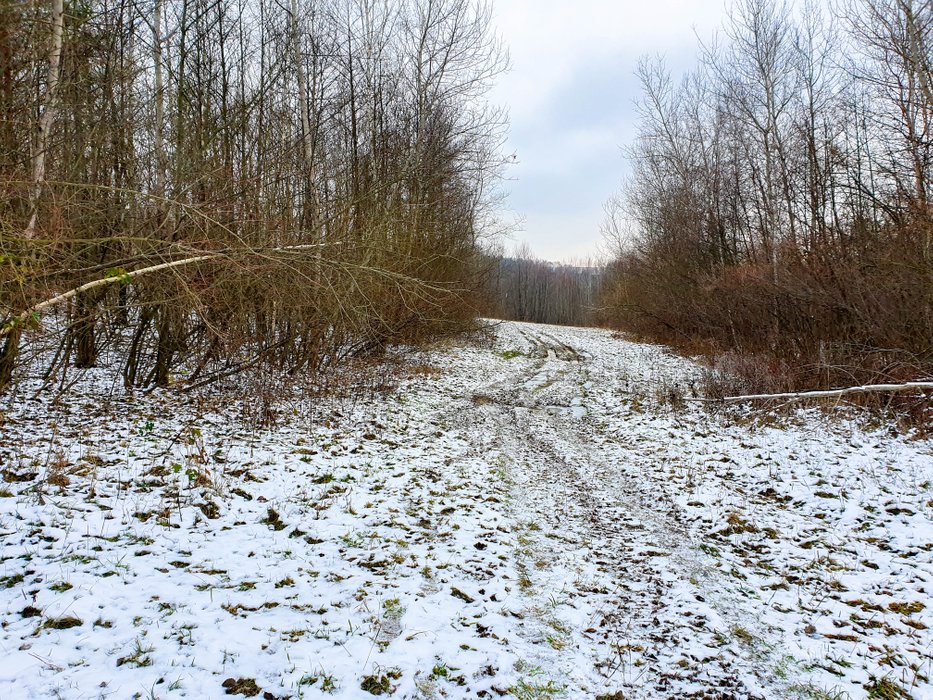 And then we came out at a big field. We spent there a lot of time playing with a snowball. You would say that you can't make a snowball from this much snow but you can.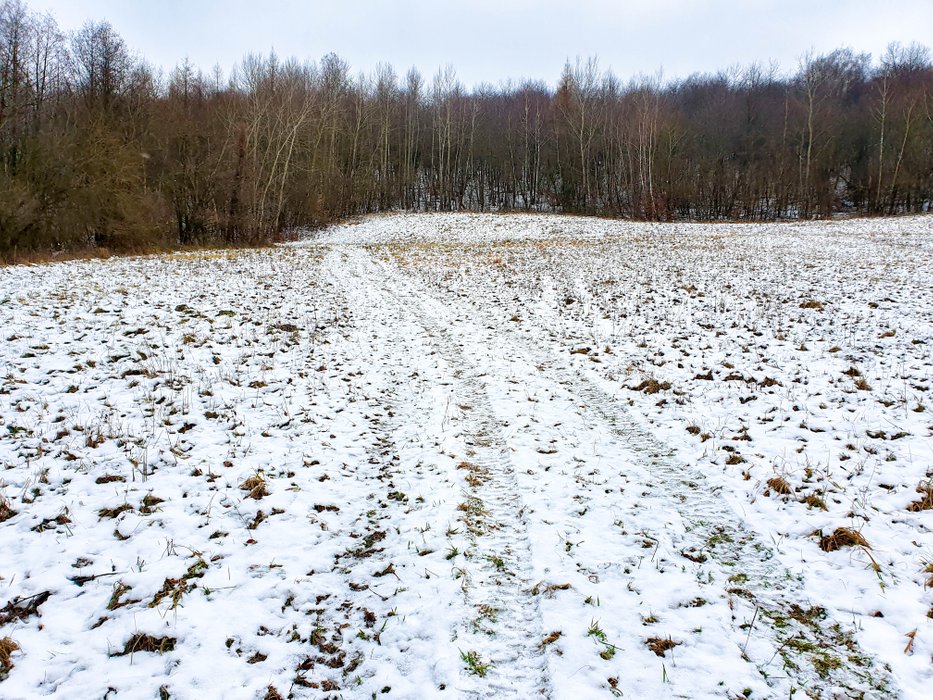 Then we went back to the forest to get to the next field. That was the place where we wanted to turn around.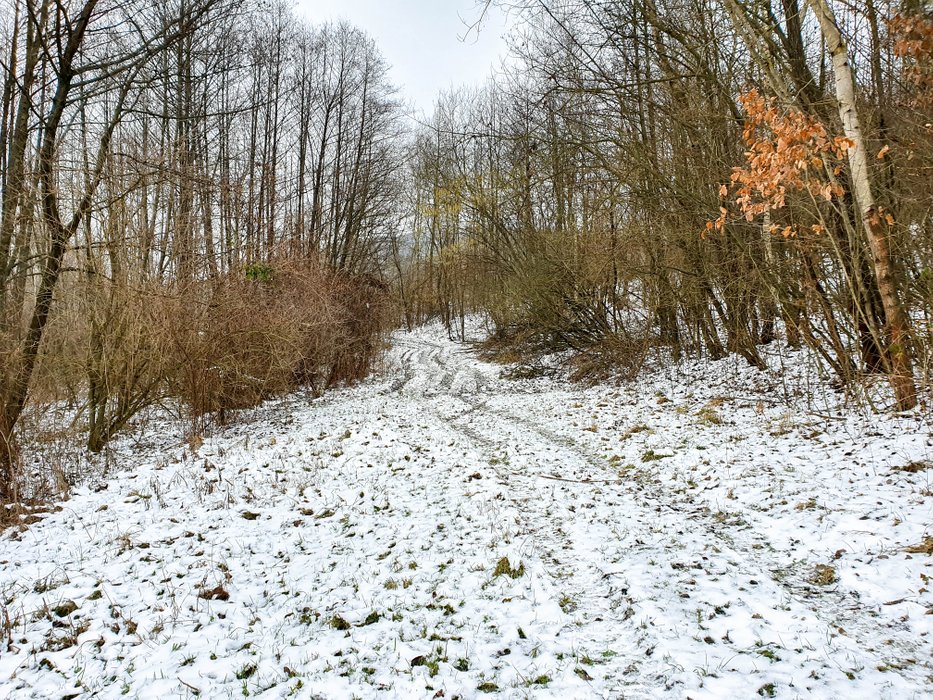 On the other side of this hill is the village where my father was born. My grandma still lives there.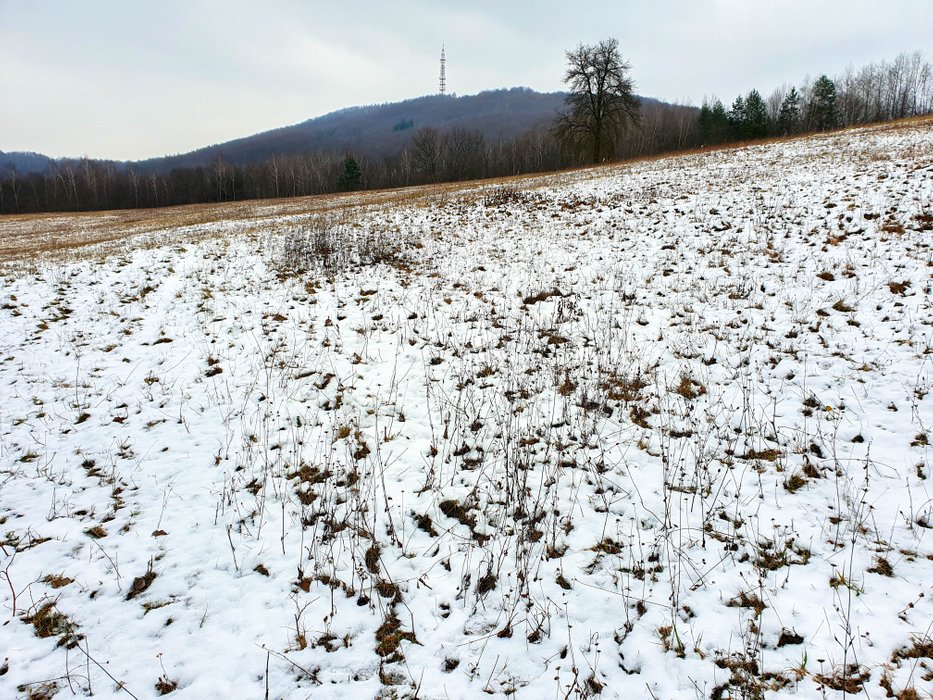 Here we turned around as we heard the hunter which meant that there were some animals.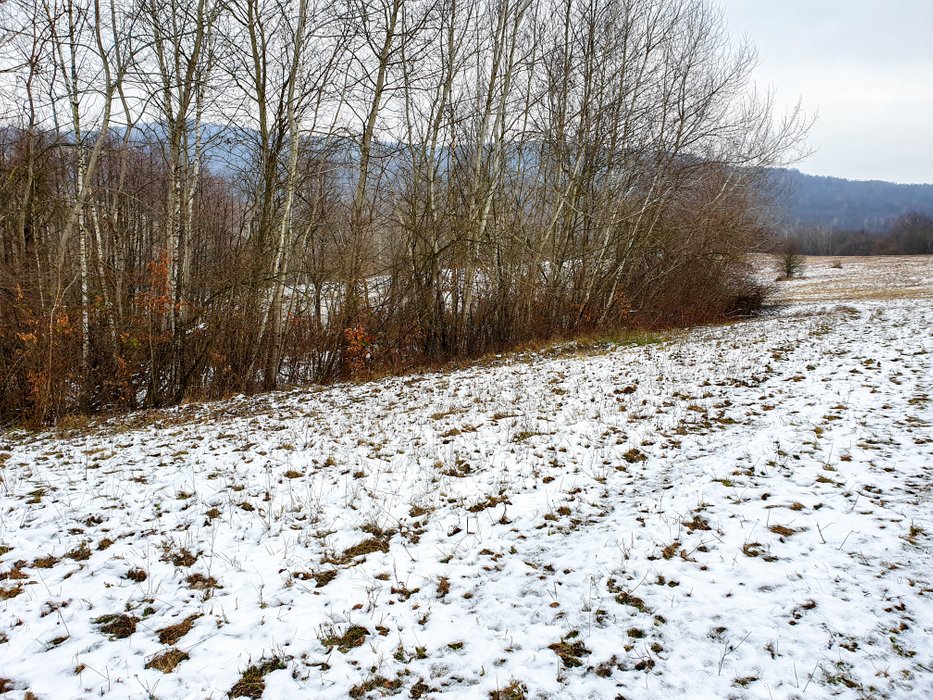 We had so much fun today. It was also a big adventure as we were always turning around thinking if we would spot a bear on time 😊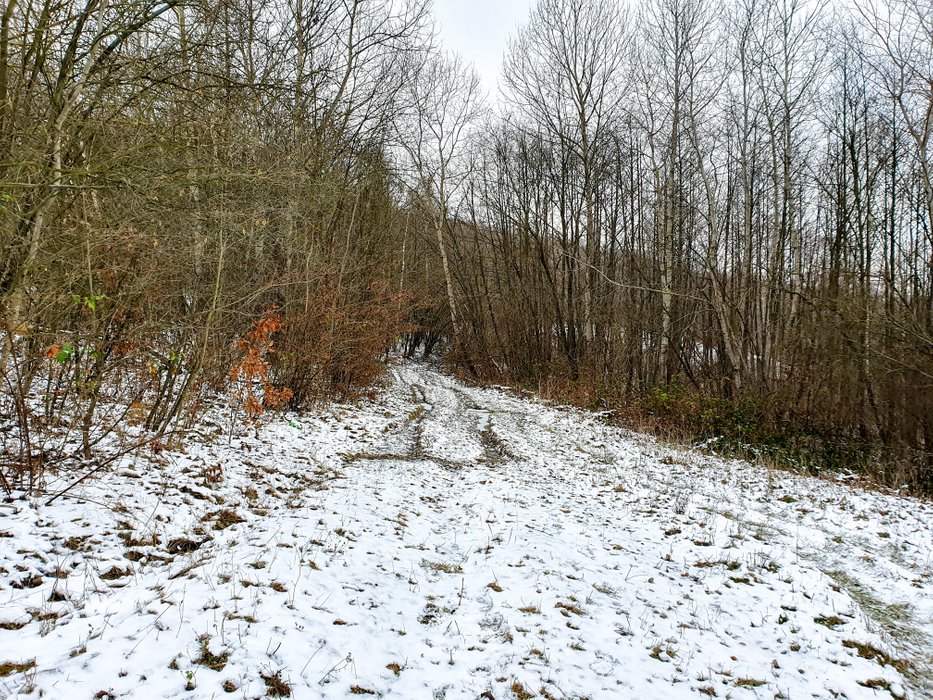 This place is so different to what I'm used to see in Switzerland but it's still my home and it's my favorite place in the world.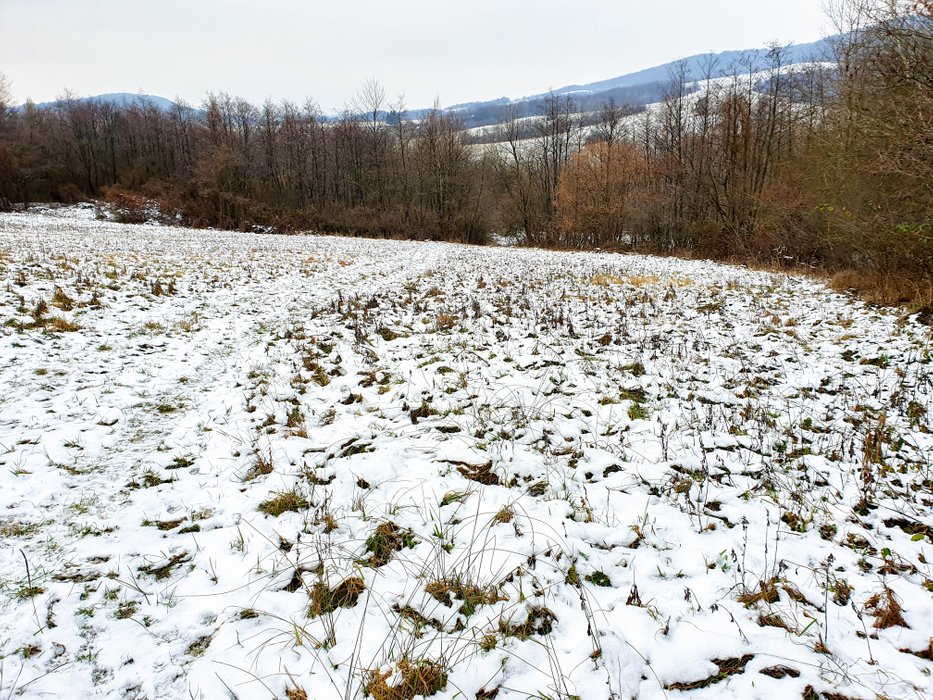 When we came home, we made a cup of tea and sat down to relax a bit. Now, we're going to prepare some snacks for tonight and get ourselves ready for a party!
I hope that you had a great last day of this year and I wish you all an amazing start of the new year!
Thank you for visiting!
Cheers!