Before arriving in Golmud we had been told by many people that foreigners could cycle to Tibet. This meant we could join the four other cyclist friends we recently met. For them, being a Chinese national of Han origin posed no risk of dissident to the authority, however for us we were uncertain how easy we can get in. We asked the local travel agent, police, bike shop, and hostel owner — all had different answers.
The first day leaving Golmud there's a police checkpoint 40 km heading out towards Tibet. We stayed behind to rest another day and let our friend ask in person whether we can pass through. We waited all morning.
An audio message arrived:
我给你们问了一下… 不行啊!必须有西藏的 那个 许可证。
I just asked for you guys… no way oh! You'll need to get a Tibet permit
Soon after a travel agent email arrived (shortened for the blog):
Dear Pheng Taing,
According to your inquiry, I understand that you are planning to cycle from Golmud to Lhasa and then to Kashgar.
Tibet Permit
Foreign tourists must apply for necessary Tibet travel permits before entering Lhasa and traveling around Tibet. It takes about 9 workdays to get all these permits.
Tibet tour
According to the current law, foreign travelers can't travel independently in Tibet and must be accompanied by a tour agency. If you would like to cycle, you need to hire a private accompanying car and a guide. It costs about $250-300 US/person daily.
If you have any question or opinion about your wonderful trip, please feel free to let me know. It's my pleasure to help you realize this great trip.
At approximately 35 days to cross Tibet we were looking at $21000 US. This road now looks closed as we hadn't recently won the lottery. We told our cyclist friends that our parents aren't multi-millionaires and pondered our next steps. There were 3 options, none of which were particularly good.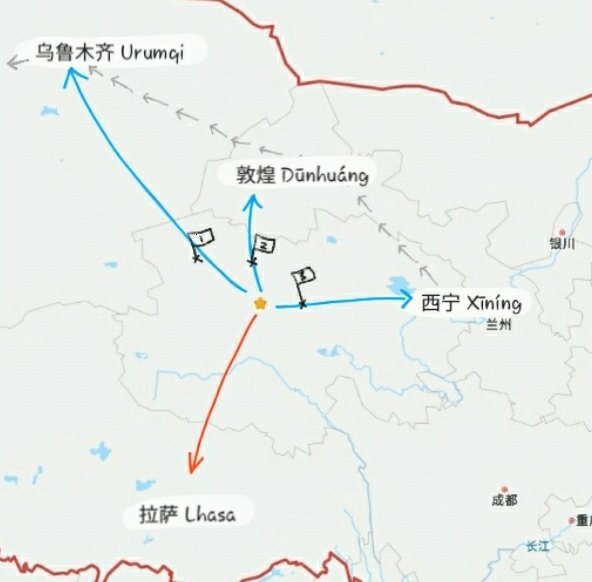 Take a desert road west to Xinjiang – no people, no water, no towns 600 km through the Gobi desert
Take the high-speed road (no bicycles allowed) to Dunhuang with a 300 km section without people nor town
Backtrack 800 km to Xining for a different route open to foreigners
We rolled a die and got the second option. Usually there'll be two highways — high-speed (高速公路) and national road (国道) — running alongside but going north to Dunhuang they merge into a high-speed highway just after 60 km! We took the risk and went for it.
Meanwhile in Tibet
These are some amazing scenery our friends have photographed so far (with their permissions of course)