---
Dear Food Diary,
We were so excited coming to France because it is one of those country famous for many things, for us it was definitely the food culture. The world has enjoyed many delicious food from France and we were very lucky to have tasted a few of them. Most readers may expected croissant or creme brulee to be featured here, but we thought it'll be better to feature the lesser known food.
The most important meal of the day...
We've been having muesli for breakfast since we saw them again Bulgaria. They were a cheap breakfast option costing about €2-3 for a kilogram bag. We would avoid the carton boxed muesli because they're high in sugar (it didn't mattered to us the sugar but our teeth were the main concern!) and not great value. When we got to France we couldn't find those cheap muesli bags anymore and thought perhaps people eat something else. After asking around a bit, we learned it was common to have a hot chocolate drink in the morning with either a baguette, pain au chocolat or croissant. The chocolate drinks are usually Milo or Nesquik and the bread are dunk into the drink. This makes for a nice hot morning meal, but as far as convenience go, we liked our usual muesli with milk.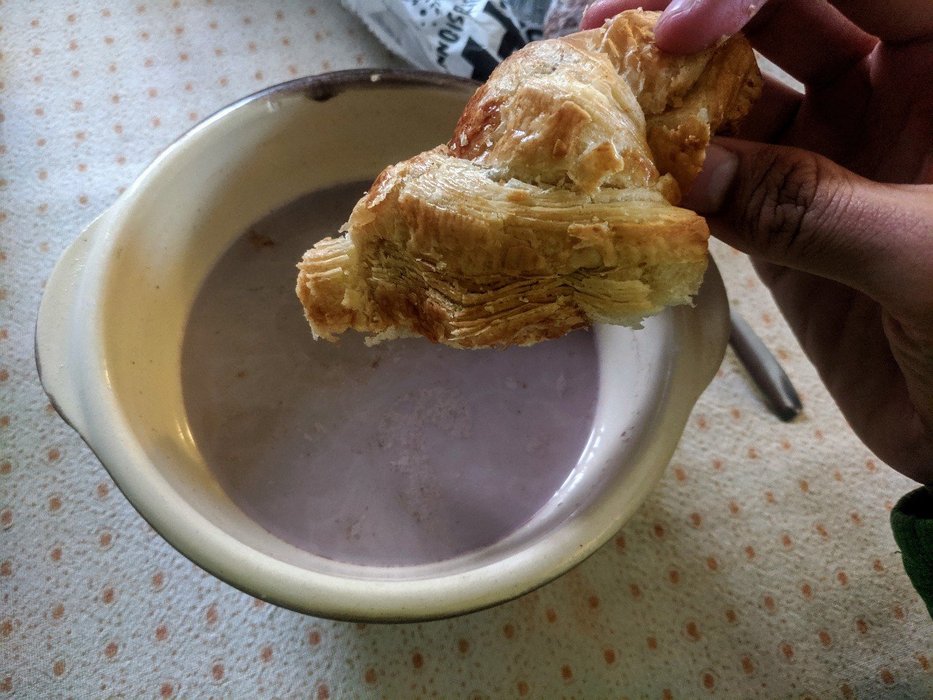 ---
Followed by a big lunch at friends
As we mentioned before in our previous blog posts, we had a wonderful French lunch experience with some new friends up in the village near Nice. See Trip Status #16: Barcelona "Warm Culture and Instant Friends" for the full story. The following three dishes were eaten in Revest-les-Roches.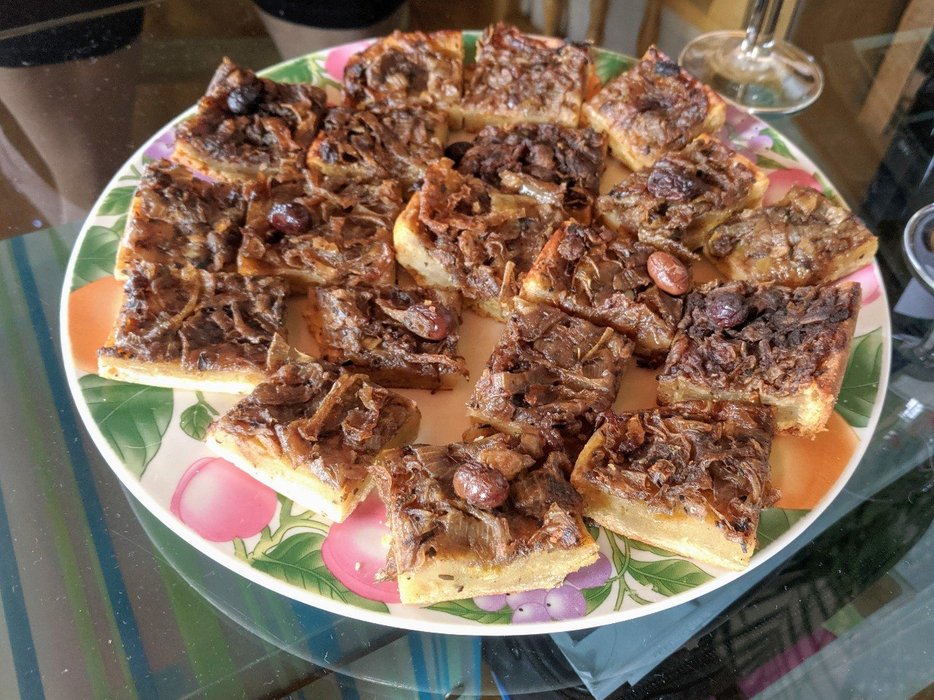 Pissaladière
A traditional starter dish from Nice made using a thick bread dough topped with brown olives and caramelised onions. It was served cold and made for a great starter to a big lunch. It has the appearance like a pizza but is actually called a tart. Sometimes it can be called an onion tart.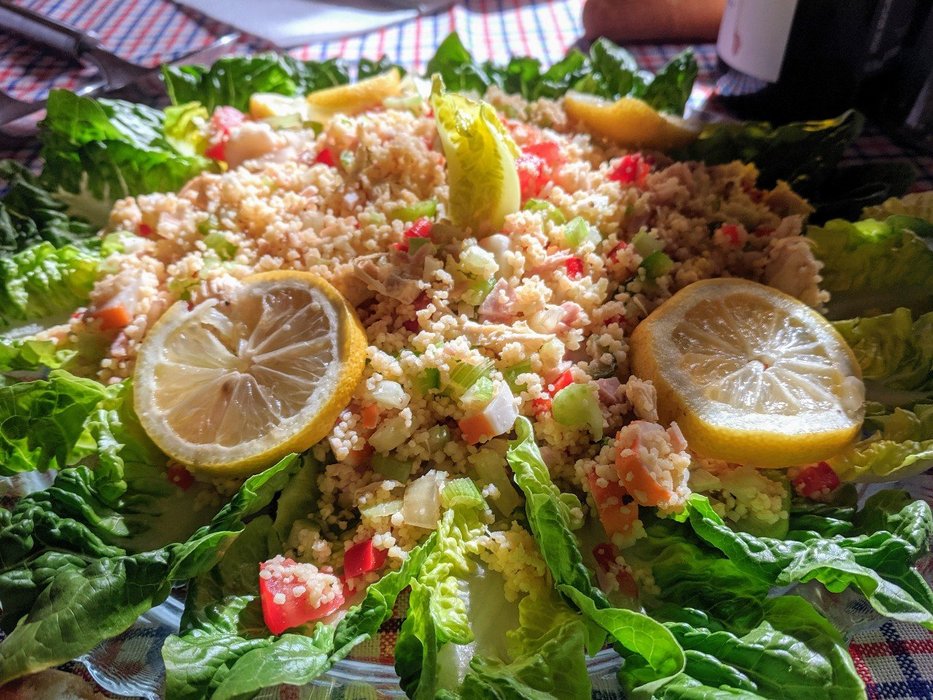 Taboulé
This French style couscous salad is different to the traditional Middle Eastern tabbouleh. This fresh summer salad was made with couscous mixed with diced vegetables and beautifully presented on fresh lettuce leaves. This salad also had diced chicken pieces. It was a refreshing salad which could be easily prepared when out on the road/camping.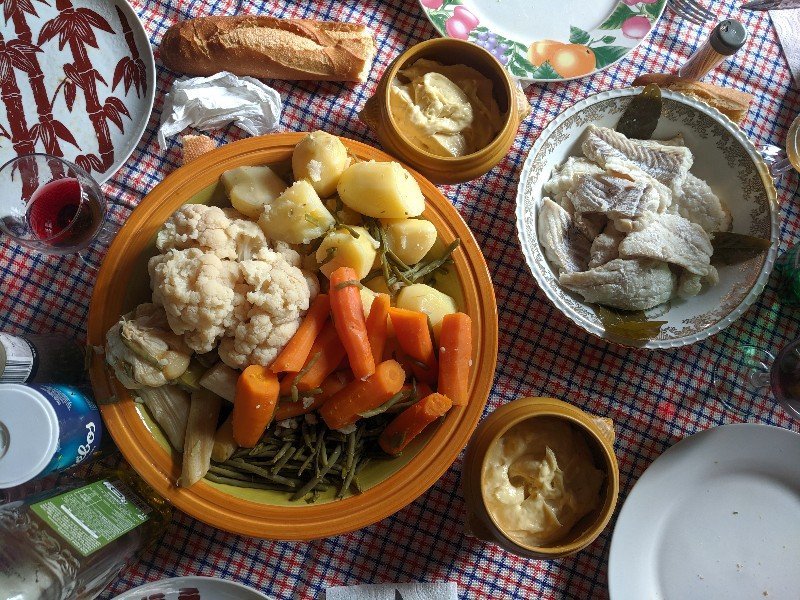 L'aïoli avec du Poisson et des Legumes
Freshly made aïoli sauce with steamed fish and steamed vegetables. The flavours are all in the magical garlic aïoli sauce which is eaten with assortment of veges, fish and bread. Notice in the vege platter there is a whole garlic bulb which can be eaten - the strong taste is mostly gone so it is very edible. Probably very healthy too!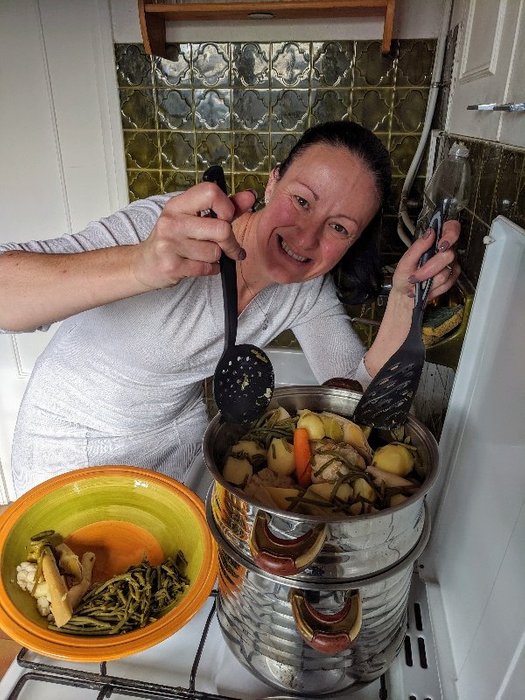 Our chef Rachel with big smiles over a huge steamer pot
---
Dinners ready!
The first dinner dish here is the humble onion soup, it's simple but absolutely heart warming for a cold evening. We had it after a day exploring Nice in the rain. Onion soup are typically eaten with crouton and cheese (the gooey yellow strips by the bread is the melted cheese).
Soupe à l'oignon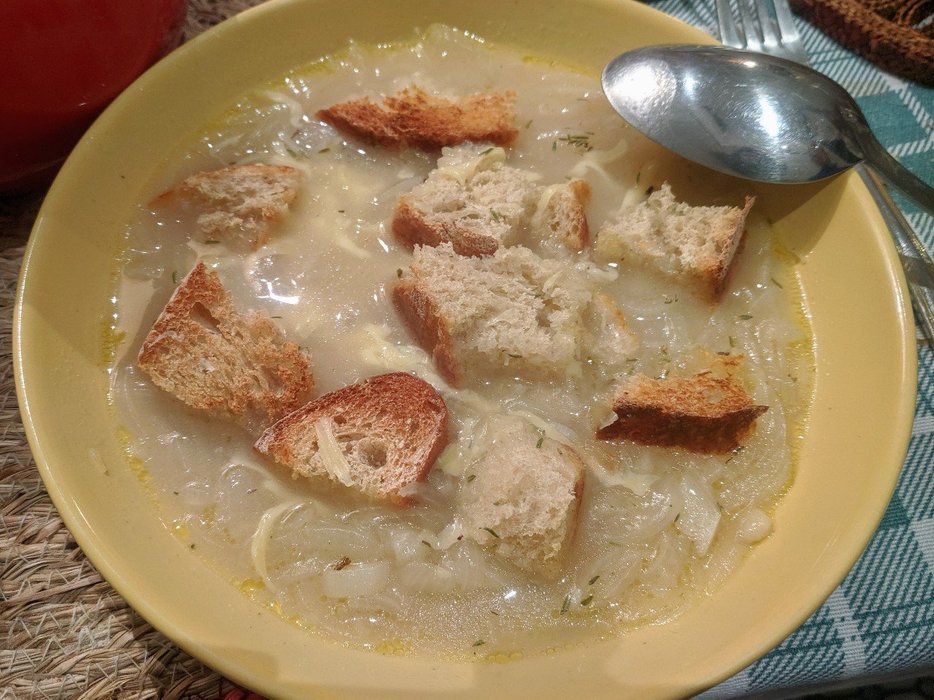 Tielle Setoise
A specialty from the southern region near Montpelier city. This local dish from Sete is made using something unusual for a pie. In New Zealand, we'd have pies filled with beef or chicken, but here it is made with squid or octopus. The seafood is cooked in tomato sauce and has such a strong tomato flavour that we couldn't tell it was made from seafood at all. It is slow cooked so the meat is very soft and tender - you could easily mistaken it for mince.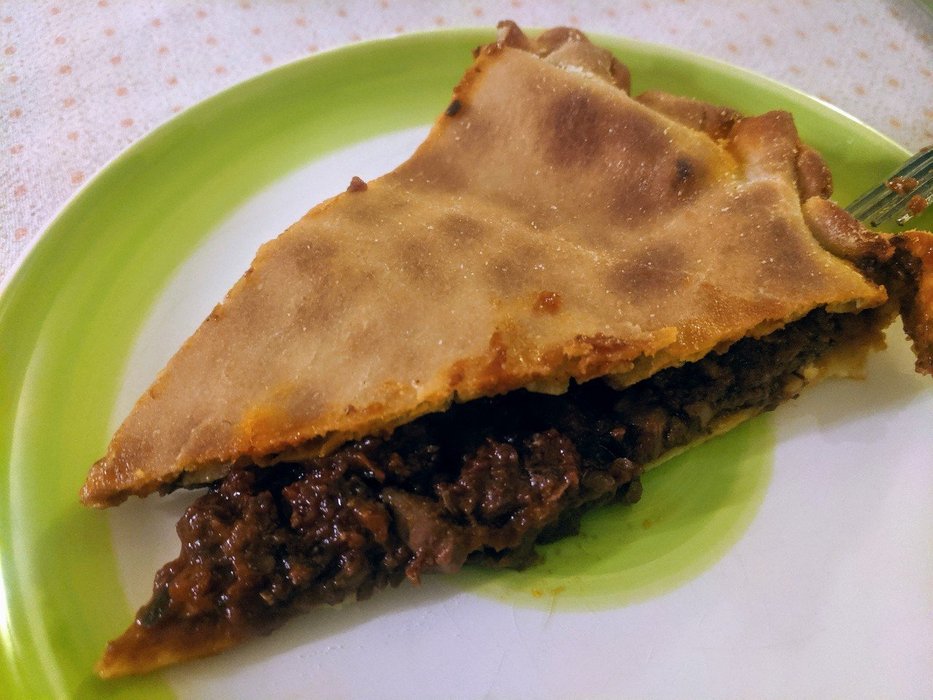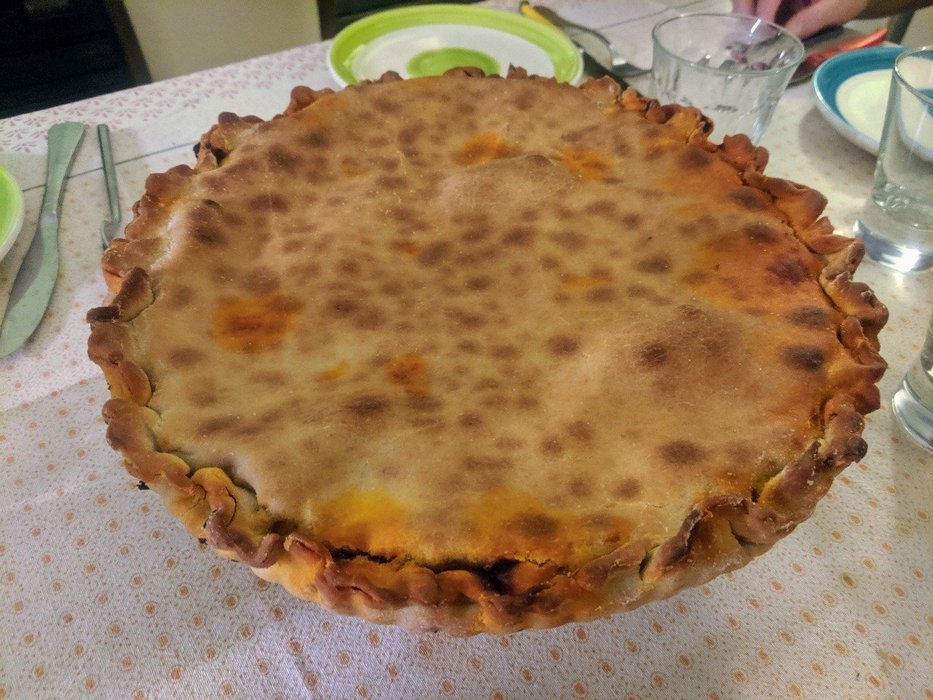 ---
Now for some fun new things we saw in the supermarket. Two things that were quite interesting. The first is a machine for freshly squeezed orange juice. It was fascinating to see more fresh food options but we weren't so happy seeing the empty plastic bottles. It wasn't badly priced: €1.90 for 500 ml or €3.50 for 1 litre. Squeezing oranges by hand took us 10 minutes to make a cup so this is definitely very convenient. Maybe in the future the supermarket could allow you to bring your own bottles with fixed volume choices.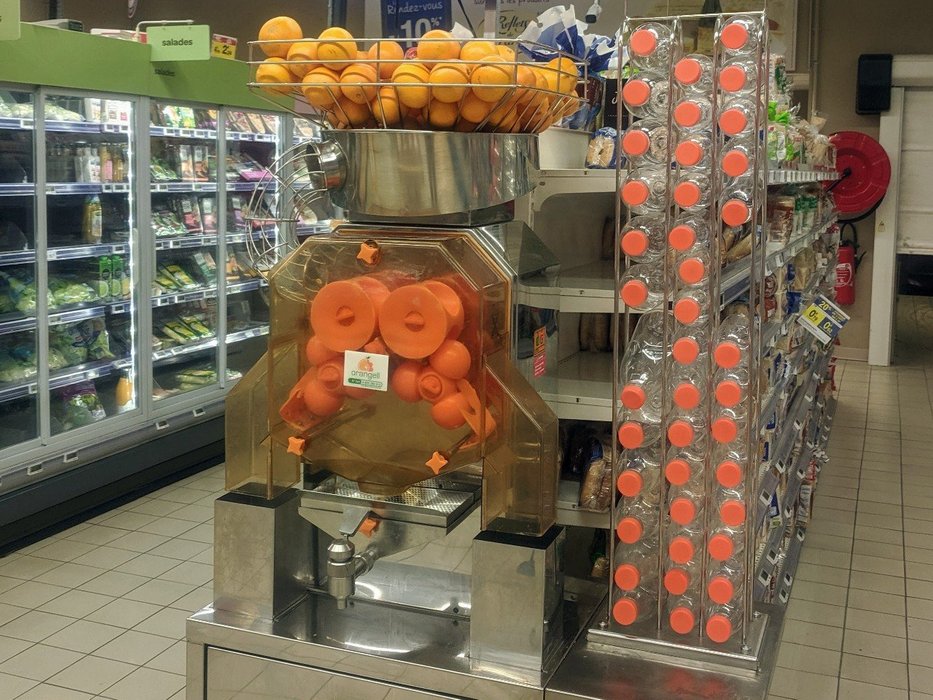 Another interesting thing we saw in the frozen aisle were escargot (snails). The shells were stuffed with garlic and parsley butter. We didn't dare to try them because it was a bit expensive. It is a famous delicacy after all.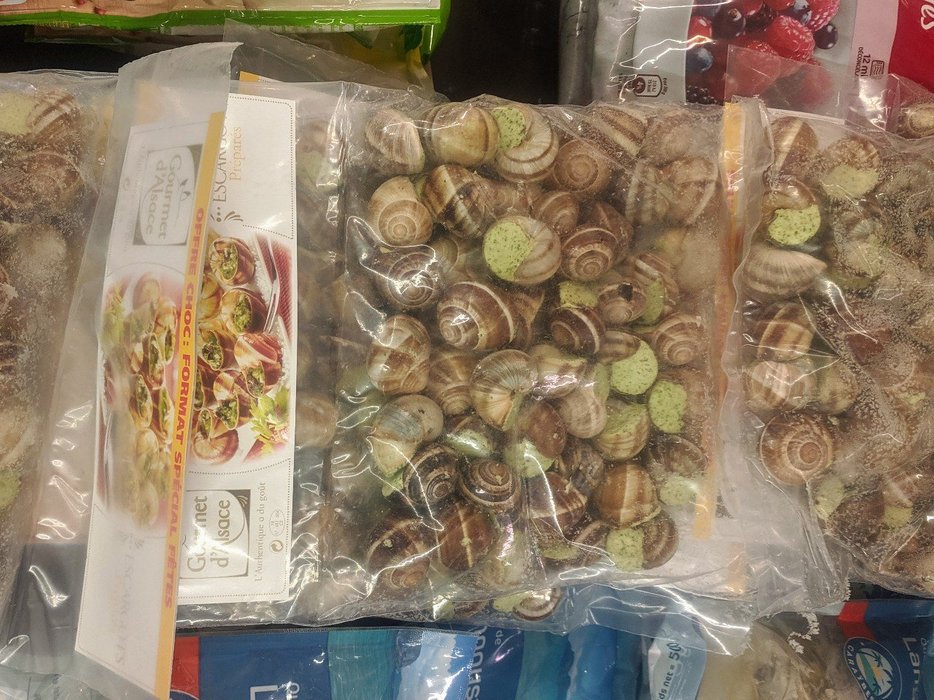 ---
Next up on our Dear Food Diary series is Spain 🇪🇸! We'll have plenty more to show because we spent the entire November cycling there. It was perfectly planned because the weather is starting to cool down in the north of Europe, whereas Spain and Portugal would still be nice.