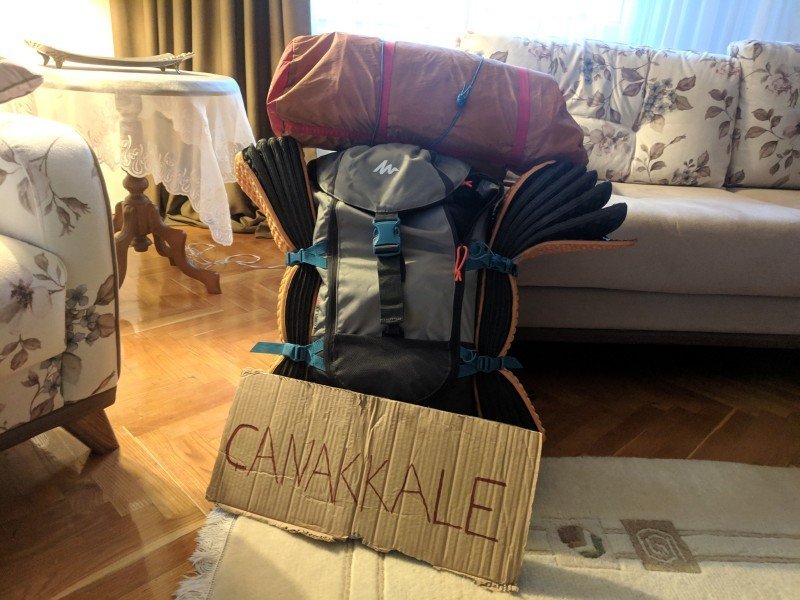 We thought about visiting the Anzac Services in Turkey, but didn't think we would be in Turkey in April. With one week left before April 25th, we were only halfway across Turkey. It was decided that we would go by hitchhiking via the southern coast and up towards Çanakkale. This city is where everyone in Turkey remembers their world war soldiers too.
我们考虑过参观土耳其的澳新军团服务,但我认为我们不会在四月份访问土耳其。 距离4月25日还剩一周,我们只在土耳其的一半。 我们决定通过南部海岸搭便车前往Çanakkale。 这个城市也是土耳其每个人都记得他们的世界战士的地方。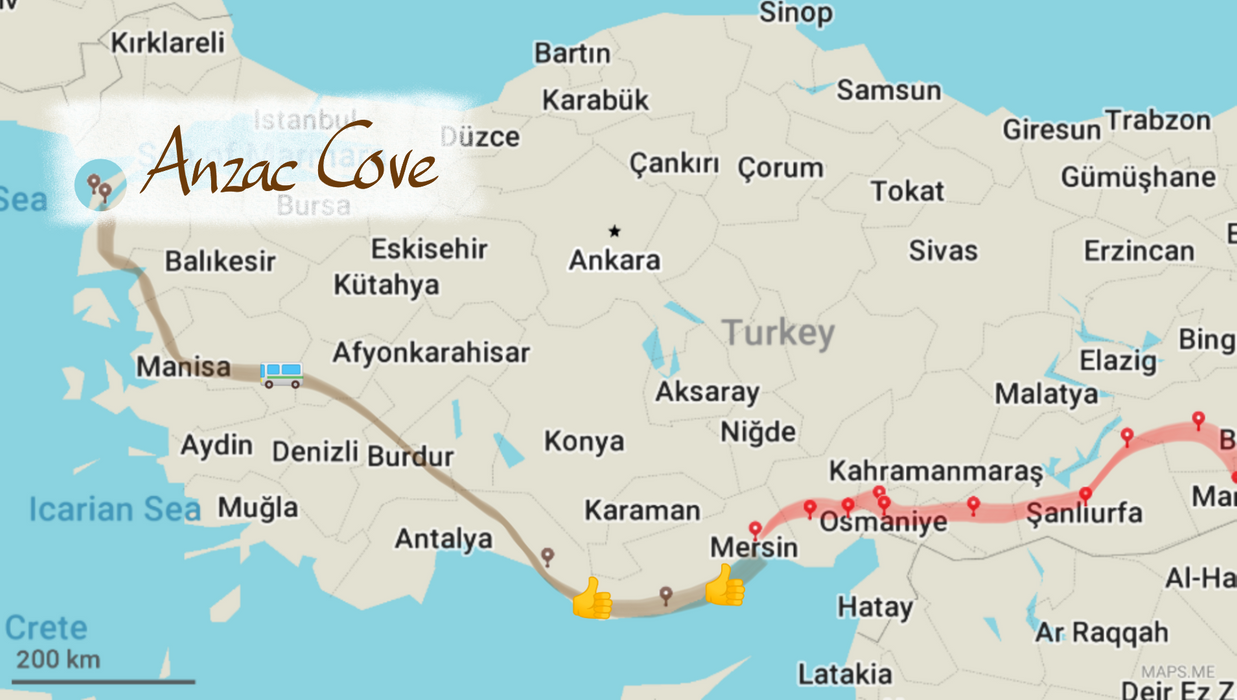 21/4/2019: Mersin to a random beach
Our first day of hitchhiking was not too bad. We started a bit late because it was sunday and our wonderful host Cahit had prepared us Türkish breakfast for brunch. We were too shy to say no and leave early. Cahit gave us the first ride to the edge of the city. Sometimes the cities are right next each other so you barely notice a gap in between. We held our thumbs up on a busy street hoping someone was going the same way out.
我们搭便车的第一天也不算太糟糕。 我们开始有点晚了,因为是星期天,我们很棒的主持人Cahit为我们准备了早餐的Türkish早餐。 我们太害羞了,不能说不,早点离开。 Cahit给了我们第一次到城市边缘。 有时城市彼此相邻,所以你几乎没有注意到它们之间的差距。 我们在一条繁忙的街道上竖起大拇指,希望有人走出同样的道路。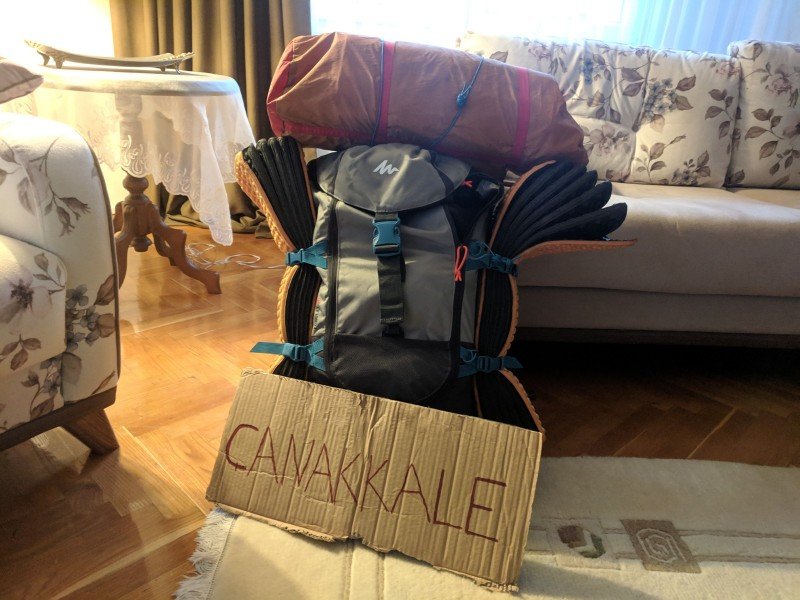 We were very optimistic with our signage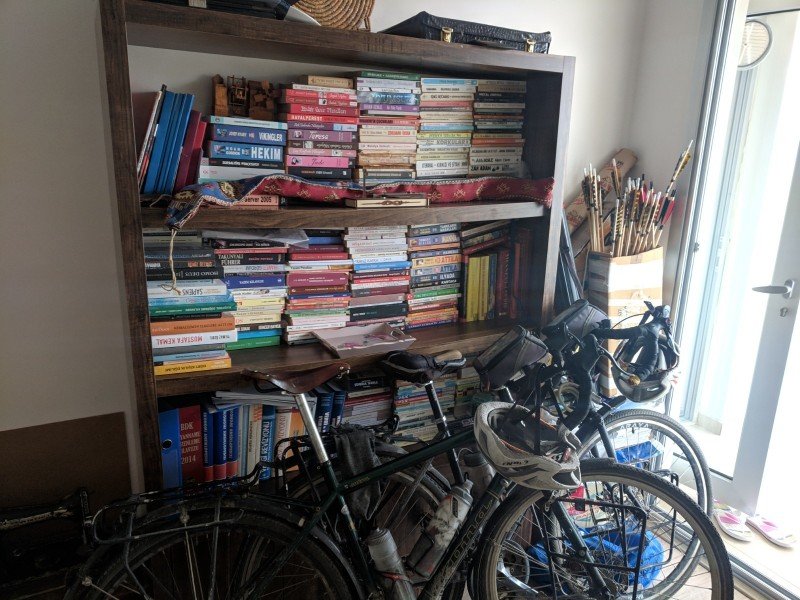 Our bikes will wait for us here
After a bit of waiting (30 minutes), walking and smiling at drivers, we got picked up by a shuttle bus driver. He said "No money" because we were hesitant at first. We couldn't understand where he was going, but it was along the highway towards Antalya which was our goal for that day.
After an hour, we got dropped off and continued the same routine:
Walk to a nice pick up spot
Hold up our sign and smile
If not picked up after a while, keep walking to a better spot
In the end we didn't get far, 140km, but impressively had three different drivers stop for us. See our [Instagram post for the drama](
?utm_source=ig_share_sheet&igshid=1nuyc5ejeoc09) that unfolded on our first day.
经过一段时间的等待(30分钟),走路并对司机微笑,我们被穿梭巴士司机接走了。 他说"不要钱",因为我们起初犹豫不决。 我们无法理解他的去向,但是沿着通往安塔利亚的高速公路,这是我们当天的目标。
一个小时后,我们下降并继续相同的例程:
步行到一个不错的接送点
举起我们的标志,微笑
如果一段时间后没有拿起,继续走到更好的地方
最后我们没有走得远,140公里,但令人印象深刻的是有三个不同的司机为我们停下来。 请参阅我们的[Instagram帖子](
?utm_source=ig_share_sheet&igshid=1nuyc5ejeoc09),了解我们在第一天展开的戏剧。
22/4/2019: A beach to Alanya
The night in our tent at the beach was horrible, we barely had any sleep. The wind moved our tent and wouldn't let us have quiet for no more than 20 minutes. We literally had no sleep so by sunrise we packed up, skipped breakfast and walked to the highway to start hitchhiking. At 8am our thumbs were out for every passing vehicle.
Not too long after, a paramedic heading to work took us. We were surprised how soon we got picked up actually.
我们在海滩帐篷里的夜晚很可怕,我们几乎没有睡觉。 风移动了我们的帐篷,不会让我们安静不超过20分钟。 我们实际上没有睡觉,所以在日出时我们收拾行李,不吃早餐,然后走到高速公路开始搭便车。 早上8点,我们的大拇指都出现了。
不久之后,一名护理人员开始工作了。 我们很快就感到惊讶。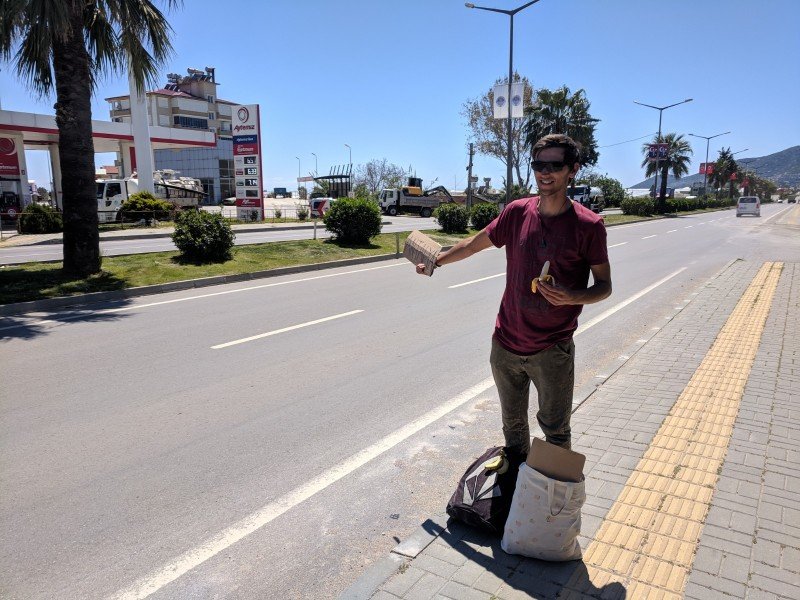 Snacking on a banana as we wait
The next challenge we encountered was where people would drop us off. We had no choice where as it could be at the beginning of the town, or the middle, or wherever they turn off. That meant we were always required to walk out of town for a better chance. In total we walked over 15 km that day.
我们遇到的下一个挑战是人们会让我们失望。 我们别无选择,无论是在城镇的起点,还是在中间,或者在他们关闭的任何地方。 这意味着我们总是被要求走出城市以获得更好的机会。 那天我们总共跑了15多公里。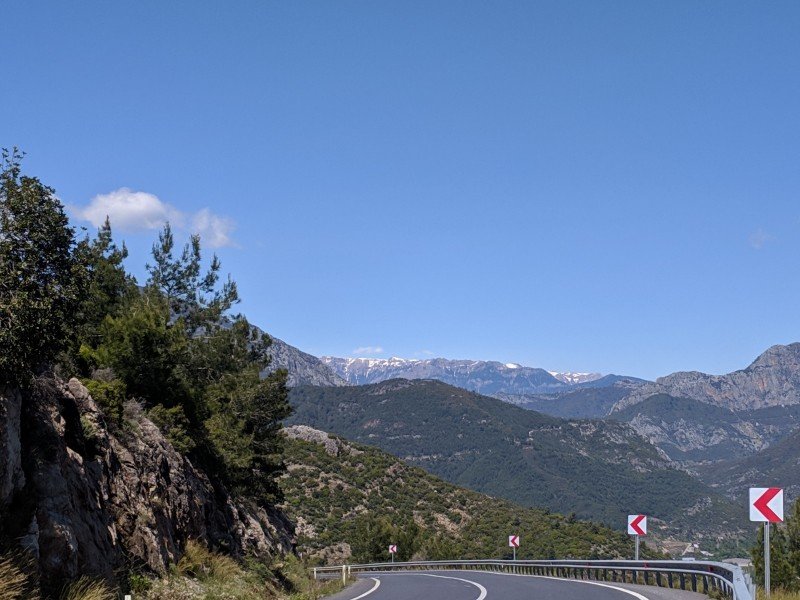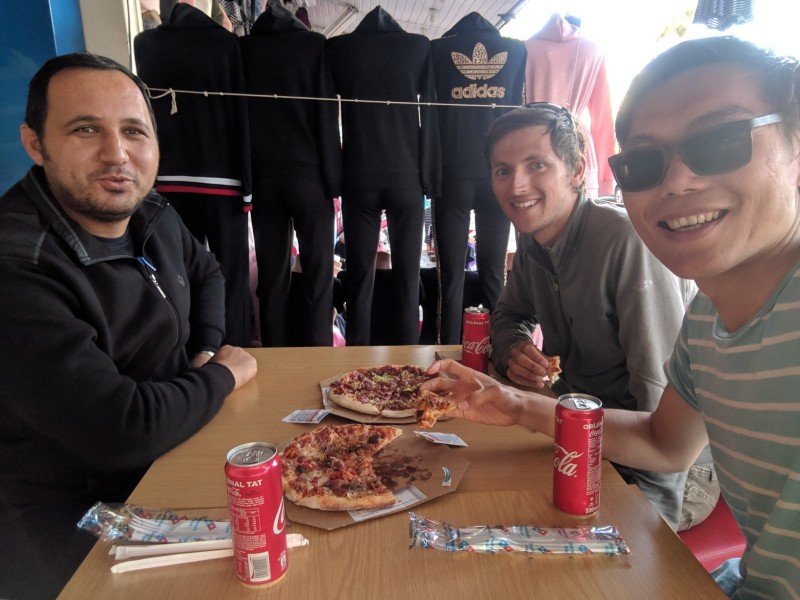 Sharing pizzas together with our driver
See our [Instagram post of two friendly drivers](
?utm_source=ig_share_sheet&igshid=blcfjgznoe1l) that helped us get closer to Anzac. A host in Alanya magically accepted our last minutes CouchSurfing request to stay at their place. We always tried to organize a host with ample notice but with hitchhiking you could be dropped off at any town!
来看看我们的[Instagram帖子](
?utm_source=ig_share_sheet&igshid=blcfjgznoe1l),其中有两位友好的司机帮助我们更接近安扎克。 阿拉尼亚的主人神奇地接受了我们最后几分钟CouchSurfing要求留在他们的位置。 我们总是试图组织一个有充分通知的主人,但搭便车,你可以在任何城镇下车!
23/4/2019: Alanya
We were getting a bit anxious for time. Our efforts to reach Anzac Cove by hitchhiking wasn't going to work. We decided to take an overnight bus and enjoy a sunny day in Alanya.
我们有点担心时间。 我们通过搭便车到达安扎克湾的努力没有奏效。 我们决定乘坐过夜巴士,在阿拉尼亚度过一个阳光灿烂的日子。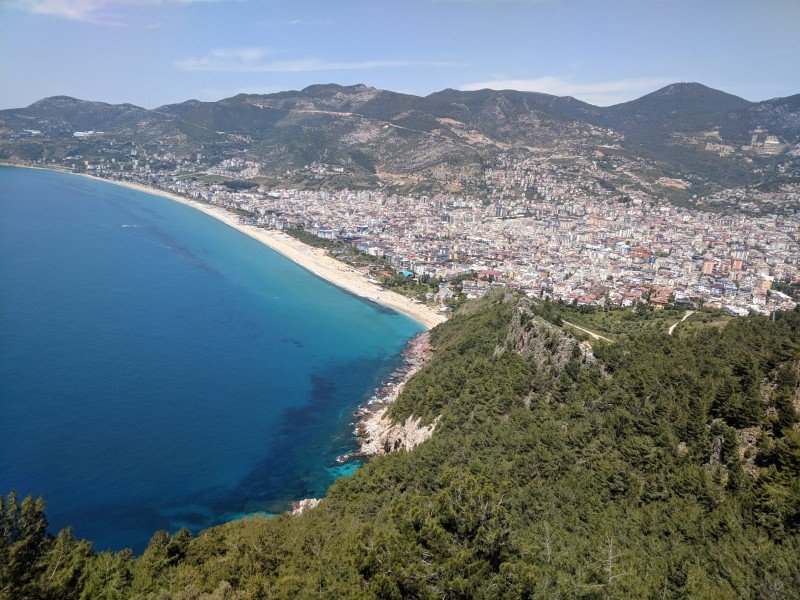 Cleopatra Beach, Alanya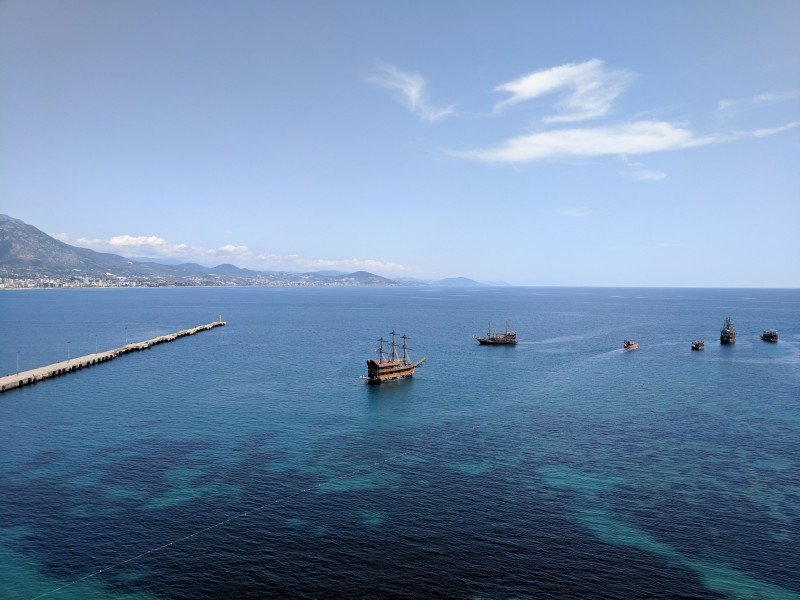 Pirate ships touring around the harbour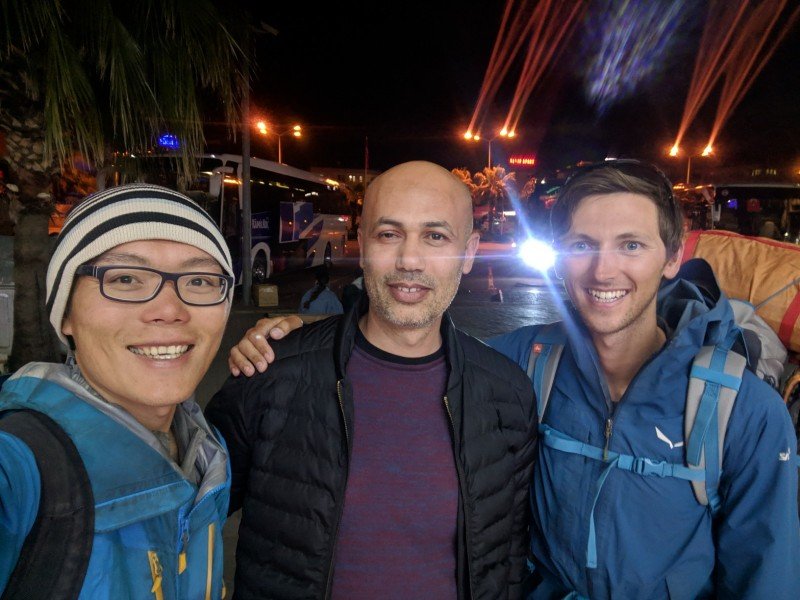 Our host was a friendly and fun host, he took us to cool places and made us fall in love with the city. The city has a castle, standing walls, clean beaches, cobblestone streets and pirate themed ships! It was a resort city with tourists at every direction. However the city still had it's historical buildings, beautiful harbour and beaches.
Our bus departed at 9:30pm and we fell straight to sleep (not comfortably of course). The bus was scheduled to arrive in İzmir at 5am and then we transfer to another bus for Çanakkale at 6. That was the plans anyway…
我们的主人是一个友好而有趣的主人,他带我们到凉爽的地方,让我们爱上了这个城市。 这个城市有城堡,立墙,干净的海滩,鹅卵石街道和海盗主题船! 这是一个度假城市,游客四面八方。 然而,这座城市仍然拥有历史建筑,美丽的海港和海滩。
我们的公共汽车于晚上9:30离开,我们直接睡着了(当然不舒服)。 公共汽车计划于凌晨5点抵达İzmir,然后6点我们转乘另一辆公共汽车前往Çanakkale。无论如何,这是我们的安排...
24/4/2019: Anzac Cove
Matt woke up and saw the clock on the bus said 5am. We were still 140km away from İzmir and supposed to have arrived already. Our connection bus was 6am and unfortunately the bus didn't make it on time.
We tried our best to get some refund before buying new tickets but they gave the "unfortunately delays do happen, sorry". Frustrated and annoyed, we paid for new tickets and carried on with our plans. Maybe the lesson here was to allow ample time between bus/flight connections.
By 3pm we arrived in the city of Çanakkale. There is a beautiful harbour flooded with tourists on the promenade. Everyone, including us, crowded around the famous wooden horse for a photo. It was used in the "Troy" film and later donated to the city. It has now become a famous attraction.
马特醒了,看到公共汽车上的时钟说早上5点。 我们离İzmir还有140公里,本来应该已经到了。 我们的连接总线是早上6点,不幸的是公共汽车没有准时到达。
我们尽力在购买新门票之前获得一些退款,但他们给出了"不幸的延误确实发生了,对不起"。 我们感到沮丧和恼火,我们支付了新的门票并继续我们的计划。 也许这里的教训是在公共汽车/航班连接之间留出足够的时间。
到下午3点,我们抵达了Çanakkale市。 长廊上有一个充满游客的美丽海港。 包括我们在内的每个人都挤在着名的木马周围拍照留念。 它被用在"特洛伊"电影中,后来捐赠给了这座城市。 它现在已成为一个着名的景点。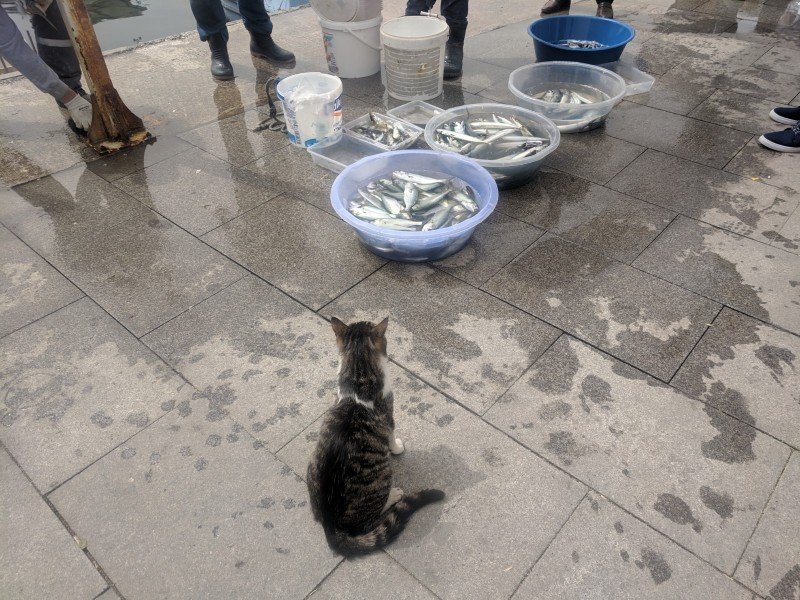 A cat patiently waiting for a fish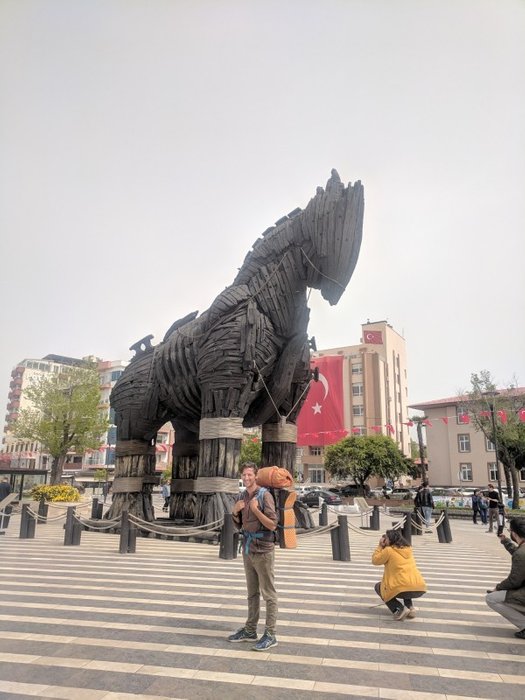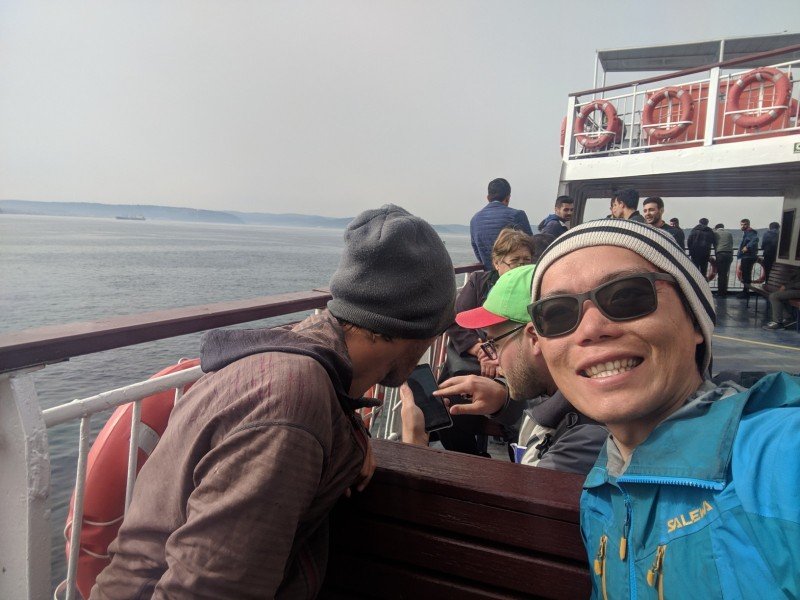 Matt making a friend on the boat to Anzac
By 6pm we were ready and hopped on the ferry. It was a very cheap ride (3.75₺ each). We didn't take a tour for attending the Anzac Services because we preferred to do things our way. Also we are travelling poor.
到下午6点我们准备好了,然后跳上渡轮。 这是一个非常便宜的车(每人3.75₺)。 我们没有参加澳新军团服务,因为我们更喜欢按照自己的方式做事。 我们也是省钱旅行者。
Part Two will be about our time on the Gallipoli Peninsula which our Anzac troops tried to take 104 years ago.
第二部分是关于我们在加利波利半岛的时间,这是我们的安扎克部队在104年前试图采取的。
---
Posted from Steem中文社区 : http://cnstm.org/blog/2019/04/29/hitchhiking-to-anzac-cove-%e6%90%ad%e4%be%bf%e8%bd%a6%e5%88%b0%e5%ae%89%e6%89%8e%e5%85%8b%e6%b9%be/
---