Since leaving Osh we've passed tour cyclists almost daily. Completing the Pamir Highway in Tajikistan they are mostly looking forward to some good food in Osh.
Passing through so much beautiful scenery, and so many high passes we decided to blog about this highway between Karakul and Khorugh for part one and blog a part two from Khorugh to Dushanbe.
What is the Pamir Highway?
Also known as M41, the highway goes from Dushanbe (Tajik's capital city) to Osh (Kyrgyzstan). For our trip we are doing the reverse tackling the high passes early and heading down gradually towards the capital. Also it seems tackling daily head winds.... Perhaps there is a reason this is usually done in the opposite direction.
The highway is a favorite amongst cyclists, for the high mountain scenery and the hospitality from the families living along the route.
100% Guarantee
It is known that everyone going through the Pamir region will get sick from food or water. We were very aware of this and unfortunately got food poisoning before entering Tajikistan!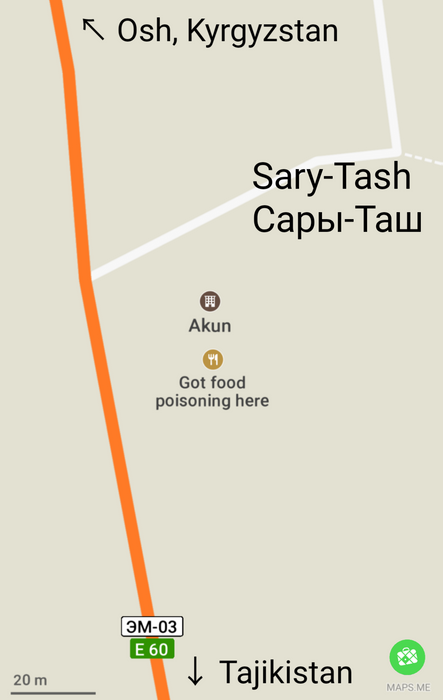 The last town we stayed in Kyrgyzstan was Sary-Tash and to celebrate completing yet another country we had lunch at a restaurant. We suspected the Samsi we ordered may have been sitting there for a while and we were the unlucky ones to buy it.
Funny enough, on our map app, someone even added a marker titled "Got food poisoning here" — a disaster we could've avoided.
Expect low, get high!
While in Osh we met many cyclists who had just come from the Pamir. We saw two guys who looked absolutely zombied. The food poisoning must've gotten them really badly. We started asking what it was like in terms of food availability, towns/villages along the road, drinkable water, etc.
A summary of what we got told was…
The towns on the Pamir highway are very small, you can find basic things, like bread (fresh ones if they make it on the day), rotten tomatoes and staples like rice, pasta and noodles.
As for the water, make sure you filter before drinking. Some rivers are dirty with red water from the red mountains.
Most towns have electricity but runs for only 3 hours a day.
The terrain is very rocky so tenting isn't really ideal, also the nights are very cold!
After hearing that we were concerned about our ability to make nice food as it sounds like the shop have a limited supply of goods. We also don't have a water filter, but the chlorination tablets we have should be suffice to get us to Dushanbe. Our solar panel should charge just fine up in the 4000m high region, closer to the sun the better 😎.
First experience: Karakul🕯️
Lakeside village with plenty of guesthouses. We camped just outside the day before so had a whole morning to explore the place. They had a small restaurant and shop which had everything we wanted, and more!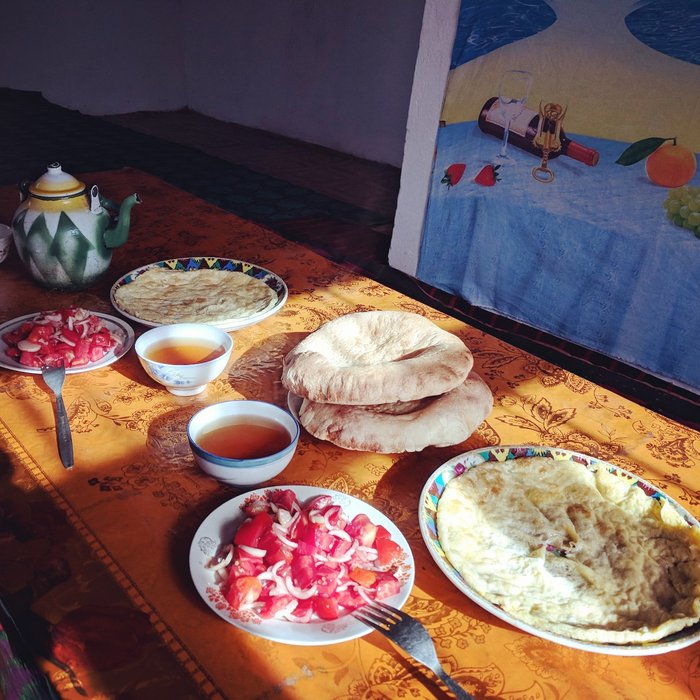 We learned to make a new meal which consists of bread, omelette, tomato onion salad and tea.
Second experience: Murhgab🕯️
This town is an important town where all Chinese imports pass through, excellent opportunity for hitchhikers. We found an awesome bazaar where the shops were in shipping containers – just like in Christchurch.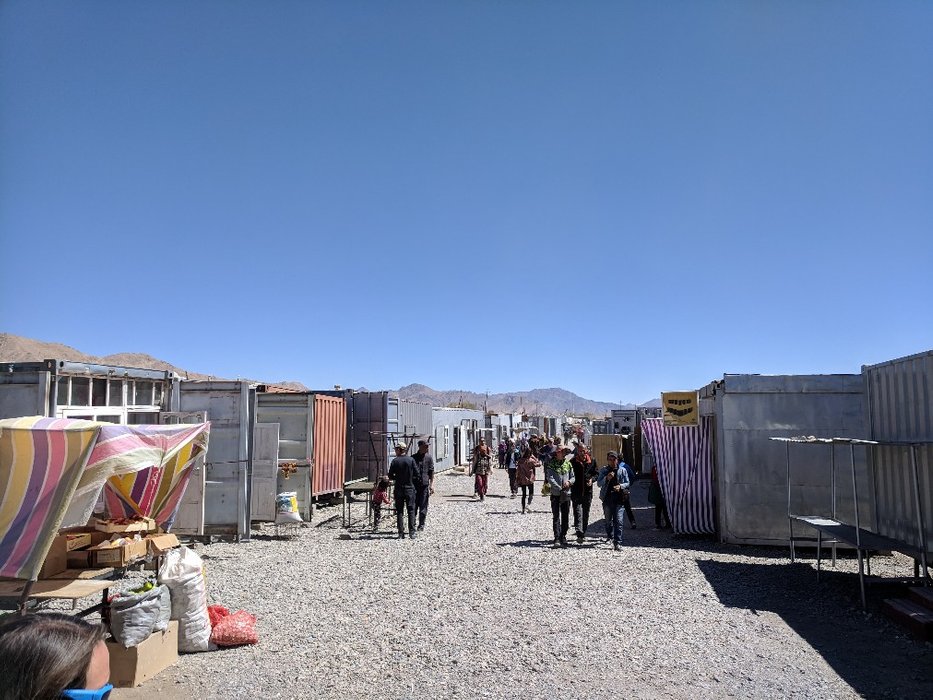 Our solar panel broke and amazingly enough we found someone to repair it and he asked for nothing for fixing it. He done us a great favour so Pheng offered him 20 somoni which he accepted. Later he checked out Pheng's bike and Pheng said it has problems.
The rear brake pad had ran out so it has been screeching and slowly scraping the disc. Upon hearing this he immediately got from his home a spare Shimano brake pad! Feeling extremely relieved we offered money again but he said:
Не надо (ni nada)
There's no need
Murhgab is a pleasant town to pass through, with plenty of food to resupply, water pumps to refill and ice cream to treat ourselves.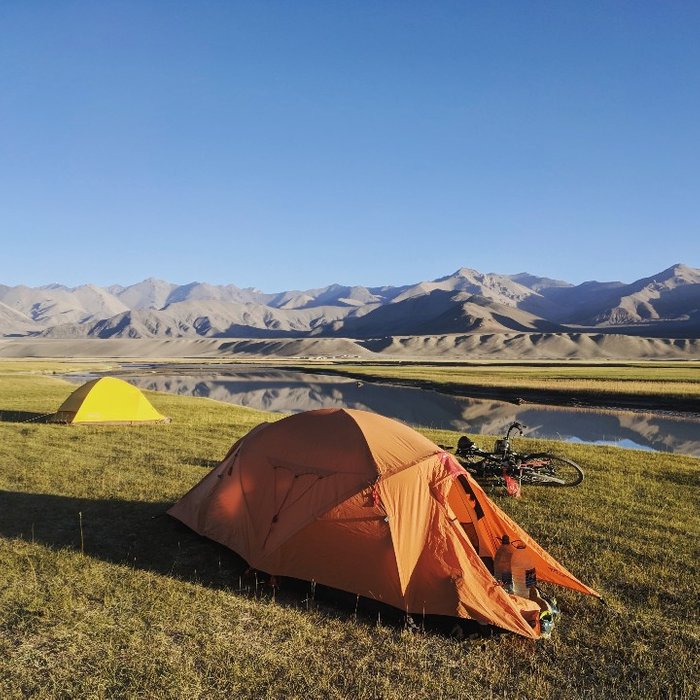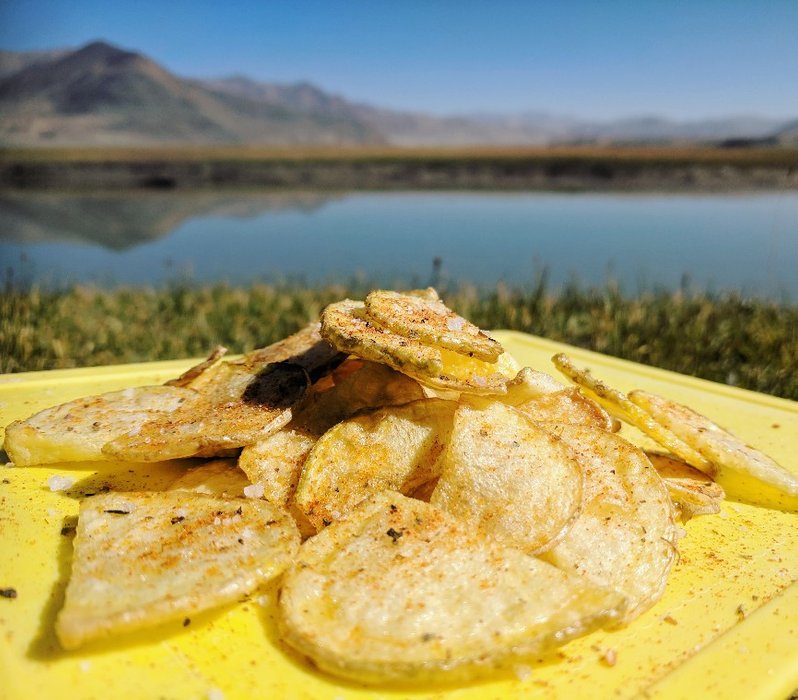 We camped with a Bulgarian couple and had an amazing 3 hour long breakfast.
Third experience: Jelondy🕯️
We did the usual trick where we camped 5 km before a town/village so the next day we had plenty of time to explore the place. This time we wanted to enjoy the whole day in the hot spring! Took us a while to find one as they didn't have signage anywhere, however, after asking a few locals we were taken to an indoor Roman-ish bath.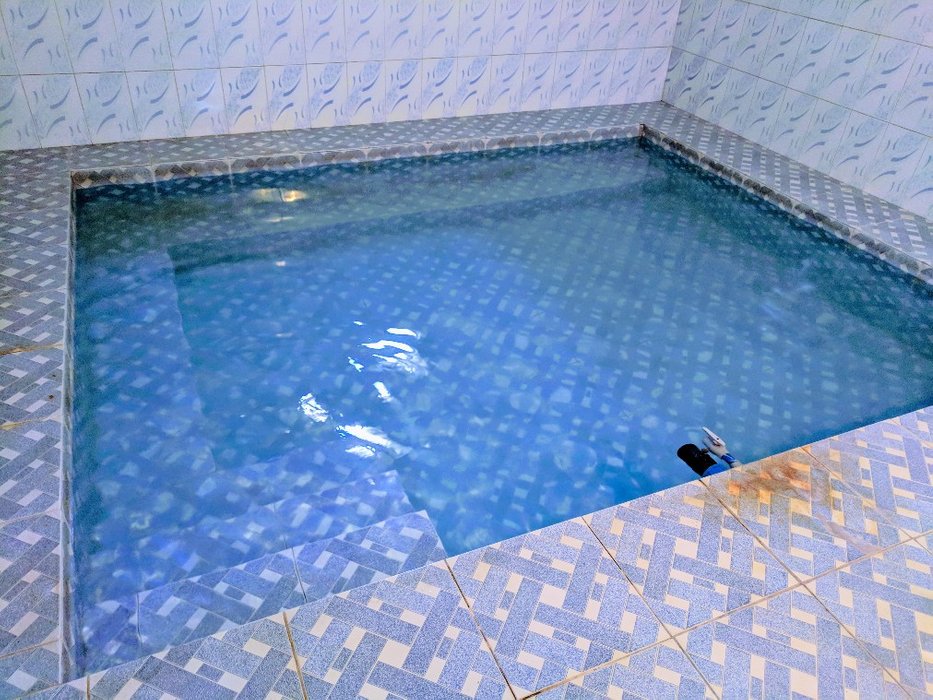 For only 3 somoni each, we were given a room all to ourselves. It was hot, relaxing and quiet. Later on, the husband running the place offered a room for only 50 somoni a night. We happily accepted the offer because it had everything we wanted: electricity, kitchen and unlimited use of the hot pool!
We took the opportunity to wash our clothes with the hot water. They had a cow on their property so we asked if it was possible to buy fresh milk. It was warm and fresh so that night we had rice pudding for dessert!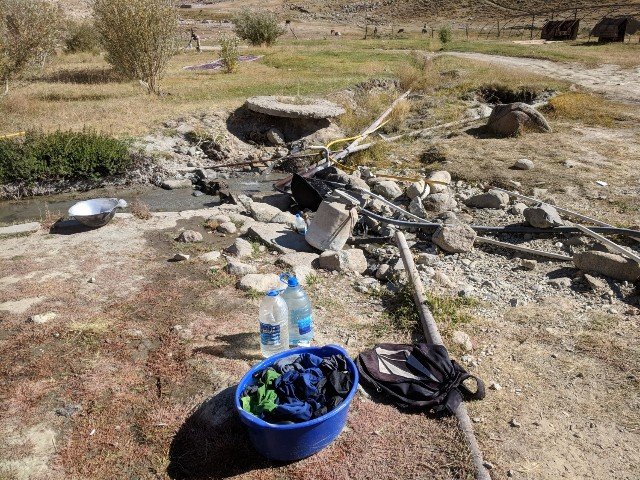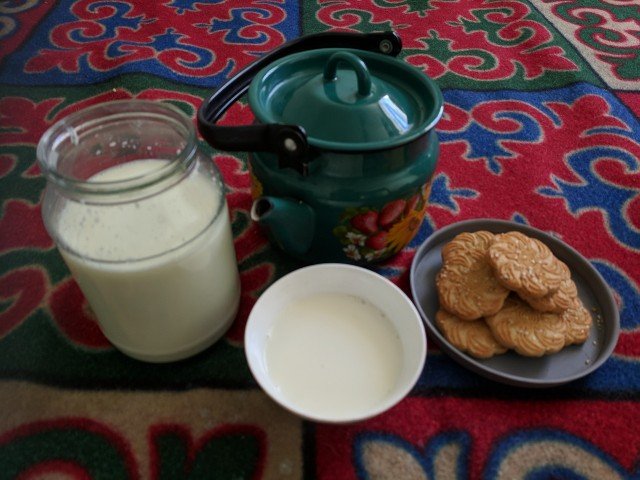 Fourth experience: Khorugh🕯️
This city is in such an amazing location. It is in a valley between high mountains, there is a river running through which demarcates the separation of Tajikistan from Afghanistan.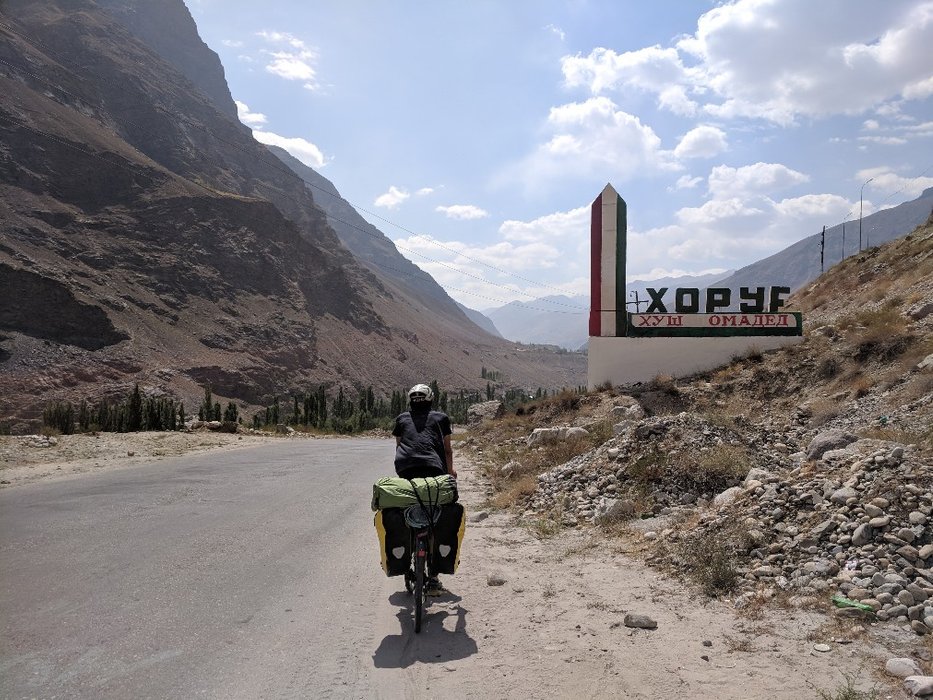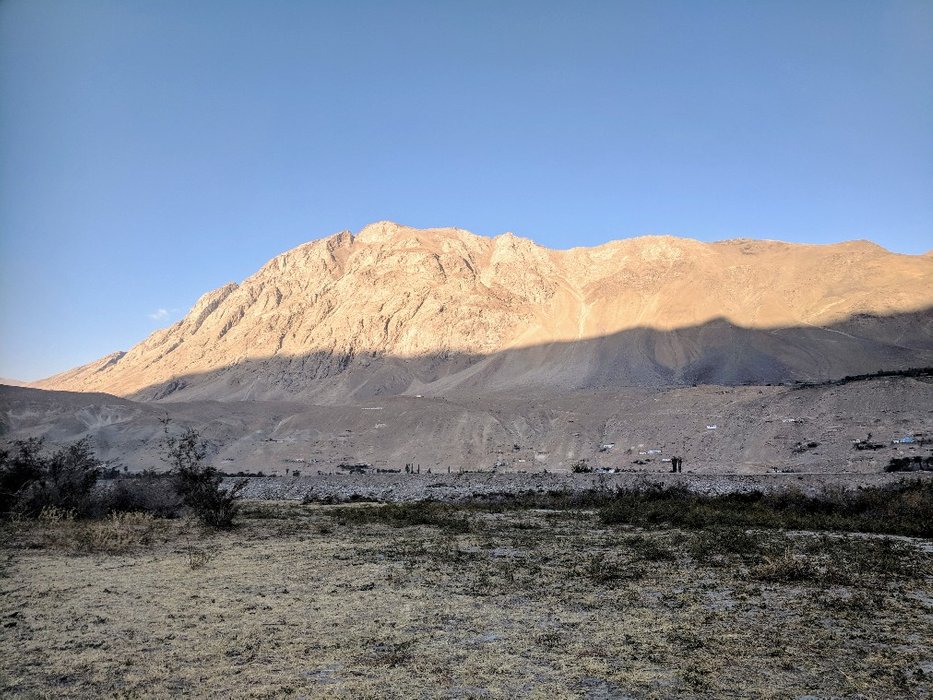 Afghanistan just over the river
We had a lovely long lunch in the park, utilising the most of our time with 3G internet to catch up with friends from home.
Show us the photos!
Follow us on Instagram to see the latest photos. Here are our 10 favourites on the Pamir so far.











Where to next?
The second part of this Pamir Highway series will be about Khorugh to Dunshanbe.
Four Candles for Four Fellow Cyclists
We like to dedicate this post to the four cyclists that were killed in Tajikistan early August this year. Although scared ourselves, we looked past the fears and would rather visit Tajikistan and meet the true people of Tajikistan.
** This post has been copied over from our personal blog **