Almaty was the first major city we visited in Kazakhstan and it is a very modern city. There's electric busses, pedestrian only streets, and drivers stop at pedestrian crossings (something we weren't used to after China). Tell-tale signs of a modern developed city.
The city has a beautiful backdrop of Tienshan (the same mountain range standing between China, Uzbekistan, Kyrgyzstan and Kazakhstan), so you know the direction is south if it is uphill, and vice versa. We were recommended to go see the Big Almaty Lake (Большое Алматиское Oзеро, balshoye Almateeskoye ozera, BAO) and planned to camp up there one night.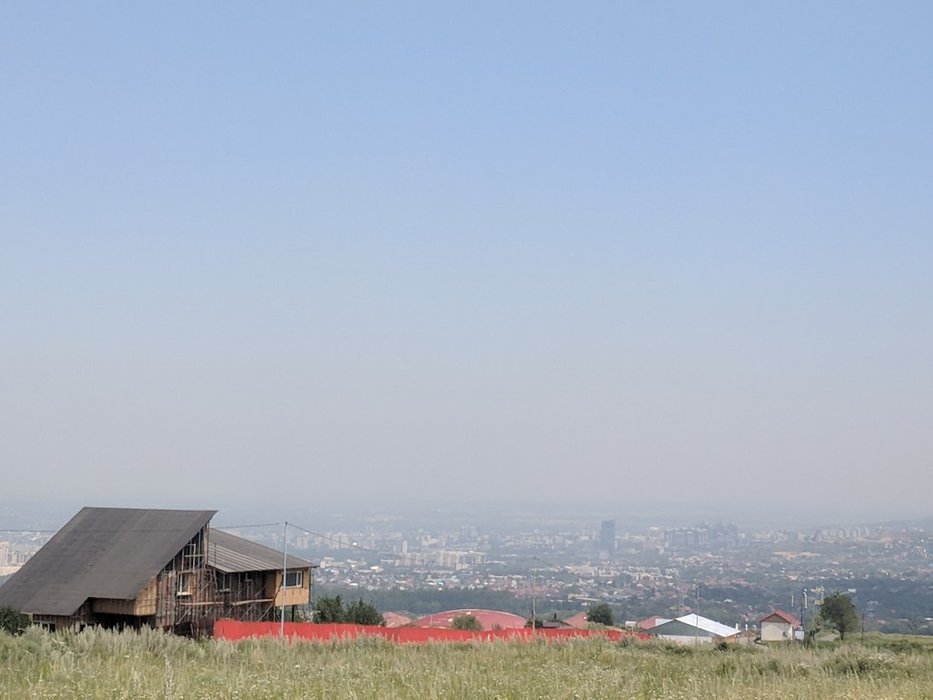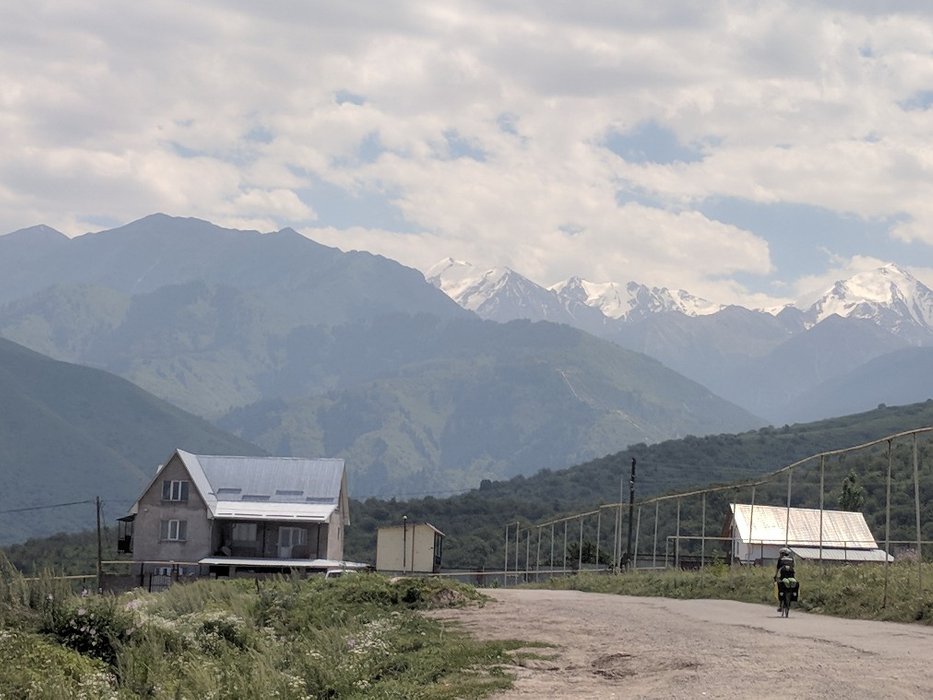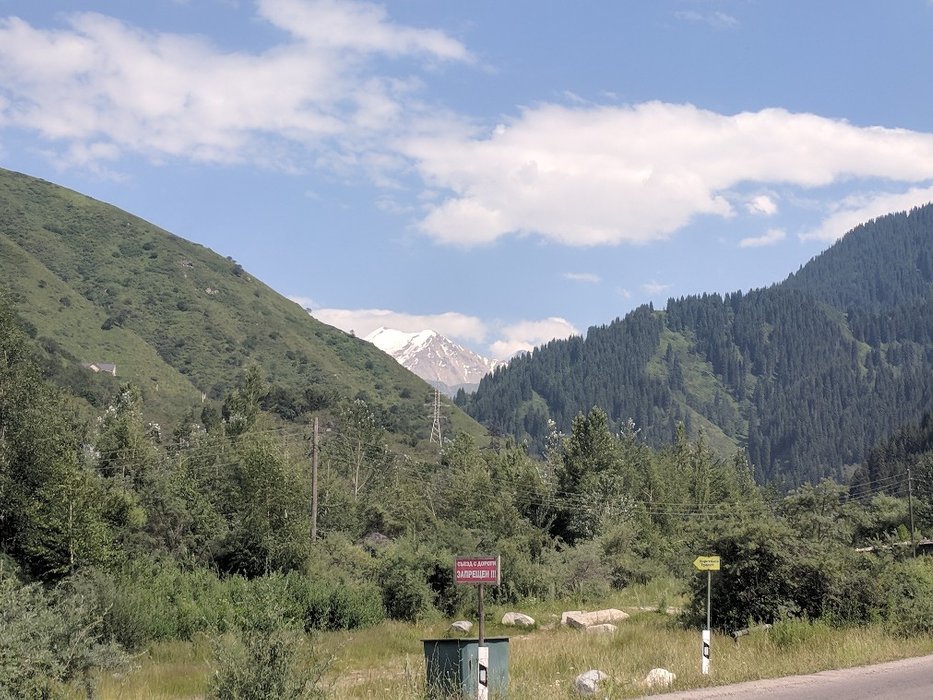 We set off packing only the minimum required for two days. It was a bright sunny day and we merrily make our way south/uphill. It was the first time on our trip we had to pay a road toll, but maintaining access to the lake is important for everyone so no complaints there.
The further away from the city we got, the more alpine resort-like the landscape resembled. There were pockets on the roadside where locals were picnicking with their entire family, lighting fires for BBQs, and having a great time. We stopped at one of those pockets for a rest as the road had been a consistent 12% gradient.
We caught the attention of a family and introduced ourselves as cyclists from New Zealand riding our bikes from Beijing to here, then Portugal. This is our go-to phrase for introducing ourselves.
Мы новой Зеландей, Мы велосипед Пекина, здесь, потом Португалия
Muee Novoy Zeelandiar, muee velocipiet Peking, sdes, batom Portugalia
They offered us a drink which we happily accepted and readied ourselves to continue. One of the fathers shouted "LUNCH please?". We weren't sure at first but it appears they are making lunch, and we've been offered food so our rule book says "Yes".
Glad to be getting fresh BBQ meat we got out our mat and sat next to the family. They're a big group so one at a time people came to talk with us. We struggled in Russian but suddenly a girl asked if we speak Chinese — we switched to Mandarin instantly!
We learnt that some of the family here moved from the Xinjiang Ili region 20 years ago to Kazakhstan. They made a good choice by the looks of it. They know about the current situation there and feel uneasy thinking about the treatment of their people. Today they are celebrating one of the girl's birthday. The first lamb kebab arrives!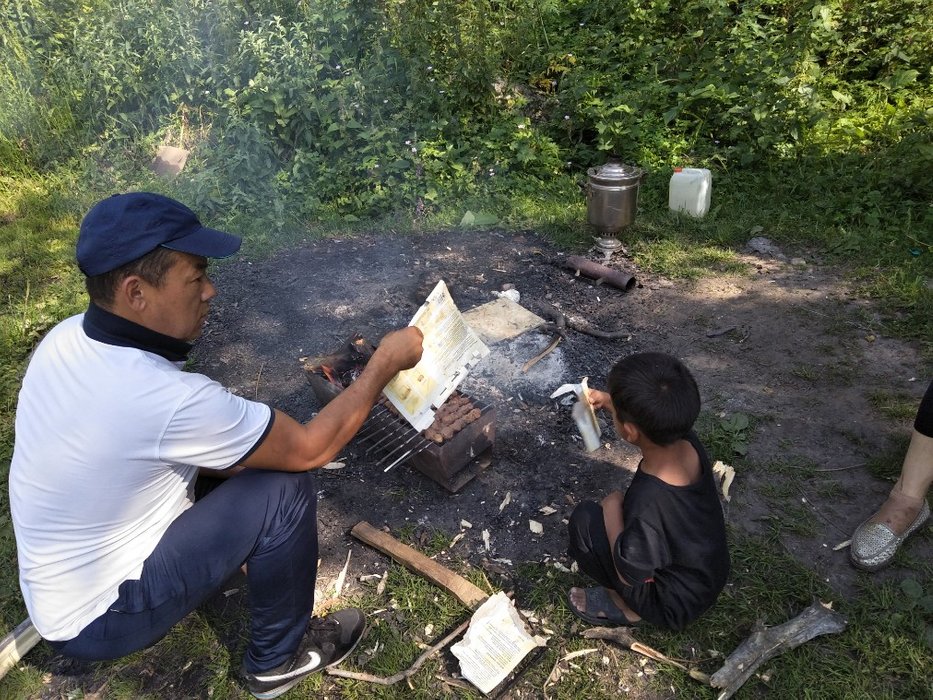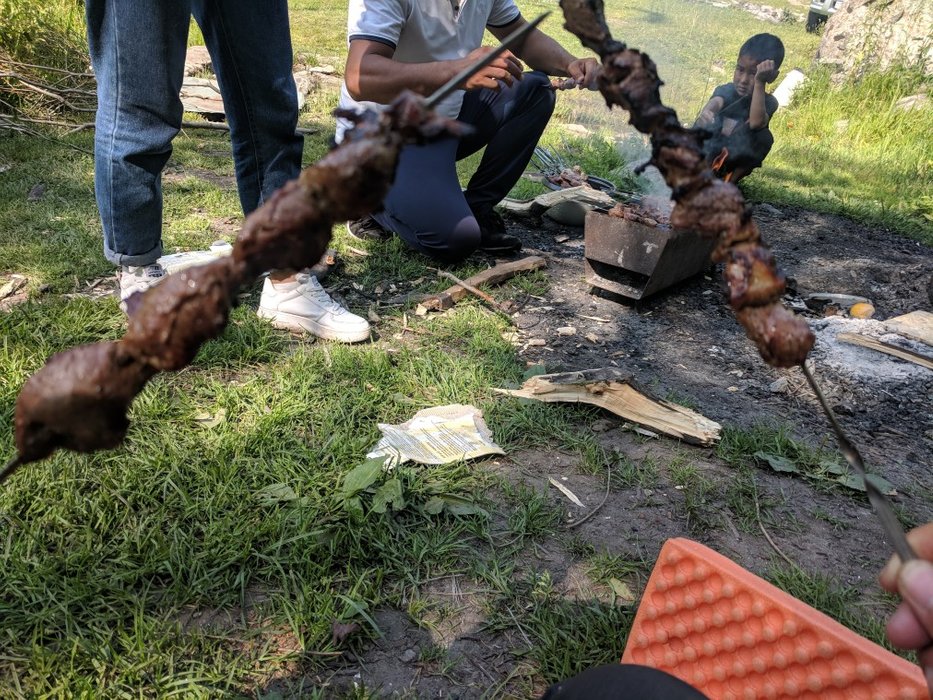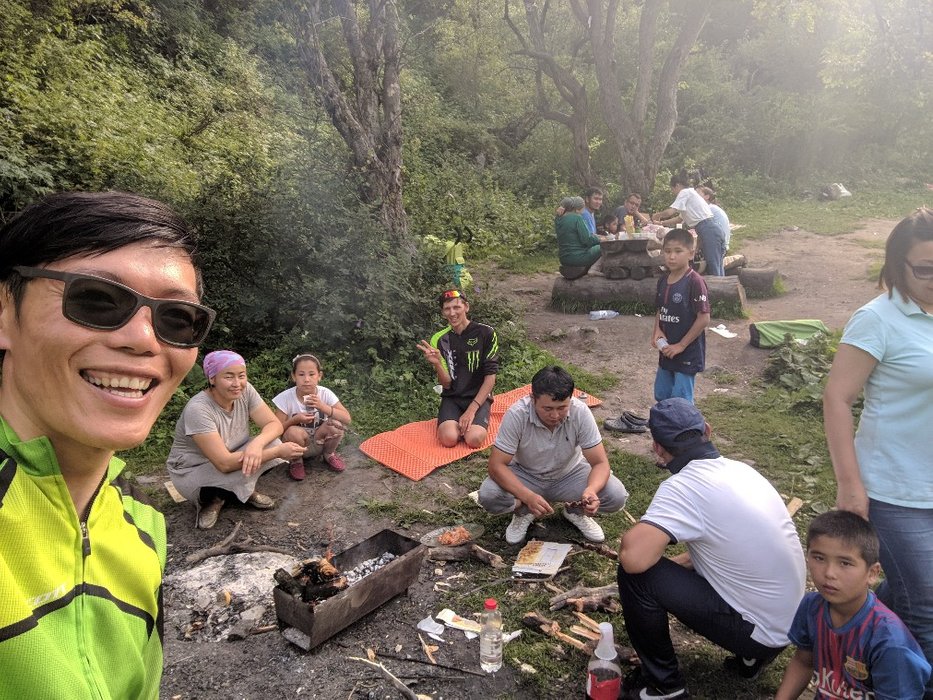 A few more kebabs come our way. Randomly a father asked Pheng if he is Han Chinese. Pheng said he was born in Cambodia and three generations ago his family moved out of China. After that things went quiet and the atmosphere changed markedly.
They obviously regarded Pheng as Han Chinese from apparence. Can't blame them as the Chinese themselves never believe when Pheng said he's a Cambodian born Kiwi.
We have a guest joining us soon and it wont be safe here. You should leave now. — one of the adults
We were confused from what we just heard but maintained calm and got up to pack our things. It is possible the guest (or the entire family) dislikes Han Chinese, so, being respectful travellers we left pronto.
As we cycled further up we reflected on what just happened and what we've seen through Xinjiang, China. It was definitely understandable why they hate the Han Chinese. It was not understandable why they would hate on someone who is no longer identified as Han Chinese. But this is perhaps a cultural difference between New Zealand and Asia.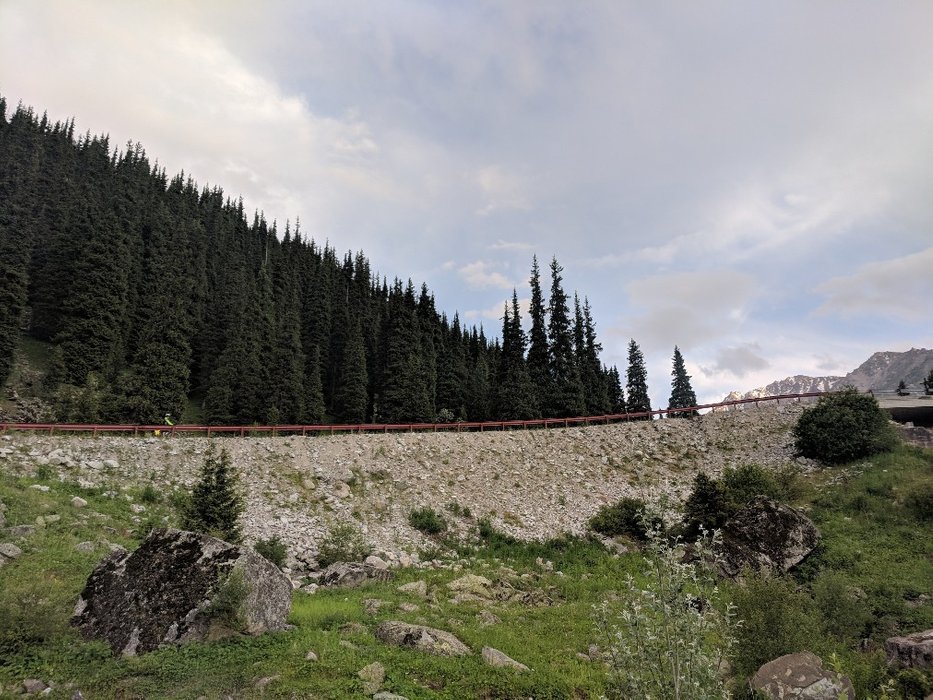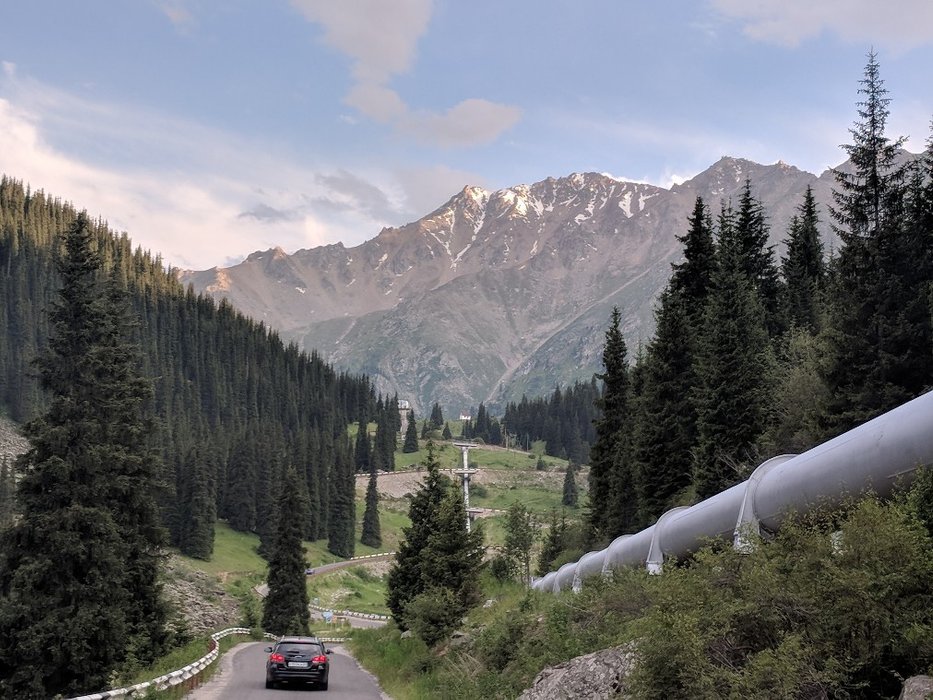 Alas we've made it to the lake. It's quiet and really worth the climb. Unfortunately the lakeside isn't suitable for camping but there was a spot one kilometer back. We took the photos and headed back down.
See the lake in 360° here on Google Map
It hasn't happened before but Pheng's bike didn't work so well going down the 12% road. After reaching the first bend, the brakes were no longer effective causing Pheng to panic and literally use foot brakes. Thank goodness for croc shoes, you've saved us once more. Pheng walked his bike the whole way down to the camp site.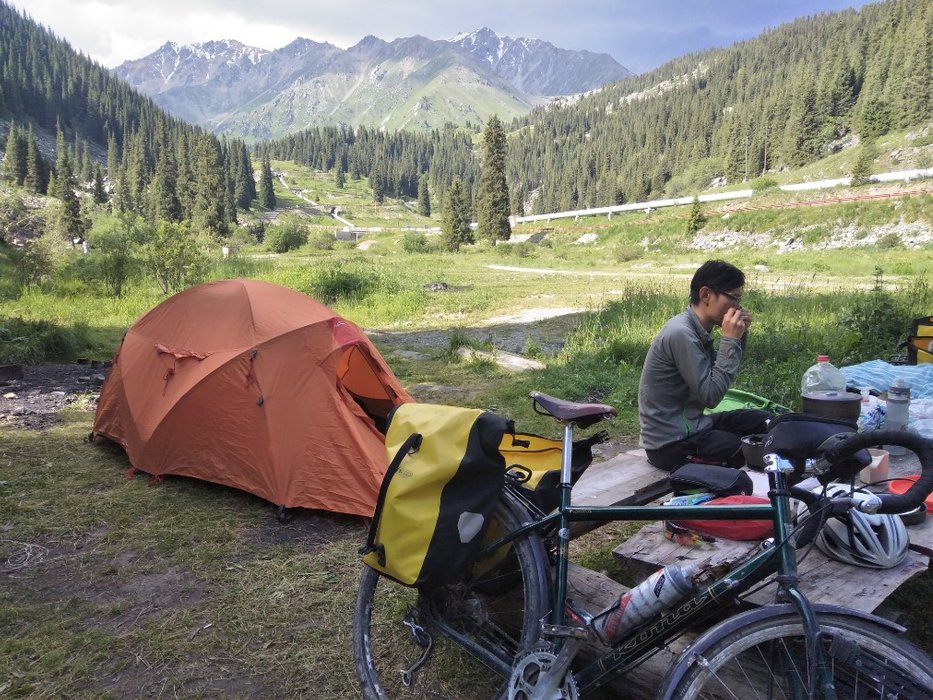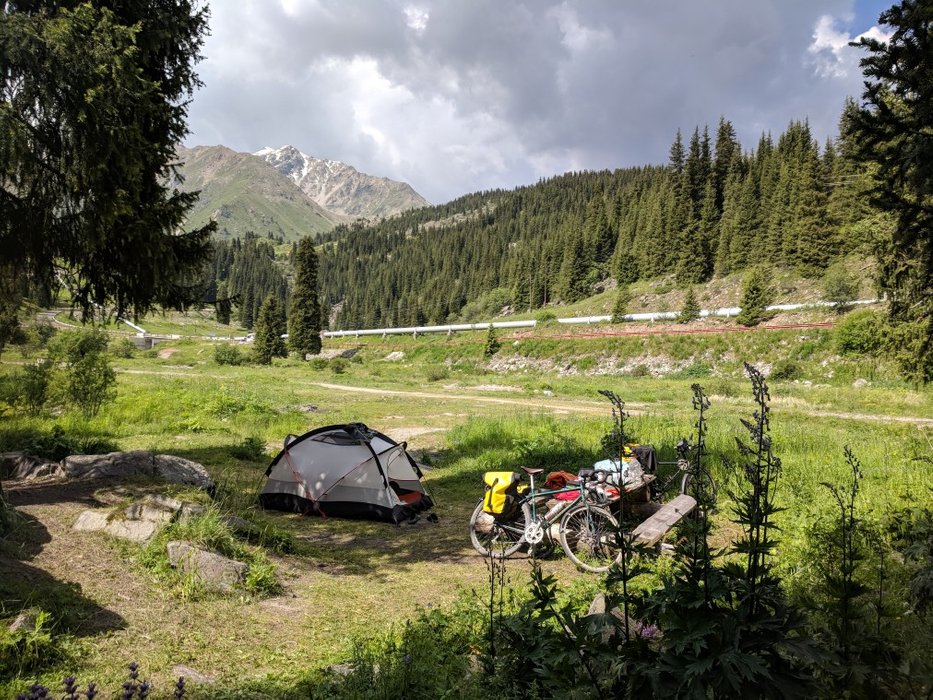 Next morning we head back up to the lake once more to get a higher view of the lake. Beautiful just like yesterday.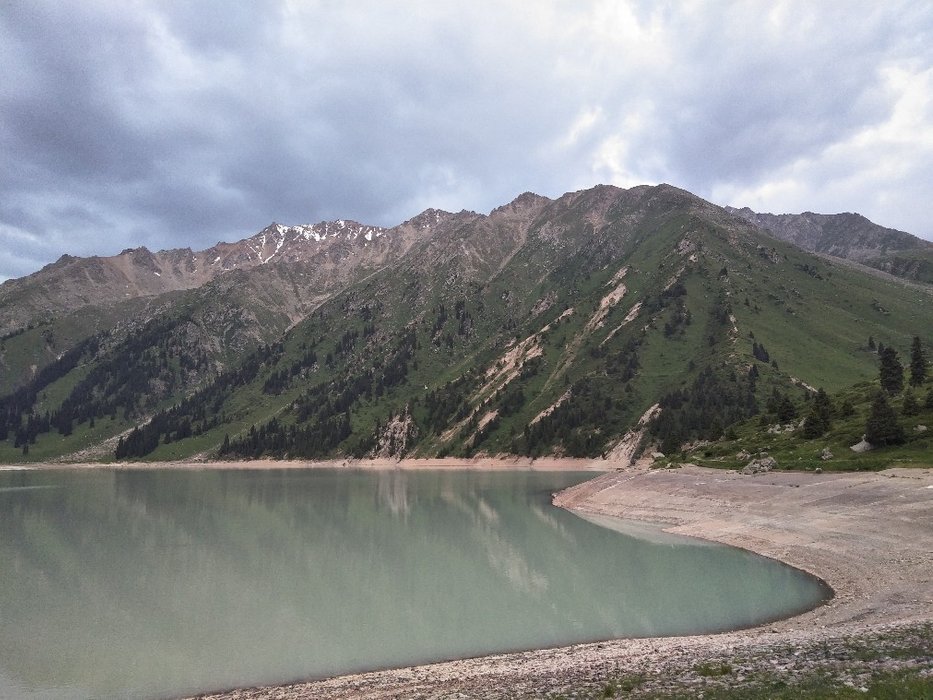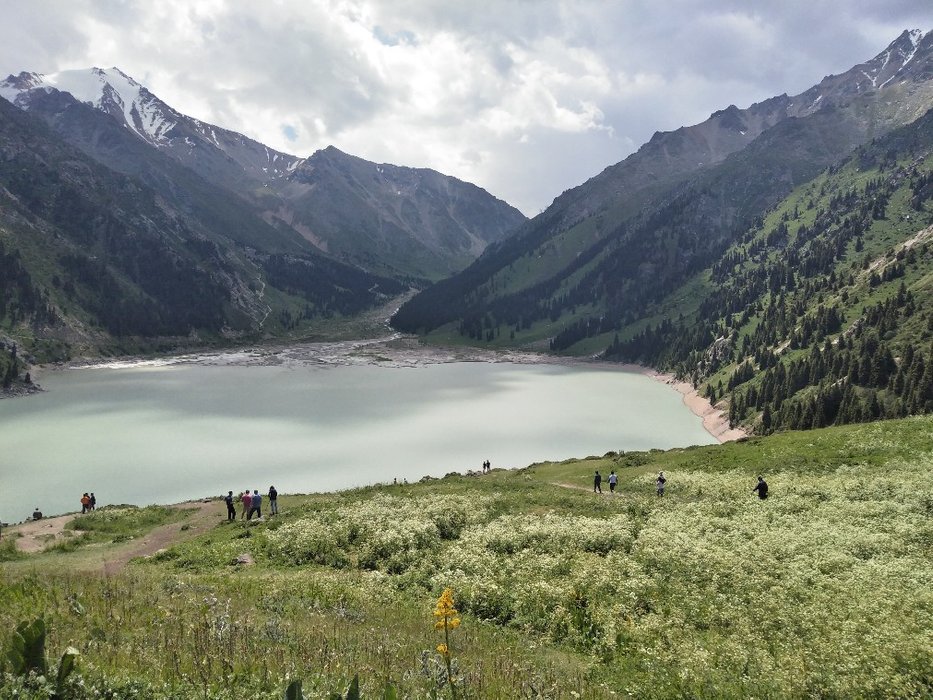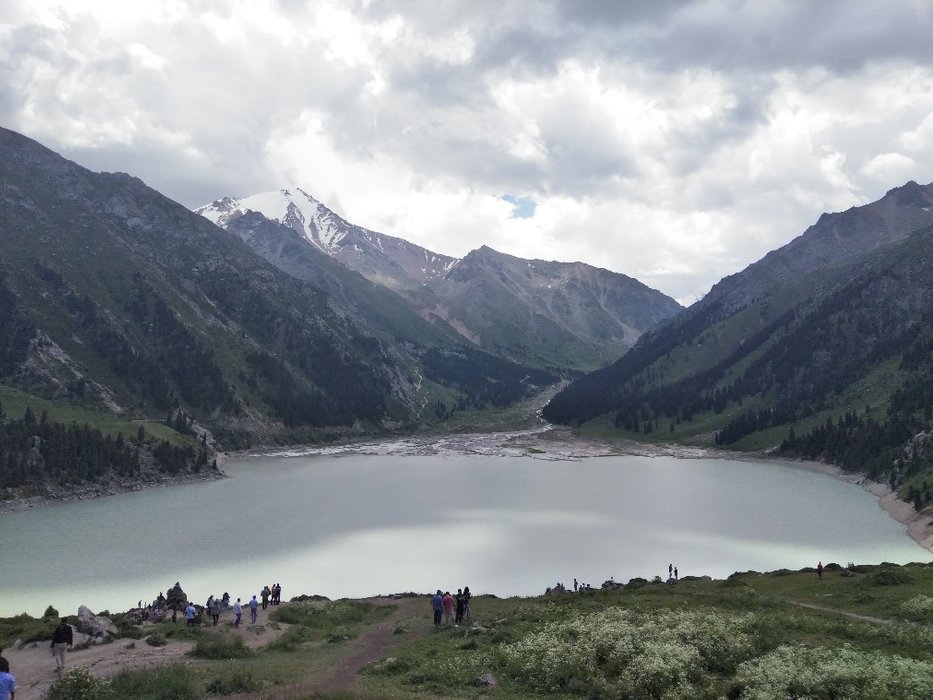 When you least expect it, the weather turns and we finish lunch and head back down to Almaty. Pheng gives his bike one more go, and like yesterday, the first bend was still too fast so foot brakes on for 10 meters. After fiddling with the brakes and losing hope, we discovered we didn't know how to fix it. The only way down was walking down.
Matt's bike was still working alright so he's off but Pheng trotted down for 4 hours. Pheng tried hitching a ride several times to the nearest bike shop but that wasn't successful.
Another hour passed and Pheng gave the brakes another look over. One last "make or brake" moment… it's going to be replaced anyway!
There's one part Pheng hadn't adjusted before. He tightened the cog and it shifted the brake pads a bit closer inside. Time to give this a good test before going downhill once more. Eureka, the bike stops safely!
We both got home safely that day.