On the 9th of November 2019 we spared one day to explore Valencia. It is the capital of the Valencia autonomous 'community' (like provinces) and the birthplace of the famous seafood rice dish called paella (pronounced par-ee-ya - Spanish pronounced the double 'll' as 'y'). We knew little about Valencia - a wealthy region, rich trade history and warm climate. Western migrants (or expats as they call themselves) choose to live here because the climate is very comfortable all year round. According to Wikipedia the average lows are only 7°C!
Just as we liked it, the weather in the morning was beautiful. A few patches of clouds here or there, but not enough to form a drop of rain. Our host Lucia and Joaquin had recommended a few places for us to go see. We mentioned to them about our low budget idea of a day tour and they knew just the right things to go see. The best place to go see in the morning before people started flooding into the city was the Mercado Central (Central Market). We got there around 11 am and the market was already bustling. Locals and tourists were all flowing in to get the freshest produce for the day. Once inside you can sense from the noisy chatter the size of the market. The roof was built high, letting in lots of lights to naturally illuminate the market. The market has become quite a tourist attraction because the display of Spain's finest food are captivating. You can find the usual fruit and vegetables, but they also have fresh seafood of all sorts neatly arranged on ice, air dried pig legs hanging above the stalls, and massive ostrich eggs! It'll cost you 15 Euros though. Ouch. We'll stick to free-range chicken eggs. One interesting thing we'd noticed in Spain are the standing cafes. We saw a cafe/patisserie with customers all standing around it enjoying their food. No tables or chairs. We were always taught to eat sitting down. Perhaps the Spanish were taught something else.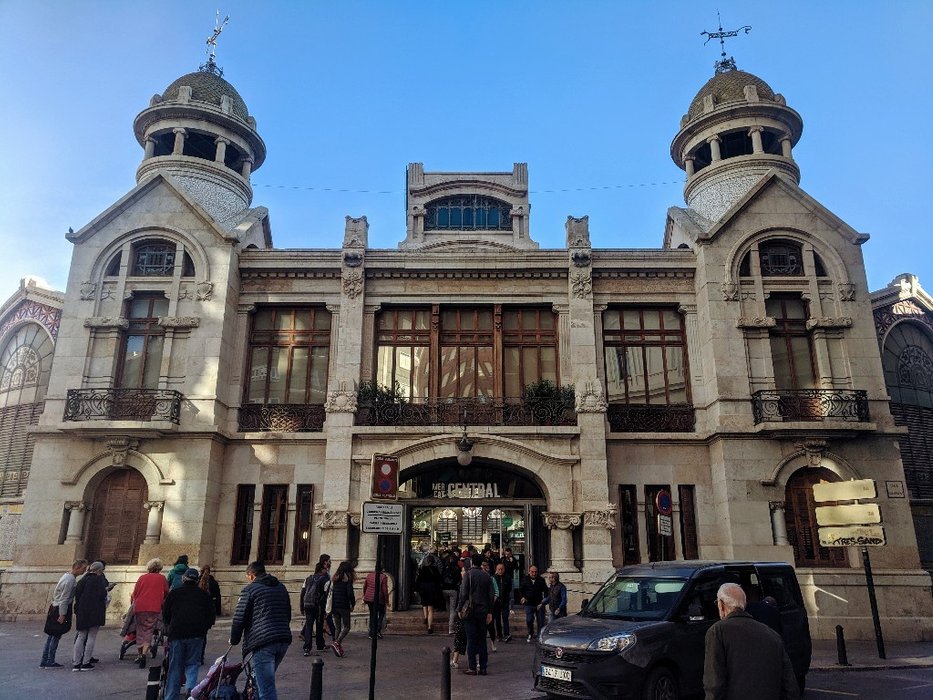 Front of Mercado Central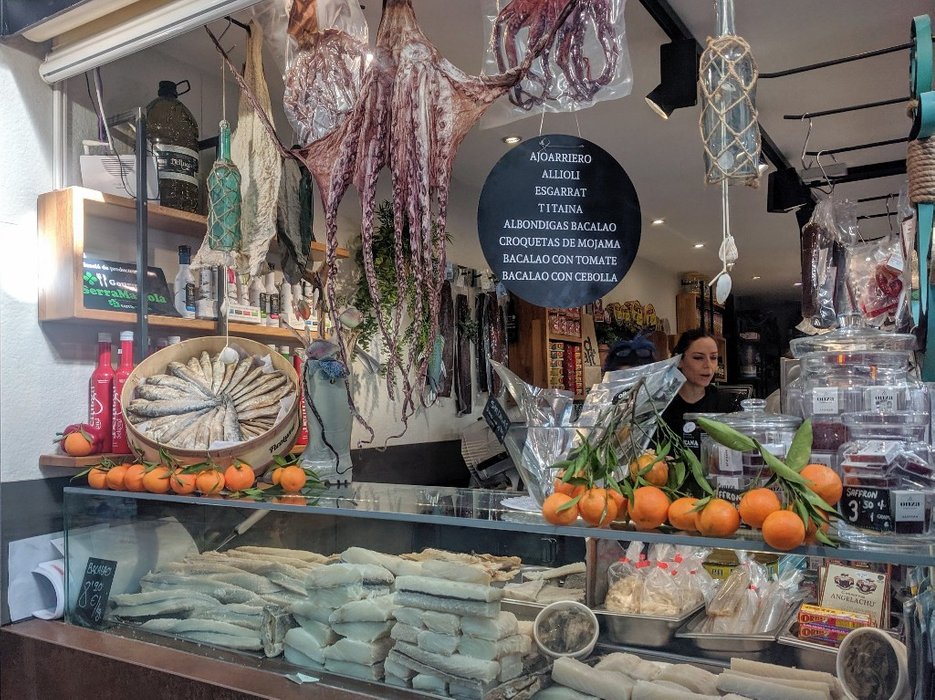 Dried squid and salted fish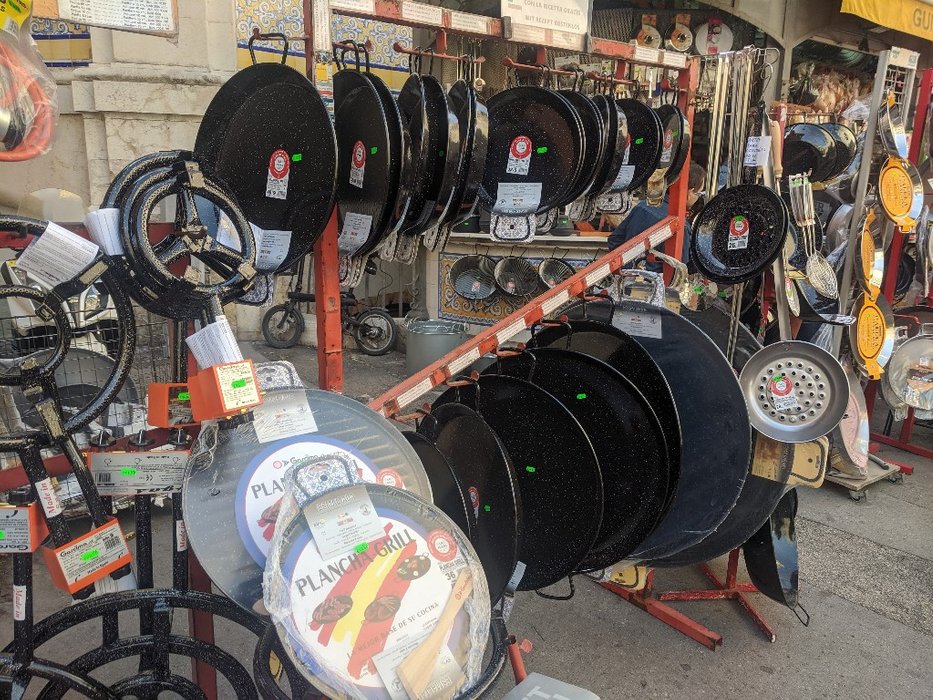 Take home your own paella dish!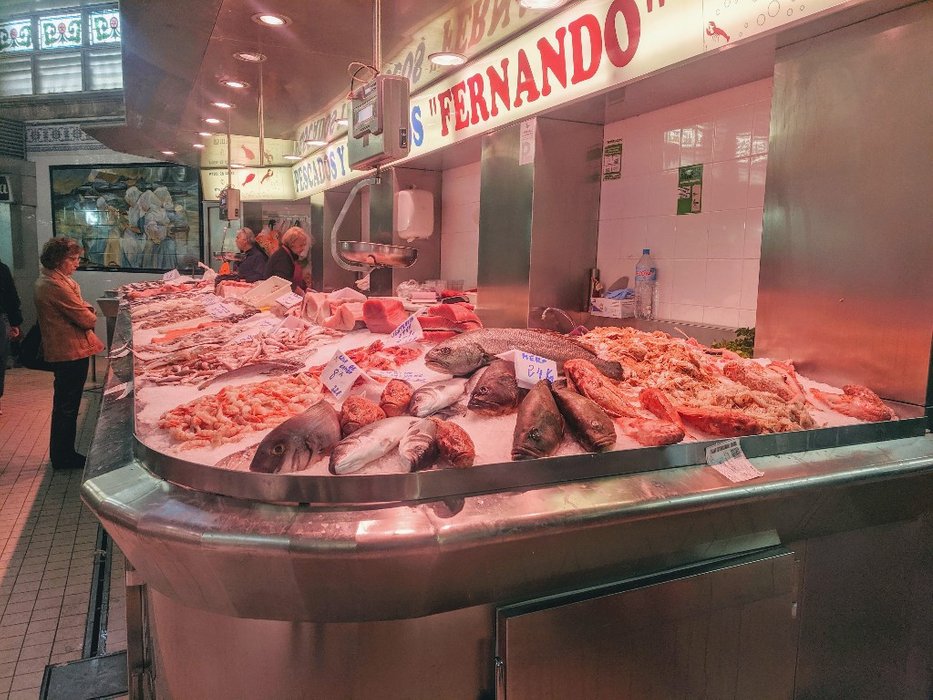 If it lives in the water, you'll likely to find it here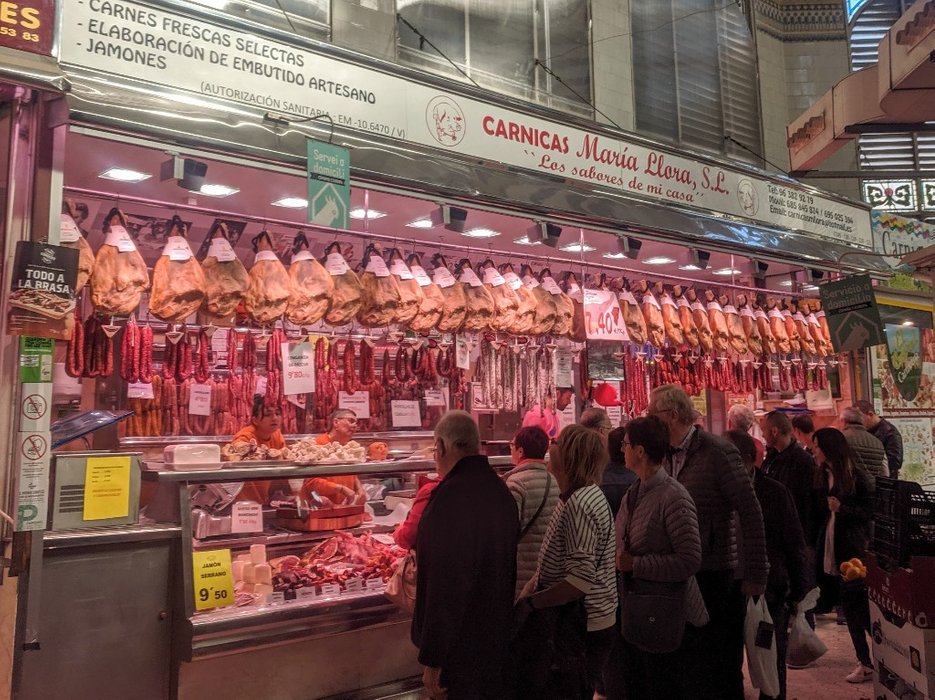 NSFV - Not safe for vegetarians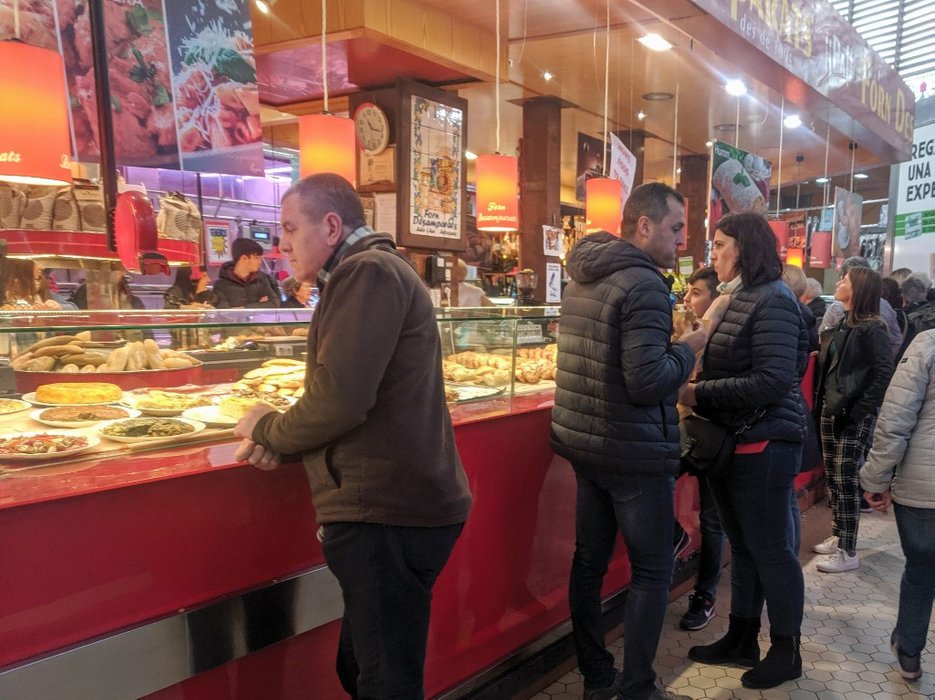 Stand, drink, chat, and repeat
---
Not too far away from the market was a very iconic landmark of Valencia: Torres de Quart. The Quart towers were part of the city walls dating back to the 14th century. It was used for defense throughout history and much of the cosmetic damages are still there. It has played an important role in protecting the city against Napoleon's army back in 1808. Apparently the scars on there are from cannon balls! Only two of these remain, the other "Torres de Serranos" we saw on our way in the day before. We looked around but couldn't figure a way to go up. Knowing it'll cost we didn't try hard anyway!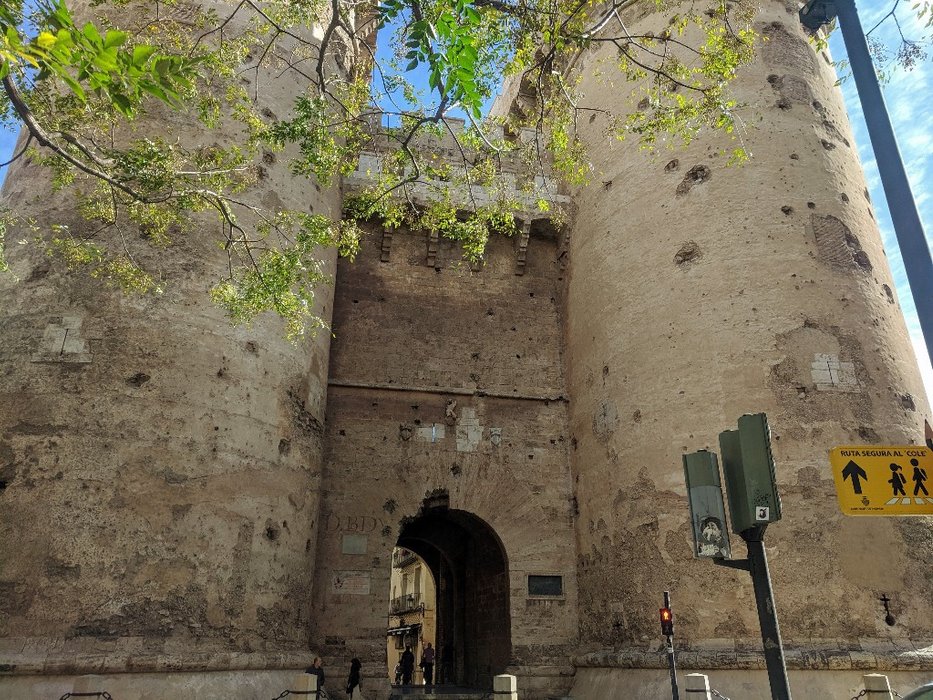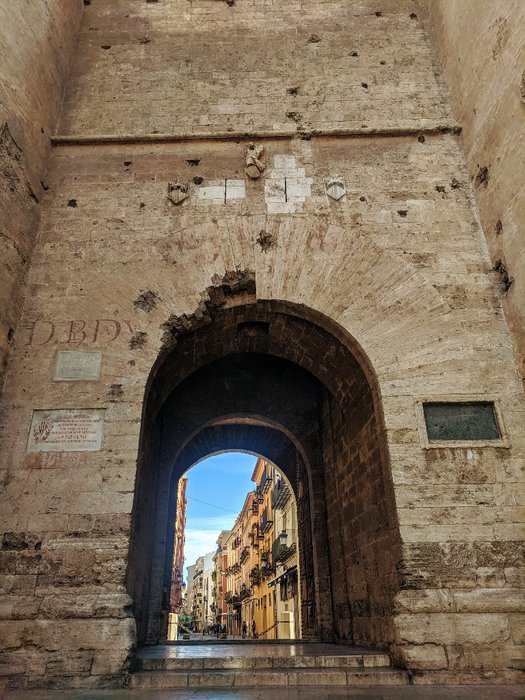 ---
Going back inside the old center, we arrived at the Plaza de la Virgen. The plaza had a beautiful fountain in the middle, surrounded by Gothic styled buildings. There were many tables set up by cafes at the plaza, but no public bench to sit on! So we sat around the fountain because it had a nice wide fountain edge. We enjoyed our snack pack, watching tourists pass by, pigeons nibbling away on food scraps while the water gently splashes us from behind.
Not too far away from the plaza was a small circular marketplace. The Plaza Redona is one of the smallest squares in Valencia and only open to foot traffic. Everything was very clean and tidy. The houses upstairs were painted the same yellow all around. It was unclear whether they were lived in or not. It looked too clean and shiny to be used. The shops below weren't so busy, perhaps the tourists only visit for photos and pass through. Later that day when we were home our WarmShowers hosts mentioned that it used to be bustling marketplace, as kids they would go there to trade marbles or cards. It's not the same as it used to be.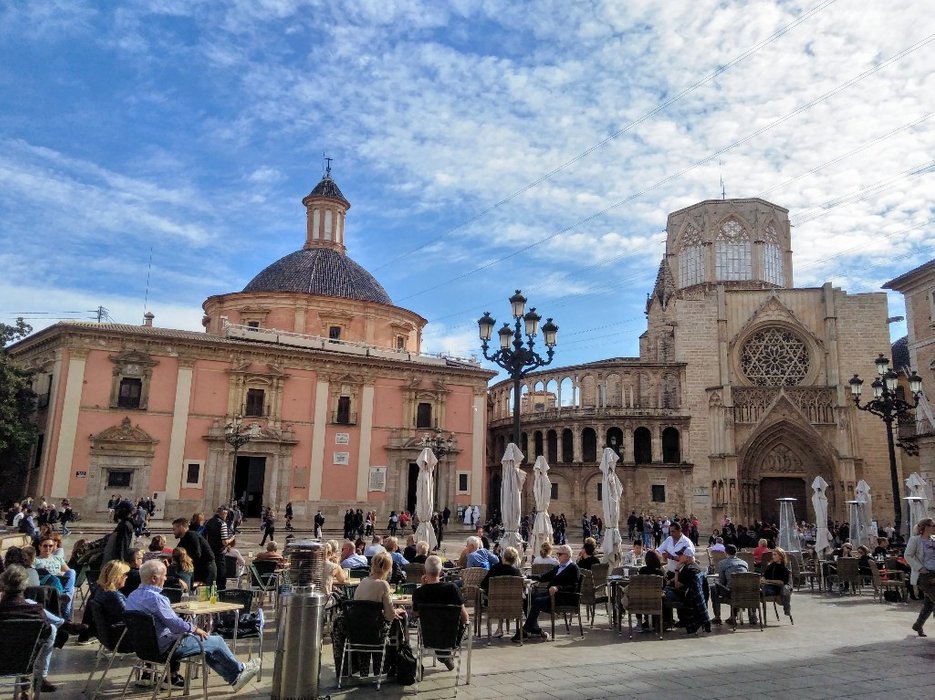 Plaza de la Virgen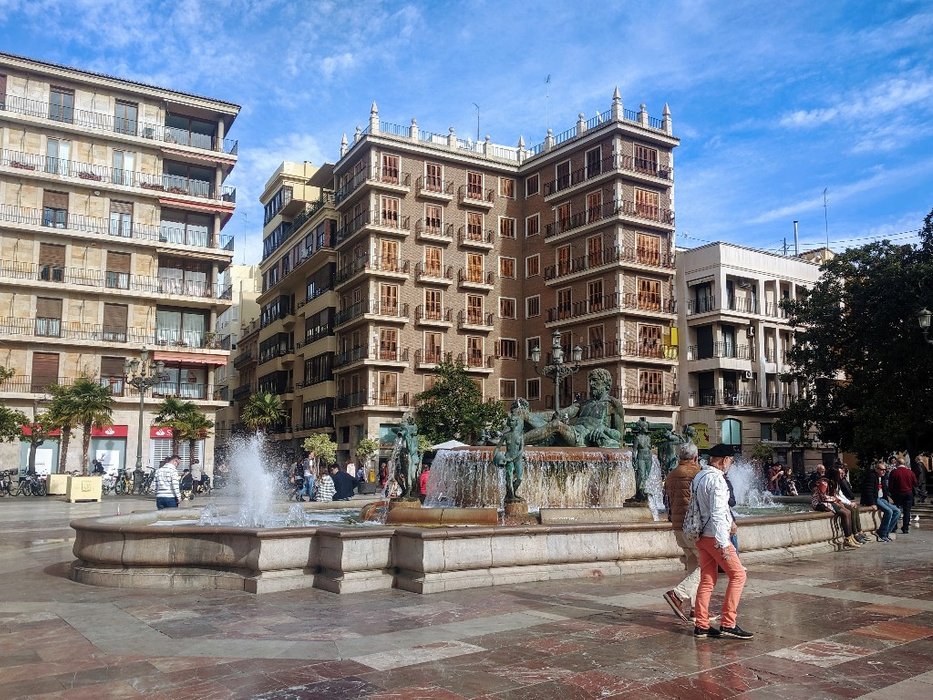 Fuente del Turia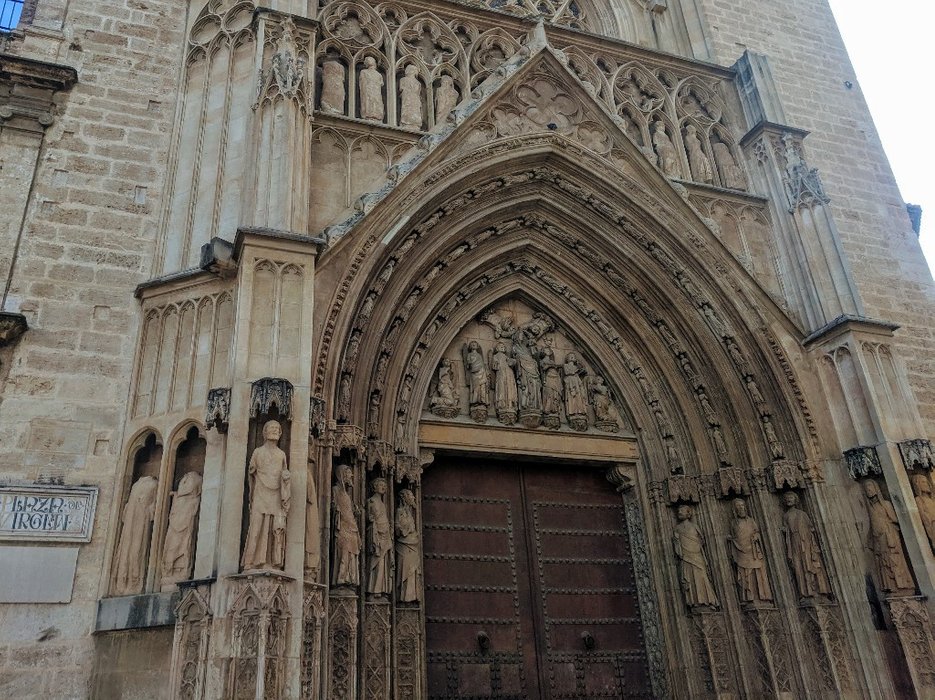 Tribunal de les Aigües de València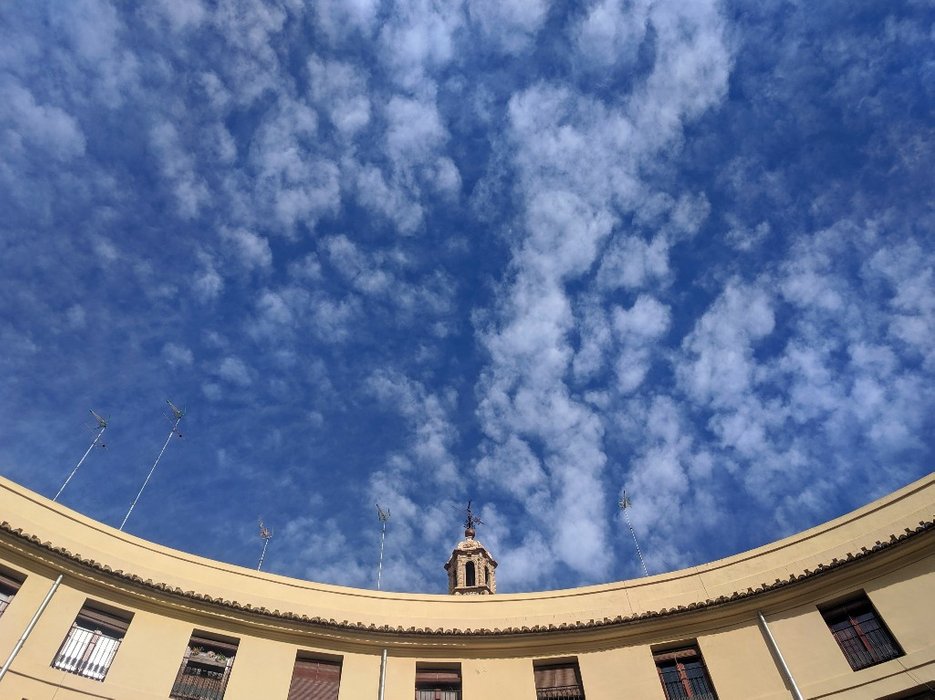 Plaza Redona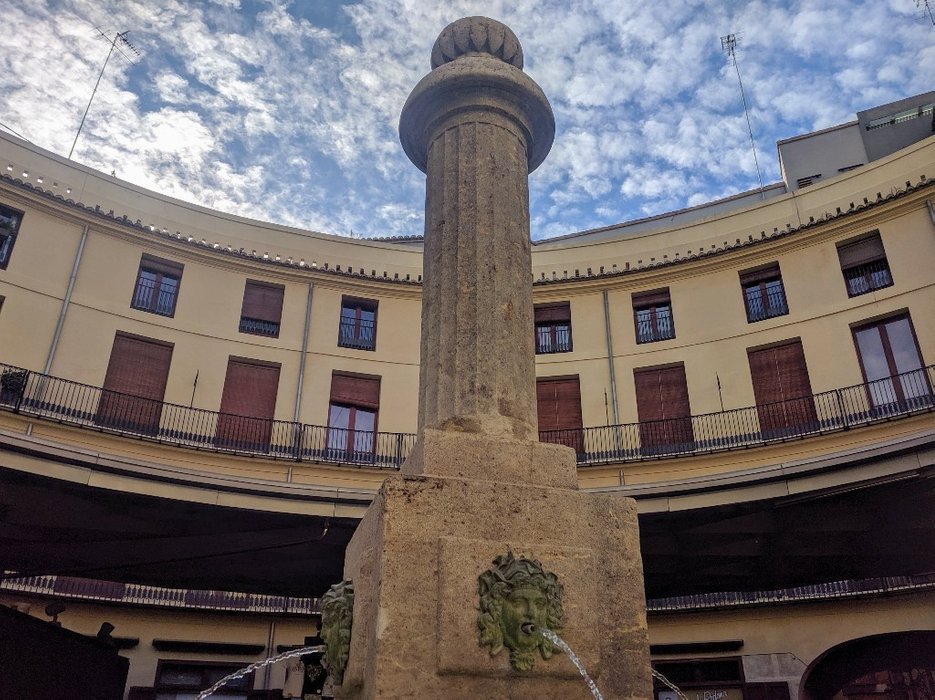 Plaza Redona
---
On our way to the next point of interest, we arrived at this elegantly designed doorway. It was the entrance to the building of the Palacio del Marqués de Dos Aguas. This luxurious palace is now a museum for ceramics. Every part of the facade was nicely detailed, we spent half an hour admiring the two road facing sides. A shame we couldn't go inside, it would have been even more amazing inside. Oh well... add that to our "next time" bucket list.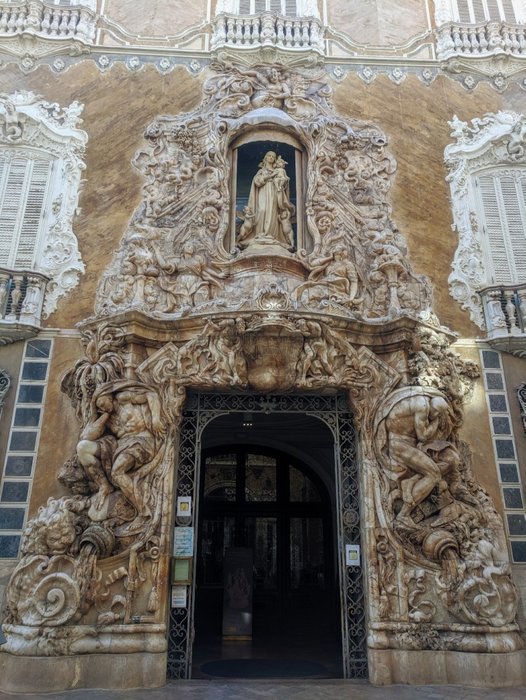 ---
Walking around the old center of Valencia is just like an open air art museum. You may notice by now we visit a lot of marketplaces. Truth be told, marketplaces are very fascinating - just like the bazaars in the Middle East. We especially like seeing what kind of the food are eaten at different parts of the world. The Spanish marketplaces are tastefully decorated, allowing us to appreciate more than the neatly arranged fruit and vegetables. Mercado de Colón provided just that. The main entrance welcomed visitors with a colourful mosaic artwork depicting grapes and oranges. It represents their most commonly produced fruit in the region. The inside looks just like any ordinary market. We went inside a store downstairs which had ham and cheese. They had a very cute Christmas display with baby Jesus surrounded by several legs of ham and gift baskets.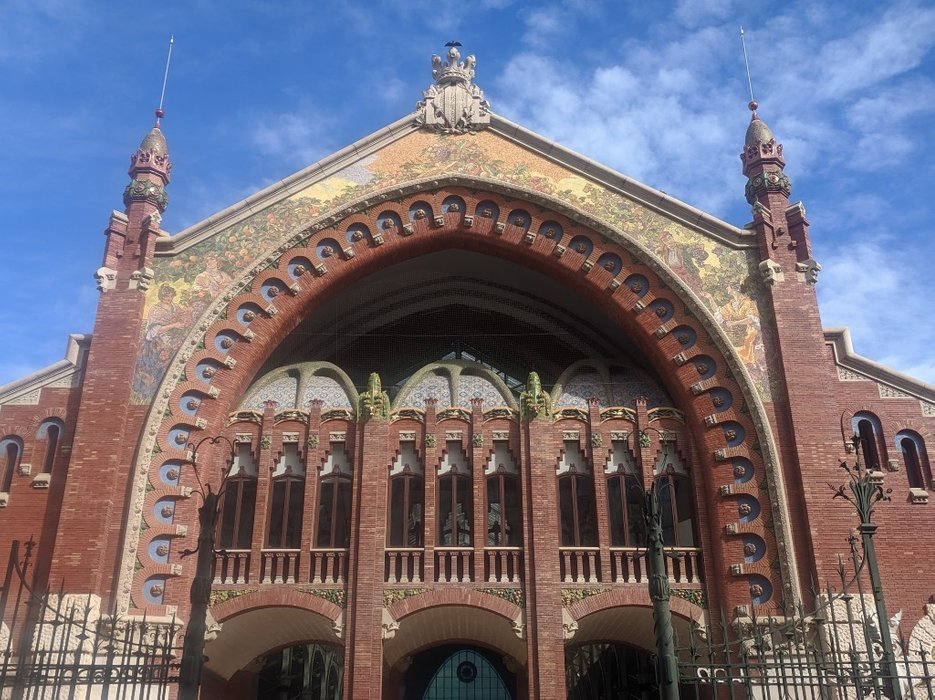 Large mosaic artwork in front of Mercado de Colon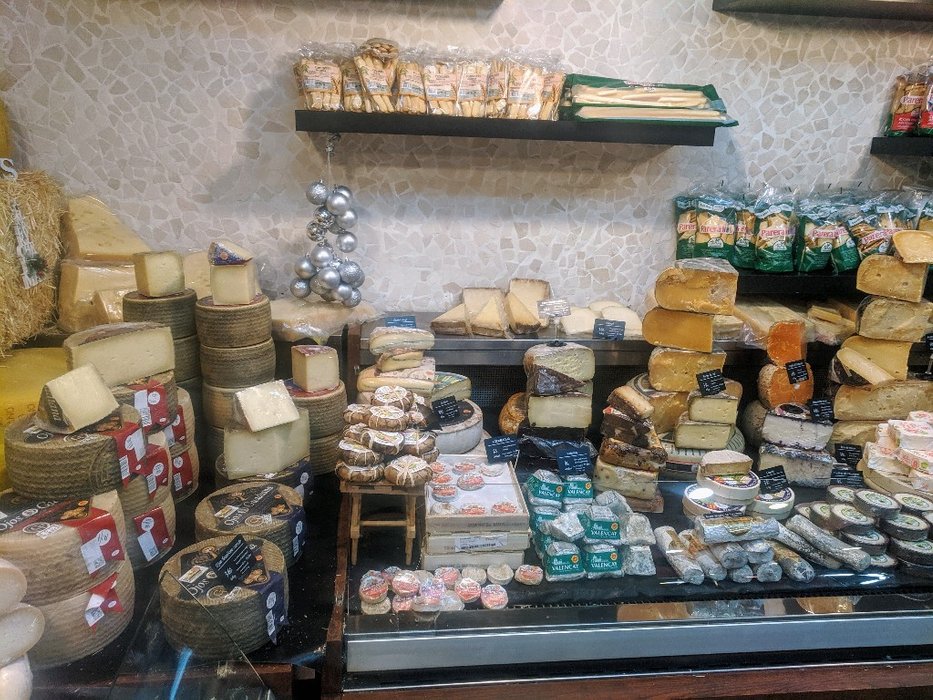 Spanish cheese are different to those from
Italy and France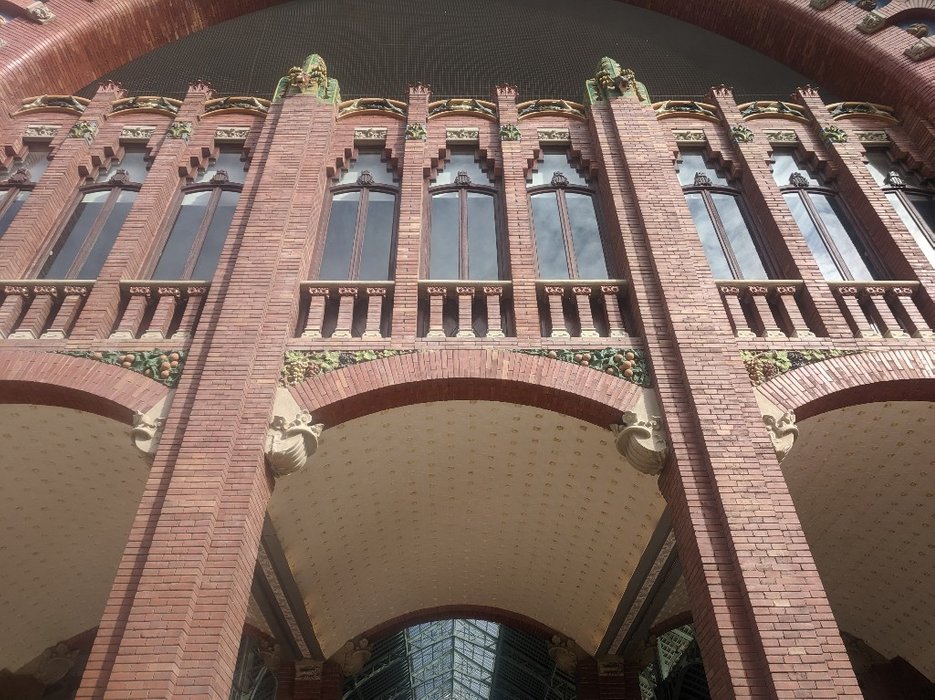 Sculptures of fruit in between the gaps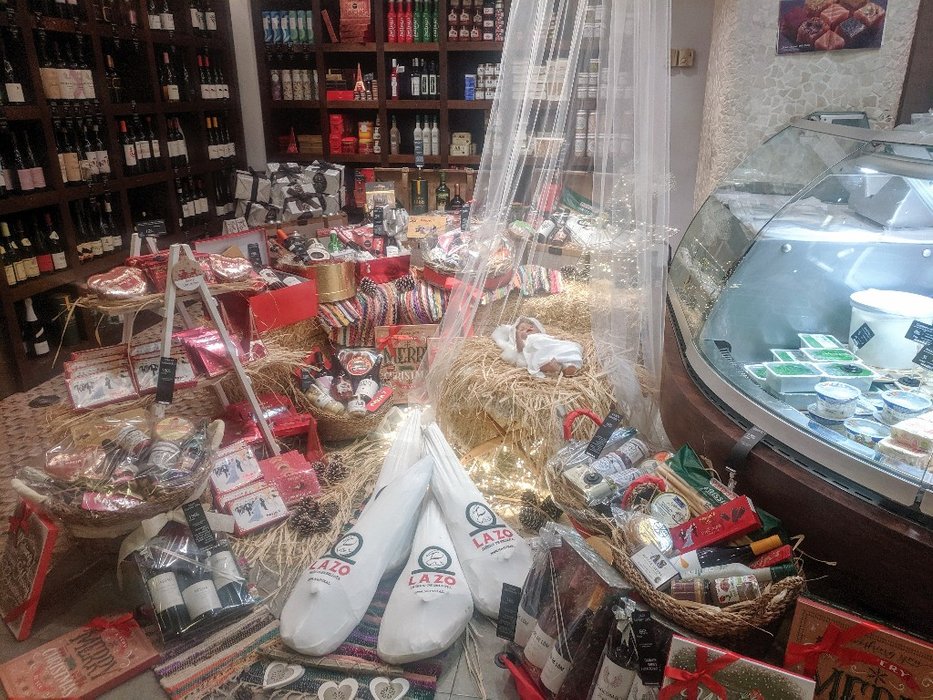 Quite a festive display of ham, wine and cheese!
After all that walking we returned home for lunch and had a siesta afterward. Looks like we're fitting in the Spanish lifestyle just fine! There were more things to see but we decided to leave it for when we cycle out of Valencia.