This is part two of our travel in Venice. Please check the first part before continuing.

As we were…
The
Bottega Veneta Department Store
is located by the Grand Canal where it bends 90°. This offered a great position to view the canal from the rooftop… for free! We're glad our friend Philip knew so we could go there early in the morning to make a booking – now we can share this secret with our readers! The viewpoint is accessible on the top floor but you must arrive only at the booked session. There's a limited spot per session to avoid overcrowding at the viewing deck.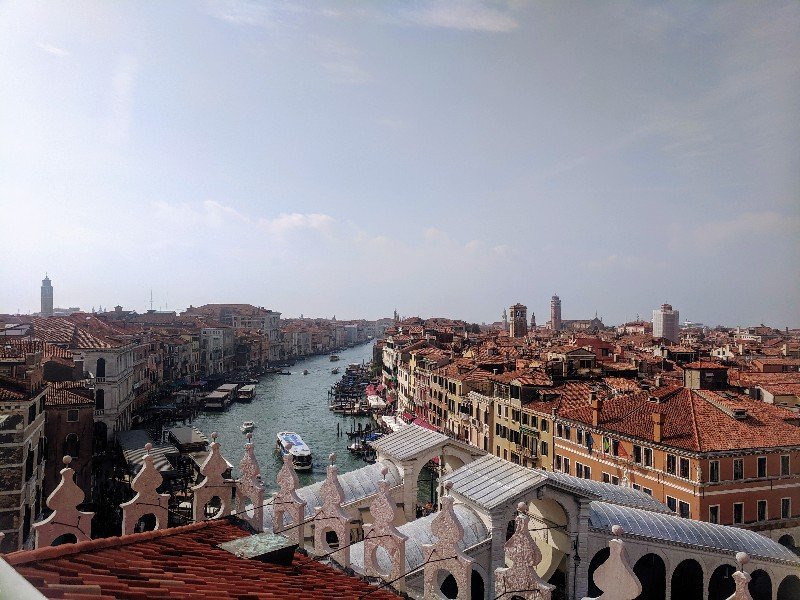 Piazza San Marco
The biggest square in Venice is the Saint Marco Square. It is an extraordinary big open space. Crowds of tourist taking photos from every angle. It was incredible the grand scale of detail, sculptures and money. Venice used to be a powerful and rich navy city in the Eastern Mediterranean region. All that money and power can be seen here in the square.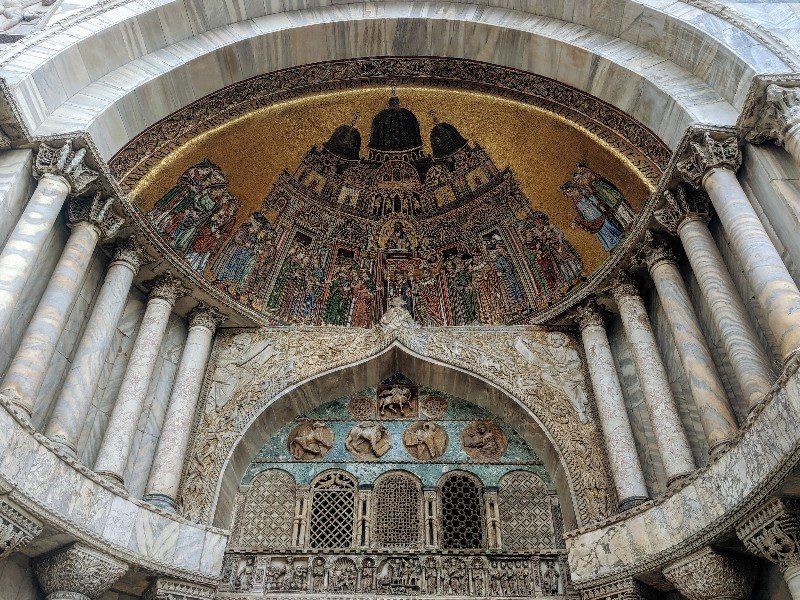 Everything is finely detailed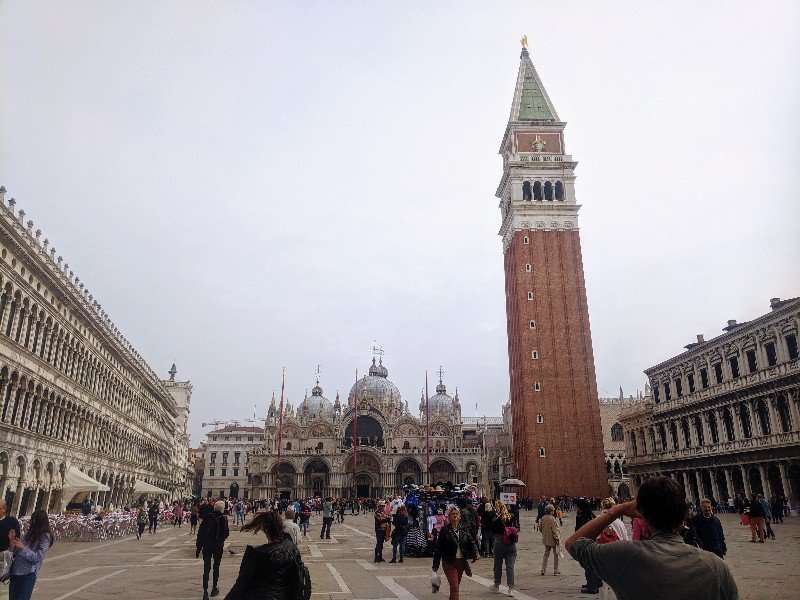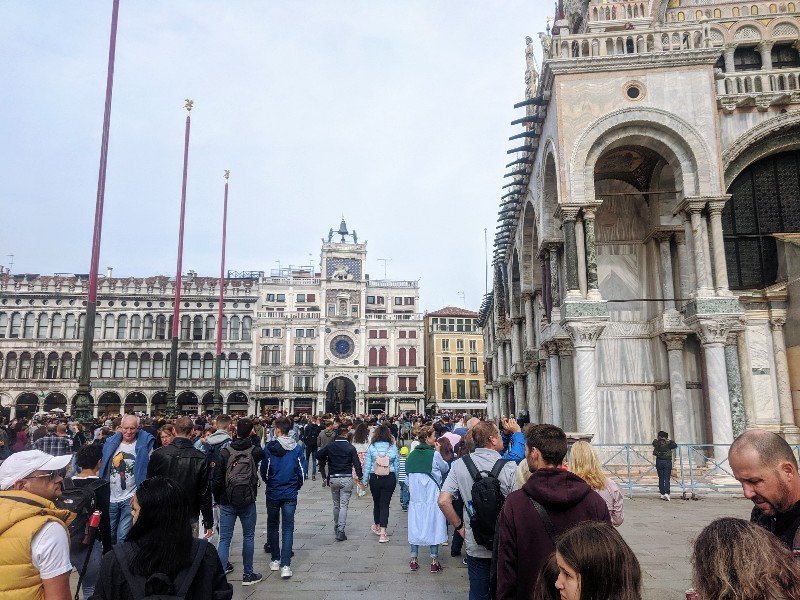 Lining up to go inside the main cathedral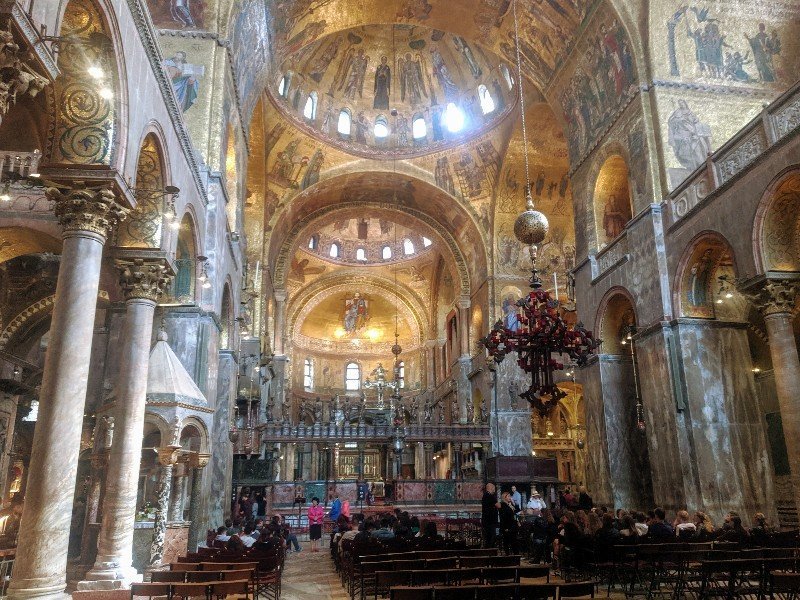 Whilst looking around here, we took out some snacks from home to enjoy: ciabatta and chocolate. We prepared this knowing that food will be expensive here. It was a snack we learned from other Italian cyclists on the road, but the exception now is the really good bread and chocolate.

Local snack
We got a little hungry but didn't want to eat at the restaurants so Philip suggested we visit a classic Venetian bar/cafe called
Bacarando in Corte dell'Orso
. It was difficult to find because of the winding roads but eventually we got there. It was a cute little bar with bright colourful decorations. The food cabinet was beautiful, colourful and looked delicious. Philip recommended a local snack called Fried Mozzarella. The yellow fried snack had small amount of anchovy to give a hint of salt. Other option is with salmon if you aren't a fan of salty fish. It was €1.50 each and thanks Philip for the treat.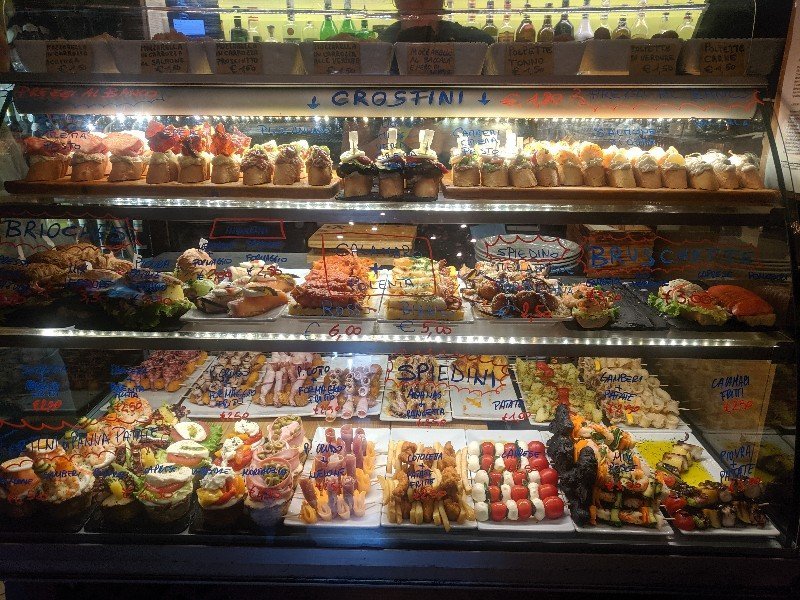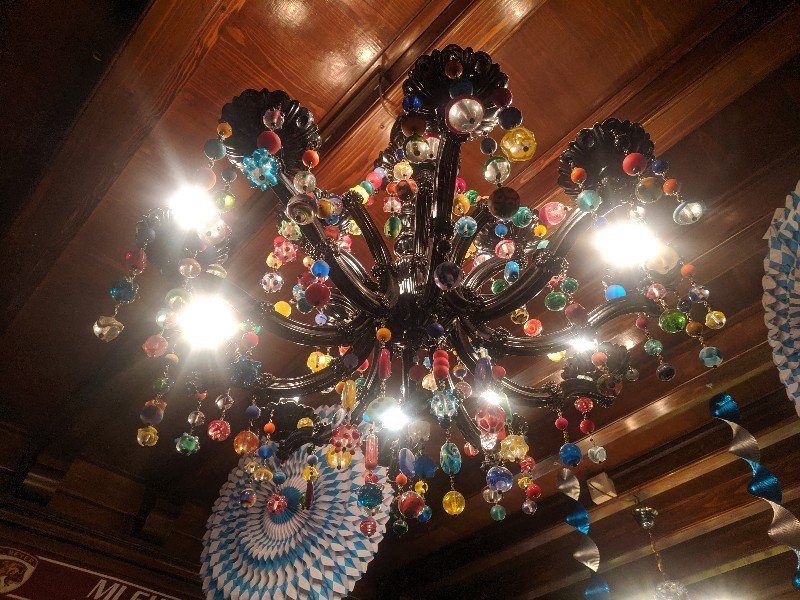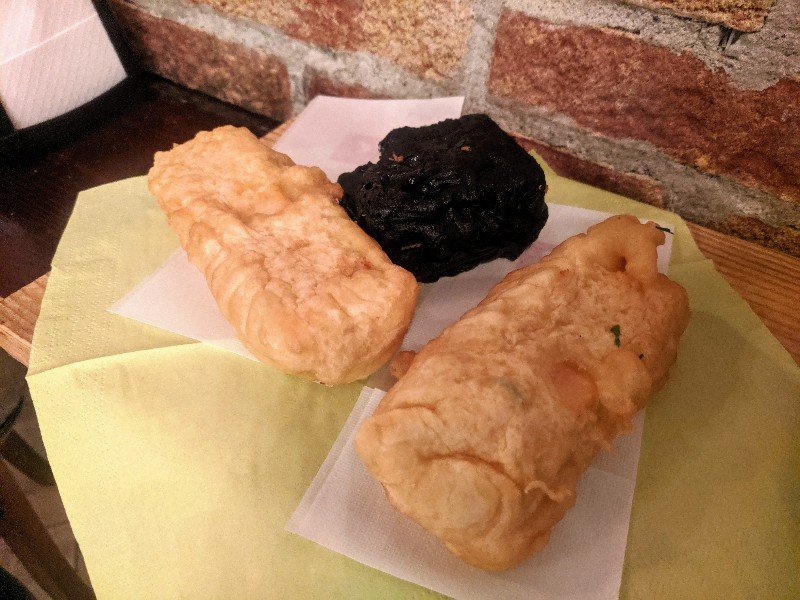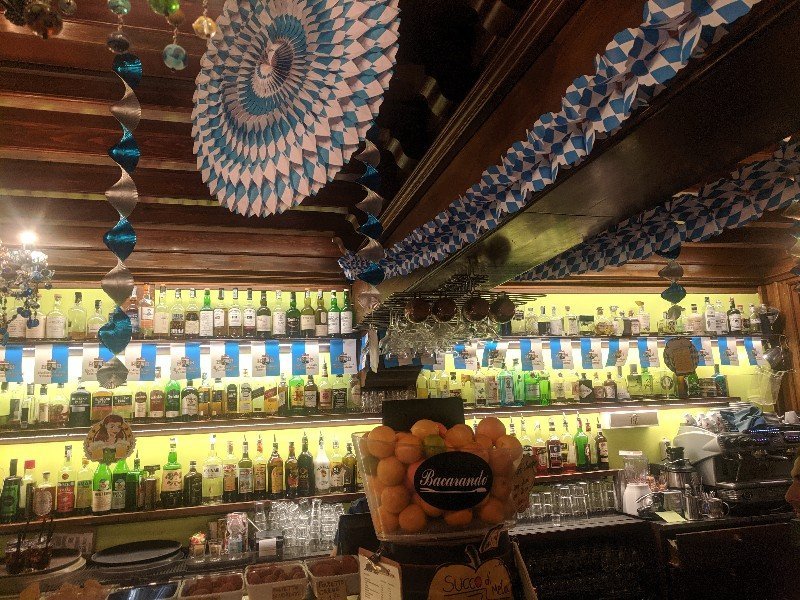 Bookshop for bookworms
Our next stop was a local bookshop crowded with books and boats.
Alta Acqua Libreria
was the shop's name, so in Italian "libreria" means
bookshop, not library! They had a cool setup at the back with stacks of books forming stairs to a nice view of the canal.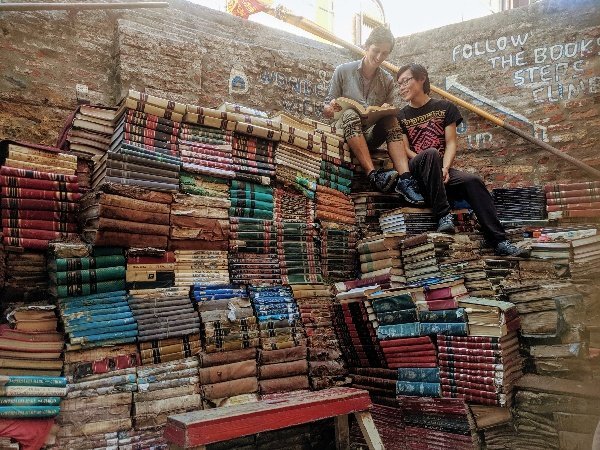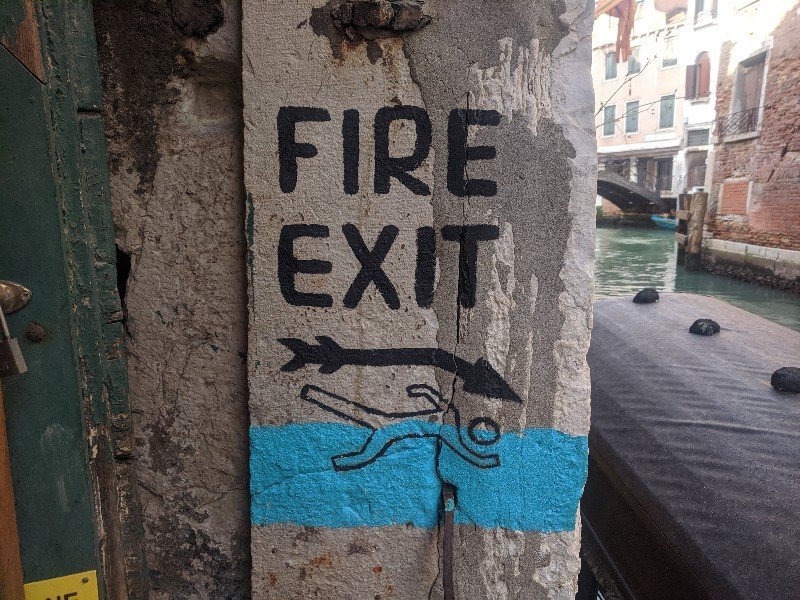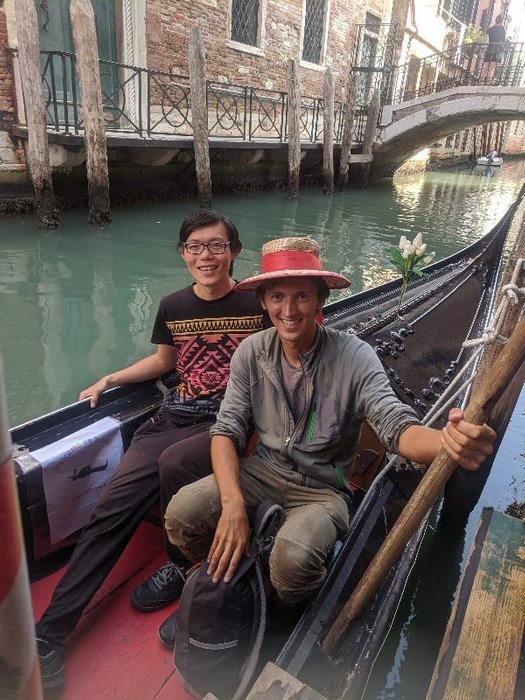 Just when we thought we could never afford to get on a gondola, we saw one at the bookshop just for photos! We waited in line and snapped a few photos together. Our experience here in Venice is complete!

Another visit to the supermarket
There was an exhibition being held above the supermarket, it was called
The Hillary Clinton Emails
. We returned after they reopened from lunch break to check it out. Quite a simple and small exhibition - we thought - not many people were there. The best part was the view of the supermarket from the internal balcony. It was strange (and funny) to be "appreciating" a supermarket like art.
Teatro Italia from above

The Clinton Emails exhibition
Back to University
In the afternoon, we went with Philip to see his university and explore the non-touristy part of Venice. It was a breath of fresh air because there were spaces on the walkway again. We got to see the way Venetians actually lived in this canal city. Quite a unique way of life compared to all the different villages we have seen on this trip.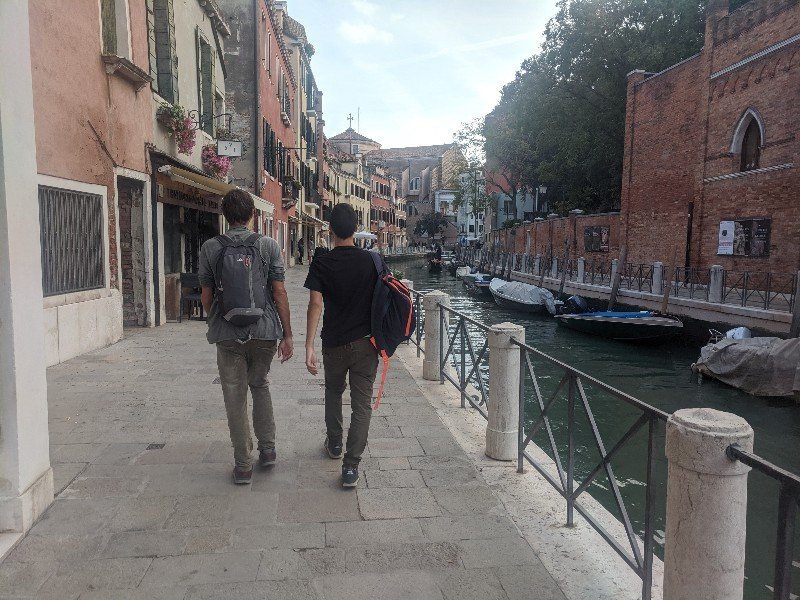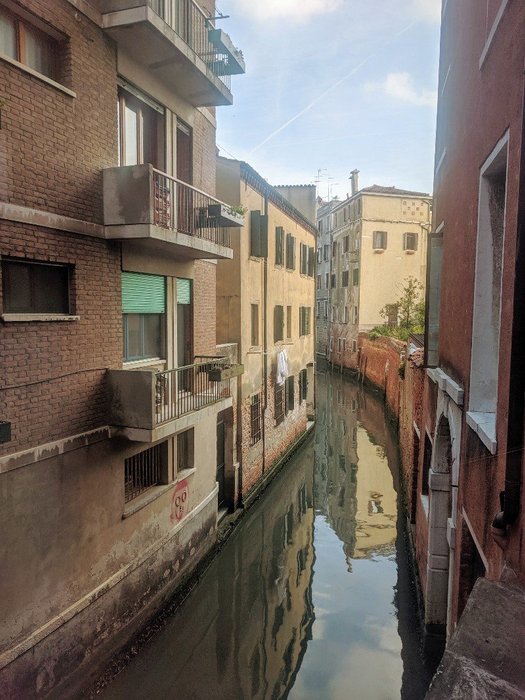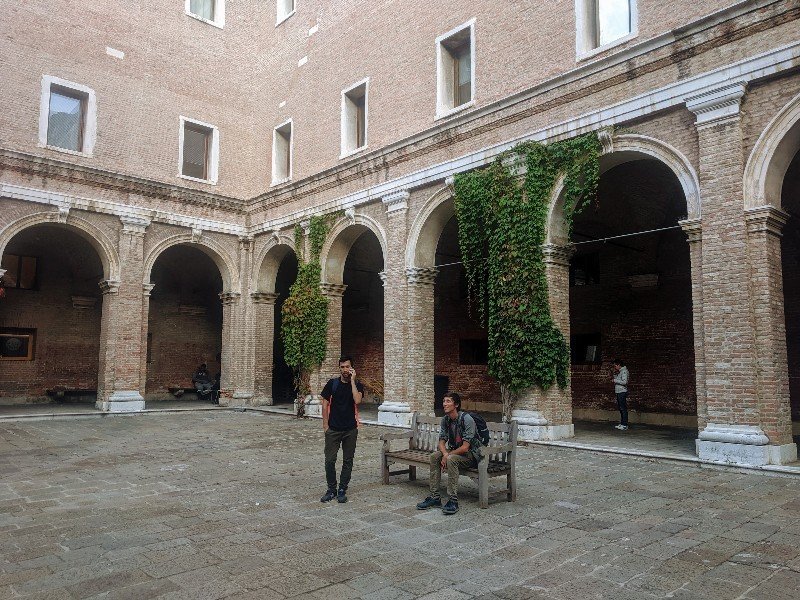 After a busy day it was time to get home. Luckily the University was close to the train station so we managed to buy the tickets, validate it on the little machine and hop in the train with a few minutes to spare. Our day in Venice had been amazing.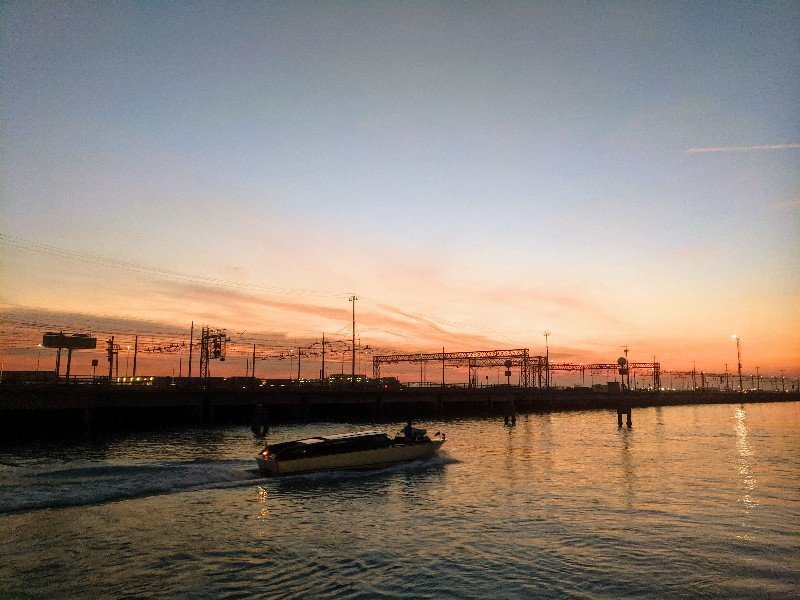 Special thanks to Michael for hosting us in Treviso and Philip for showing us around in Venice.