Hi all Steemians, here is my recent trekking around rice field in Jatiluwih Village.
Jatiluwih is a village in Bali where you can see hundreds of hectares of rice field terraces. When you stood in the in the rice field in Jatiluwih, you could see only rice fields terraces everywhere you look. It's a 360 degrees view of great scenery of rice terraces.
It is easy to navigate your way in Jatiluwih. From the main road, there is a paved road that goes through the rice field. In the past, this was solely a route for transporting harvest, and a way to bring or transport cattle (mainly cows) to the field.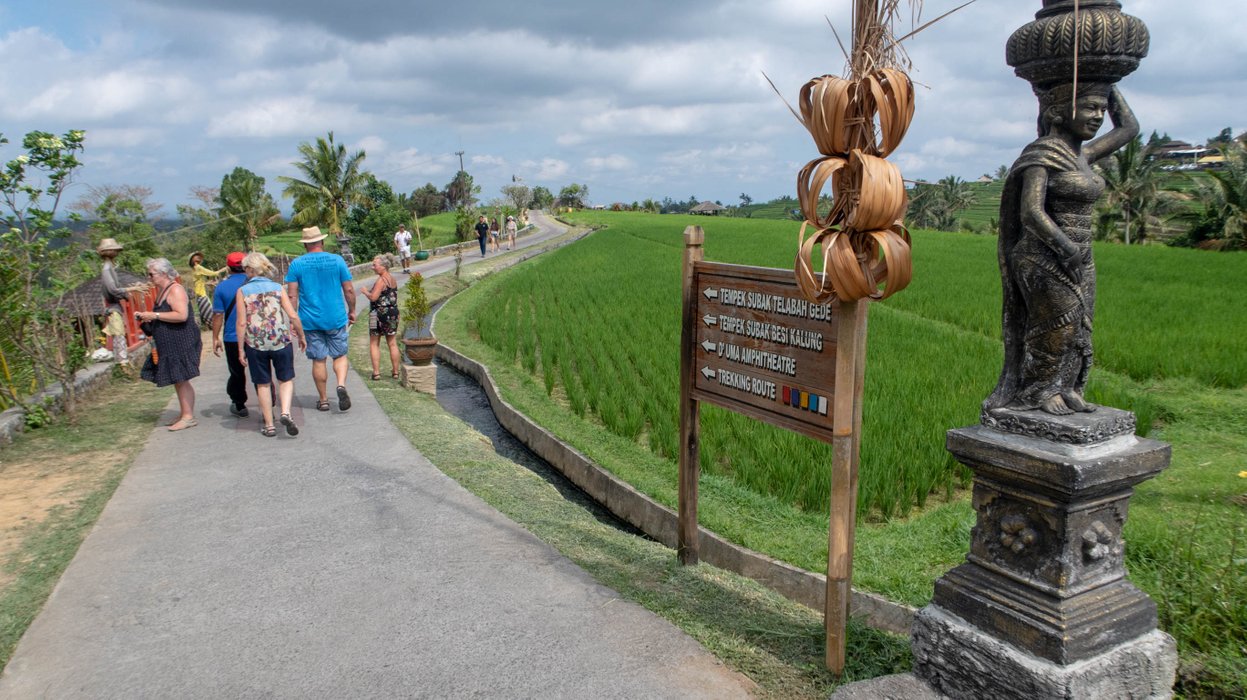 The road toward the rice fields.
Nowadays, the road has been paved that it is easy for visitors to walk on. And even there is a building at the beginning of the road which function as tourist information service. People can ask information about trekking condition, where to go, or other question, even to ask about general climate and temperature.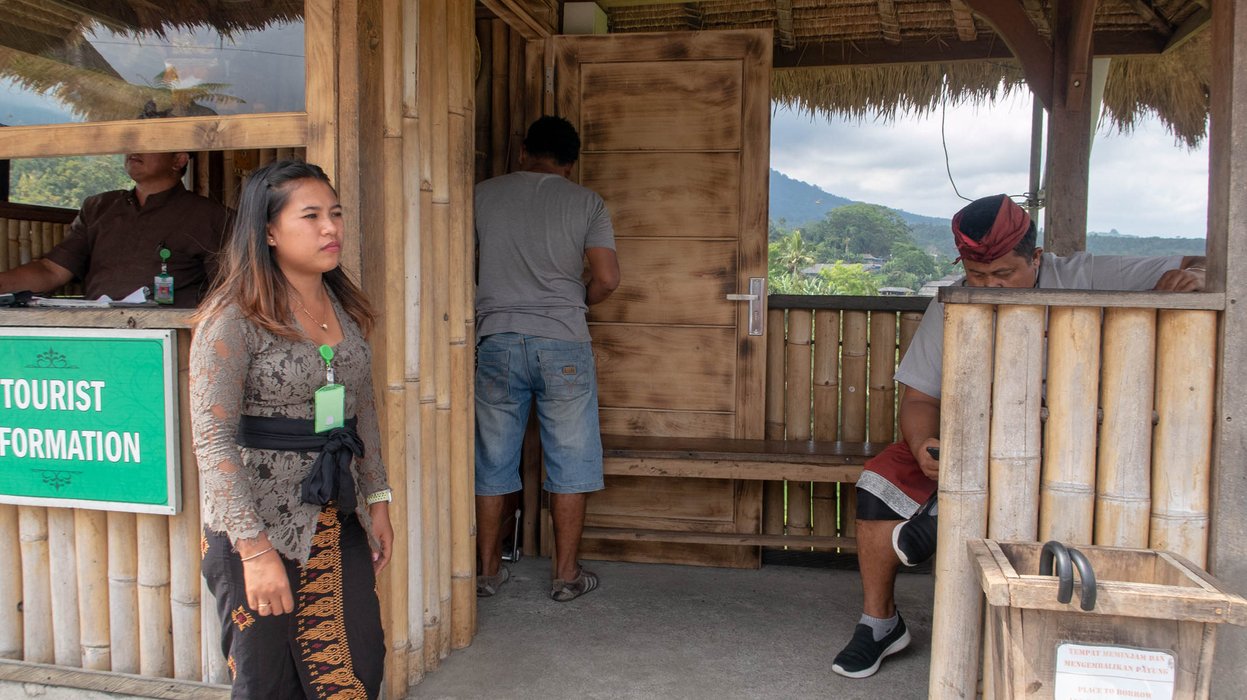 A lady standing in front of tourist information service.
What I really like here beside the view is also the temperature. Being 700 meter above see level makes the temperature never really goes more than 20 degrees Celsius. So, it not hot for people to walk or trek on the rice field.
When I was there, I started walking around 11 AM. It was nearly midday, but the heat was not that strong. Especially because there was breezes frequently flowing in the air.
Walking pass the tourist information service, I could see a map showing tracking route to follow there. I chose the shortest trek which only take an hour or so to complete. Longer track required up to 3 hours or more.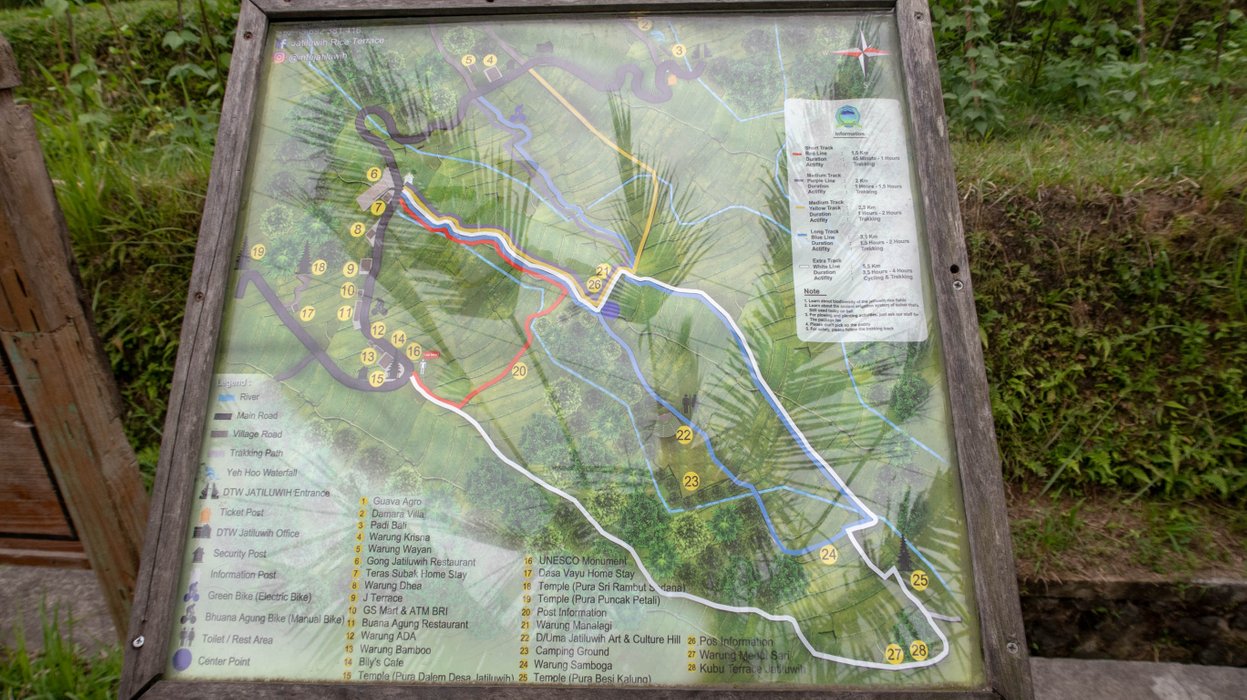 The map showing trekking routes.
As I began walking the trek, I already was able to enjoy the beautiful view of the rice field as far I can extend my sight. Jatiluwih is a Balinese words which means real beauty. Who have thought such a name for this village in the past? Probably that person was inspired by its beauty.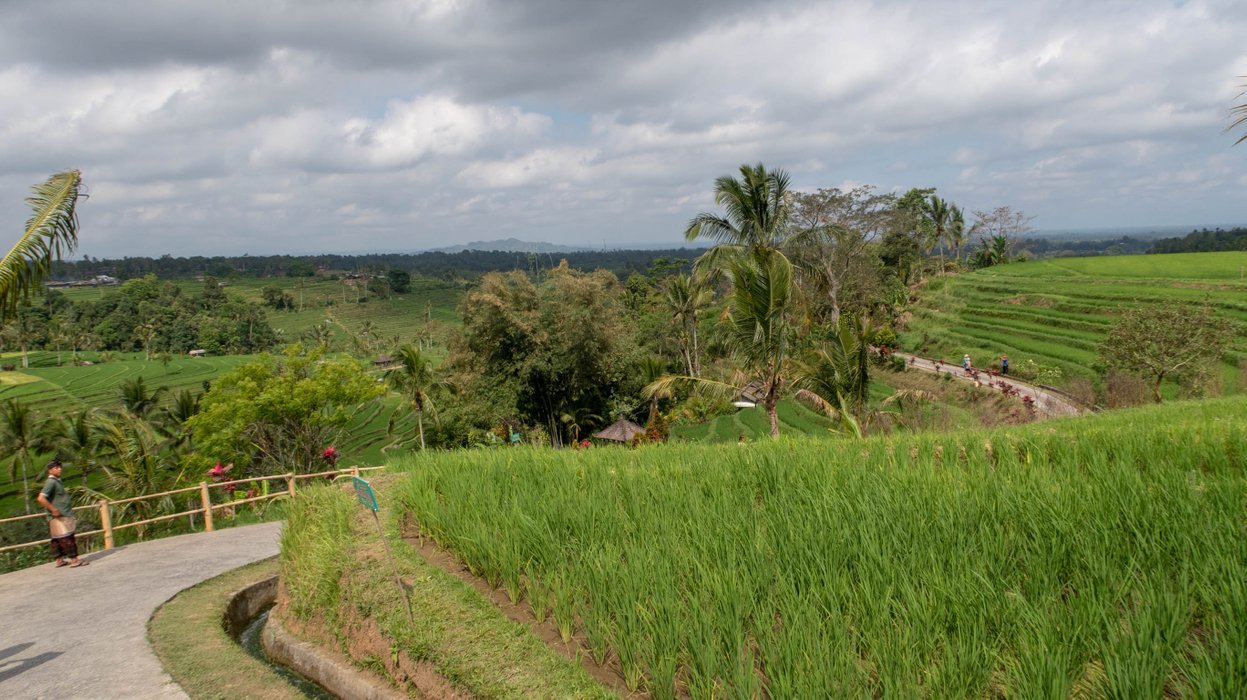 This road in the past was mainly used by the farmers, for example, to transport their harvest.
These farms are owned by not just a single individual, but a lot of farmers. And to maintain these gigantic rice fields is no easy task. That's where the traditional organization, the Subak, plays its role.
All the farmers in this village are members of Subak. It's a social, professional, and religious traditional organization that ensure the well being of all farmers. The Subak regulates the water distribution, and arrange the planting schedule.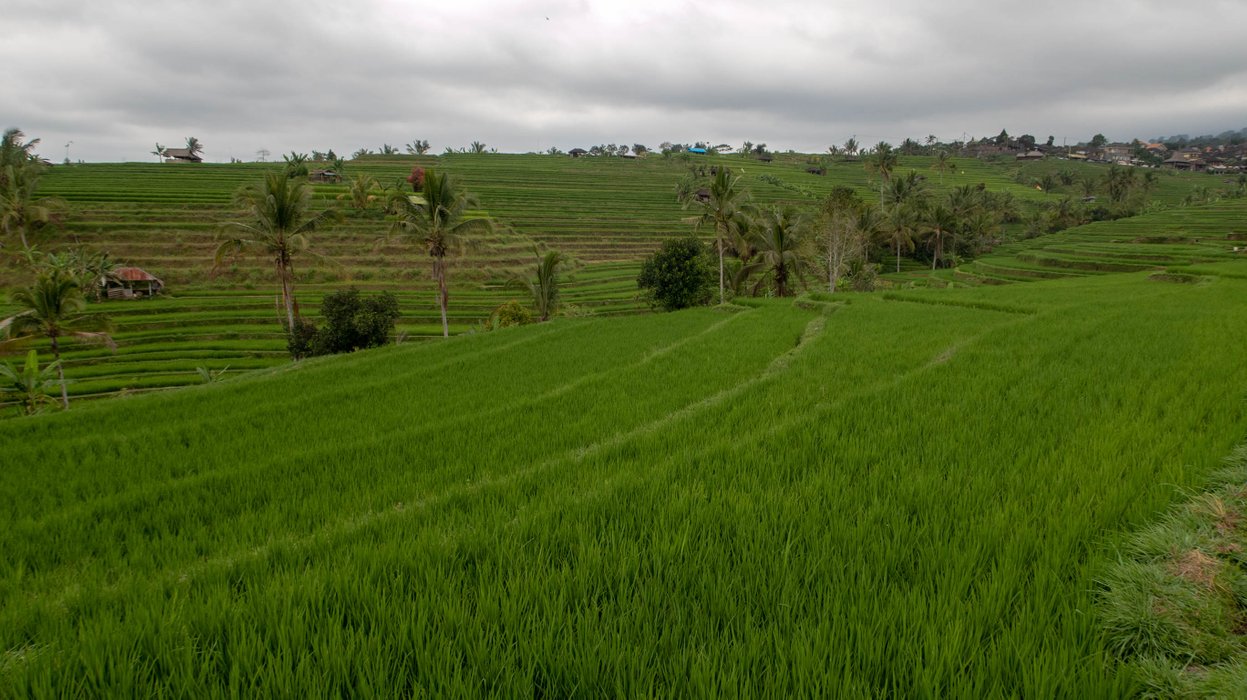 It's rice field terraces view everywhere you look.
With this ancient technology, the Bali farmers have been able to create beautiful rice field landscape, and manage their farms effectively. And for an appreciation, Subak system has awarded as THE UNESCO cultural heritage.
After walking for about 15 minutes, I arrived in a T junction. In the middle of this junction was a bamboo woven statue of Dewi Sri, the Goddess of rice.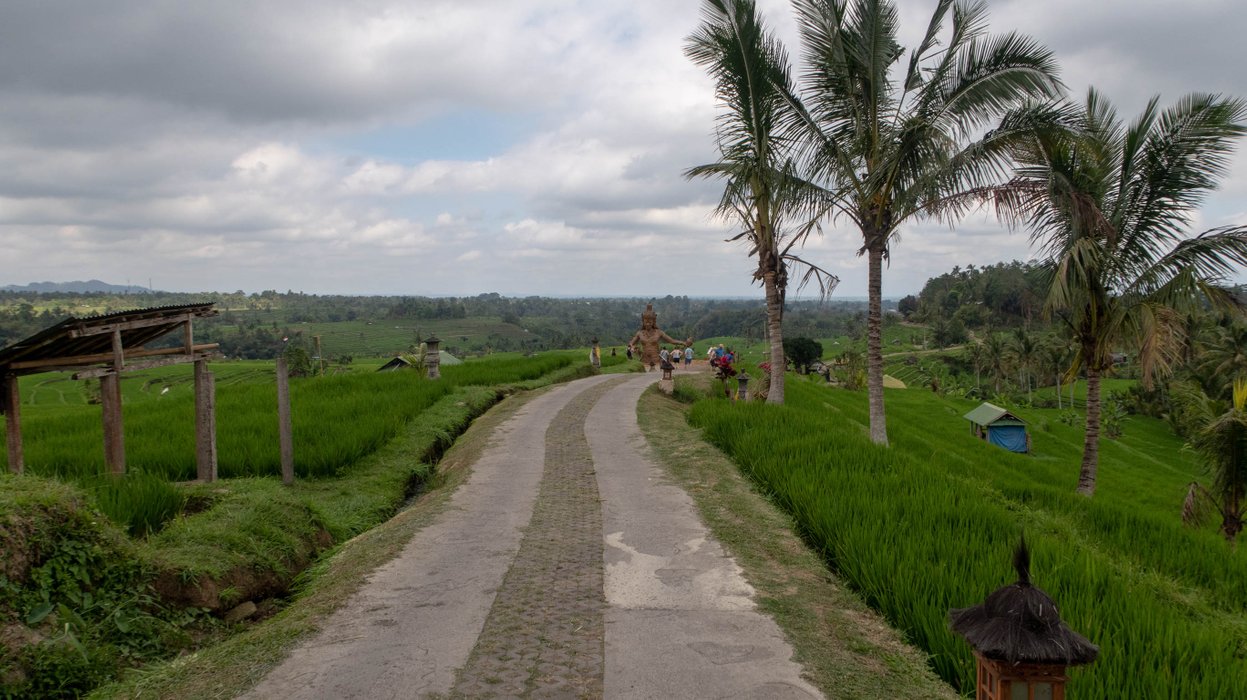 The Goddes of rice is at the end of this road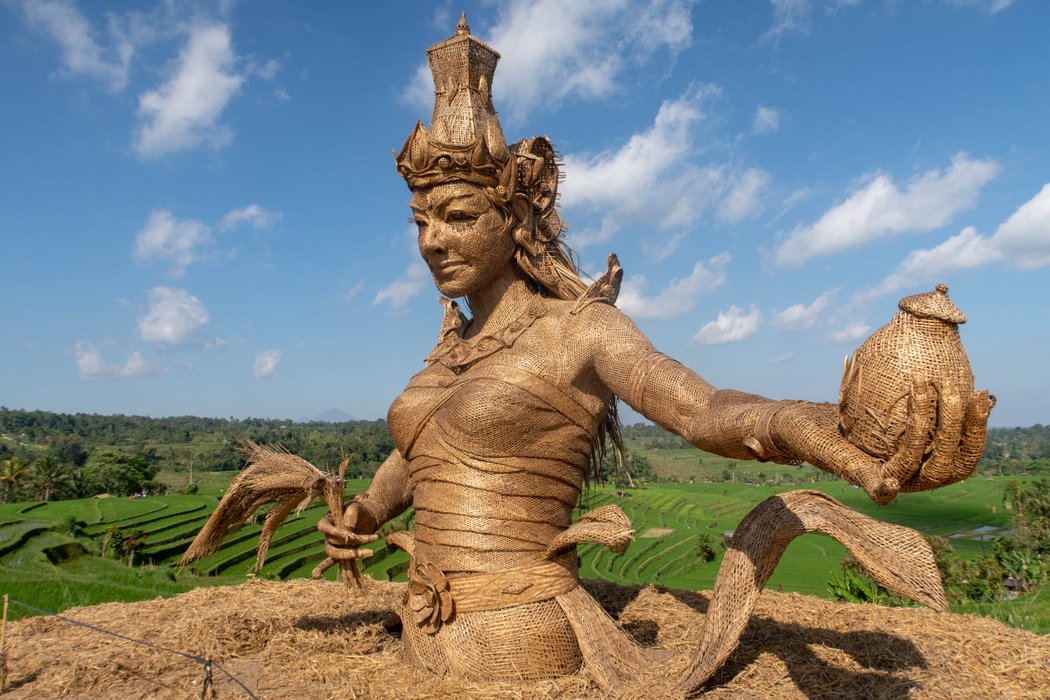 Photo of the goddess I took earlier when it was not so cloudy
Every farmer in Bali has a little shrines or temple in their own rice field to worship The Goddess of Rice for good harvest.
From the main road after seeing the Goddess rice statue, there is a paved path in that goes into the rice field. This path is narrow that only one person can walk on it. If you are with a group, you need to walk one by one on the path.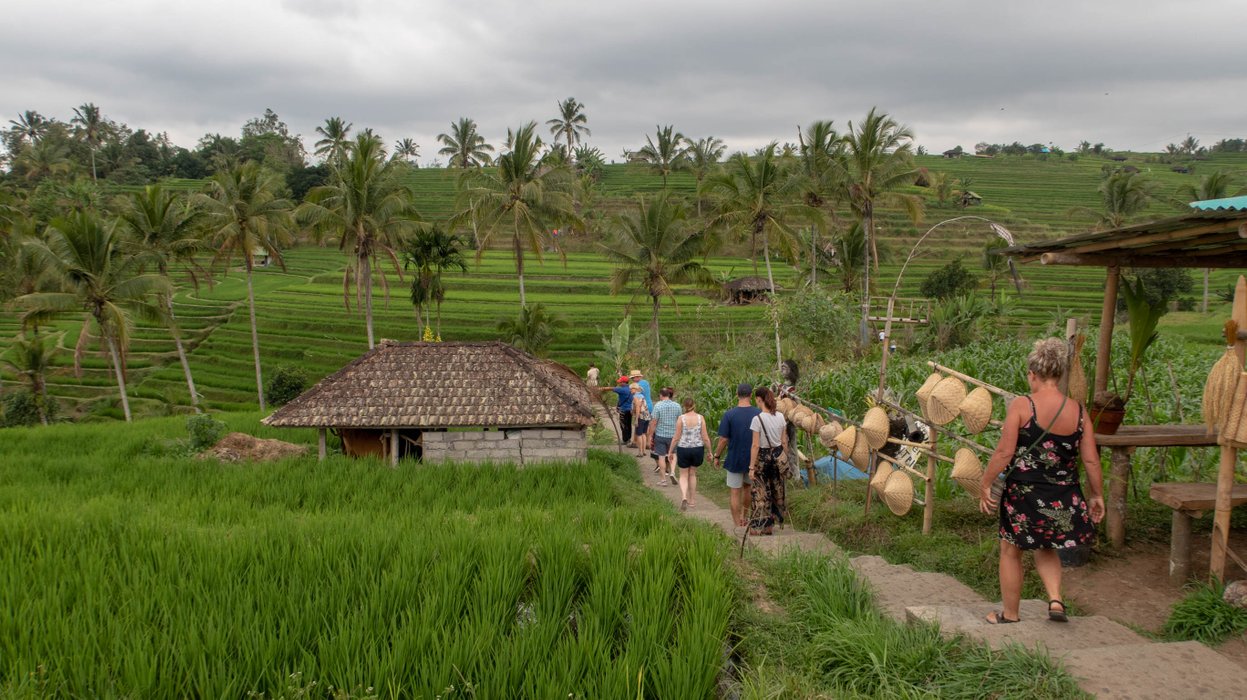 Walking to the little path between the fields.
From this path, you can get a closer look of the rice field. You will pass the cow barns and see them resting comfortably in their barn.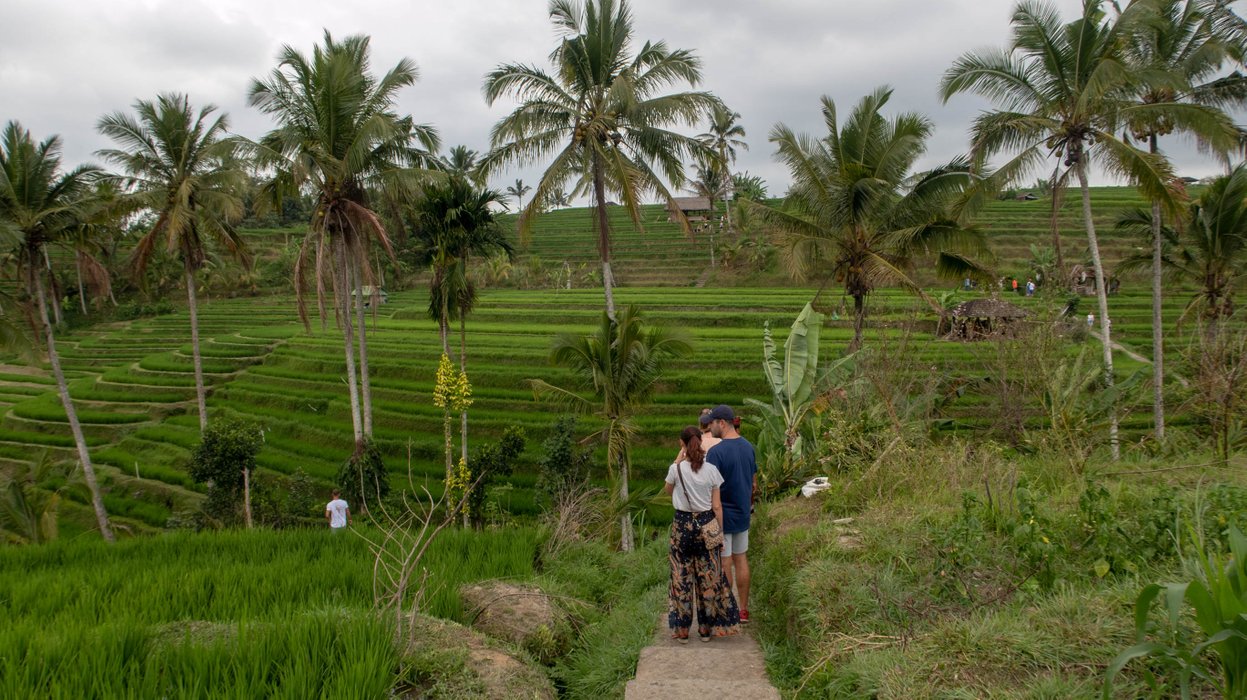 The path is narrow, you need to walk in a single file.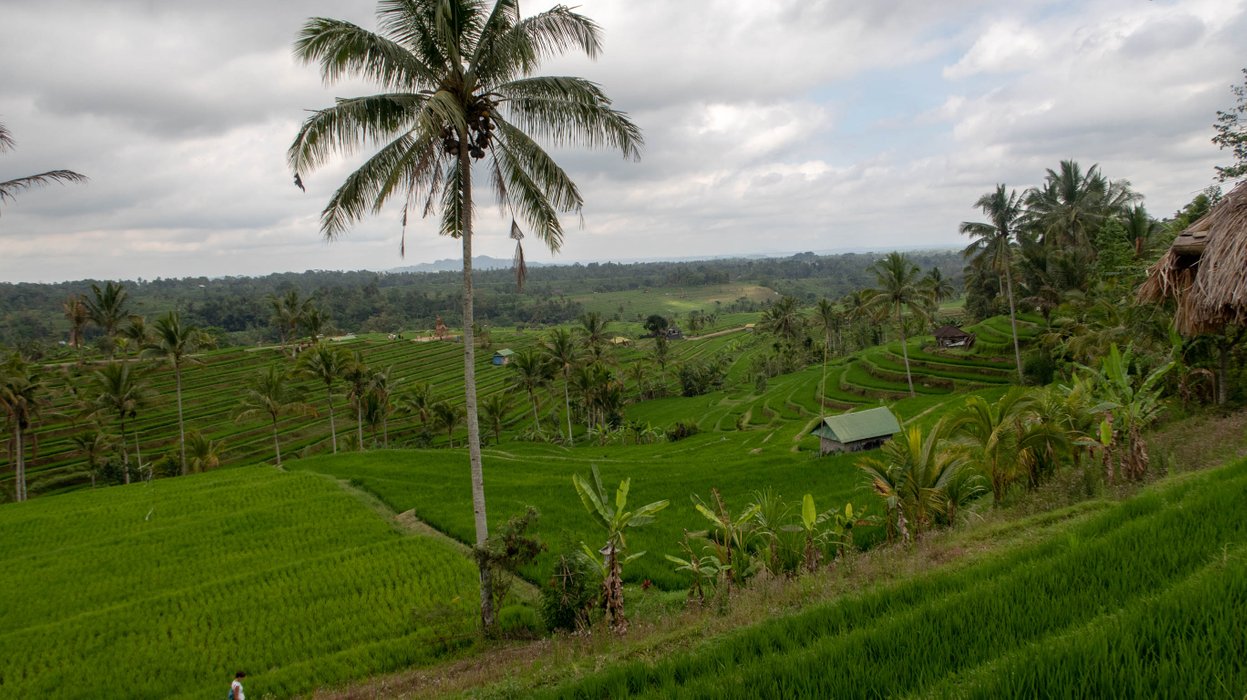 From the path, I could take more closer photos of the rice terraces.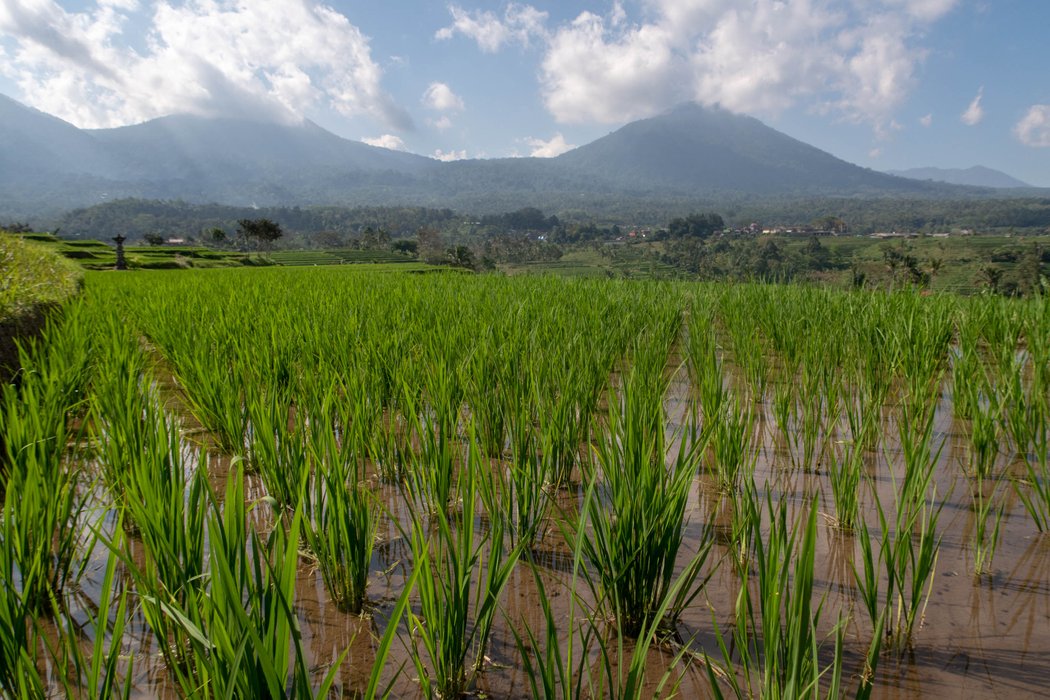 It needs a lot of water to grow rice plant as you can see here.
Pass the little path in 20 minutes, I was back again in other main road that lead me to bigger road where I started before. While walking on the road, I saw a shop own by a local who sell rice. I had a look at the different type of rice available. There was also a guy who brought grasses on his motor cycle to feed his cow.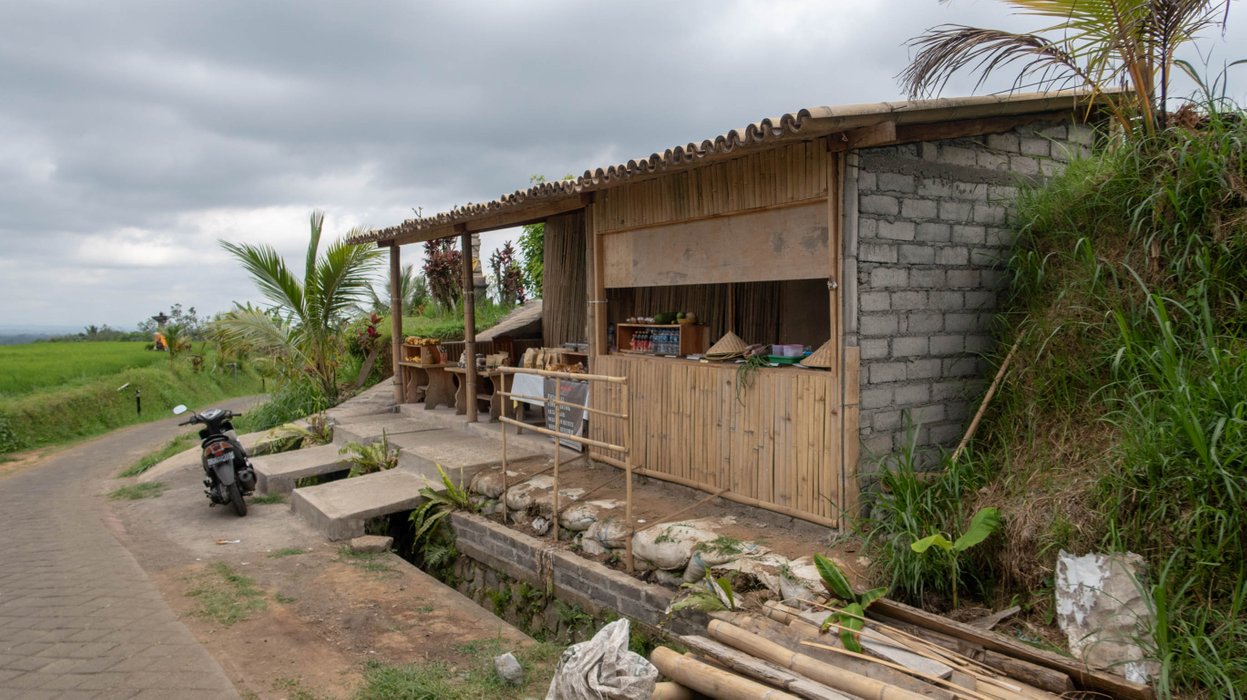 The shop by the road selling local products.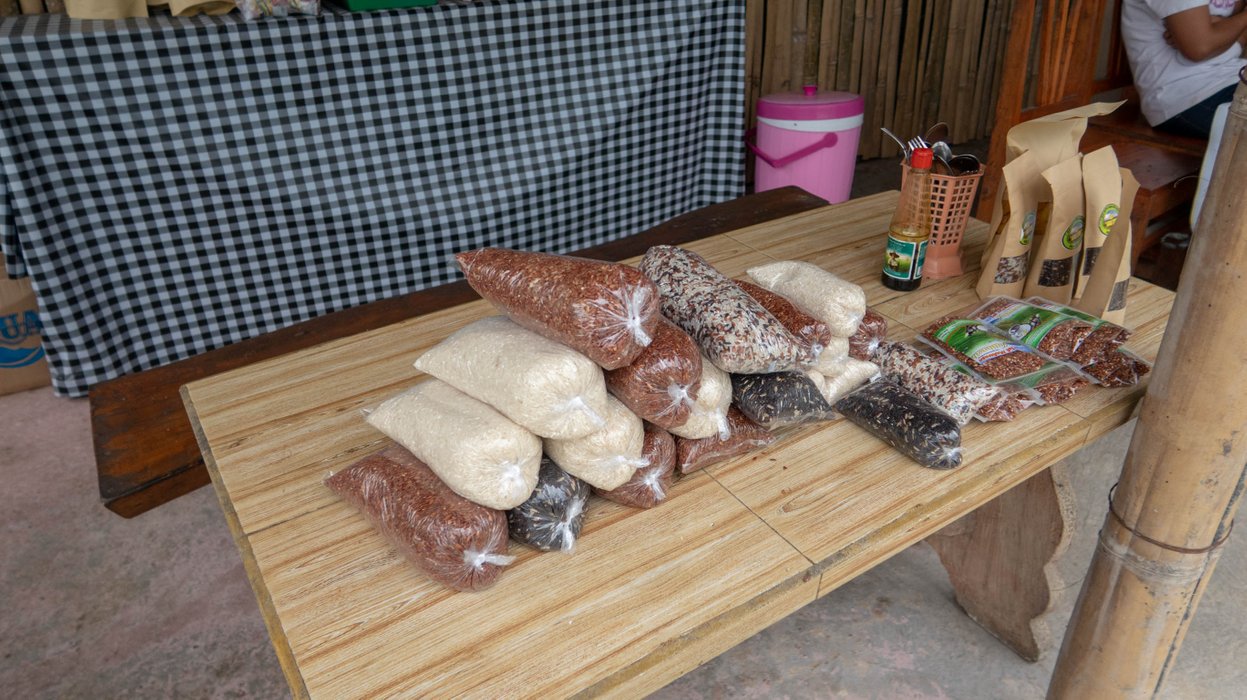 And in a closer look, brown rice, white rice, black rice and mixed black and white wrapped in plastic bag.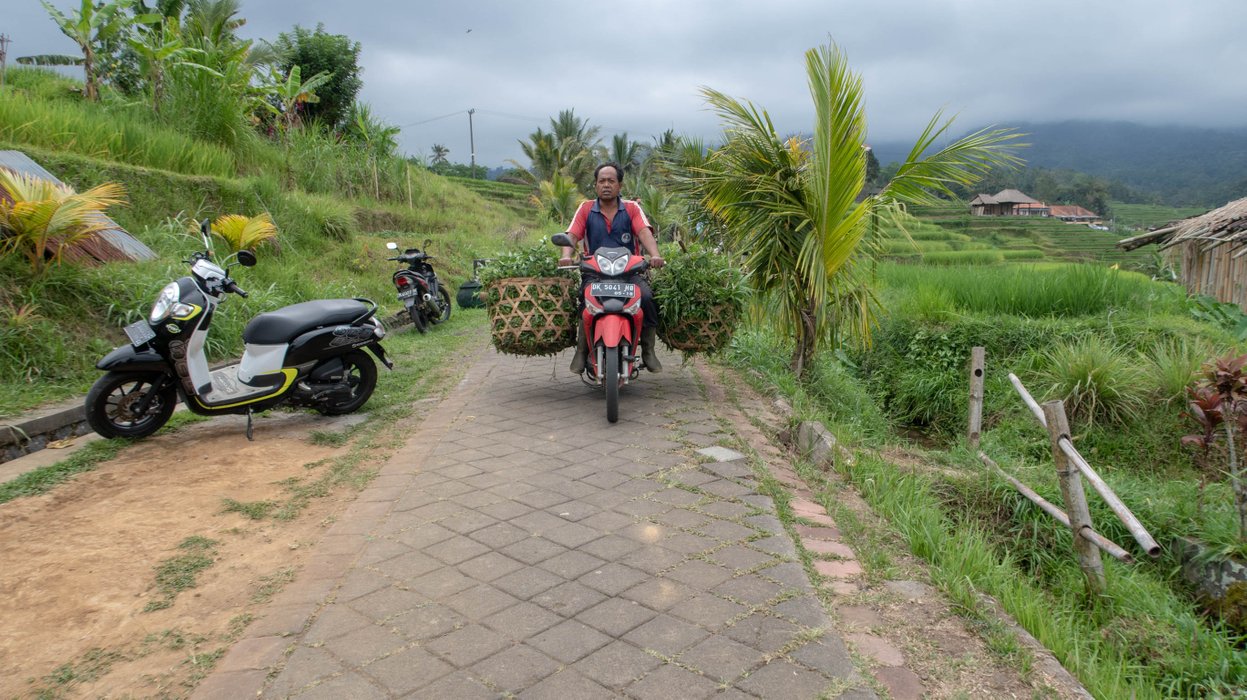 Watch out for motor cycle, ladies and gentlemen.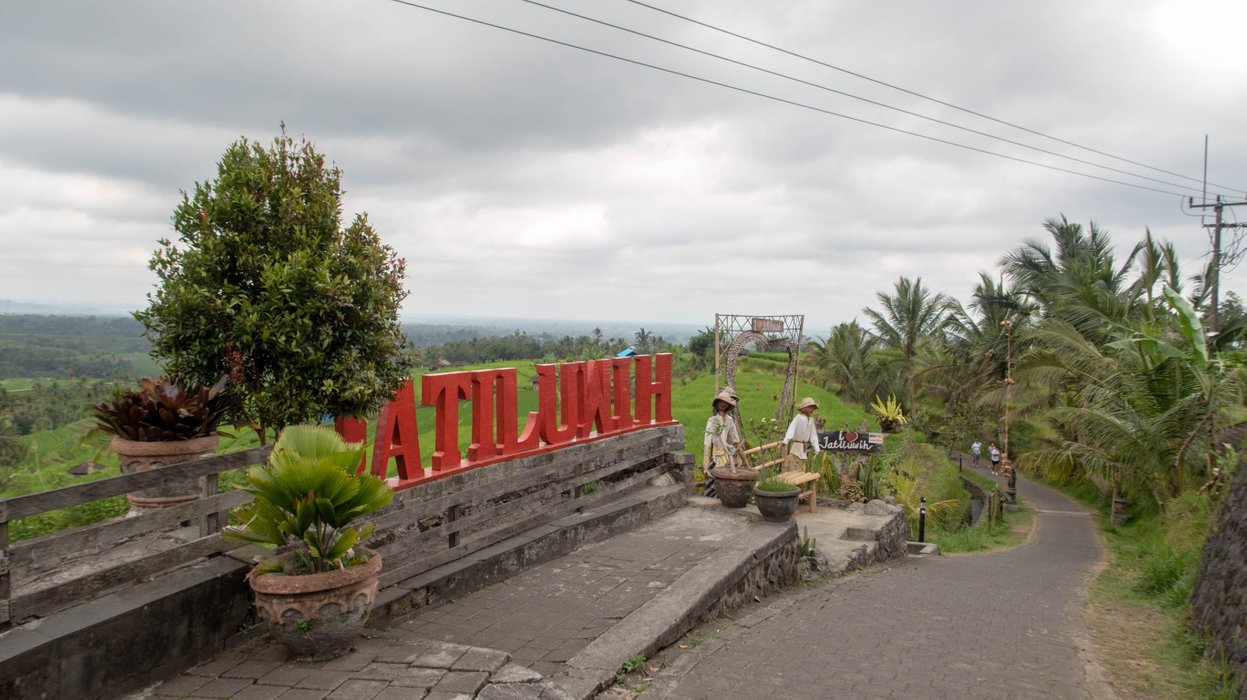 Back to main road, where I could see a photo stop where visitors can take photo with the name of the village in red concrete letters.
And finally I was back at the main road. And a few more minutes more walked I arrived in where I started.
And that's conclude my story about beautiful village called Jatiluwih. Thank you for reading. If you ever visit Bali, please come to this village to enjoy its beauty.