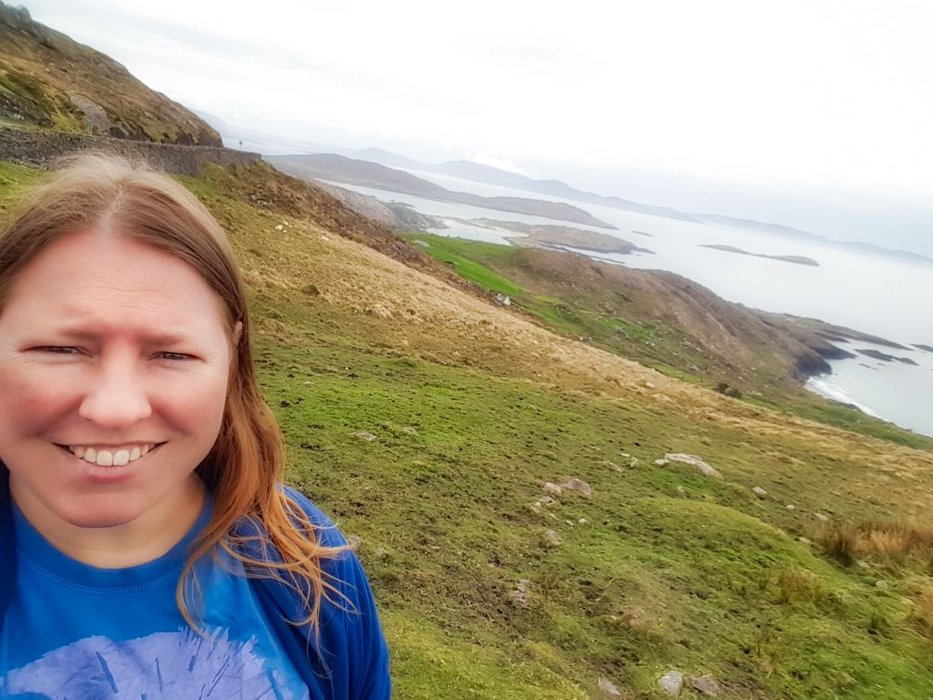 Note to self: practice relaxed selfie face.
You didn't think I was finished sharing my Irish adventures, right? I can't believe how much of Ireland I have seen in such a short amount of time. In this post one of the most obvious things that you do when paying a visit to Ireland: The Ring of Kerry
Let's refresh your memory a little. It was Easter weekend last year, and I decided to spend it all in Killarney and explore the area from there (with a little help from some day tours). A day earlier I visited Dingle Peninsula and I was still feeling overwhelmed with the unexpected beauty of it. I know that this is always a bit of a tricky situation because it will be unfair to the new experiences that need to leave a good impression too in a head that is still in love with what she saw the day before.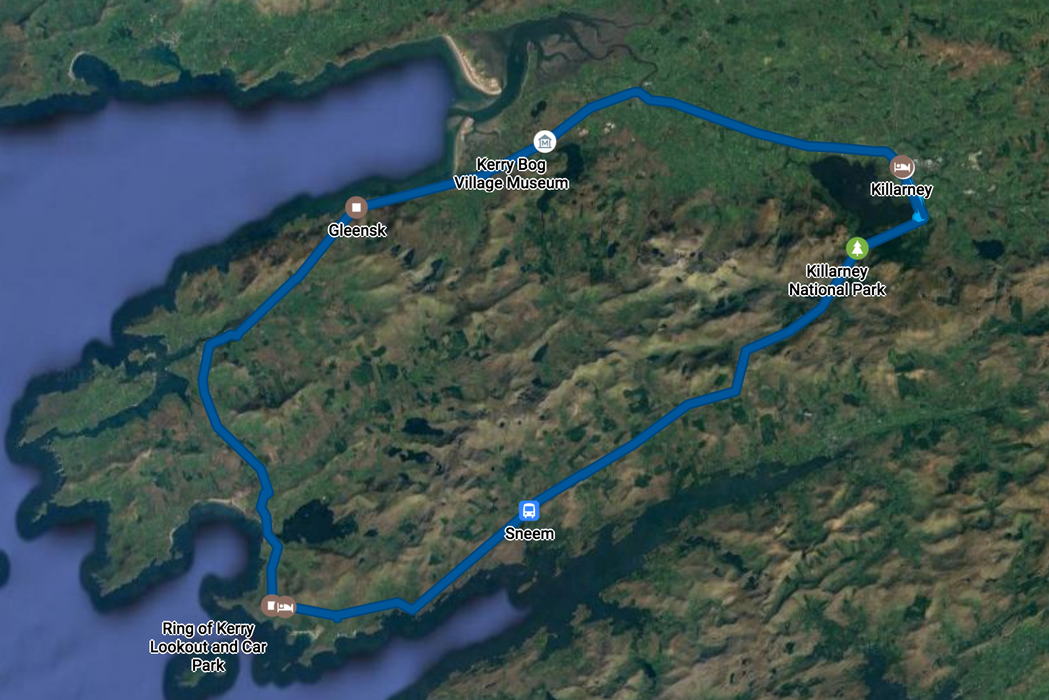 The (and my) Ring of Kerry route
So check out the above route. We will leave Killarney (East) and explore the peninsula counter-clockwise. Feel free to do that in the other direction, but don't complain when bus drivers threatened to kill you multiple times along the way. It doesn't make sense to me why the direction is counter-clockwise because the best views are then always on the other side of the road. And quickly parking the bus at a lookout point will be more challenging this way too... But who am I?...
We first lost a lot of time somewhere in a parking lot where all the different bus drivers decided to get their morning coffee and breakfast. It probably had to do with that there wasn't a lot of traffic and we were bound to arrive way too early on our first piece of entertainment, that day. So the driver told us to explore the Village Museum (WHY!!). I got myself a sandwich and took a photo of the inspiring landscape to not ever forget I was here...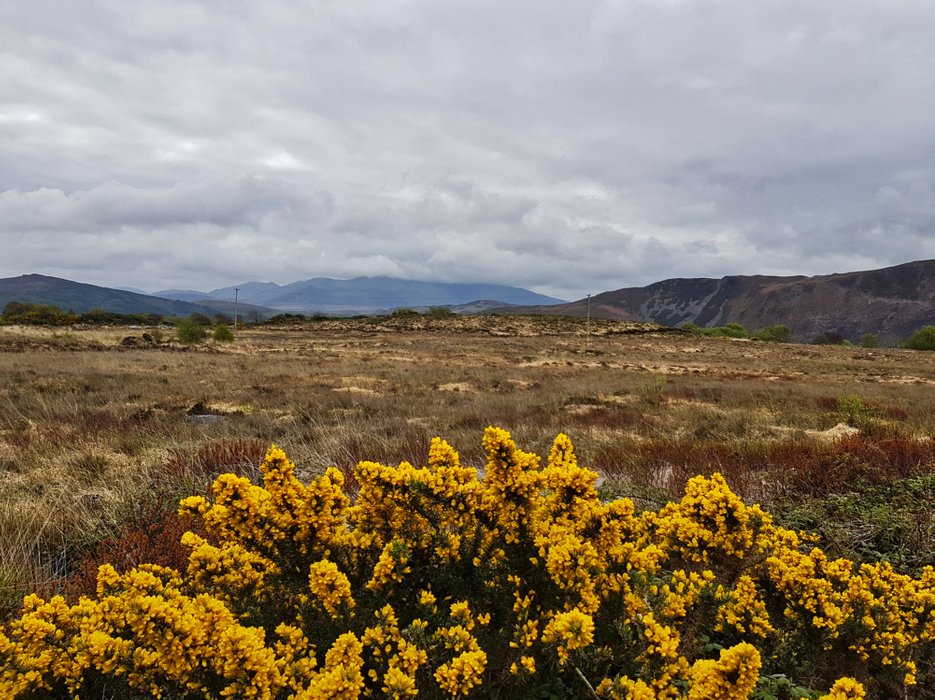 Doesn't look that bad though
How to train a sheep...uh, dog...
But we were not there to take pictures of yellow gorse (They probably wished we would take it home with us or just burn it). We had a date with a shepherd!
We noticed a pretty large crowd when we walked up the hill to enjoy the show and by then I started doing the math... This guy wasn't a shepherd anymore! With this amount of money coming in every day he was just an actor doing a trick! He has no time to even go send his sheep to the mountains!! And absolutely no need for it either. His house looked old, but I bet it was Trump-gold on the inside!
Anyway, I was there to see the show. The sheep were so well trained that the man was able to make the sheep introduce themselves to us one by one. That was a very fun way to get to know the different breeds of sheep. All he needed to do was wave his walking stick a little and they knew it was their turn.
The next part was the actual herding show with the dog. A small group of sheep were guided through the field by the dog. It was amazing to see how fast and focussed the dog was. He changed speed when he needed, he managed to keep the group together. And that all by himself! The hill was sometimes a bit rocky and steep and I was afraid that the sheep would get hurt at some of the speeds they were running downhill, but everything went well. Very fun to see something like this in action and a perfect uphill podium to make that visible!.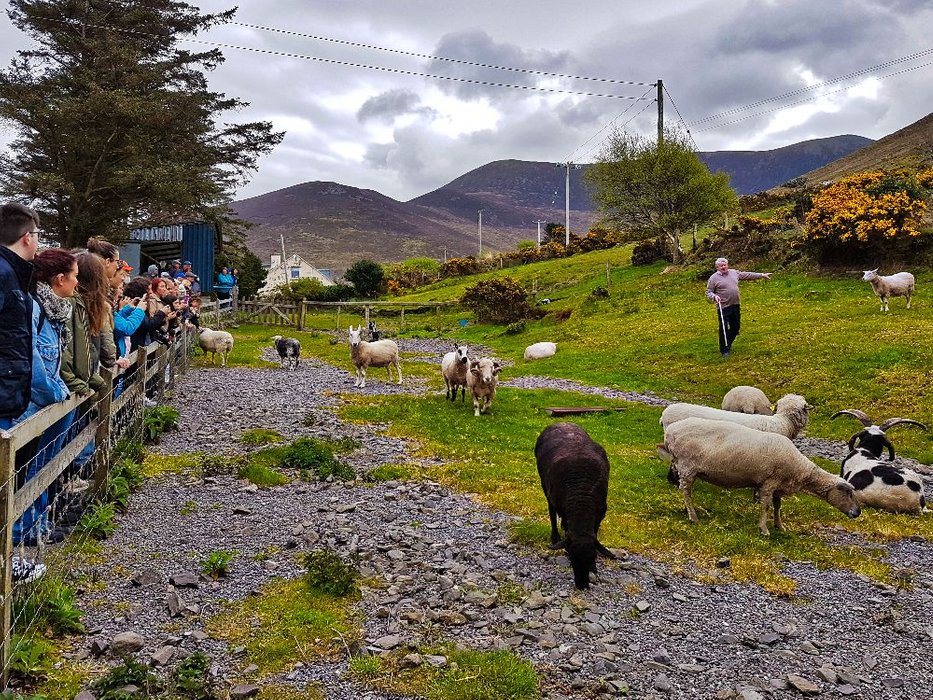 Introduction of the sheep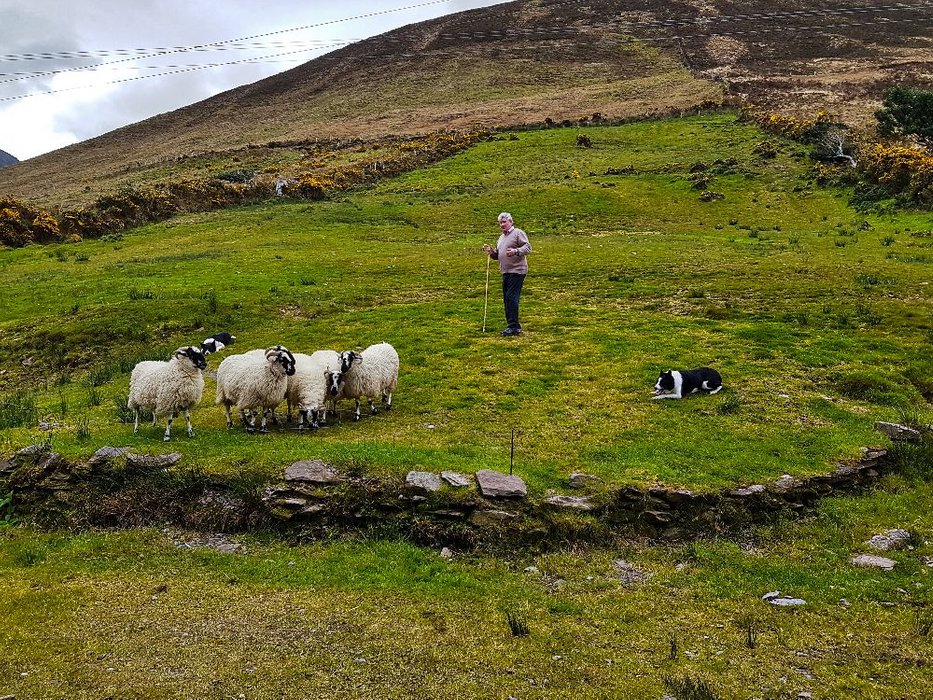 All of the greener area is the herding show stage
---
Amazing views, but somehow ruined by the day before...
After the show, it was time to see the views of Kerry. Since it is such a famous drive in Ireland, I expected the world. Every so often the bus would stop so that we could take photos of the scenic views (the smaller view photos should be clickable btw).
The weird thing was that in Dingle, the landscape was so diverse (also because of the route) that every corner there was a different view. That combined with the impressive cliffs you would drive past, it was hard to top. Kerry also had some gorgeous views as well, but it was all less rough and intimidating. There were hardly any cliffs, just a ton of rocks in the fields between the houses.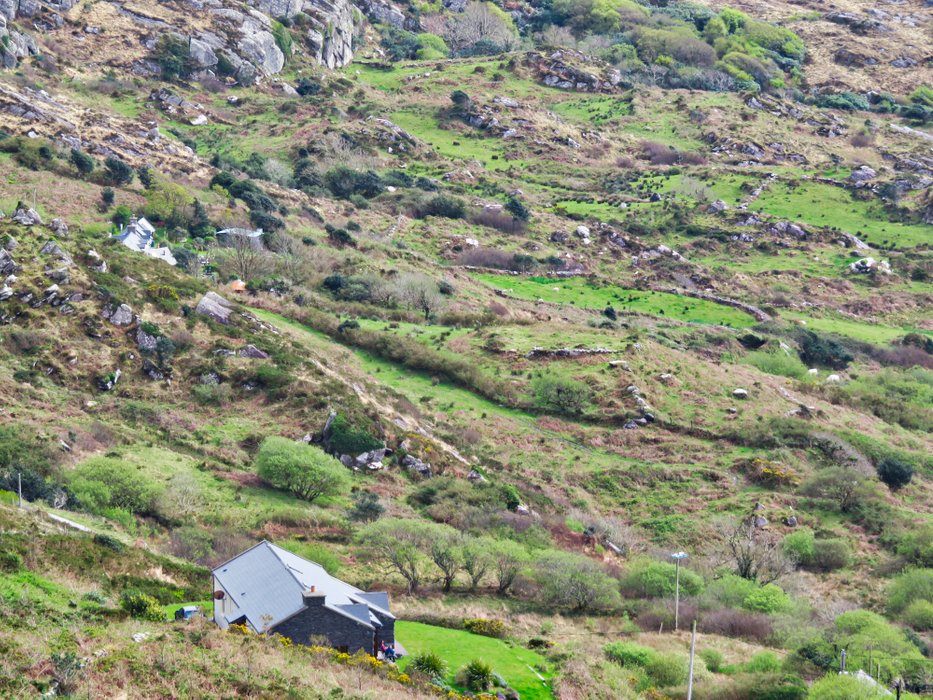 You want to live here? You sure? Look at your garden!!
I only later discovered that there are very impressive views at the Ring of Kerry, but the most impressive ones, you will not see from the bus. It will need a hike or a boat tour to Skellig Michael. You may get that I have put this circle on my wishlist again, but now in my own car at my own speed!!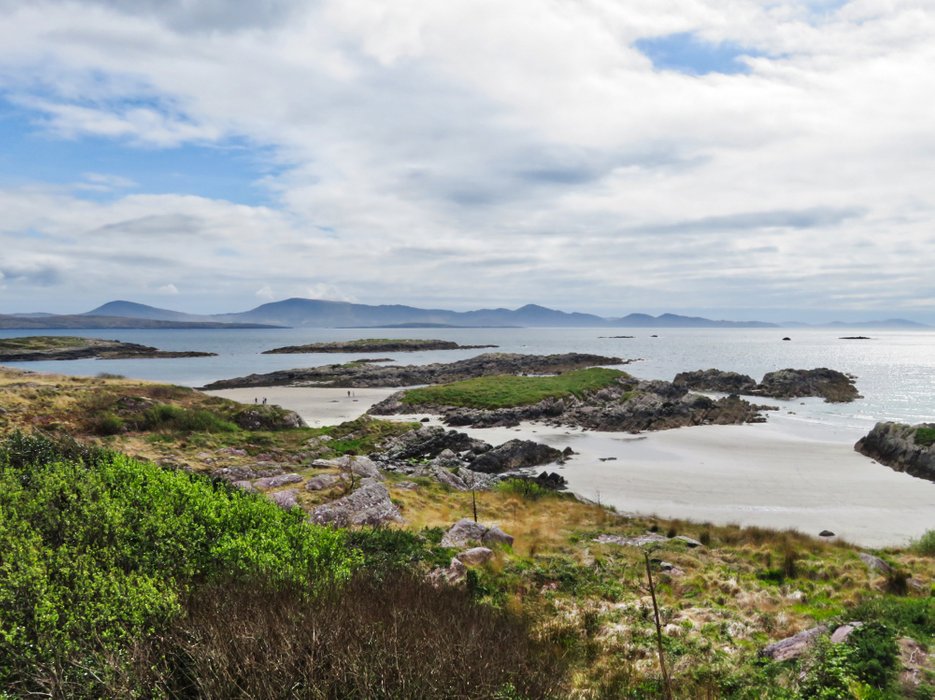 Sneem
From the start of the tour, it was clear that this was once going to turn into a grumpy blog. And then we stopped in Sneem for about half an hour. Sneem is a very picturesque village, which means "nothing to do". I was lucky to find a bridge. Not to jump off of, but to photograph. Just below the bridge, there was this amazing rock formation with a stream (river Sneem) flowing through it. I didn't see anyone from my bus there and I wonder what else there was to do. But I had a blast having this tiny gem all to myself.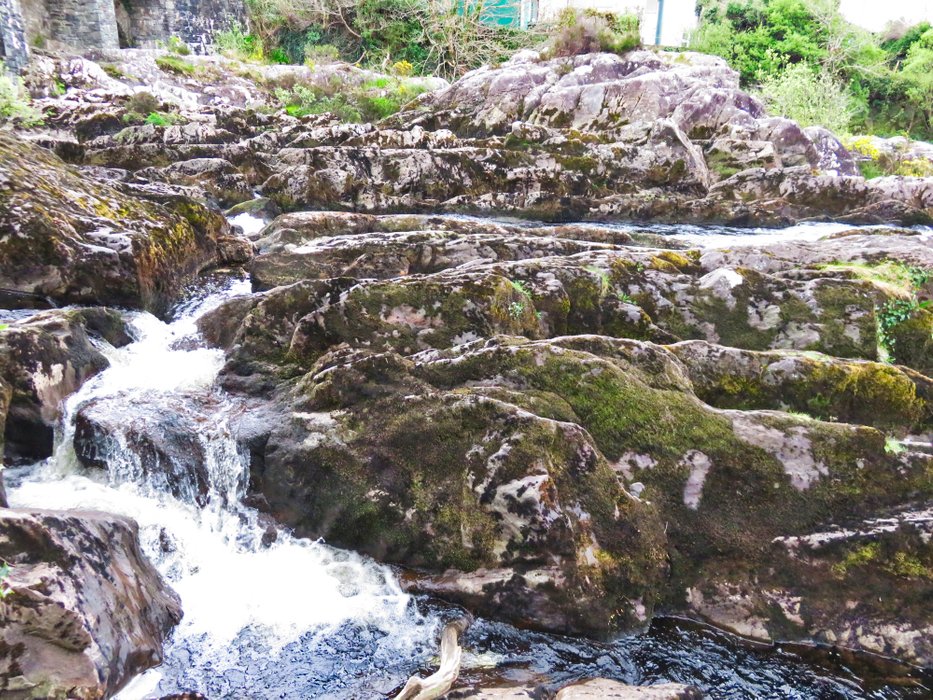 The river Sneem, which means knot
Ladies View, also fit for a man
And then, all fun comes to an end. The bus driver kept the best view for the last stop. Ladies View is one of the best views of the peninsula. And Queen Victoria's court ladies agreed. They were so taken with the view during the royal visit of the Queen in 1861, that the view was named after them. I could totally see a bunch of women having a picknick here while their horses would take a break.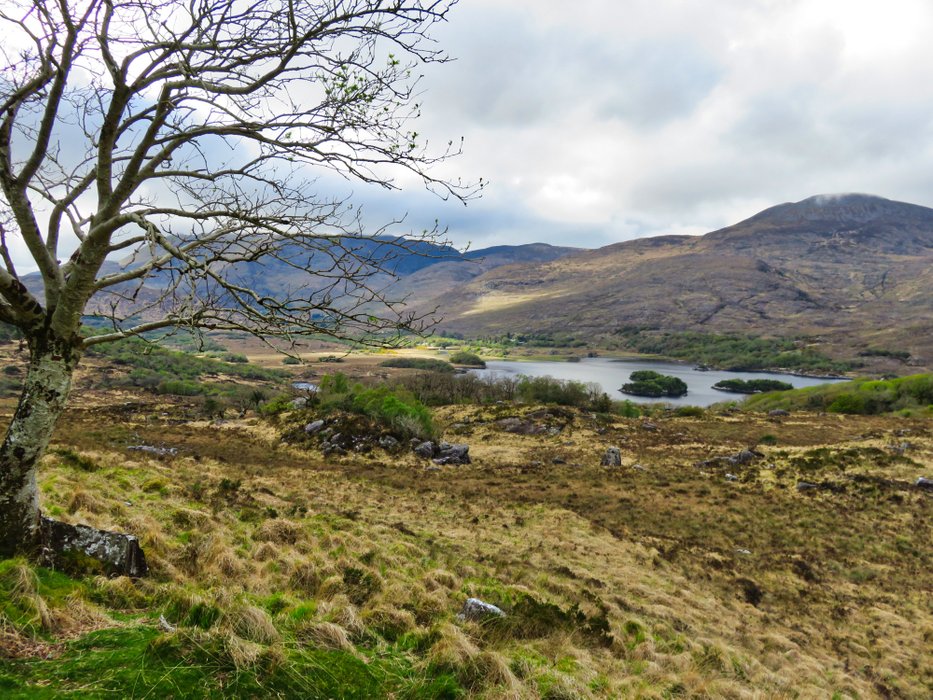 Ladies View looking left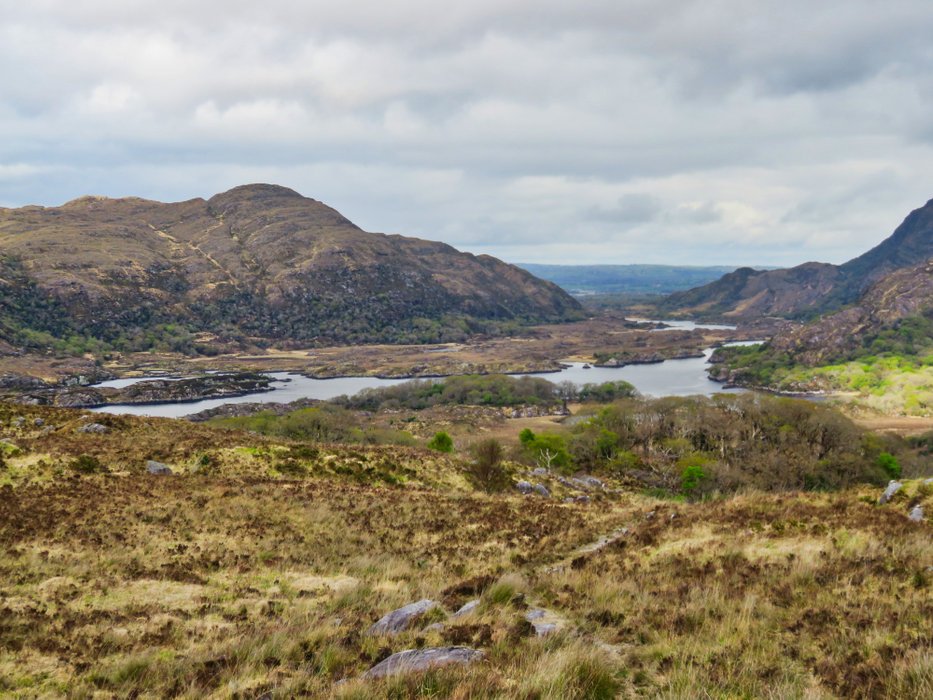 The actual Ladies View
I am sorry that this turned into such a cynical piece. Now that I was looking through the photos, I learned that it wasn't all that bad. But this was really how I felt during the tour! It lasted 7 hours and most of it was spent on driving. The Ring of Kerry is 170 kilometres long, so you kinda need that time to see it all. But it was a bit disappointing that there wasn't much time left to get the full experience and we missed the highlights ...
Lesson learned? The Ring of Kerry is amazing, just don't do it one day after the Dingle Peninsula 😉. And don't take a bus! I promise that I'll write a more cheerful blog after the next Kerry visit.

Also in this series: